For the Artists of Jersey City series, we feature talented individuals from the area of all media – photography, videography, poetry, watercolor painting, sculptures, anything creative.
This month, meet artists Lawrence, Ashley, and Liz.
If you or anyone you know would like to be featured for our Artists of Jersey City articles, let us know – editor@chicpeajc.com.
---
Lawrence Ciarallo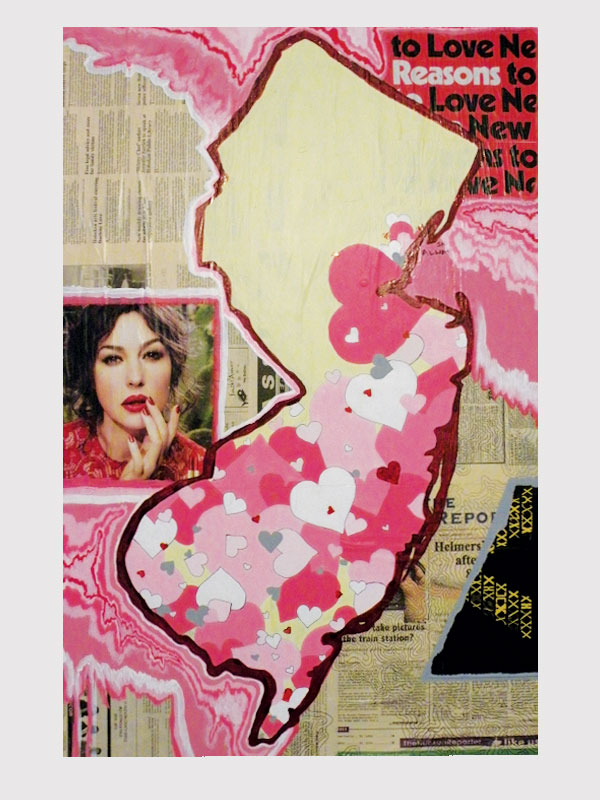 What is your preferred medium and why?
I prefer working with acrylic mostly because that is the medium in which I learned how to paint. It's versatile and I like to dilute it to achieve a similar effect as watercolor. I also enjoying working with collage because of the depth and grittiness of layered elements.
How did you get started?
Towards the end of my B.A studies at Montclair State, where I majored in graphic design, I created a few paintings for fun. They were simple portraits, black stencil on colored backgrounds, which I gave to friends as birthday presents etc. Almost everyday after work, I would try to work on something to push my creativity and learn. It was a valuable way to decompress from staring at a computer all day and a deterrent from watching TV or aimlessly hanging out.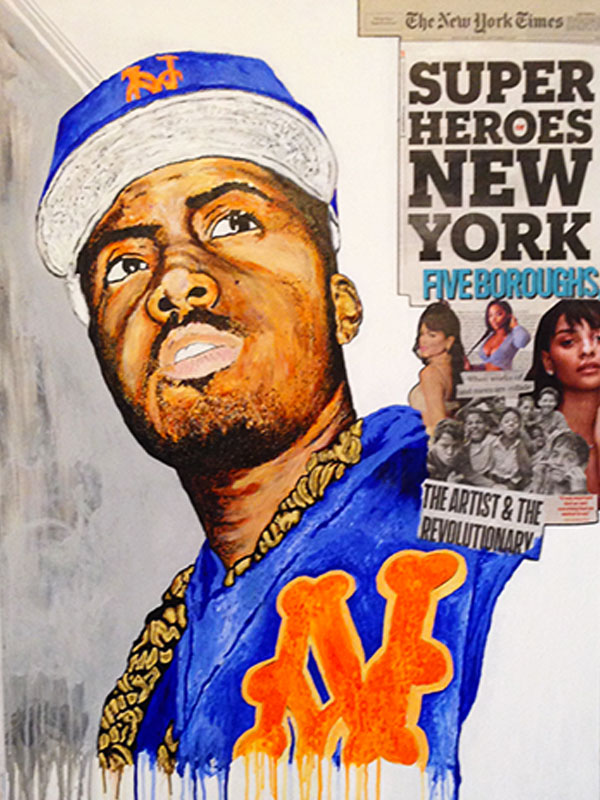 What inspires you?
Creatively, I am inspired by a multitude of things including the work of the Renaissance masters or modern day graffiti writers. Also, city walls with their endless layers of tags, stickers and advertisements. There are countless artists of varying styles from which I draw inspiration. Also, as an ambassador for Young New Yorkers I am continually inspired by our graduates, the peer mentors, fellow ambassadors and staff especially our founder and director Rachel Barnard.
Personally I am driven by the legacy of my ancestors. As a first (paternal) and third (maternal) generation Italian-American I am well aware of the sacrifice and dedication required for success. Their hard work allowed my brother and I to grow up in a nurturing and loving environment. Without them none of this would be possible. I am forever grateful and strive to honor them in every way.
How do you feel about the creative community in Jersey City?
I find it extremely welcoming. Brooke Hansonn at JCMAP provided some of my first mural opportunities. Thank you Greg Brickey from the Office of Cultural Affairs and JCAST. Andrea McKenna and Javiera Magaly, of the former Raven Gallery, were the first people to show my work in the city. Sadly, LITM has closed but I always enjoyed the atmosphere and appreciate Andrea for including my work in numerous shows. Jelynne and Andrea did so much to support and cultivate the arts in Jersey City, they will always have my gratitude and respect. Lynn has been supportive since she first saw my portraits at The Dopeness years ago. Debbie Mangual and Rachel Sieg from the HDSID. My good friends from Crazy & The Brains and Zak Ferentz from Ferentz and The Felons. Ralph Andre from Canvs. Sam Pesin from the Friends of Liberty State Park and William Toledo. As well as countless fellow creatives whom I've met at All About Downtown, Record Riots, Groove on Grove etc. Jersey City truly supports local artists, it's not just some marketing campaign.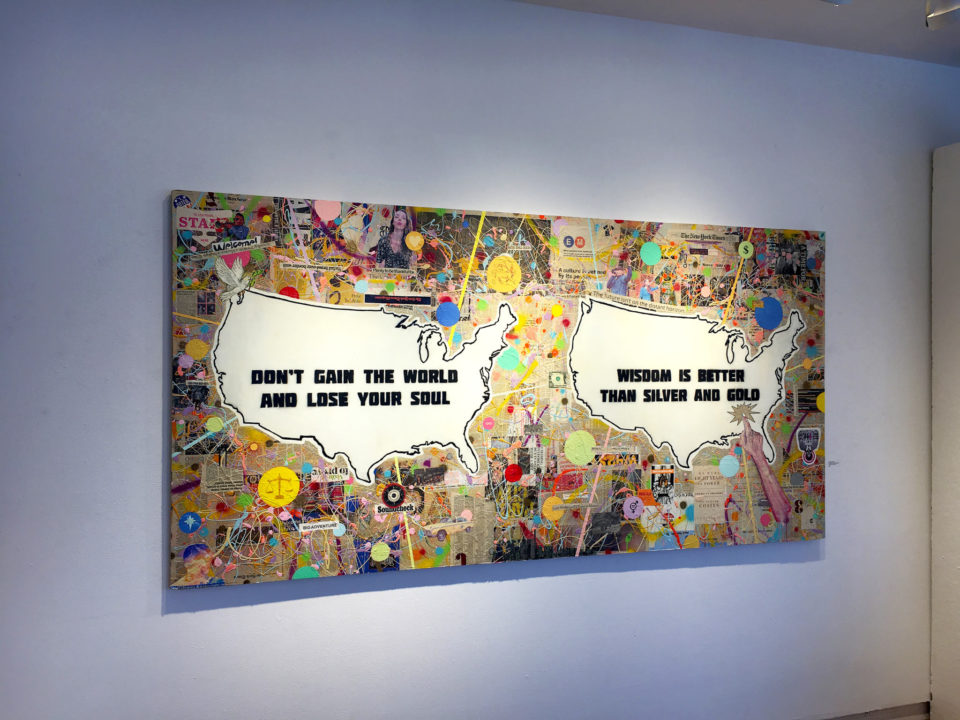 Where can people find your work?
I will soon have a studio at 150 Bay. Currently, I have a piece in COLOR POP at LITM which is up until February, and my painting OUR DREAMS (chasing invisible butterflies with a net) will be in DESTINY which opens February 7 at JCTC.
You can see my work at www.lawrenceciarallo.com and https://www.instagram.com/lawrenceciarallo/
What's your favorite Jersey City hangout spot?
LITM, and I appreciate Pet Shop for all they do to support local music. Most importantly, Liberty State Park.
If you want to support LSP and the Liberty State Park Protection Act, visit https://lawrence-ciarallo.square.site/ and purchase the FREE. GREEN. FOR THE PEOPLE. print, 100% of the proceeds go to The Friends of Liberty State Park.
Ashley Lucas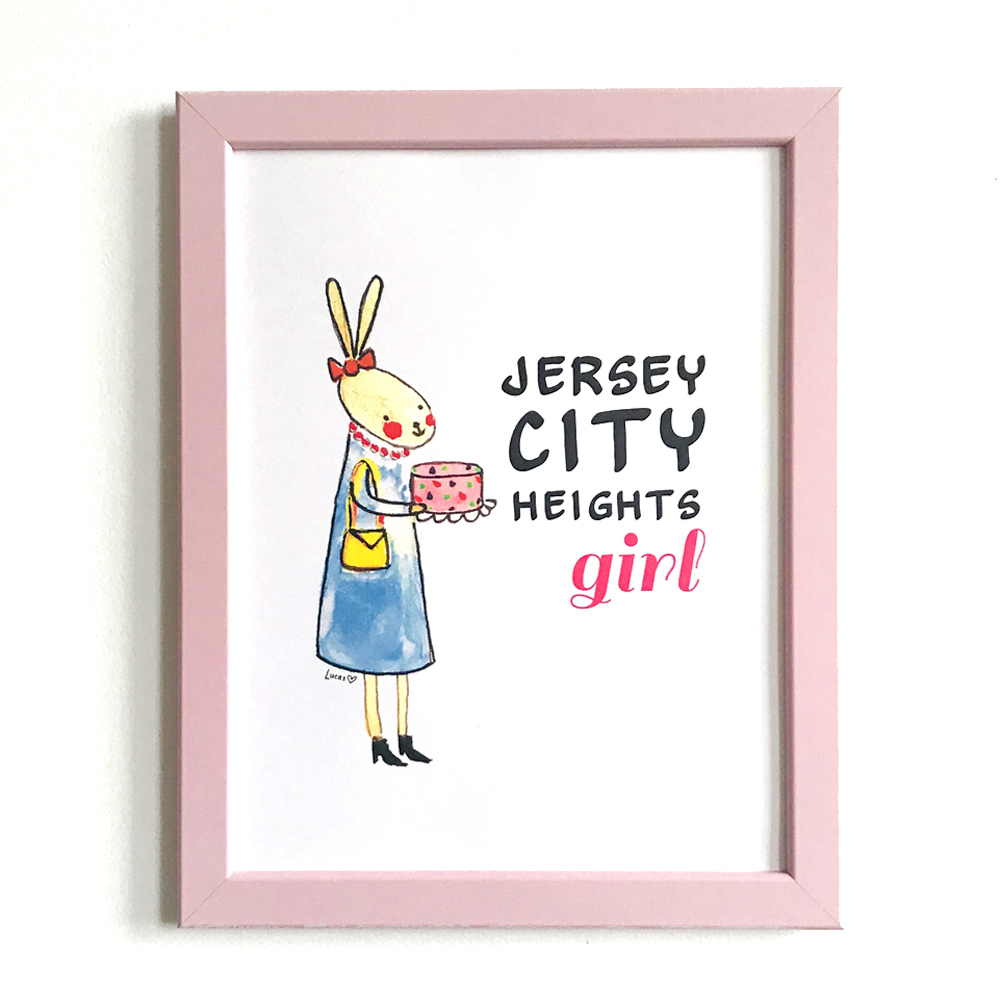 What is your preferred medium and why?
I love using watercolors for my artwork. They're forgiving, easy to use, and create different color tonalities each time you use them. Also, nothing works better for creating the trademark rosy cheeks that all my characters have ;)
How did you get started?
My parents are both artists. so I was almost born into the world thinking that's just what you do! My first professional job as an artist was in photography, but once I settled into illustration and character art, I knew I'd found my true passion.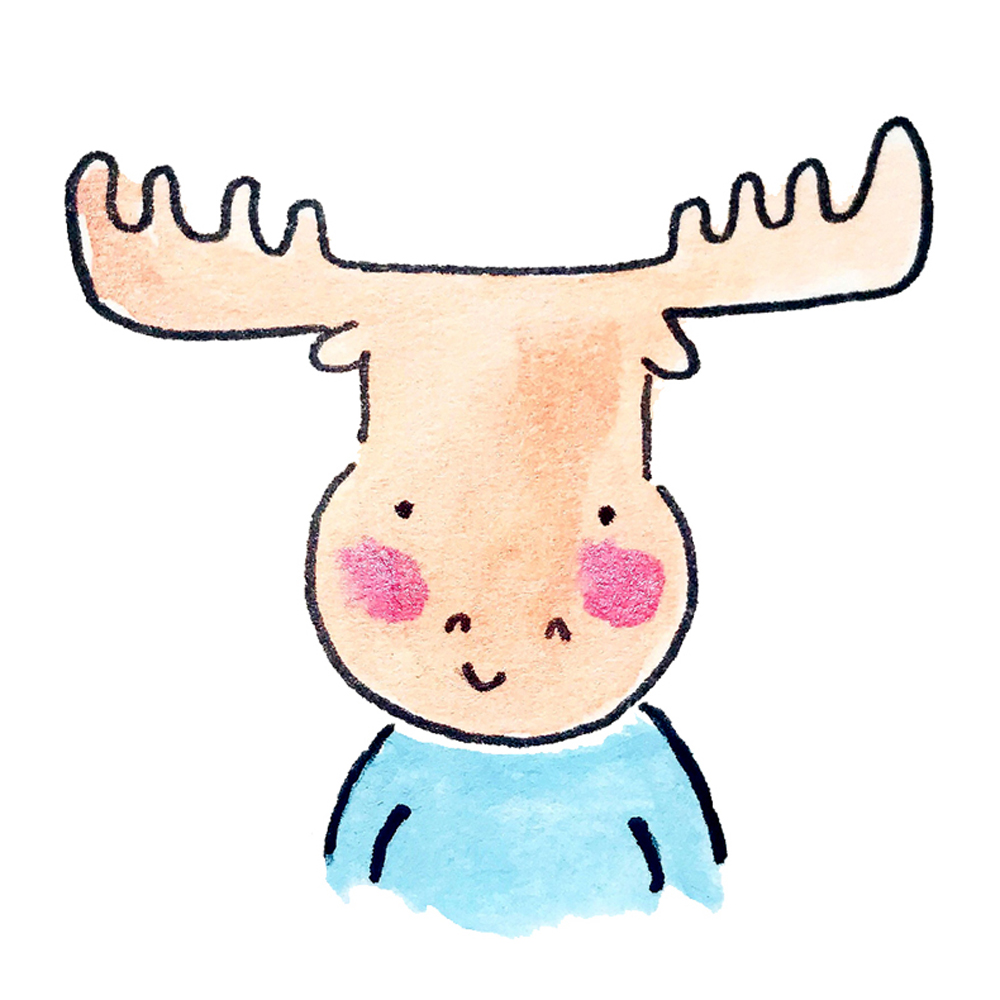 What inspires you?
Animals. Literally every living creature inspires me. I wish the world would treat animals kinder, so I try and make them a reflection of our society in my artwork. A cow wearing a cute dress and living a fabulous life as a fashion editor might make someone thing twice about eating hamburgers. Who knows? I've been vegetarian for six years now and since giving up all meat, I've never felt better. It just feels true to who I am in every way. I think in my past life, I was definitely a rabbit.
How do you feel about the creative community in Jersey City?
I've lived here on and off since 2006 and have been honored to have been involved with so many great organizations over the years such as Art House Productions and the Cathedral Arts Festival. I'm currently a part of the ART 150 Arts Collective in the Powerhouse Arts District, and it's been awesome getting to know dozens of talented artists that live right in my building. I think the creative community is growing here, and a lot of dedicated people are working really hard to make that happen. The Jersey City Studio Tour in my opinion is a wonderful idea and a great way to showcase what we all have to offer.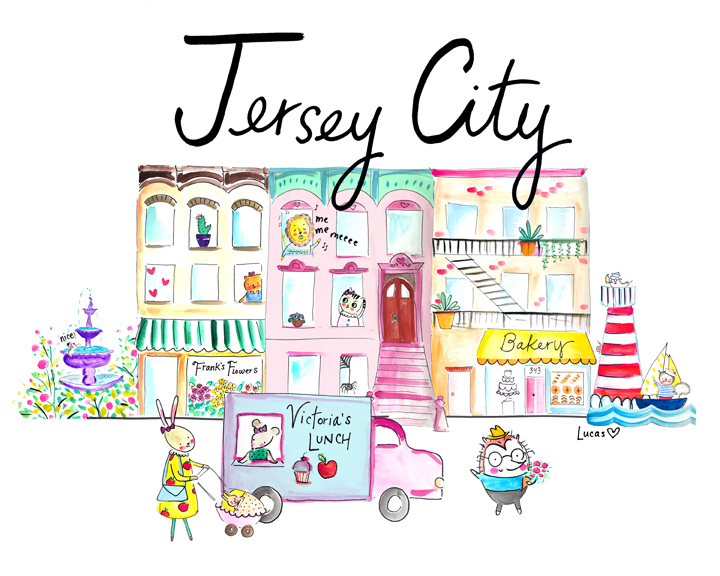 Where can people find your work?
You can always find my daily art uploads at www.ladylucas.com or @LadyLucasArt, I'd also love to invite you to check out my online shop that operates out of my Jersey City studio and offers adorable art prints and paper goods: www.linzerlane.com / @LinzerLane
What's your favorite Jersey City hangout spot?
For years, my favorite happy hour spot was LITM for the fabulous martinis. Now that my husband and I have a 15 month old son, our favorite places are outdoors. We love the Pier behind the Hyatt Hotel for bird watching, and the boating marina in Paulus Hook for the amazing view. My favorite coffee spot is Nine Bar in the URBY lobby. Sliding doors with a stroller is priceless and the coffee is amazing too!
Liz Hand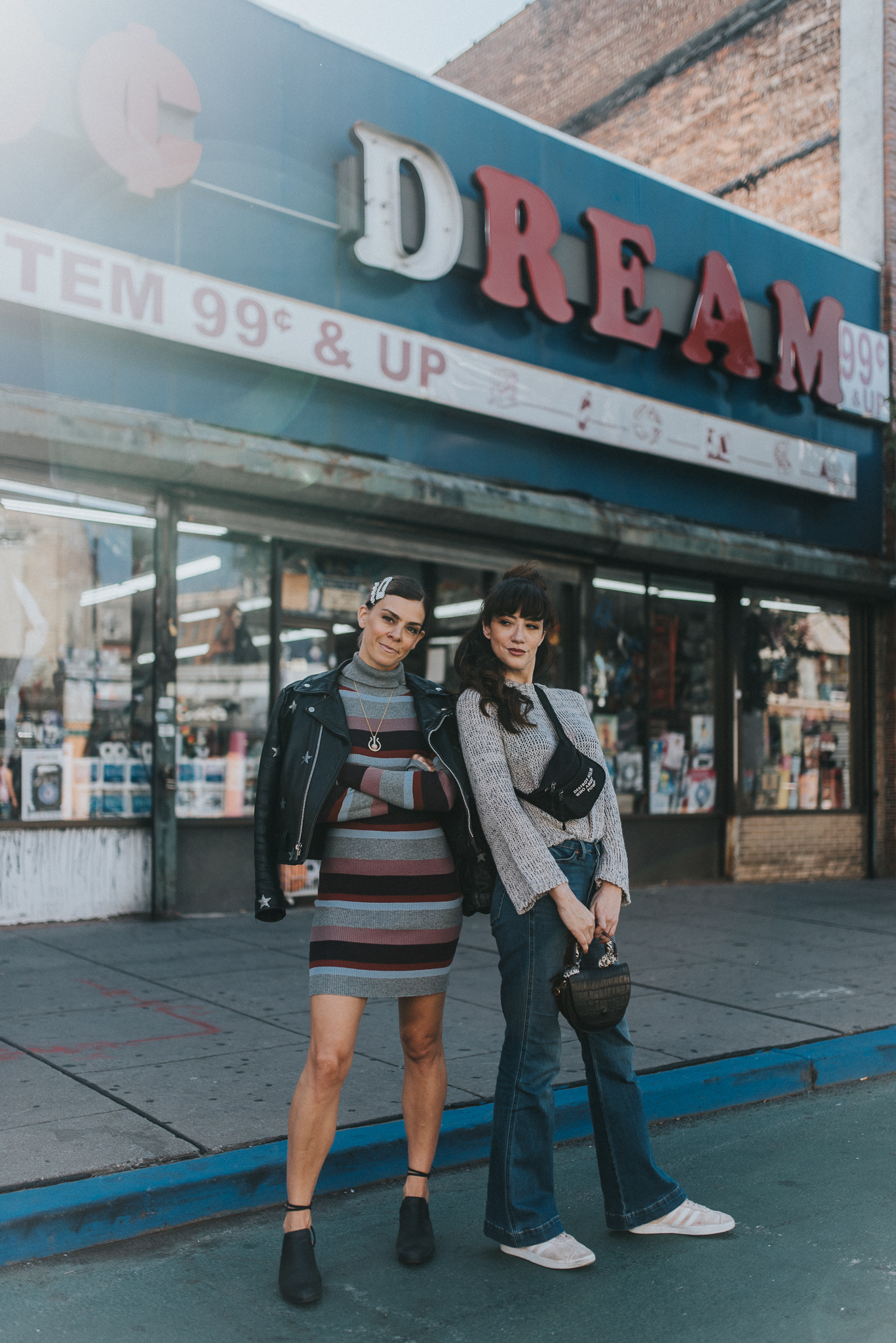 What is your preferred medium and why?
Photography is my preferred medium. My passion is artfully documenting memories that will last a lifetime. I love capturing the reality of everyday life, and the transient beauty of those "in-between" moments.
How did you get started?
This is so cliché I'm sure, but my mom gave me my first camera when I was 5 years old. The school I attended kindergarten and first grade had designated "camera days" when students were encouraged to bring a camera to school and take photos all day; I still have some of those first photos I captured! Over the 30-something years since then, I have never been without a camera. I took classes in middle school and spent much of my high school career in the school's dark room. I didn't begin shooting professionally though until 2016, when I decided to leave my 12 year career with the federal government to pursue my happiness! I was hired by The Hair Room JC to be their salon coordinator, and then began shooting photography for the salon as well. I have Anatalie to thank for a lot of the sessions I've been hired for over the past few years.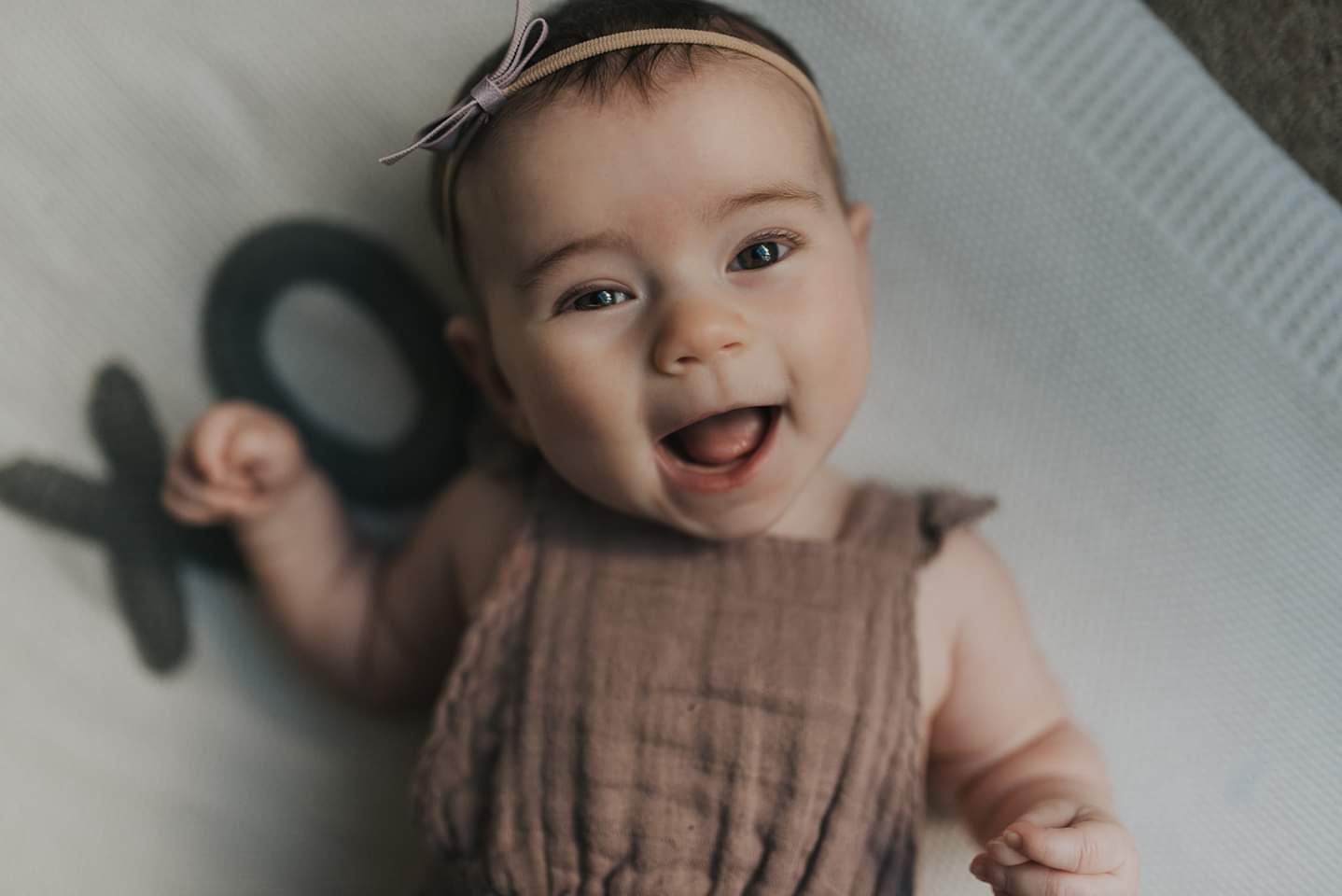 What inspires you?
Motherhood. I became a mom in 2018 and watching my baby grow has just reinforced the fact that time is so fleeting and every moment is precious.
How do you feel about the creative community in Jersey City?
It is amazing! Everywhere you turn, there are so many talented people in various mediums. It's such a supportive community, too, in my experience. I've been lucky enough to provide brand photography for a couple of local creative businesses; I love being able to collaborate with like minded people.
Where can people find your work?
Instagram at @thelizhand and my website, lizhand.com 
What's your favorite Jersey City hangout spot?
Maybe not "hangout spots" per se, but when in Jersey City I love spending time at The Hair Room JC and perusing Kanibal. Oh, and Torico. Their ice cream is life.