Jonah Dunstan is a 19 year old up-and-coming Jersey City artist. Having worked with the Jersey City Arts Mural Program for the last two summers, he is finally branching out and releasing some of his own personal work. I had the chance to ask Jonah about his experience working on the murals, his current personal projects and what's next for him.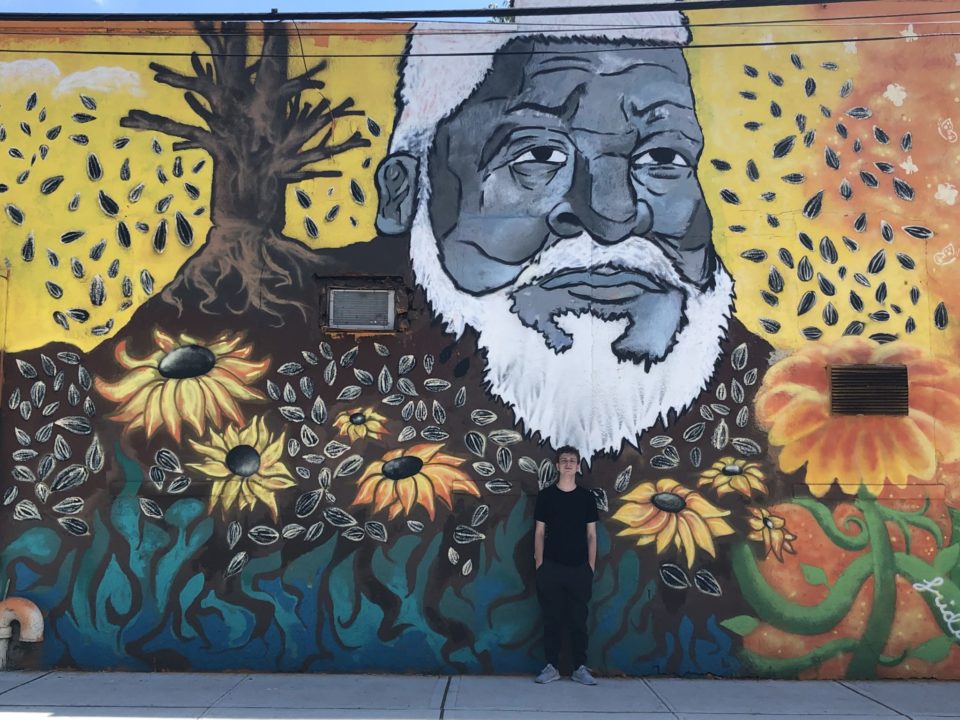 The theme for this year's mural was Heroes (Heroes Around The World), so why did you choose your person?
Ai Weiwei, he's a famous modern Chinese artist. He's an activist for free speech; he's criticized the Jinping regime, the current president for life in China. He's the most famous modern Chinese [visual] artist. He does installations, like Sunflower Seeds, and statues, stuff like that. He speaks on a lot of important social issues like immigration. He's been put in prison by the Chinese government, he's been beaten up, he's been fined for large sums of money and he's had his gallery torn apart. Chinese government officials broke in and they vandalized it because they didn't like what he was saying.
So I know you did one last year too, where is that one exactly? You had said it was by Audubon Park.
It's by the [NJCU] Student Center by MLK. 
Last year's mural theme was Jersey City, and you painted depictions of different neighborhoods in JC?
Yeah, I did a bodega, the old cemetery, NJCU, and Society Hill.
Was the mural painted in order, like The Heights, Downtown, Journal Square, McGinley Square, etc?
Yeah, we went throughout history. We have the original indigenous people, Jersey City's history like Kool and the Gang, Boss Hague. All these aspects of Jersey City come into one piece. We went from before the settlers even got here to current day Jersey City. We were celebrating Jersey City's diversity and its history, a lot of the famous people that come from here, and that's really what the mural is all about.
Was the mural connected like the current one?
Yeah, the whole point of the Jersey City Arts Mural Program is that you get a bunch of young artists and they are all doing their own thing and collaborating, having everyone meld together so it makes one big piece. 
Do you know what next year's theme will be?
I got no clue.
How long has the program been going on for?
About six or seven years.
How old do you have to be to join the program?
Our youngest person is probably like 13. Dallas, he's really talented and has been working in the program for a few years. We have people that are just getting into high school to people that are mid-way through college.
I'm assuming you are going to stick with working with Jersey City Mural Arts Program next year?
Yeah, I'm coming back next year.
When did you start drawing?
I think I've always been drawing, but I think I really got into it during my time in middle school. I'd probably say 6th or 7th grade is when I thought I actually wanted to do this.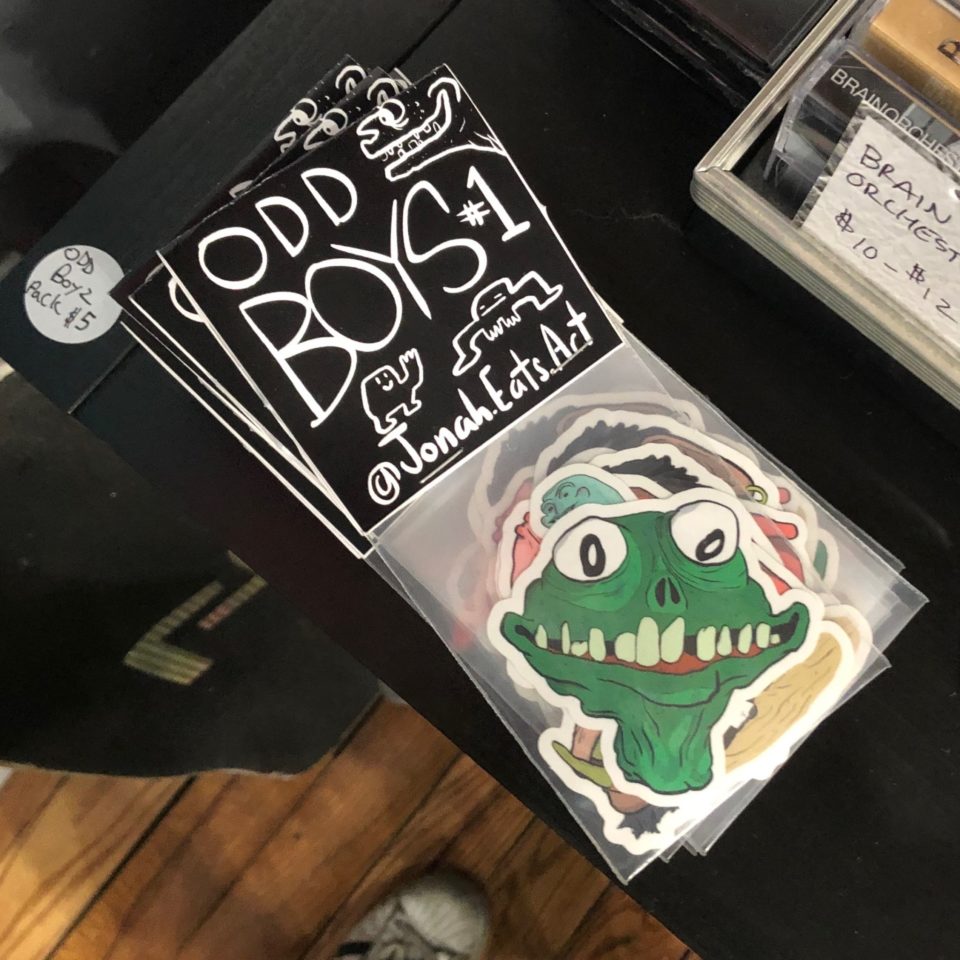 You released your stickers and they are selling at Zero Kids. I know you are also selling them yourself, do you plan on selling more through other vendors?
I'm thinking about it. I'm currently looking for other places to hold them. I have a few more in stock. But right now I just finished a part of my body of work. I'm going to be releasing a collection of pieces soon. I released one on my Instagram recently called "Back in Town" and then I'm going to be releasing three more smaller pieces. I'm focused on this collection – which is like these weird molded, deformed cartoon characters that I want to make.
Similar to the stickers?
In a sense. Like my last post, it's in a similar vein but it's more of a fine art than digital.
Besides this collection of art that you are releasing now, is there any other future projects that you have in mind?
I have a plan for an even larger body of work. I have two big pieces that I am currently ruminating on, it's very much in the 'idea' phase. It's ruminating within my head, I'm doing my research. I know what I really want it to be about, and really just flushing out the composition, seeing the materials I want to use. 
What are your professional goals with your art?
I wouldn't say I have any particular professional goals except for really fleshing out my body of work and developing upon my skills. But I'm open to pursuing many avenues and mediums.
You can stay updated with Jonah and his art here.