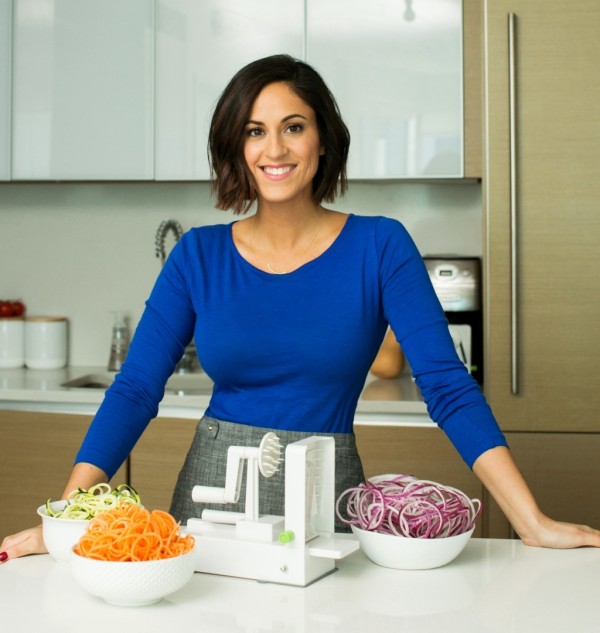 Ali Maffucci is a huge food blogger, she is the brains behind "Inspiralized." Ali uses a special kitchen tool and makes creative dishes using vegetables! I started following her and reading her blog a little over a year ago, before I even knew she lived in Jersey City. Ali is an inspiration and we have a lot in common; we both left the corporate shackles to do our own thing and blog. Ali is a success story with over 120,000 Instagram followers and is also coming out with her second cookbook!!
I reached out to Ali a few months ago for an interview and for selfish reasons. I wanted to get to know her and hear her story and hopefully convince her to be my new friend. I really look up to her because I understand how hard it is to make it in the blogging world and she did it. She is the ultimate success story and she is only getting started. I am excited to follow her journey and her amazing recipes (I've tried quite a few and they are delish).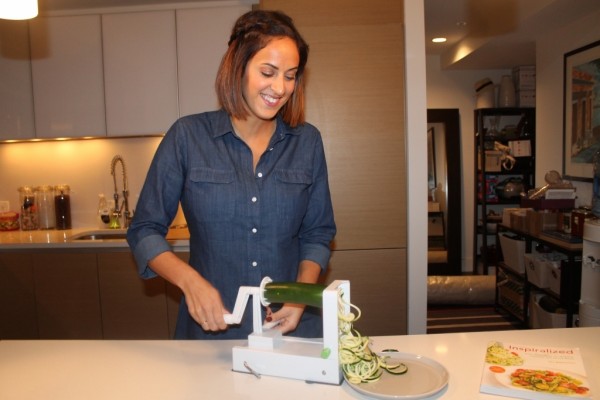 I went to visit Ali at her apartment that she shares with her new hubby on the waterfront. We talked for the longest time about blogging, work/life balance, social media, food… you name it! Until I realized I had to actually interview her!! It was really fun getting to know her. She is a really cool, down-to-earth chick.
What's your name? Ali Maffucci.
What do you do? I am a culinary entrepreneur, I run a food blog called Inspiralized, and I have a kitchen tool that goes along with that blog called the Inspiralizer. I also have written a cookbook and I'm coming out with my second cookbook. So everything that encapsulates spiralizing, I do.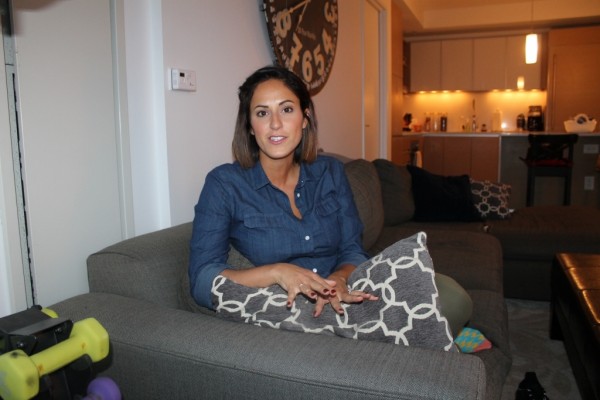 That's amazing. Did you invent this tool? So my mother was trying raw veganism as a way to help with her blood sugar levels and she discovered the spiralizer. She was loving it and she was making all these raw vegan noodle dishes and she had me over for dinner one night and made me one. It was just a raw Asian noodle dish.
How long ago was this? This was March of 2013. I was absolutely blown away. I couldn't believe how much it really tasted like pasta. So I took her spiralizer that night and I went home to my apartment here in Jersey City and I made a dinner for my husband the next night. I made a tomato basil with shrimp and he took a bit and he had the same exact reaction. He was like, "How does no one know about this?" and I'm like, "Maybe everyone knows about this and we just don't." So we went online and we started searching spiralized recipes, zucchini noodles and there was absolutely nothing.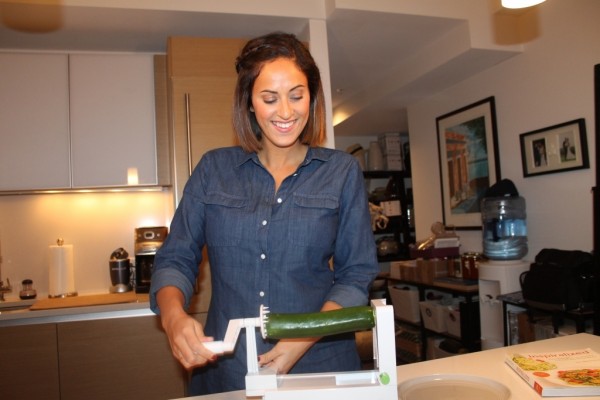 How did your mom find it ? She went to a restaurant and had zucchini noodles for the first time and she started trying to figure out how to make them. She stumbled on a cookbook that had the spiralizer in it and she went on amazon and bought the one that they had recommended. So basically, two months go by and I'm spiralizing almost every night and I'm having so much fun and this creative part of me came out.
What were you doing before? When I graduated I started off working for actually for the Trump organization, I did hotel and event management. Then I got a job through that and I worked for about a year in business development for an airline industry. So I did sales and I traveled a lot and it was just one of those fluffer jobs. I didn't love it and I wasn't happy and I was just having so much fun at night time cooking and I'm like, "What is this balance here?" So in that two month period, I started flirting the idea of starting a blog and I was speaking to my friends who were chefs. One of my chef friends said, "What are you waiting for? What's the worst that can happen? If it doesn't work out and you go back to corporate America." So what he said to me kind of moved me and I literally went to my boss's office and I quit. The next day I went to the Starbucks at Exchange Place and I bought Inspiralized.com and started blogging. I quit my job cold turkey and started this and I kind of said, "I'll give myself ten months and if I'm not making a decent living, I'll go back."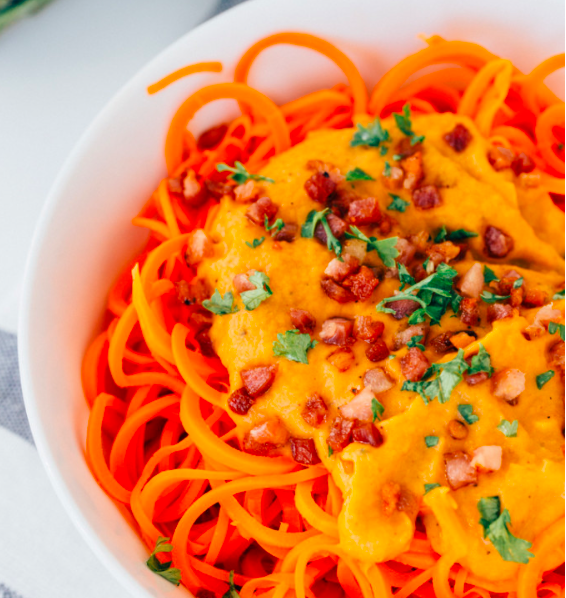 When was the moment where everything changes? I started blogging and I was posting a recipe every day and I built my social media channels and I was really proactive and I was hands-on with growing my Instagram which I think is my most popular social media channel. There were a couple things along the way that helped me gain exposure and that was a lot of guest blogging. As the gluten-free movement was growing I had just started. Spiralizing is huge for people who don't eat gluten and as that movement escalated it hit at the right point and there was nothing on the internet. Still to this day, my number one traffic source is google. I quit my job in June 25th, 2013 and I started on June 26th, the next day. Around November people kept emailing me and saying, "Do you have anything we can print out give along with the spiralizer?" so I thought, "Can I sell something to make some money?" So I self-published an eBook and a printed book and sold it over the holidays. Around January, William Sonoma started carrying the Inspiralizer, it was the first store to ever carry the spiralizer.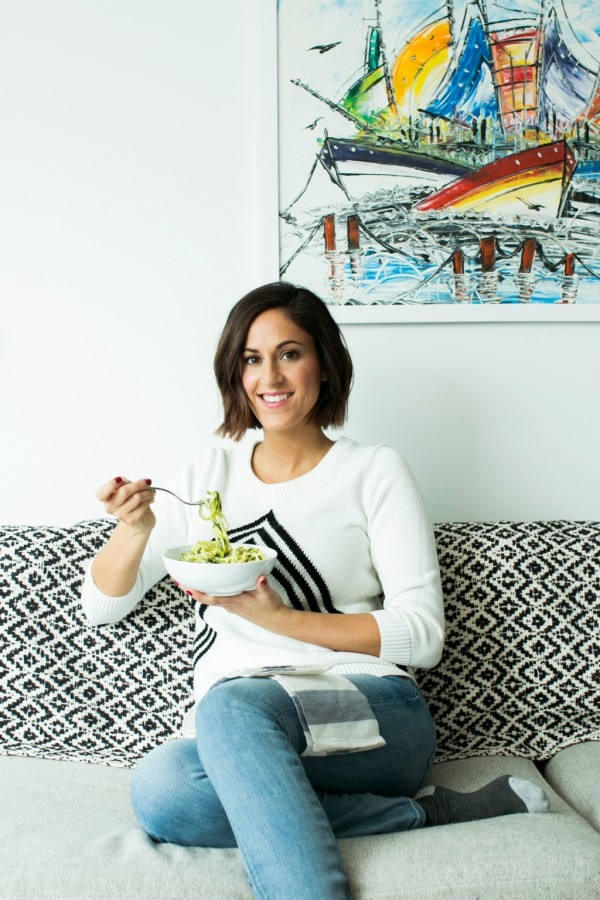 I did a couple demos at William Sonoma and then I get a call one day, "Hey, we saw your self-published eBook, we'd love to offer you an exclusive cookbook deal for William Sonoma." I was blown away. I went to my meetings with the publisher and I ended up going with Clarks and Potter which is my publisher now. My book came out in ten months which is insane, it usually takes ten years.
Were you always a cook before you started spiralizing? No! I'm Italian American and I grew up watching my grandparents cook. My senior year of college, I decided to become a vegan and to be a vegan you need to be really creative with what you eat and I wanted to do it the right way. In that period, I learned how to make vegetables taste good but also eat them creatively. I attribute a lot to what I'm making now to those couple years. That kind of started my interest in healthy living.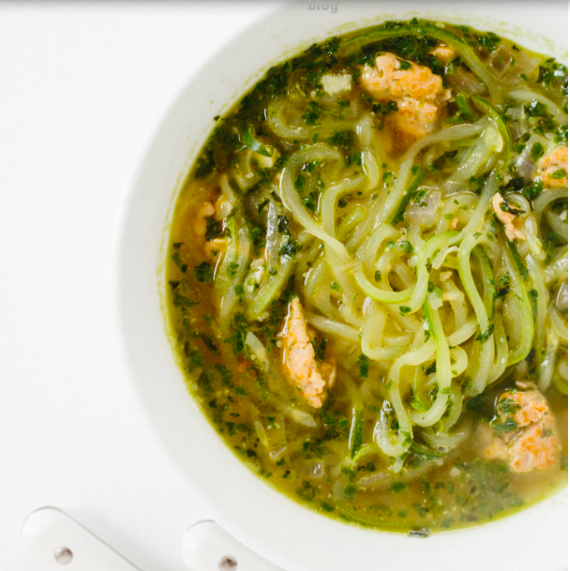 But you eat meat now, though? Yeah, I eat everything, I'm an omnivore. It took me a while to realize there's better things in life than being your ideal body and being perfect. I find that that constant work-in-progress is more enjoyable.
Does your husband enjoy you cooking? Yes. Before he moved in with me, he lived with a friend of his who is a nutritionist and I think he just learned to like healthy food also.
What's your creative process? It's usually what I'm craving. I get a lot of inspiration from when I go out to eat. For example, I went to a restaurant once and they had this octopus dish with chorizo and cubed potatoes. My readers don't want to cook octopus, but they love chorizo and those potatoes would be so much more fun if they were spiralized. So I made a spiralized chorizo and bean dish. So I take a lot of inspiration from restaurants.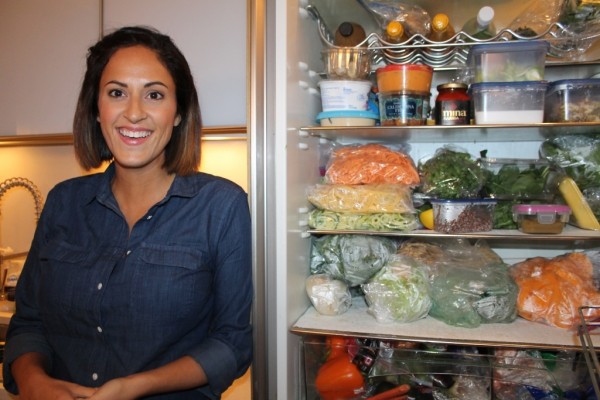 So on my website, I don't do butter, I don't do added sugar, and I don't do processed items. I do use cheese, but I don't use dairy milk.
What about the business aspects of your job? There's such a great market out there for women in business. I'm almost 50% interested in spiralizing and 50% interested in being an entrepreneur because it's really empowering and it's exciting and fun and there's so much to learn.
How long have you been in Jersey City? We moved here right after Hurricane Sandy, so January 2013. I lived in Hoboken for three years, right out of college and I was training for a marathon. I needed to run eighteen miles so instead of going into Manhattan I ran from Hoboken through Liberty State Park. I had never been to Jersey City before that and I'm running through the city and I'm like, "This city is amazing!" I told my boyfriend at the time and we came and went to eat at Satis and we fell in love with the neighborhood.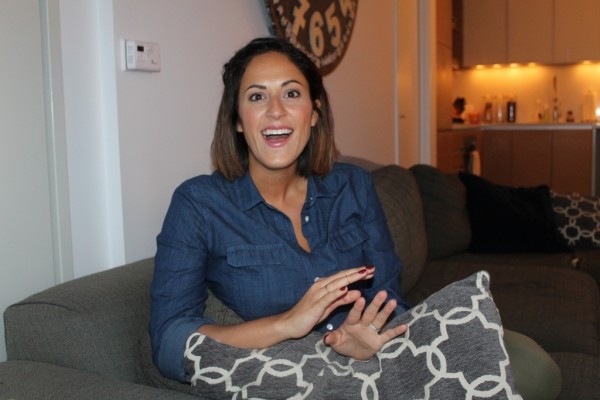 Do you have a favorite Jersey City hangout spot? In my neighborhood Satis is my favorite restaurant, but if I'm not in the mood for spending a lot of money and eating a lot of butter we'll go to Bistro La Source. If I go Downtown, I love Dullboy for their cocktails, Talde is a gorgeous restaurant, I love the sausage and broccoli rabe pizza at Roman Nose.
So what are your meal plans? There's three of them, there's a vegan, a paleo, and a gluten-free and they're for purchase and they're a PDF download. I worked ten hours every single day this week to do these meal plans and it's a $1.99. It teaches you step by step with pictures how to meal plan for a week. I have a partnership with Houlihan's and I designed a completely spiralized specials menu for them.
I'm starting a recipe cooking series in March and one day I would love to have my own TV show.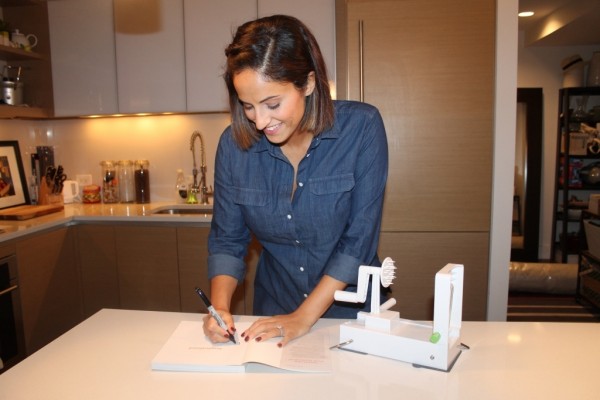 What's a typical day? If I don't have any crazy projects going on, I wake up, my husband wakes up around 7:15am, I'm at my desk by 7:45am because he's out the door by that time and I'm at my desk until he gets home at 7:00pm.
Do you work from home? I don't go to coffee shops a lot because I like my monitor and I also need to be in the kitchen a lot. If I have an idea that I think is cool I want to be able to test it out. I check all my emails, that takes a good two hours. I get into cooking around 11:00am and then I cook until maybe 2:00pm or 3:00pm depending on the sunlight. I write the recipe, I print it out, I cook it, and then I photograph it here and then I edit the photos. I try to do three in a day and that takes up until 5:30pm and then I have all these emails I have to respond to. Throughout the day I'm always on my phone doing social media, always Instagramming, always Snapchatting, I try to do Periscope a little bit. I have a girl who works for me so I'm talking to her throughout the day and she's helping me along.
What was it like going from corporate to blogging? The lines are blurred between work and life. Usually when you work a corporate job you go eight to five and for the most part, you stop thinking about it with this, I'm always thinking ahead because complacency is the worst. When you first start, you're so excited and then all of a sudden it's not working as you wanted it to and there's always going to be that point. I always find if I get rejected from a media person I always take it in and I revisit it. When my cookbook first came out, it didn't make the initial New York Times Best-Seller list and that was so heartbreaking for me and then a few months later I made it.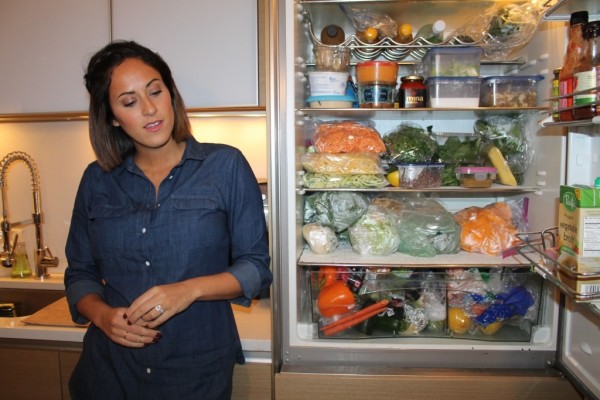 Do you ever feel like you're going to run out of recipes? When I'm desperate I'll think about all the classic pasta or rice dishes and so many cultures eat rice and so many cultures eat noodles. But it's usually not tough for me.
Have you heard success stories from your followers? I have the best readers and they love spiralizing. That's how I've grown so quickly because they love sharing. What I get most excited about is when mothers email me and they're like, "I got my kid to eat a bowl of pasta but it was made of zucchini."
What's next for you? I launched my Inspiralizer, I came out with my book, and I'm coming out with my second cookbook. I launched Meal Plans and that's been going really well on my website and that's something I want to grow.
https://www.instagram.com/inspiralized/
https://www.facebook.com/Inspiralized/
https://twitter.com/inspiralized