Over the summer the fam and I took a long weekend trip to Nashville and we had the best time. Nashville is known to be a Bachelorette/Bachelor party destination so I didn't really know what to expect going with a kid, all that being said we had a blast and found plenty of things to do. Below are all the things we did as well as a list of our readers favorite spots and things to do in Nashville!
Pinewood Social
33 Peabody St
A super cute bowling hall/restaurant that serves the most delicious food, cocktails and has also a really cute cafe. We loved it.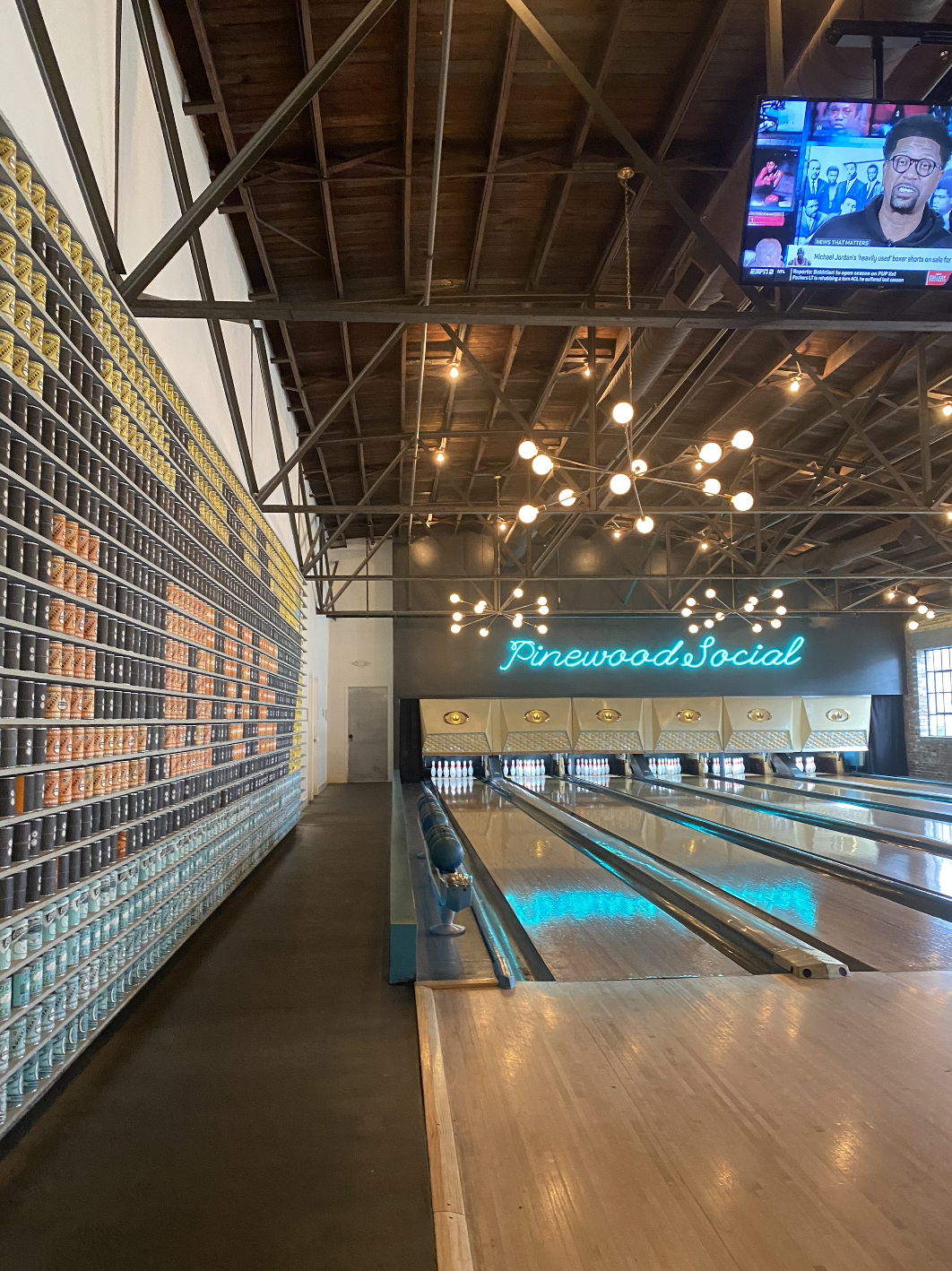 About: Bar with games and food
Website: https://www.pinewoodsocial.com/
Hattie B's Hot Chicken
Various locations
Hattie B's is a must when in Nashville- this no-frills sandwich spot is a whole VIBE. Bring tums.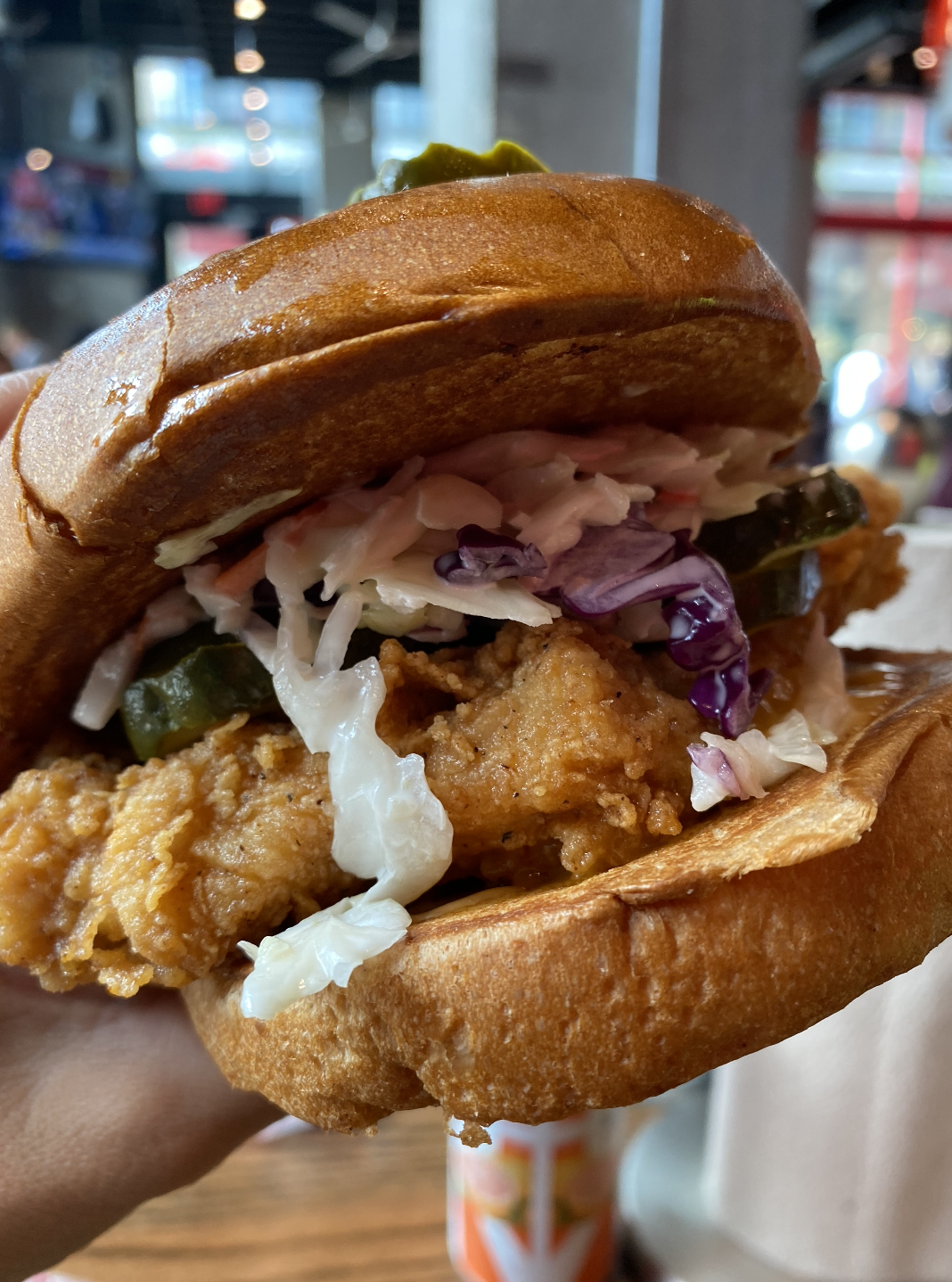 Mas Tacos Por Favor
732 Mcferrin Ave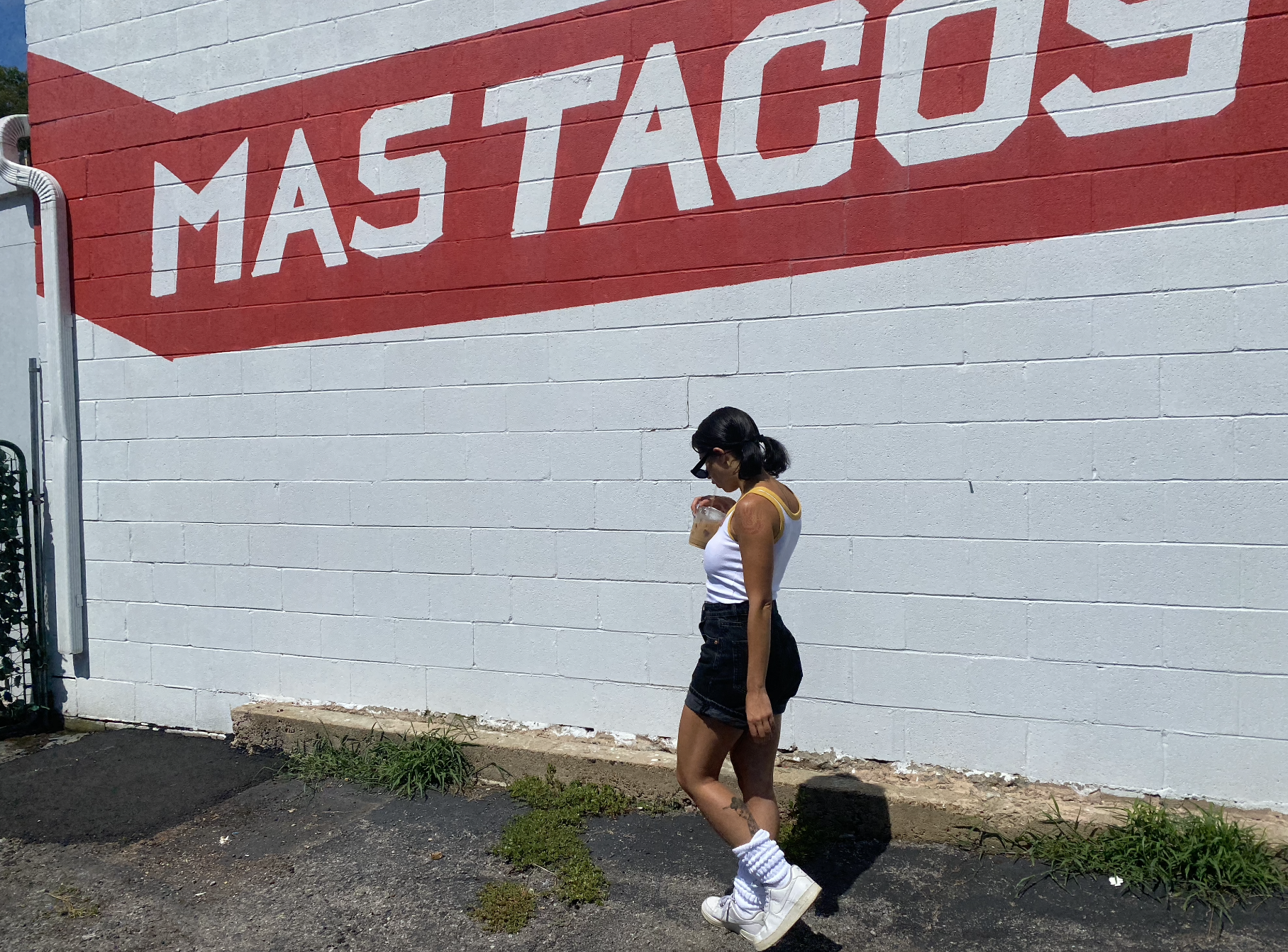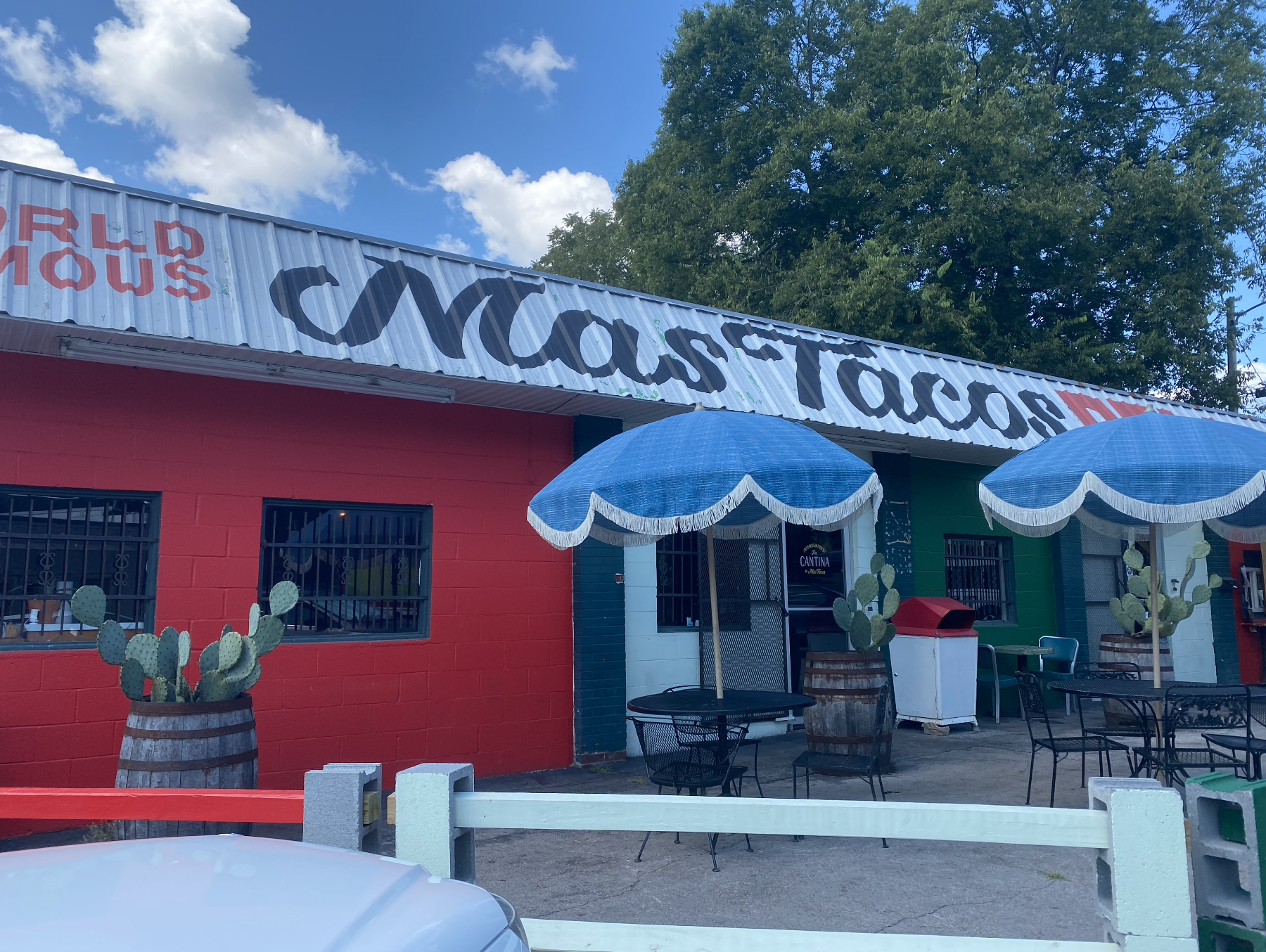 What they offer: Mexican cuisine
Website: https://www.facebook.com/mastacos/
Walk up and Down Broadway Street
Broadway is a major thoroughfare in the downtown area in Nashville, Tennessee. It includes Lower Broadway, an entertainment district renowned for honky tonks and live country music. The street is also home to retail shops, restaurants, dessert spots, tourist attractions, and a few hotels.
Live music literally ALL day. We didn't go into any of the local bars as we were with my little Mia, but it was still super fun people watching and hearing the music while walking around.
We ofcourse went into as many shops as possible to try on cowboy boots!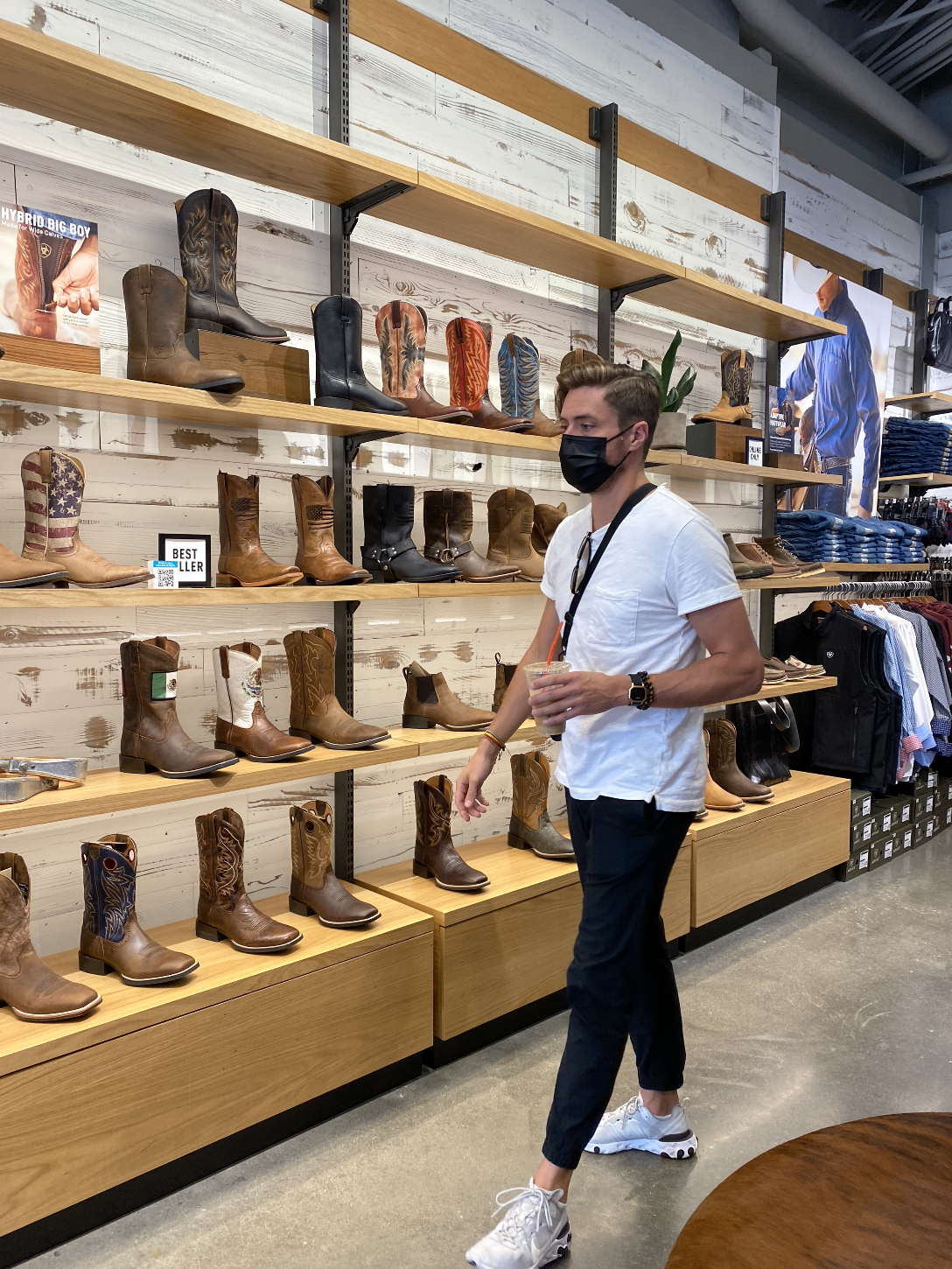 Johnny Cash Museum
119 3rd Ave S
I am a huge Jonny Cash fan so we had to go check out the museum in Nashville! Loved it.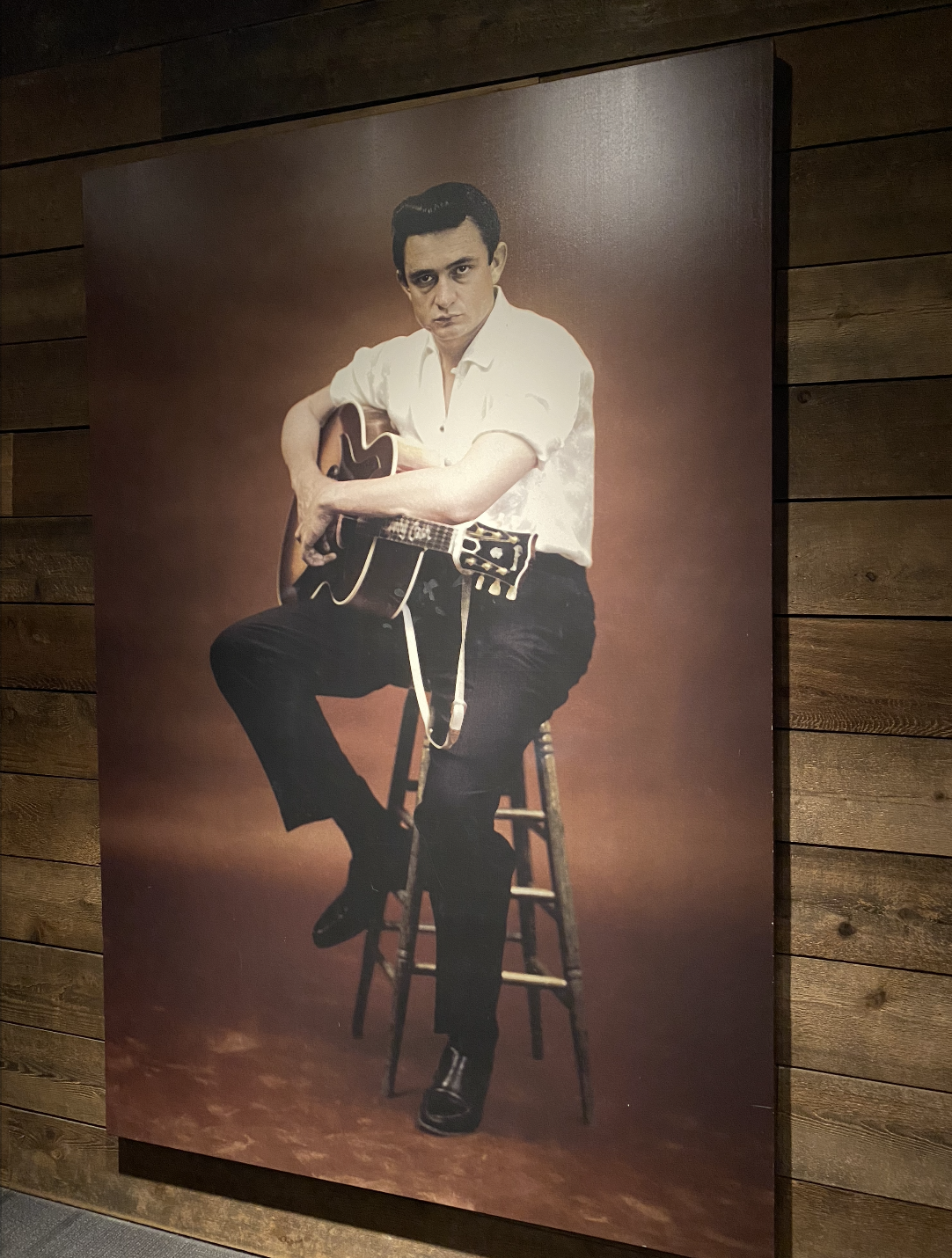 About: Museum with memorabilia and photos of Johnny Cash
Website: https://www.johnnycashmuseum.com/
Other activities
We also went to check out the local Science museum, Dave & Busters and checked out a few cute vintage shops!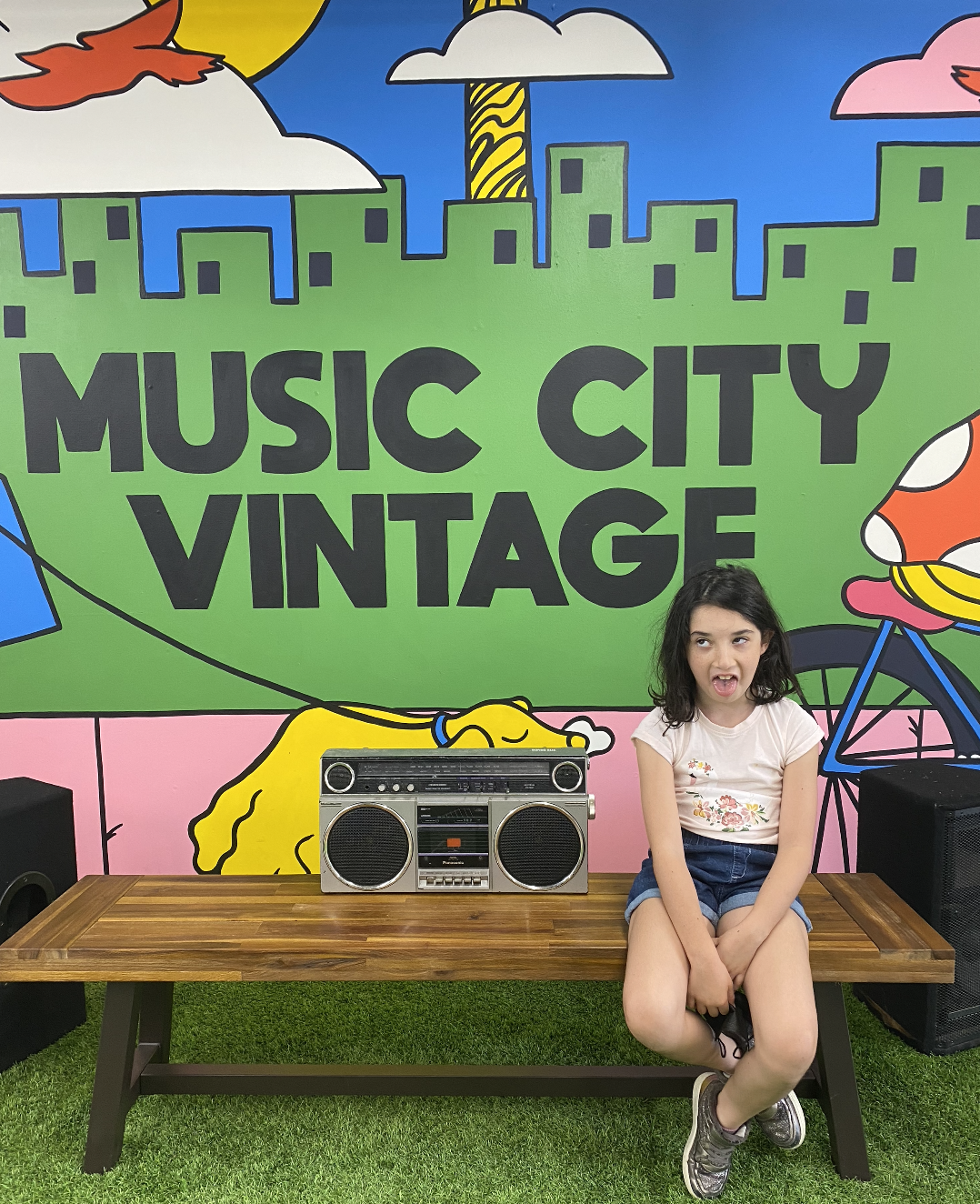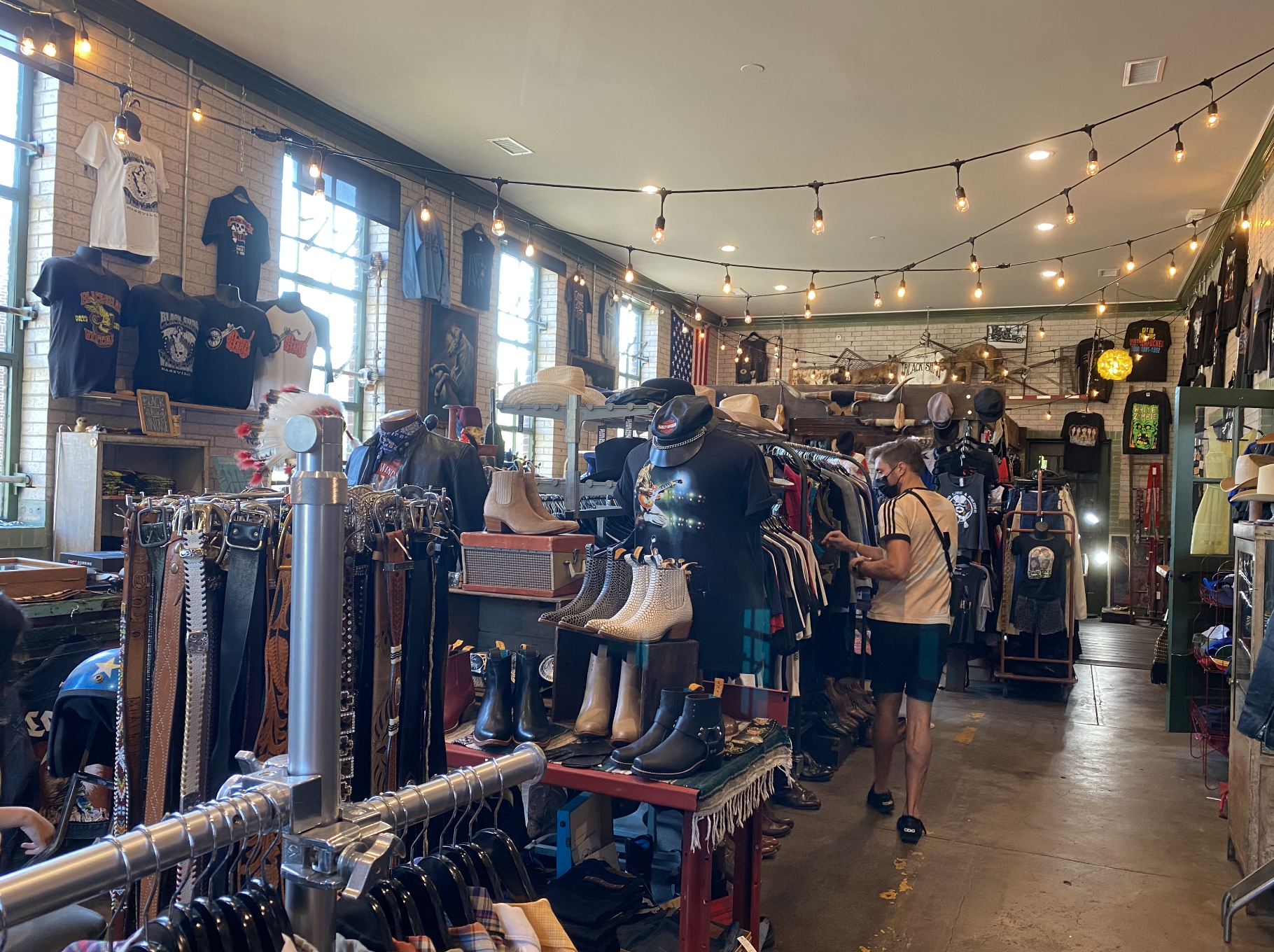 Our readers also sent us a ton of recommendations for places to each and drink in Nashville! Check it out!
Food + Drink
Cafe Coco Cafe & Bistro
210 Louise Ave, Elliston Pl
What they offer: Brunch, coffee, live music
Website: https://www.cafecoco.com/
Jack's Bar-B-Que
416 Broadway
1601 Charlotte Ave
334 W Trinity Ln
What they offer: Barbecued meats, Southern sides
Website: https://jacksbarbque.com/
Biscuit Love
316 11th Ave S
2001 Belcourt Ave
132 3rd Ave S
What they offer: Bonuts (biscuit donuts), brunch
Website: https://www.biscuitlove.com/
Butchertown Hall
1416 4th Ave N
What they offer: Tex-Mex food, BBQ, brunch, beer garden
Website: https://www.butchertownhall.com/
Arnold's Country Kitchen
605 8th Ave S
What they offer: Southern/soul food, brunch, live music
Website: https://www.arnoldscountrykitchen.com/
Old Glory
1200 Villa Pl
What they offer: Crafted cocktails
Website: https://oldglorynashville.com/
Crema
15 Hermitage Ave
226 Duke St
33 Peabody St
What they offer: Coffee, tea, snacks, toasts
Website: https://crema-coffee.com/
Bastion
434 Houston St
What they offer: Crafted cocktails, dinner
Website: https://www.bastionnashville.com/
Martin's Bar-B-Que Joint
410 4th Ave S
3108 Belmont Blvd
2400 Elliston Pl
What they offer: Pit-fired BBQ
Website: https://www.martinsbbqjoint.com/
Dino's Bar
411 Gallatin Ave
What they offer: Burgers, fries, drinks
Website: https://www.dinosnashville.com/
Pharmacy Burger Parlor & Beer Garden
731 Mcferrin Ave
What they offer: Burgers, sausages, beer
Website: https://thepharmacyburger.com/
Acme Feed and Seed
101 Broadway
What they offer: Casual bites, drinks, brunch, live music
Website: https://www.acmefeedandseed.com/
Another Broken Egg Cafe
208 Commerce St
4111 Charlotte Ave
What they offer: Brunch
Website: https://anotherbrokenegg.com/
Ole Red Nashville
300 Broadway
What they offer: Casual bites, drinks, live music
Website: https://olered.com/nashville/
Goo Goo Cluster
116 3rd Ave S
What they offer: Clusters (caramel, marshmallow nougat, peanuts, milk chocolate)
Website: https://googoo.com/
Five Daughters Bakery
1110 Caruthers Ave
1900 Eastland Ave
3820 Charlotte Ave
What they offer: Croissant donuts, pastries, cookies
Website: https://fivedaughtersbakery.com/
Chauhan Ale and Masala House
123 12th Ave N
What they offer: Indian cuisine
Website: https://chauhannashville.com/
Frothy Monkey
235 5th Avenue N
2509 12th Ave S
1701 Fatherland St
1400 51st Ave N
What they offer: Coffee, brunch, dinner
Website: https://frothymonkey.com/
Puckett's
500 Church St
What they offer: Southern food, drinks, live music
Website: https://puckettsgro.com/nashville/
Merchants
401 Broadway
What they offer: Souther bistro food, formal dinners
Website: https://www.merchantsrestaurant.com/
The Southern V
1200 Buchanan St
What they offer: Vegan Southern food
Website: https://www.thesouthernv.com/
FGL House
120 3rd Ave S
What they offer: Pub food, cocktails
Website: https://fglhouse.com/
Mike's Ice Cream
129 2nd Ave N
What they offer: Ice cream, coffee
Website: https://mikesicecream.com/
Lou
1304 McGavock Pk
What they offer: Brunch, natural wine
Website: https://lounashville.com/
Proper Bagel
2011 Belmont Blvd
What they offer: Breakfast
Website: http://properbagel.com/
Five Points Pizza
1012 Woodland St
4100 Charlotte Ave
What they offer: Pizza, craft beer
Website: https://fivepointspizza.com/
Barista Parlor
519 Gallatin Ave B
610 Magazine St
1200 Clinton St
1230 4th Ave N
What they offer: Coffee, tea
Website: https://baristaparlor.com/
Peg Leg Porker
903 Gleaves St
What they offer: Barbecued meats, Southern sides
Website: https://peglegporker.com/
White Limozeen
101 20th Ave N
What they offer: Rooftop drinks, French dishes
Website: https://www.graduatehotels.com/nashville/restaurant/white-limozeen/
Fleet Street Pub
207 Printers Alley
What they offer: Pub food, imported beers
Website: https://www.fleetstreetpub.com/
The Stillery
113 2nd Ave N
1921 Broadway
What they offer: Casual bites, mason jar cocktails
Website: http://www.stillerynashville.com/
Monell's
1235 6th Ave N
1400 Murfreesboro Pike
2826 Bransford Ave
What they offer: Southern comfort food
Website: https://monellstn.com/nashville/
Jeni's
1892 Eastland Ave
2312 12th Ave S
5054 Broadway Pl
1819 21st Ave S
900 Rosa L Parks Blvd
4900 Centennial Blvd
What they offer: Ice cream
Website: https://jenis.com/
Activities
Tootsies Orchid Lounge
422 Broadway
About: Live music venue/honky-tonk
Website: https://tootsies.net/
The Parthenon
2500 West End Ave
About: Replica of the Athens Parthenon within Centennial Park
Website: https://www.nashvilleparthenon.com/
Belle Meade
110 Leake Ave
About: Historic mansion and winery
Website: https://visitbellemeade.com/
Ole Smoky Moonshine
423 6th Ave S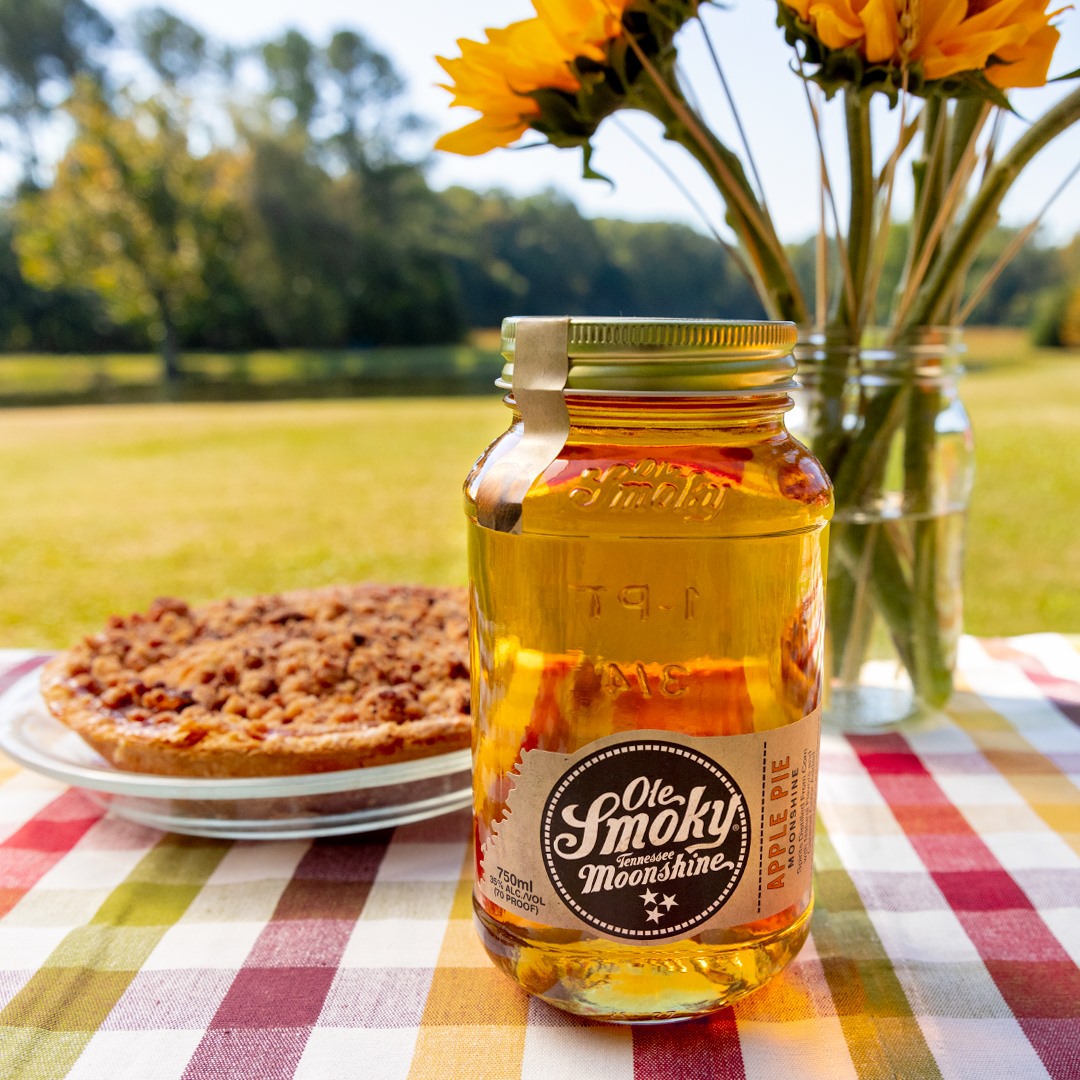 About: Moonshine distillery
Website: https://olesmoky.com/
Marathon Village
1305 Clinton St
About: Shopping mall within a historic auto factory
Website: https://www.marathonvillage.net/
Pontoon Nashville
525 Basswood Ave
About: Pontoon boat rentals
Website: https://pontoonnashville.com/
Tailgate Brewery
7300 Charlotte Pike
About: Brewery with pizza
Website: https://www.tailgatebeer.com/
Country Music Hall of Fame
222 Rep. John Lewis Way S
About: Museum and research center for country music
Website: https://countrymusichalloffame.org/
Cheekwood Botanical Garden
1200 Forrest Park Dr
About: Botanical garden and historic estate
Website: https://cheekwood.org/