A few months ago I made the official announcement that Tony & I were expecting! Although this pregnancy is technically my second, it almost feels like a completely new experience. It's like the universe wanted me to experience every symptom a pregnant person can have so that I can write this blog post!
My first trimester was HARD, I was nauseous, tired, hungry but also not hungry (if you know you know). My second trimester was a little manageable until I started suffering from insomnia! Now well into my third-trimester…. I will spare you the details. All that being said, I am so happy and grateful for creating this life inside of me and I can't wait to meet my little baby.
Here are all the things that helped and are helping me still get through it as well as pregnancy essentials for a healthy little nugget.
The Pregnancy Pillow
If you're going to purchase anything, you must get a pregnancy pillow. As your belly grows it becomes increasingly difficult to sleep. It is also recommended that you sleep on your left or ride side, not on your belly (for obvious reasons) and avoiding sleeping on your back. It puts the weight of your uterus on your spine and back muscles. In the second and third trimesters, lying on your back may compress a major blood vessel that takes blood to your uterus, making you feel dizzy and possibly reducing blood flow to your fetus. This pillow will help you get comfortable and provide you with the support you need.
Your partner might not be a fan though!
Supplements/Vitamins/Minerals
If you're expecting, the most important thing to be doing a good pre-natal vitamin daily, for me this was a trial and error as I was very nauseous in the beginning, I couldn't stomach taking anything in pill form so I opted for gummies. After my stomach settled I switch to a liquid multi which absorbs better in the body!
I take a few more supplements that work for me and my body, definitely consult with your health care provider before taking anything. I am a blogger not a doctor! Personally I have been taking Omega 3's, Vitamin D and probiotics.
If you're having trouble sleeping and pooping I highly recommend taking Magnesium. I am obsessed and take it every single night! It's been a lifesaver. There are a few brands that I use listed on my amazon store !
Emotional Support Cup
Staying hydrated is so incredibly important in general but especially during pregnancy. It is recommended to get between 64-96 oz per day. When I was in the throes of my first semester nausea my favorite was iced water with lemon. It was super refreshing and calmed my stomach. I love this cup because it's huge, I drink 2.5 of these per day and reach my allocated daily water intake pretty easily.
Pregnancy Fashion
I decided that I didn't want to go crazy buying clothes for pregnancy and would try my best to repurpose my clothes and my husbands to get through this time. I did however get a few basic things I could wear day-to-day. My favorite are onesies, they grow with you, they keep everything tight and together. Throw on a jean jacket or a blazer and some black boots and you're good to go!
Protein Shakes
Delicious and healthy protein shakes in the morning were amazing for keeping the nausea at bay while also providing my body with the nutrients it needed. I like using a clean vegan protein blend from Promix. I add a banana, ice, oat milk, spinach and some peanut butter and it keeps me full for a few hours! I know some moms to be would drink protein smoothies at night to help with morning sickness.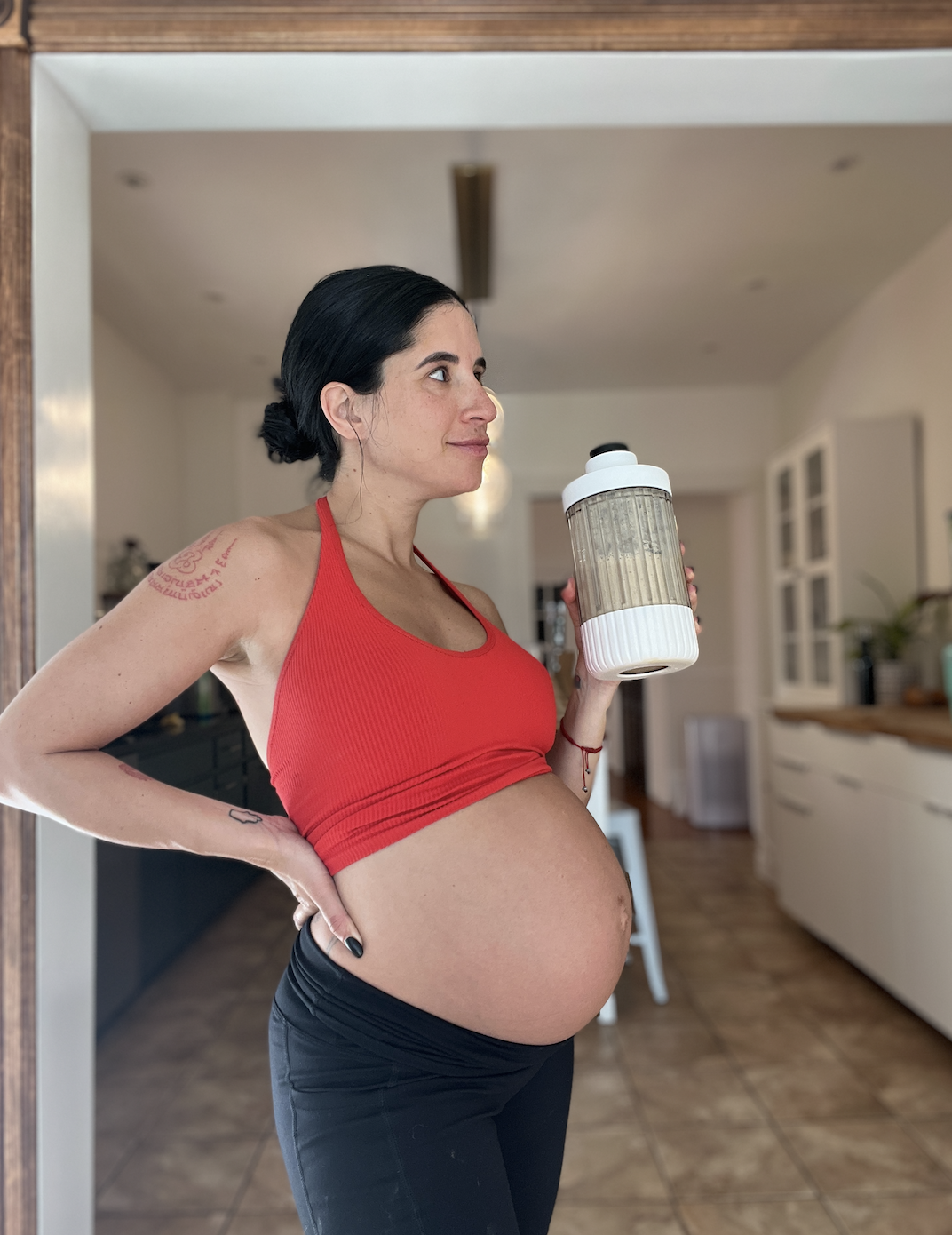 Self Care
Taking care of yourself is always important, but there needs to be an emphasis on this while growing tiny humans in our body. Whatever it is you enjoy, skin care, long baths etc. I really love this BioOil for my growing belly, it helps relieve itching and keeps my skin soft!
Birth Ball
Later in pregnancy the birth ball comes in handy, it helps release your hips and will facilitate getting baby to move down. It just feels good ok?!
Books
There are so many books you can read during this time, I bookmarked all my favs in my amazon shop!
Doppler
Pregnancy can be a stressful time for some moms especially in between pre-natal appointments and before you feel baby move you're like "is there someone in there?" I used the Doppler alot in my first pregnancy, keep in mind you won't be able to hear the heartbeat until 12 weeks!