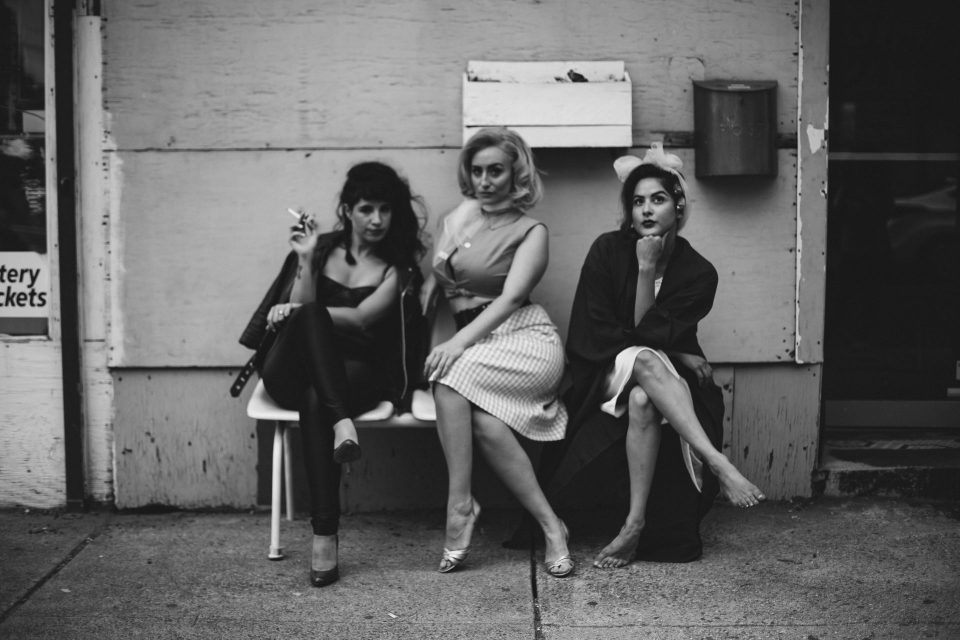 It is no secret that The Hair Room JC is part of my official "Glam Squad," I probably see them atleast once a week to get my hair done for all my events.  I've been friends with Anatalie, girl boss of the Hair Room JC since before she even had a salon.
Anatalie is a bad ass girl boss from Texas and she is one of the hardest working business owners I know. I love her very much!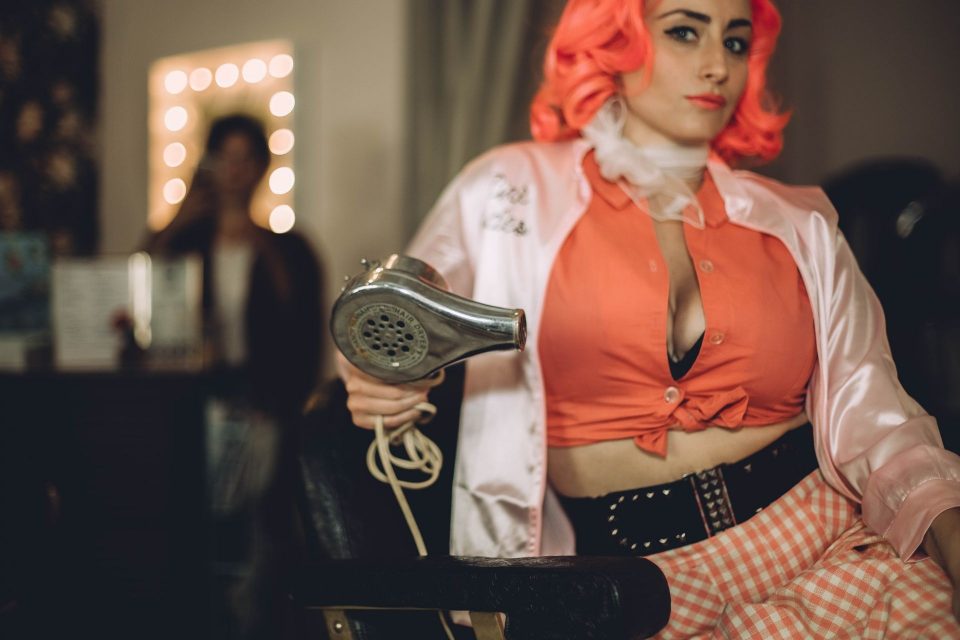 The Hair Room is such a great place, you feel instantly at home when you walk in, it is very friendly and welcoming. Anatalie and Sibel make you feel right at home. I even come with mini-chicpea sometimes and she will play while the girls make me over.The Hair Room is my home away from home.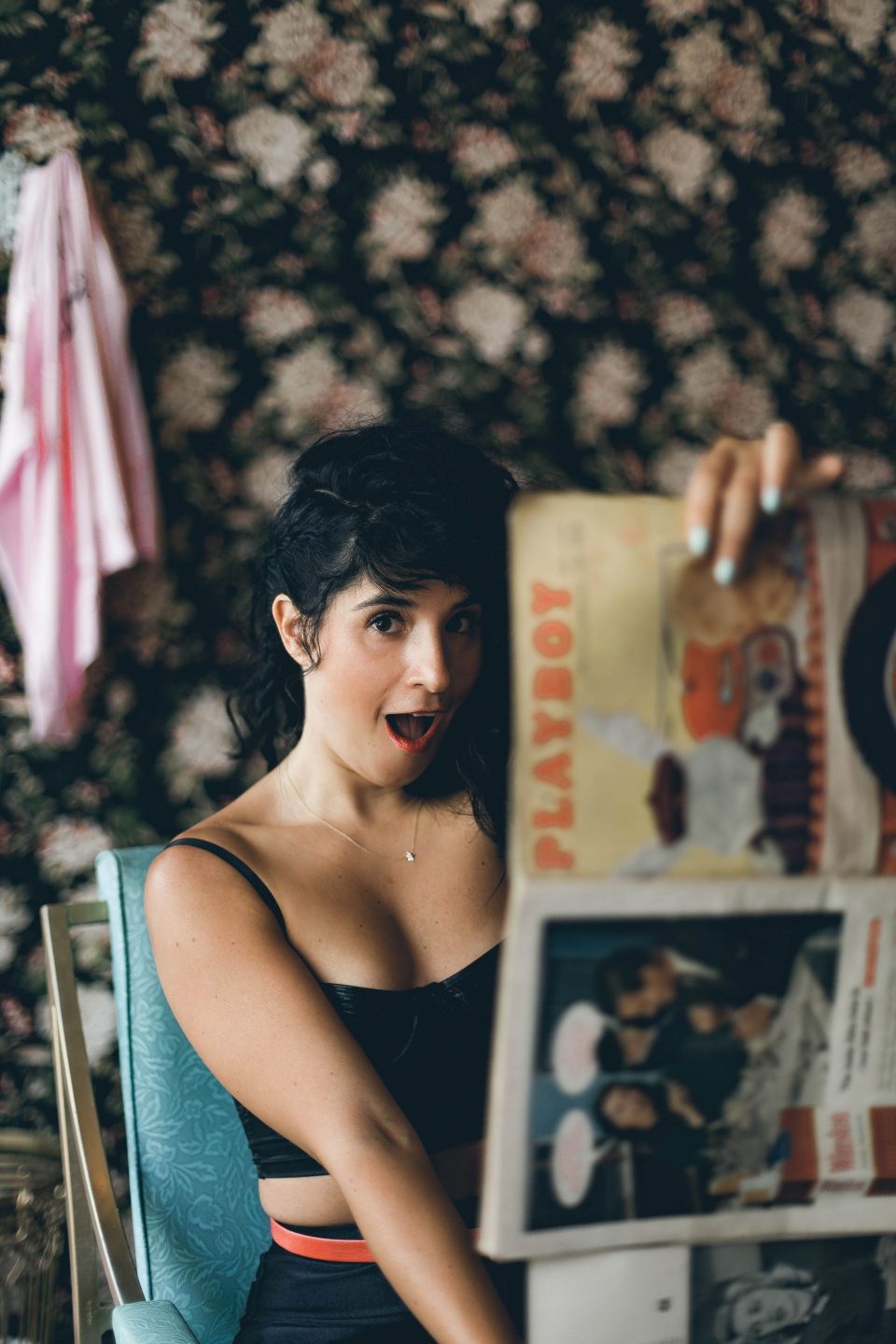 We decided to do a fun Grease-inspired photo shoot in celebration of The Hair Room JC and enlisted video god @5thphvse to capture the fun. Hope you enjoy the visuals and Anatalie's inspiring story.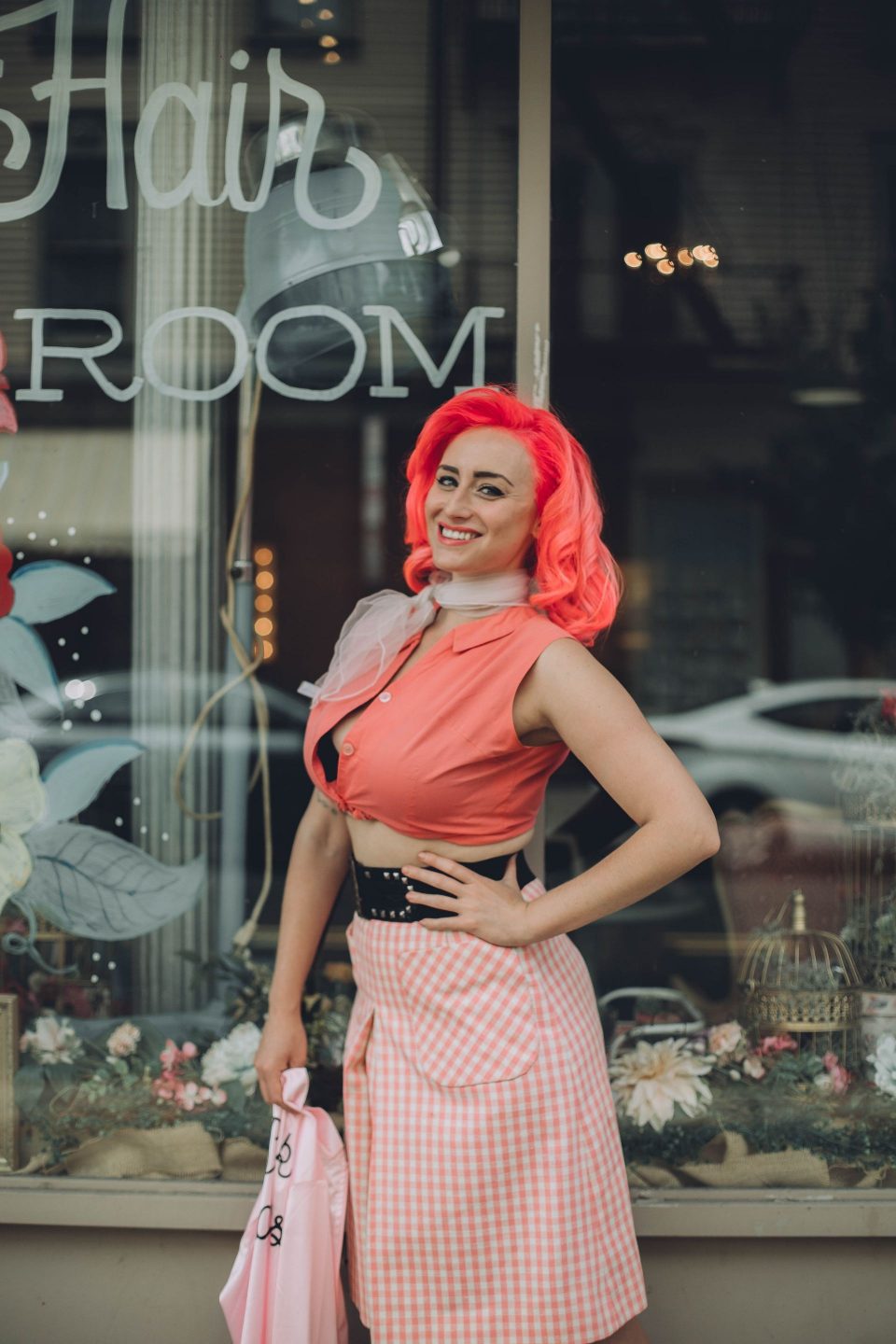 What's your name?
Anatalie David.
What do you do?
I am a stylist and owner of The Hair Room in Jersey City.
Tell me the background story of The Hair Room.
I grew up in my mom's salon and the name The Hair Room comes from the fact that my mom had a room in our house growing up that she did hair out of. She stayed home to do hair, and my dad built a hair room in the back of the house. I grew up with my dad greeting guests with a glass of wine and a snack, sitting in my living room watching TV while people in the next room were getting their hair done. With The Hair Room itself, I wanted to create this familiar warm and inviting environment that was different from your standard salon. I wanted to make people feel at home.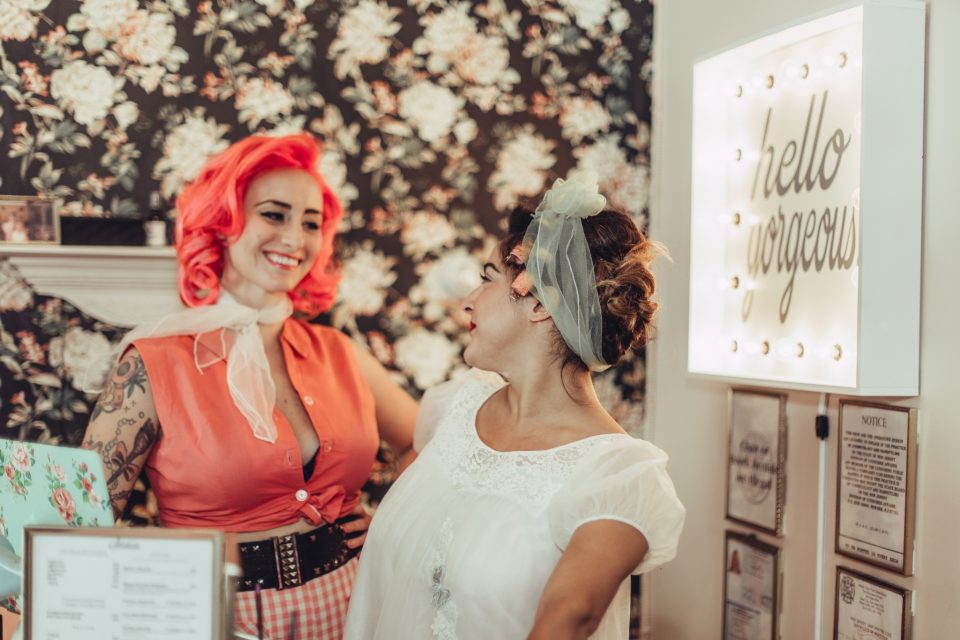 That's awesome. So you got into hair from your mother?
Because I grew up in a salon, I was exposed to it in a way that I didn't realize. I didn't want to do hair immediately when I graduated high school. I tried to go to college and tried a million things under the sun, but nothing ever clicked. My mom took me to New York for a hair show one year, and I got to see the industry from a whole different angle, and I thought, "Maybe I do want to do this." I started going to beauty school, and everything came so naturally to me. I didn't realize how much I had absorbed while being around it for so long.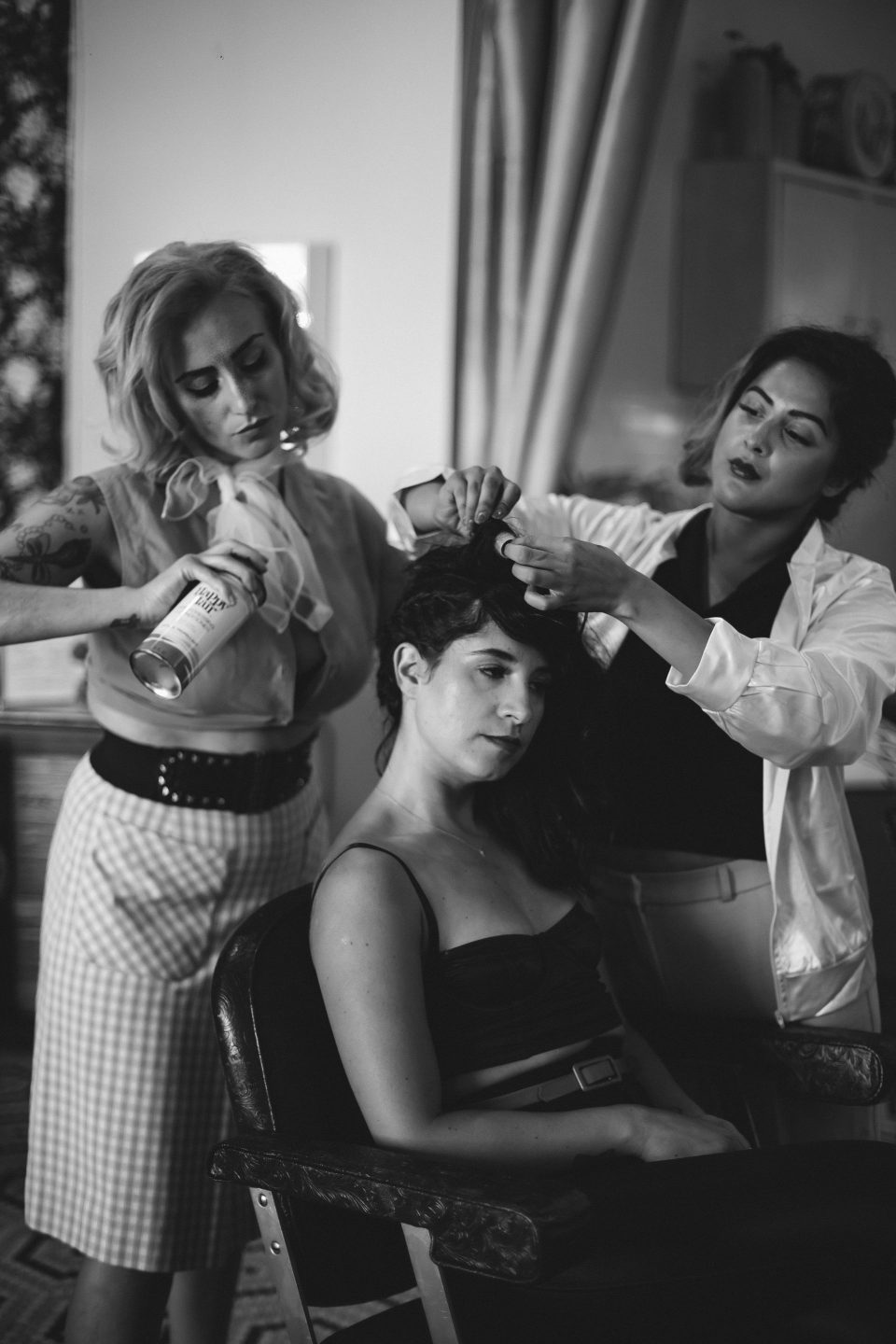 How did you go from working in the industry to deciding to own your own salon?
I always knew I was going to be a boss. I'm a better boss than I am an employee. I started creating my own businesses when I was a child. I remember having a soap business. I don't think I ever sold a piece of soap, but I had a whole business plan for it. I was constantly doing things like that as a child. I knew ownership was something that was going to happen eventually.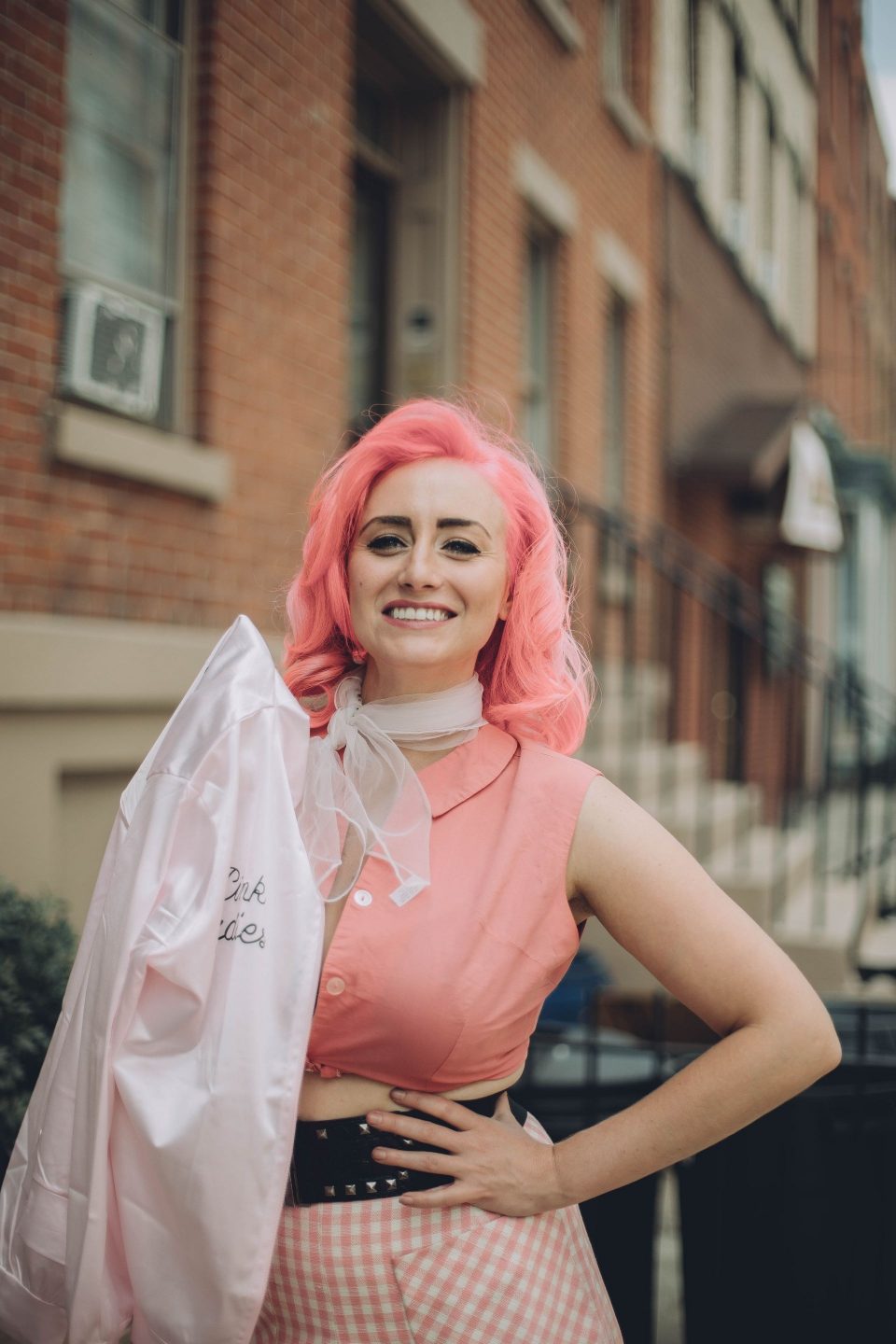 It's been a tough road. Do you want to talk more about it?
It's been a rocky road. Starting a business in Jersey City alone was hard because the resources you think are there aren't really there yet. Business is growing at such an extreme rate right now that I don't think they can keep up with it. I had to learn from mistakes along the way. There was no clear starting point or process. I walked into an office like, "I'm trying to open a business, what the heck do I do?" And then I'd get sent back and forth to a few places. Six months later, I finally opened.
It seems like longer.
The Hair Room itself was at least a year and a half of hard work. The first year was doing a lot of branding and networking. I was getting myself out there to let people know what the brand was, who we were, and what we were going to bring that was different than just another salon in the neighborhood. I did a lot of wedding and photo shoots, pretty much any hair I could get my hands on for a year. I was also freelancing and bartending at the same time because I still had bills to pay.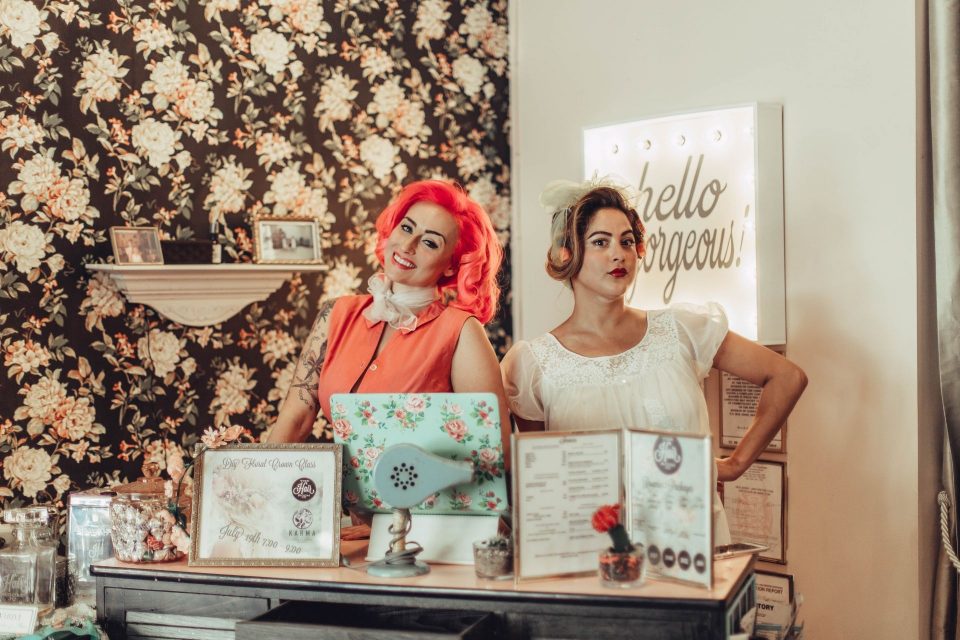 You're a hustler. There are so many hardworking female bosses in the area.
We've created a group of badass boss bitches in Jersey City. Had I not had the support from people like you, Kristen, Meika, Michelle, etc. and of course my boyfriend, financially and mentally, it would've been a lot more difficult. There were times throughout the process where I wanted to give up. I had a lot of bumps in the road that made me wonder if this was meant to be. I don't think I ever questioned if this is what I should be doing, but more like is this how I should be doing this. Getting past that "how" and seeing everything come to fruition afterward has made me so much stronger. It's amazing.
How does it feel now that The Hair Room is open?
It feels like a weight has been lifted off of my shoulders. I don't feel like I'm drowning anymore. When I'm at the salon, I never want to leave. Sometimes, I'll sit there, turn on the TV, and do menial tasks.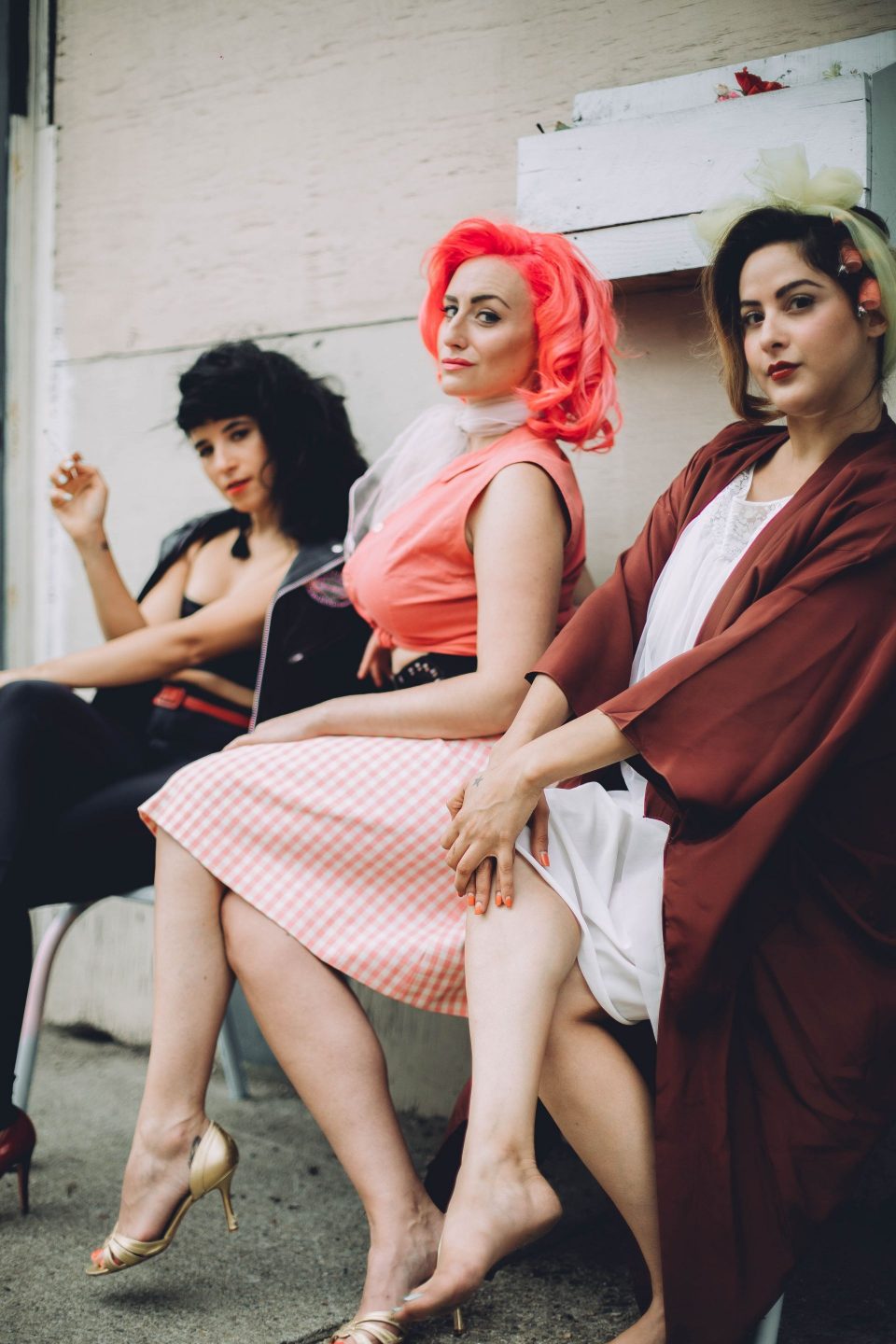 That's how I feel here at HQ! So where do you see The Hair Room going?
I already have plans for 2.0! Ultimately, I'd love to take this brand and different environment I'm trying to create and franchise it, and eventually expand. I especially want something in Texas, so I have an excuse to go home in the wintertime. As far as Jersey City is concerned, what I've learned a lot is that people stick to their neighborhoods. The first thing my mom said when she came here is that we were going to outgrow the space in a year. I don't want to outgrow the space, though. I like the location for what it is. It's perfect for The Hair Room 1.0. Having a Hair Room in a different part of Jersey City is ideally the next step, but beyond that, I had a vision of an old Victorian-style house with a wraparound porch and a backyard. Each room would be a different beauty service. You'd have a facial room, a hair room, a nail room, a barber shop, a tattoo shop, a café, a dog area. Something like that, a one-stop shop for everything. Ideally, it'll be run by powerful women.
I love it! That sounds dope. So how do you feel social media has played a role in where you are now?
I wouldn't have opened my doors with the success I had without social media. People knew who I was before I even was.  I think creating such a buzz on social media with the salon created this FOMO, like "I have to know what's going on with this place." I also saw that, within the Jersey City beauty industry, everyone else kicked themselves up a notch, and now you see a lot more salons participating in social media, which I think is great! When I started this, I didn't see a lot. We're such a visual industry; we should be using mediums like Instagram and Snapchat. I love using Snapchat because people get to see things through our eyes what it's like being in a salon all the time.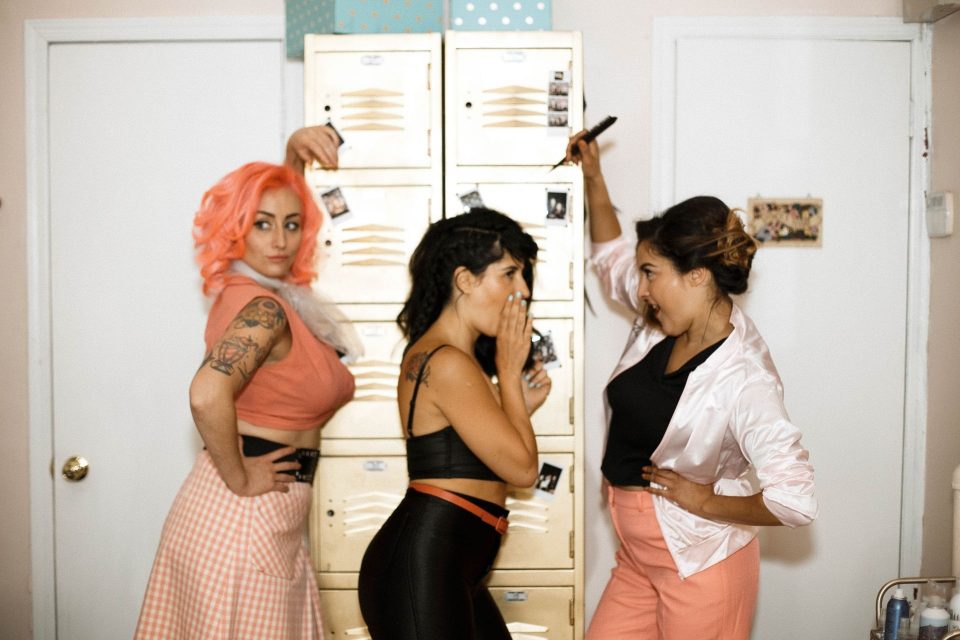 So you're originally from Texas – how did you end up in Jersey City?
It's a fun story. I always knew I was going to move to New York, and there were times in my life where it almost happened. Life got in the way and had other plans, and around the time when I did end up here, I was at a point in my life where I was really lost. I was in a relationship that needed to end, and I didn't know what to do with myself. I came to visit New York and stayed for the weekend. I didn't have anything to go home to at the time, and my sister had just moved to Jersey City. I decided to check it out, and it happened to be the week Hurricane Sandy hit. I was flying on a standby flight, so I figured I'd stay with my sister for a couple of days instead of hanging out at the airport while everyone was trying to get out of town. Then a big nor'easter came afterward, so I ended up staying longer. I told myself that, if I could find a job and an apartment in a week, I would stay. I found my first job at Barcade – thank you so much for that because it got me my boyfriend and my first job – and everything fell into place after that. I fell in love with Jersey City immediately. There was this small town vibe, but the feel of the city. I'm from Texas, where I walk down the street and see people I know, and not everyone smiles back here, but I can still walk down the street and see tons of people. The community itself is so empowering with each other. It just always felt like home.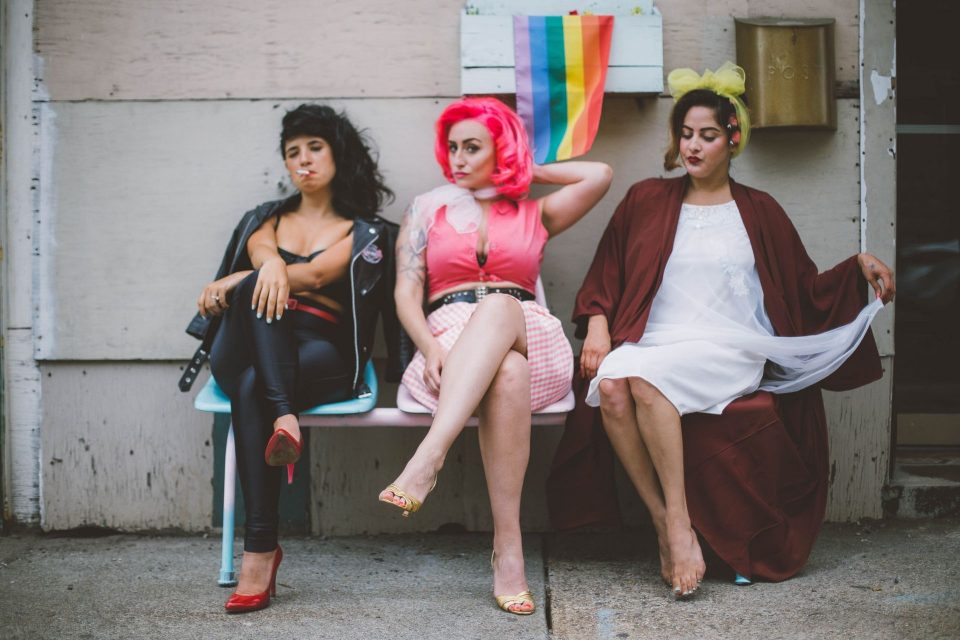 How was it, going from Texas to Jersey City?
I'm from Houston, one of the largest cities in the country. The biggest transition was that I don't drive everywhere. I walk everywhere now. There are more things to do here, and it's a different lifestyle. It's very fast-paced, and I have to slow down a lot whenever I back go to Texas, and it's really hard for me. It's fun the first day, but then I get anxiety because everyone walks so slowly and they don't know what they're doing in fifteen minutes. I'm on a schedule every day while everyone's laid back.
I get it. The slow pace doesn't work for us.
So what is your favorite Jersey City hangout spot?
Probably South House. Not only because I worked there, but because it makes me feel at home. Everyone there is also family to me, but it has a laid back vibe, the music is always chill. I'm not a loud music scene type of person. Some rock and roll, some chips and cheese, beer, a glass of whiskey, and I'm good to go!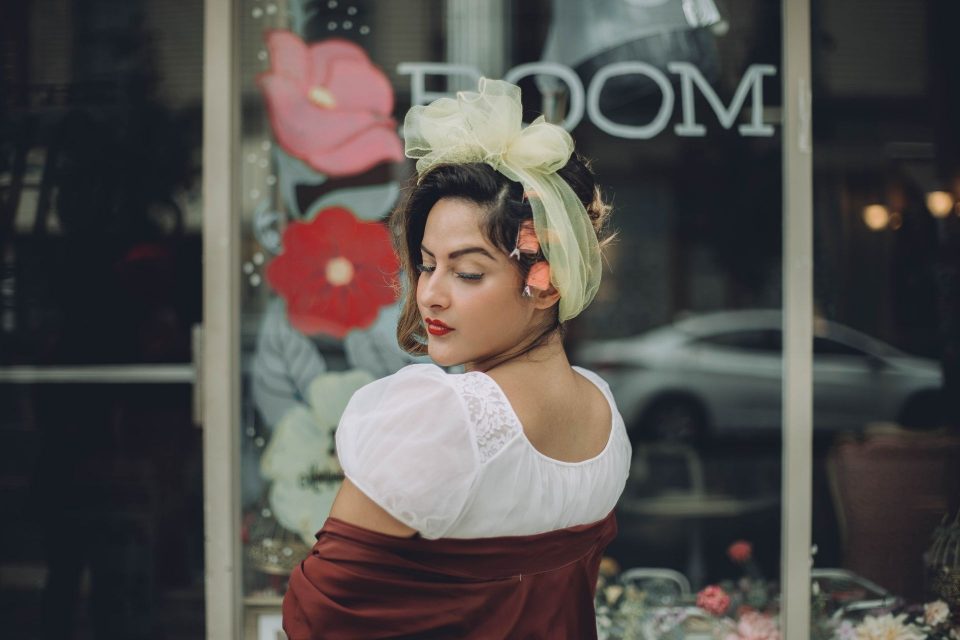 You also do DJ Whorekit, right?
Yes! I'm one-half of DJ Whorekit. It kind of started as a joke. She went with me to Virginia to get the rest of my stuff out of storage when I finally moved here, and we created a playlist of just the most annoying pop songs. It's every song you hear and go, "Oh my god, I forgot how awesome this song is!" It's like slumber party music at a bar. It started one Sunday afternoon when we were at LITM. The guys handed us the aux cord, and we played music. It was clearly a joke; I'm in no way, shape, or form a DJ. Now they let us play once a month at Lucky's, and we have fun with our friends. It's awesome! We have some drinks and play cheesy pop music.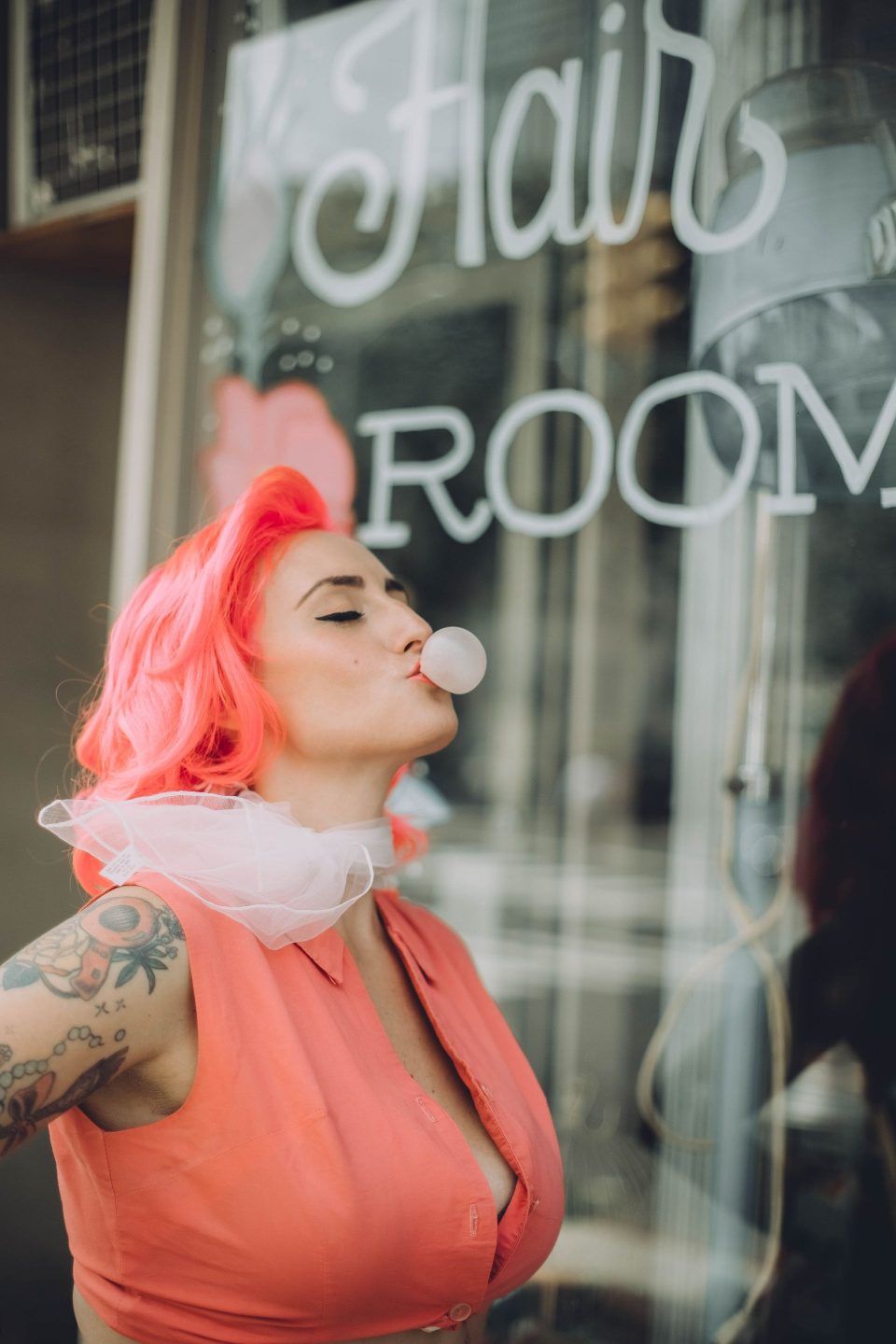 Anything else you'd like people to know about you or The Hair Room?
Another reason I wanted my own place is because I was tired of this pretentious, ego-inflated environment that happens in salons, especially in New York City. I came here and did that whole scene. There's a whole lot of ego in my industry. I didn't want to be in that kind of environment anymore. I wanted people to feel comfortable. I'm an honest stylist. Too many times, I see stylists lying to their guests just for the sake of price. I'm just as honest and genuine as I can be. I value my work and my worth, and I'm comparable to other salons in town. I'm not trying to undercut anyone or overprice anyone. I like to price per the individual. It's about my time and the person I'm working with. When you approach it with an open and honest attitude, everything works itself into place. I'm about loyalty to my guests. I also wanted to create a social space for women to unite and support each other, which is why we have started hosting our #TeachYourselfTuesday classes in collaboration with Karma Flowers. Each month, we offer two social classes based on beauty and lifestyle tips. It's a great way to socialize and sip some bubbly with your BFF or meet your next one. We should uplift and enjoy each other instead of tearing each other down.
Amazing!
Check out The Hair Room on Instagram, Twitter, Facebook, and their site!