"What if I fall?
Oh, but my darling, what if you fly?"
Girl, you might! ¯\_ (ツ)_/¯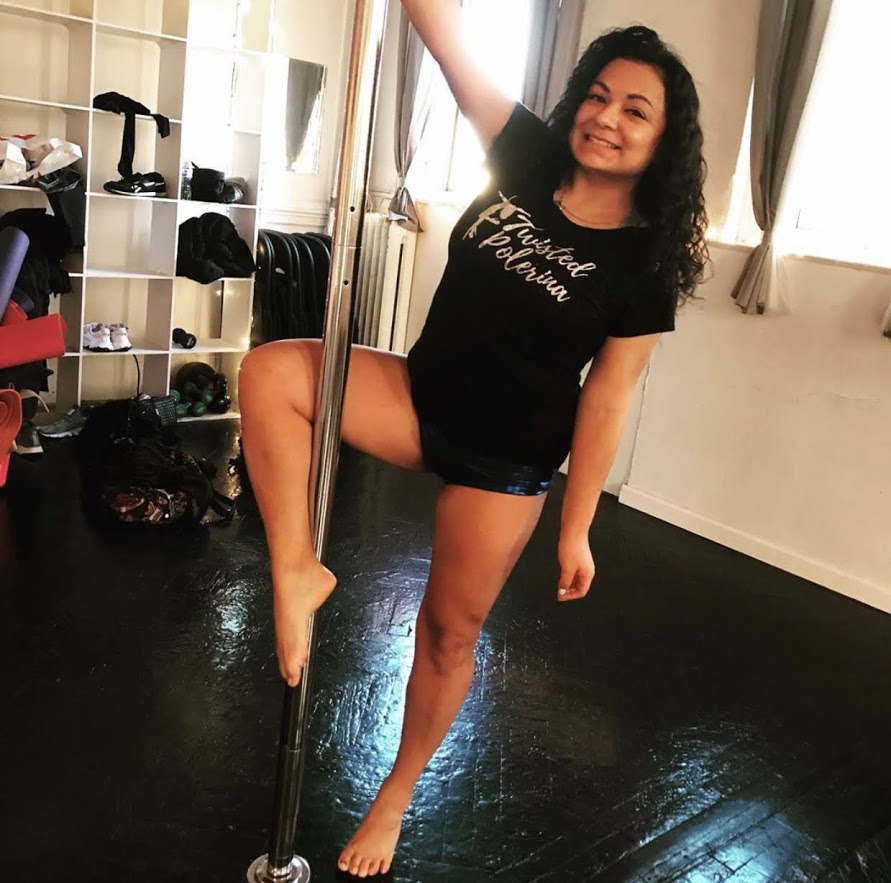 Thanks to JLo's 2019 Hustlers and Cardi B, many people have dipped into the world of pole dancing. While it may look easy and alluring to do, you soon find out how much strength and precision it takes to do a single twirl. Caprice Burrell opened Alter Ego Pole Fitness & Wellness with the idea of empowering women (and men) of all ages in mind. The mother of a little girl and wife of 15 years has proven it doesn't matter when you begin a lifetime of fitness; what matters is accomplishing your goals without letting your insecurities that naturally come with age hold you back.
Burrell is not only a triple threat as a dancer, recording artist, and accredited actress (SAG/AFTRA), but she is also a commercial print model and she has worked hard towards her goal of opening her own studio – even if the banks did not believe in her dream. After years of training under NYC's top pole instructors, she saved her tax returns and paychecks from her Legal Secretary/Paralegal job to open the Newark, NJ location in 2011. After a few years, she moved the studio to Hoboken.
Tell me a little about yourself.
I'm a Jersey City native (born and raised). I graduated from Kean University with a Political Science degree, minoring in Theatre. I was originally on the path of pursuing an acting /commercial print modeling & music career.
What inspired you to teach pole dance?
[I] took my first pole class in January 2008 at a local NYC gym I was a member of. It was love after the first whirl around the pole. I trained for almost 4 years before becoming a pole instructor which eventually led to me opening Alter Ego Pole Fitness in 2011 in Newark, NJ.
Do you think pole dancing is still taboo in this new generation?
I don't think pole dancing is still taboo because there are different shows that are highlighting pole dancing in different ways. Within the last 10 years there has just been an influx of women from different walks of life trying [pole dancing]. Nurses, teachers, Muslim women, Hasidic Jews – they enjoy it because at the end of the day they are women. Most women want to tap into their sexiness and confidence; they want to be empowered through their femininity.
What empowers you about pole?
It has allowed me to see what my body is really capable of doing. I never thought that in a million years I'd be able to do semi gymnastic moves on a pole. That I'd be able to have even more energy at my age 47 versus when I first started at 35. I didn't think it would sustain me as long as it has. What also empowers me is being able to tap into that inner child – that little girl that dances in front of the mirror like a child. It has allowed me to keep that inner spirit vibrant that has allowed me to age gracefully.
Did you receive any pushback when you wanted to build your company?
I didn't receive any pushback when I started Alter Ego; however, I didn't receive support from the pole community. I didn't ask for their support in the beginning because everyone was busy doing their own thing. I didn't want to go into where I trained and look for clients. I did have one or two "pole sisters" at the time who helped me in the beginning and agreed to teach classes for me for free when I first started my studio. They needed their experience, and I needed the help.
Are you thinking of expanding to more locations?
I am thinking about a possible second location in Florida if I find the right location. However, that won't happen until Alter Ego Hoboken is 100% operating at its full capacity.
What would you tell your daughter about the stigma that often comes with pole dancing?
I would tell her nothing because I don't think it will be a stigma when she grows up. I am trying to pioneer a new mindset and stereotype and thinking of this whole thing [pole dancing]. I want her to see this as a form of fitness and something she can do in a space environment. Young girls need a way to express their femininity because they don't need to keep this bottled in for some guy to bring it out, they need to have their confidence in them so they don't need validation from other people. [That confidence] resonates in other areas.
What advice can you give to those who want to start their own studio but aren't sure how to?
Write a list of things they would like to accomplish within their own pole studio and just start. Do not look for a perfect circumstance because if you do, you'll never get started. It doesn't have to be perfect to start, just start.
---
Alter Ego Fitness and Wellness celebrated its 9th anniversary this past July and continues to host private pole parties and classes while sanitizing the studio and equipment during this COVID pandemic. If you are interested in taking a swing at the pole, Alter Ego is located at 38A Jackson Street, Hoboken, NJ 07030.
You can also find more information about Alter Ego on their website and follow them on Instagram.