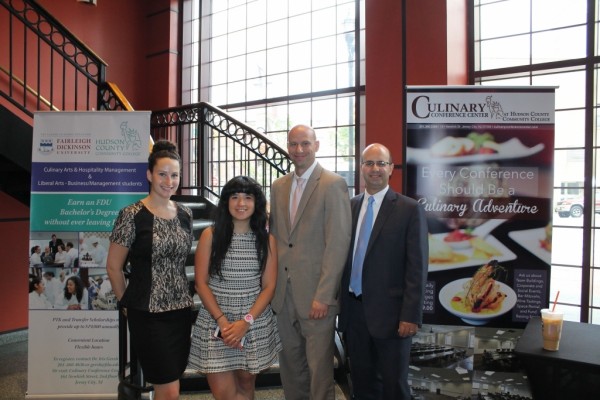 Back in June I was invited to the Hudson Community College, Culinary Institute by Dean of Arts Christopher Wahl for a tour of the premises and a lunch at their culinary cafe. There I learned about the Culinary arts program and got to eat a delicious meal with my new friends as well as check out the school. I can't wait to go back and take an actual class!! #staytuned
A few days ago I was asked to speak as a guest on a panel for Pastry chefs about food blogging and being an entrepreneur, it was awesome!
What's your name? Sara Mintzer, and I'm the Catering Manager.
And you? Ara Karakashian, coordinator and assistant professor.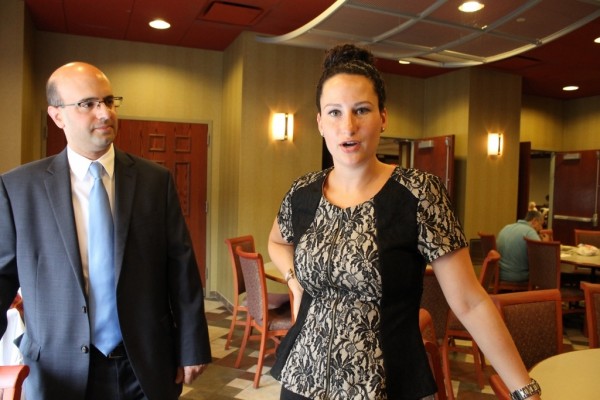 Can you give me a little bit of background on this program?
SM: Tuesdays are our Culinary Cafe which is more of a marketing tool to get some of our clients who may never have been here before to come in to try our buffet for $12. This is an example of a package we sell for about $45-50 for events. We hope for new clients to come in, taste our food, and they can see the banquet room and say "Wow, I can have a great event here!" We have different types of space for a variety of events. We can have social events, birthday parties, retirement parties as well as having a ton of corporate events that range from 10-200 guests. We share the space with the Culinary Arts Institute; we are two separate entities but work side by side. Ara can tell you a little more about the Culinary Arts program.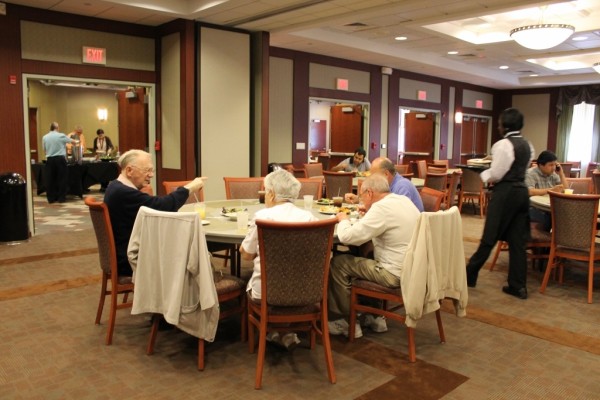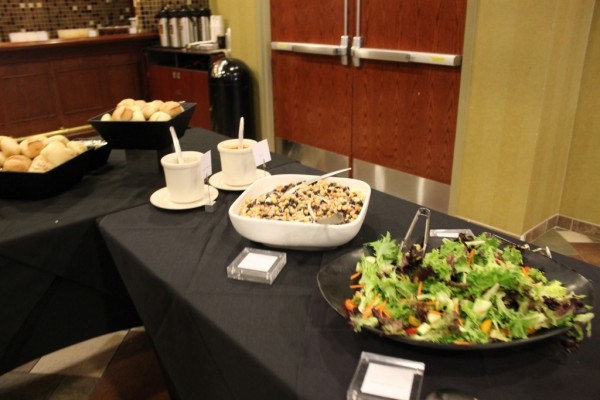 AK: The Culinary Arts program was founded in 1983 and was housed in a work-deli at this present and current location. This building was constructed in 2006 and opened in fall of 06 on one side, and the other side opened in fall of 2007. We currently have over five hundred students in the Culinary Arts program; we have approximately 100 students in the Hospitality Management program, and also around 100 students in our Baking and Pastry program. We offer Associates Degrees in Culinary Arts and in Hospitality Management.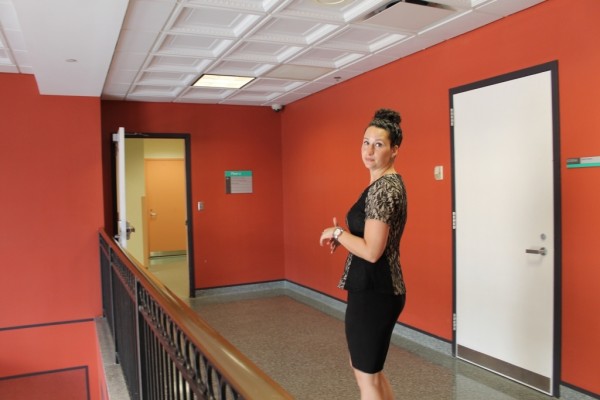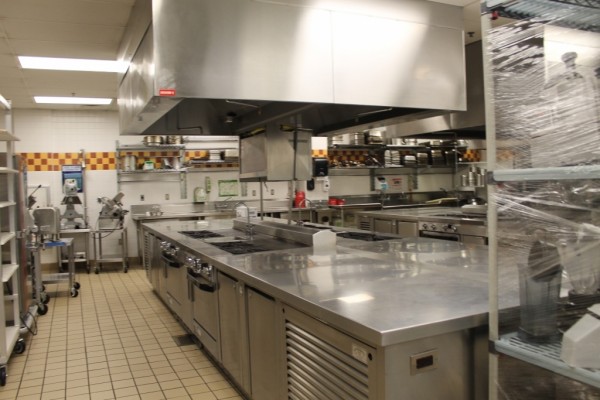 The people who are cooking or in the kitchen are all students?
SM: Actually, my company Flik manages the conference center, but many of our servers, my sous chef, and my general manager actually graduated from this program. We have had a lot of interns and ex-terns from the culinary arts program, but it's a separate company running this space.
AK: They have hired many of our alumni, whether current students or alumni such as the director himself Chris Pica.
Okay great! Anything else before we start the tour?
SM: In this room we have salads, soup, beverages, and we have our dessert on the side.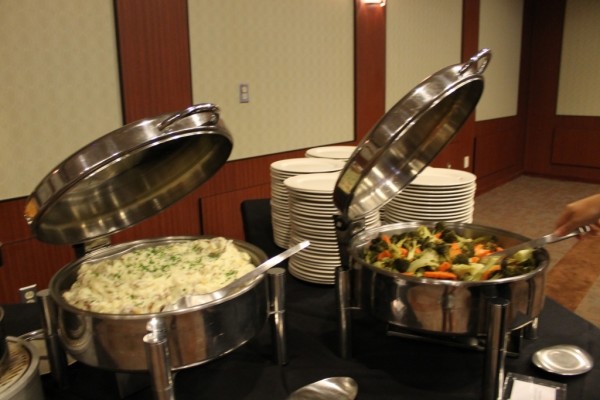 Which I will have to stay away from.
SM: Drinks on the bar, coffee, and then the main buffet is in the back of our favorite room. A lot of these guests could be part of the school, but most of them are from local businesses.
Does the menu always change?
SM: The menu changes every single week. Sometimes it's themed, sometimes it's not.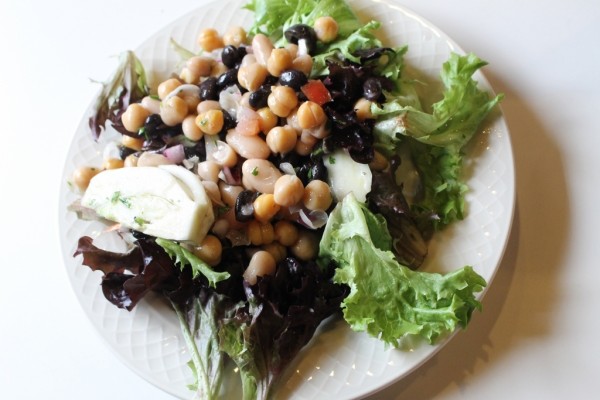 I'm hungry actually.
SM: Good, well you came to the right place. Help yourself!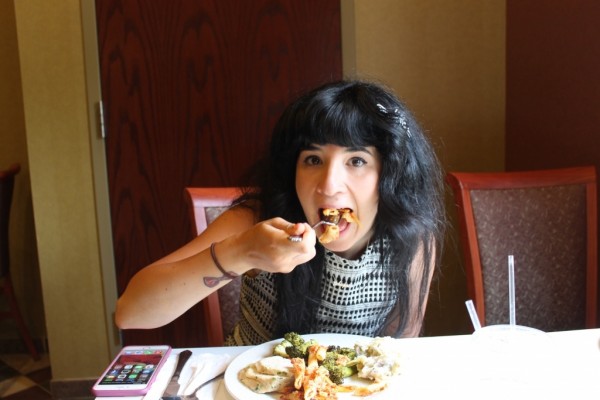 You do this hoping that people want to book events?
SM: Correct, it could be a corporate event or a social event. I have a banquet room with a pre-function area which could be dual purpose for a buffet set up or for a cocktail reception. I have another large space upstairs, a little more of a basic setting for a large corporate meeting; I can fit up to 250 people up there. We have 5th-floor space which is also classroom size and holds up to 30 attendees.  We also do team building events. It can be a 3-4 hour cooking event that can be corporate or social. It can even just be you and your friends who want to learn and cook and have some beer and wine as well. You cook your meal from start to finish with our professional chefs. It's a really good way to learn because you don't have to be afraid; even though you never used a chef's knife before or you've never worked on a grill, now is the time to do it because the chefs are there to guide and assist you. We actually use the Culinary Arts Institute kitchens for that, so we borrow their space.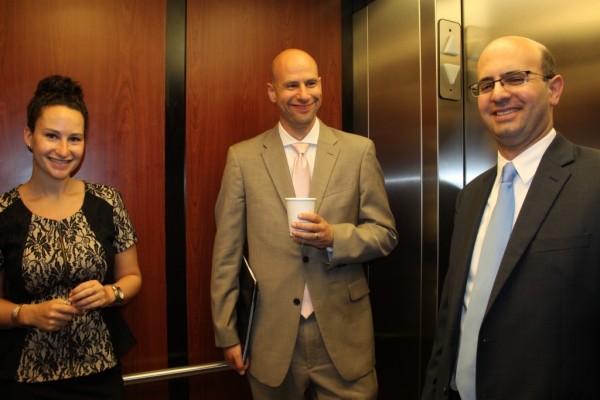 How long have you been involved with the program? AC: Since 2007.
So are you a chef?
AK: I was a former Entrepreneur; I used to work for campus dining for Aramark, Monmouth University, Onlinelunch.net for four years. I got my Masters; I'm working on my Doctorate now in educational leadership. I've seen that entrepreneurial end I don't just teach it, I've experienced it firsthand; getting the phone calls at 3:30 in the morning that there's a gas leak in your shopping center, things like that. Other than the Tuesday offering for the general public, there's also the foundation at the college. The foundation here at Hudson is the fundraising entity for the entire college. On select Fridays in the fall and spring semester, we have tables that we sell for $1,000 for the entire term, and on eight Fridays a company, or a family, or whoever has donated the money can come in and enjoy a four course lunch that is completely prepared and served by our current students.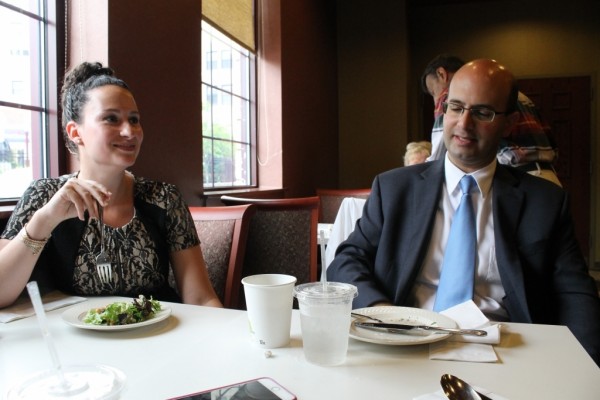 Awesome. What's your favorite thing to cook?
AK: My favorite thing…Oh My God…believe it or not, you're going to laugh; I like to make hummus.
OH REALLY!? Mine is better…
What's your favorite Jersey City hang out spot?
AK: Light Horse Tavern that's it. I love that place.
What about you? 
SM:  I grew up in Monmouth County, moved to Jersey City about two years ago. I live Downtown, I absolutely love it here. I love Skinner's Loft, that's kind of my go-to restaurant, but I'm exploring a bit more. I like Madame Claude's; I have a weird obsession with Ibby's probably because they were from my hometown in Freehold so I was really happy when I moved here that JC has one too. I recently went to the Hyatt which has an amazing view.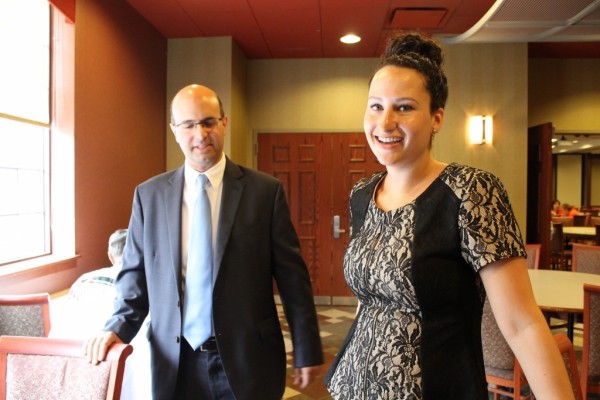 .
What about you? I haven't talked to you at all, what do you do? And what's your name?  
CW: I'm Chris Wahl, the Dean of Arts at the college. I oversee the academic programs that are not the science programs, including culinary.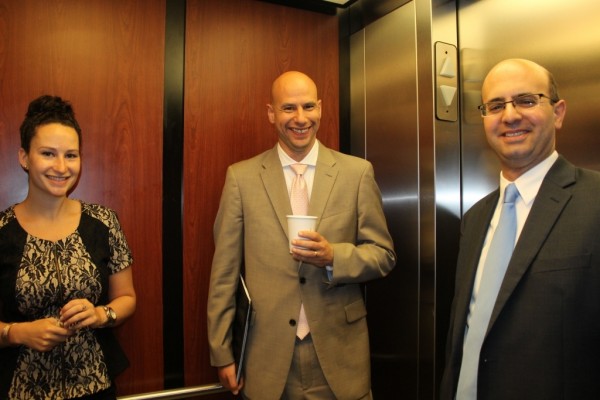 Dean of Arts that's intense. You sound important like I should be scared of you.  (Laughs) Like if I get called into your office I'm in trouble. Is that usually what happens?
CW: Sure. (Laughs) No, but the things like this are fun. The school has ninety-five hundred students; we just graduated just about a thousand students. Out of those thousand students, out of about ninety-five hundred I get to see the ones who have problems. They're not really in trouble, when students have an issue, the College works with students to find a solution)
How long have you been a Dean? 
CW: I think three years in my current position and then a different position for ten years. I've been at the college 13 years, I moved to Jersey City from Ohio. I've been in Jersey City 13 years.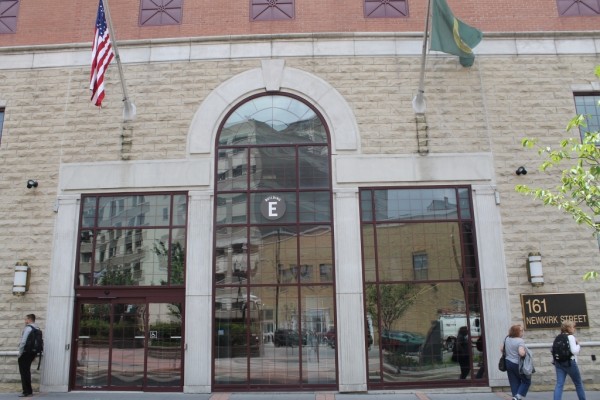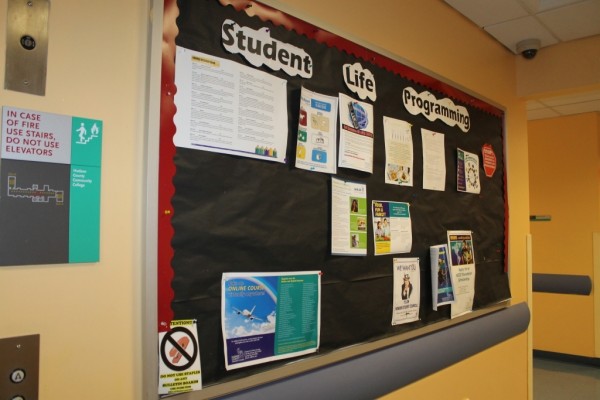 How do you feel about the change in the past couple of years? CW: I love it. We live in the heights so you see a lot of changes, there are art galleries in our neighborhood now. There's Mod Cup Coffee.
I love Mod Cup, oh my god. CW: Our standby, our go-to has always been Renato's. Have you been to Renato's?
I'm going there this Thursday actually. CW: It's so reasonable and it's just this little neighborhood place; my kids love it. It's the first restaurant my kids went to; my sons will still want to go there, and Left Bank. We're fans of Left Bank too.
SM: I love Left Bank, that's a great spot.
CW: It's like a Thursday / Friday afternoon thing. Tough week, you sit down and you have a beer and a burger.
You can't go wrong with that. 
SM: I feel like when you can't decide what type of cuisine you want Left Bank is the best decision because it's neutral and so delicious.
Who doesn't like burgers, they have vegetarian and fish burgers. 
SM: Food is my huge passion of mine and it brings me so much joy in my life. I couldn't ever turn down a good restaurant!