Back in May, we published an article discussing the obscenity law in Jersey City and the ban that halted Lillian Bustle from performing her burlesque show.
What did change:
Restrictions on sex toys, adult films, and performances.
What didn't change:
The topless ban.
No, you can't walk around topless if you have breasts. That's still not allowed. BUT the changes are a big step. The sex toy and adult film section of the original obscenity law was meant to keep strip clubs away and deter distribution, but the current revisions don't place those unnecessary limitations. The changes no longer attempt restrict an individual's personal life.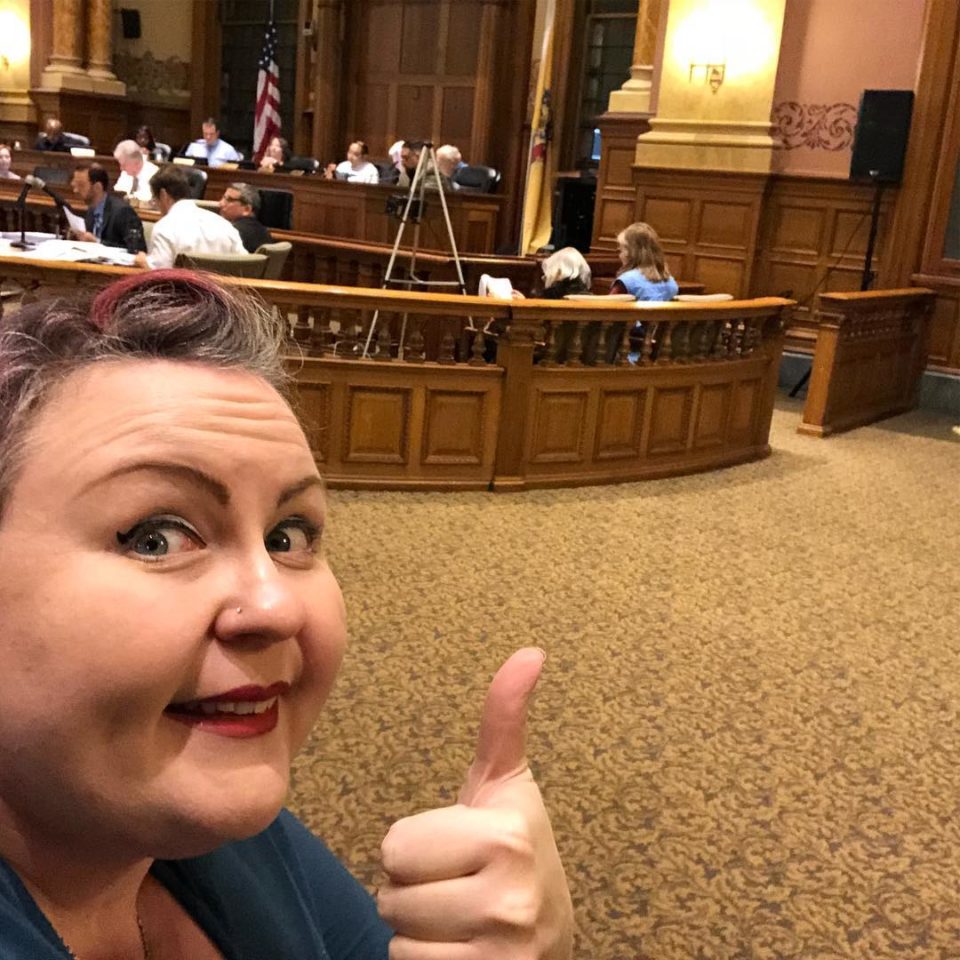 We reached out to Lillian Bustle, a driving force behind this discussion, who shared her thoughts with us.
This new law is a huge step in the right direction. Here's the good stuff:
It adds extra protection for parents who are breastfeeding
It adds extra protection for freedom of speech, specifically stating that Jersey City will follow the Miller 3-prong obscenity test when deciding whether something is obscene, which came about after the landmark Supreme Court Case, Miller V California.
That's good because the previous language in JC's law was ambiguous and therefore selectively enforceable, while the Miller test is not only the Supreme Court standard for obscenity, but it's clear and easy to apply.
While she's happy about the freedom for individuals to own sex toys or films with no government interference, she does have an issue with the topic of gender in the law:
Originally, the rewrite had taken gender out of the law entirely, to create a fully non-discriminatory law. But most of the council was against that, because a byproduct of this completely egalitarian version of the law was that women would be able to go out in public the same as men can, with no covering on their chests. The idea of women having that top freedom was apparently too much; all but 3 of the council members said they wouldn't pass a bill that was not gender discriminatory.
So after a lot of conversation, female breasts were reinstated as nudity. The new version of the law, however, states that females are only in a state of nudity if their breasts are uncovered "below the point immediately above the top of the areola down to the bottom of the areola." So there's a little more freedom there. I get that the law needed to be passed, and unfortunately the only way to do that was to add gender back in. But I'm deeply disappointed that our city was so freaked out by the idea of a few topless sunbathers, that they wouldn't see how awful it is to sideline our transgender, intersex, gender non-conforming, and non-binary neighbors by upholding the gender binary with gendered language. But incremental change is still valuable, and I'm proud of what we've done!
In reference to Wednesday's vote and the public opinion, Lillian was surprised by the pushback.
It seemed like most of them didn't understand either the original law, or the new law. One woman said she felt that people should make sure they're "decent" in public, whatever that means. Another woman wanted to know if this meant that people could just scream obscenities at her (and to give an example, she screamed some obscenities) and one guy had a long speech about how Jesus Christ would not repeal the obscenity law.
In actuality, none of this is going to make a difference in that guy's life. Or most people's lives. Nobody's going to get sucked into a vortex of prurience just because that word wasn't used in the text of the new law. The old law was so convoluted, it was laughable. It was written that way on purpose so that almost anything could be considered obscene! The folks who passed the law in 1982 admitted that they were trying to run the strip clubs out of town, and it was written and passed hastily. And it worked. But it also put lots of people at risk of being targeted with selectively enforceable, vague laws.
So, in short: I didn't realize that our breasts were so powerful! This isn't a complete victory, but it is a victory. And I think as the city builds up its trust, once people see that we're not turning into Times Square in the 70's, hopefully they'll come around about the gender element. But I still think it's something the council could have taken a stand on. Civil rights shouldn't be decided by the general public. Can you imagine if, in 2013, we had had all voted on a referendum about marriage equality? Would it have passed if Fulop had left it up to a popular vote rather than signing it into law? I sure don't think so. But it's clear that people see breasts as a greater threat. Hopefully we can have more conversations about body autonomy and gender discrimination. That's my biggest hope.
While the revisions are a step in the right direction, it comes as no surprise that we have a long way to go.
---
Do you have any opinions on the matter that you'd like to share? Let us know at chicpeajchq@gmail.com!