As I embark on my own wedding planning journey I asked my readers for their own wedding stories. Meet Dan & Andrea! Want to share your wedding story? email us at editor@chicpeajc.com
What are your names?
Dan (@bay2coast) and Andrea (@AndreaJoMurphy)
How did you and your partner meet?
Tinder – it was a different place in 2014 😉
Tell us your proposal story!
Our future had been brought up several times before this beautiful Saturday in May 2019. My father was terminally ill, and we lost him just months before – but Dan had asked for my dad's permission, so during our last Christmas all together, our future wedding was something we all talked about. It was one of the first really nice days, weather-wise… we had just finished a workout and he started rushing me to get home so we could go on a hike, which was a bit odd because we had other plans that afternoon. We stopped at Piccolo's in Ridgefield to grab sandwiches to have for lunch when we first arrived at Palisades Interstate Park. After lunch, we decided to do an easy hike along the water to the ruins, where he proposed!
What was your wedding date and location?
Originally: 5/16/20 Las Positas Vineyards, Livermore, CA
Rescheduled date due to COVID: 9/12/20 Mount Hermon …in a redwood forrest in Felton, CA
Did you have any issues planning or having the wedding because of COVID? How did you adapt?
We ended up rescheduling with the help of our venue to September. We watched things closely, but there was still no real movement in the Bay Area as the summer passed. We decided we didn't want to wait until next year, because who knew how long this was really going to last… We decided to push our reception, with our family and friends, off to July 2021 and basically get married in a forrest. We went from a 160 person wedding, to an 11 person wedding. We had to move everything as the venue was still closed. Many of our vendors also changed due to change in location/availability, so between April when we cancelled, and September when our wedding actually took place, we basically replanned an entire wedding! Ultimately, we ended up cancelling the July date as our venue still wasn't open and we didn't want to push out again, and we now have other things to celebrate!
Tell us about your dress/suit/outfit!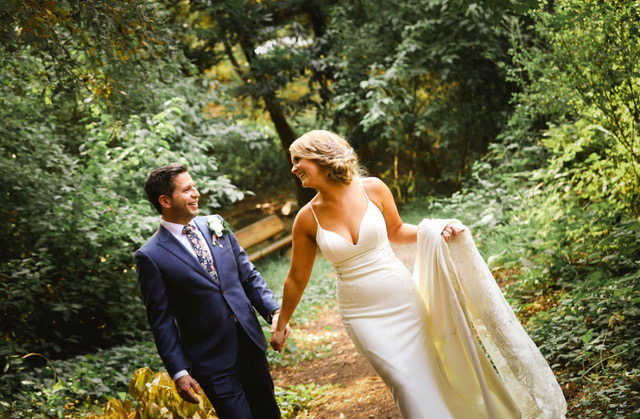 Dress: Allure Bridal, from RK Bridal (W 54th St, NY)
Suit: custom suit from Sebastian Grey (now Grey Custom Clothiers, W 24th St, NY)
Tell us everything about your wedding! What made it unique?
We ended up going from an estimated 160 to 11 people – our immediate families and our pastor (also father of the groom's best friend) and his wife. My in-laws have a cabin in the Santa Cruz mountains, so we planned to just get away in the woods for a ceremony; however, weeks before, the CZU fire broke out and the entire Mount Hermon area was evacuated. We almost had to find a back up to our backup! Thankfully, the evacuation orders were lifted just days before!! We found a space amongst the redwoods that we loved, and planned to have our ceremony there. A family friend, who lived nearby brought her keyboard to play during the ceremony. We had a beautiful ceremony amongst the redwoods. We then took our 11 person party to Hollins House at the Pasatiempo Golf Course for an outdoor tasting menu created just for our wedding day. Even though our wedding was everything but what we planned for, it was perfect!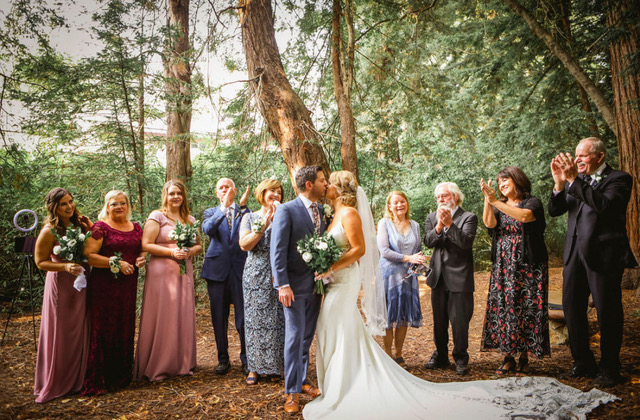 Tell us about all the wedding venue and all the vendors you worked with!
Venue: Mount Hermon @mount_hermon
Dinner: Hollins House at Pasatiempo @hollinshouse
Cake: Gayle's Bakery @gaylesbakery
Photographer: Christina Hernandez, Nightingale Photography @nightingalepix
Dress: Allure @allurebridals from RK Bridal @rkbridal
Suit: Sebastian Grey (now Grey Custom Clothiers) @greyclothiers
Bridesmaid Dresses: Azazie @azazieofficial
Hair: Madison McDowell @beautybym_
Make Up: Adele Ingersoll @mu_by_adele
Flowers: The Bouquets Co. @thebouqsco
Website: Minted @minted
Anything you regret doing or not doing at your wedding?
I wish we had some video of our day.
Any tips to share with Lynn or any bride to be?
Prior to the wedding: be organized, or find someone to help you stay organized! On the wedding day: take it in! Take a few moments, just you 2 to take it in – it all goes so fast!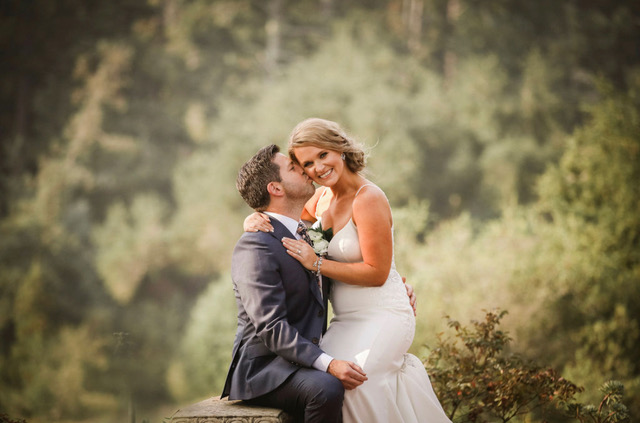 What was the most memorable moment of your day?
The most memorable part of our wedding day was conversation at dinner with tears all around when we talked about my dad, whom we missed that day.
What was your first dance song?
We ended up not having one due to no real reception, just dinner.
Where did you go on your honeymoon?
Due to COVID, we ended up waiting and going over our first anniversary – spending 2 weeks in France (Paris, the south of France/Nice, and Beaune).