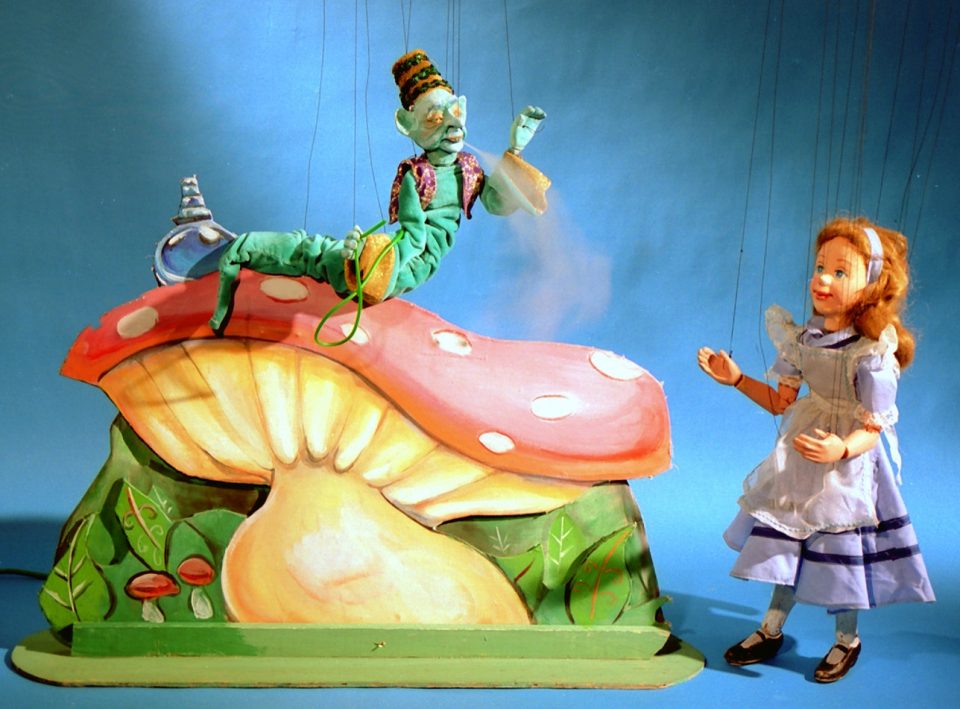 JCTC-KIDS presents Alice in Wonderland by Puppetworks, Sundays at 1:00 pm, from October 2nd  to  December 11th at Merseles Studios, 339 Newark Avenue, Jersey City 07302. Thousands of children and their families have discovered the time-tested magic of the marionette already through the Puppetworks  productions presented by the children's theater arm of Jersey City Theater Company (JCTC). Alice in Wonderland is the 5th production in Jersey City, and this classic form of children's theater has gained a growing following.  Not only is this production unique, but JCTC-KIDS, which also has a program – Art-4-All – that subsidizes  tickets for under-served and low-income families, is making a positive impact on the community by bring theater and arts to young people.
"This is a great story and we keep it about Alice," said Michael Leach, Chief Puppeteer and Executive Director of Puppetworks. "The story of Alice that is in the original books can sometimes get lost in the movie versions because of too much over-indulgent symbolism. The Puppetworks story moves quickly and focuses on the plot of Alice – a smart, curious girl with a good heart who enters a world were everyone seems insane. She overcomes what is essentially madness incarnate by relying on her bravery and by using logic. This is a lesson all girls and boys can learn from."
JCTC-KIDS, the children's arm of Jersey City Theater Center (JCTC), provides professional theater and other arts programming to young people (Alice in Wonderland is recommended for ages 3-to-12). Thousands of children and their families have experienced traditional marionette puppetry and classical storytelling since JCTC-KIDS and Puppetworks brought this enduring art form to Jersey City two years ago. In addition, JCTC's Art-4-All program subsidizes tickets – made possible by the generous support of Jersey City Businesses and other funders – for under-served children. Hundreds of families have experienced Puppetworks performances at Merseles Studios through this Art-4-All program.
Alice in Wonderland is the 5th JCTC-KIDS/Puppetworks production. The most recent show, Beauty & The Beast was the most successful yet for this collaboration: Most of the shows during its Spring 2016 run were sold out or near sell outs. "Beauty & The Beast had a strong finish," said Leach. "We've built a growing Northern New Jersey audience at Merseles Studios. It's nice that we're opening Alice to such a strong demand from an enthusiastic following. Jersey City has become an amazing theater and arts destination in a relatively short time. It is very satisfying that traditional puppetry and children's theater is part of that landscape."
For Olga Levina, Artistic Director of JCTC, presenting Alice in Wonderland is a labor of love. "Both children and adults can relate to Alice in Wonderland," she said. "The story of Alice is about adventure, overcoming fear and the discoveries you make along the way."
JCTC-KIDS is presenting Alice in Wonderland by Puppetworks every Sunday afternoon at Merseles Studios, 1:00pm.
Use Code CHICPEAJC and receive a $1 discount off of each ticket.
Child: $8 Advance or $11 At The Door
Adult: $9 Advance or $12 At The Door
School & Group sale discounts available.  Special private party booking prices available.
Alice in Wonderland by Puppetworks runs October 1 to December 11. To purchase online tickets visit: jctcenter.org.