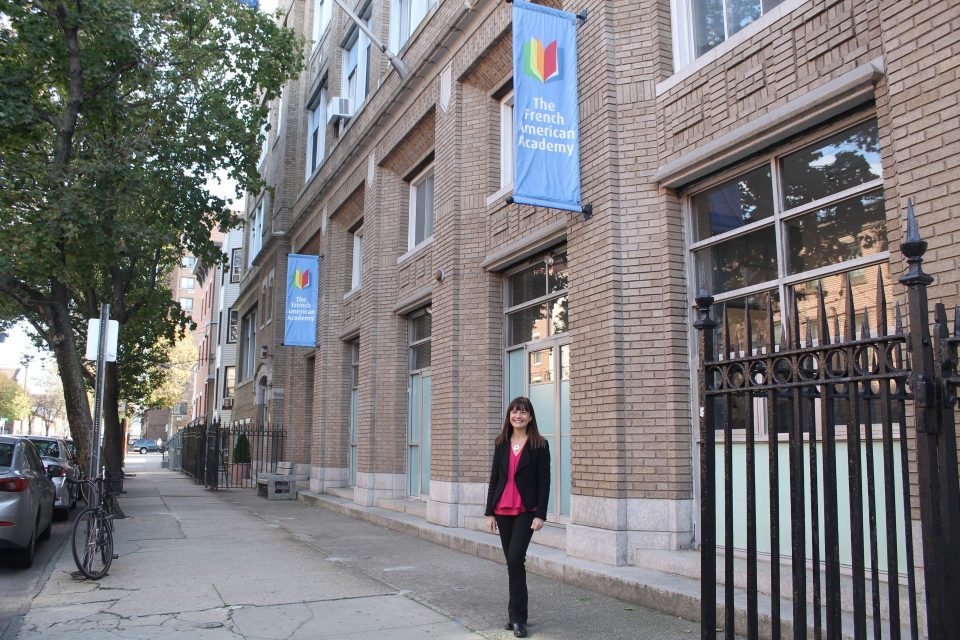 I am so proud to be living in Jersey City, which according to an online study is considered the second most diverse city in the country. Half of the city's residents also reported speaking a language other than English at home.
It is a known fact that teaching your children a second language at a young age is extremely beneficial to their development. Kids develop language skills rapidly and can absorb whatever they hear! I am trilingual – I speak English, (sort of) French, and Hebrew. That being said, I failed as a mother to teach my mini-me a second language out of sheer laziness. All that has now changed since  this interview.
A few weeks ago, the French American Academy reached out to invite me to visit their school. I honestly had no idea that a French school even existed in Jersey City! We arranged for a tour and interview with the founder, Anne-Sophie.
As soon as I walked in, the first thing I noticed was the calm and relaxing environment and how well-behaved the kids were. It was even more impressive hearing a 7-year-old speak perfect English and French.
After speaking with Anne-Sophie, I learned that she is not only a successful entrepreneur, but she is also a mom of four. Hearing her story and how she made her dream of owning a French school into reality was truly inspiring.
What is your name?
Anne-Sophie Gueguen, the founder and head of the school.
How long has the French American Academy been around?
We are about to celebrate our 10th year. The French American Academy opened in July 2007 in Bergen County.
That's great! So where are we right now?  
We are in the 3rd campus of the French American Academy, in Jersey City.
The elementary school and pre-school opened in September 2013 in this spacious 3-story building.
What age does this go up to?
Today, we welcome students from Pre-K2 to Fourth grade. Fifth grade will open in September 2017, and then the middle school in September 2018.
Is it all in French?
No. Our goal is to raise the children to be bilingual. By the end of eighth grade, they will be completely fluent in both English and French. This means they can read, write, speak, and think critically in both languages.
You know, it was once considered a "bonus" to be able to speak a second language. Today, many consider it a minimum requirement, a necessity even, not only for the many cognitive benefits but more importantly, to view and engage in the world with an open mind. Switching constantly between two languages increases one's mental agility and flexibility, it enhances your ability to tackle problems from multiple perspectives, and pushes one's critical thinking skills on a daily basis. Growing up in an international environment like the one offered at the French American Academy encourages the child's curiosity and fosters acceptance of the differences that make each of us unique.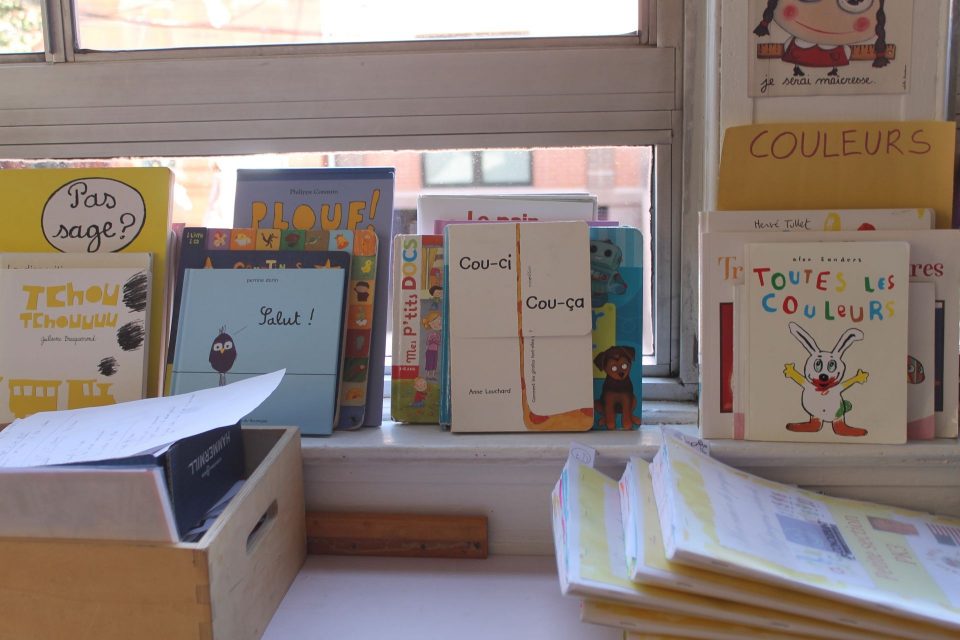 Wow, that's amazing! I should send my daughter here. I think a second language is great. How does the curriculum work?
Our curriculum combines the best of both worlds. In Pre-K, children spend 80% of their school day immersed in French. Then, we gradually add more hours of English. For example in Kindergarten, students receive about six hours of English per week – five hours with the English teacher, and one hour in a co-teaching environment where both the English and French teachers work together in the classroom. By fifth grade, 60% of the time is spent in French and 40% in English.
We approach teaching and learning as an interdisciplinary experience, and encourage our students to be involved in projects that spark their interests and passions. For example, students engage in non-fiction reading and writing through various social studies projects, and often, teachers will require a bilingual component. 5th graders are expected to complete a bilingual exit project prior to graduation. And our English and French teachers work very closely to discuss, plan, and implement instruction and projects bilingually across core subjects such as math, science, and language arts.
I love it. At a young age, they absorb languages very quickly, so it's the best time to teach them another language. I speak Hebrew and French, but I only speak to my daughter in English because my husband doesn't speak Hebrew or French. What advice would you give to parents who send their kids here who don't speak French?
This is a beautiful gift you are about to give to your child. Ideally, it is best to start young. At a young age, children grasp languages more naturally. They're not like adults who require translating or relating the language to what they know. Children just embrace it, and the brain has the plasticity to acquire it much more quickly.
French is a difficult language. I always struggled in school. I spoke it, and my father always spoke to me in French because he's Moroccan, but it was always hard for me.
Linguistically, the English language is a difficult one, too. Think about how a combination of the same letters can make completely different sounds like read or read? This is not easy!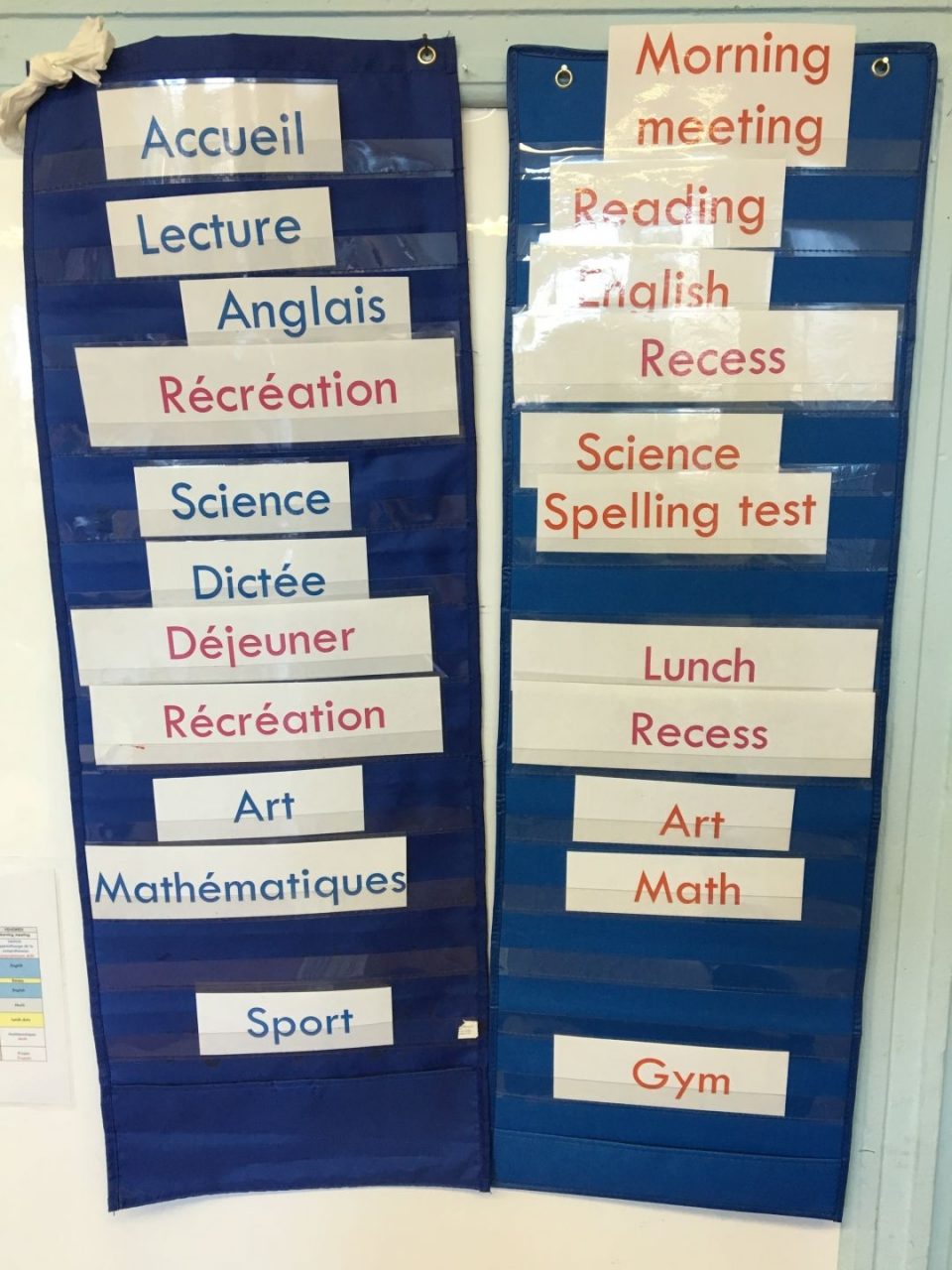 In this class, they are learning how to write in cursive at a young age because it is the natural movement of the wrist. I should note that it is also part of the French national curriculum. Clarity, organization, and neatness are important standards that we teach early on.
They're so cute! Do they have iPads?
They do have iPads. We use them for listening comprehension and vocabulary. We also have a program in math that allows our teachers to differentiate instruction. The students are currently working on a math app called MyBleeMath. We also have MacBook Airs for the older grades, and we are implementing the use of digital portfolios from 1st grade and up.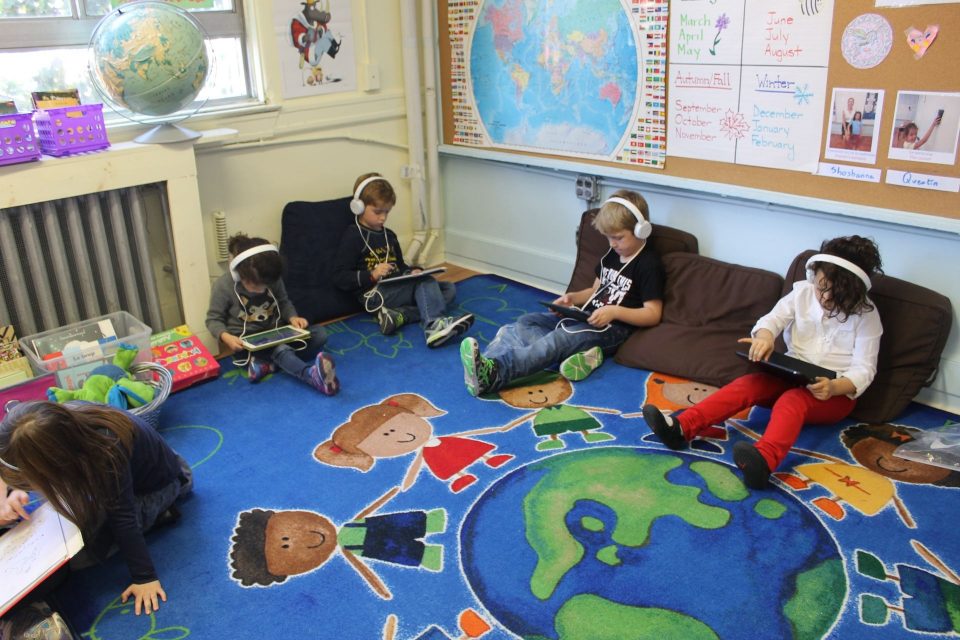 I love it! Are most of these kids French-speakers at home?
We have about 25% of families where both parents speak French, 40% are mixed families where one parent speaks French, and the remaining percentage of families do not speak French at all at home. We definitely have a close-knit community with dedicated parents eager to provide the best environment for their children.
Culturally, do you guys have the French way of eating lunch or teaching?
Yes, we love to talk about food and introduce our students to all kinds of new foods. In October, we celebrate "Tasting Week," a special time when we discover new flavors around the world. We feel that language and culture are closely connected to food, and this is why, in Pre-K and K, we teach and learn through cooking and baking. When we read a recipe, we learn new words, we measure ingredients, and it becomes a sensory experience with feeling, smelling, seeing, and listening, especially as we share our dishes and get such wonderful compliments!  This is a fun, hands-on experience where students are exploring and learning! Come back in January for the King's Cake, la Galette des rois.
Is your approach with the children to teach them independence?
Yes, our goal is to teach them how to become independent and responsible learners and individuals.
We want our students to develop the confidence to engage each other and take risks.  The teacher's role as the facilitator is to guide and support our students as they grow into independent, self-reliant, and self-assured individuals. We invite them to face challenges head on while allowing room for mistakes because this is how we learn best. In math and science, students learn through inquiry-based investigations rooted in realistic contexts that provide various entry points for differing learners. This teaching approach gives students opportunities to work collaboratively and develops their ability to communicate effectively and succinctly.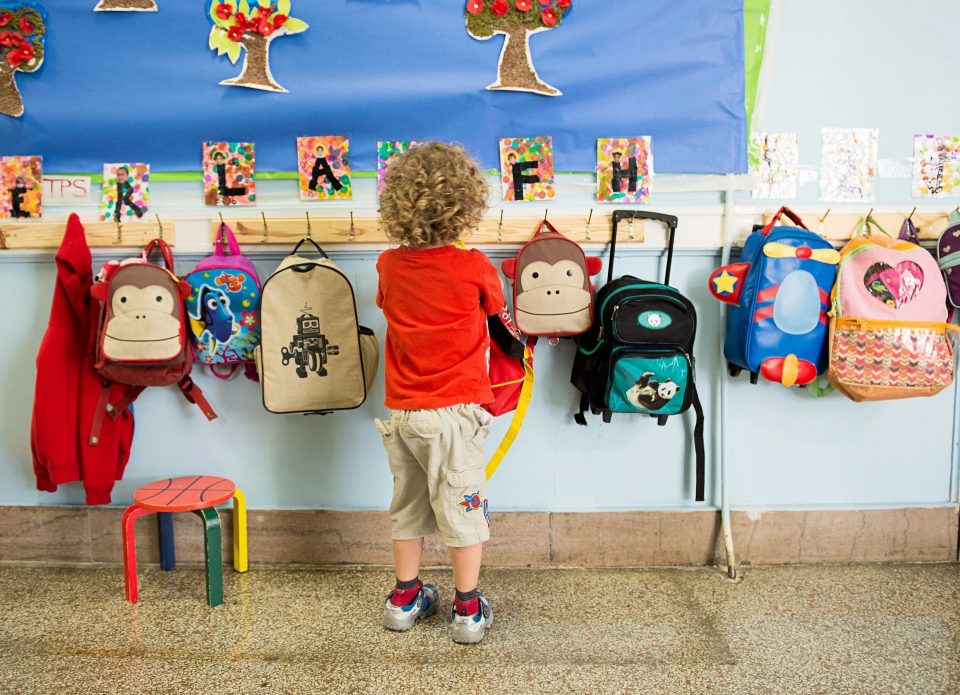 How did you decide to open a school in Jersey City?
It started with a personal need. I was expecting my fourth child, and our three older children were in an American public school. Even though both my husband and I are French, I could see their French fading, and their primary language and culture were increasingly becoming English and American. Any French schools I considered were too far away, and what I truly wanted was a bilingual environment.  Many parents had the same need as mine, so I decided to dive in and launch a bilingual school in Bergen County. The first full-time school opened with twenty-five students, and four teachers. Another campus opened in 2010 in Morristown, and 2013 was Jersey City. Jersey City is an incredible town that is constantly transforming.  And the amazing view is a plus. Though, I love the warm, vibrant, and international community here right across from Manhattan.
I love that. I love hearing stories of women who have had kids and decided to open a business. How do you manage to balance it all?
There are some crazy days when I work late into the night and on the weekends. But this is my passion, and I love what I do. My four children inspired me. I had a wish, and with hard work, it became my reality.
Do you have a favorite Jersey City hangout spot?
I would say Chocopain or Madame Claude.
I love it! They have the best French food. Which part of France are you from?
I was born and raised in Paris but spent my childhood vacations in Saint Jean de Luz or next to La Baule.
I feel like women from Paris are go-getters.
Well, it's the beauty of America. Everything is possible. I came from a corporate background, and I learned that if you have an idea and a strategy, you need to go for it.
Being in education is really rewarding and powerful. Many teachers, when I interview them, have the desire to make a difference in someone's life. In today's world, we try to teach our students to be tolerant, to have an open mind, and to value their bilingualism.  
So let's say a parent has a child who is four or five years old and doesn't speak a word of French. Would they be able to put their child in here?
A child can enter our school with no prior French knowledge until Kindergarten, sometimes first grade but this will require language support and a strong motivation to succeed.
Our middle school will have three different tracks, and a child can also join 6th grade in the English track which will offer an accelerated learning program of French.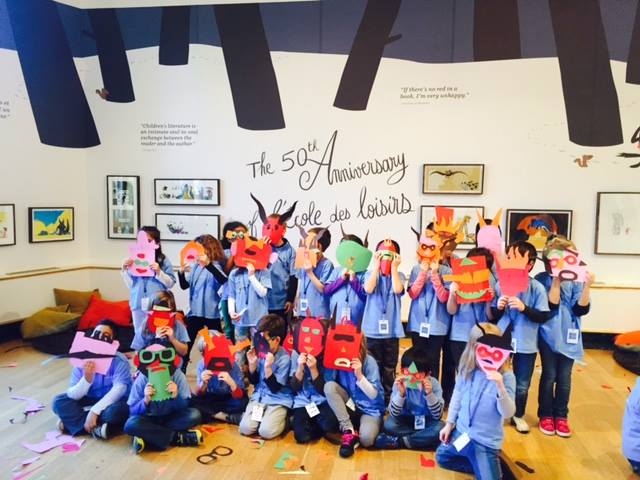 I'm sure a lot of parents want to know – how much does it cost? Is it private?
We are a private, independent school. We rely primarily on tuition which is about $18,000 to $20,000 per year.
Are all the kids from Jersey City right now?
They're from Hoboken, Weehawken, or Bayonne. We have a bus that brings the children from Hoboken, and we plan to expand the routes to Newport. We also have a few students from downtown Manhattan.
Wow, that's dedication! Is there anything else you want people to know about the French American Academy?
We strongly believe in bilingualism. It is a gift that your child will keep throughout her lifetime and an advantage that will serve him well in the future.  The FAA combines tradition and innovation, a world of possibilities beyond words!
I love that! Thank you.
---
If you're interested in the French American Academy of Jersey City, you can find more information on their site, Instagram, and Facebook.