Super Bowl 52 is taking place this Sunday February 4th and everyone knows that it's basically a national holiday here in America.  Even if you don't like football can we all agree there's nothing like Super bowl food?!  Chips n' dips, pizza, beer drinks and not to mention WINGS!  Whether you're looking to head out to a local bar or stay at home and order takeout we've got you covered with this guide to Super Bowl Sunday in Jersey City.
Piggy Back Bar – 200 Hudson Street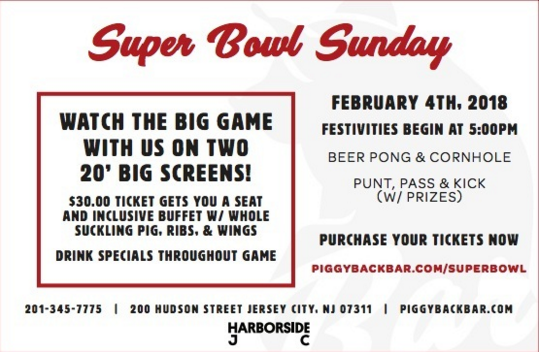 With 2 big screen tv's and an open buffet, stop by the piggy back bar Jc for an awesome night of games drinks food and more!  Game of cornhole anyone while watching the big game?  I think so!
VB3 – 475 Washington Blvd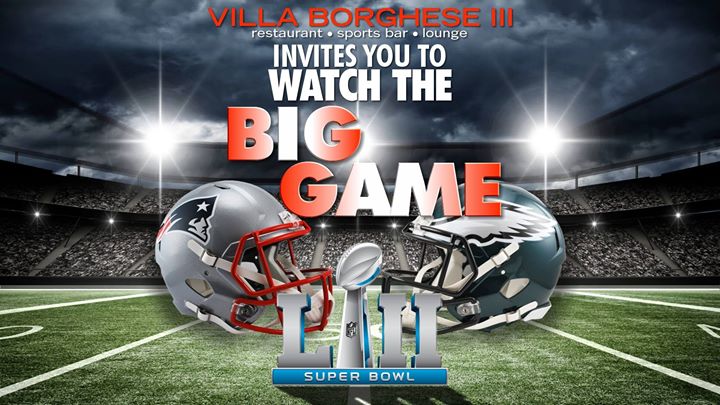 With ton of TV's, 3$ domestic beers, 3$ draft beers, 3$ shots and live DJ to set the mood, you can't really go wrong spending super bowl sunday at VB3.
Gringos – 12 Coles Street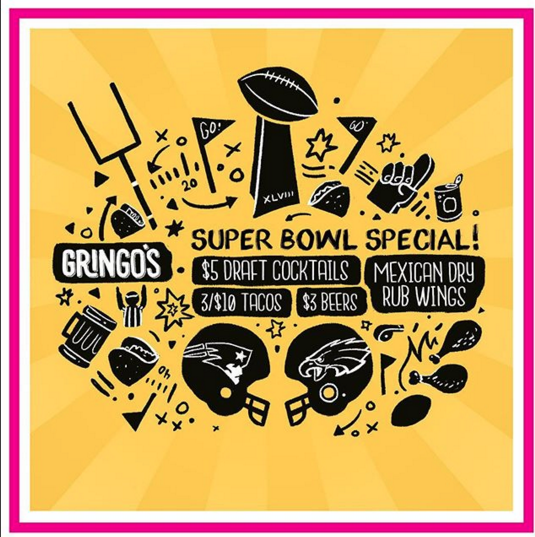 I don't think there's anything I love more in the world than a good taco and a good cocktail and Gringos is the perfect place for that.  With specials all night long this is definitely a great option.  Don't want to dine in?  Take a look at their amazing catering menu as well!
Lucky 7 Tavern – 322 2nd Street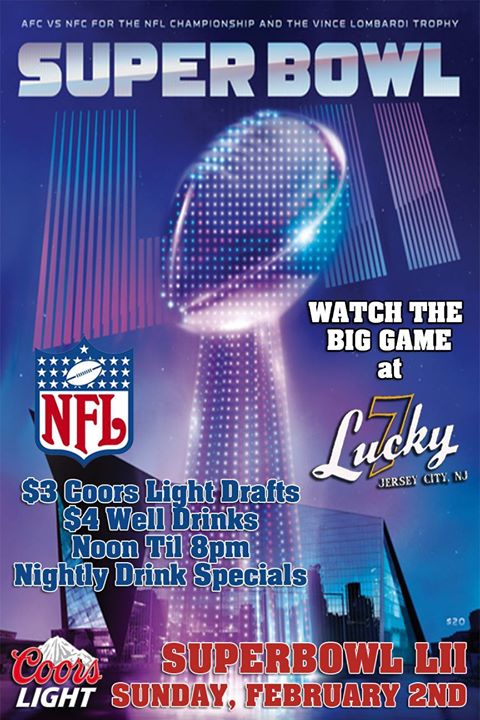 Lucky 7 is already a neighborhood favorite dive bar so spending a Superbowl Sunday here is a bonus!  Not only will there be specials on drinks but specials on food too and their wings are some of the best around!
The Hutton – 225 Hutton St

Watch the Superbowl in style at The Hutton!  And with an open bar package you really can't beat that!
O'hara's Downtown – 172 1st St

TONS of Tv's and a projector means you'll never miss a second of the action!  Not to mention there will be drink and bar food specials all night long!
PJ Ryans Squared – 4 Path Plaza

Located right near all major public transportation in the heart of Journal Square, PJay Ryan's squared really could not be in a better location!
Third Base Sports Bar – 116 Newark Ave

What's even better than the specials mentioned above?  $30 tickets gets you an open bar but be sure to purchase them in advance, ticket sale prices go up at the door!  Not to mention there is literally a TV everywhere you turn in this place so you'll never miss a second of the action!
Halftime Bar and Grill – 746 West Side Ave

Another neighborhood favorite, Halftime is the best bang for your buck!  The nachos are amazing and they have tv's lined up at the bar making it a great option to watch the big game.
Remember to stay safe and responsible and also have fun!
Happy Super Bowl Sunday Everyone!