The following is a newsletter from Steven Fulop:
As many of you know, a couple of years ago my brother passed away from a hereditary heart condition which is throughout my family. As a result, I became eligible for the vaccine today and I proudly took that step. This is important for my family, and I share this because getting the vaccine is important for the safety of our entire community.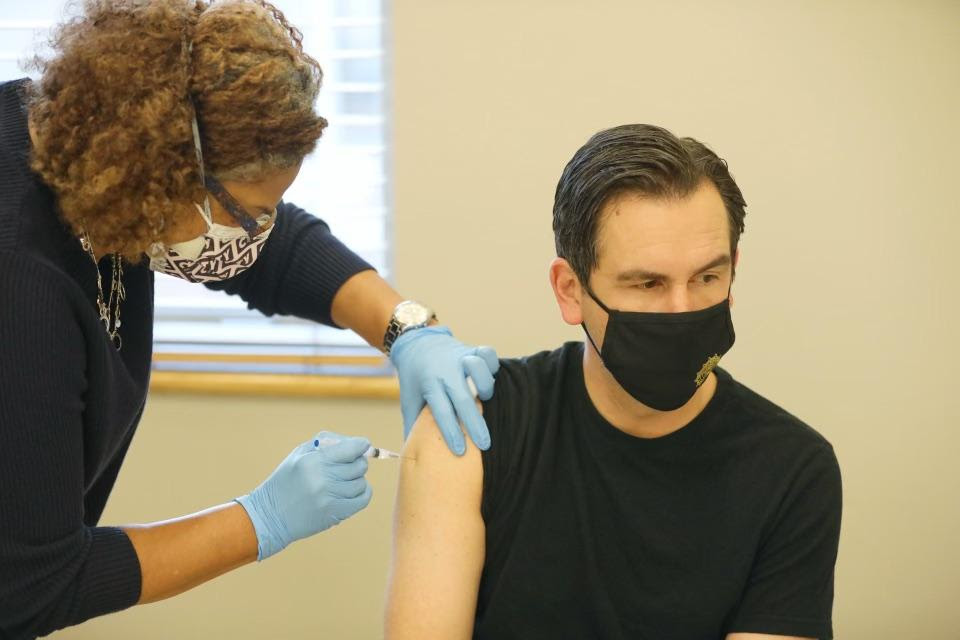 Vaccine Registration
Now that more people are eligible, I hope you consider reaching out to Jersey City's Department of Health and Human Services to join me in taking that step as well. You can register for the vaccine now on the State's website.
Similar to what we did as a city on comprehensive and easily accessible testing for COVID-19 early in the pandemic, on the local level, we are one of the few cities also setting up multiple, city-sponsored vaccine PODs. We want to ensure that residents have easy access to getting the vaccine. We have contracted with a company to set up 6 PODs – one in each ward. As each POD gets set up over the next few weeks, we will post all the details on the city website.
We continue to push our city to be at the forefront of providing resources directly for our residents.
Vaccine Transportation
As we distribute vaccines and eligibility increases, we are the only city in the state that has set up a free ride structure through a partnership with Uber. This will make it easier for thousands of people in transit deserts to get the vaccine. We are really thankful to see Uber using their expertise to help us solve a real government challenge.
Local Rent/Utility Relief
Finally this week, we rolled out our local rent and utility relief program. I know we can't solve all the challenges at the local level, but my hope is to help residents bridge the gap until there is another relief program from Washington. That is the exact reason why we launched a Jersey City local relief program for rental and utility assistance.
Broadly, the structure of the program will be that the city will allocate money to four of the largest nonprofits in Jersey City to help us administer/oversee a local program. Those nonprofits are York Street Project, WomenRising, United Way and PACO.
Separately, for the purpose of providing rental/utility assistance to vulnerable immigrants with a focus on those who may be ineligible for federal funding, we will also provide grants to two organizations with a strong track record on this front: Welcome Home and Church World.
The program will provide one-time (up to $1500 per household) emergency grant rental/utility payments on behalf of an individual or family household for the purpose of preventing homelessness. Eligible households are at 80% AMI or below and the subsidy will be paid directly to the tenant's landlord or utility/service provider in exchange for an agreement to hold off on eviction/court proceedings. The grant will cover arrears incurred from March 1st, 2020 until December 31, 2020.
Unfortunately, we do expect the program to be oversubscribed and at the local level, we don't have the same access to funds that the state or federal governments do, so we will work with the nonprofits to create a fair lottery process to guarantee equal access. The City will soon release formal guidelines on how to apply and eligibility.
The truth is I wish we could do even more on the local level to help as I know people are struggling, however, am proud that our city is the only one in the state even doing things like this to help our residents. We will continue to do our best to help our residents get through these tough times and we really need to all work together – the next few months will be challenging for all of us.