With winter comes cold weather, snow, sleet, and other extreme weather that we need to prepare to keep our pets safe and healthy. The snow creates challenges for our pets, especially those who enjoy their long walks. We want to make sure our furry friends are warm and happy during the winter, so to help you, we have listed some essential safety tips you should keep in mind, as well as some recommendations!
Adjust to Shorter Walks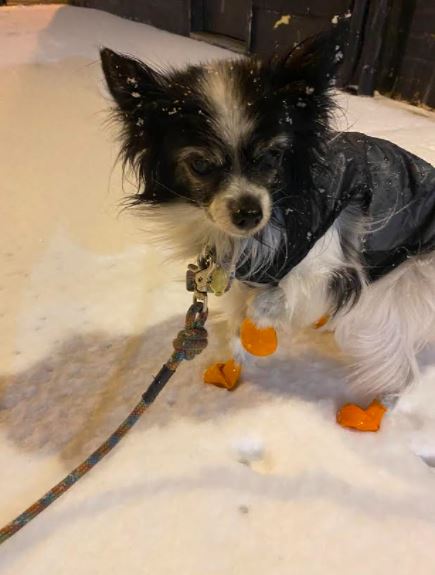 Although some dogs love the cold and may do better than shorter hair coats, shortening walks during the winter is crucial to keep them safe. Understand what is best for your dog and know their limits when outside during the cold. Having fur does not mean they have protection from the cold. If it's too cold for you, then it is too cold for your dog!
Use Paw Protectants
There will be all kinds of toxic chemicals from salt, antifreeze to de-icers with snow and sleet. It is vital to keep our furry friends' paws safe during these times the most. Before going on a walk, massage paw protectants such as Musher's Secret paw protection to help your pup from becoming irritated by any of these chemicals. Try your best to avoid any paths with salt, but sometimes the particles are small, and it is difficult to avoid them all, so taking safety precautions such as rubbing paw protectant will help. Massaging petroleum jelly also keeps their paws from becoming dry by adding the moisture needed. When returning from your walk, always wipe down your pet's paws thoroughly to remove any debris.
Have Winter Gear Ready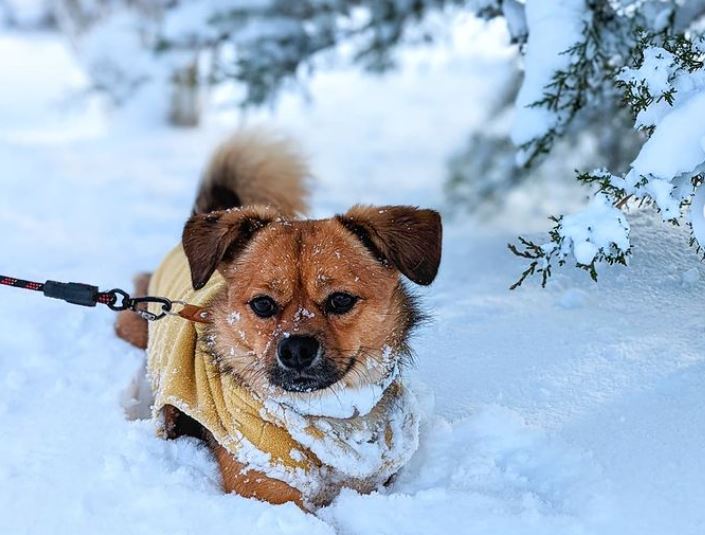 Winter gear such as coats, sweaters, and booties can help make the colder months easier for your furry friend. Remember, not all dogs need to have a winter coat. Certain breeds have thicker fur, and a light jacket or sweater might be more comfortable. Also, not all dogs love to wear booties, but if you can purchase a pair for the snowy days, it helps keep salt and toxic chemicals away! Check out local pet shops such as Fussy Friends or Hound About Town to purchase a pair. Using your pup's favorite treat while putting the booties on can help create a positive association.
Keep Your Pet Moisturized
Just like our skin gets a little rough during the cold months, our pets, too, need a little extra moisture. Using a dry shampoo or moisturizing coat mist in-between grooming appointments will help keep your furry friend's coat feeling nice and moisturized. But, of course, it is essential to always consult with your vet if your pet has any allergies to products.
Keep Your Pets Active Indoors
Some pets are more active than others and need their long walks or game of fetch. Consider adding indoor enrichment during the colder days to help keep your pet both physically and mentally active. For example, playing games such as hide and seek with treats helps keep them mentally stimulated. You can also have fun and create an indoor obstacle course for your furry friend. It can help make the colder months less dreadful and more entertaining!
Helping Outdoor Feral Cats
Check Your Car Hood
While we are caring for our pets, it is kind to keep in mind the safety of outdoor cats during the colder months, especially. During the cold winter months, warm engines attract cats and other urban wildlife who may crawl up under the hood for warmth. So make sure you always check your car's hood to clear from any animals seeking warmth.
Know the Signs of Hypothermia
Feral cats grow a winter coat as they spend their outdoors, but this still doesn't keep them warm during the extreme temperature drops we face. The ears, nose, paws, tail are the first to get affected when a cat suffers from hypothermia. In addition, frostbite will make their skill look pale or grayish. Knowing the signs of hypothermia can help you see when an animal is in distress to provide them the necessary care needed.
Creating Shelter for Outdoor Cats
Many community cat caretakers do an incredible job providing food, water, and outdoor shelter for feral cats. If you're interested in creating an outdoor shelter for your neighborhood feral cats, check out the Humane Society's resources on caring for outdoor cats during the winter. You will be surprised at how simple it is to create a safe shelter for feral cats and the difference it can make for them!