Photos by Andy Mac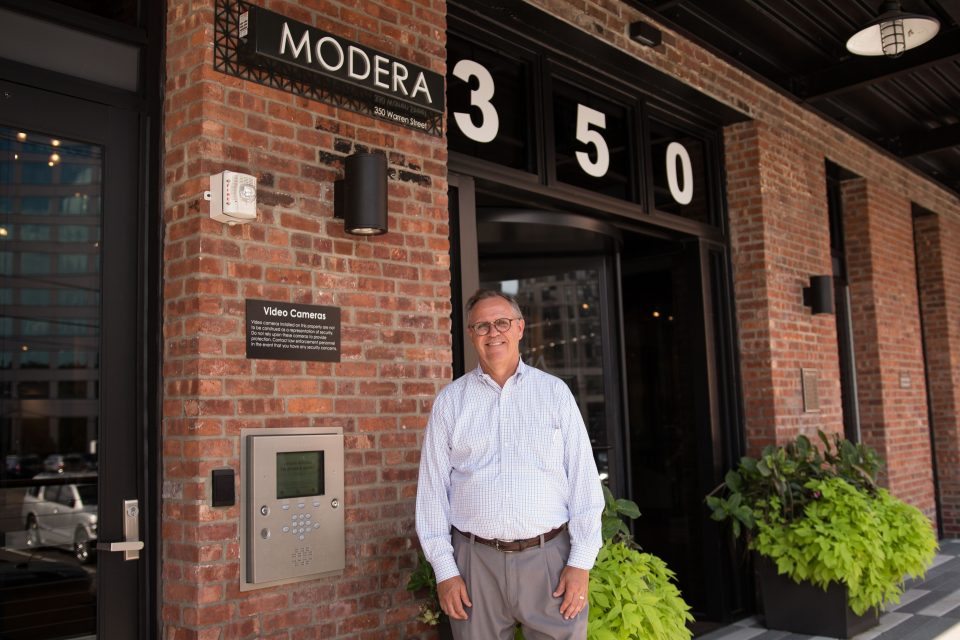 I've visited quite a few buildings since I started my blogging journey, but none of them were like Modera Lofts. They were all awesome, don't get me wrong, but they were all new buildings that were built from scratch. Modera Lofts has a unique story behind it – it was redeveloped from an 110-year-old warehouse located in the Powerhouse Arts District in Downtown Jersey City. They succeeded in keeping the warehouse charm while simultaneously making the building extremely modern and cozy.
As soon as I walked in, it felt like home and I knew I would love it. They are pet-friendly (there's a dog spa, a "Laundromutt," and a dog run) and offer an amazing selection of amenities – spinning classes, conference rooms, a washer and dryer in each unit, and a playroom for children, an amazing outdoor deck, just to name a few! You have everything you could ever need in one building.
Modera Lofts feels like it would be a trendy apartment building in Tribeca or SoHo, and it's located right here in Jersey City! Perfect for the young professional looking for all the bells and whistles without paying Manhattan prices. Join me on this fun tour!
Shall we…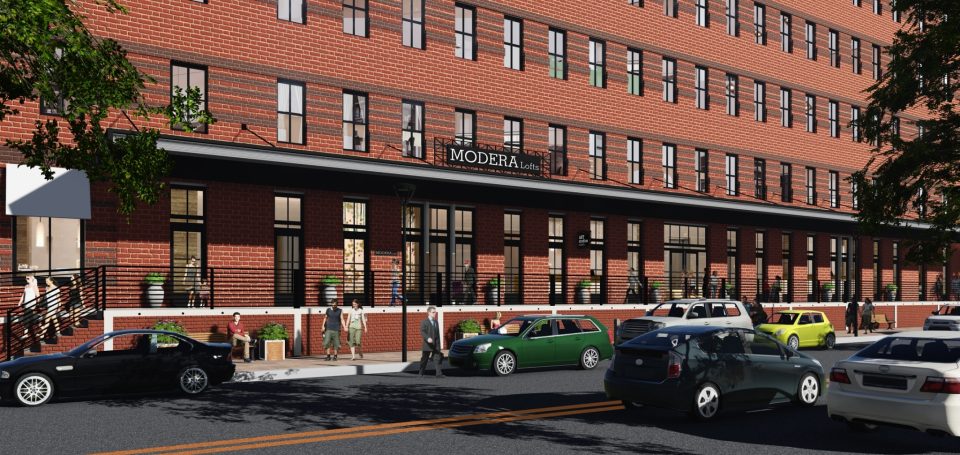 What is your name?
My name is Rich Murphy.
What do you do?
I am a managing partner with Mill Creek Residential, the developer of Modera Lofts. Formerly the 110-year-old Butler Brothers warehouse, Modera Lofts has been redeveloped into 366 industrial chic luxury residences located in the heart of Jersey City's Powerhouse Arts District.
Right now, we're in the lobby. As soon as I walked in, I noticed how good it smells in here. Is it just me?
It's part of the entire environment. We believe very strongly that Modera Lofts is the most unique place to live in Jersey City and Hudson County alike. There are some great buildings on the Gold Coast, especially Jersey City.  Some of the high rises are fantastic, but Modera Lofts is different than all of them, and we think that's our edge. We strived hard to create an amenity package that, when you walked through the door, made you stop and say, "Wow." We, in a lot of ways, try to make this feel like a hotel as opposed to a residential building. That's the atmosphere we'd like our residents to experience.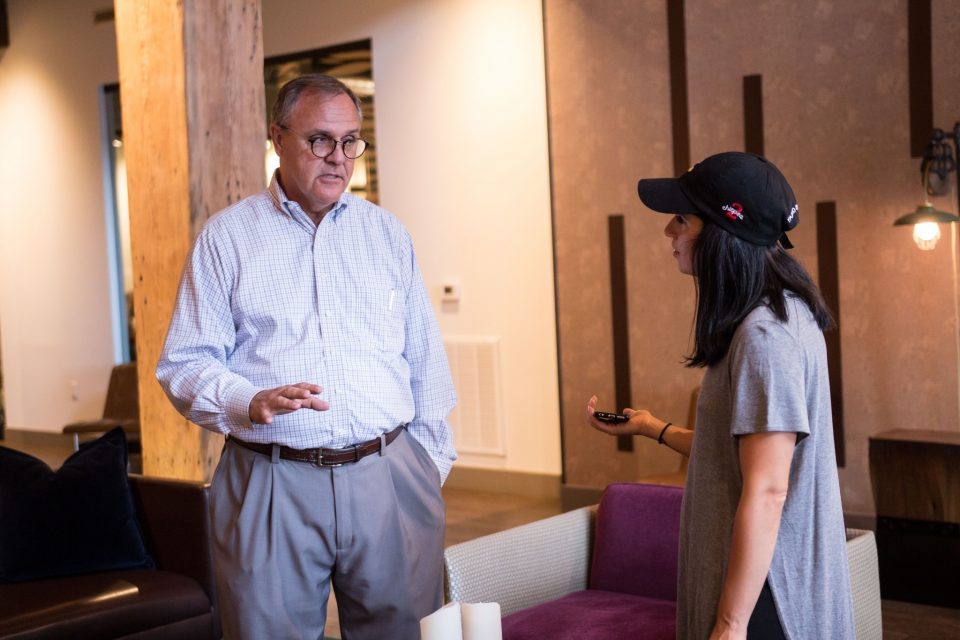 As we tour the building, we'll take you through amenities like our rooftop deck. Of course, everybody has a fitness center. But we also have a designated spin room and yoga room with interactive class videos through Fitness on Demand. Part of what allows us to cater to our residents is that Modera Lofts is a redevelopment, which means it's extremely inefficient – but that's the beauty of it. If we had built it from the ground-up, we wouldn't have had such a grand lobby. Since we had a large historic structure to work with, it allowed us to imagine some really extraordinary rustic spaces. That's part of the charm of this building, and it truly is one of the last of its kind.
What I mean by that is, just 110 years ago, construction techniques changed and warehouses switched from using the timber "post-and-beam" to concrete. If you go into a warehouse that's only 100 years old, you won't see wood or timber like this. It'll be all concrete. It was a really unique opportunity for Mill Creek to take on a pretty neat building. It had some very good bones and significant structural problems, but we were starting with a really good canvas. As we moved forward with the design and construction, we saw the opportunity to really make this special, and it's been getting great feedback from our clientele.
What was this place before Modera Lofts?
When it was originally built, it was built by a company called Butler Brothers. The Butler Brothers was the equivalent of today's Woolworth's or Five and Dime. They sold everything. Butler Brothers created a distribution warehouse here. Trains and trucks would come in, load here, and then smaller trucks would be dispatched to their local stores. They built two of these buildings – one in Minneapolis-Saint Paul and this one here in Jersey City. The one in Minneapolis-Saint Paul was redeveloped roughly 25 years ago into an office complex. We tried our best to be true to the building because maintaining its original character and preserving Jersey City's history is important to us. These tables for example, were made with wood that we pulled out from the building.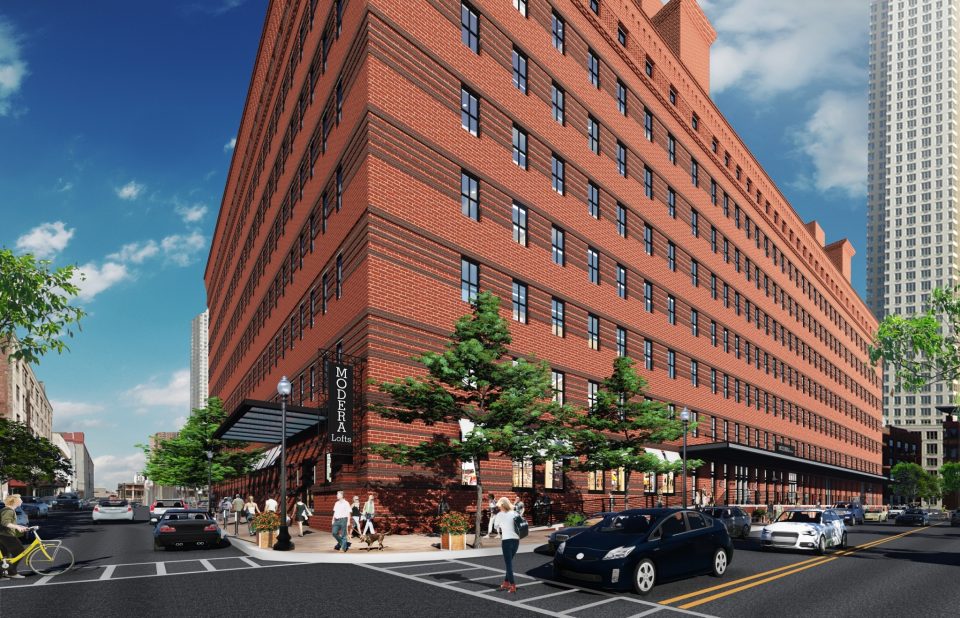 That's awesome!
You're going to see artifacts throughout the building that were salvaged and incorporated into Modera Lofts' interior décor as we went through. A lot of our residents view this amenity space as an extension of their unit, which is very important, especially with the way people live today. A lot of people work from home a couple of days a week, so we have offices for them. We have a lot of areas where people can just come in during the day and work or just relax when they need a change of scenery. At night, this transforms into a space where people can hang out and get together.
Some of the other artifacts and things we found in the walls included 100-year-old paper and shipping labels and we salvaged all this and saved it for our interior designers to work with. Tables like this were custom-made, like a lot of the other design pieces you'll see throughout the building. Modera Lofts' amenity spaces like the ground floor residents' lounge were created for entertainment and socializing. We have similar things that someone might find in one of their favorite bars or restaurants in the area like shuffle board. Simple touches like that give people the opportunity to meet each other, which is the environment that a lot of people want.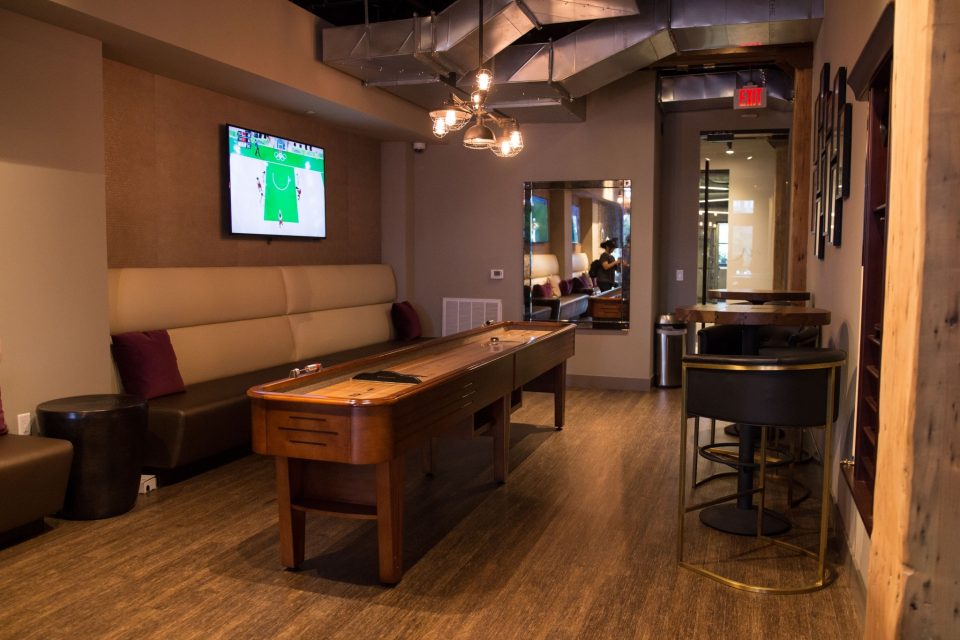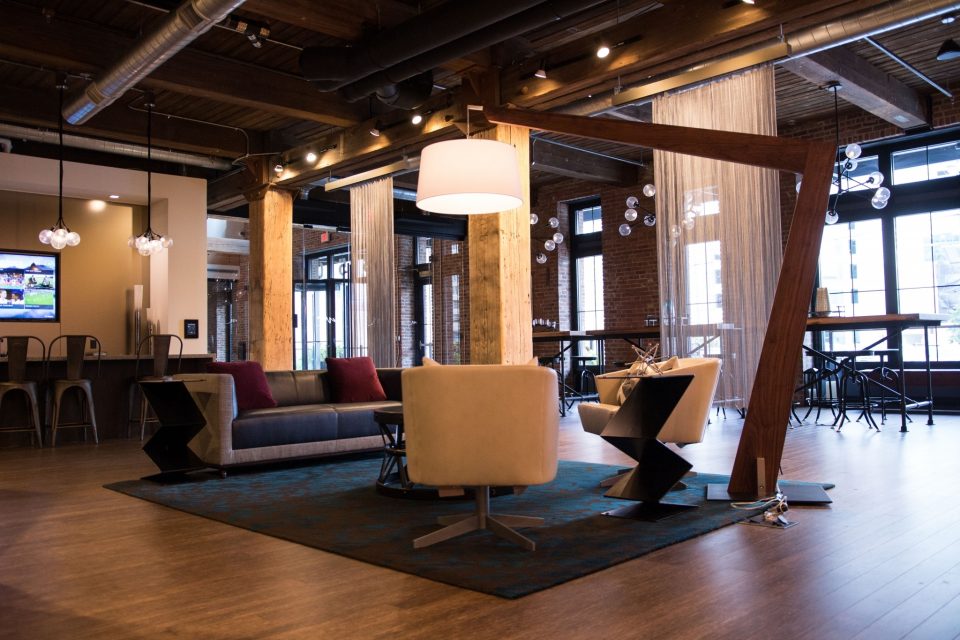 We also have conference rooms, including a board room that is two or three times the size of a normal conference room where an association could have a meeting with about 30 people. The Powerhouse Arts District, who were huge allies of our restoration here, have had their association meetings in this room already. We had a custom table made because the room was so big.
How long has this been open so far?
Our first residents moved in April 2016. Modera Lofts is still very new. Even though a lot of people may not have heard of us, Mill Creek is the second-largest developer in the country for multifamily housing.
Is this your first building in Jersey City?
No, we have done a couple of other buildings in Jersey City in the past but this is our first rehab project.
Do you have spinning classes here?
We have virtual spin classes. We offer guided classes with virtual instructors through Fitness on Demand
This is great! I don't think I've ever seen a spinning area.
Because we had so much space to play with, we were able to create a spinning studio with stadium seating. We want people to feel welcome in this environment and not only live here, but play here. Many residents work long hours and get home late, and these amenities give them the opportunity to come and exercise without having to leave the building.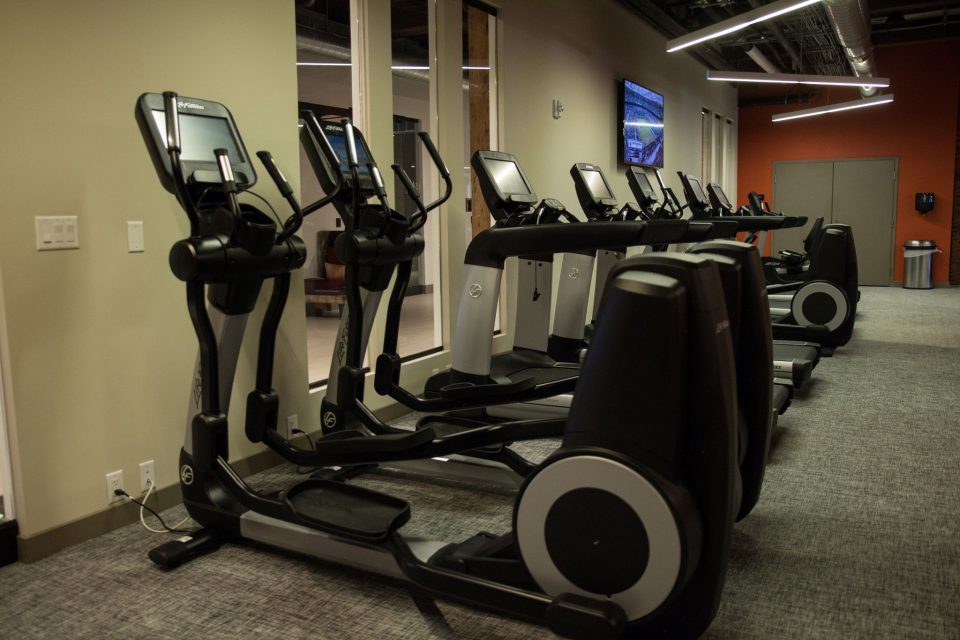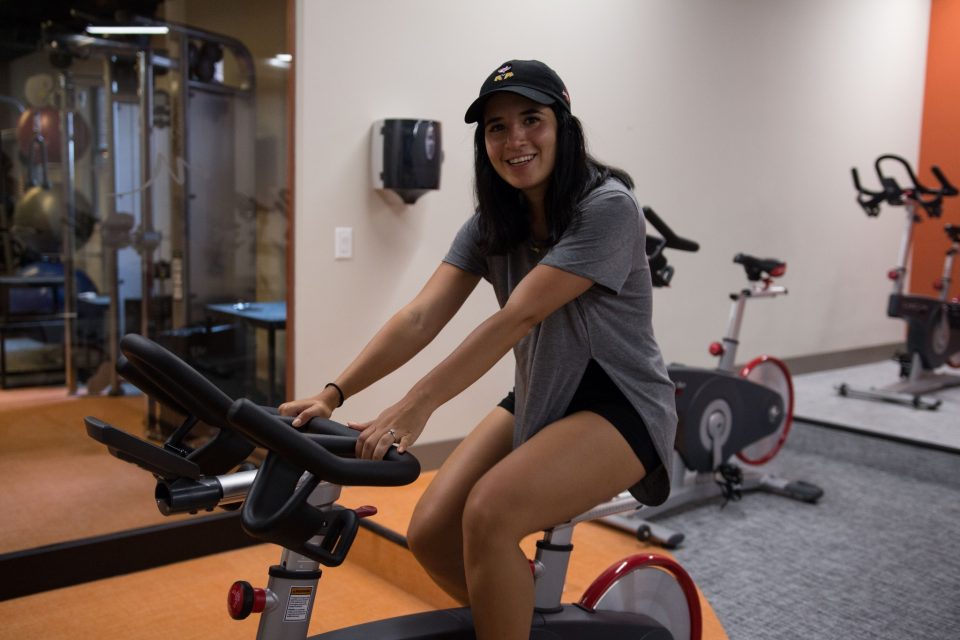 I would be in here all the time!
In addition to spinning, we have a yoga room too. We also see this room being used for individuals who want to do some type of cross-training like skipping rope, barre, Pilates or stretching.
I love this! 
That was found in the building. It's a scale, but it didn't work when we found it. Rather than disregard it, we sent it to a restoration artist who actually set up a studio in-house during construction. He took it apart and made it work.
These are all photos of the building before we started the transformation. They're all taken from material in the building, and this area evolved from a quarter to almost a pseudo-art gallery that we could incorporate into our lobby. It reflects well on the history of the building. Because Jersey City is home to so many artists, preserving an art space was always a very important component of the building for Mill Creek.
Modera Lofts includes all the standard services you would normally expect, like package delivery. We also have refrigerators and freezers in case you get food delivered during the day with our 24-hour concierge. We have dry cleaning, as well.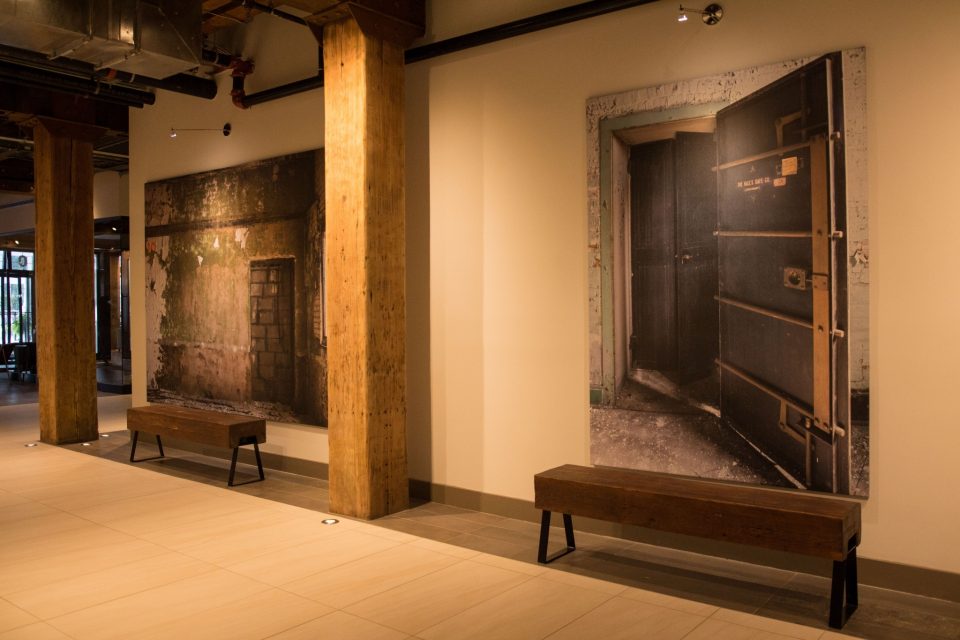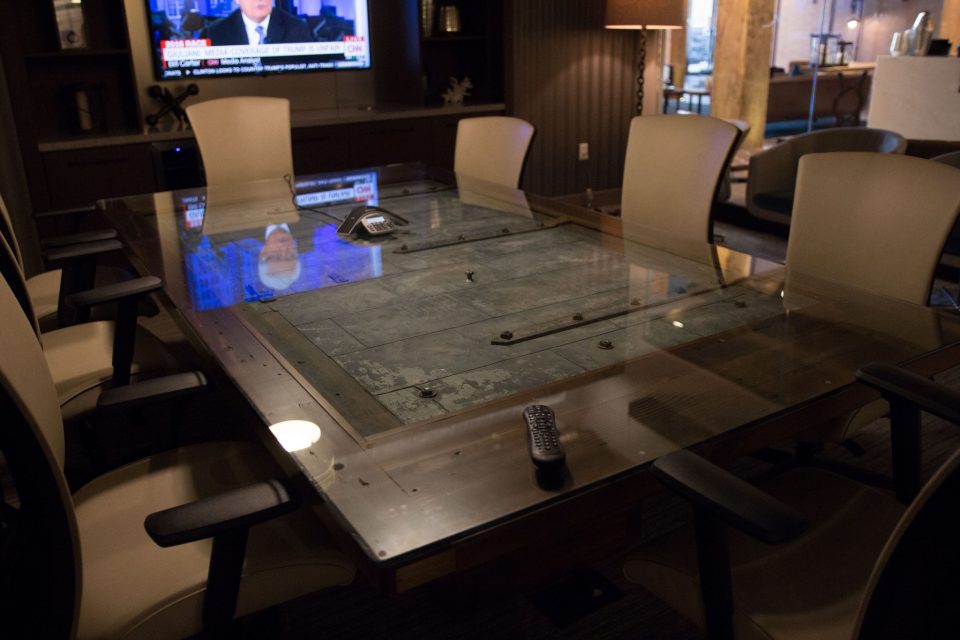 Another meeting room!
This is neat, only because the table was custom-made from a fire door in the building. This room probably gets the most use out of the entire building because it's a bit smaller than the board room.
I would sit here, get work done, watch the news, read the paper. 
Absolutely.
You wouldn't even need a big apartment if you can live in a building like this. 
Exactly! Today's renters are looking for the flexibility to use lounges and spaces like these as an extension of their apartment, so that was exactly our goal.
How long ago did you guys buy this building and change it?
Just over two years ago.
Let's show you this! This building has something very unique – an artist element. We have fourteen rentable art studios for artists who want to come in and have their own studio. We're just starting to market these, and the feedback has been great from the artist community. You get a nice space that's private that you can lock up. In this area, there are some significant artists, but you also have the spouse who enjoys painting but doesn't want that in their residence. They have the ability to come here and rent one of these. We also think this'll be a great amenity so our residents can come in and see what they're working on.
Will there be a gallery?
There is going to be a 3,000 square foot gallery that'll be professionally run at the front of the building. It's going to create an active, fun element at the front of our building and activate the street to bring people in.
This'll be a very Chelsea-esque gallery. 
Yes, and it'll be one-of-a-kind in Jersey City right now.
How many rooms are there in total?
We have 366 residences here, so it's a substantial building.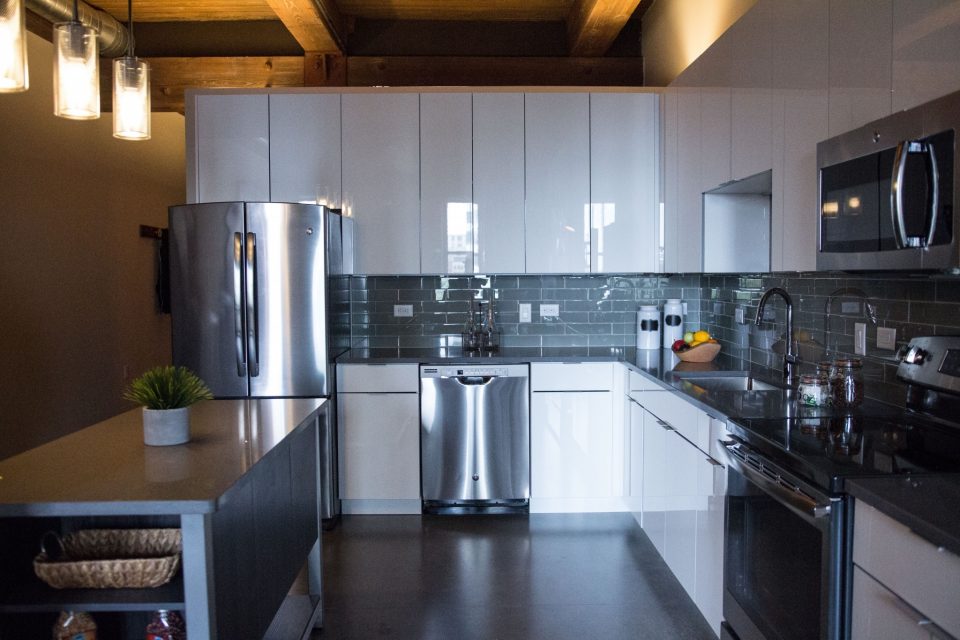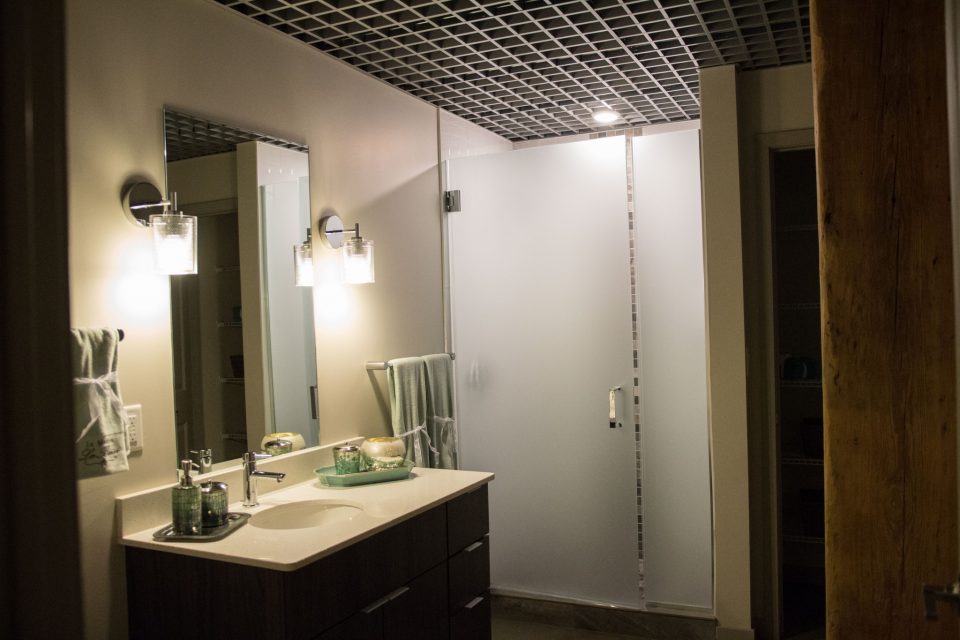 How many are rented already?
Just over 81%.
We're very pet-friendly here, as well. We have a dog spa and "Laundromutt" for the pets. We have found that, if you provide these types of amenities, people will use them.
I think the dog-friendly aspect is a huge sell, especially since many buildings aren't pet-friendly. 
It has to be a mindset. If you saw our concierge, she has a bowl of Milk-bones on her desk. A lot of the dogs, when they come back in from being walked, know they can go to her.
They must be happy!
Definitely.
We have plenty of other amenities, and every unit has a washer and dryer. We also have commercial washers and dryers for bigger items. We've found that Jersey City residents tend to be young and healthy. Rather than have them store the bicycle in their apartment, we provide a secure place for their bike called the Bike Pit. Right next to this room, we have a bike repair shop, where we have the tools and rack for people to work on their bikes. We try hard to have every element of the building be the best of its kind.
Well, it does have more character because of its history, too.
Of course.
We really try to lay these out for different uses. During the day, this space is for people to get out of their apartment and to crash. At night, we have poker games going and people come to watch sports. There are many unique areas. The gears here came out of the 110-year-old Otis elevators.
Very cool. Do you live in Jersey City?
I do not. I live in Central Jersey, but I am at the building a lot so it has become like a second home in a way.
Do you hangout in Jersey City?
Modera Lofts' success is based on a lot of attention to detail, so I am in Jersey City pretty often.
Do you have a favorite Jersey City hangout spot?
While I haven't gotten out much, I certainly appreciate the new restaurants and venues in the area. Warehouse Café is close by and definitely a go-to spot for a lot of our residents.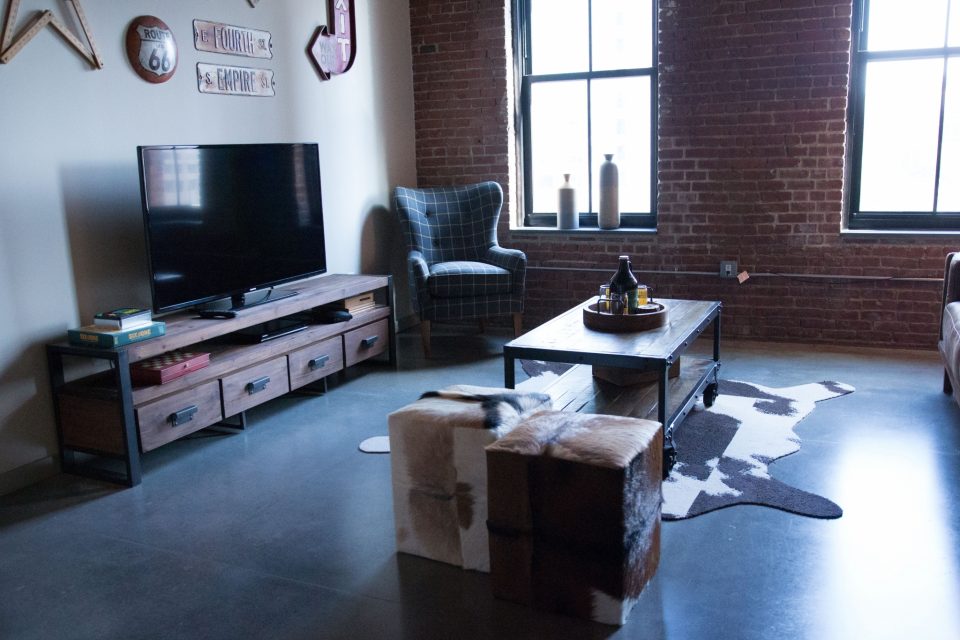 This is a two-bedroom unit. Since it was a warehouse, the building's windows were very small. When we bought the building, you couldn't have looked out the window if you were standing on the floor. We enlarged 1,100 windows by hand to preserve the character of the building. As you look at them now, you can't tell they've been enlarged.
We offer as much as we do because we recognize that we're in the hospitality business, not the housing business.
That's an interesting point, especially since this is like a hotel that you live in. It's crazy.
This two-bedroom unit is probably bigger than your typical two-bedroom space. In Manhattan, this would almost be a five-bedroom.
It's massive, and with two bathrooms! How much would something like this go for? 
Units like this are around the $4,000 range depending on the floor and which direction it's facing. Now, with two individuals sharing, it's a great deal.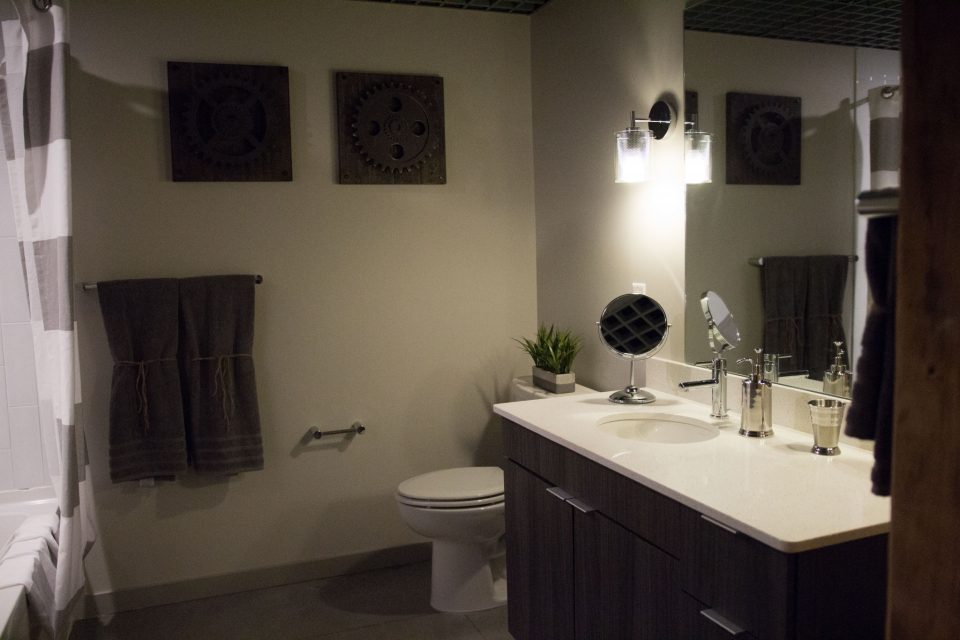 But it's nice, and it feels almost like a cottage. I love the wood.
We made a design decision to maintain the exposed brick and columns as much as possible. We also added barn doors for a unique touch.
What type of people do you see moving in here: couples? Families?
There are a few families. We see a lot of professionals between 30 and 45 who have a reached a point in their careers where they can live where they want to live. Thirty years ago, when I was renting, we had to rent. A lot of the people who live here today can afford to buy, but they rent by choice. They can rent anywhere they want, and that's why we have to be special to capture that. We see some roommates and some people moving out on their own after having roommates.
Where do you see a lot of people moving from?
We do see people coming in from Hoboken or west of here.
I love this. 
I've been doing development work now for almost thirty-five years. This is the first building I've ever done like this and it's so unique. It's fun! We go the extra mile.
I mentioned offices earlier. We have relatively small offices, but very functional. Right now, it's just a "first come, first serve" basis. I suspect that, as we go forward, there will be times where we have to start booking.
We also have a fun playroom for children.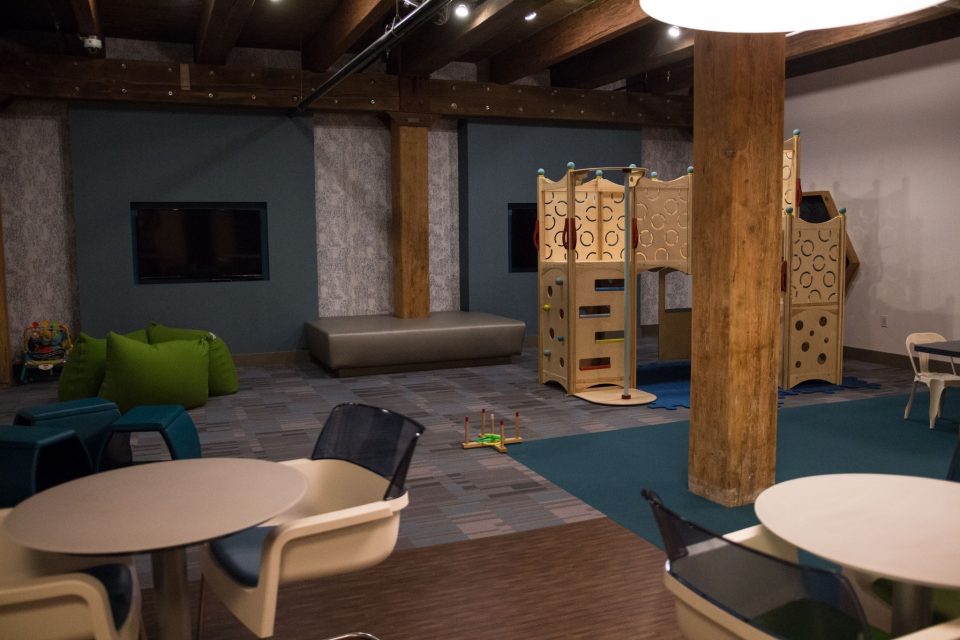 I would come hang out in here! It's like a kid zone. 
There's not a whole lot here that is individually unique, but you put it all together and it's fun and exciting! Our kids like it.
There's even iPads! That's great. 
Very surprising – kids love it! Their parents have iPads, and here, they come, and they feel like they have their own.
I would bring my own daughter here every day if I lived here. Bring my laptop and she can have some fun.
Now we're headed to the roof. We have a great rooftop deck and we really designed the deck to try to address a number of different uses. People go up there to get a tan, meet friends with a bottle of wine, cook on the grills, or take their pets to the dog run.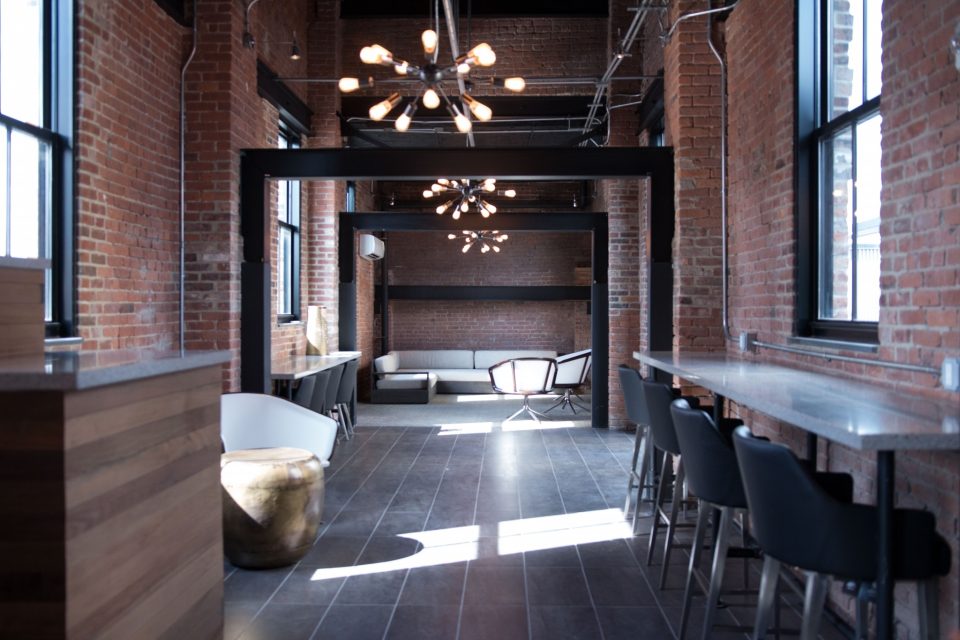 This used to be the elevator room. When we started construction, we realized we had this space that had no function, but we could make it part of a year-round rooftop facility, even when it gets too cold out there. The deck itself is 90% done. There are four very large outdoor TVs coming that will be put side-by-side, so you can watch the Super Bowl up here, Academy Awards, anything. We have some fire pits over here. Yoga classes can also be moved up here. The grills are already getting a great deal of use. We have two grills here and more on the other side.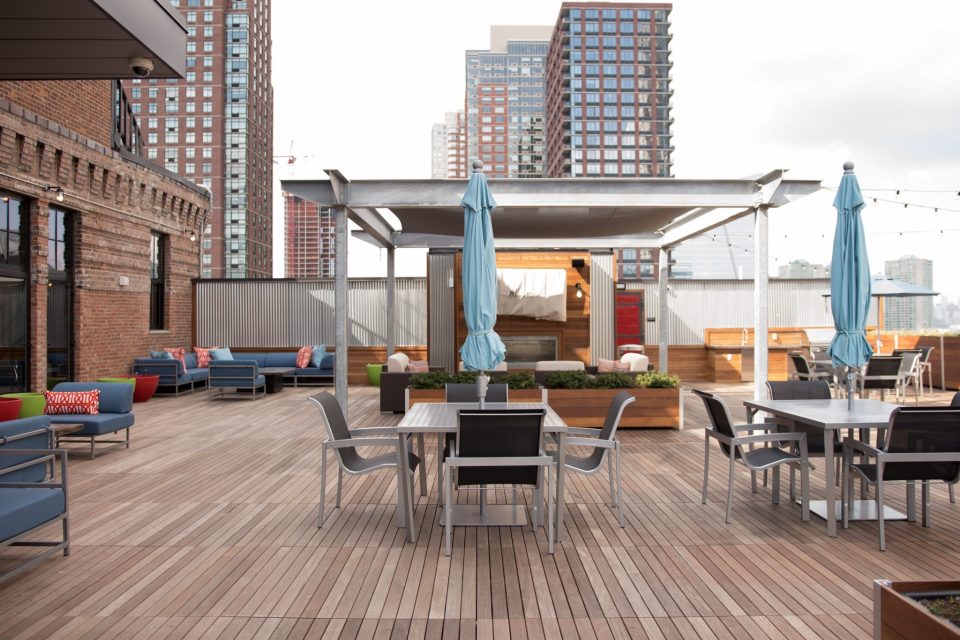 With the dog run, people drop their dog off and sit out here with other residents. The dog run is sprinkled, so every night, everything gets flushed into the storm system. We have a little gaming area here, with a ping-pong table, foosball, a couple of more grills.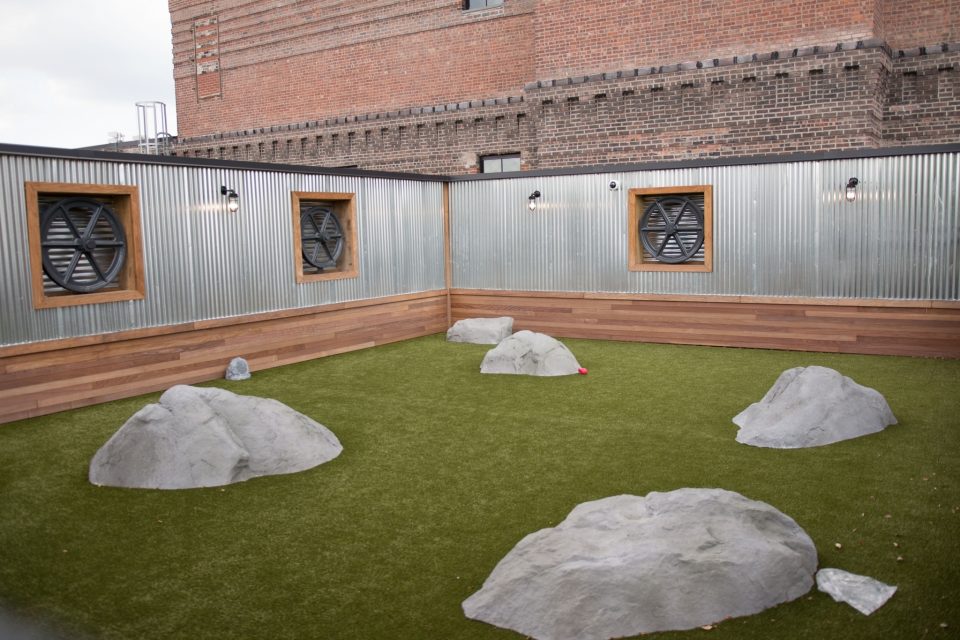 Is there anything else you'd like to show us?
I want to show you a one-bedroom unit, especially because it's very unique. It's 52 ft. deep. We had to work with the building to be creative with our unit sizes. The market acceptance of this unit has just been fantastic.
It's like the ultimate bachelor pad. So what's the largest unit you have here?
The largest unit is just under 1,400 square feet.
Do you offer parking, as well?
We do, we have about 150 spaces in the basement. A lot of those cars don't get moved all week. There's no secret that the millennials hate cars, so this location gives them an opportunity to not use a car for most of the week. It's exactly what we had anticipated.
Honestly, being here, I don't feel like I'm in Jersey City. I feel like I'm on the High Line.
There you go!
Check out Modera Lofts on Facebook and Instagram.  Find contact info, floor plans, and more details about Modera Lofts on their website.
Browse through all the photos to get a good look at Modera Lofts.