Written by Shannon Coleman – @shannoncoleman
In the New Year, we wanted to start featuring more people in the Jersey City community and be able to share their story and what they do. I had the pleasure of chatting with Harveer, Megan and Kevin, to hear about their time living in Jersey City, what they do and how they all positively affect the community around them! I encourage you to look at their social media handles and see the work they do. From a real estate agent to a fitness instructor to an aspiring entrepreneur, each one of these people goes above and beyond in their lives to make a positive difference in the lives of others.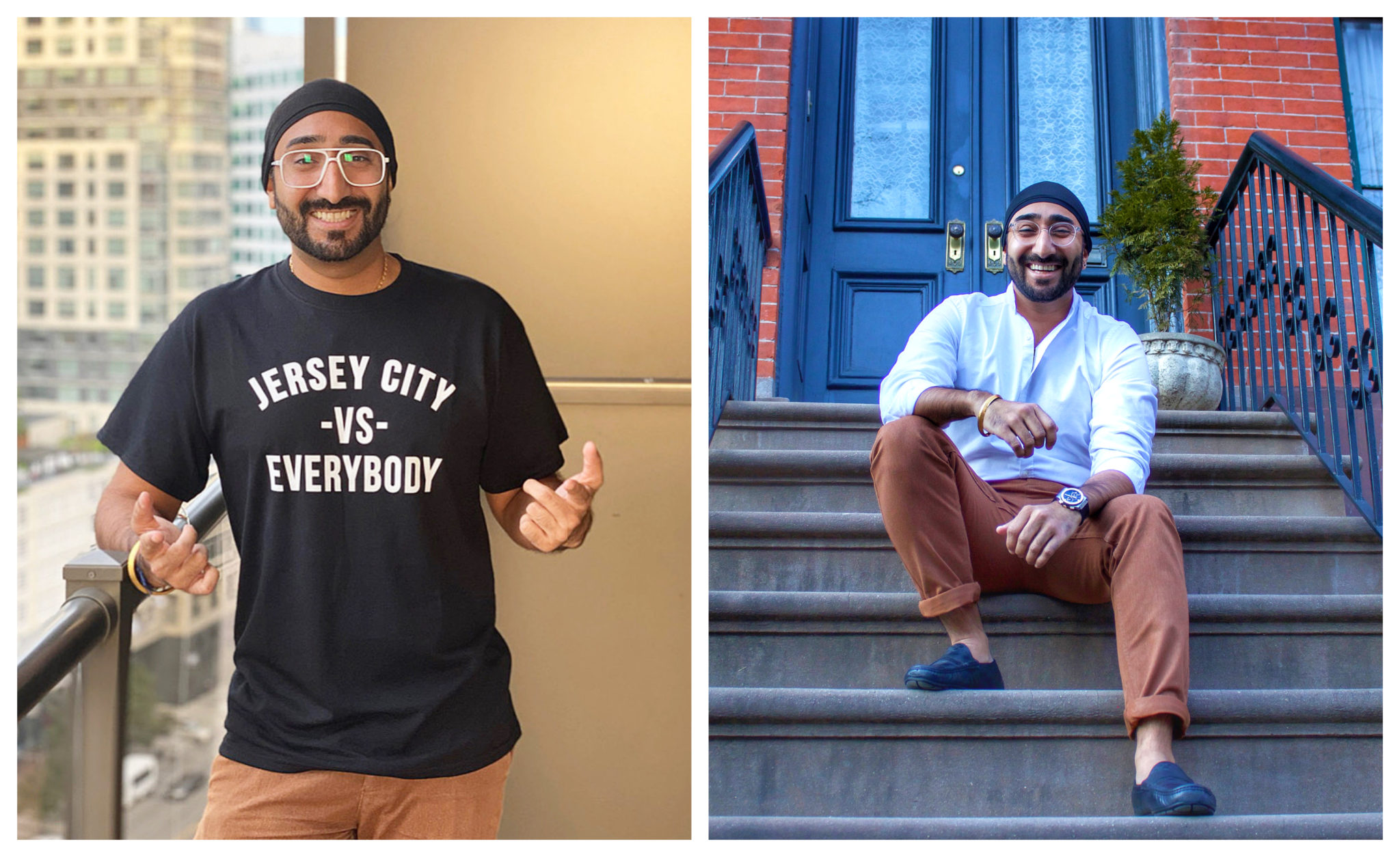 Tell me a little about yourself.
Harveer first moved to JC when he went to Pace University in the city. Harveer knew he always wanted to go to school in Manhattan.He got his degree in accounting, is a CPA and now works as a real estate agent.
His family first bought apartment units in Jersey City back in 2004 and he joked about how that's when you used to be able to see the whole skyline of NYC before JC built up their skyrises.
Harveer loves living in the most diverse city in the country and it is something that is extremely important to him. He loves that it is a city that embraces everyone. Harveer is really involved in the JC Community. He;s really gotten involved and made relationships with different small businesses.
What lifepath led you to live here?
Harveer was born and raised in Rotham County, NY. He and his family were looking to relocate and knew of people that lived in Jersey City. At the same time it was an investment decision for his family because they wanted to move to an area that was going to continue to grow.
Harveer joked about when he was going to college in Manhattan he used to have to beg his friends to go to Jersey City, but now it's quite the opposite.
As a realtor, Harveer's goal is to help people in all different price ranges. Harveer believes that realtors have a large role to play in communities and can play a bigger role in equality.
What are some of your favorite things about JC?
Harveer likes that the ego of jersey city is non-existent.You can approach people, meet them, become friends with them if you just try and put yourself out there. For example during Quarantine Harveer reached out to different small business and organizations in Jersey City to create a video titled "We Love You Jersey City" giving messages of love and hope during the pandemic.
He loves that JC sets itself apart in so many aspects: graffiti art all around the city and that JC thrives on small businesses and supporting small rather than big franchises.
Changes to JC
A main change Harveer sees from living in JC over the past 15 years is the development of the city. Harveer said, "When I was in college I came home by a cab. I would tell the cab to drive to the tallest building and that was where I lived…..and now it's the smallest."
If you could make a change to the city, what would it be?
Harveer would want more affordable housing and fair housing opportunities for residents. He does think that the city is inclusive, but wants to try to do and see more in the future to continue to promote inclusivity.
What advice would you give to a new resident in JC?
Some advice that Harveer would give to a new resident is to get involved in the community because it is so awesome and unique. When you move to Jersey City, take advantage of it! Go to events, check out small businesses, try the diverse foods from different cultures or else you'll miss out on what makes JC so amazing. Lastly, keep an open mind!
What made you get into your specific professional industry?
Harveer was originally a CPA, but came into Realty in JC and Hoboken.
Through his social media he creates videos for knowledge and comedy for his realty business.
He was named 5/50 realtors in New Jersey
What is something that you've learned during the Pandemic?
Something Harveer learned during the pandemic is to always looking for silver linings
Harveer saw that during the Quarantine, he had 2 options:

Get fat, stay home, do nothing
Or do what you can to improve yourself

It was the question of to better myself or to not
Harveer saw that due to the lockdown, his full time job was to market himself and his brand while people couldn't look at properties
During Quarantine Harveer really realized the importance of family, specifically our elders. It definitely put a lot of stuff into perspective.
He loved seeing companies coming together to help fight the pandemic.
During quarantine, Harveer was all about spreading positivity
On his balcony in JC you might have seen his sign: "we will thrive again"

He then changed all of his personal branding and marketing to this saying

Harveer also created a "we love Jersey City" video and involved local people and businesses: Zero Kid thrift store, Big Hair Girls, JC Families, and more.
Harveer also interviewed different people on his Instagram Live such as doctors, experts to raise awareness on domestic violence, psychologists, and more.

He did this to raise awareness on different problems that may occur during the quarantine
Harveer said that it didn't matter how many people watched the lives, but that if it just helped one person it would mean a lot
What is something you are grateful for this season?
He is grateful for his family and that they are healthy and safe. He also said he is extremely lucky to have not lost anyone during the pandemic.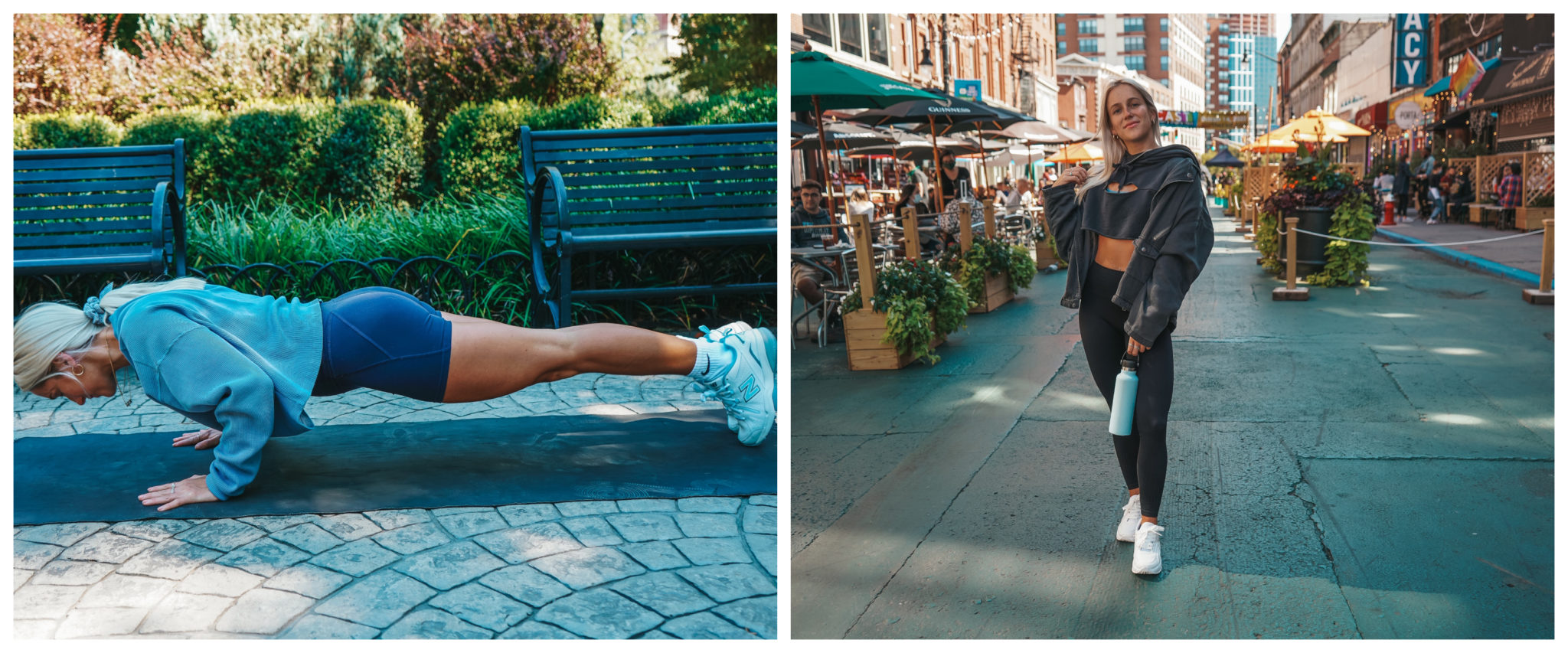 Tell me a little about yourself.
Megan is 25 years old and lives in Bayonne, but works at F45 in Exchange Place as a trainer. She started training with F45 as soon as they opened in February of 2018. Megan went to college, but didn't want the typical 9-5 job. She got into fitness and loved it, so she decided to pursue it as a career. She admits she takes great price in this accomplishment as she studied while working full time and paid and took the tests all on her own. Besides fitness, she is just a typical 25 year old – she loves going out with friends, drinking, eating pizza, etc. She still likes to allow herself to have as much fun as she can. In her opinion if it's not fun, it's not worth it.
How long have you lived in Jersey City? What lifepath led you to live here?
Megan is from Bayonne and lives there now, but always worked in JC.
What are your favorite things to do in JC on the weekends? What are some of your favorite things about JC?
In the summertime, go to rooftops in JC of friends.
She loves going to Lutze and Taqueria and to spend all of her money at Love Locked.
What changes to Jersey City and Bayonne has she seen?
Since living in the area, she remembers that when she was little Jersey City was basically the Newport Mall and that was it. There were no high rises or booming businesses, but now Jersey City has so much to offer. She has met some of her best friends from working in Jersey City. Megan loves the overall vibe of Jersey City. She points out that even though Jersey City is big, it is such a community. There is so much diversity and so many people from different walks of life. She said she has a lot of pride working in the city and being a part of the community.
What is something you are grateful for this season?
She is grateful that she is still able to work and help people feel good about themselves
Fitness at its surface is fitness and looking good, but she loves when you have members or clients show transformation or telling her they look better or feel better
She appreciates that even during the pandemic, she is able to be a part of people's lives in a positive way – it fills her cup and makes her feel good that she can have a positive impact.
Fitness Instruction:
In the beginning she was doing Zoom instruction. She then moved to outdoor instruction and now the studio is now at 25% capacity.
How she got into fitness and what Meghan's Advice is.
She was always sporty growing up, but stopped in High School and missed that part of her life
She admits that she's 5'2 and tiny, but fitness makes her feel very strong;

"I can do this. I can be 5'2 but still kick ass and lift heavy weights and keep up with men"

Her advice is to not let an outsider's perspective of you be your limit. You set your own limits.
She says the beauty of F45 is it is a community in itself

trainers and members have such a good relationship. Everyone talks and builds relationships with each other.
At F45 you get fitness, health, wellness but you get friendships, a sense of accountability and unity doing classes with other to push each other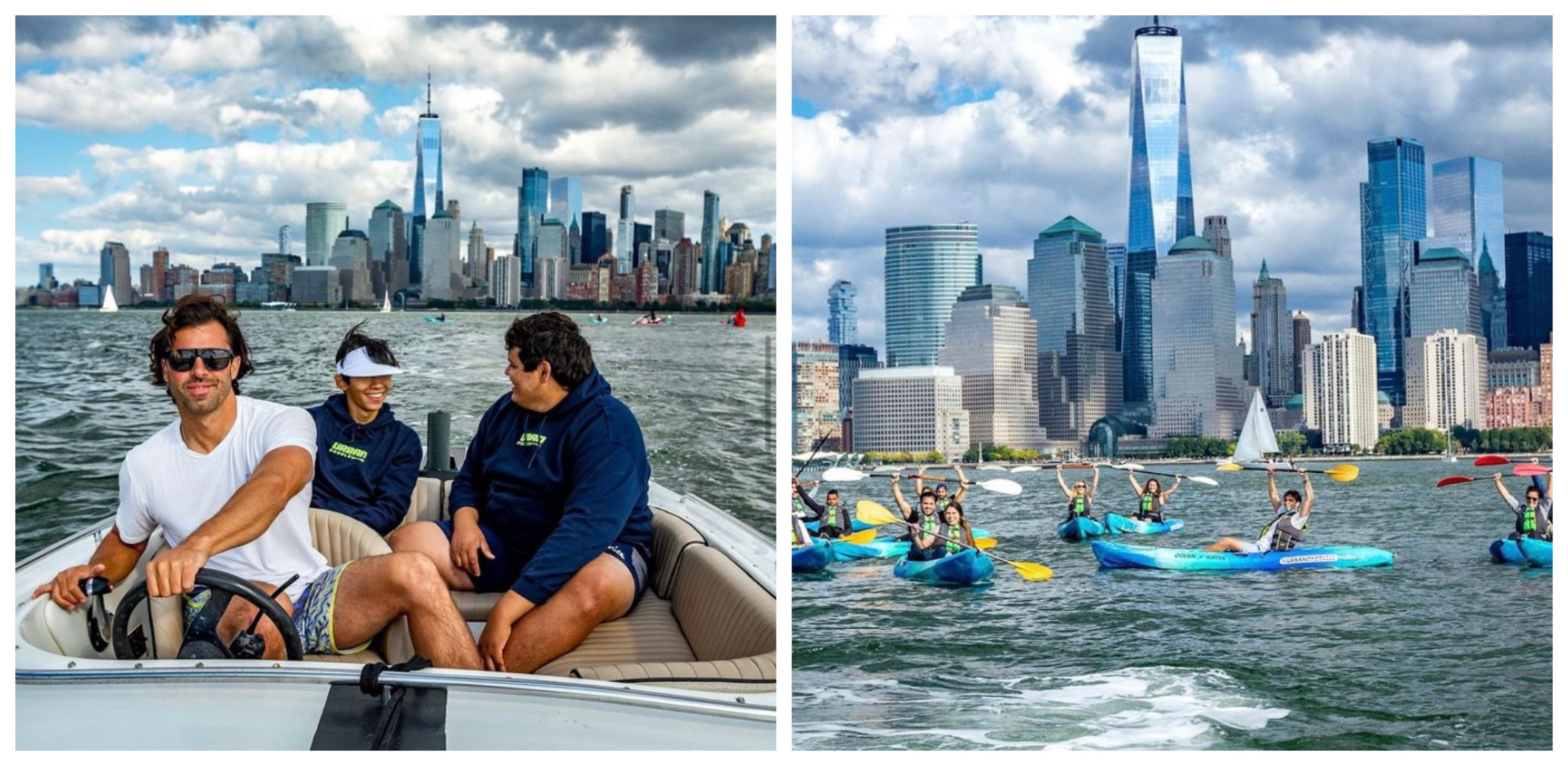 Tell me a little about yourself. What lifepath led you to live here?
Kevin is 35 years old and grew up in North Hudson County. He went to high school at St. Peter's Prep ('03) in Downtown Jersey City and attended Fordham University.
When he went to Fordham entrepreneurship wasn't really a major, but Kevin was always really interested in it so he learned to do different start up stuff on his own. He's been spending the last two to three years learning about entrepreneurship.
He's an attorney and has a law practice. He used to do criminal law for the city and is now learning about law for people starting businesses just like him, helping to develop different types of agreements. Right now he is currently helping a Hip-Hop group in Jersey City.
Kevin's Small Business includes Urban Paddle and Kevin's Tree Lot. With his small business, Kevin really wants to focus on sustainability, specifically involving electrification and mobility.

Urban Paddle is a paddle experience on the Hudson and includes kayak and stand up paddle tours, lessons and rentals.
Kevin's Tree Lot operates in Jersey City! They sell Christmas trees, delivered right to your door and they also come back to your house to pick up the tree and recycle it.

Kevin's next big start up project is sustainable electric scooters powered by solar panels.

They are fully solar charged and the service is contactless for consumers

As a St. Peter's Prep Alum he also is involved in a student mentoring program with Prep students.
What are some of your favorite things about JC and changes you've seen?
One of Kevin's favorite things about Jersey City is that it is well run. As a former public practice lawyer in Jersey City, he really got to first-handedly experience the city and how it works. He thinks that Jersey City has a good habit of working through issues and goals as one unit.
He thinks that over his time spent in Jersey City that the city is definitely changing for the better. He points out that there is growing interest in Jersey City and that lots of people are moving here. Overall Jersey City has a great vibe of cool and open minded people. He made the funny analogy that people in Jersey City are happy go lucky people that seem like theyre on a study abroad trip.
Changes for the better
Growing interest for the city
Lots of people moving to JC
Great vibe in Jersey City, cool and open minded people

People seem like their on a study abroad trip
If you could make a change to the city, what would it be?
If Kevin could make one change to the city it would be mobility.
In his opinion, closures of streets are a great thing for the city such as Newark Ave and Montgomery.
The one thing he wishes for is more water access to the Hudson for paddling.
What advice would you give to a new resident in JC?
Some advice that Kevin would offer to a new Jersey City resident is to get out on the water because it is the best Harbour in the world. He points out that Jersey City has some great outdoors and that residents should go out and experience that.
What are your favorite businesses?
Some of Kevin's favorite businesses include a mix of old places from his prep days to new establishments today, mentioning Maggie's farm, Milano's and any place on Central Ave.
What is something that you've learned during the Pandemic?
On a Professional level, that the Pandemic has opened up phone access and professional connections of staying in touch with people.
On a Personal level, he says that he got to have more contact with friends – saw them less, but definitely talked to them more.
What is something you are grateful for this season?
He is grateful for this past summer and being able to get on the water and do outdoor activities through Urban Paddle and to be able to show people a great experience through his business.