Times are tough for small businesses and we wanted to do what we can to support our fellow local entrepreneurs and use our platform to encourage our readers to them! Every week we will be highlighting 5 businesses/entrepreneurs to check out. If you would like to be included please email editor @chicpeajc.com
Waffle It & Co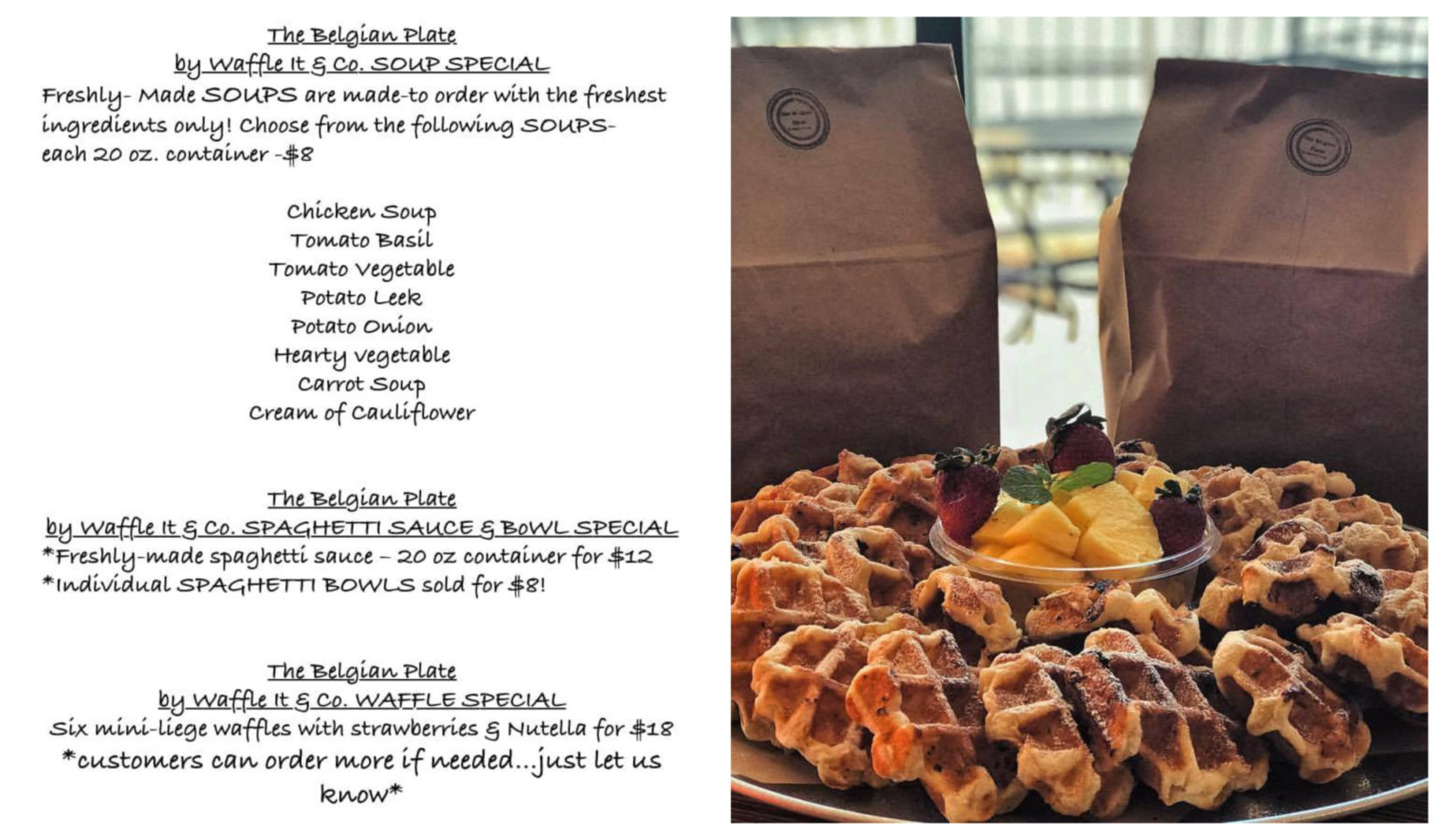 Bio + how to support: The support we can use at the moment is for the community to know we are currently OPEN for business Monday- Friday from 7:30-10:30AM  for TO GO orders ONLY. Our FULL MENU is available to those customers who can stop in & order, but for those who wish to plan ahead, we have added our best-selling, freshly-made SOUPS in 20 oz. containers,  Spaghetti Sauce made fresh in 20 oz. containers, Spaghetti Bowls, and waffle mini-trays TO GO. Customers can DM, FB message or text (201 788 7613) us their orders a day or week ahead for pick up only. Oh and on Waffle Wednesdays, customers can receive a dollar OFF any savory or sweet waffle order!
Where to find them: Facebook – www.facebook.com/waffleitandco | Instagram + Twitter: @waffleitandco
Small business shoutouts: We would like to make a special SHOUT OUT to the two other remaining food vendors who have stayed open with us over at District Kitchen JC – Salt & Seed & Baonanas. We three have been here through the trenches and have taken every precaution to remain safe and up to date with current city & state mandates.
Jacklyn Lune Photos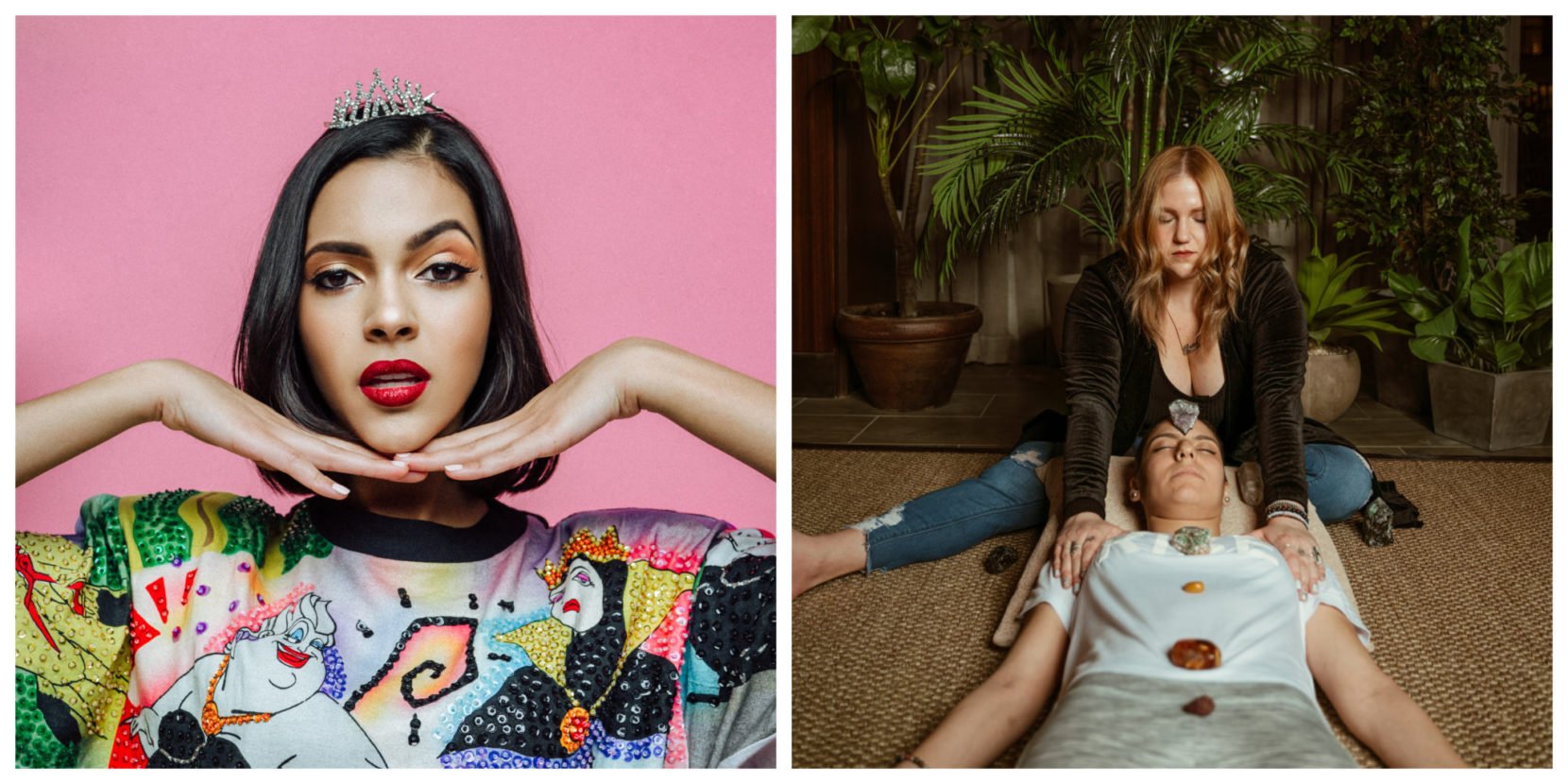 Bio + how to support: Ashley Jacklyn is the owner of Jacklyn Lune Photos. Where Stylized portraiture, fashion, and small business content are created with magic, laughter, and fun. Liking, commenting and sharing my social accounts could really help. I'm also doing a free 30 min portrait shoot to any essential worker (after the quarantine).
Where to find them: Portfolio – https://jacklynlune.com/ | Instagram: @jacklynlune.photos
Small business shoutouts: Shout out to all the small Jersey City businesses that have trusted me to take their photos! Vanessa and Vix of "The Get Podcast' (@thegetpodcast), Vanessa of "Bachata and Barbells" (@bachataandbarbells), Jen of "Doody Free Girl" (@doodyfreegirl), and Shelby of "Shelby Sweats" (@shelby_sweats).
Mantra Medallions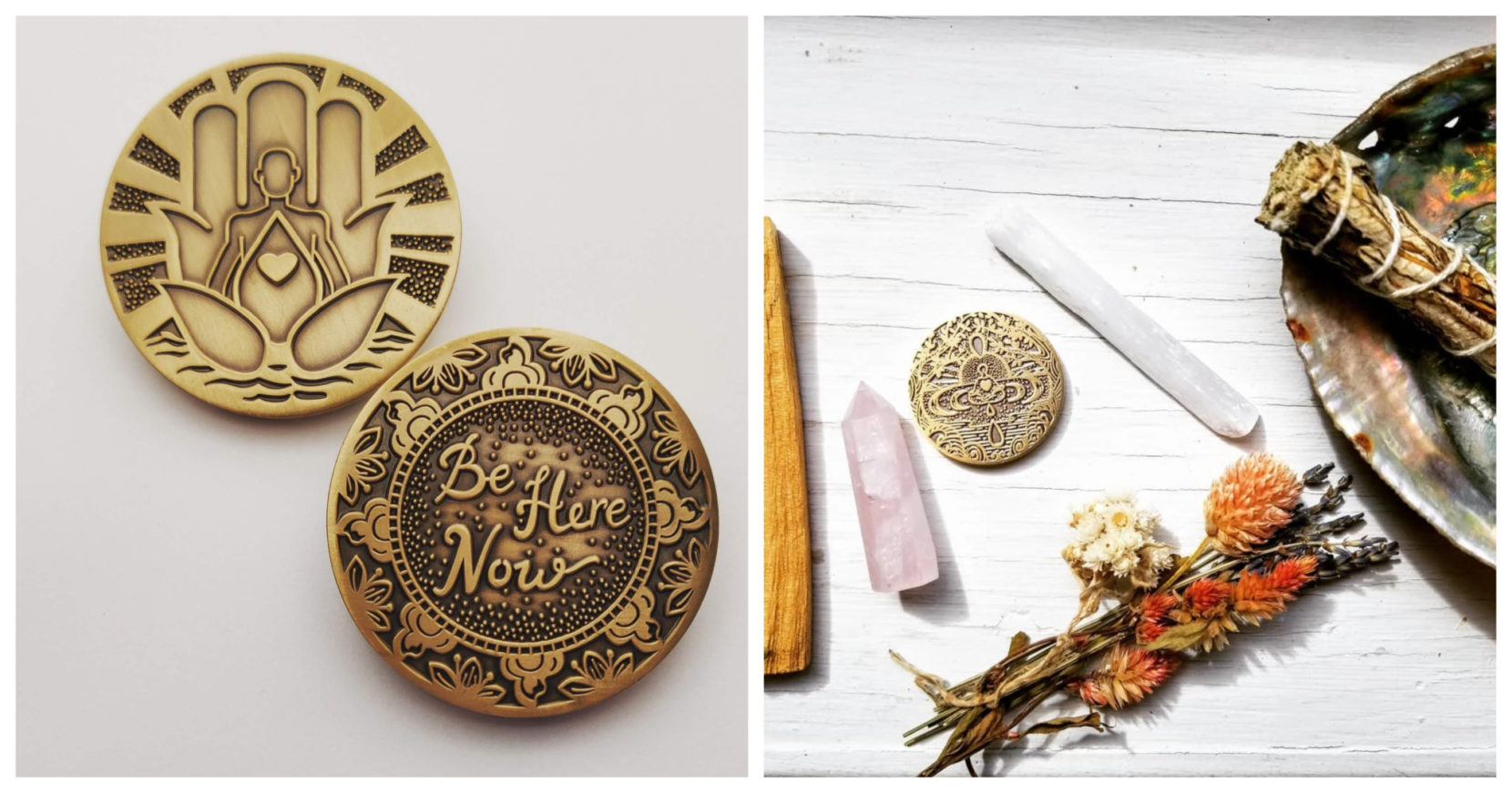 Bio + how to support: Vincent Cilento is a Jersey City resident and bartender who has worked at local favorite Taqueria Downtown. He started Mantra Medallions with meditation instructor and girlfriend Amy Rutledge, to help support others who are going through tough times. Together, they are doing their best to spread love and positivity, one Mantra Medallion at a time. Mantra Medallions make the perfect gift for anyone who is into meditation/self-love/self-care, and a great gift for the attendees of any type of wellness retreat. We have wholesale pricing available for retailers/yoga studios, and group discounts for anyone who runs retreats. We can also custom make your own for order quantities greater than 30 pieces. You can change the design/mantra or really anything about it. We can also adjust the size and make them into necklaces. Our "Be Here Now" Mantra Medallion can also be used as a hands-on assist indicator for yoga classes. You can place it with the hand side up if you're okay with hands on adjustments and mantra side up if you'd prefer a verbal adjustment.
Where to find them: https://mantramedallions.com/| IG: @mantramedallions | FB: Mantra Medallions
Paramount Party Planners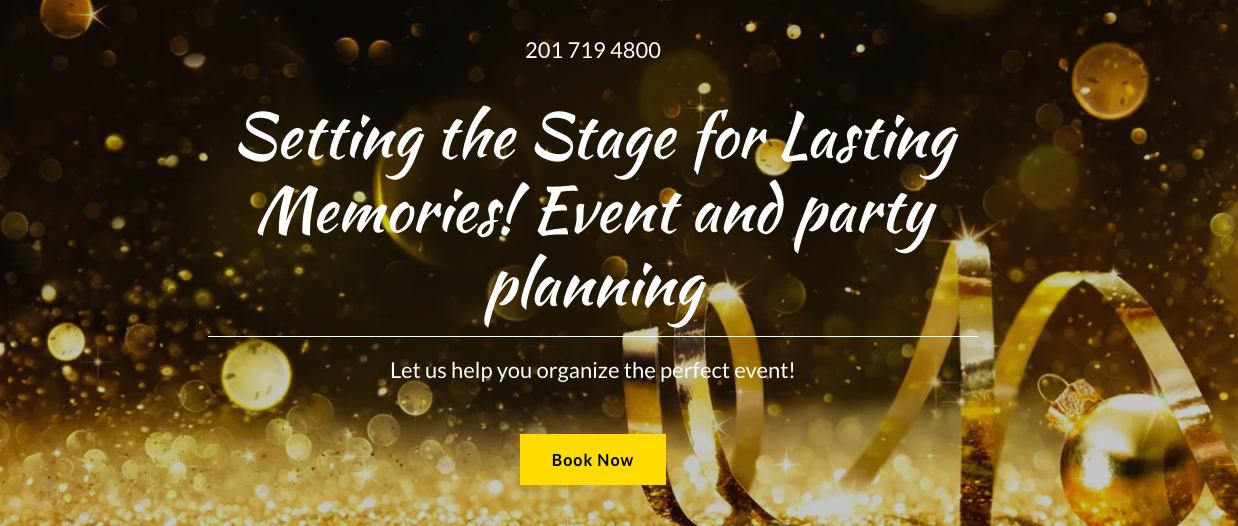 Bio + how to support: We created this business to include all of our friends and family who are artists, entertainers, servers, bartenders, MUA's, DJs, Hosts you name it. What started off the year as very promising is now shrouded in uncertainty and fear. If you can help spread the word about the event planning service that would help. Of course parties and gathering are banned so this is tough, but we also can provide consultation and create custom decorations and/or cakes and pastries.
Where to find them: Paramountpartyplanners.com, Paramountpartyplanners@gmail.com and/or Noelrodriguez@paramountpartyplanners.com
Mademeals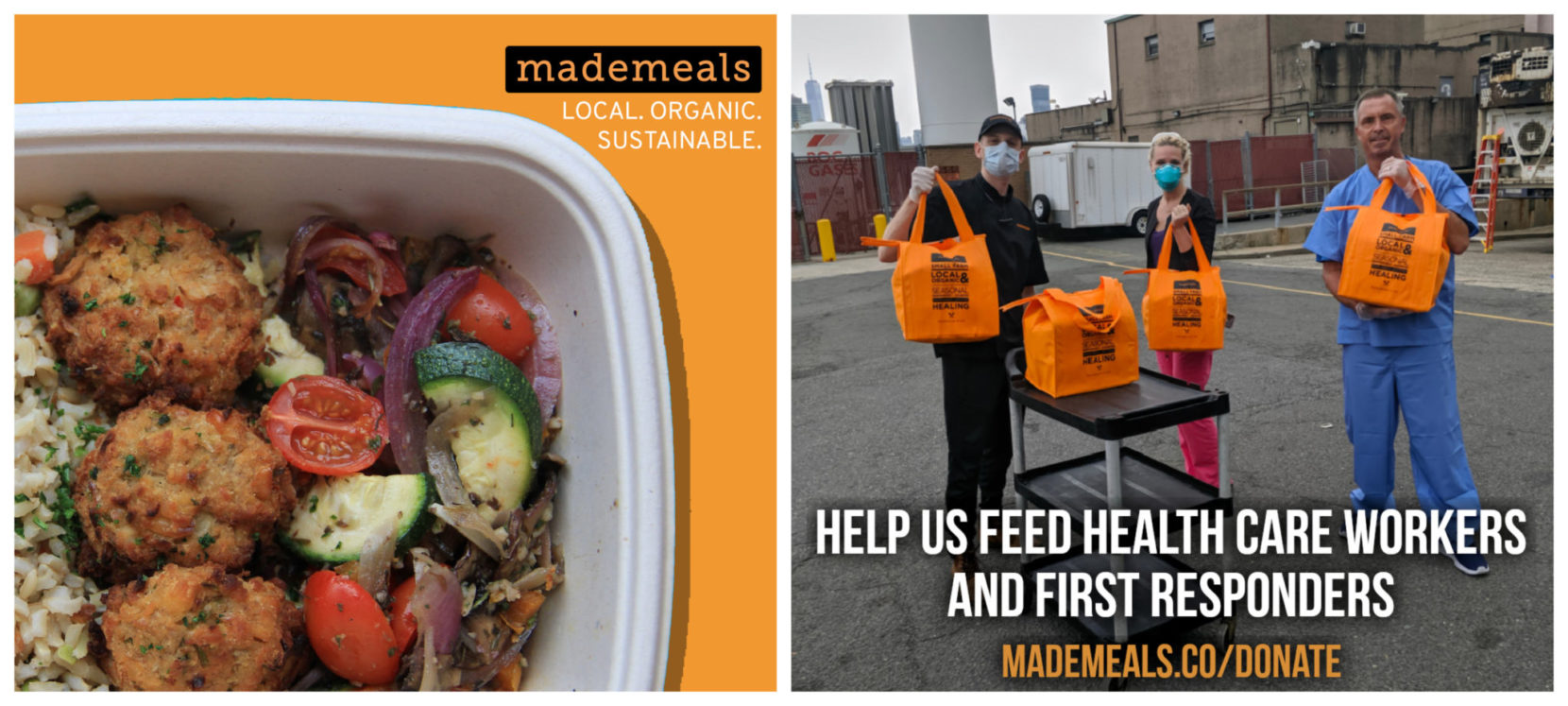 Bio + how to support: mademeals.co is a new meal prep delivery service in the area that uses locally-sourced, organic and humanely-raised ingredients. Jesse McBride, a Jersey City Heights native, launched mademeals after being diagnosed with an inflammatory gut condition in an effort to help people eat high quality, local and organic food without the cooking time. Being an essential business during this crisis, we are working hard to not only serve our customers, but to donate to first responders in our community. You can help by donating (info at mademeals.co/donate), or by sharing our photos. 100% of proceeds go to food costs.
During this time, it is more important than ever to support our local farmers and producers. Supporting our business goes far beyond our personal benefit – it will help support local farmers, feed first responders, and provide job opportunities to laid off restaurant workers in our community. So far, we have raised enough money to feed 160 people. Our goal is 1,000 meals by the end of April!
Where to find them: IG: @mademealsco | FB: facebook.com/mademealsco | Website: mademeals.co
Small business shoutouts: