Jersey City shut down on March 16th and our lives have changed forever. The Governor announced recently that restrictions would be lifted and that we would enter the next phase in re-opening the state. Now I must say that, although I am excited that things are moving towards normalcy, I am apprehensive. Is it all too soon? Are we jumping the gun? Or in our case, the cure?
I went out on the town this weekend to support local businesses and get some food with to-go cocktails. I was astounded by the amount of people out and about, not socially distancing, not wearing masks. It's like we all got tired of it and decided COVID is canceled. It is not. So yes, let's enjoy outdoor eating and drinking, and let's support our local shops and restaurants, but let's also not forget that we aren't in the clear. Not yet, at least.
CITY RULES
The City of Jersey City  announced that they will permit sidewalk cafes and other outdoor seating at restaurants with the following additional rules and limitations:
Any business seeking to utilize outdoor space for restaurant use, even if that business has or has had a sidewalk cafe license previously, must fill out the Sidewalk Café application form
All fees are waived, and historic and/or zoning approval are not required until further notice
Sidewalk cafe licenses will be automatically and conditionally approved upon submission, meaning businesses do not have to wait for an inspection or review before opening on June 15
The City will be reviewing all applications over the coming weeks and months to ensure safety and compliance, particularly with social distancing protocols
Partitions are required around the outside of the sidewalk café in accordance with standard Sidewalk Café regulations
The hours of operation of sidewalk cafés shall remain as:

Sunday through Wednesday: 8:00 AM to 10:00 PM
Thursday: 8:00 AM to 11:00 PM
Friday and Saturday: 8:00 AM to 12:00 Midnight

Seating in any outdoor space must be 6 feet apart in all directions
Dogs are still prohibited in sidewalk cafés
Smoking is prohibited in any outdoor space
Alcoholic beverages may be served in outdoor space (or to go) however an ABC permit is required beforehand
Face coverings are required for any patrons or employees inside premises
We will allow sidewalk cafes to expand beyond the normal boundaries and limits set forth in the regular sidewalk cafe rules and regulations, including:

Use of parking spaces directly in front of the business
sidewalk areas of adjacent properties not already in use by other businesses (written permission is required from the adjacent property owners)
Areas with Pedestrian Malls/other temporary street closures (up to 18 feet from the curb)

ADA rules still apply, specifically that a café must also provide 5 feet of clearance for access and mobility
Sidewalk cafes do not have to be contiguous with the front of the store and we are no longer limiting the amount of sidewalk that can be used, except for the ADA clearance described above
Tents and other overhead coverings are permitted but sidewalk cafes may not be enclosed on the sides at this time
Backyards, patios, roofdecks, and other outdoor areas may be used with similar rules as sidewalk cafes
Businesses are free to build platforms and other parklet style areas in parking spaces as desired, but please be advised the City has limited resources to provide these for businesses directly; please see our Jersey City Parklet Manual  for guidelines on construction
If you are interested in exploring the use of a parking lot adjacent to your business, please email bplatt@jcnj.org with a proposal to discuss as we would like to allow this but will be reviewing on a case by case basis.
Don't Be An asshole
This is a new adjustment for all local businesses and service staff. Please don't be an asshole. Now is not the time to be picky about your order and make wild demands, complain, etc. Say thank you that our businesses are being flexible with this whole situation and able to accommodate you. Be appreciative and thankful to your service staff. Give them a nice tip and say thanks. Also, wear a mask! Don't linger. Just use your head.
Spots Opening for Outdoor Dining
This list will be updated as we receive more information of businesses opening for outdoor dining. So keep this post bookmarked! Keep in mind some locations will require reservations.
Downtown
Left Bank Burger
194 Newark Ave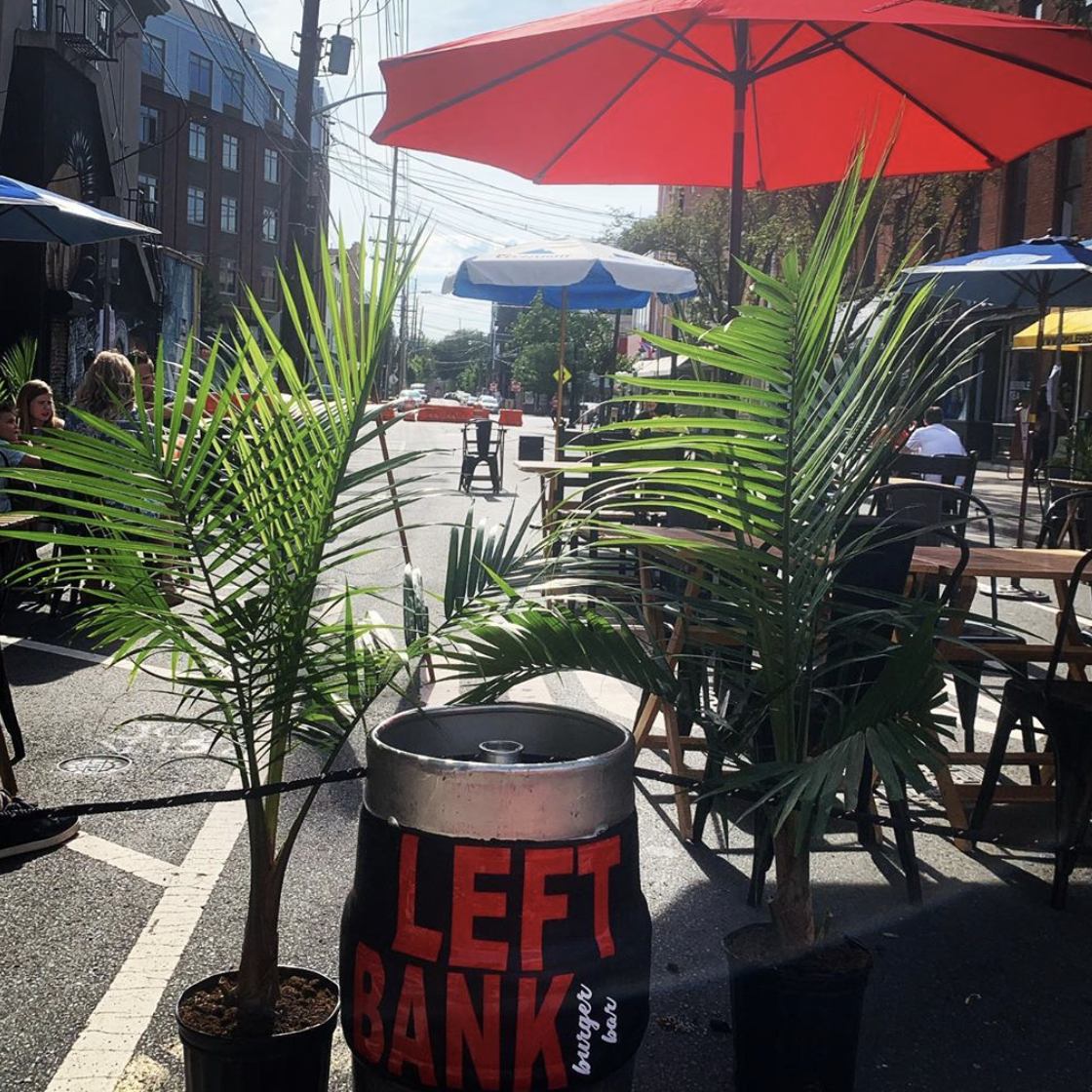 Franklin Social
292 Barrow St
Link to website: https://franklinsocial.com/
Orale
341 Grove St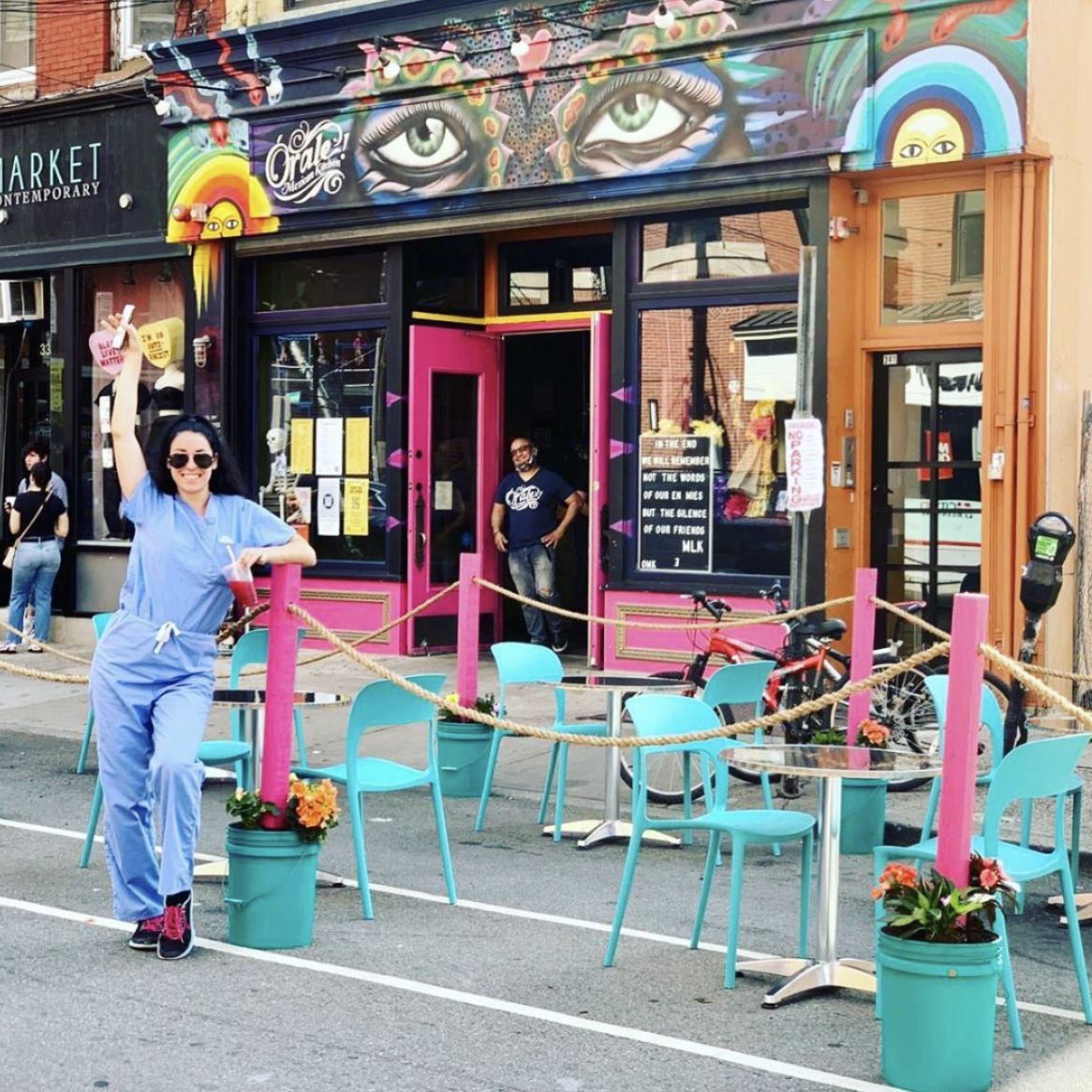 Link to website: https://oralemk.com/
Mathew's Food and Drink
351 Grove St
Link to website: https://www.mathewsfoodanddrink.com
Luna
279 Grove Street
Link to website: https://www.lunajc.com
Porta
135 Newark Ave
Link to website: Website
Broa
297 Grove St
Link to website: Website
Hudson Hall
364 Marin Blvd
Link to website: Website
White Star Bar
230 Brunswick St | 179 Warren St
Link to website: Website
DomoDomo
200 Greene St
Link to website: domodomojc.com
The Boil
8 Erie St
Link to website: Website
Prato Bakery
371 4th St
Link to website: Website
Hamilton Inn/Hamilton Pork
708 Jersey Ave
Link to website: Website
WurstBar
516 Jersey Ave
Link to website: Website
Frankie
264 Grove St
Link to website: Website
Uncle Momo
289 Grove St
Link to website: Website
Gringo's
12 Coles St
Link to website: https://www.gringostaco.com/
Buddy's
247 Washington St

Battelo
503 Washington Blvd
OUTDOOR SEATING BEGINNING JUNE 16TH!!
**LIVE MUSIC NIGHTLY from 6:00 – 9:00 PM**
Operating Hours
Dinner Service Tuesday – Sunday
4:00 PM – 10:00 PM

Brunch Service Saturday & Sunday
11:00 AM – 3:00 PM
Brightside Tavern
141 Bright Street
We are open! Outdoor Seating !
Check out our new sign!!
Come and join Tommy and his friend Alexa for some FOOD, DRINK, FUN and social distancing! Brunch, Lunch and Dinner! Hours are 11 to 11! See you soon!
Journal Square
Emma's
4 Path Plaza
Link to website: Website
Freetown Road Project
640 Newark Ave
Link to website: Website
Mezcal Kitchen
665 Newark Ave.
Link to website: Website
The Heights
Central Bistro Restaurant
403 Central Ave
Link to website: https://www.centralbistronj.com/
The Franklin
159 New York Ave.
Link to website: https://www.thefranklinjc.com/
Corkscrew Bar
61 Congress St
Link to website: http://corkscrewjc.com/
The Hutton
225 Hutton St
Link to website: https://www.thehuttonjc.com/
Hybrid Coffee
110 Cambridge Ave
Link to website: http://hybridcoffee.co/
Paulie's Brickhouse
264 Central Ave
Link to website: https://www.pauliesbrickhouse.com/
South Side + Bergen-Lafayette
Light Rail Cafe
237 Randolph Ave
https://www.instagram.com/p/CBdhVJNFUjk/
Link to website: http://lightrailcafe.com/
Laico's
67 Terhune Ave
Link to website: https://www.laicosjc.com/
Cherry's Lounge
102 MLK Dr.
Link to website: http://cherrysloungeofjc.com/
Harry's Daughter
339 Communipaw Ave
Link to website: https://harrysdaughter.com/
Mordi's
320 Communipaw Ave
Link to website: https://www.mordisfoodtruck.com/