No conversation about pizza in Jersey City is complete without mentioning Vinnie's. Vinnie's has been at the intersection of Danforth and 440 for decades and they've developed quite a following, and one visit will quickly reveal why. I've been a regular at Vinnie's for years because I like good pizza. A lot. Anyone who knows me will tell you that I am obsessed (maaaaybe that's an understatement?) with good pizza. Vinnie's never disappoints and they consistently deliver amazing pizza, among other Italian specialties, at all times of the day.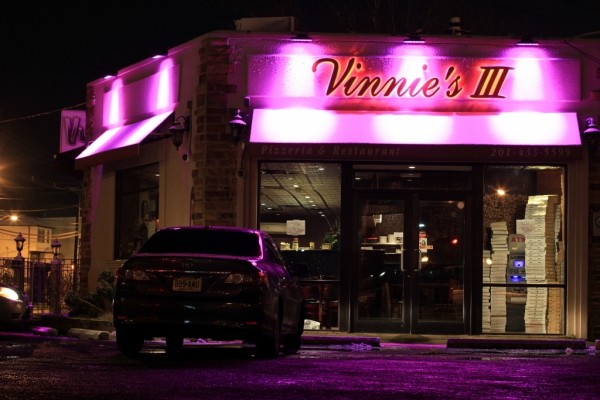 I met my friend, Charmaine, for dinner at Vinnie's on Danforth (Vinnie's also has a recently renovated location in The Heights) on a weeknight. While Vinnie's offers an extensive menu of homemade Italian staples, I opted for a plain slice, Margherita (one of their more popular slices) slice, and garlic knots. Charmaine, on the other hand, opted for a sausage parmigiana sandwich. The pizza was, as always, fantastic. There was a perfect amount of cheese that was well balanced with a soft, delicious crust. I should also add that the rich sauce you'll enjoy is also the original sauce used when the Ortes family started at Vinnie's 33 years ago. The garlic knots, which are best enjoyed with marinara, were super soft and had the perfect balance between dough and garlic.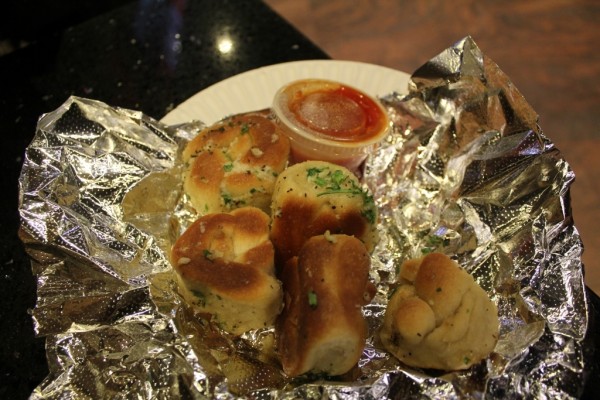 As always, we were impressed with the value and flavors in our food. Pizza not your thing? (Gasp) I guess I could forgive you, but don't worry, Vinnie's is home to an extensive menu that has all of your favorites from chicken francese to baked ziti to heros. Vinnie's even has Italian cakes, cookies, and gelato to help create an authentic Italian culinary experience right here in Jersey City. Here's another tip: if you visit between Friday and Sunday, Vinnie's offers special pizza made from their very own wood-fired oven, which has a distinct taste from their traditional pizza. I named a lot of options, and practically everything is worth trying. I promise you won't be disappointed!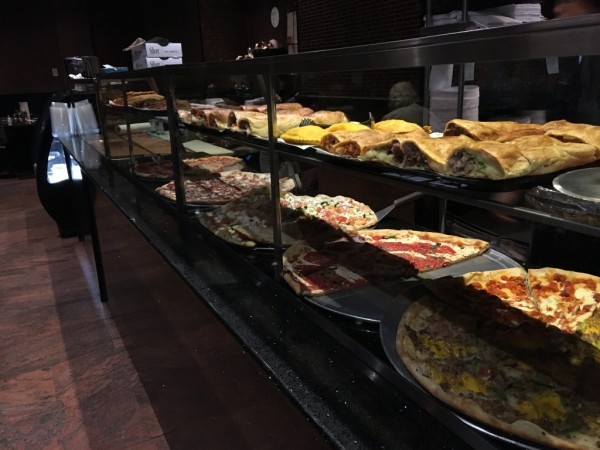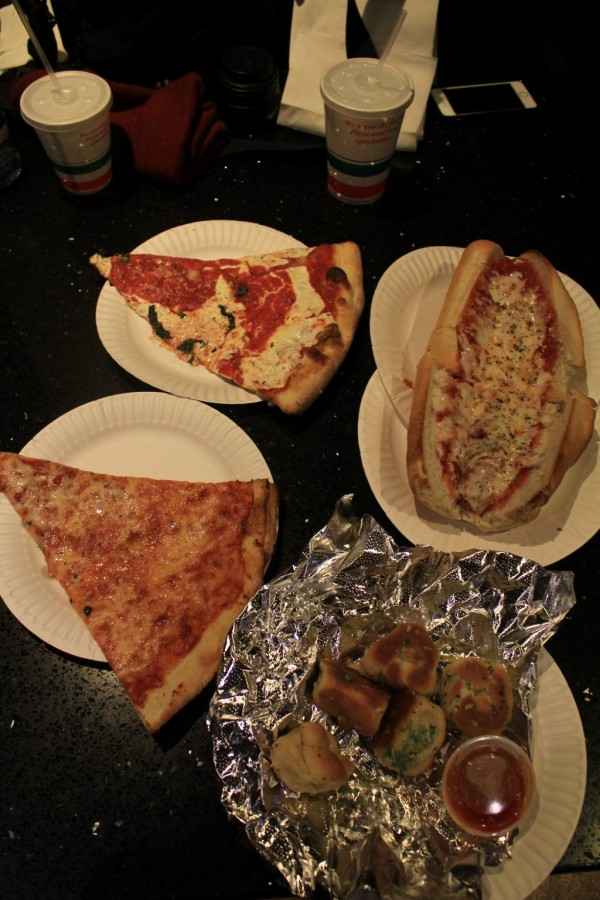 Craving pizza now? Check out Vinnie's on Danforth or in The Heights! You won't be disappointed! Orrrrrr you can check out more of the pics for now.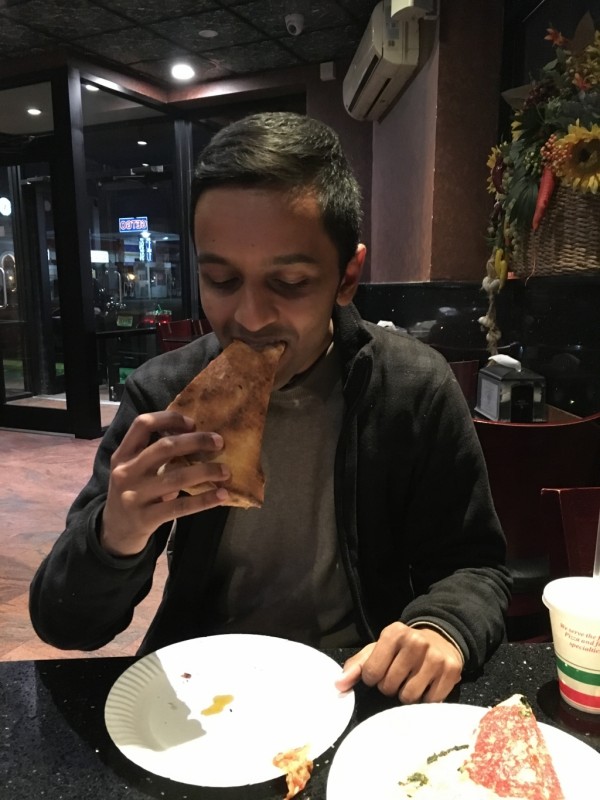 By the way, until recently, I was a regular at Vinnie's who did not know too much about the restaurant's fascinating history. Luckily, I had the opportunity to sit down and speak with Giacomo Ortes, whose family has been with Vinnie's for 33 years.
Who are you? Tell me about yourself.
My name is Giacomo Ortes and I've been a manager at Vinnie's for 12 years now. Our family has been here (Vinnie's) for 33 years now.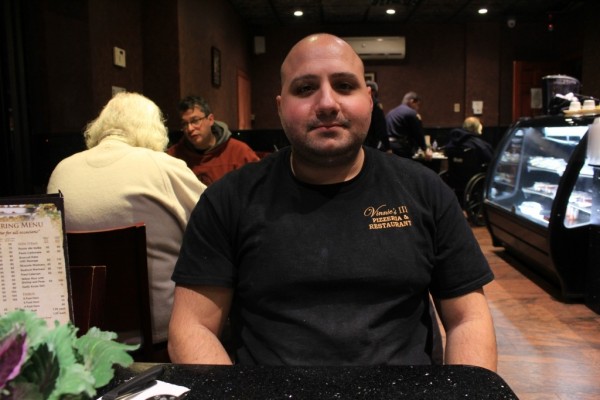 Where are you from? Do you live in Jersey City?
We're Silician, but I was born in Manhattan. I don't live in Jersey City; I live in South Jersey. My family took over the original Vinnie's 33 years ago and we've been here since. We also own the other Vinnie's in The Heights, so we've been here for quite some time now. I love it here.
What did you do before Vinnie's? Why pizza?
I went to culinary school in Italy, and I left because I wanted to pursue pizza. Why Pizza?  Pizza is art, and I wanted to create art that can make people happy.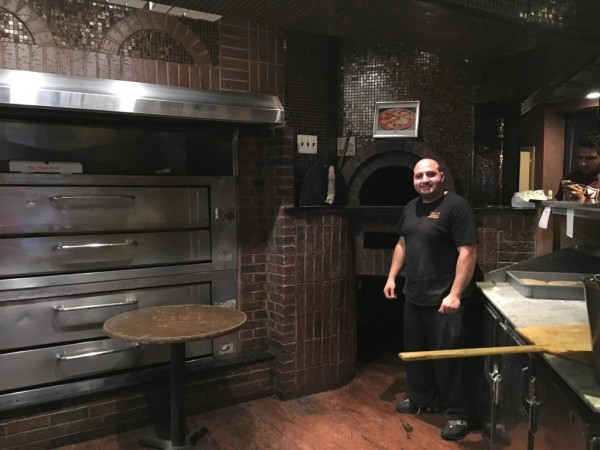 What is your favorite menu item?
The pizza, of course! But I love our chicken florentine, chicken francese, and our salads.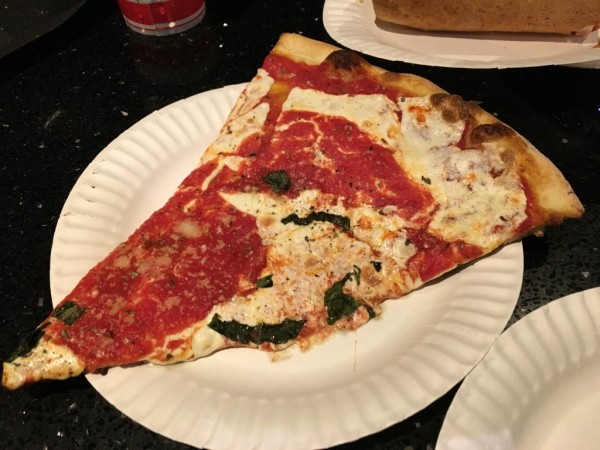 What's your favorite pizza?
Hmm, definitely Margherita pizza, but sometimes I like to change it up a bit. We have four different sauces that we use among our pizza – old fashioned, DOP, gravy, and marinara, so there's a lot of variety between our pizzas.
What's your favorite spot in Jersey City?
I'll be honest – here. I love our neighborhood and what we do. It's a lot of fun for me.
Who are your customers and how has the neighborhood changed?
Our customers come from all over the area. We deliver and cater everywhere. We have customers from New York, like as far as Staten Island and Long Island. Jersey City's changed a lot with all of the development, but our customer base has remained similar. We've had the same customers for decades and now their children and grandchildren are regulars – it's pretty fascinating.
431 Danforth Ave, Jersey City, NJ 07305, United States
Check out this amazing gallery of yum!