There's a new dessert shop in town and it's called Stack Creamery! After opening up their first store last May in Westwood, NJ, they've successfully expanded to JC Heights only a year later. This family-owned, family- run ice cream parlor specializes in their all time favorite sweet treat: Ice Cream Cookie Sandwiches. Here you have free rein to create the ice cream sandwich of your dreams. With ten different types of cookies, twenty ice cream flavors and fifteen drizzles and toppings, there are literally hundreds of flavored combinations waiting to be indulged in. Each ice cream cookie sandwich costs only $6, which is more than worth it for the experience of enjoying almost half a pint of ice cream stacked between your two favorite cookies.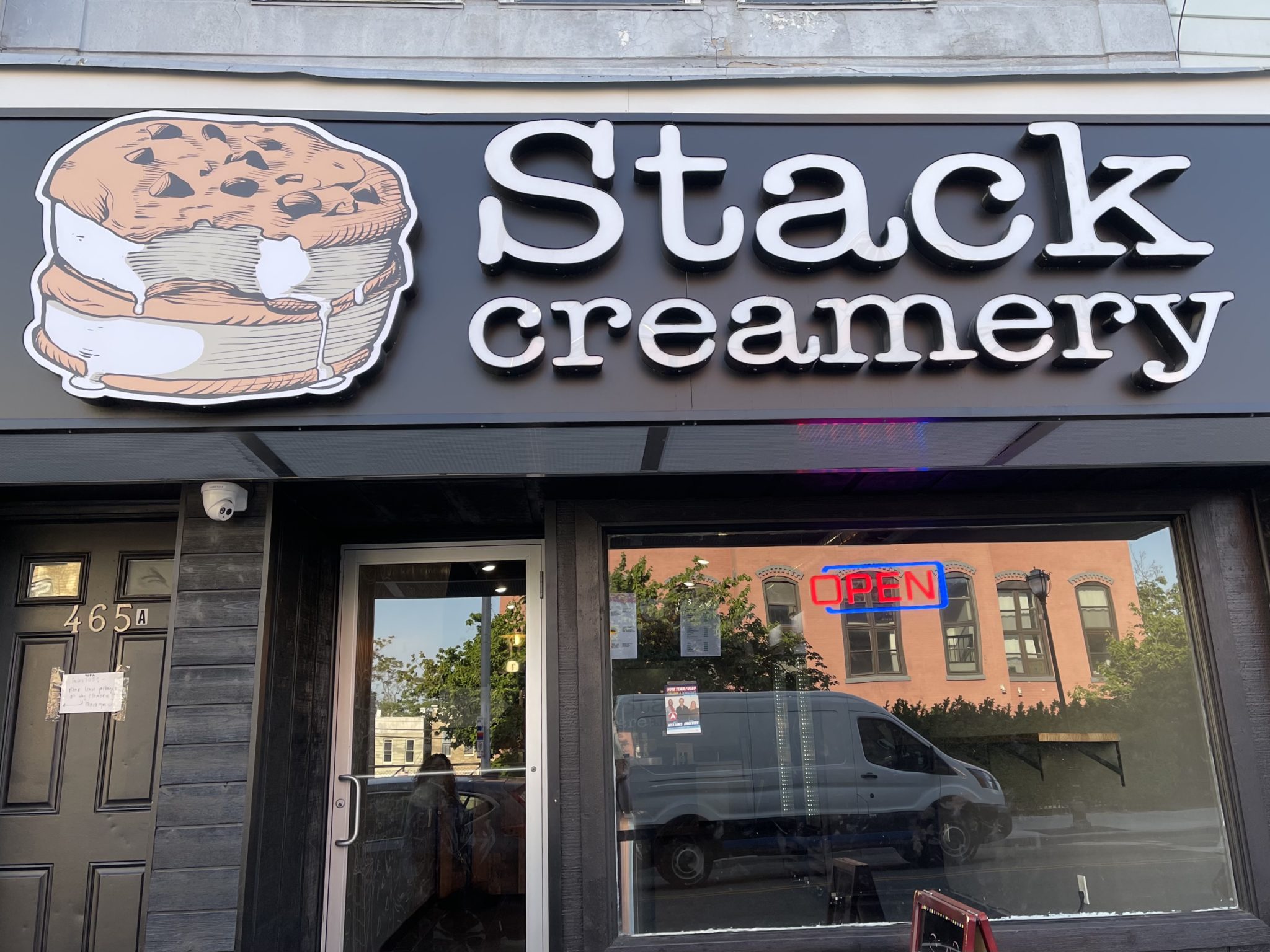 Fresh Cookies
Baked fresh daily, Stack Creamery's family cookie recipe is made from scratch with high quality ingredients. These melt-in-your-mouth cookies are still warm and gooey by the time you take your first bite. I chose their blissfully soft Chocolate Chip cookie as the base of my ice cream sandwich. The rest of the cookie roster includes other classic cookie flavors, such as Sugar Cookie and Snickerdoodle, as well as more creative flavors like S'mores and Salted Caramel Pretzel. You can buy these delicious cookies fresh out of the oven for $1.50 each, or buy yesterday's cookies for half off. If you're interested in some other sweet stackables for your ice cream sandwich, they also offer homemade brownies and glazed donuts.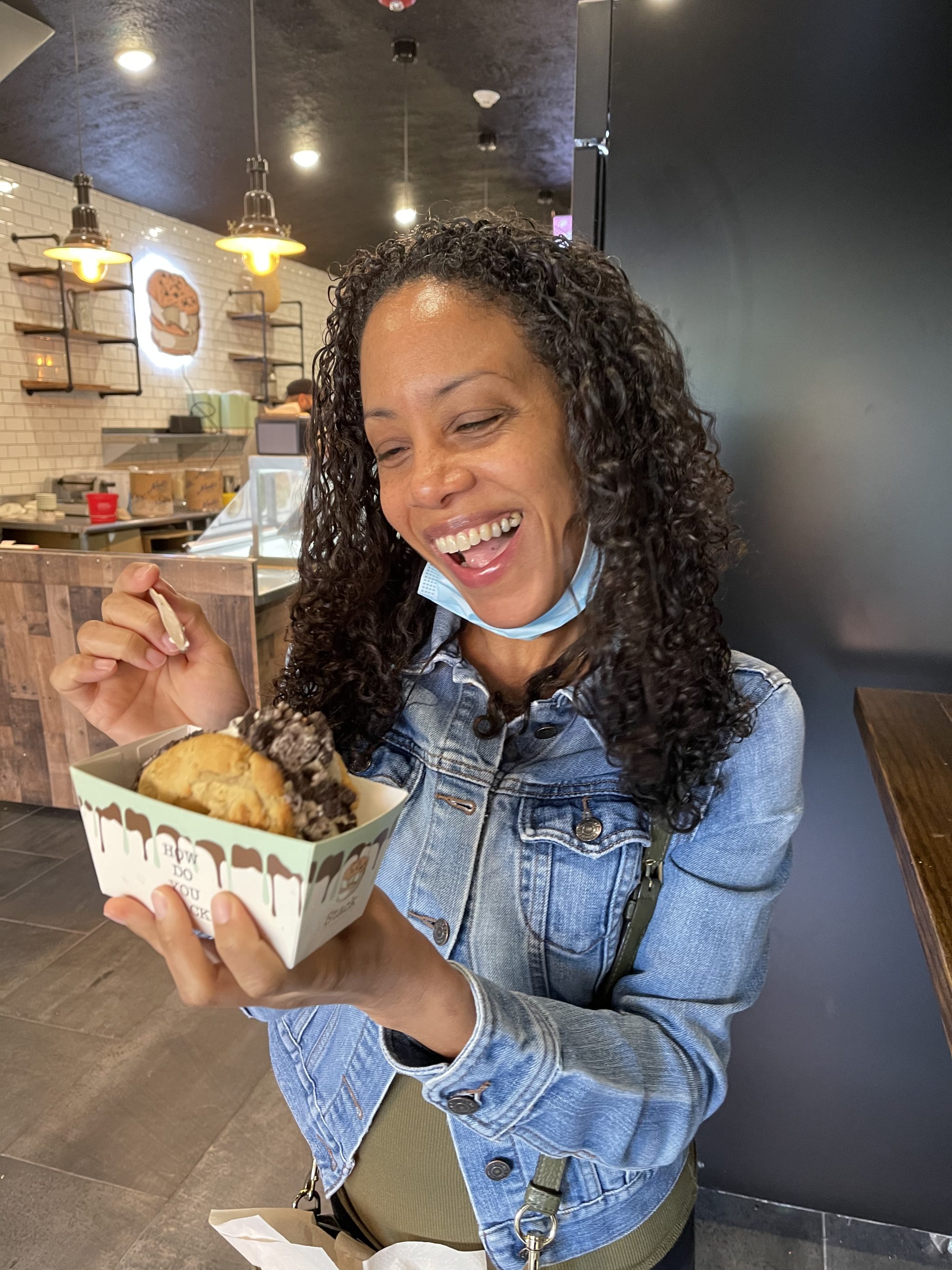 Ice Cream
Sandwiched between your choice of cookie is about half a pint of locally made, creamy and smooth ice cream. All twenty of their flavors have delectably tempting names like Holy Cannoli, Cookie Monster and Charcoal Coconut (which is one of their vegan flavors). Mudslide, a coffee based ice cream infused with ribbons of chocolate throughout, called out to me first. That being said, you'll definitely catch me in here trying each and every flavor this summer. Just in the mood for ice cream? You can skip the cookie and order a few scoops of ice cream in a cone or cup, or just pick up one of their pre-packed pints.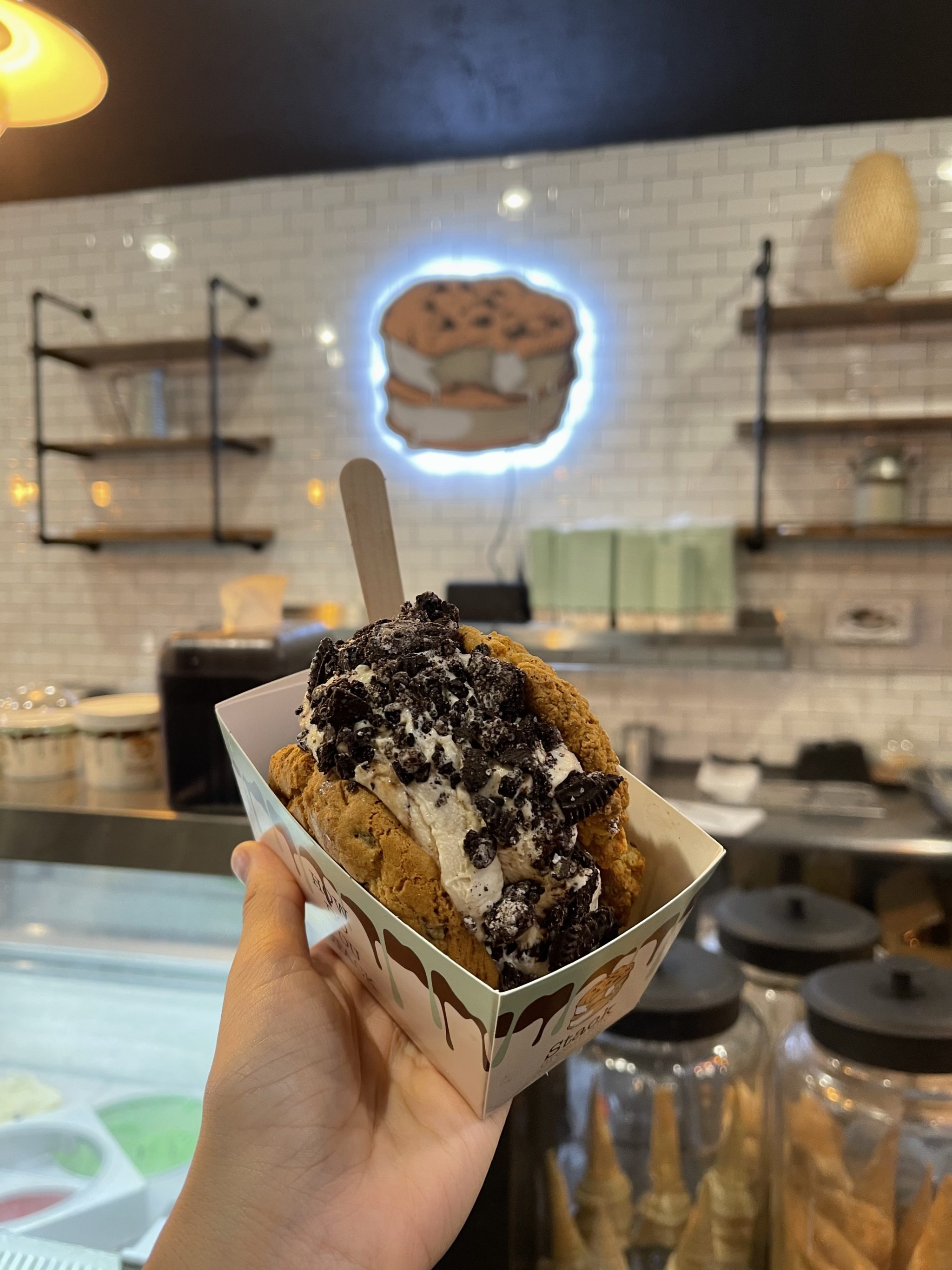 Toppings
As if things couldn't get any better than freshly baked cookies and velvety soft ice cream, here comes the scrumptious toppings! Delicately sprinkled or drizzled across your ice cream sandwich, your chosen topping is the final touch to your edible masterpiece. Their fifteen toppings offer a great range of textures and tastes. From crunchy chocolatey goodness found in Crumbled Oreos and Brownie Crumbs to fruity sweet treats like Gummy Bears and Fruity Pebbles to toppings with more nutty nuances like Chopped Almonds and Graham Cracker Crumbs, there is a topping that'll surely delight everyone's taste buds.
Stack Creamery's also got your back with some premade treats for a quick fix. Their 4 for $20 pre-packaged cookie sandwiches come in three flavors – Classic OG, Death by Chocolate and Birthday Cake.
Looking to go big or go home? They've got the Stack Bigwich ($50), an almost 7 lb. ice cream sandwich cake that has vanilla ice cream and rainbow sprinkles stacked between two gigantic chocolate chip cookies.
While ice cream cookie sandwiches are obviously their forte, they also have a Cookie Ice Cream Pie ($20), a "pie" made with a giant cookie crust and ice cream filling. These come in five flavors – Banana Cream, Death by Chocolate, Chocolate Mint, Classic Vanilla Chip, and Cookie Monster. The Bigwich and Cookie Ice Cream Pie are both customizable items, meaning you can make them all your own for only $10 and $5 more respectively.
If you're still reading this, what are you waiting for? Head on over to Stack Creamery on 465 Central Avenue to create the ice cream cookie sandwich of your dreams!