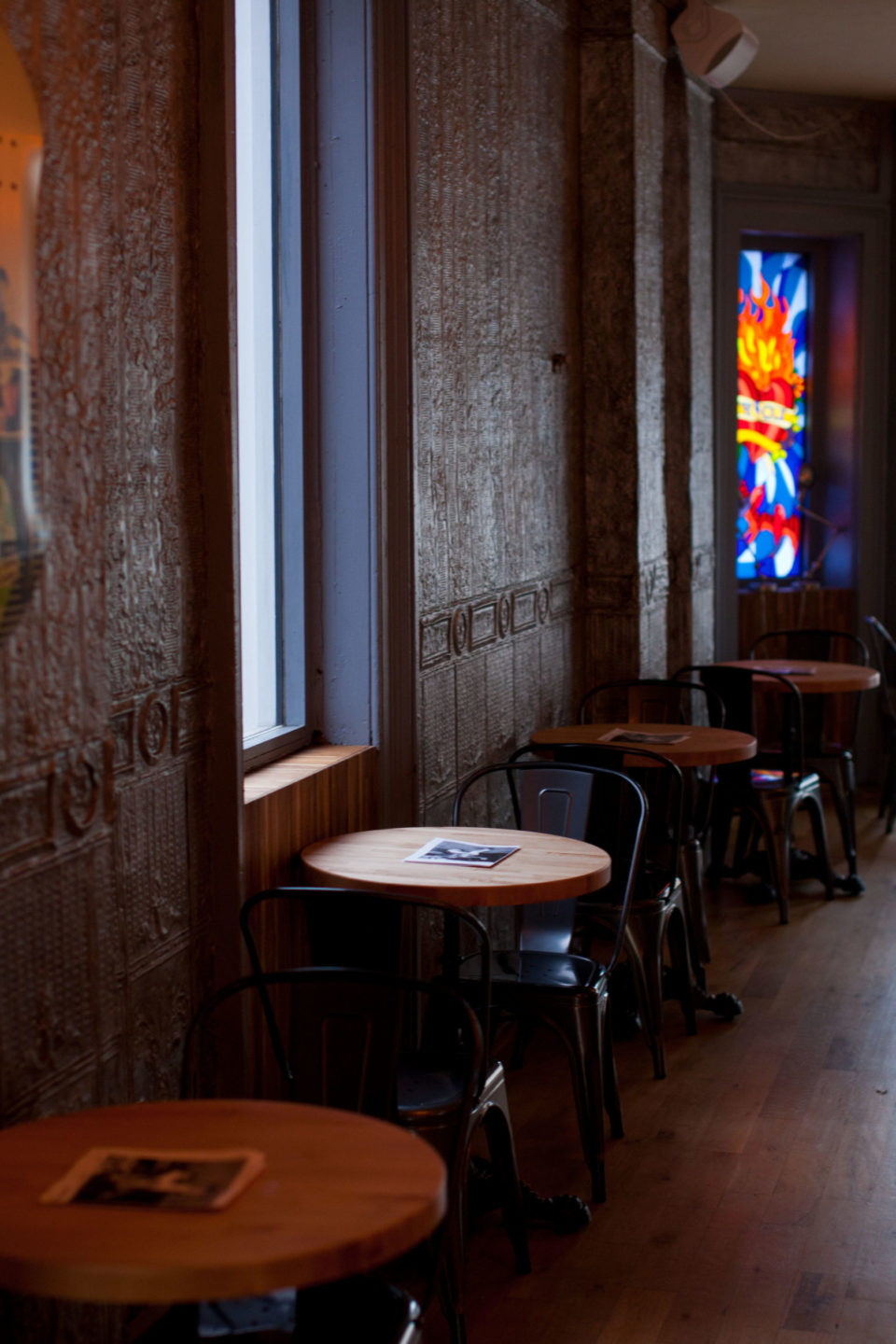 Palisade Avenue has had quite a bit of action the past year or two with multiple new places popping up on the strip. Low Fidelity being one of them; a chill, no fuss, and down to earth bar that serves up some unique pizza for this region of the country, which is a Detroit style pan pizza. Low Fidelity (or Lo-Fi) is the sister restaurant to The Archer located on Newark Avenue in downtown. Also known as my favorite bar on the Newark Ave strip. Similar mood lighting but with a more playful feel, with old school, lit-up pinball machine displays that line the walls, with a pretty rad stained glass window as a focal point both inside and out. A modest size bar wraps around the wall with plenty of two tops and four tops scattered about to gather around with your friends. As you make your way through the bar and into the backyard, a quaint patio setting lined with wooden benches and two sets of Corn-hole games, start to get any backyard game enthusiast a little competitive.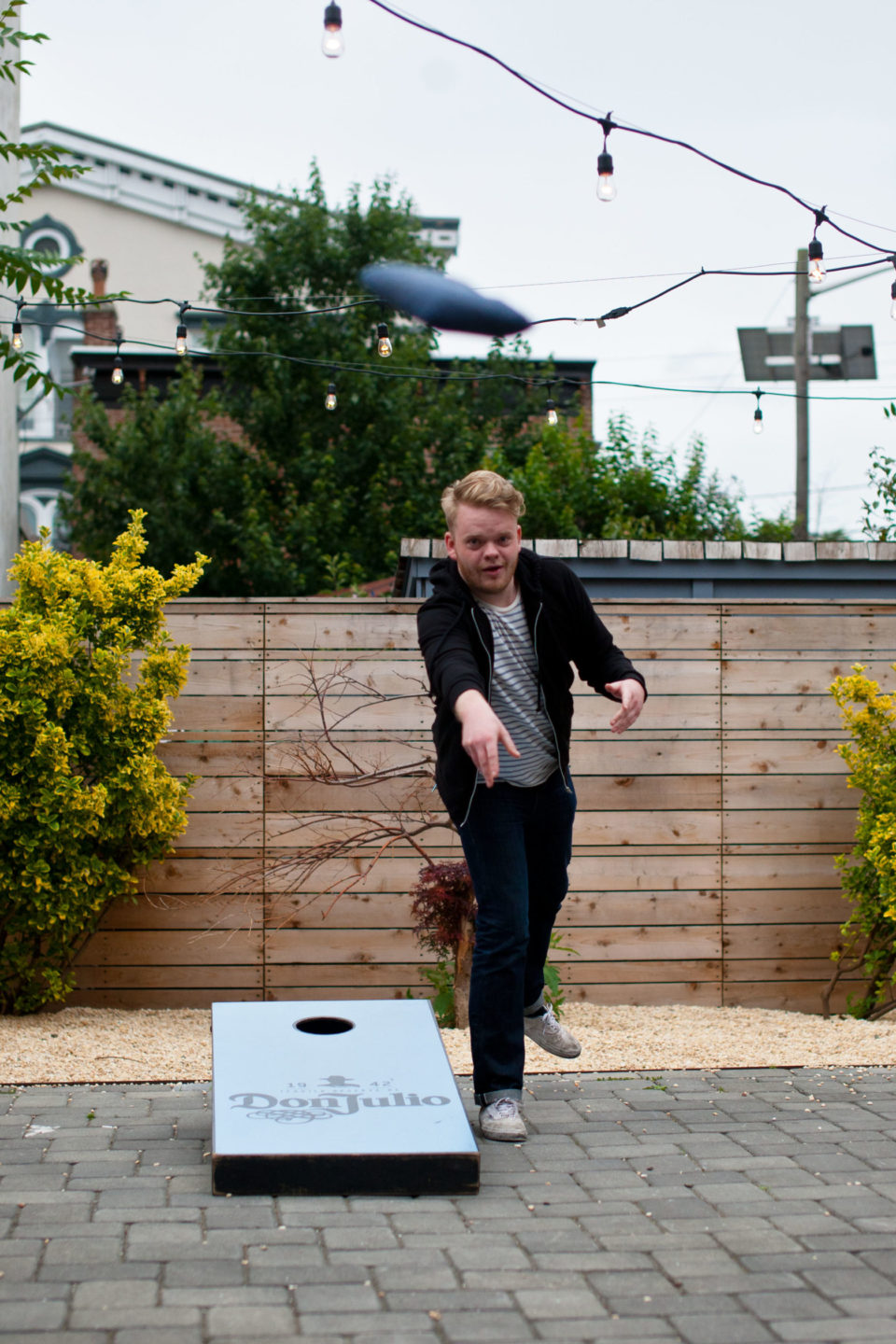 Lo-Fi gets their name from an aesthetic of record music, where the quality of sound is lower which proceeds to allow you to hear the imperfections of the production or recording.  Although there isn't much imperfection at Low Fidelity, the name is rather referring to the irreplaceable value of embracing the pure true sound of a record and enjoying it for all the notes and noise it is.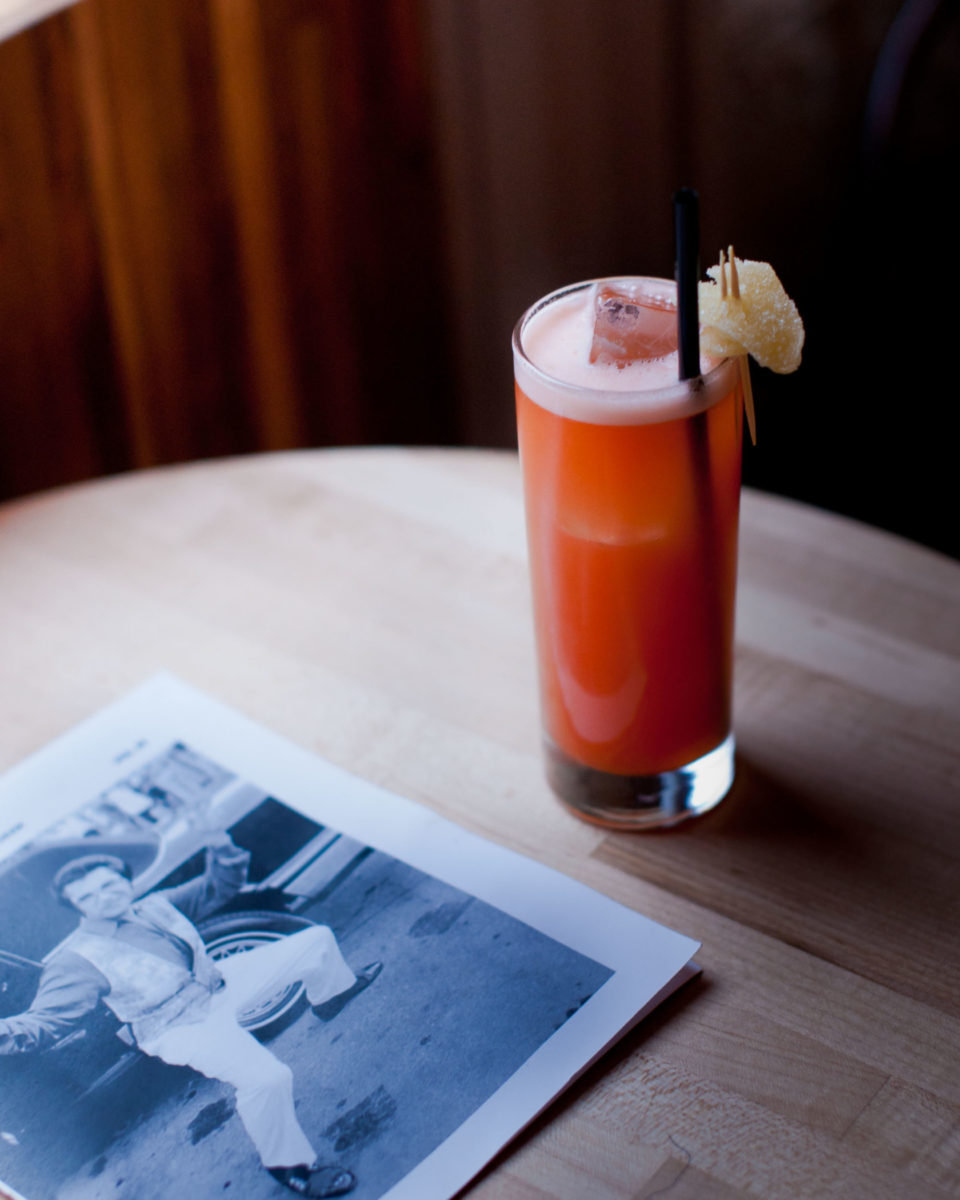 Between their cocktails, punch and beer list, it took a while to even try to make up our mind. The server Ryan had to be of some assistance, if it was left up to me, I would have had to call an Uber home, wanting to try every single one. Their Roman Holiday cocktail was suggested for its beauty and flavor. This drink is a nice summer cocktail that doesn't wreck your sweet tooth. A balance of gin, Campari, ginger, lime, pineapple, and soda made this cocktail sweet with a spicy bite from the ginger that cuts through the pineapple. Would highly recommend on a hot summer day if you want something refreshing, but not killer hangover worthy.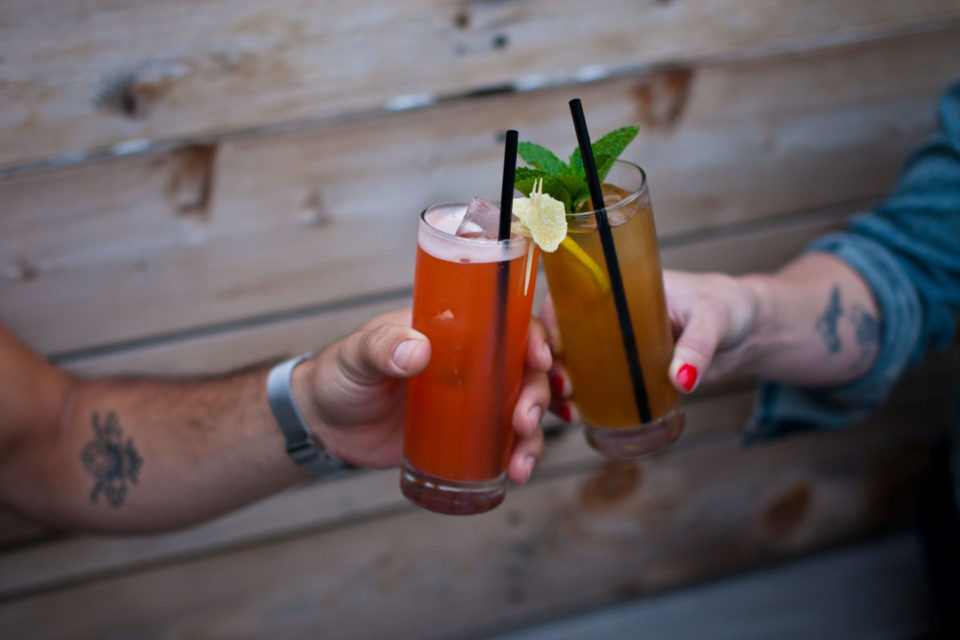 Let's talk about this punch, Bourbon Mint Tea Punch, I mean, who doesn't like spiked punch? The nostalgia of high school dances and the degenerates sneaking something extra into the community bowl of juice making sure everyone has a good time. I wonder if that's a thing these days?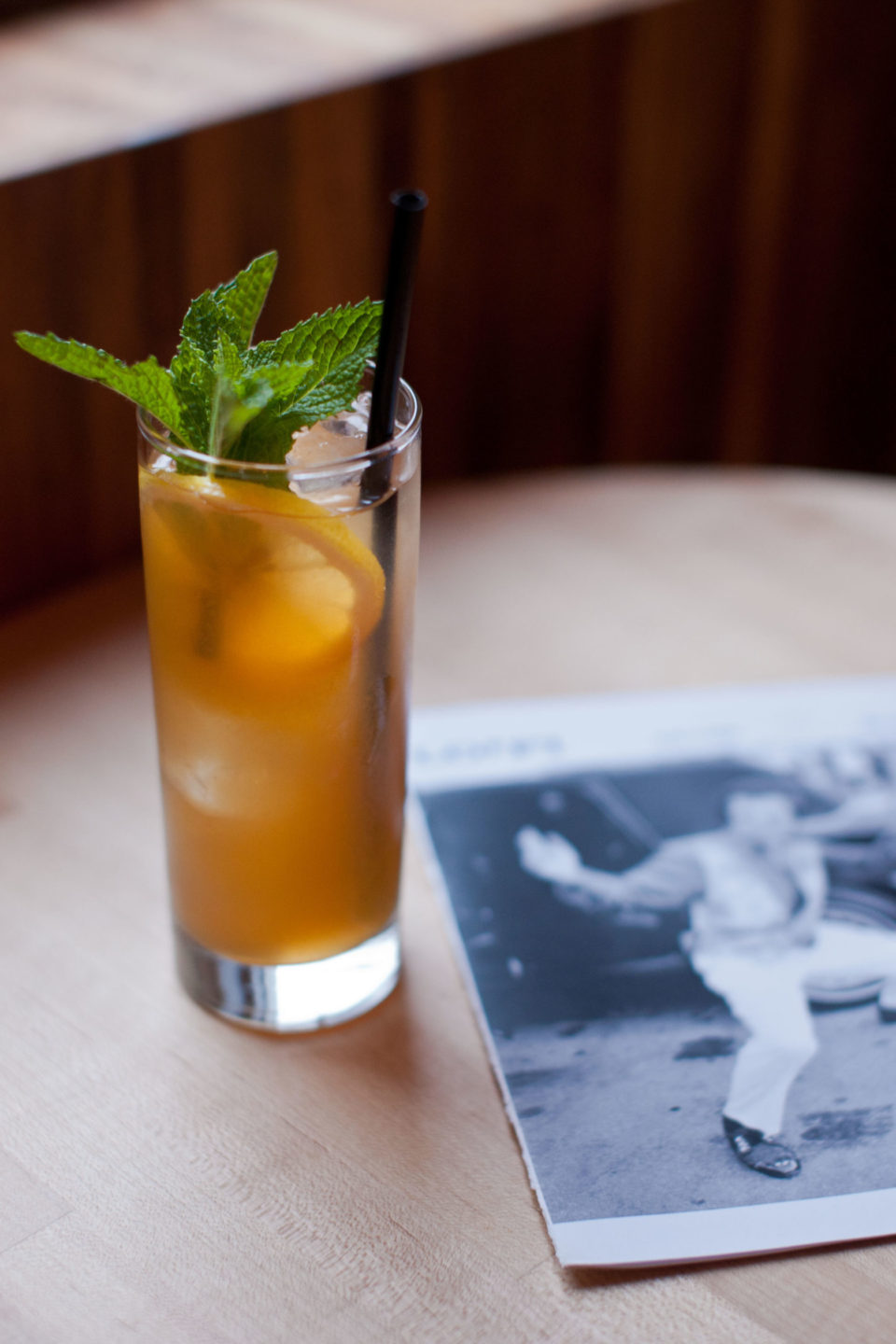 This drink was light and refreshing with a slight tartness. It was a nice combination of bourbon, mint tea, orange bitters, orange blossom, and fresh lemon. I would compare the flavor profile to a Mint Julep spin-off of sorts. The orange blossom gives some floral notes, which goes well with the tart lemon and richness of the bourbon.
On top of the great drinks and beers, the pizza is one of a kind in Jersey City. Detroit style pizza, as they call it. This is definitely a nice change, from all the Neapolitan and New York styles of pizza in the area. The Detroit style is a hardier pizza with a thick, airy, pillow-like bottom with a crust that rises up to thin, crispy edges, which wrap around the pie like a basket to hold in all the cheesy goodness. The Aloha Satellite is a white pizza packed with Guanciale, Tasso Ham, Fermented pineapple, Thai Basil, bourbon caramelized onions, Serrano peppers and a Pecorino cream. Listing the ingredients makes your mouth start to water! The peppers add a heat that the fermented pineapple subsides creating a beautiful balance. Which is also accompanied well by the saltiness of the meats. The combination of smoky, sweet and spicy makes your taste buds dance.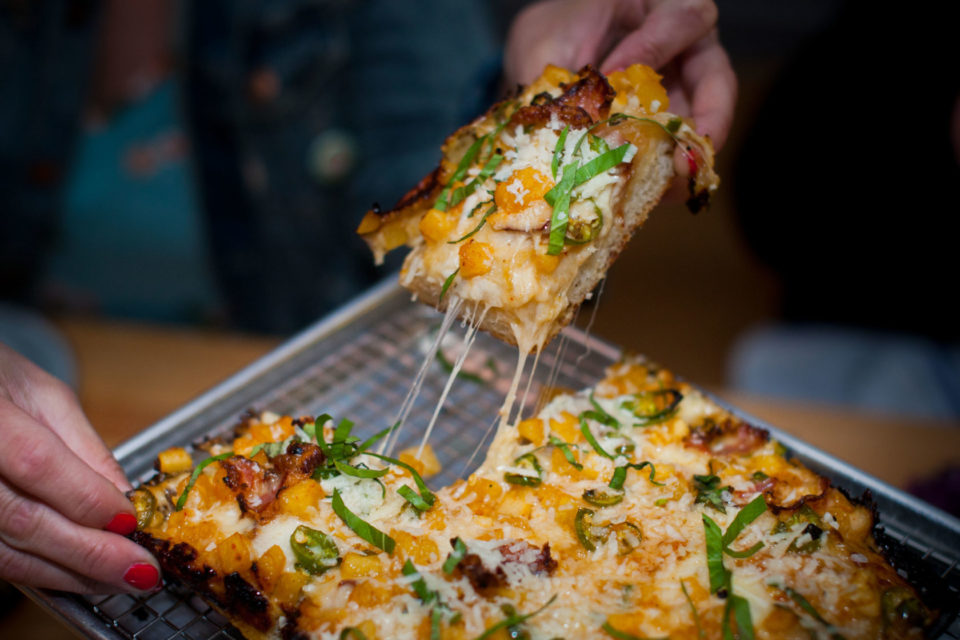 Another pizza is the Fennel Countdown, a hearty pie covered with sausage. I mean covered from edge to edge in crumbled pork goodness. And then each slice is dolloped with a smooth and creamy ricotta cheese. Topped with a Goat Horn pepper and a fennel prawn. They mix in fennel pollen to give this pizza a classic Italian sausage flavor.  I can imagine this pizza being extra wonderful on a cold winter day, to warm you up from the inside out!
One of their starters is Warm Burrata, oh man, talk about warm gooey deliciousness. Served with crostini and a drizzle of hot honey, I could eat the entire ball of cheese to the dome. Lo-Fi is packed with unexpected delights. An awesome new addition to the heights that will have you coming back time and time again to simply enjoy a beer or to hang out with a group of friends for dinner.  I hope everyone has a chance to check it out and enjoy this place like I was able to.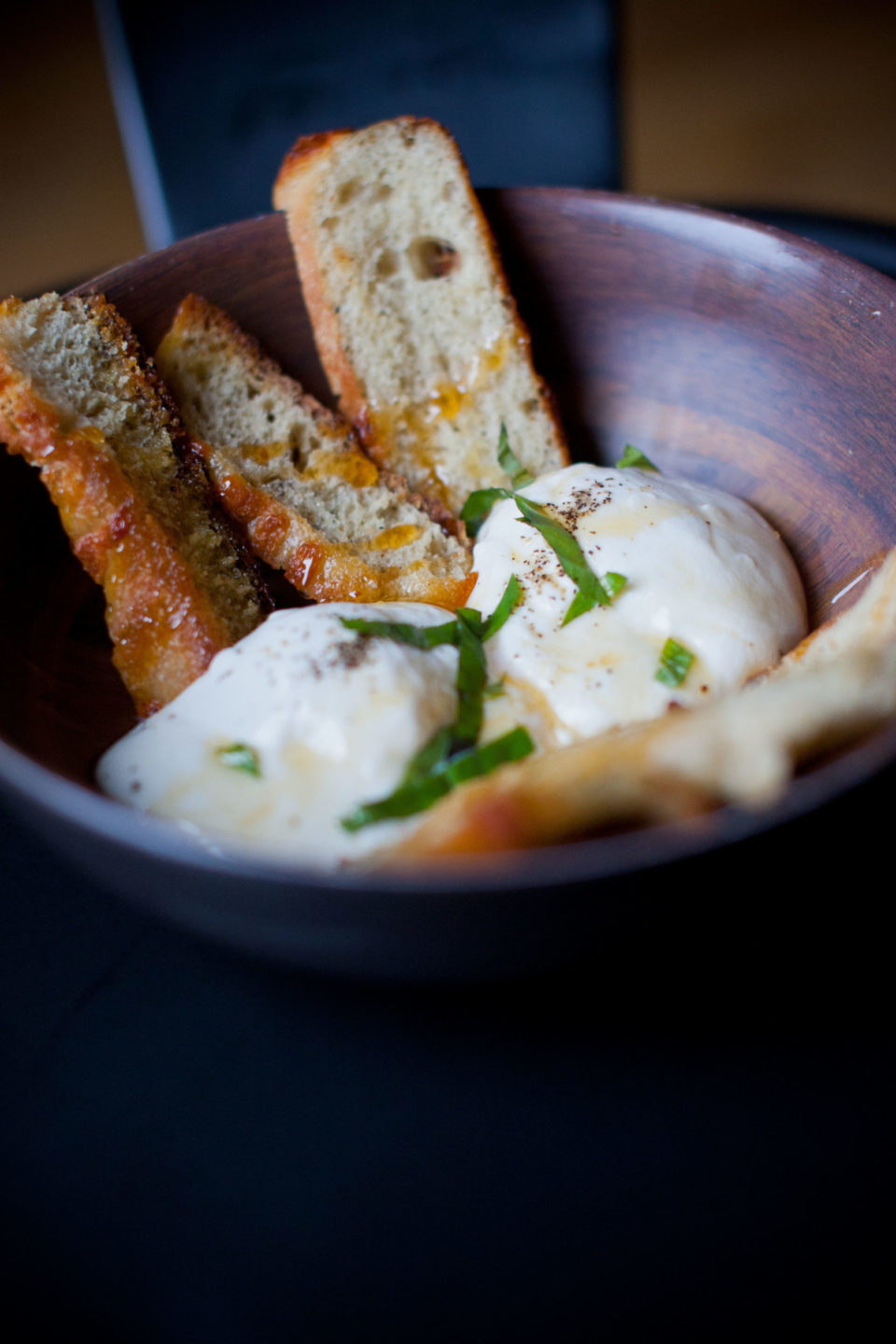 You can visit Low Fidelity at 328 Palisade Ave. You can find Low Fidelity on Instagram, Facebook, and lowfidelitybar.com.