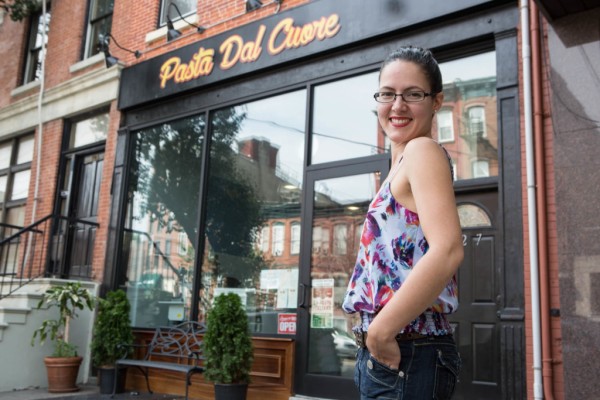 Pasta Dal Cuore, a fresh pasta shop opened its doors on Jersey Ave almost a year ago. I remember walking by and always seeing the pasta in the window and thinking to myself "I must try it". One day my hubby bought some sort of spinach ravioli from them and brought it home. We made it with just a drizzle of olive oil and fresh Parmesan cheese and it was absolutely heavenly. It transported us to Italy in just one bite.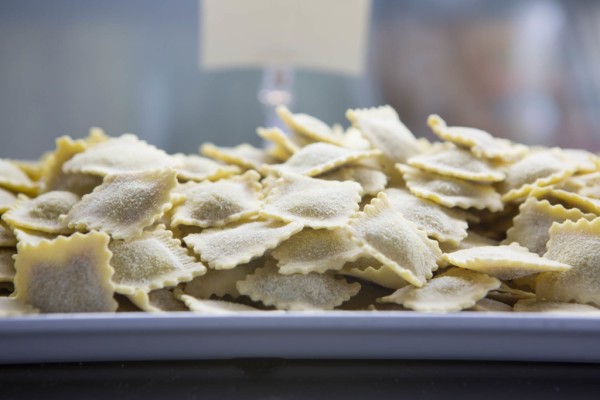 A few weeks later, I ran into Elena, the owner of Pasta Dal Cuore and she told me they would be opening a restaurant in the back of the store. She invited me to come for lunch along with friend and photographer, Greg Pallante.
When we arrived to Pasta Dal Cuore, the first thing we did was make pasta. I never realized it was such an art form, Elena explained the whole process of making the pasta, and using her machines. It was so fun!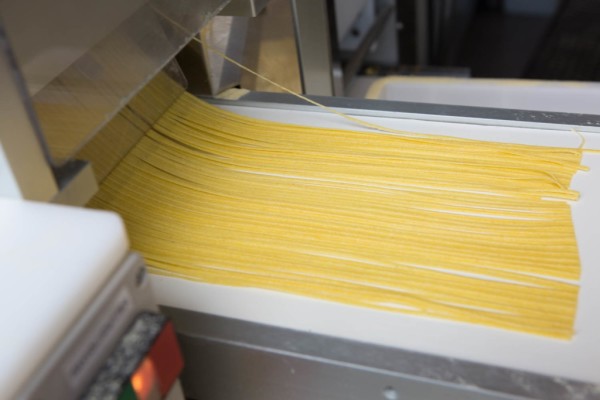 We sat down to talk, ate delicious food and I also got a chance to chat with her chef Marino, who is such a character! He has a heavy Italian accent, talks with his hands and is incredibly talented in the kitchen and is such a passionate human being.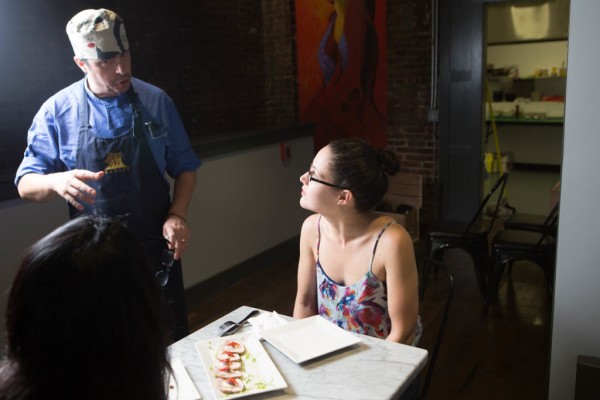 I promised my hubby to bring him home some leftovers which was very difficult because the food was so delicious. When I got home we ended up eating the rest of the leftovers standing around in our kitchen!! We couldn't wait to dig in. Then with a full mouth of pasta he said "Can we go soon?"
How about tonight?!
What's your name? Elena Cartagena.
What do you do? I'm the owner of Pasta Dal Coure and we make fresh pasta, either you take it and cook it at home or you can dine with us.
And that's new right? Yeah, we did it about one month ago. And this is our welcome, everyone gets one.
When did Pasta Dal Coure open officially? November 5th just the factory and then the restaurant just recently.
How did the concept start? What's the whole background story? This was not a lifelong dream, but this is the first dream I really just kept pushing and pushing. About six years ago, everything that was going on in my life totally disappeared and so I was kind of down for a while. And then I finally just started praying again and trying to figure myself out, who I am, what I love, and I loved cooking. I actually learned how to cook really well for myself when I moved out of my mom's house. I would make gnocchi during my lunch break just because I lived very close to our daycare. After that, my dad was trying to get me to go to law school, he was like, "You can always go back to school," And I was like, "Law school? I would go to school for fun, but I don't want to be a lawyer." But that got me thinking about school and I decided you know, let me study something I enjoy doing, let's see how that works out. I ended up going to the ICC, International Culinary School in New York and I after two months of school there they sent us to Italy and I did four months in Italy in one shot.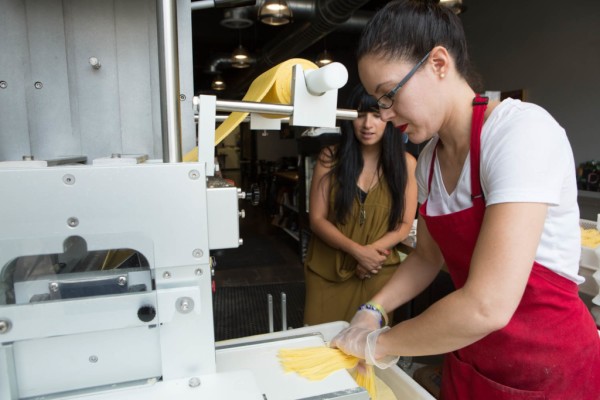 We were in a tiny little town just outside of Parma, the countryside, there were cows everywhere. There was this beautiful castle, Maria Luigia's castle from the Savoia family. It was this tiny little town and there was a pasta shop there and I was just like, "You know what? That's the thing that I really like doing the most and it means a lot to me because I grew up eating that."
You're not Italian? Nope, Uruguayan. My cousins are half Italian.
So you went to Italy. So I was already 30-years-old, a lot of people in kitchens, they start off when they're 20, 21. So if I would've started at that time, I'd like to think I would've already been a chef by now.   I actually went back to Italy for one month after my program ended to focus on regional pastas, and I went to different restaurants all over Italy because I wanted a whole cultural overview. So I went from the Northwest, all the way down through Piacenza, Emilia-Romagna, Puglia, the heel of the boot, to learn how to do little Cavatelli and learn how to do Orecchiette, really, really beautiful things. It was amazing [and] I've drawn from that one experience for all these years.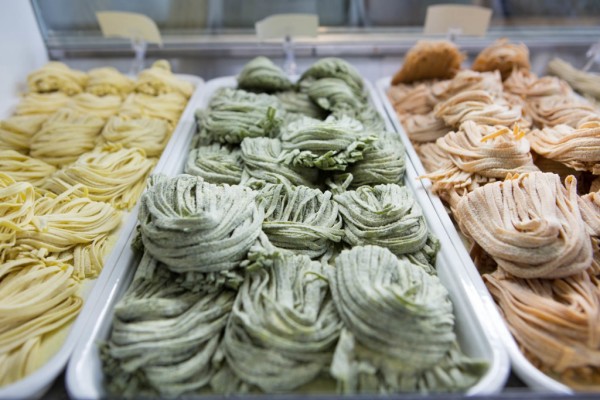 My gut told me to just pick something I liked, something very specific and so I learned a lot of pastry which is very similar to pasta. And I decided I was going to open my own pasta shop. I just thought of the pasta factory right there, and then the whole world opened up when I began to think about the possibilities of what I could do with it. We opened in November, but I've been working towards this since 2010, but with that single sort of focus
That's exciting. How has it been since you opened? When we first opened, nobody could tell what we were. This is a family business, and I'm the main person running it.   Everything takes a lot of time, because I'm learning how to expand and delegate as I go.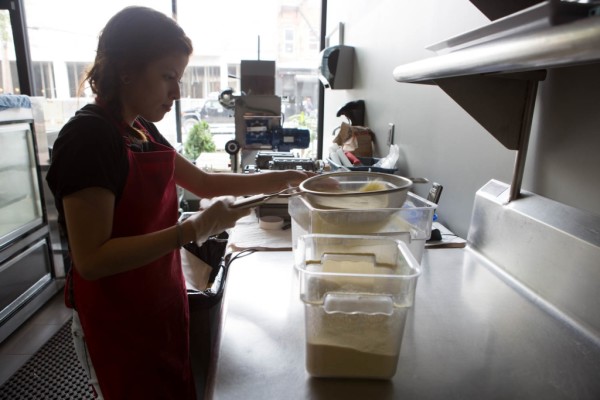 Now Jersey City has a lot of Italian restaurants, how does yours stand out? Well, all the pastas that we make are made fresh and in our own different style and recipe.  Our machine is a different so automatically the texture and the flavor are going to be different from other places. Because of the fact that we have Helen's, we have Buon Appetito, Carrino also here, Roman Nose; we didn't want to do something that was like the other places because we figured, if I'm a diner, I want choices. So we wanted to go pasta-centric and inspired by old regional things dishes like this one, but with a contemporary twist.
It's  modern Italian. Exactly. 'Cause these were the things that I was inspired by when I learned over there. I mean some of the best chefs in Italy actually would come to the school and do a demo day with us. And so that's how we would learn about all the regions, they would show us all the historical dishes and then their versions of it. So, I took pictures and wrote every single thing down and now it's what I look at for inspiration
What are we eating? First dish is Arrosto di Maialino Tonnato, cured & roasted pork tenderloin, sliced thin, tuna & roasted garlic aioli.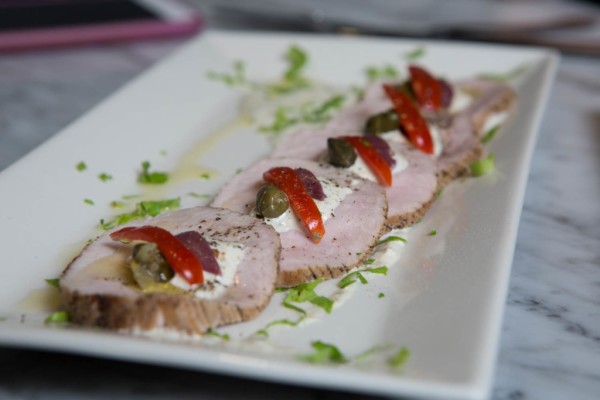 Arrosticini Abbruzzesi, pan-seared aged strip steak carpaccio with salsa verde, arugula and grana padano shavings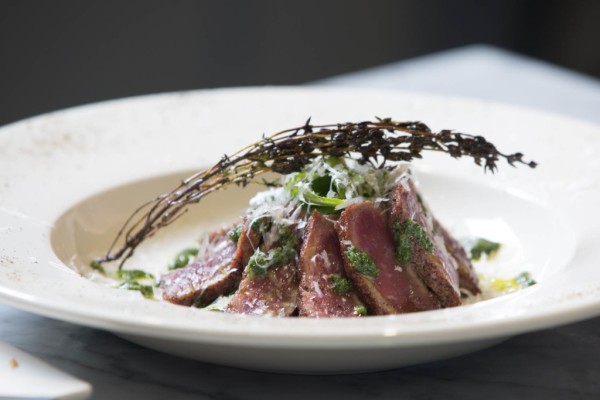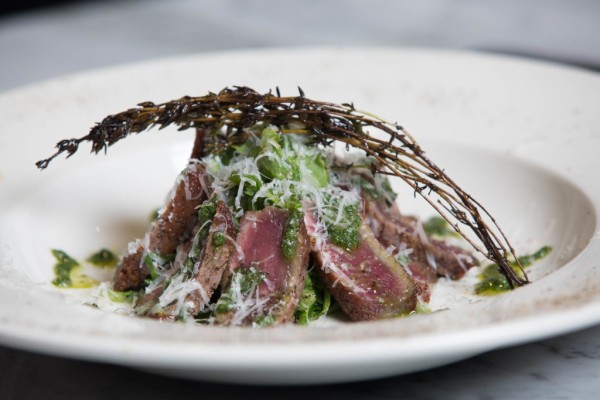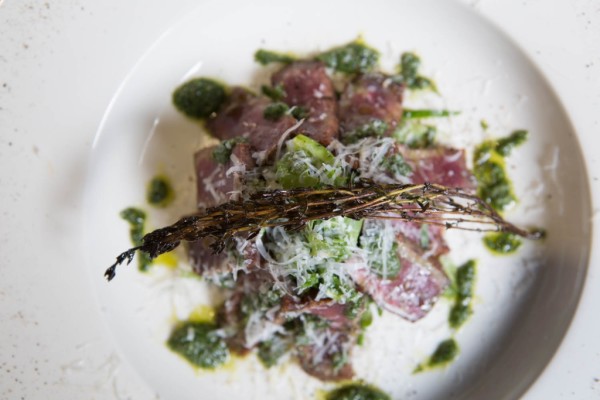 Polpette in Marinara, three beef & pork meatballs in our light tomato-basil sauce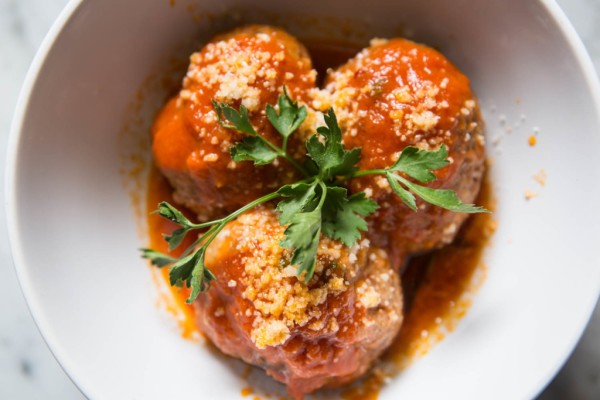 Crocchette di Patate, potato & mozzarella croquettes served with spicy marinara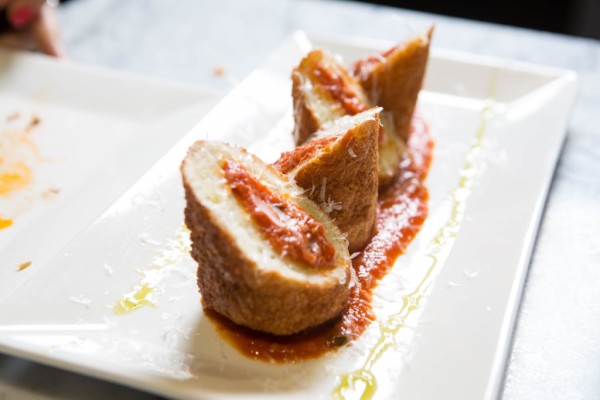 Tajarin alla Carbonara, Rich pure-yolk cut pasta with pancetta, pecorino romano, raw egg yolk, black pepper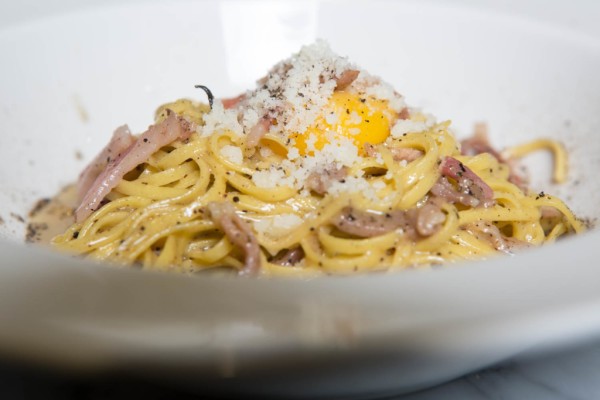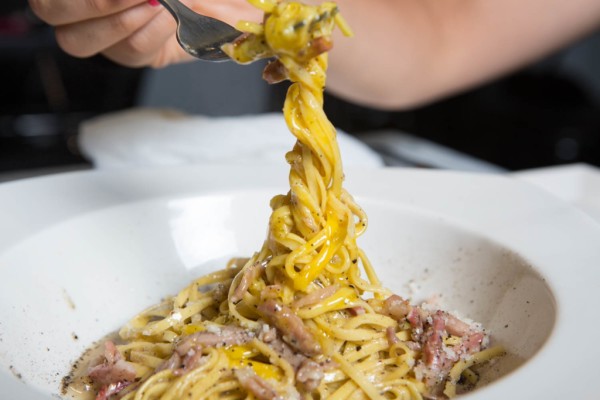 Linguine Neri con Calamaro Ripieno e Gamberi, squid ink linguine, stuffed calamari, shrimp, pinot grigio
SO GOOD!! wow. Mind blowing actually. I told my husband I would save him some…now I don't want to. Greg try this…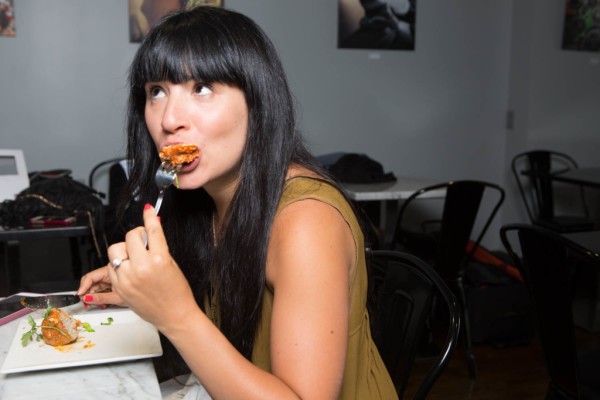 So you're a chef, but you're running the restaurant and also have a chef working for you. So my focus is the pasta, all the pasta, I make it. So what I needed was someone who has his kind of experience. He's been in the business since he was a kid in Rome. His mom used to make pasta for a huge hotel the center of Rome, so he's always been in the kitchen and he loves it. He's an artist basically. So that's kind of what I try to surround myself with, people like him. His work is amazing; I mean I met him when I was working at Palma, that was the restaurant I was at before here, and I don't taste this style anywhere else.
He's a character too. He's hilarious. Oh yeah, he's awesome.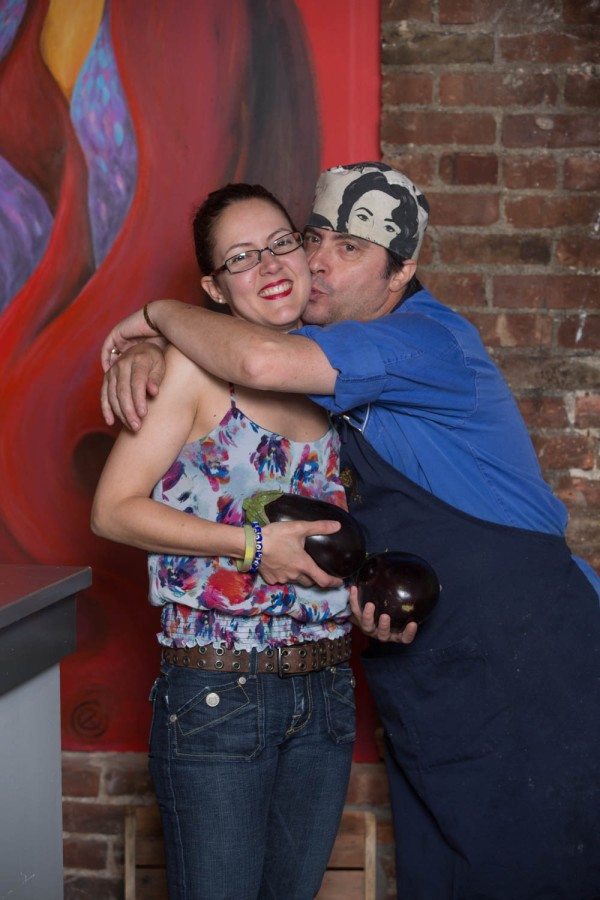 Can you tell me a little bit more about the dining experience? Well, we're a BYOB for now, I think people really like that anyway.  We're still tinkering with the menu; we always want to do seasonal dishes like our Pea Ravioli [has] only been around for three weeks or so and I think we have one more week of it. There [are] certain dishes that we'll always have but right now we're just kind of tinkering with the menu and seeing how we want to do it. We're focusing on small plates and pasta plates.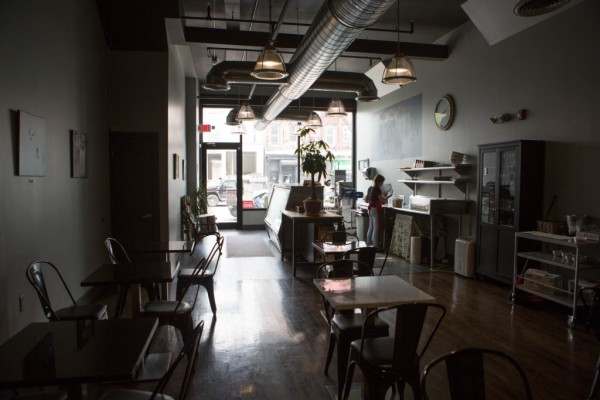 So that's how we met, so I knew his work and I actually contacting him because I was looking for a Chef Consultant because he's someone [who] knew technique, someone that has a lot of experience, someone that's super creative, and then he wrote me back, he's like, "I think you're looking for me!"  And he was on vacation at the time and so when he came up, he came and saw the place and he liked the vibe and totally got it from the get-go. And we talked over the menu, I had my ideas, he had his ideas and its super fun working with him. A lot of the time, before I can even finish with an idea he's already got it.
Does he live in Jersey City? No, I'm trying to get him to move here.
And you live in Jersey City? Yeah, I'm from The Heights.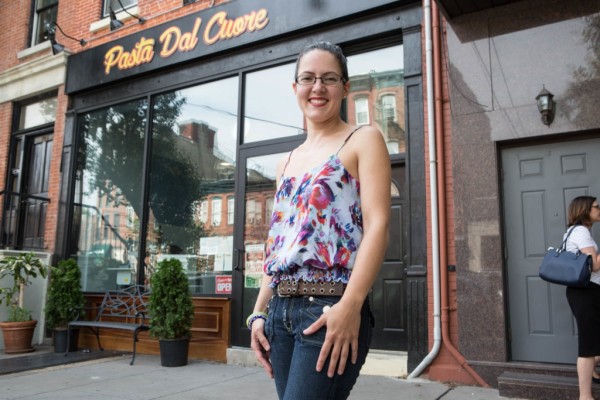 How long have you been in Jersey City? Since September 11th, 1980. From Christ Hospital.
1980?! So you're a long time resident. So how do you feel about the change in Jersey City? I think it's great. It's a time of a lot of change in general all over the world, I feel it's a good time to take opportunities and go for it.
Do you have a favorite Jersey City hangout spot? I actually like Rolon's Bar, the Keyhole and I'll tell you why. So that's one of the oldest places that is around and there's so many people around, the crowds are different, the people are different. One night I went into Talde and there's a certain vibe/look/type of client and then the same for other places, Broa as well, Broa is beautiful, I love that place. But what I liked about Rolon's Bar was that it was literally, I had never seen this, it was like a perfect ecosystem of Downtown, Jersey City residents. Old schoolers, new people, people visiting people [who] live here, I never saw that. So in my mind I was like, "I wanna go there, I wanna hangout there more often." Just because I felt like I was catching Jersey City at that special time before anything gets out of balance, it was the most balance thing I've seen.
Can you tell me about the different pastas you sell in the front store? I try to always have three different ravioli; we change them all around seasonally. And then we have all kinds of different cut pastas, because it's basically mostly linguine, spaghetti and pastas we cut by hand. I like to have fun with colors and flavors, I like to do spinach and we use real spinach that we blanch. During Valentine's Day we made Valentine's Tagliatelle with beets so they were bright pink and beautiful because I just like the look, you know what I mean? To have a wide rainbow of stuff, I just think it's really beautiful.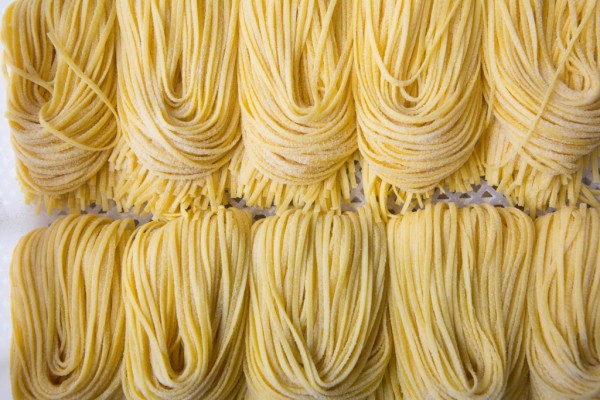 Hi! What's your name? Marino. Marino Rosato.
What do you do? Usually I burn pan, you know? I'm a pan-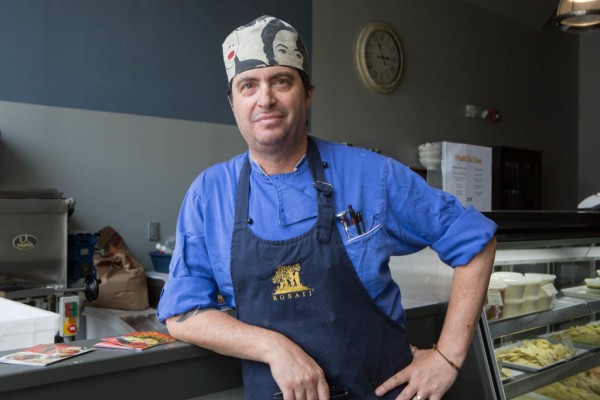 Pan Burner? Yes.
How long have you been a chef? This is my 41st year.
How long in this restaurant? It just opened so since we opened.
Can you tell me more about your style of cooking? I'm from Rome so I like to cook, not ramen but with the ramen influence that's why the Carbonara and also a little bit of South of Italy because my mom she from Naples, so I have the squid ink, a lot of fish.
What's your favorite dish on the menu? Oh this menu? This is [my entire] menu, so—
Everything's your favorite. Everything is my favorite, of course you know the squid ink, I'm very proud. The meatballs, I do my mix, they are very light—
Very good. Airey. Thank you so much, like kind of soufflé style.  And you know, I love pasta, you know every culture, they cook meat, fish, but pasta is the ultimate Italian.
What should people expect from dining here? Only to know that I'm working here, they should be happy you know what I mean?
Elena, Anything else you'd like people to know about Pasta Dal Coure? Literally everyday it's all about the heart, that's what the name means. And it really is all about heart, especially we're so new and the way we're doing things slowly, bringing things out because I want everything to be just right, but it's going to take us some time to get there. You know when a baby horse is born and it's trying to stand up on its legs? Like I feel like we're there, we have a really good parentage, so we're going to be that racehorse… we'll get there. That's why everything tastes so good because it's really done because we love it.
---
Pasta Dal Cuore
BYOB
PASTA FACTORY HOURS
Tuesday – Saturday 12pm – 10pm
Sunday – 12pm – 4pm
Monday – CLOSED
RESTAURANT DINNER SERVICE
Tuesday – Thursday 5pm – 10pm
Friday – Saturday 5pm – 11pm
Sunday – Monday CLOSED