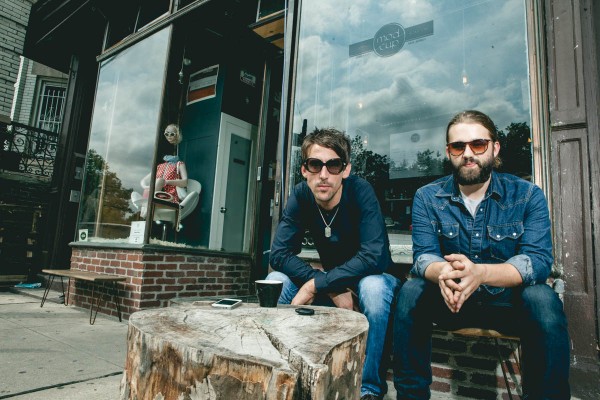 Coffee. Oh how I love thee. I was first introduced to modcup at one of the Jersey City Street Fairs and I was in love. I normally dump half a LB of Splenda or sugar in my coffee to mask the bitterness but not with modcup; the coffee has this natural sweetness that I was able to enjoy it black. Now whenever I am in the Heights I stop off at modcup; I order a 6oz, sit at the bar and disconnect from all my devices to just enjoy the moment and the company. There is nothing like that first sip of a good cup of coffee…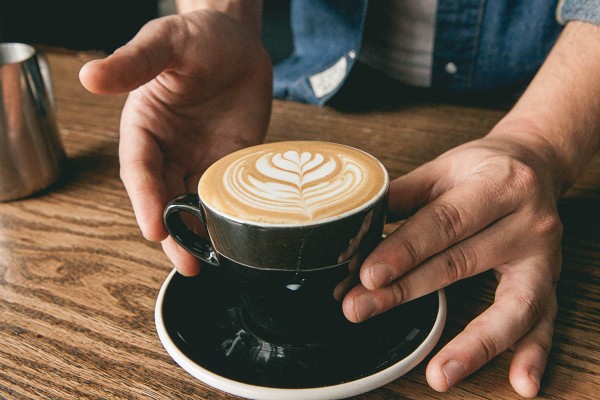 Travis and Justin, the enthusiastic owners of modcup take a lot of pride in their work so naturally I wanted to learn more about their journey. I went to see them one morning in my cutest AMT Mod dress with photog Greg to interview them! They gave me a lesson in all things coffee and I got completely coffee wasted!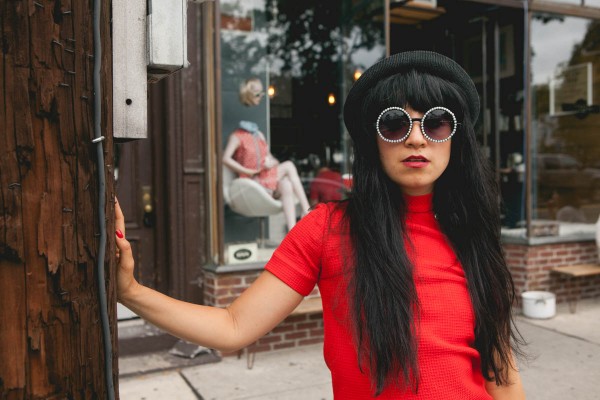 How was modcup born? 3 years ago my wife and I and our 18 month old were living in Toronto. My wife was in Priscilla Queen of the Desert and it was trialing in Toronto before it opened on broadway.
We just so happened to be renting next door to Toronto's chief coffee Mogul, Derek Zavislake who owns Merchants of green coffee. He invited me to come to his roastery and try truly "fresh" coffee. I was intrigued when he told me all the coffee in my life I had previously drunk was stale and therefore bitter… So I went and I was blown away.
It was like Willy Wonka but with coffee rather chocolate. He hand poured me a coffee using a Nel Dripper and instructed me to try the coffee black first. I had up to that point always been a light and sweet man. I was blown away by the natural sweetness of the coffee, he was right this did not need anything to mask bitterness….it was wonderful just black.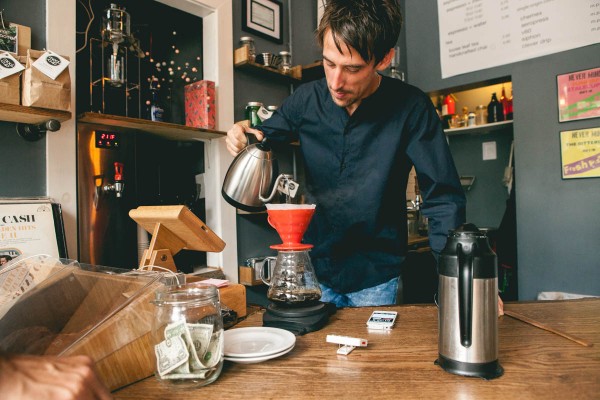 When he explained that the reason the coffee was so sweet was three fold; The quality of the green coffee he purchased, the fact that the coffee he served was within the only real window of freshness (maximum of 18 days after the roast date) and the coffee had been roasted to display the coffees origin characteristics as opposed to displaying its roast flavor.
A light bulb went off in me!!! I had been looking for a new passion. My days of selling art were over! I had become increasingly disillusioned over the previous 3 years in my art dealing career and was looking for something to get my teeth into. This was it. I couldn't believe that the public (me included up till that point) had no idea that coffee goes stale and thus rank and bitter or flat. I had no idea coffee could display different flavors other than that burnt bitter roast taste.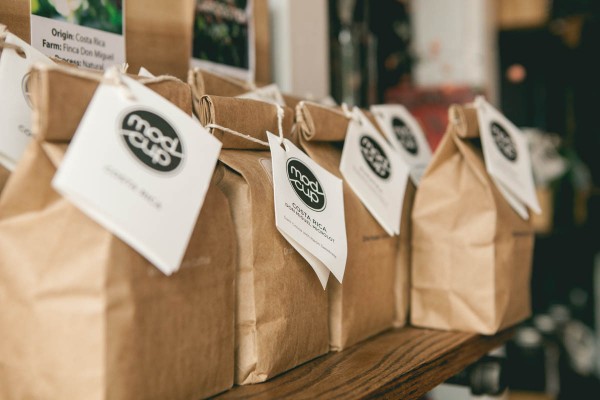 I came back to NJ and immediately started to seek out freshly roasted high quality coffee in my area. There was only one roaster this side of the river and I was not impressed with the quality compared to what I had tasted at merchants of green coffee. There was a gap in the market and I was going to fill it!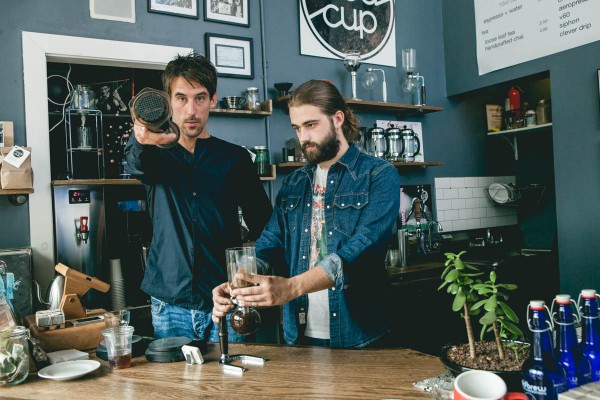 I started going to every single specialty coffee bar and roastery in NY and Brooklyn. And while a lot of those coffees displayed the same wonderful taste experience as Merchants in  Toronto I was put off by the snobby attitude that seemed prevalent in all the shops and roasters I visited. I was gonna change this too.
Modern coffee served in a modern friendly way.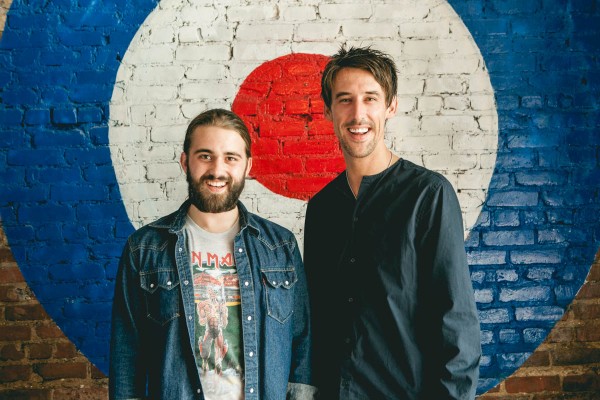 3 years ago when I started this idea/plan the food truck scene was burgeoning and there was no specialty coffee truck, so Crazily I figured the best way to sell the concept of truely fresh coffee was to roast right in front of people off of a truck! After researching this idea I realized nobody had ever done that in North America before so off I went to find a truck. I wanted something that would stop heads, so I decided a vintage truck would be ideal.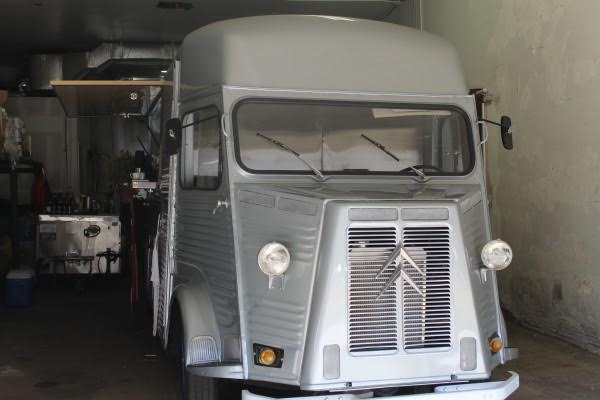 And the absolute final jigsaw piece was meeting Justin at a coffee course in San Fran, he agreed my idea was wild and signed on to help me develop and implement it. We have since become partners in modcup. A company born out of a passion for fresh high quality coffee.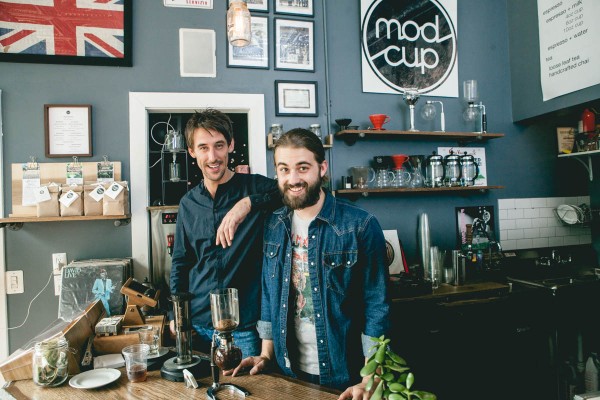 Great Story! What about you Justin, how did you get into coffee? Originally to pay for college I got a job as a barrista. I was fortunate enough to start at the roaster, in the specialty coffees. I kind of just dug deeper into it and got more hours behind the bar, then I wanted to learn even more than just making coffee, more of the process. So I started to apprentice under a roaster, and really found a passion. Then had to make a decision whether I wanted a career in the medical field or coffee, so I dropped out of school and pursued this. I started working at an espresso bar back home, and then fell up on meeting Travis in San Francisco at a coffee course, and that just set the stones for where I was going and where I am.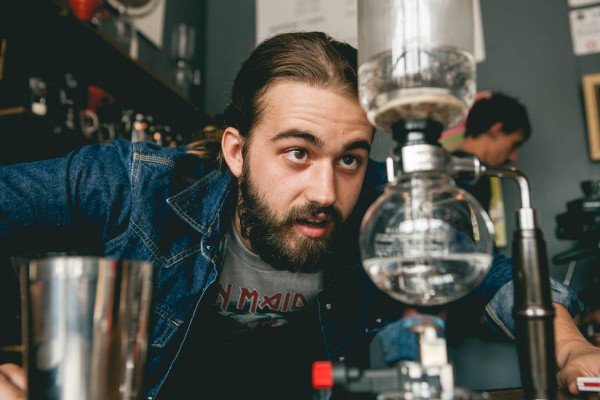 Everything smells so fresh! Where do you get all of your beans? (J) They come from all over the world, depending on what seasons in. We use boutique importers to bring in our coffees, we also do direct trading with Latin America, Africa, and Indonesia are our main places.
What is this way of preparation called? (J) It's a siphon brewer. It was really popular in the early years of coffee, this is always been a throwback to the vintage ways of brewing. So we start a timer immediately once the coffee is touched…we monitor it and let it sit for about 2 minutes. You will notice that once the water is introduced; the coffee's aroma has changed.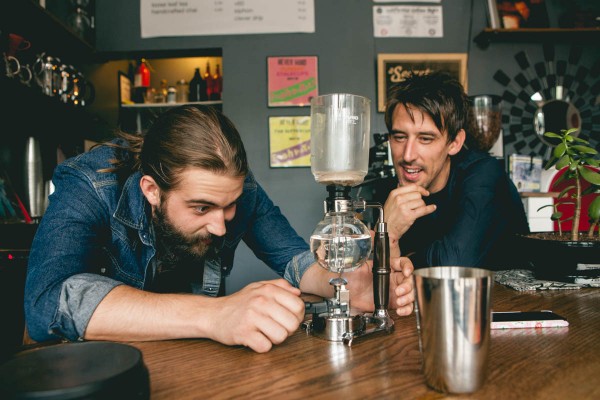 I feel like I'm in chemistry class, which I failed by the way. (J) Me too, yea I was terrible at chemistry. So you'll notice here we have a really nice dome on the top which lets us know that the coffee is evenly extracted and exiting through this chamber which is really crucial when you want to talk about profiles of the coffee.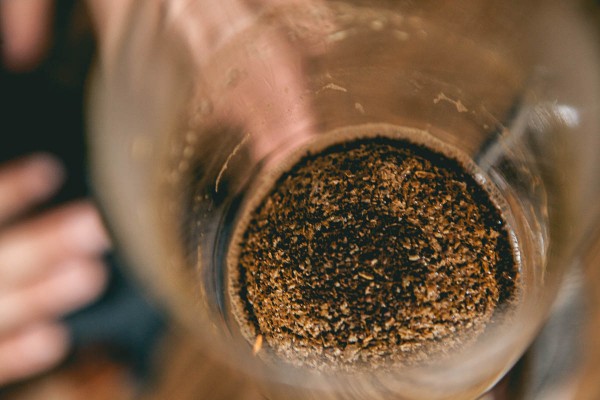 (T) We have people come specifically just for this type of brewing method, generally people who are really into coffee.
What is your process? you get the beans and then what? (T) We first of all, decide what area of the world is in harvest and then look towards seeing what coffee beans in that area and what country of origin we want to bring in. Then we use a boutique importer to bring them in, once we get them they're green incarnation, we roast them bag them then send them out. It sounds a bit simple and easy, but it's a craft. Our focus as a company is to bring the top 5% of green coffees in the world to the people.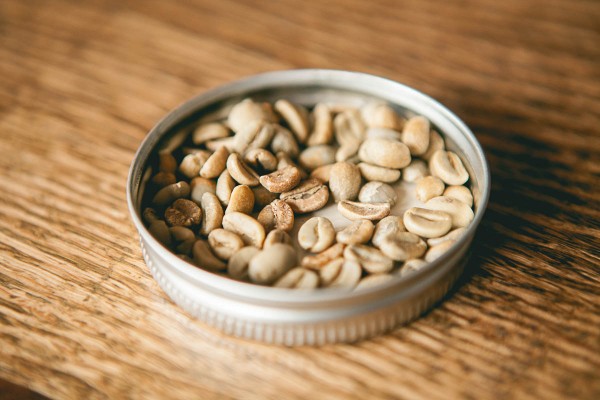 This is so yummy! (J)So I'm going to brew the same coffee but a different way now. This is more of that stone hard fruit that you'd normally have, more juicy light and delicate. Im going to brew this coffee through an Aero Press which is a total different way. Unlike the first contraption the Aero Press is very easy to use.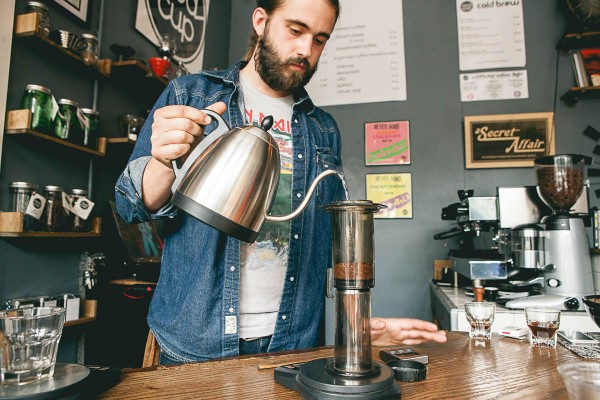 (J) There's a difference in the temperature, brew time, the slightest changes can change the taste of the same coffee. What were doing is, theres a gap between the bed of coffee and the plunger, what that has is pressure and its acting upon my force, so if I use enough pressure against it you can actually squeeze out the flavor in this coffee and this is how we get our extraction from this brewing method which is one of our most popular methods in recent time. We just give it a touch of water to open it up….
When I come here I never use any sugar in my coffee. (T) So lets talk about why that happens in regular coffee you're served, the reason you have to put sugar and milk in coffee, which is the principal behind our company Keeping it fresh!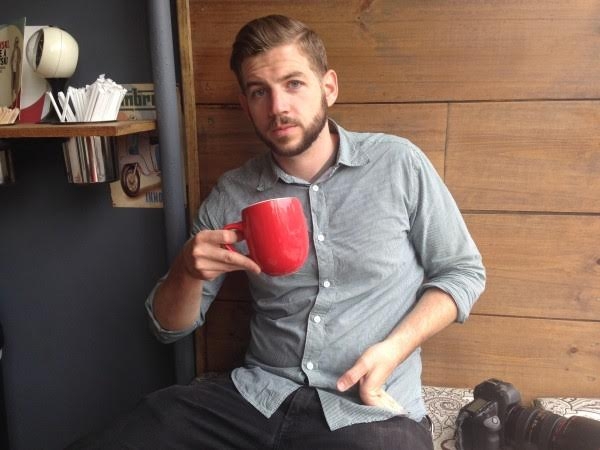 Is that almost all coffee served is stale. Now what I mean by stale is that coffee and bread go through the same chemical reaction when they're baked or roasted its called the mallard reaction. When coffee stales, it becomes super bitter. You mask that with crème and sugar. Coffee should be naturally sweet.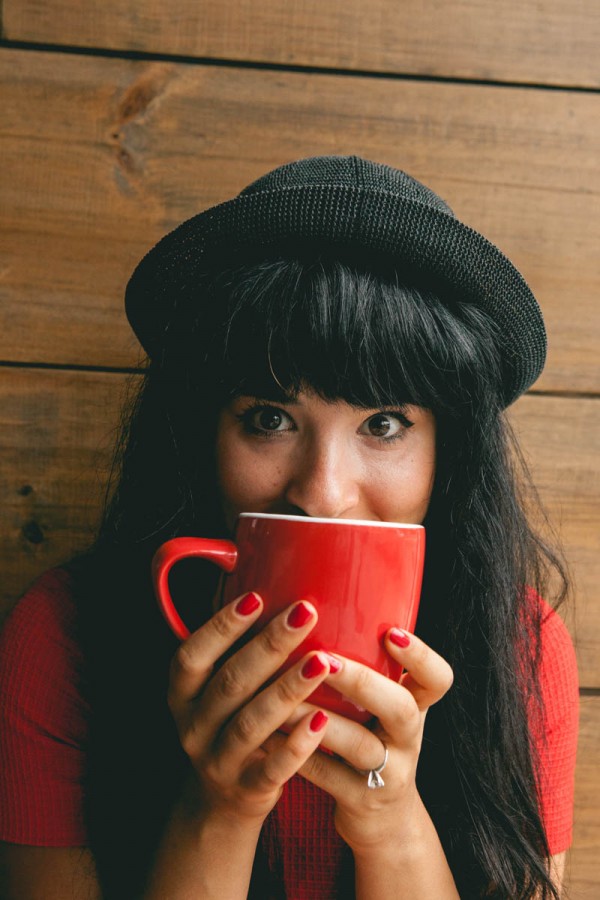 Tell me about those album covers all over the shop. (T) Those album covers the the concept behind them was… the message is fresh coffee but put it around a branding which was very rock & roll music and modcup you know.. everyone we would do with a band we would always do and A/B side so like a black coffee, and a white coffee.
Im already coffee shwasted… Already buzzin? we might want to slow down…
NAHH lets do this! Cheers guys!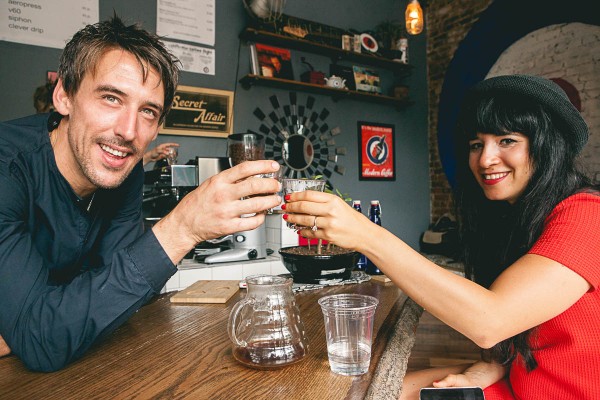 Do you guys have a favorite one? When you come in in the morning, what is your choice to start your day? (T) What's funny is we have all these fancy time consuming brewing methods, I don't have time to brew myself, I make more coffee for other people than I do myself. So if I'm making myself a coffee, its usually cold brew, its easy, just go into my fridge. As far as a brew, I like the pour over.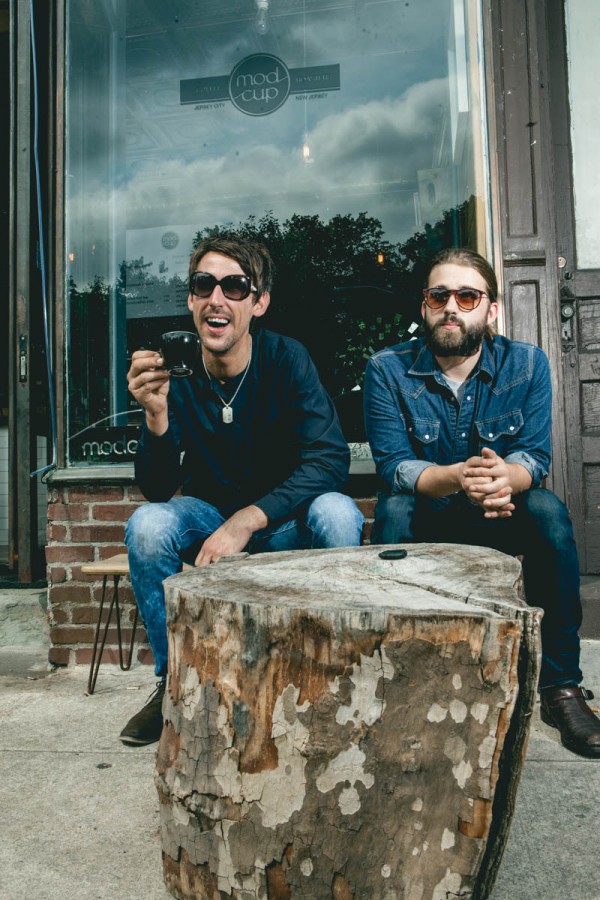 J: I prefer the Aero Press.
(T) See Justin likes more intense flavor in his coffee, I like a more lighter a fruit-ier taste. He generally prefers Kenyan coffees, I prefer Ethiopian blends, but its not all "black and white".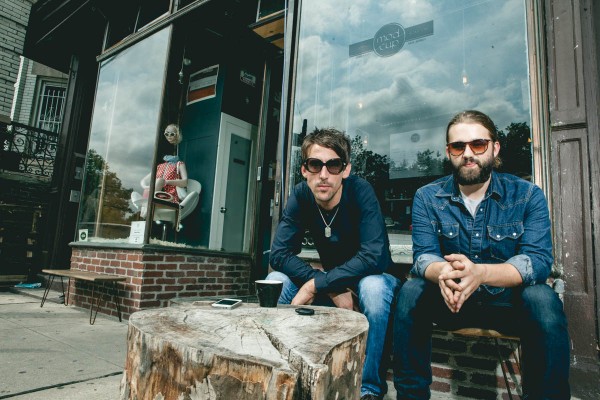 I am ready to go to a rave right now. All night. Give me the glow sticks. 
(T) This is the Nitro Cold Brew…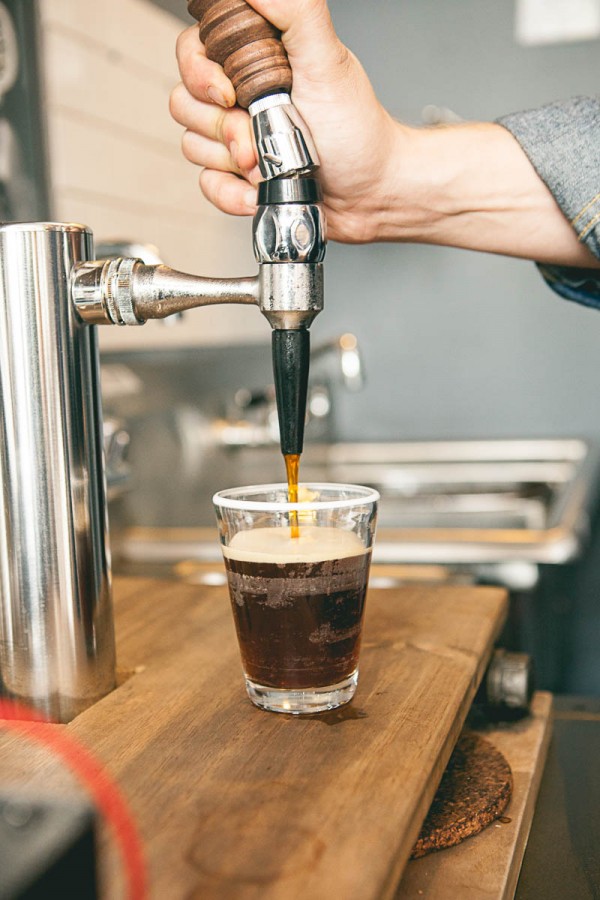 What is the Nitro Cold Brew?  The whole idea is to introduce nitrogen into cold brew through a guinness tab so it comes out with a creamy consistency of you drinking cold coffee but with cream in, but there is no cream. Lots of the feeling of drinking coffee is sensory, the smell is something very important, because its nitrogen you don't have that coffee smell so we are working to get the smell more coffee smelling as you drink it…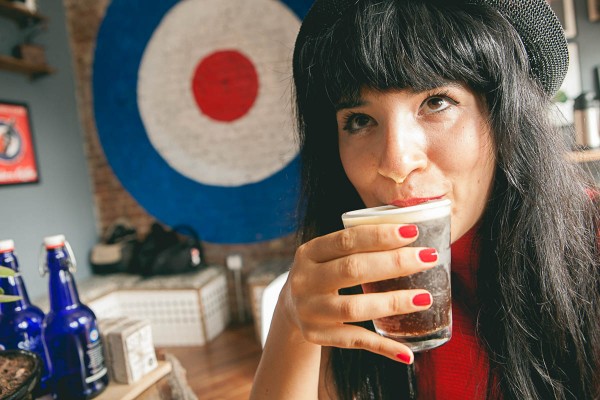 That's awesome! Do you remember you first cup of good coffee? (J) When I had my first barrister experience, I went through what we just did basically which was cups and cups of coffee after coffee and tasting them and that's when it clicked that coffees are all different and there are numerous variables that change what the aftertaste is really. I cant remember the specific cup then but, I just remember the 8 hour training session of just drinking coffee and coming out like you are… shaking and cracked out you know in the fetal position saying 'I drank too much coffee'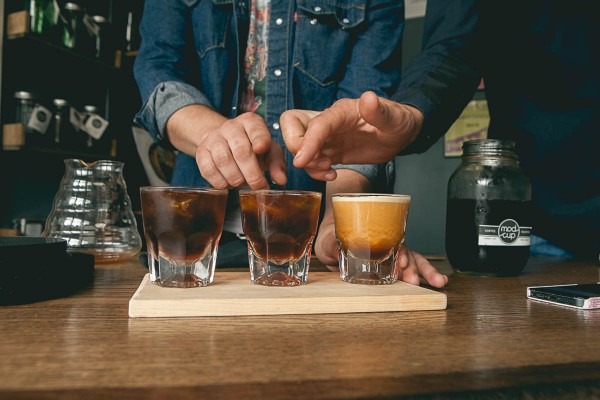 I really drank too much coffee! Haha that was my first real introduction to coffee and what started it all.
So you guys don't have wifi, can you tell me why?! We didn't want to have a coffee shop that was like a library. Where people are just on their laptops ignoring each other, I never liked that aspect, the one thing I hated. You're drinking something that essentially gives you energy, so why would you want to be quiet and hold that back you know? I wanted a place where people are lively and talking and discussing things with each other, we want people to connect with the community.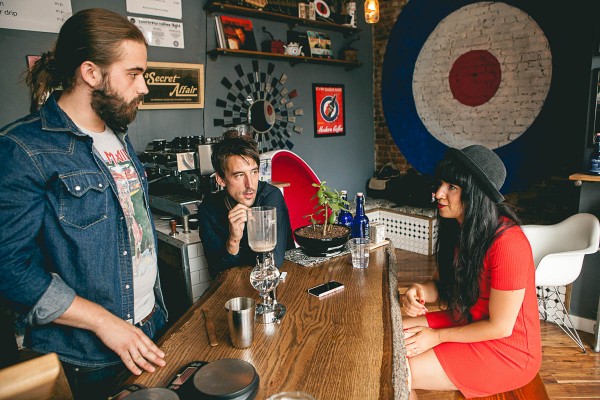 Why Modcup? (T) The name modcup stands for modern coffee, coffee served within the true window of freshness and brewed with soul and science. The name also allowed us to wrap the branding into my other passion music, fashion and art. Modcup is rooted aesthetically in the mod movement of the late 50's through into the late 60's…think Twiggy, the Stones, The Who…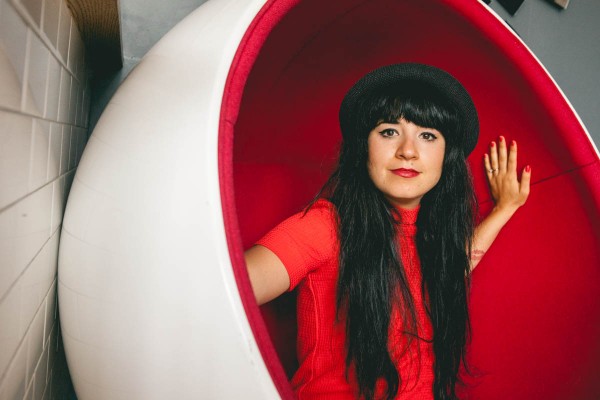 The mod culture was born out of a reintroduction of coffee to UK culture in the late 50's. The UK is of course considered by most a tea nation. However England was the first European nation to grasp and implement coffee culture on a wide basis back in the mid 1600's.  Coffee died a death in the UK in the late 1600's and was replaced by tea. It was not until a young generation of mods in the late 50's influenced by the beatnik movement of san fran started to open coffee shops in London that we got it back.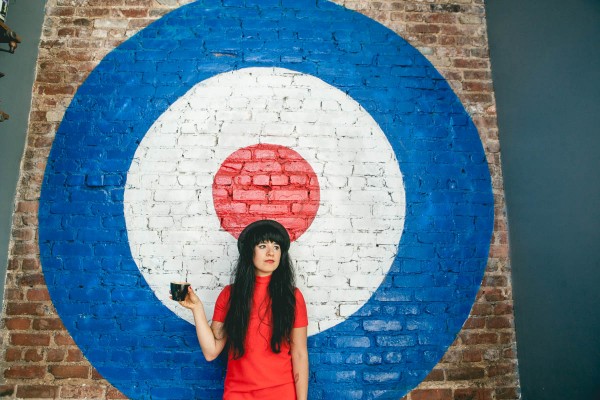 Well cheers mate! Can you drive me home?