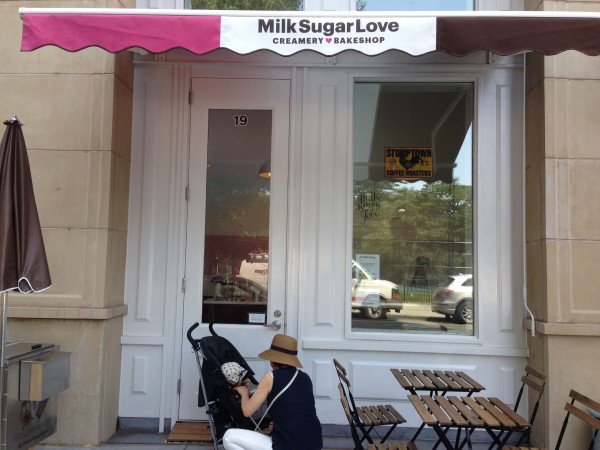 Here's the deal, if I could live off of Ice Cream I would. When I was preggers with Mia I was a walking cliché; I would head to the farmers market and buy a quart of half sour pickles eat them all on the way home. Then proceed to sit on the couch with a big bowl of ice cream resting on my belly while watching Breaking Bad, it was awesome…. now that I am a hot mom I try to curtail the ice cream consumption.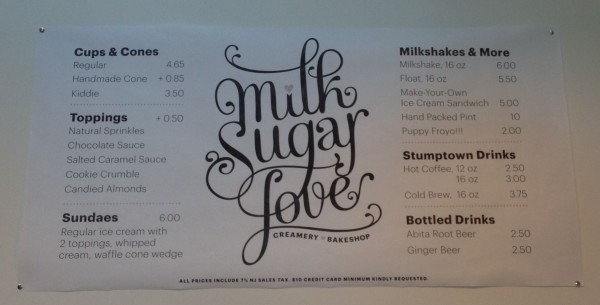 The other day I went to visit my friend Paul at Goods and Greens and he fixed me up a healthy lunch; a kale salad with quinoa. I felt great! I worked out in the morning, ate a light lunch and I was on my way to a Gisele bootie… Until Paulie suggested I meet Emma, owner of Milk, Sugar and Love, which is right next door…  I tasted EVERYTHING and had to top it off with a sugar cone and salted caramel ice cream. That shit was fucking orgasmic, and I am not even exaggerating. I also had the pleasure of meeting Emma, the brains and beauty behind MSL (yes I gave it a new acronym) to get the inside scoop. #boom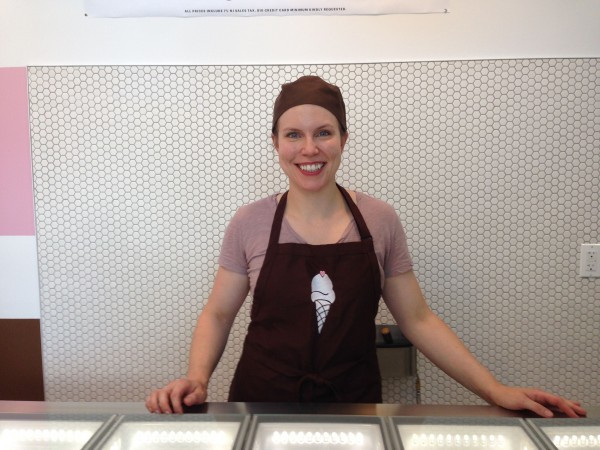 Congrats on the store! can you tell me how you went about opening it? So last year, I operated out of that small cart and sold ice cream at farmers markets and I was on the look out for a location. So this year at Hamilton park it was my strongest farmers market and when this space opened up it was a no brainer to open a store here.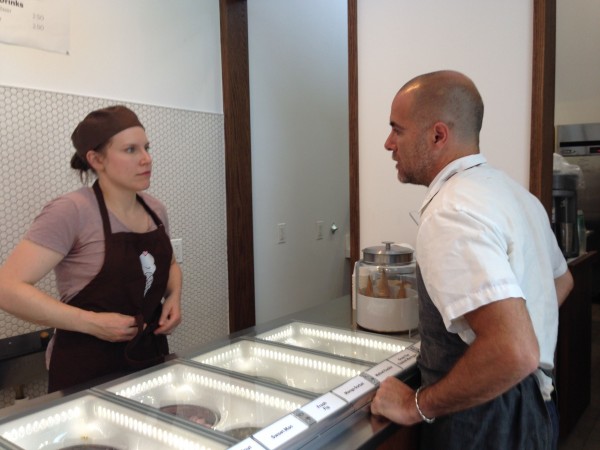 How do you make your ice cream? We use all organic milk, cream and sugar and our 4 core flavors salted caramel , lemon olive oil, classic chocolate and vanilla bean are 100% organic. Anything else that isn't fully organic is local…. Our strawberries are pesticide free from Asbury New Jersey from a farmer, Ed my favorite guy. We make everything that goes into it! The walnut brownies, the toasted meringue, all the roasted almonds and handmade toffee …. everything that goes in it we make.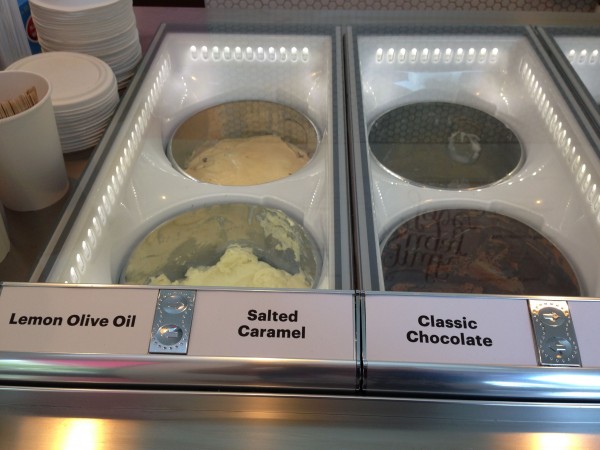 Can you tell me more about your different flavors? I definitely approach it from a chef's perspective because I have a restaurant background, so whenever I eat a savory food I am always trying to translate that in my head… what would that be if it were an ice cream. Some things are more fun… the green tea toasted meringue is loosely bases on the Starbucks Green Tea Frappucino it has a foamy thing at the top. We use Max brothers chocolate for our chocolate ice cream and the lemon olive oil… the olive oil comes from a couple in hoboken it's from her grandfather's farm in Sicilly so its all small batch, they ship it twice a year and I get my allotment. It is 100% certified organic!
Do you make the baked goods here? Yes we make them all here…. all the waffle cones are handmade.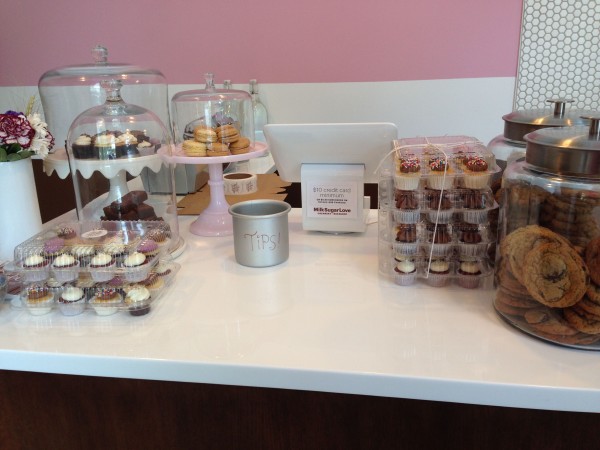 If someone is watching their weight what would you recommend? I would recommend the one flavor; kiddie size, and any of the sorbets. We also have a vegan flavor. We always have a dairy free option but it gets sold out everyday.
So what is the most popular flavor? Salted Caramel without a doubt!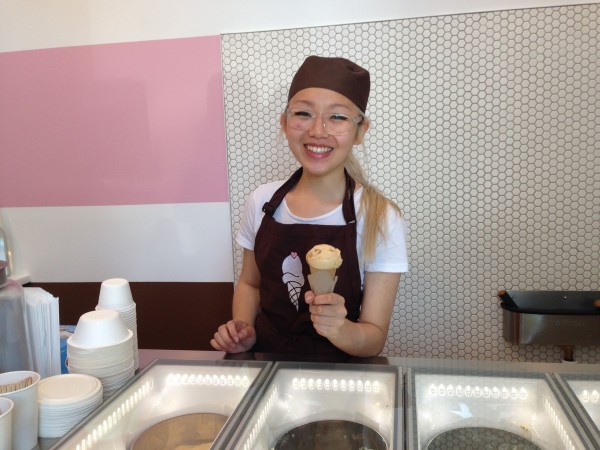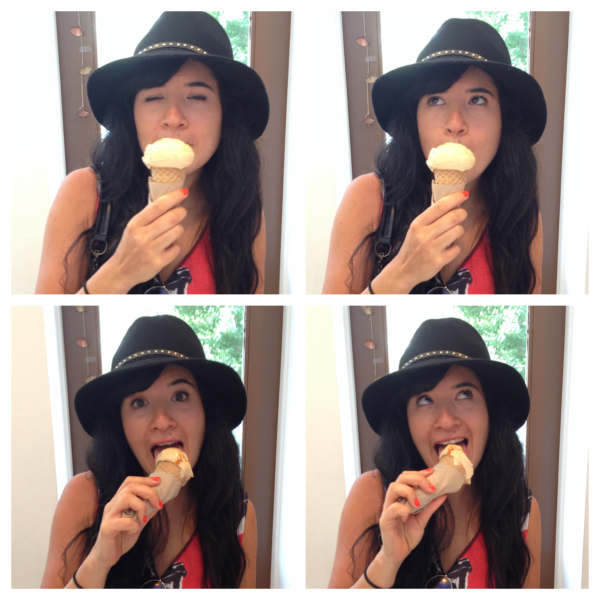 How do you not eat ice cream all day? I do! I sample alot, so I try to balance it be drinking alot of Green Juices from Juice Well to reset my palate…
How did you get into ice cream? Originally I was an art director, I worked in magazines… Lucky magazine and Conde Nast… and also Victoria Secret. It was very interesting work but it was cubicle work so I was looking to do something more hands on creatively… something that I can actually build and see the results from. I went back to school… I went to pastry school and I worked at Gramercy Tavern for a few years in the pastry department. I decided if I was going to work this hard, I would work for myself!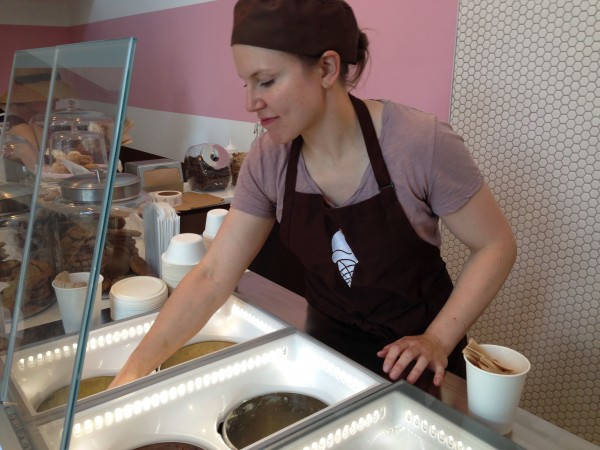 Did you always have a thing for ice cream? I grew up in the Jersey Shore and I would go to Ocean City every summer… I ate Kohrs brothers Ice Cream… Jimmy's…the best stuff.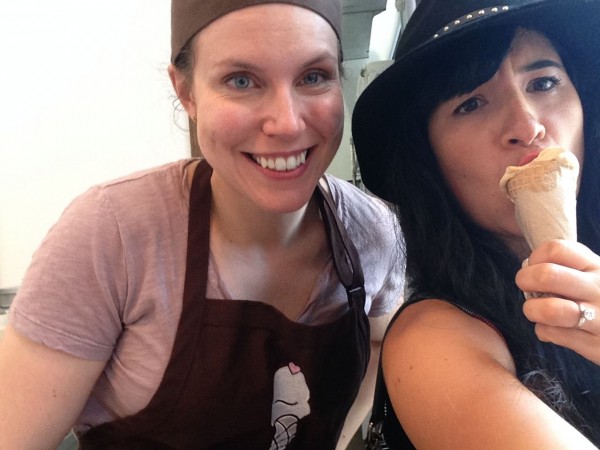 What's next for Milk, Sugar & Love? Well, most recently we will be scooping at the 4th of July in the park so we are super excited about that. We rented a cart and we are going to have two carts roaming. Hopefully next year I would love to have a little truck, a baby ice cream truck roaming the streets spreading organic goodness!