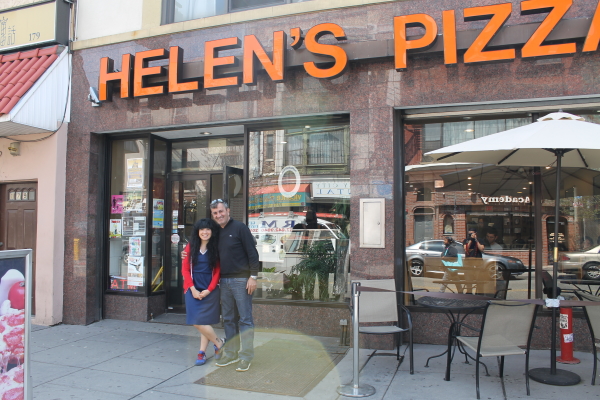 Helen's Pizza is a local favorite, a no frills food spot where you are guaranteed to leave with a full and happy tummy. It seems like there are over 100 pizza places all over Jersey City but there are only a handful of neighborhood spots where you can walk in and feel at home. A place where the person behind the counter knows your name and your favorite slice.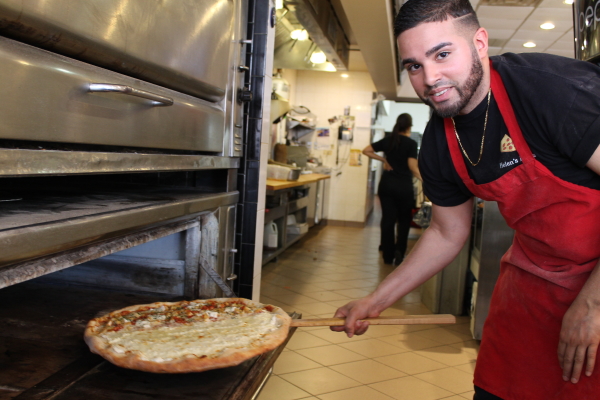 I came to Helen's for lunch and to meet with Steven the owner. The place was bustling with so many different people eating lunch; people in suits, blue collar workers, moms with strollers, teenagers, stylish peeps… you name it. Everyone had one thing in common… they love Helen's Pizza! Steven brought out two full trays worth of food just for me and it was delicious! You would think I was preparing for a marathon or something! The pizza was obviously tasty, but the Penne a la vodka was my absolute favorite… I am talking 5 star restaurant quality. I am still full thinking about this lunch!!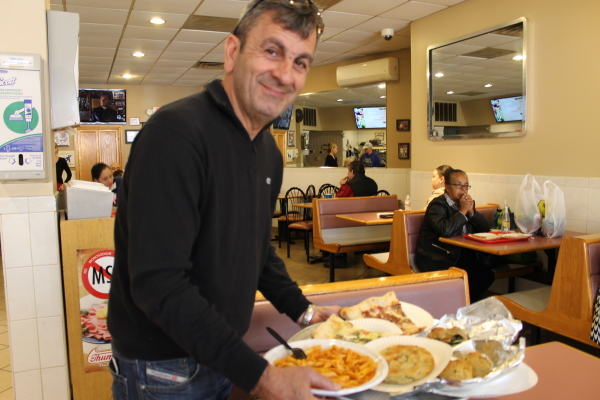 What's your name? My name is Steve Kalcanides.
What do you do? I'm the owner of Helen's Pizza… one of the many things I do.
How long has Helen's been around? My Mom and Dad opened it up in August of 1968…close to 47 years ago…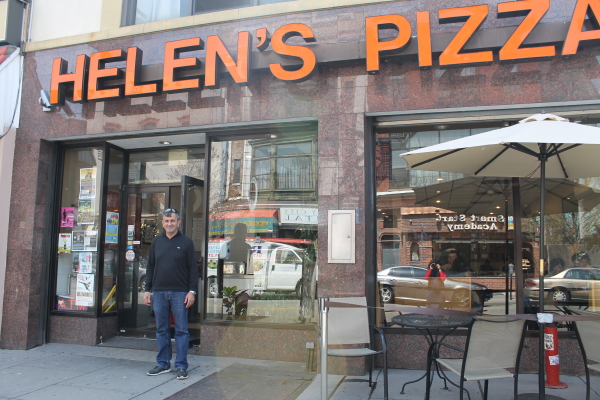 Amazing… Yes, I've been here a long time!
What am I eating? Right now, you're eating a chicken parm slice that has fresh mozzarella and plum tomatoes on it… you've tried a slice with bacon and sausage.. you have a spinach knot… a spinach swirl.. thats a small Greek pastry.
Spanakopita? Yes.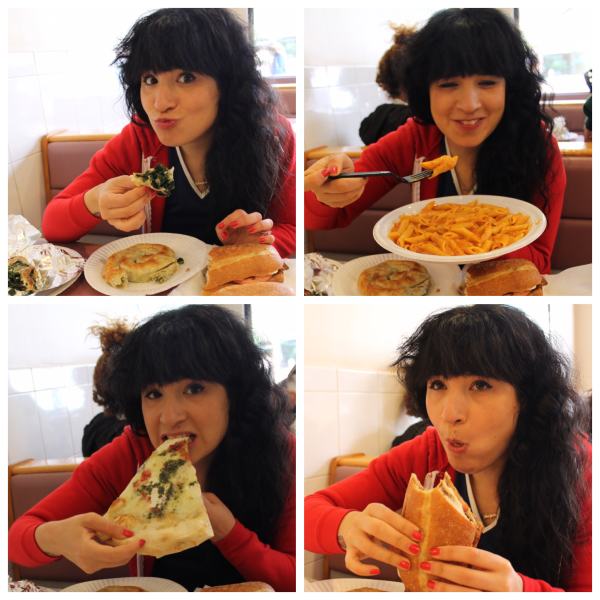 Tell me how it's been growing up in this restaurant? It's been a long time for me.. I mean it's part of my history, my life. When we opened up, I was 11 years old, and we've been through many stages of business on the avenue here because it has evolved over the years. Back when we first opened, it was basically just pizza and maybe meatball and sausage sandwiches.. right now our menu's expanded!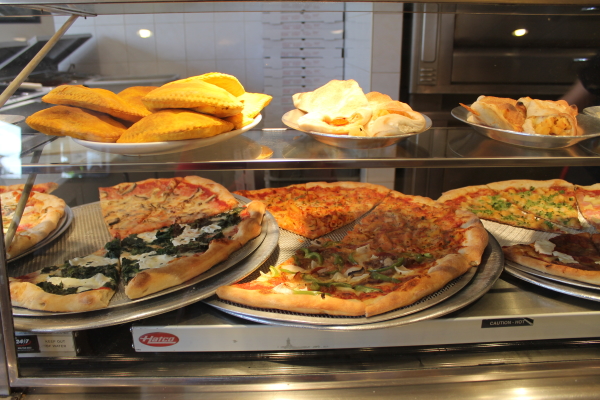 Can you tell me more about the food? Well, now we have different varieties of pizza that we never had back when we opened….we have the Italian dinners, pastas.. what you're eating right now is penne vodka.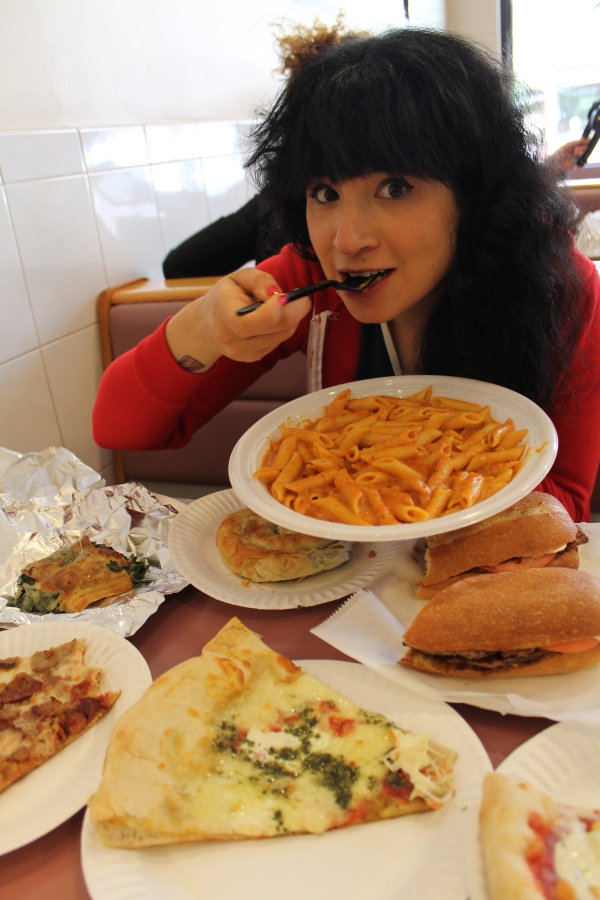 So good. Yes, thank you.. we have salads, we have a full grill menu…. we make gyros….
Oooh, I love gyro!  Yes do you want us to make you one?
HAHA. I think I've had enough! : There are so many things on our menu.. we actually 3 full kitchens at this point!
How do you feel about all the pizza places that have sprouted up in Jersey City? Well, being here that long… I've seen places come and go. My focus was never really on the other nice places or other pizzerias opening up. My focus was always keeping my food up to par, my service up to par.. keeping my winning formula going.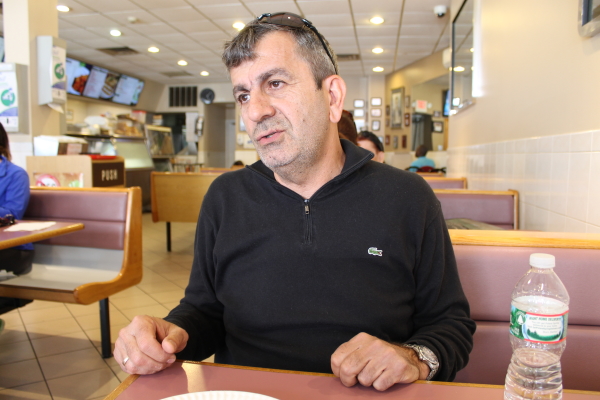 And how do you feel Jersey City has changed in the past couple of years?  Jersey City, especially downtown, has changed in the last 10 years. Back in the day in the 60's, the 70's people were afraid to come downtown.
You were born in Greece? How did your parents end up here in Jersey City? My grandmother was here, she came here during the second World War with her youngest daughter… we immigrated here in 1963. The rest is history! When my parents first came here… my Dad had a hot dog stand, a push cart…. Do you remember the one on the corner here? Bobby, who passed away recently? Well, that was my Dad's!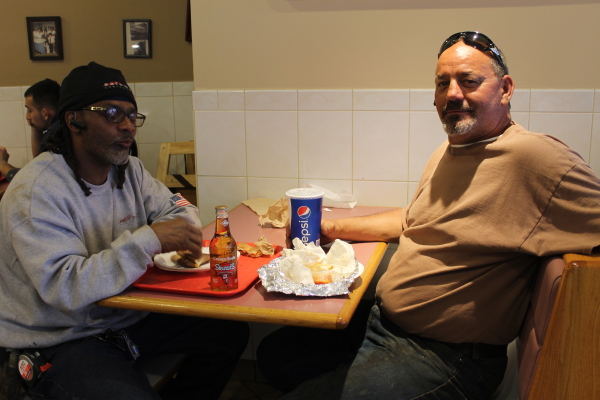 Oh really.. I did not know! that's an interesting fact. My dad started in 1963 and in 1968… he saved up enough money to start the business. In 1974 we ended up buying the building so we were able to expand it… Then in 1985, he retired and I took over the place. He passed it down to me and when I took over.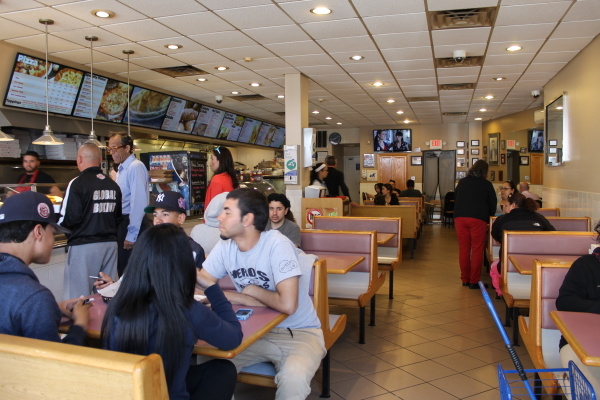 I love it here…no frills….come in and eat… Yes, yes. I think that's the success of it.. you don't feel intimidated coming in here. You feel at home.
Right… and it also feels like the people who work here are very friendly, outgoing and like each other…  We treat each other like family.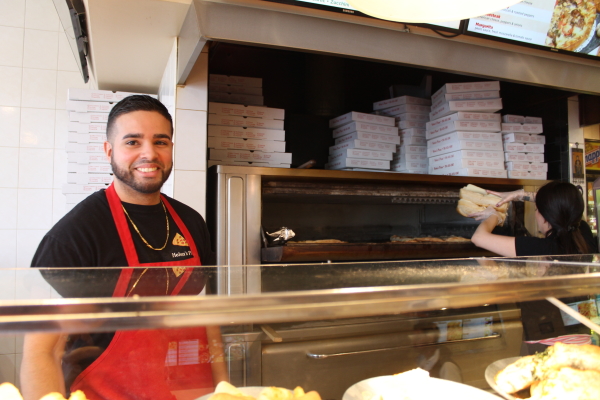 Other then Helen's Pizza, What else do you do? Well.. I'm a property owner and I am on the I'm on the HDSID (Historic Downtown Special Improvement District).
Tell me a little bit more about that… Well before it was an HDSID, we had what you call a Downtown Merchant's Association.. and at that time that was very weak. It was formed many, many years ago… there was no power to collect money, so we could do things like on during Christmas, get Christmas lights…. We did things on our own rather have the city helping us…. Then we formed the HDSID which I was a part of.
I was President of the Merchant's Association and then eventually became President of the 1st SID… I've always been involved with the SID…. the SID has really helped turn around this whole area.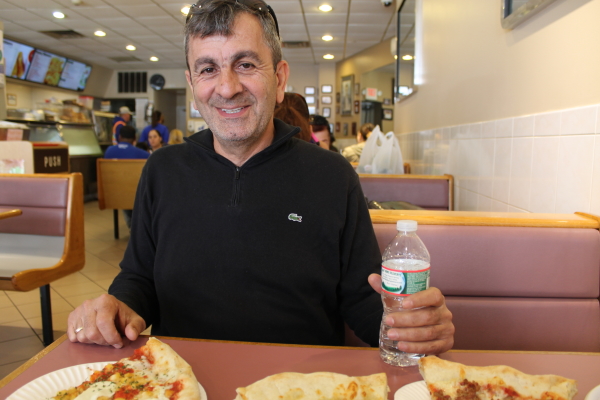 Do have any future plans for Helen's or the SID? My future plans are to retirement (laughs). I plan on handing it down to my son. I think he's capable of it and I'll still be here of course, but take a step back…
So many Greek people are in the restaurant business!  I think the food business is in the Greek DNA! I guess Greeks are always so hospitable.. they like to feed people, so they're always around food.. it's the easiest to make!
Do you ever cook? I always cook.. I love cooking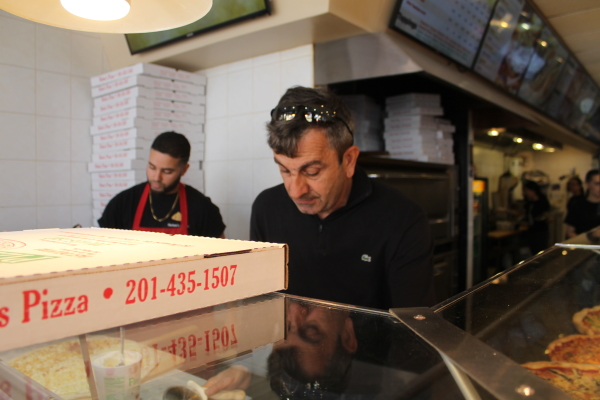 Other than here, do you have a place you like to hang out in Jersey City? Being around food all the time… food is at my fingertips….
Do you ever go to another pizza place? Let's see.. besides my cousin's.. no (laughs)
Your cousin owns a restaurant too.. where? Stella's Pizza.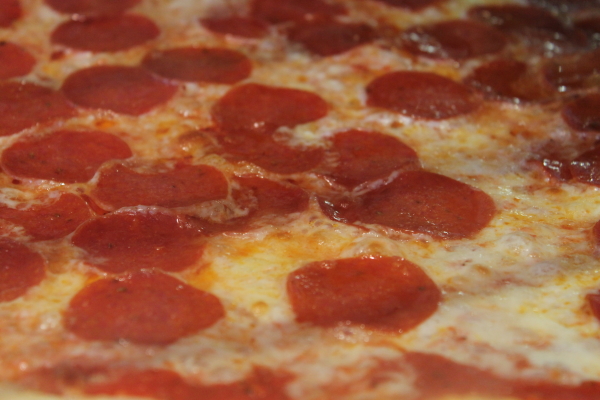 Stella's Pizza.. stop! your cousin owns Stella's Pizza? Yes, my Uncle John, back when they immigrated in '71. They immigrated to us of course… worked here for a while.. he was here until he saved up enough to start his own business.. at a time, it was round corner there..
Thats awesome! anything else you want people to know about you or Helen's Pizza?  I would say,  that we're just going to continue to serve everybody the best we can and make the best food we can!
Thank you Steve! Can I get a "to go" box?