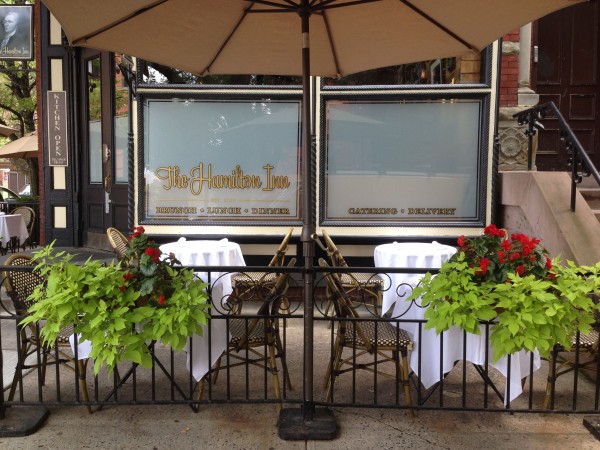 Ever since I moved to Jersey City 4 years ago, The Hamilton Inn has always been a staple restaurant that I either end up at or tell people to go to. It's a place that you know you will have a great meal, a fun time, service with a smile, good drinks…. I can go on. A few weeks ago I tweeted at The Hamilton Inn people,  saying that I wanted to do a post about their establishment. They where so nice and invited me for lunch to sit down with Boss Man John.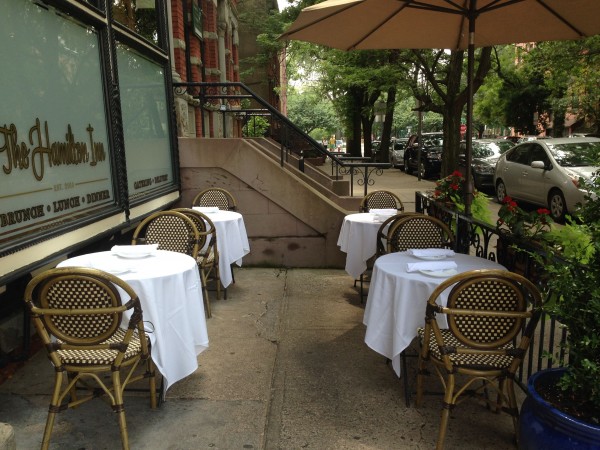 While I was instagraming/tweeting/playing bejeweled on my phone at the bar, a tall dashing young man approached me. I thought this was a waiter telling me John was dealing with a restaurant related issue or taking a nap in the back. When he introduced himself I was shocked! I did not expect to see such a young guy running this successful restaurant. We sat down to eat lunch and I gave him the liberty to order his favorites for me while he told me his story.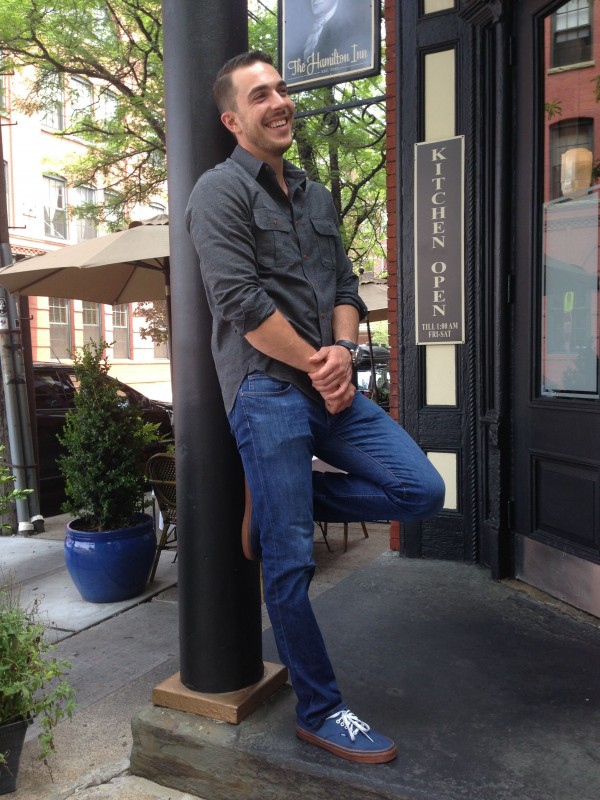 What's your name? John
What do you do here at Hamilton Inn? I am the General Manager, my brother and I opened the place just over 4 years ago.
Really! Wow… you look pretty young to be running a restaurant! How old are you? I will be 25 in two days.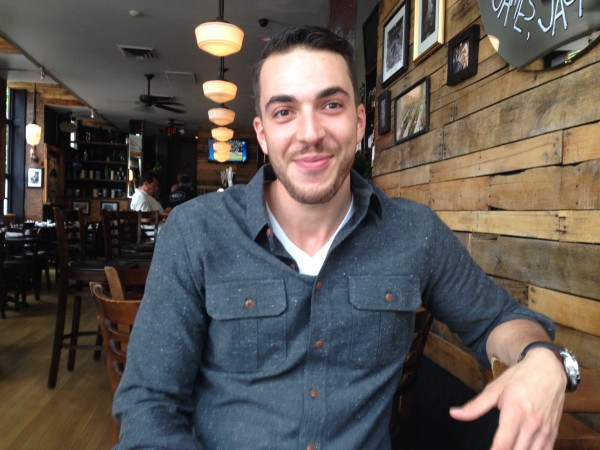 Happy Birthday! you are so young! How did you guys go about opening the Hamilton Inn? My brother managed Madison for a really long time…. for like 12 years. It's in Hoboken and has a pretty similar concept as The Hamilton Inn… just not as cozy, not as loved… This place is really loved. The Hamilton Inn would literally not exist without Mike Gondevas, he taught me…. We share the same wife.
What? What do you mean? We are married to this place.
Ha, I thought you literally shared the same wife. What made you guys decide to open The Hamilton Inn? He called me up when I was still in College, I was a baby…. he asked me if I wanted to open a restaurant. I said absolutely not… and now here we are! I was just finishing a semester and I drove up here one day… I remember smoking a cigarette right here and saying "Shit this place needs alot of work". It started right then and there. We worked for 8.5 months or so , day and night. We lived here, and then I kind of organically created a job for myself, obviously with my brothers help. I was supposed to come help my brother open his restaurant and then go back to school.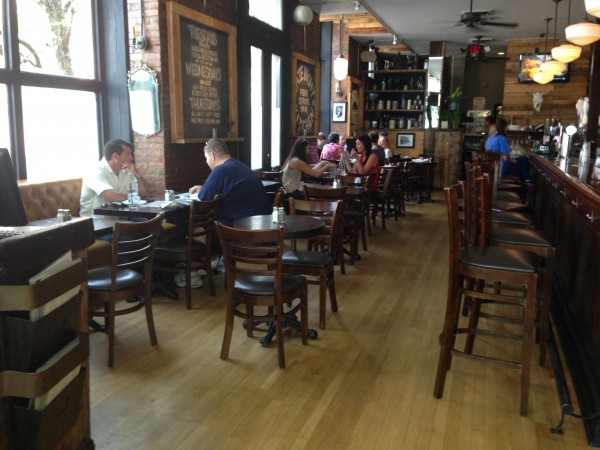 I guess that didn't happen…. I lived in this place for over the year, by the time it was done it was like how do you just walk away? I watched the place go from shit to beautiful.
It is beautiful. Did you grow up in the restaurant business? I've been around it always, my father has two , my big brother was running 3 of them in Hoboken…. The Madison, The Jefferson , The Clinton and now the Hamilton …. My brother has a thing for political men from the 18th/19th Century…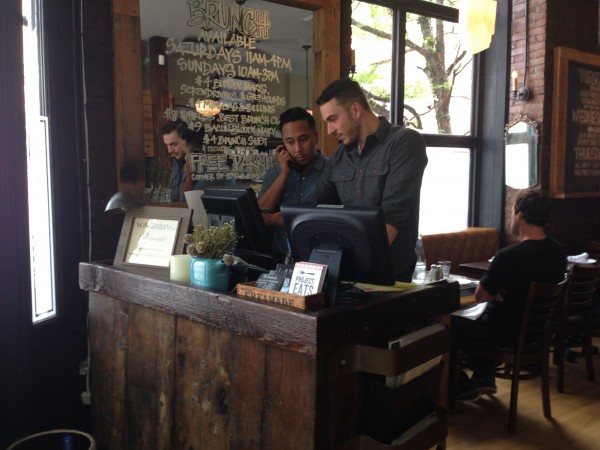 Did you ever think you wanted to be in the restaurant business? Well I was working at a restaurant at the time and I was in business management….
Basically you were fucked? Yeah I am Greek, it's in my blood, I was destined. It's either this or a degenerate gambler haha
Tell me about your menu, and how did it come about? It happened organically.. we started off with very basic New American food… we figured out what worked and what didn't… What our customers wanted and what they didn't.
What am I eating now? The Candied Pecan Salad which has field greens, pecans and warm goat cheese, the East LA Fish Tacos, the Potato and Goat cheese Perogies and the truffled fries.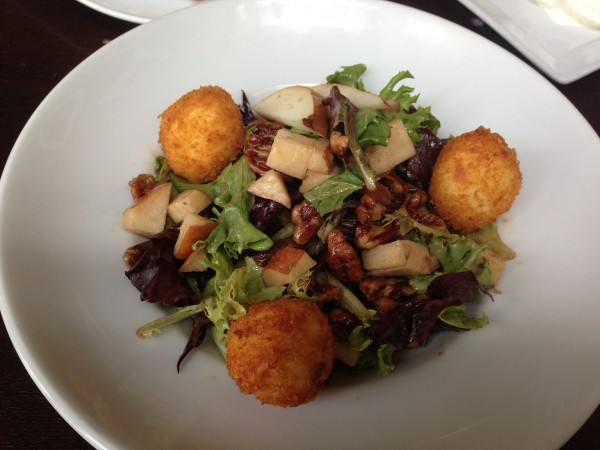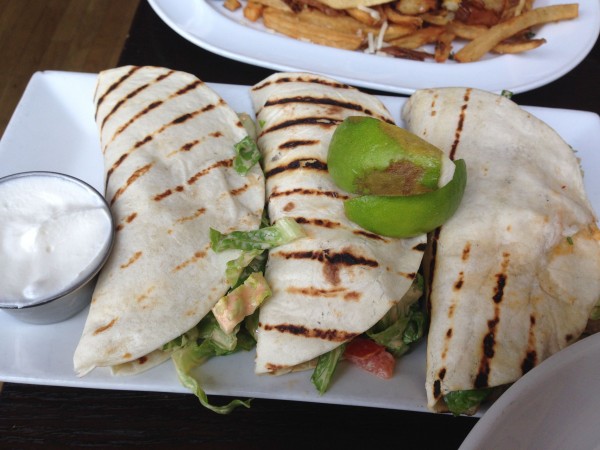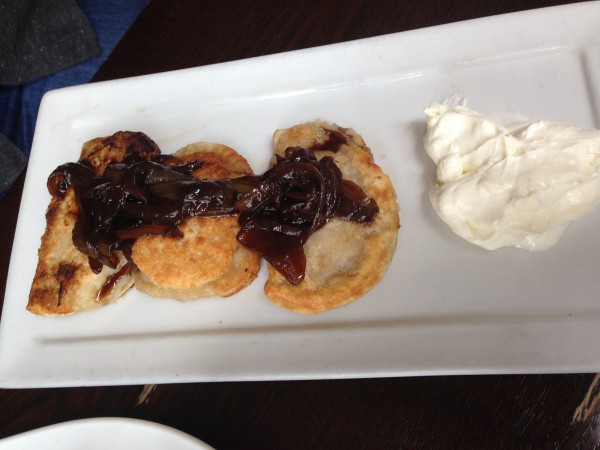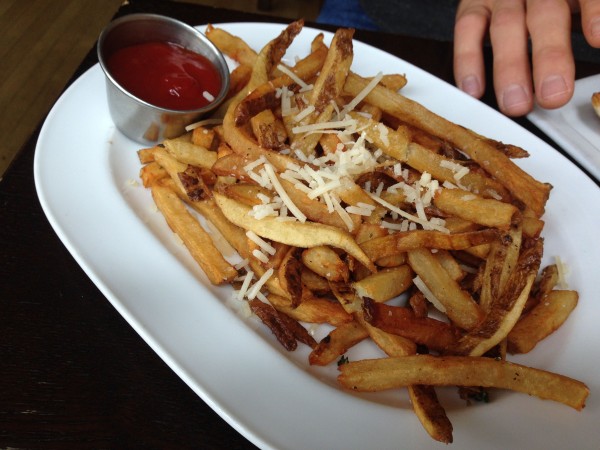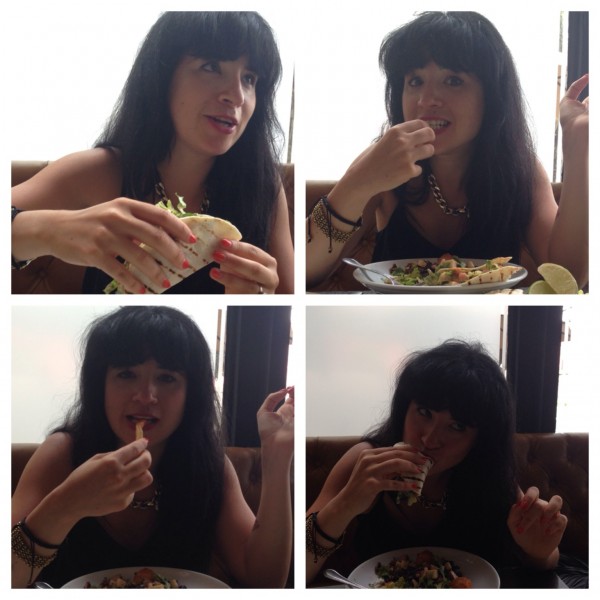 Yum. and what am I drinking? Hendricks Cooler.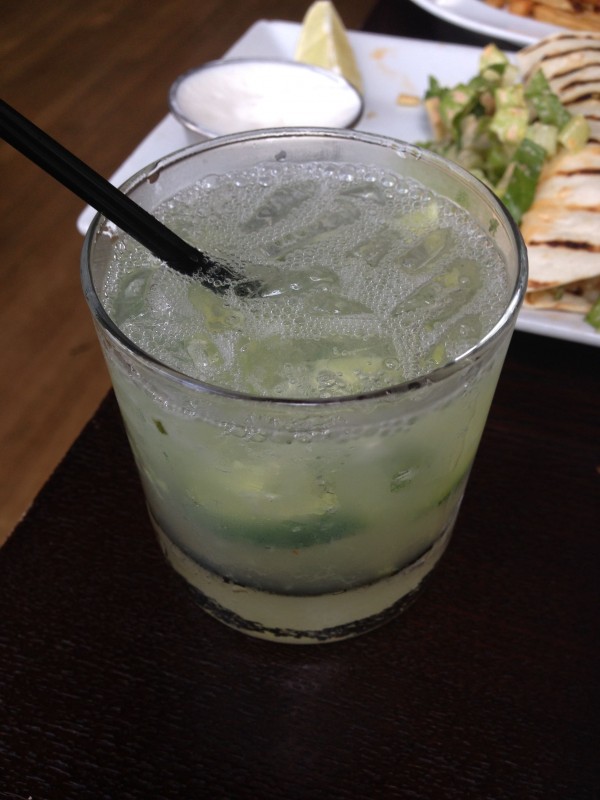 Are you from Jersey City? My brother was completely born and raised here, I was born here and lived here till I was 5, did all my schooling in Bergen county because it used to be bad here…. but I knew I would be back!
What area in Jersey City? I was in the Heights.
Other than Hamilton Inn do you have a favorite hangout spot? If/when I go out I try to go into NYC because it always inspires me…. I kind of live at The Hamilton Inn. Yesterday was my day off and I was here for 7 hours. When I say this place is my wife and my brothers wife…. well shit happens.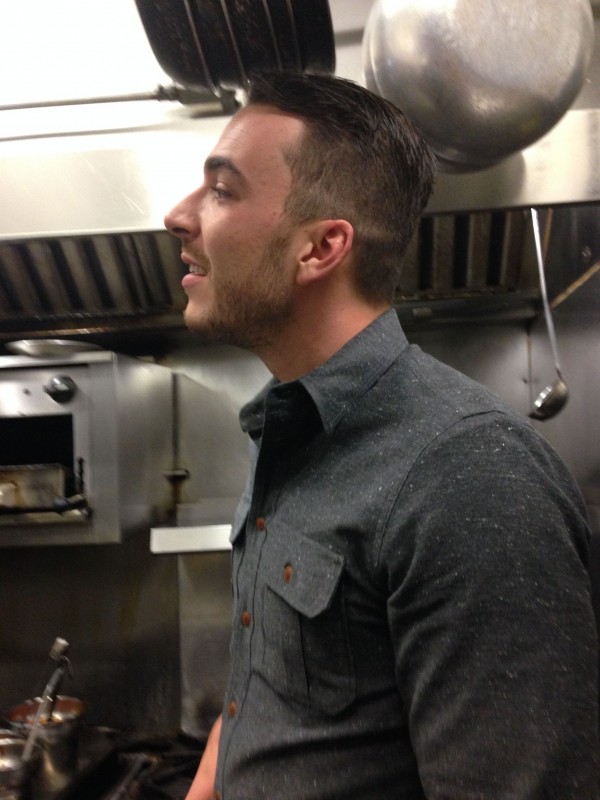 So you always eat here? I would say 50% of my meals a week.
Don't you get sick of eating the same shit everyday? The guys in the back hook me up.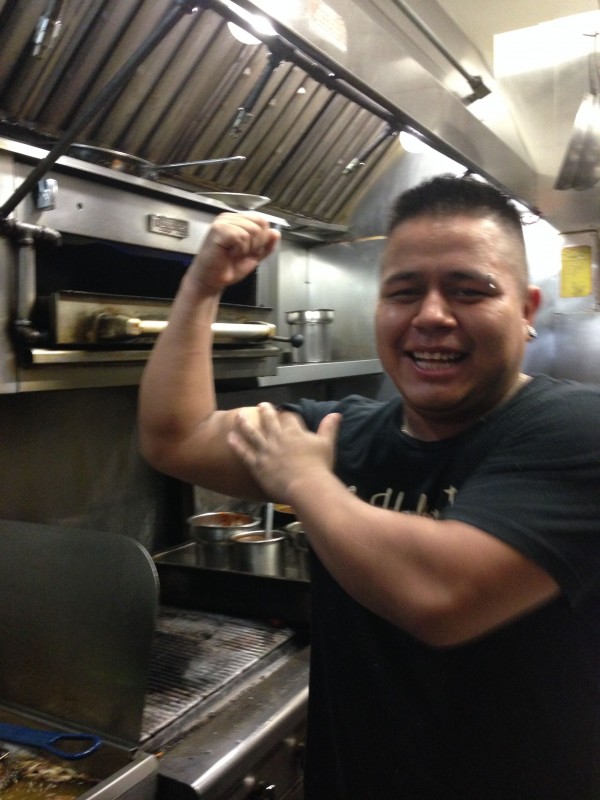 Future plans for Hamilton Inn? We are making the old Vespa shop next door into something sexy! But it's a secret.
Tell me about day in the life of John. G.S.R – Gym, Shower, Restaurant…. you know, like Jersey Shore.
What about a social life? Not really! I sacrifice now so I don't have to later.
Well on behalf of Jersey City foodies… Thank you!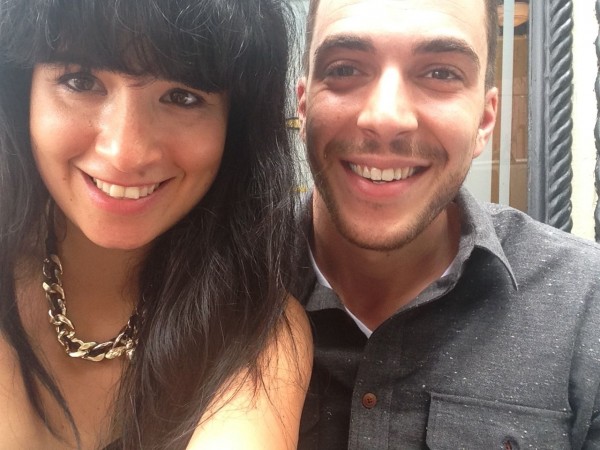 ---
I left The Hamilton Inn really full and sorta drunk (I am a lightweight!) , it was such a delicious meal!  What I love about the Hamilton Inn, is that it is perfect for any occasion; a family meal, a night out with friends, a business casual lunch and even just coming alone to sit at the bar, have a drink and chat with the friendly staff. It is truly a loved spot…. I dream of those Pierogies…
Check out the Hamilton Inn crew at the Jersey City Eats day on July 26th! They will be getting us all liquored up for the fun.
See you soon Hamilton Inn!