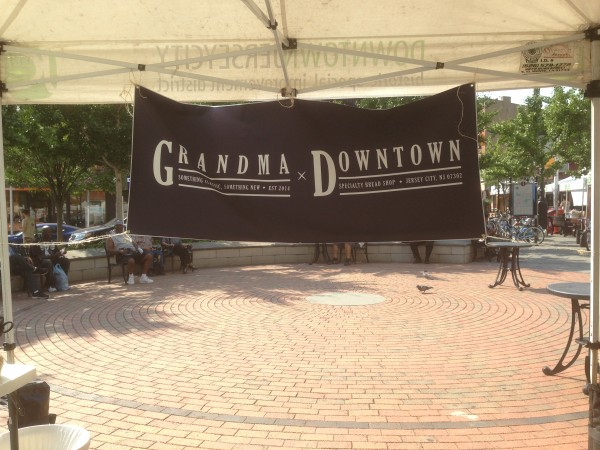 When I first heard of Grandma Downtown, I pictured a cute italian old lady making delicious breads in her old school kitchen. Then I saw Krista, this cute sassy stylish chick , and tasted her delicious breads, I knew I needed to know the story behind Grandma Downtown.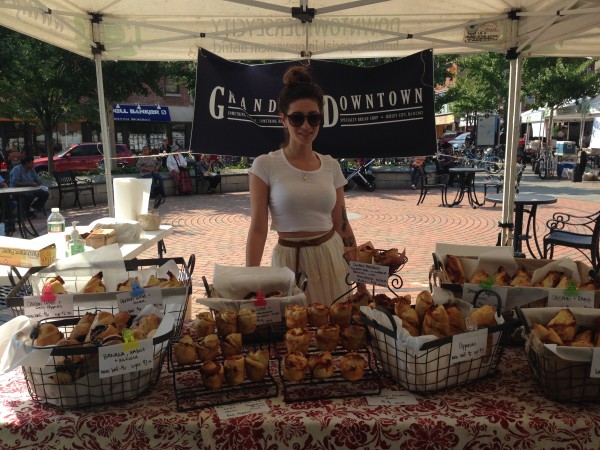 What's your name? Krista
Can you tell us about Grandma Downtown? Grandma Downtown is a specialty bread shop…. I drew inspiration from my great grandmother who I called Grandma Downtown cause she lived on Colgate Street. She did all the pastas the pizzas, the breads…. so I like to believe that I get that niche from her…. I am Italian so bread is every where all the time….
Well it doesn't look like you eat any bread! I eat bread all the time! I eat bread every day it's crazy.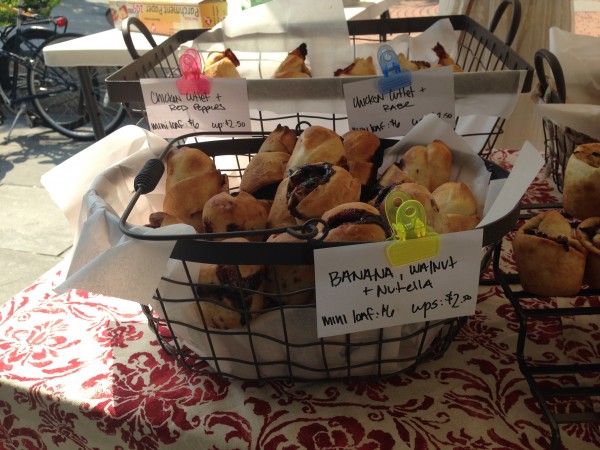 Can you tell us about your goods? I do mostly savory, almost everything has cheese…. being italian and loving bread and cheese obviously… I have a couple sweet things, I plan on doing more in the future… my combinations I get ideas from my family , from my boyfriend…. he loves food, I love food… so we are constantly thinking of new creations. Each week I will try to do a specialty bread… what you see here is my normal stuff that I have every week…. I try to mix it up with different combo's that people would love…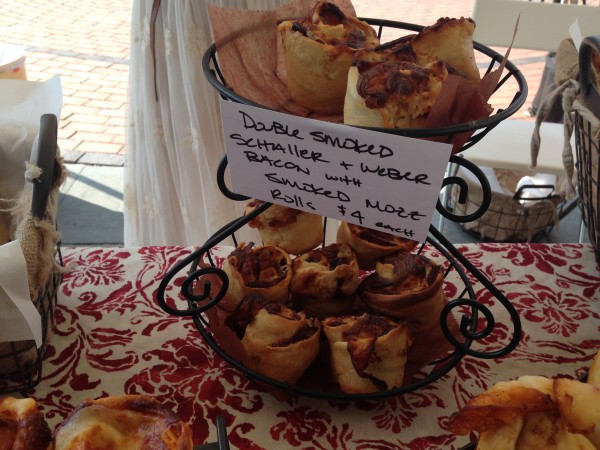 How did you start? Everyone in my family has some sort of craft that they do… like my brother reclaims wood and makes them into furniture, my other brother does craft beer… and my mother I grew up with her cooking…. I love food…. During Sandy, my boyfriends family lives in Hoboken and my family lives here … they all completely lost power so they came to my mom's place in Secaucus where I was living and I just started making bread for everyone! That is basically how it started…. started giving it to friends and it got really popular.. then I decided to start selling it. Then the whole idea came about to open a business… I was in marketing for 5 years after I graduated and I just wasn't happy. I figured I love doing this, it doesn't feel like work to me at all… I am dragging my ass to the kitchen at 3 am and I love it!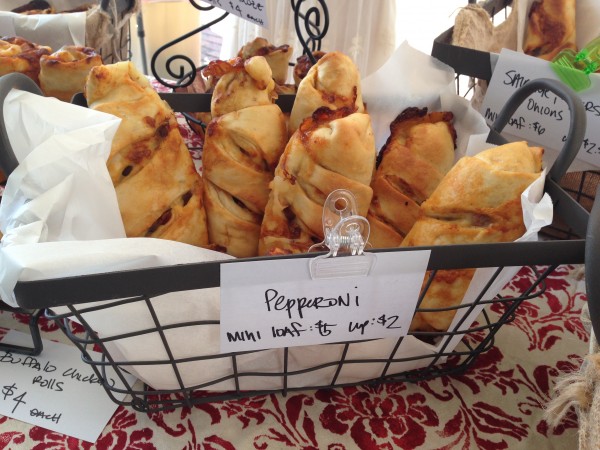 Are you baking all day? All morning yeah…
Good for you! that is really great. And what is your favorite bread? The olive… with the mozzarella…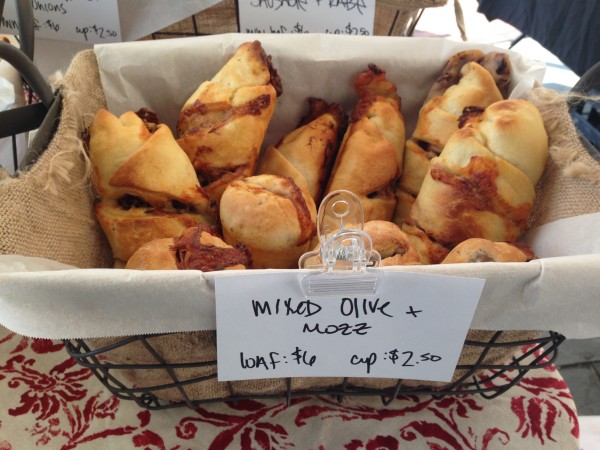 Did you come up with all the recipes? Yeah I basically took my grandmothers dough recipes and then made into my own to get that certain crips texture…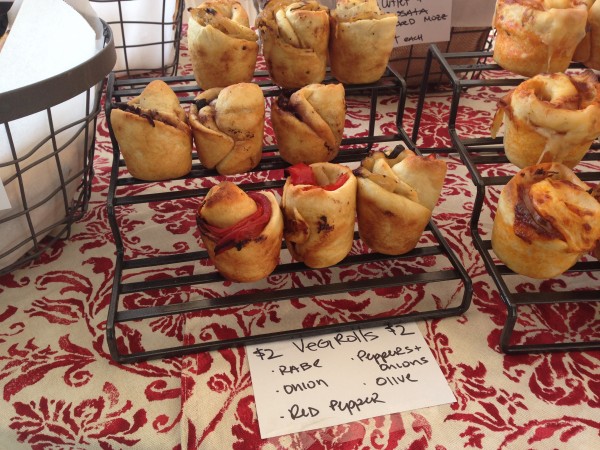 Where can people find you other than the farmers markets? I am on Etsy as well. You can buy online and I do free delivery for Hudson Residents….
Do you live in Jersey City? I am looking for an apartment in Jersey City now…I found a place right around the corner from where my grandmother lived on Colgate street…. I was like omg that is a sign!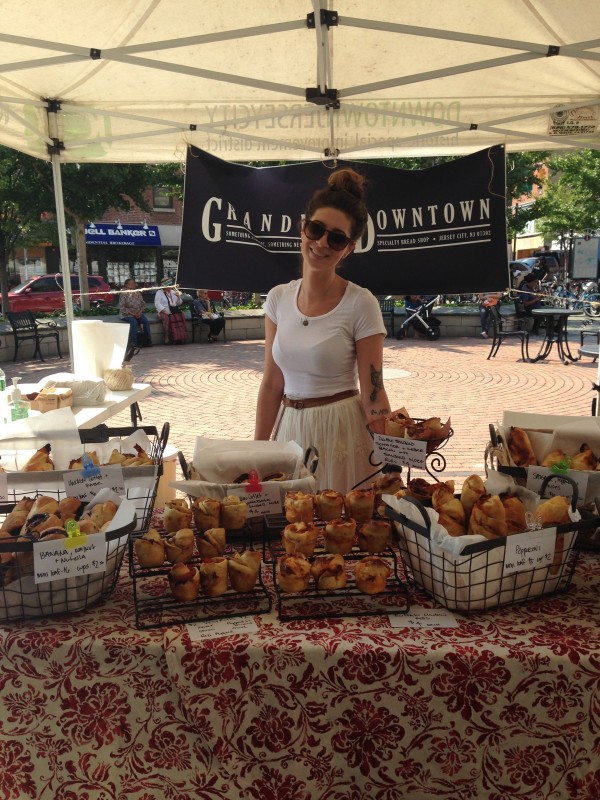 Do you have a favorite Jersey City hangout spot? Every Thursday after the market I go to Marco & Pepe and I get the garlic shrimp and a glass of Prosecco… It's a ritual