Every New Jersey town needs at least one great diner (preferably more, of course!). Soon after I moved to Jersey City in 2011, my friend/roommate and I discovered The Brownstone Pancake Factory. It has been our go-to diner ever since. If you've ever been there past 9 am on the weekends, you know how extremely popular it is! The pancakes are all amazing, and so is the rest of the food.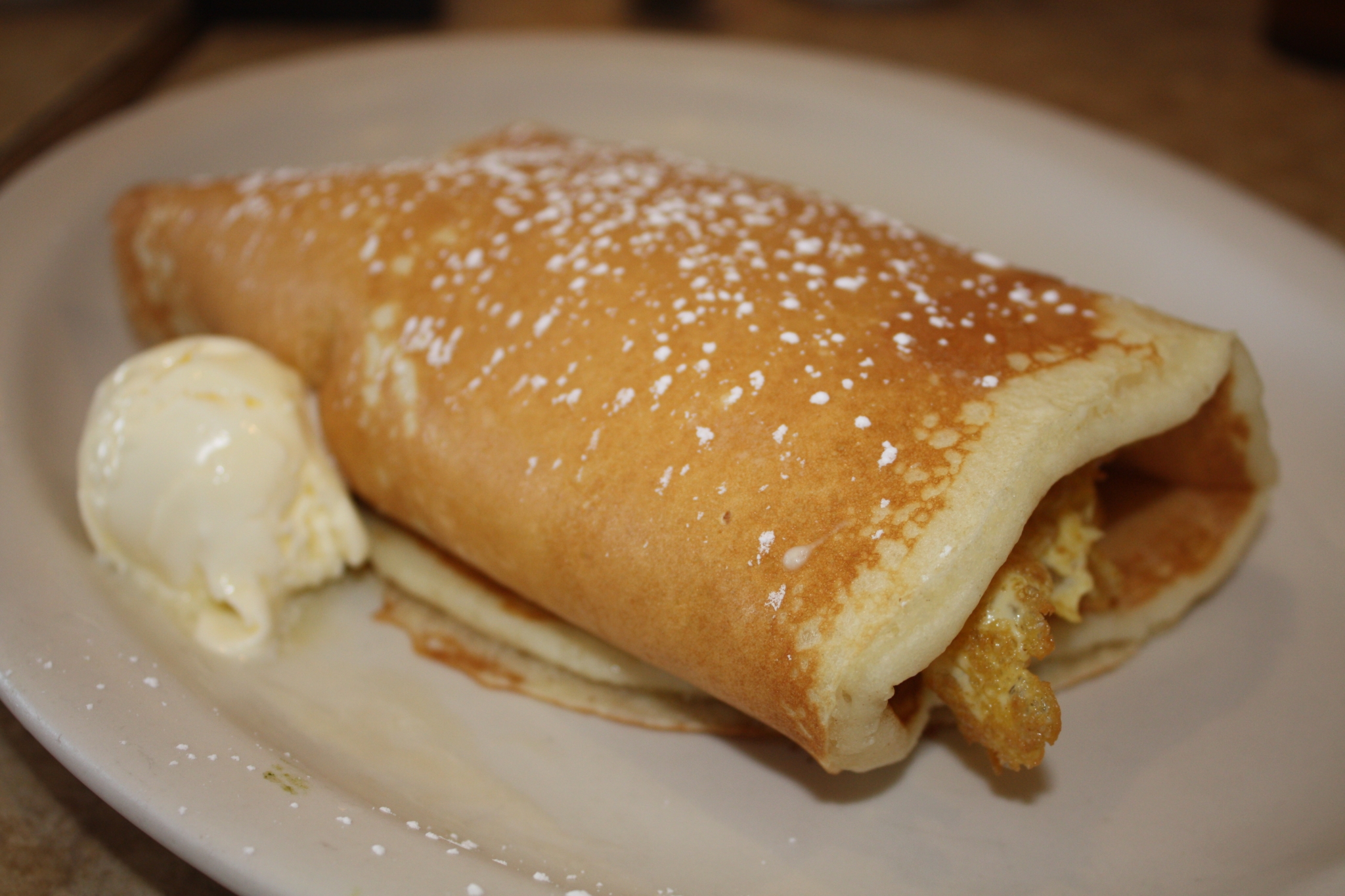 One of the Brownstone's specialties is the selection of "pancake wraps." These are giant pancakes wrapped around whatever fillings you please. They are a staple at the diner, and with good reason! The combination of eggs, breakfast meat, and pancake is simply delicious. You can fill it with whatever you like, but I chose to remake the classic combination of eggs, bacon, and cheddar cheese. In order to lighten it up, I used a healthier pancake recipe. My pancake also is smaller than the giant ones at the Brownstone. Once it's filled with some eggs, bacon, and cheese, the pancake doesn't quite wrap all the way around the filling like at the diner. So I decided to call mine a "pancake taco," because that's how I ended up eating it! And I must say, it was delicious!
Pancake Tacos: Serves 2
Ingredients:
¼ c white whole wheat flour

¼ c all-purpose flour

1 tsp baking powder

⅛ tsp salt

¼ c applesauce

½ c unsweetened almond milk

2 egg whites

1 tsp canola oil

½ tsp vanilla

Oil spray or mister

Syrup (optional)

4 slices bacon

¼ cup shredded cheddar cheese

4 eggs

1 Tbsp unsweetened almond milk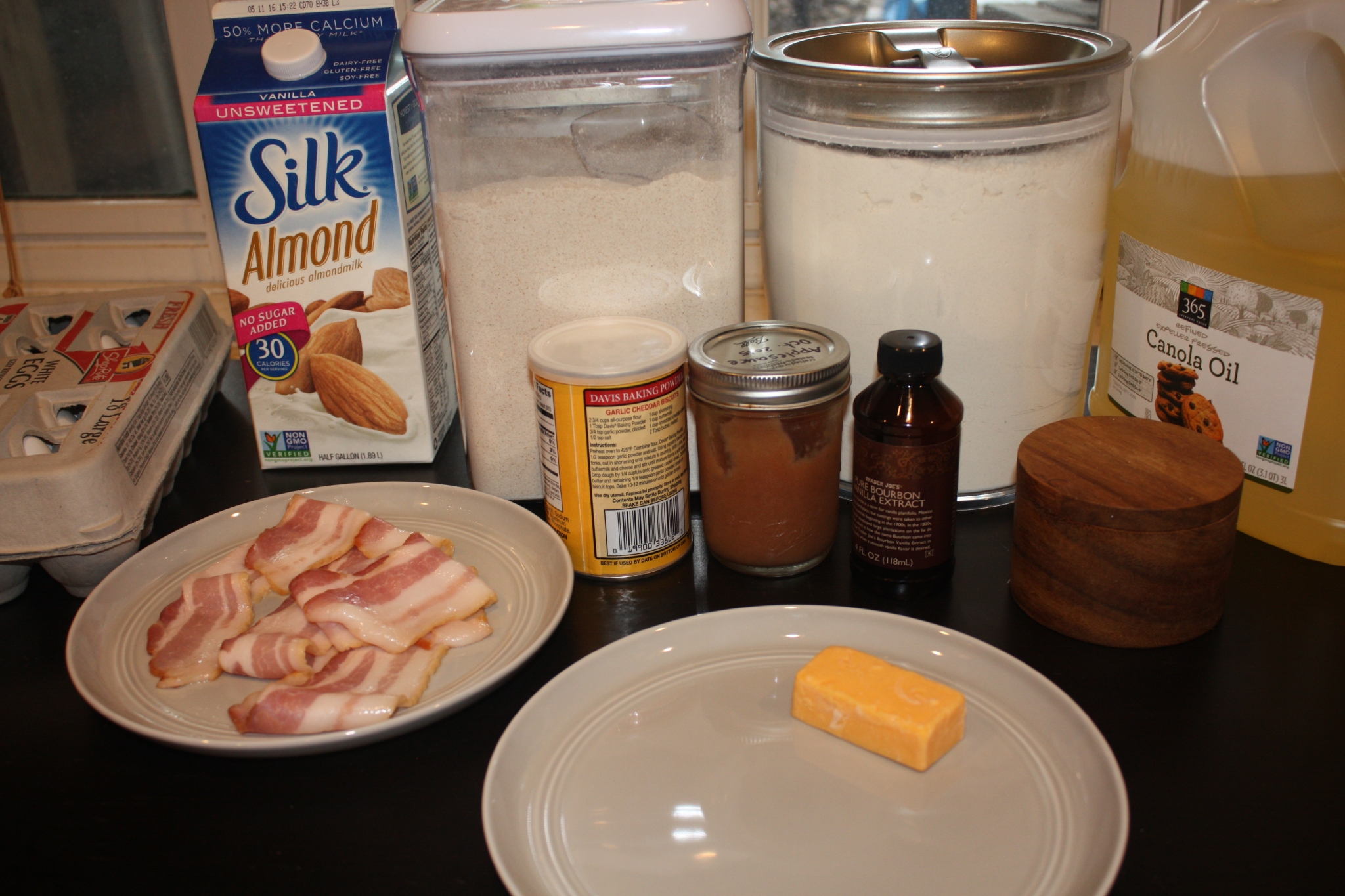 Directions:
Preheat the oven to 400 degrees. Put 4 slices of bacon on a rimmed baking sheet. When the oven is ready, put the bacon in. Start checking it at about 12 minutes. Mine took 14. You won't have to flip them!


Meanwhile, make the pancakes:
In a medium bowl, whisk the two kinds of flour, the baking powder, and the salt.

In a separate bowl, stir together the applesauce, almond milk, egg whites, oil, and vanilla.

Add the liquid ingredients to the dry ingredients. Stir gently to combine. Stop when the mixture is just moist.


Heat a nonstick griddle over medium-low. I used my double-burner griddle so I could keep my first pancake warm as my second one was cooking! Spray the pan with oil.

Measure out a heaping ½ cup of batter. Pour it out onto your griddle. Spread it out a bit with your spatula…you want to end up with a circle that's about 6 ½ inches in diameter.

Cook for about 3 minutes…the pancake should be starting to bubble, and the edges should be set. Carefully flip it over. The second side will take a little less—about 2 minutes.


Repeat with the rest of the batter. Right after you put the 2nd pancake on the griddle, begin heating a small nonstick skillet over medium heat. As you prep and make the eggs, finish cooking the 2nd pancake. Keep the pancakes warm on the griddle over low heat.



To make the eggs, beat together 4 eggs and the 1 Tbsp almond milk. As soon as you have flipped your 2nd pancake, you can start cooking the eggs. Cook them however you like your scrambled eggs. I recommend stirring frequently and not letting them dry out. When your eggs are done, it's time to assemble your pancakes!

To assemble, put the two pancakes on separate plates. Split the eggs between the two pancakes. Put 2 Tbsp of the shredded cheese on each. Break the cooked bacon slices into small pieces and put half on each pancake. Pick it up like a taco and enjoy!! Syrup is optional but delicious!