The best way to really soak up the fall season is with some hearty dishes that'll warm you up from the inside out! Whether you're in the mood for a steaming bowl of chili or some delicious chicken thighs, you'll definitely want to check out this list of the best fall slow cooker recipes! 
Basic Pot Roast
There's no better way to warm your home (or your belly) than with this basic pot roast! A nourishing fall dish, this basic pot roast made in the slow cooker is a classic fall recipe. This meal comes out great and couldn't be easier to make! 
Slow Cooker Chili 
What better way to warm up those crisp fall nights than with your coziest sweater and a piping hot bowl of chili! Pull out your favorite toppings and sides, and don't skimp on the cheese, sour cream, Fritos, and cornbread!
Crockpot Mac and Cheese 
This hearty crockpot mac and cheese will warm you to your very core. Simply toss all of the ingredients (including the noodles) into your slow cooker, give it a stir, set your timer and forget about it. When it's ready, you'll be left with a creamy, cheesy perfect bowl of mac and cheese!
Slow Cooker Chicken Tortilla Soup
If you're in the mood to spice things up a bit, try out this slow cooker chicken tortilla soup recipe! With plenty of protein and vegetables, this soup will not only warm you up but will also keep your body feeling well nourished. Add your favorite toppings and you'll be good to go!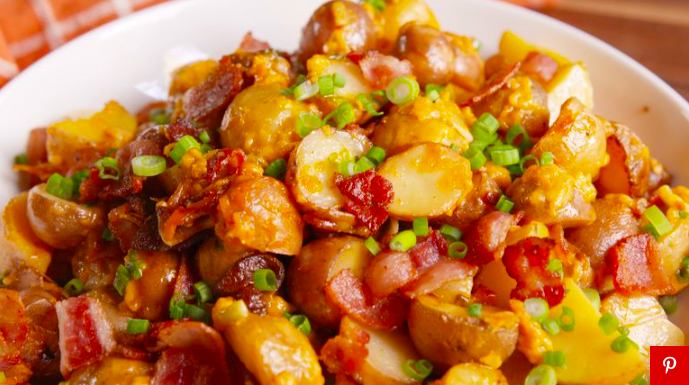 Loaded Slow Cooker Potatoes
There's no comfort food quite like slow cooker potatoes. This recipe calls for bacon, cheese, onions, garlic, and more, so you know you're in for an absolute treat with these. Save this recipe for a cold rainy day and these potatoes will be just what you need!
Slow Cooker Chicken Thighs
A perfect dish to appease the entire family, these slow cooker chicken thighs are perfect for a fall dinner. Sear your chicken thighs before tossing them into the crockpot then simply leave them until your meal is ready to serve!
Crockpot Stuffing
It just isn't fall without stuffing! Whether you're just in the mood for it or if you're whipping up Thanksgiving dinner, this crockpot stuffing is sure to change your whole game. You won't need to worry about timing all your dishes right to make sure there's enough space in the oven, let this slow cooker recipe save the day!
Easy Crockpot Butternut Squash Soup
This easy crockpot butternut squash soup is the comforting fall dish you've been waiting for. Enjoy the autumn aromas floating through your kitchen all day while you wait for this yummy soup to brew. This recipe is great to make in advance and eat for lunch the rest of the week!
Crockpot Garlicky Mashed Potatoes 
These creamy, delicious garlicky mashed potatoes are easy as can be and great for your Thanksgiving dinner or a simple night at home with the family. Just toss your ingredients in the pot, set the timer, and let your slow cooker do all the heavy lifting!