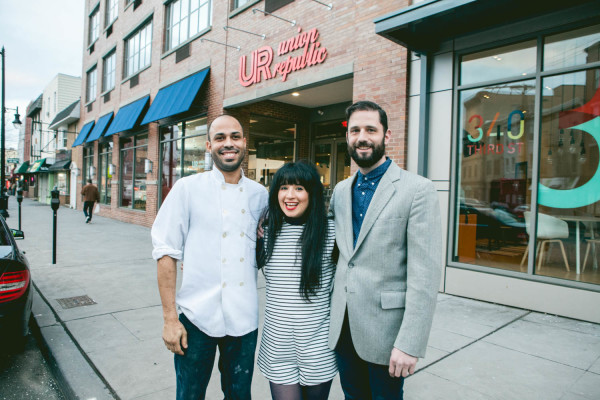 Union Republic was my second ever "Eats" post when I started ChicpeaJC. I will honestly say this, completely on the record, that UR is one of my favorite restaurants to eat at. Their food satisfies all my cravings; If I am looking for something light to eat I will have one of their seasonal salads, if I am craving something warm and filling a nice bowl of ramen or if I am feeling adventurous I will try something new. I love the ambiance, the decor, and the people who work there are so cool I want to hang out with them.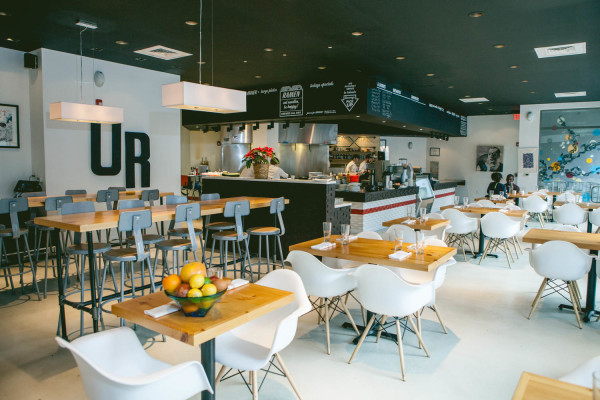 On New Years eve Union Republic opened up their new bar. Noah and Greg, owners and chefs at this dope eatery invited me to come for a drink tasting… in other words get wasted on a Monday afternoon on the best cocktails you can get your hands on in Jersey City. I called up friend and photog Greg Pallante to join the fun and help capture my journey to drunk land.
If you've eaten here before you know how beautiful and delicious their dishes are… well their drinks do not disappoint. Their cocktails are made with quality ingredients appropriate for the season and Noah who on top of everything else that he does, is apparently a mixologist now, used various mixing techniques that I've never seen used at any bar before. The drinks where so delightful and well made that according to UR's bartender Moriah, I would be "Classy drunk". Someone call me an Uber home…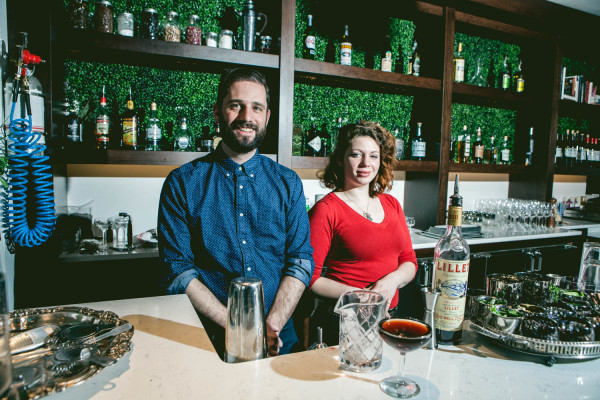 Hi Noah! What are you going to make today? Today I'm going to make you, probably 5 or 6 cocktails you're gonna get pretty loaded… We will start off with the gin based, light cocktail. We call this drink "The Reset" because it helps you start over, it's very herbaceous. The prominent flavors are going to be the dill, basil, cilantro and cucumber.
It sounds refreshing. Kind of like cucumber water that we also offer.
So you came up with all of these recipes yourself? Yes –It's a lot of tasting, mixing, seeing what works…like in a spirit, you pick up a note of something, maybe a vanilla note in a rum and it just leads your mind to other places, that's kind of how the process works. Another thing I love to do with guests is ask them to pick a place anywhere in the world, because traveling is so important and it allows you to really experience different things… The other night a guest said Grenada, and nutmeg grows wild in Grenada so that's where the process started and then I tried to make a drink that would transform that person back to their trip there.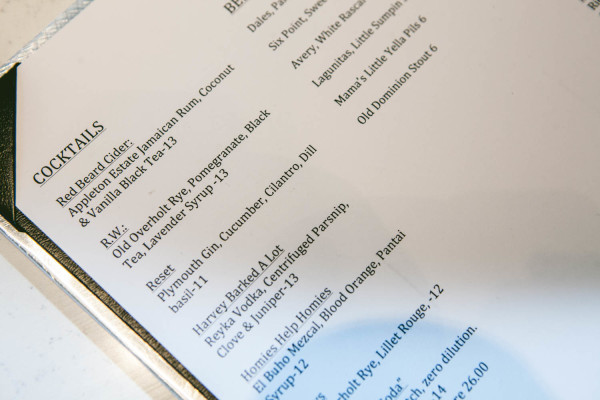 What was the process coming up with the drink menu?  That's a great question… the process was tough, we tried to keep things seasonal and work closely with the kitchen so that things coming out of there reflect our drinks, I may make a cocktail that inspires a dish or visa versa. There's a lot of interaction and back and forth between myself and Greg, my business partner.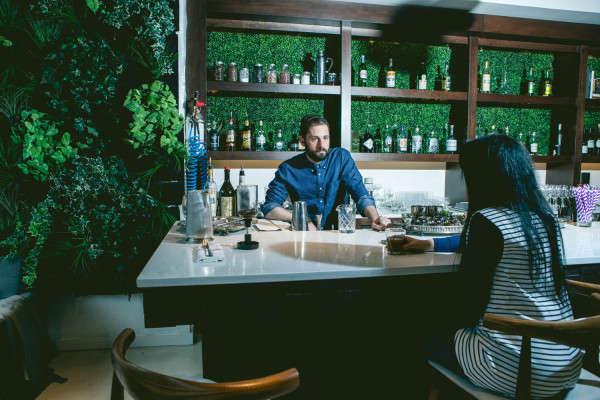 Oh fun!
Greg P: So you're the owner, and the mixologist?
Greg, stop asking my questions!(Noah) I hate that term, I make drinks yes.
He's a cook and also a lawyer!! It just happened that way…
How long have you been in the restaurant business? Started in the restaurant business when I was 14, washing dishes, then worked pretty much in every thing you can do in a restaurant.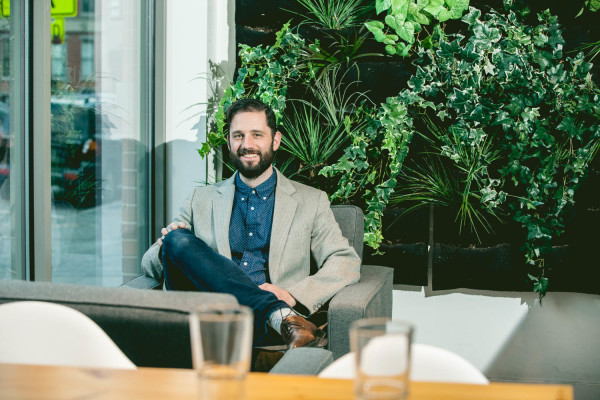 You were in the restaurant business since you were 14? What made you choose law school then? I always wanted to go to law school. The first year was really challenging, but my brain just sort of woke up, and I started to think in a different way,  it was an incredible experience that I'm really glad I did. I'll never regret having done that.
You still practice? Yes I do – I have my own practice. I could never do this and work for a full-time law firm.
How do you juggle it? I make the time…the cases I take now though, are ones I find interesting, it's really by choice.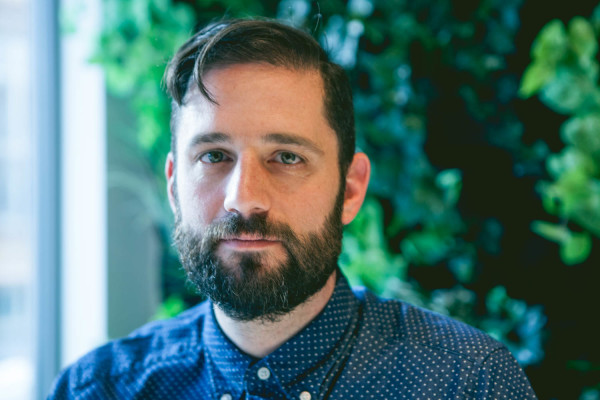 What is your favorite thing to cook? It's actually kind of rare that I make something for myself. I'm usually cooking something vegetarian for my girlfriend.
Aw! The other day I come home and she says "I feel like ramen noodles, will you make me some ramen?" – I'm like "ugh really ramen!?"
Do you still cook now that you are at the bar? I think Greg was thrilled when I stopped being in the kitchen as much!
Wait. Did you just put two full shots of gin? Yeah, well 1.5 oz. One of the things I always do is every drink gets tasted, we've got our google doc constantly open, so we're always tweaking things and that's how the cocktails continue to evolve...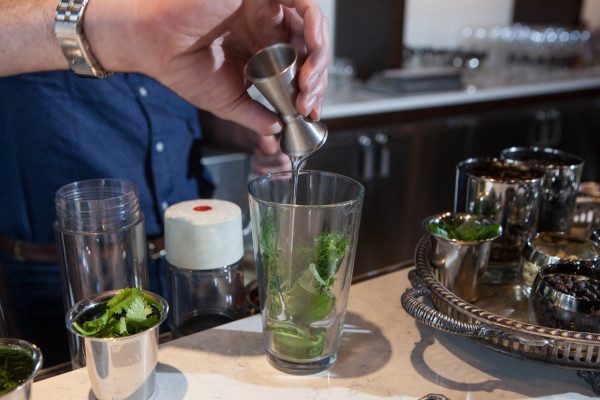 What dish do you recommend with this drink? This drink is very light, so I'd recommend probably the Butternut Squash Salad with Pomegranate.
That's such a clean and delicious dish. Exactly.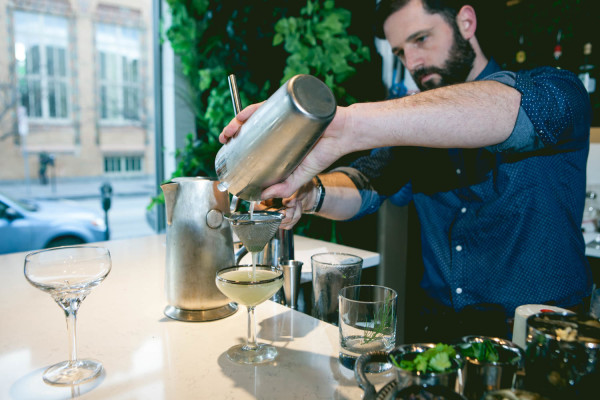 So you're not going to have one with me!? Mmmmm very good, it's so fresh!!! Like you don't really taste the booze, this is really smooth I love it. Every drink has to be balanced. That's a big thing, it's always about the balance of the flavors to make the best cocktail.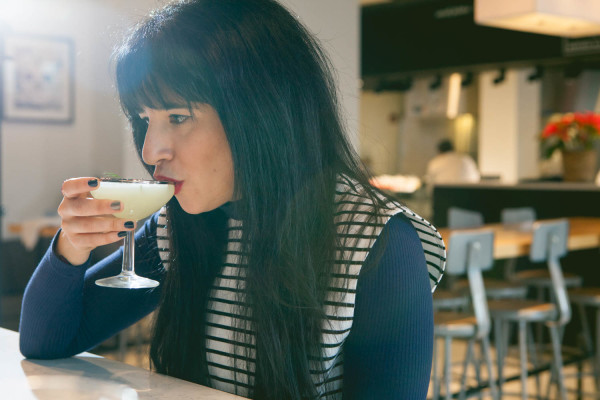 Whats the next one? Harvey Barked a lot. What really makes this drink interesting is the parsnip, I first juice it then run it through a centrifuge. The purpose behind that, is as you spin it in the centrifuge, it separates things by weight and the starch gets forced to the bottom, starch kind of coats your tongue, which makes it difficult to taste. I'm sure you guys have had parsnip before, but not like this…. This is centrifuge parsnip juice, just the juice, try that…it's a root vegetable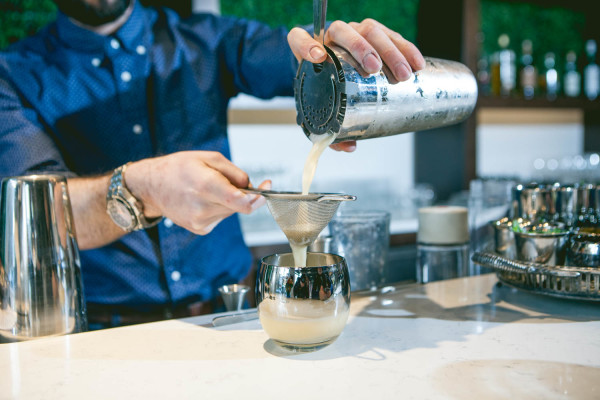 Where did you learn all of this stuff? I don't know where I learned everything – it kind of just came to me. I was actually watching a YouTube video, Dave Arnold, a mixologist… he was using the centrifuge during a demo for the Modernist Cuisine so I was just like "let me try this in a centrifuge…. "carrots, celery, try a number of different things, and see what tasted unexpected and parsnip definitely surprised us.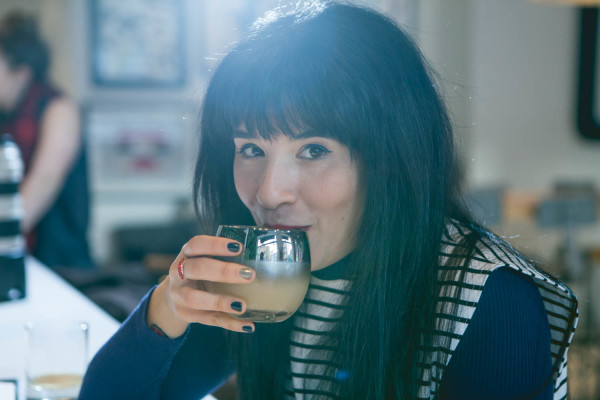 For those that don't know – tell me what is a centrifuge? It's a piece of lab equipment that essentially spins…It creates a force that separates whatever is in it by weight. When you go to a doctor for blood work, they put it through a centrifuge.
Greg is going to bring you something to eat so you can drink more!
Hi Greg!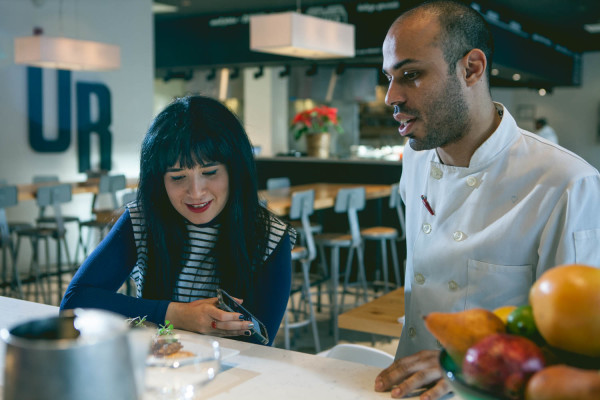 (Greg) So this is the Roasted Cauliflower fritter, served with Sriracha mayo, Turkish pepper, and maple syrup with some arugula.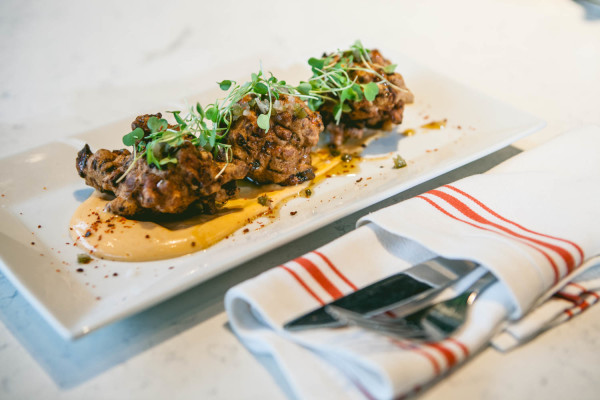 And this is Egg & Pork Toast… basically a deviled egg on top of a crispy Pork cheeks.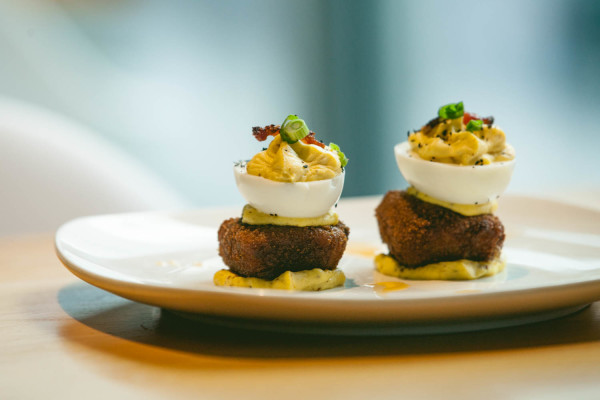 Yum! Sit down let's talk….How long have you been a chef? 21 years
When did you start? With my mother, cooking at home, and going out, I was in a band and washing dishes was the most convenient way to do both. I was raised in that culture, and when I needed to figure out what to do in life I went to culinary school..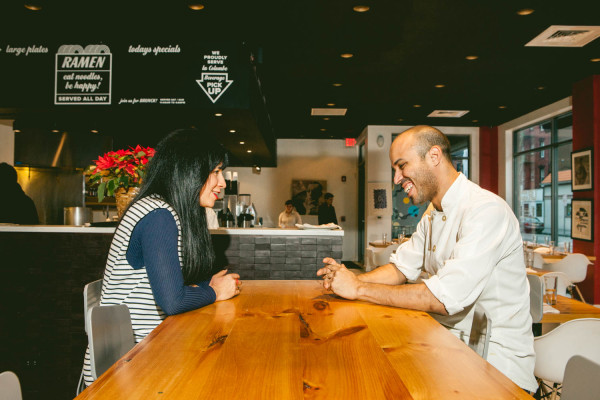 UR serves amazing ramen dishes…. Yeah Noah traveled to japan and he came back with the idea of adding ramen to our repertoire when we opened Union Republic, so I quickly had to learn to make and taste lots of ramen before we opened, to get ready, my background is Modern American, but I worked for Nobu when I was younger, but ramen is a little different its more playful and fun, we try to keep it fun and light, we have some bar food and a burger. I like to think about how I would want to go out and eat.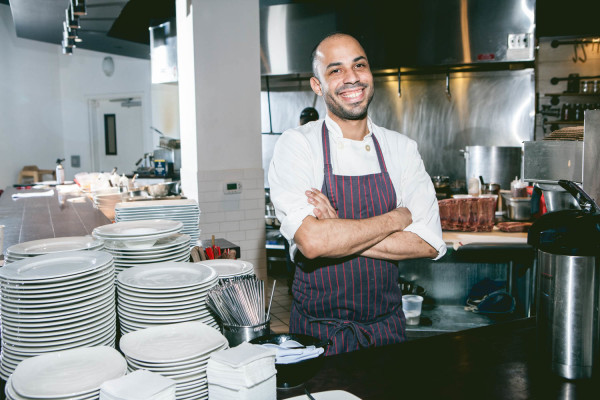 What is your favorite thing to cook? That question is always asked… right at this moment in time, we get bored very easily, which is why we are constantly changing the menu. Its like dating someone, the feeling is great at first but in some cases you get over it, and that happens with cooking as well.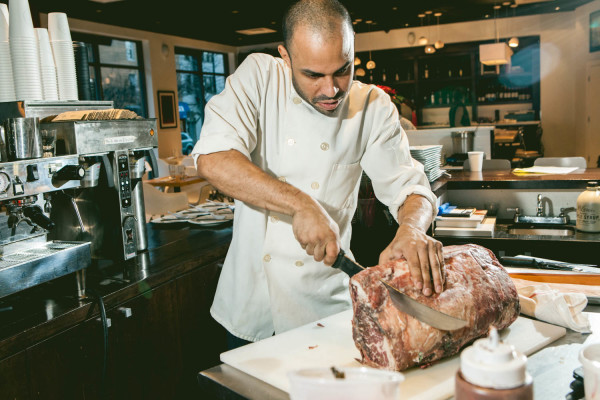 Where are you from originally? I'm from Puerto Rico, my family is from New York. I was fortunate enough to grow up in Florida but since I lived in Manhattan for 15 years, once we started our adventures into Jersey City we fell in love with the city and the people and what everyone's doing. It's not any time or any day you can be apart of a community that together trying to reach the same goal.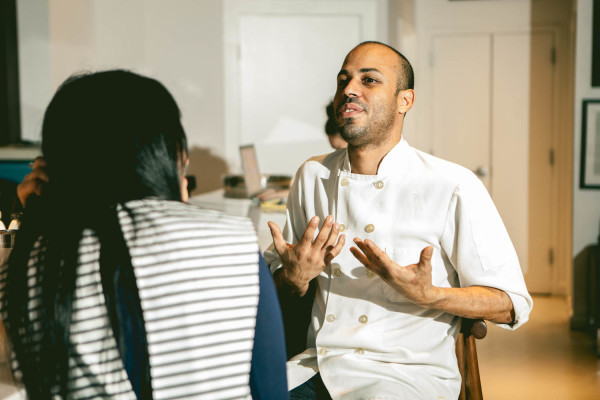 Do you have a favorite JC hang out spot? The Hamilton Inn, I love those guys – Mike and John are very supportive of us, they're great… and Third and Vine for sure.
Thanks Greg. Enjoy!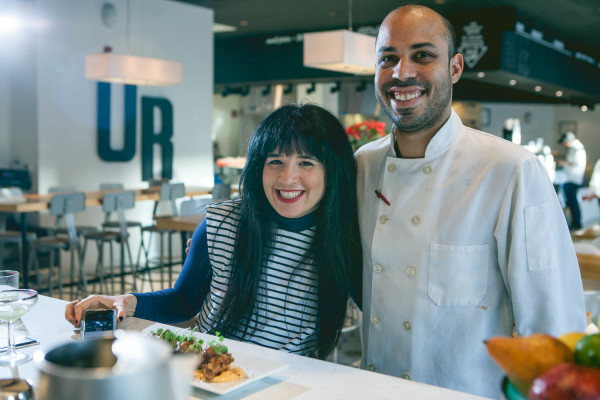 What other stuff are you guys going to have on the bar menu? (Noah) We are going to have a pickled vegetable plate…one of the things that really changes it, is we pickle every vegetable in a different liquid so they each have their own unique flavor, whereas most pickled vegetables you get restaurants are pickled together.
(Noah) So this next drink…I don't know if you watch "Adventure Time", it's a cartoon and really funny! One of the episodes the main characters Jake, Finn and the parents are coming and he wants to impress them, so the parents think he has a servant and he asks his friend to pretend to be a servant to impress the parents who happen to be unicorns made out of rainbows, called Rainicorns. To convince his friend, he says c'mon help me please,  help ,  and he gets excited and says always,  help homies always…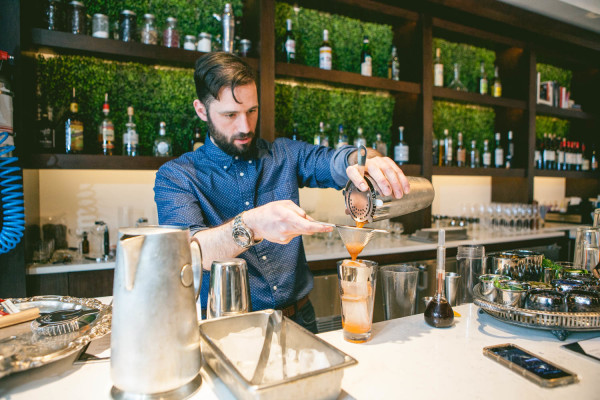 So this next drink is " homies help homies"
This is tequila and MezCal. MezCal is very similar to tequila but the agave is thrown in and it has a nice smokey flavor almost like a scotch.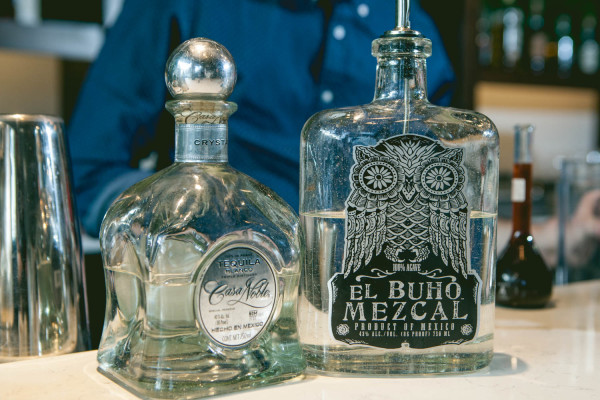 Yumm!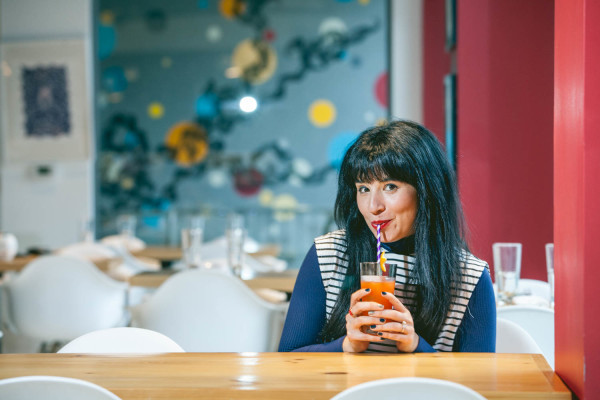 (Noah) So have you ever had a Thai Iced tea? This is a syrup that I made using tea. This was really challenging cause I'm personally not a MezCal drinker, trying to find a balance with something that's has such strong flavors is a challenge and really fun – and I would drink this! For someone who doesn't like MezCal its delicious.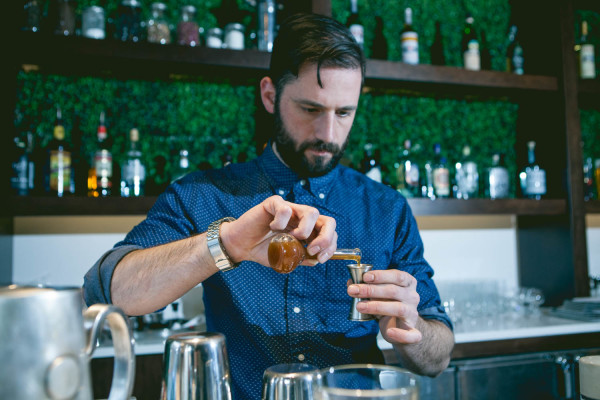 Making drinks is like an art-form.  It can be, for sure.
I feel like between the plates that come out and the drinks that you're making here, you are all so artistic. This is a form of expression, if you don't have a lot to say you can use lemons pre-juiced and stuff… which we don't do here. We take pride in the ingredients we use and the presentation. It's all about the experience.
How long has the restaurant been open? We celebrated our 1 year anniversary in November.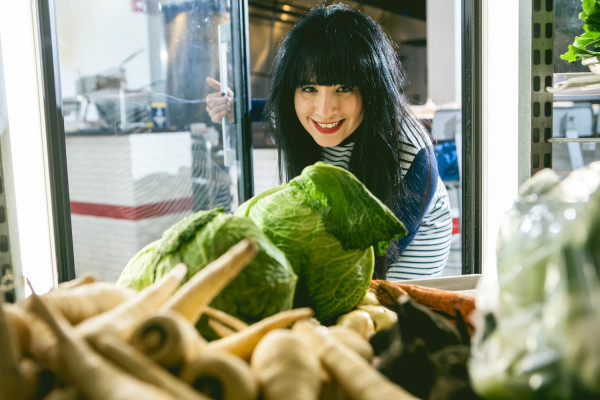 And how would you define the food you serve here. No fucking clue. I'm opposed to the word fusion, I spent time in Japan, I wanted to do ramen, so we went in that direction, but we don't put ginger on our hamburgers or anything, I don't even know how to describe it. The concept of it was to incorporate a lot of different cuisines under one roof and have a playground of food and tastes and not be limited by stating our type of cuisine, cause it gets boring. There's no cuisine we can't do and we can just have fun with it.
What's this next drink? Red Beard Cider. It's a warm apple cider that one of our chef's Ryan spiced and made it really delicious… Ryan has a red beard so that is why we named it "Red Beard Cider"…. it's kind of joke.
What I love is these drinks aren't too sweet. When there is too much sugar I can't taste the different flavors. Definitely – you want all those components of the drink to come out and balance out, not to be over powered by sweetness.
Will you be changing your list every season? Yes!
What is this…? It feels so breaking bad haha… So essentially what I've done is added the spiced apple cider apple cinnamon rum and some Myers dark rum.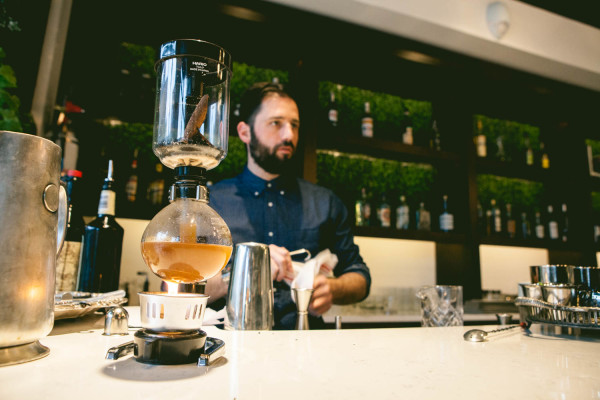 This chain actually pulls down on the filter, so the spices and whatever you put on the top doesn't come down….
We're gonna heat this up its going to force the liquid up through the filter into the chamber, it will infuse, then we will remove the heat and the change of the pressure between the two will force everything back through the filter.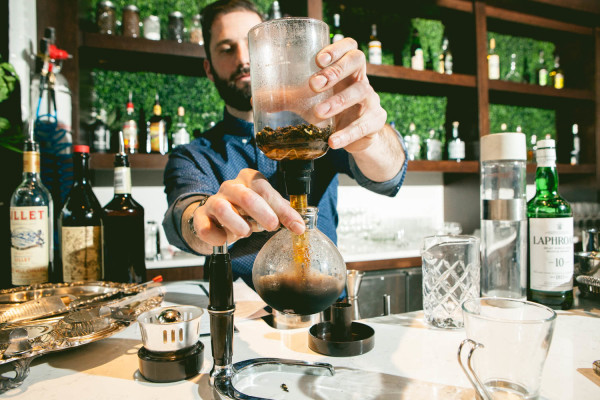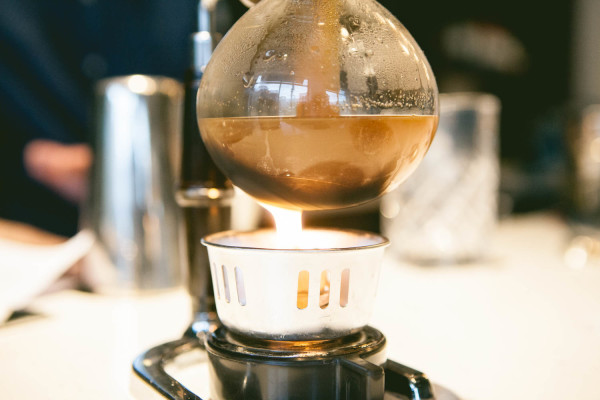 This is a black tea, vanilla and coconut added to it.
It smells so good.  I think right now for the winter I'm probably going to focus on teas. We are so used to being able to get things right away and especially with restaurants getting stuff out in time, its nice to say you know what you can't rush it you can't make it go any faster – that's what's going on to get you you're drink. We can't make it any faster.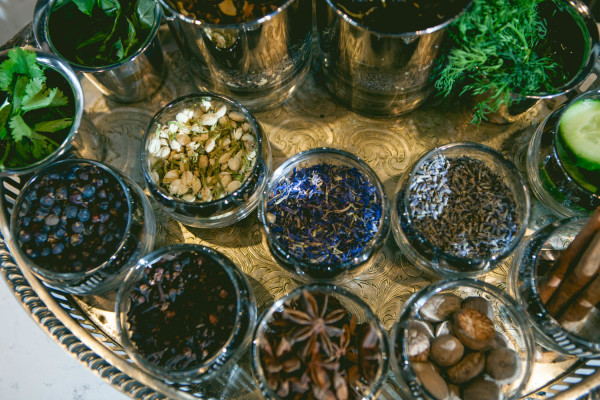 This is a siphon that's what they use at mod cup, it's made for coffee I thought I'd have a little fun with it do something a little different.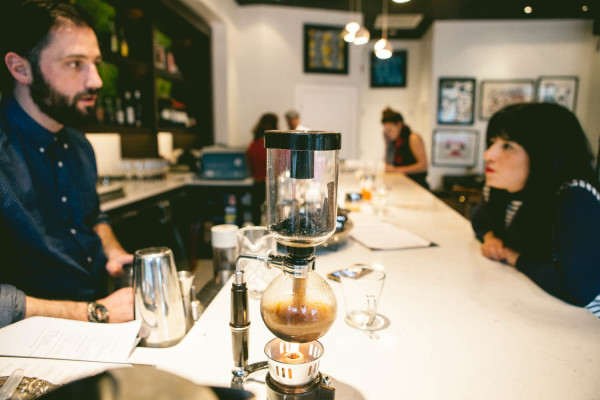 Yumm. This is delicious. Perfect for the cold weather. I feel like I want to go skiing and then drink this….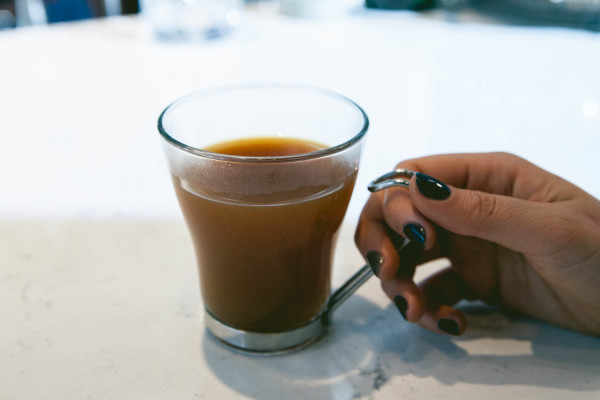 What do you prefer, making drinks or cooking? They're both very different, when you're making food, once you start you can't stop. When you're making a drink, I can stop taste to see if I like where it's going. You can step back while you're making it. When you're cooking, things are happening all the time, the flavors are changing as you're thinking due to heat and everything. With cocktails I can take my time, figure out the flavors. They're both very fun, but different.
The thing is no ones going to come here to get a quick vodka soda, you can but… If you want it, I mean we can, but we don't have cranberry juice, or any normal mixers, but the last thing I want people to think is we're a pretentious bar, people drink what they like and we want to give people what they like, who am I to tell you, you cant have that. However I will say "hey try this out it's similar you might love it". We can carbonate drinks and I have many flavors that I can mix to get anything you want!
What's this next one? The next drink is a carbonated scotch, so there's no dilution, the carbonic acid in the Co2 pulls out a different flavor, a little bit of acidity… it's really cool. So I can carbonate any cocktail I want, anything!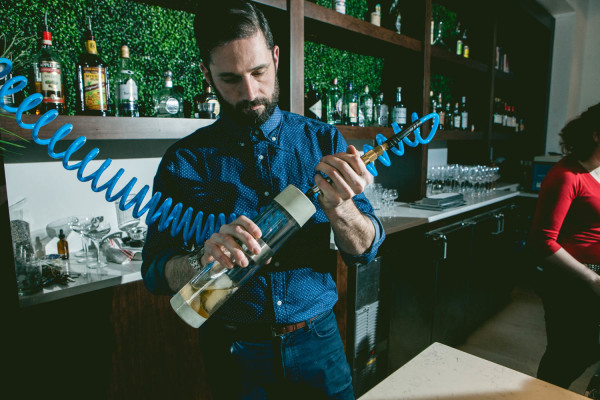 This is the scotch on the rocks… It's just the scotch itself carbonated.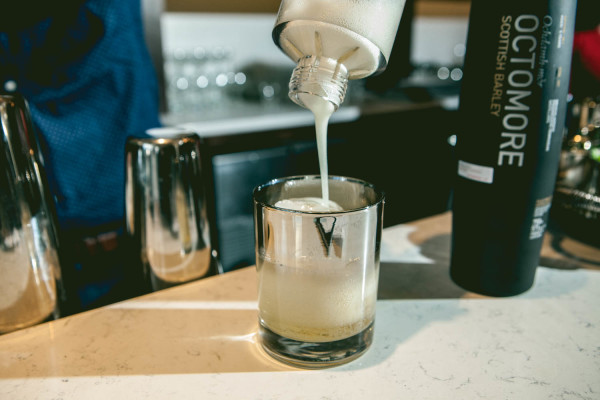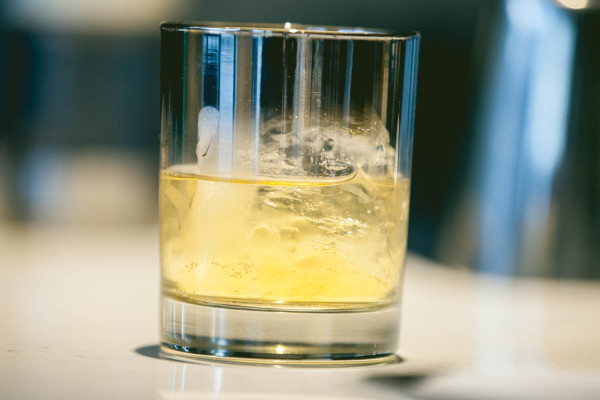 It's very smoky – wow – mmmm – it really brings out the flavors. It also makes it softer, and not as harsh.
I love the one ice-cube. We chisel the ice ourselves!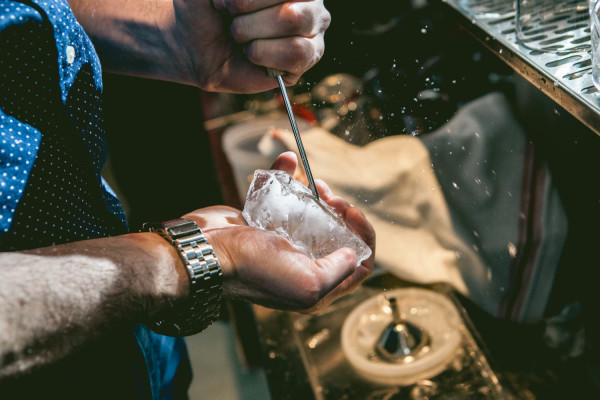 I am ready for the next one…. The next drink is called "Always", kind of like "homies help homies". My friend Casey who's a very successful mixologist came here for dinner and before he left, I asked him to come behind the bar to make some drinks and we ended up with "homies help homies" and "always".
So this drink "always" is kind of like a "Manhattan". Yes. This is the only stirred cocktail we have on the menu right now, but that may change of course, it wasn't a decision, it's just what we ended up with…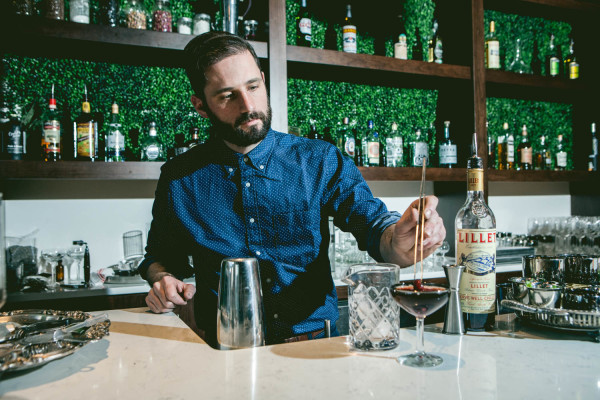 These glasses are from "Very" actually, a thrift store on Erie street.
Oh I love them! Yay! So Do you have a favorite Jersey City hang out spot? Third and Vine for sure…I love The Hamilton Inn too, they're awesome…
Any future plans for UR? We are about to change the menu in the next 48 hours!
Do I get a sneak peek? Let's just say we've been working with perogies… one of the cooks brought in his grandmothers recipe and we've been working on that, which is exciting to see that executed in our way.
You guys have a great thing going! Yeah we are like a family, it's great here.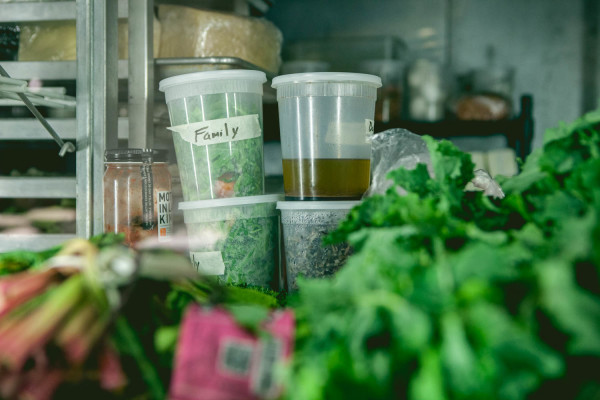 Anything you'd like people to know?Just stay tuned were always evolving and changing and were just excited to keep things interesting and new.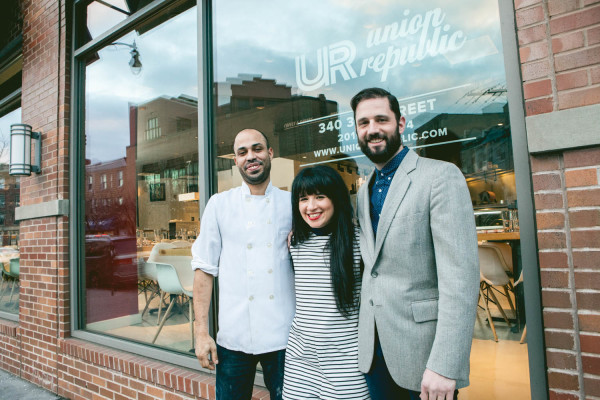 Thank you so much Noah and Greg!
---
On the record, Union Republic is one of my favorite restaurants in Jersey City, and now one of my favorite bars. I love you. I am drunk. I love you guys. Can I have a hug?
Location
Union Republic
340 3rd Street
Jersey City NJ
201-279-5094
[wc_googlemap title="Union Republic" location="340 3rd Street, Jersey City, New Jersey 07302″ zoom="16″ height="250″ title_on_load="yes" class=""]