Over the past weekend, I noticed a resurgence of this old interview I did and before checking the news, I had a sinking feeling that something terrible had happened. Someone sent me the news that Chef Garima Kothari was the victim of a murder-suicide. It's incredibly heartbreaking to see such a talented woman gone too soon. We learned today that Garima was 5 months pregnant when she died. Horrific.
With the current pandemic and lockdown measures, domestic violence victims are finding themselves at home with their abusers. The world has seen an increase in domestic violence cases similar to the spike in cases that happen over the holidays. Unfortunately, this current state of the world is highlighting just how present domestic violence is in our society.
We are re-publishing this interview to raise awareness of domestic violence and provide resources to local and national organizations. But mostly to remember Garima, not just as a news headline but an incredibly passionate and talented woman, who followed her dreams to become a chef, who albeit had success and happiness on the surface was suffering in silence, like many women in abusive relationships do.
WomenRising – a Jersey City-based organization that helps women and families through counseling, workforce development, shelter, and more.
Sarah's Daughters – a Jersey City organization that supports individuals who come out of abusive relationships.
The Hotline – the National Domestic Violence Hotline offers support and resources for victims and survivors.
ChildHelp – a hotline and resources for children in abusive homes.
---
Originally Published- November 30th, 2016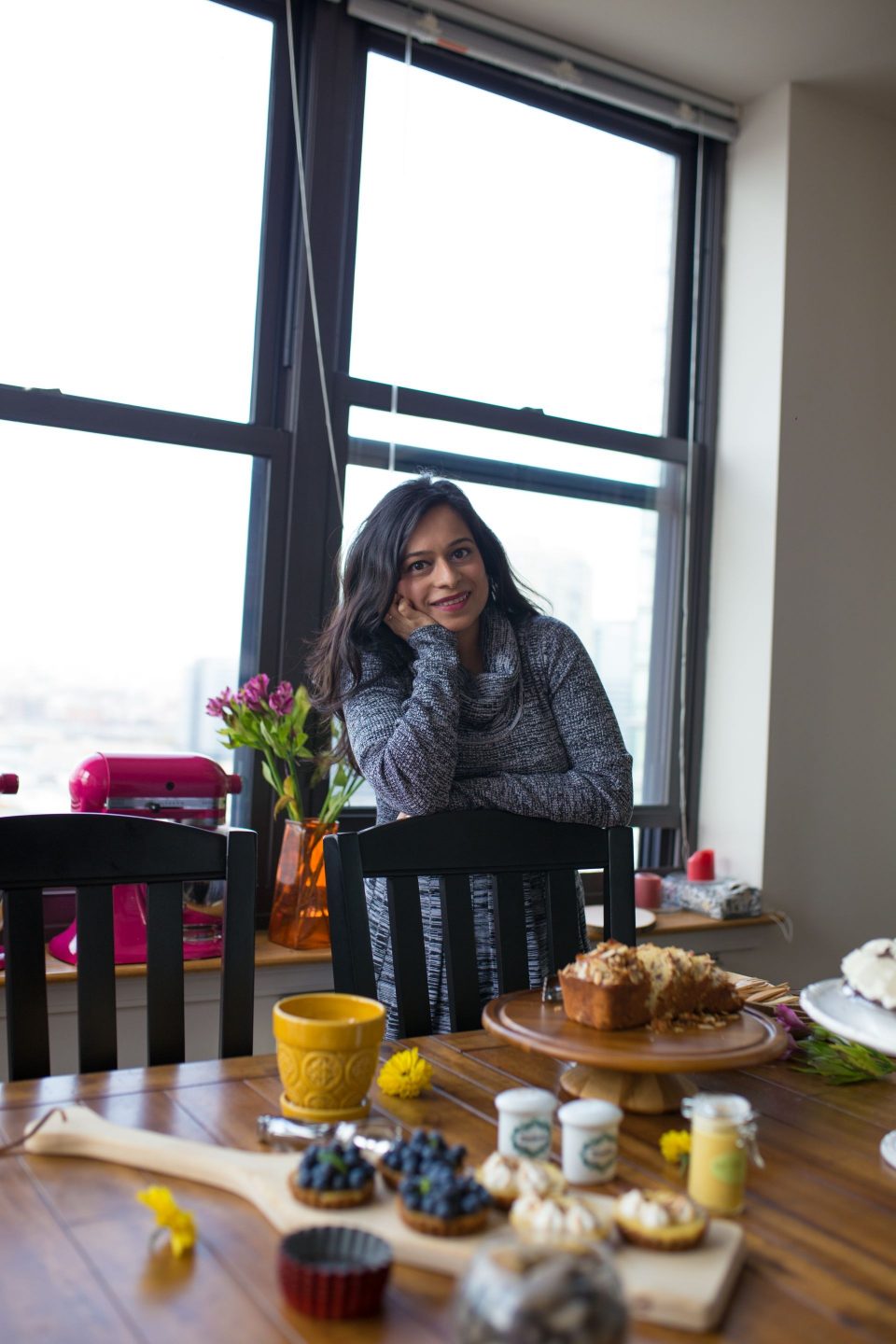 Anyone who knows me knows I have a massive sweet tooth! So imagine my excitement when I found out about Garima Kothari, a pastry chef in JC. Who is a woman boss and wears many different (chef) hats! I love learning more about amazing female entrepreneurs in our city. It's inspiring.
I had the opportunity to see her in action when she invited us to her home to try some of her creations. Naturally, I was in heaven! I loved all of her desserts, from the Candied Christmas Fruit Tea-Loaf to the Blackberry-Choco Cupcakes. Everything was so delicious, and she's also one of the sweetest people ever. She made the team and me feel incredibly welcome in her home as she offered tea and these delicious treats.
Garima is a rock star, and it's clear that she's extremely talented. She catered for the Jersey City International Film Festival recently, she received an education from Le Cordon Bleu in Paris, she's been a pastry chef at multiple fine dining restaurants across the globe, and she was in the Top 15 on MasterChef in India (which is beyond awesome)! Garima is also food stylist and a food photographer for commercial food products, as well as a certified Sommelier. She even conducts workshops where she teaches how to pair chocolate with wine/tea, 4 course desserts & wine pairing workshops, and more out of her home in Downtown JC. She's done date nights, bachelorette parties, baby showers, corporate events, surprise birthday parties, and holiday parties! Honestly, she can do it all.
If you've ever wanted to learn how to make delicious baked goods, this is the perfect time to check her out! I might just have to stop by one day and take a class to amp up my baking skills…
What's your name?
Garima Kothari.
How long have you been a pastry chef?
Six years now.
How did you get into it?
My mother was & is my inspiration & I always wanted to be as seamless in assimilating ingredients as she is. I got a chance to audition for MasterChef in India in 2010. I was selected in the Top 15 and that was a big motivation for me to go ahead and continue to pursue baking. After that, I went to Paris to study Pastry.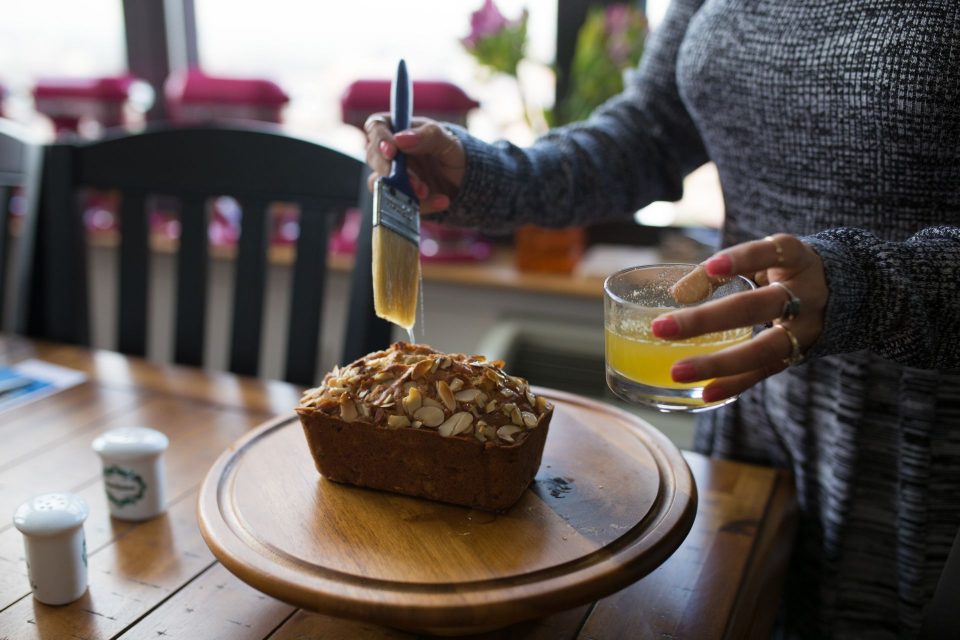 What were you doing before?
I was an investment banker.
Were you always into cooking and baking?
Yes! I was more into cuisine and not too much of a baker. It's a science, so you have to know how to put things together. And going to school helped me build my foundation and now I am experimenting all the time!
When did you move to Jersey City?
I moved here around October/November 2015 from Florida. I was in Florida for two and a half years. Before that, I was in Paris and I was in Mumbai, India before Paris.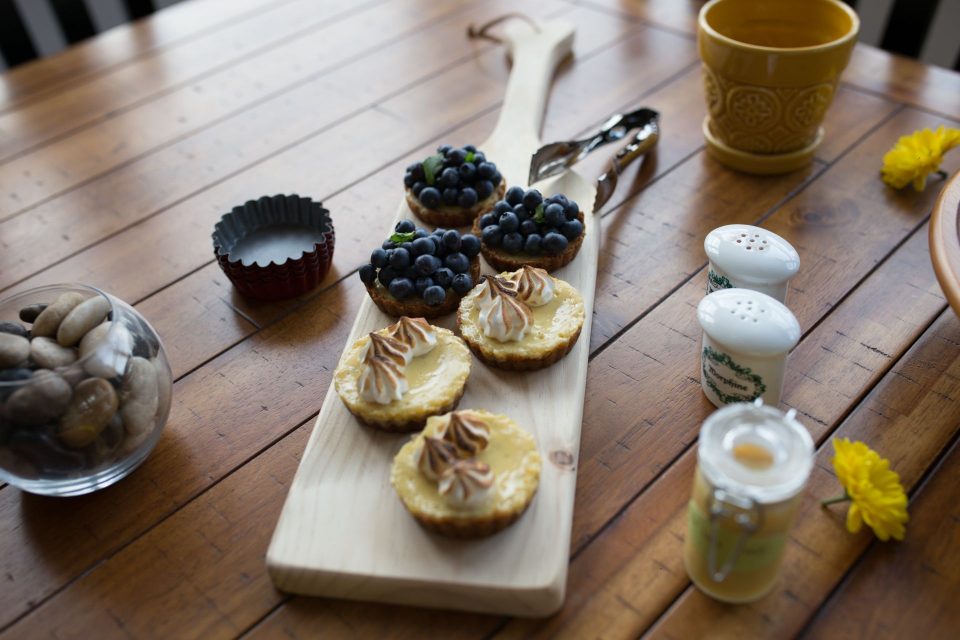 So how was your experience on MasterChef?
I used to be a nerd. I was always about academics before, and being in MasterChef gave me a view to my fun side, which I wasn't even sure that I had. The audition was from amongst 300,000 Indians. From there to come to the Top 15 gave me the exposure to a lot of things I didn't even know I had inside of me. It opened me up as a person and I've experimented with adventurous food & cooking techniques since then! For example, an Indian delicacy dosa – I've never made it in my life. In one of the rounds on MasterChef, it was a mystery round and we had to make a dosa. It's actually difficult & comes with practice!
What is it?
It's like a lentil crepe. You soak lentils and rice overnight, then you grind it to a coarse paste and put it on a hot griddle. It has to be really thin. For me, I thought, If I can do this, I can do so much more  It kind of made me more confident as a person and to look outside the box.Not only did it teach me to be not afraid of trying something new but also how to handle myself in new situations.
I hear a lot of that, people who go from something like finance to cooking, baking, or art.
The corporate world is too cold. You do your work, you make the money, and you go home. I'm not really feeding my creativity with that.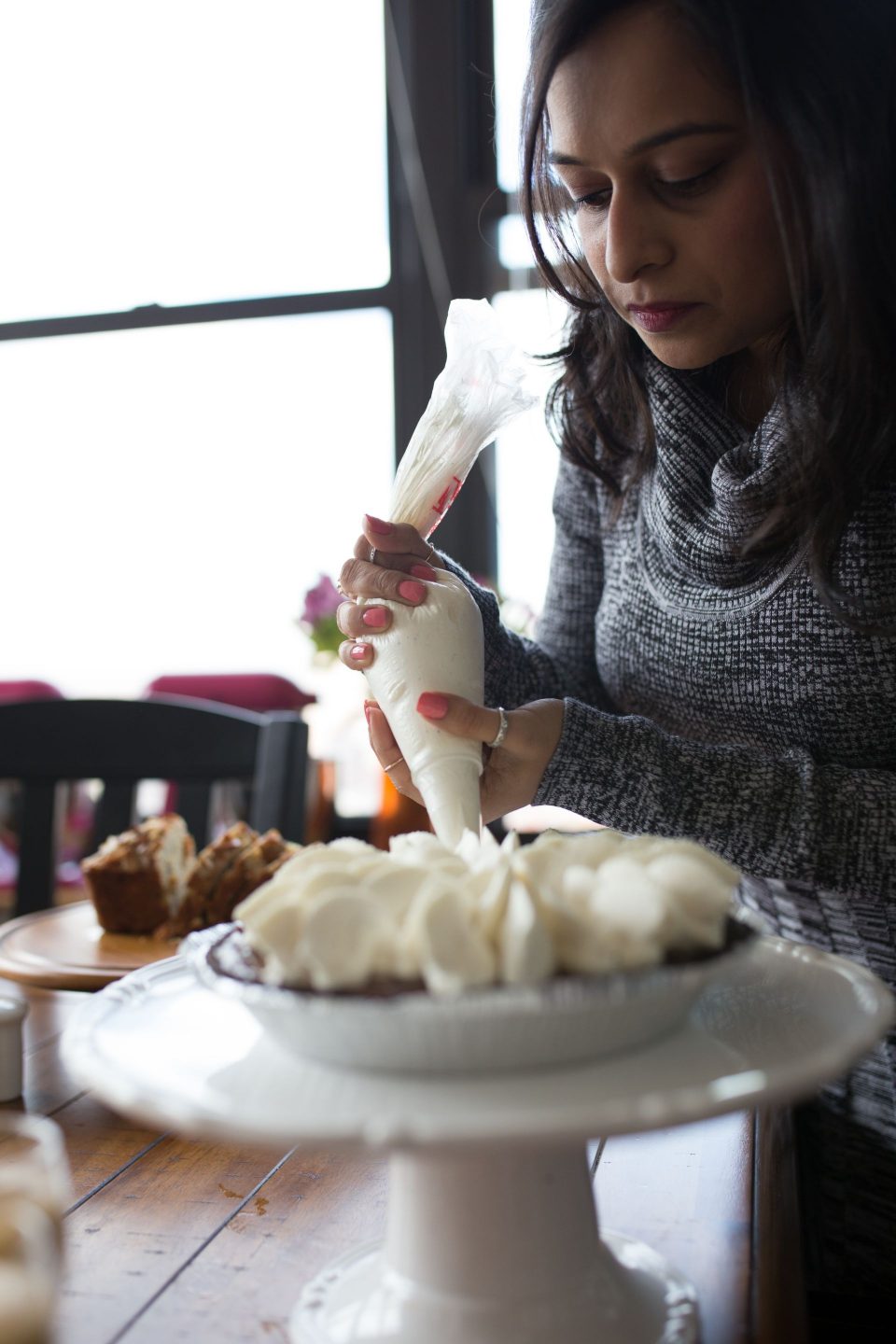 I get that! So are you just a pastry chef or do you also teach?
I'm a pastry chef and an events organiser at Aramark, NYU in west village, Manhattan. I have had celebrities like Cher, Sarah Jessica Parker, Melinda Gates, Zakir Hussain, Deepak Chopra, etc. in my events. I am a Chef-Instructor and conduct culinary workshops during evenings & weekends at my home studio & also at client sites such as high-tea classes or chocolate making workshops.
Oh, fancy! So now you started doing classes in Jersey City, right?
Yeah. About six months ago, I started conducting classes in Jersey City. I saw that there were no workshops for cooking or baking going on. Especially because it's the holiday season, I do get a lot of phone calls about classes or any kind of culinary training. I did get contacts with a lot of corporates who wanted to do something new, fresh, and really innovative for their employees, so I thought, Why not do this? It's a famous concept in Europe. They do a lot of baking workshops for their employees. It's something fun and employees get to bond together. It's almost like a team building exercise, and their learning something in the process that isn't forced. I wanted to bring this to Jersey City. I see a lot of people wanting to do it, but I want to give them a platform. Because I have six years of experience, I do teach a lot – I've taught all over Europe and India – and I think I can impart a lot of fun activities to these people and even to the general public or students who are aiming to get into the food industry. I also host private classes for date-nights, first dates, second dates, girl-friends hanging out, etc. Its almost like a 'Baking-Spa' kind of activity when I provide a good champagne or wine along with the classes. All my students go back refreshed with a smile on their faces.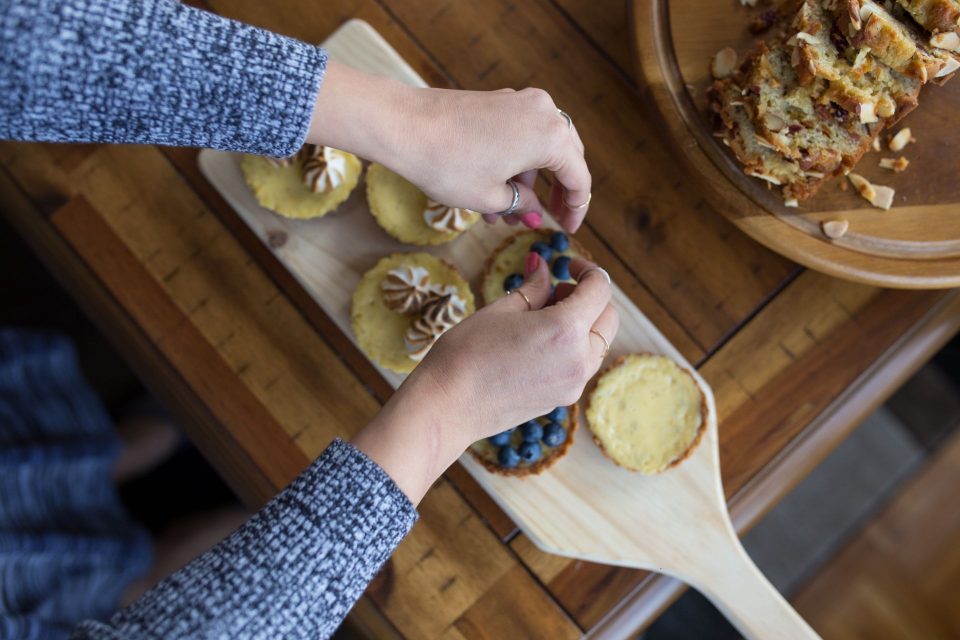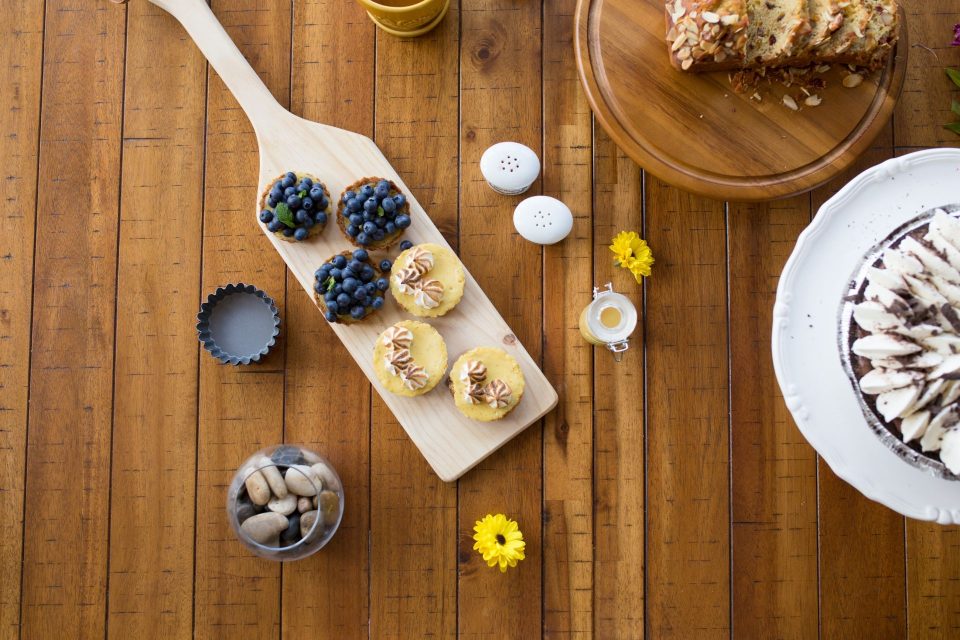 It's true, there are no cooking classes in Jersey City.
Yeah. In the city, it's mostly cupcakes and they make pizzas that's $250 per person. That's why I was thinking there's a lot of scope here, especially since I'm close to the PATH station.
Where do you usually hold your classes?
Right here. This dining room can accommodate from 6 to 15 people. I only have 8 people for the hands-on classes because I can assign two people to each mixer.
What do people learn in your class? What are the different subjects you go over?
My favorite thing to teach is baking, like cakes – how to decorate cakes, how to make basic cakes – cupcakes, tea loaves, pies, tarts. Because I'm a vegetarian, I teach a lot of that. I cook meat, but I don't like to teach anything meat-based. I do a lot of vegan-friendly and vegetarian-friendly cooking. I also teach how to make Indian food. If you have an event & theme in mind, have a sit-down or con-call with me. I am always up for customizing and would love to help add a personal touch to your event.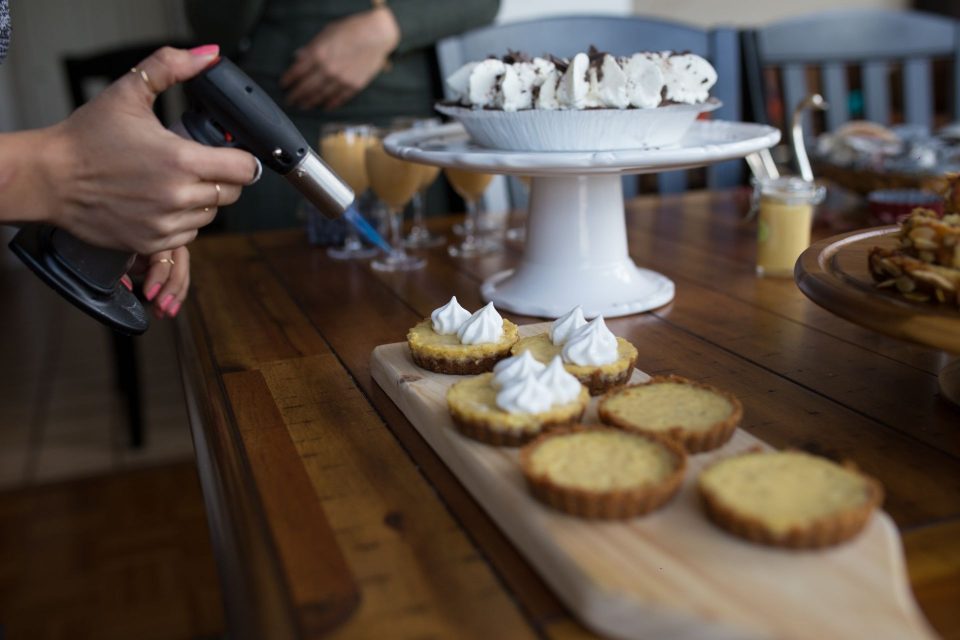 How do people sign up if they're interested in taking a class?
I have a website and I generally put my classes on the calendar on the site. Other than that, there's my phone number and people can always text me.
Do you ever do private classes?
I was once approached by a group of girls who wanted to do something for a friend's bachelorette party. They each made a tall, ombre pearls & champagne cake. I also did a private catering-culinary workshop for a baby-shower. I provided for all the snacks & desserts. There was a small desserts-in-a-jar workshop where I provided a demo & everyone made 3 jars each along with me. These classes are so much fun as I help add a personal touch during a small consultation session with the host. So yeah, I do a lot of private classes, too.
I love it! So do you have a favorite Jersey City hangout spot?
I do. Choc•O•Pain is my favorite! They have my favorite almond and chocolate croissant. I love their brioche, I love their breads.
Do you have a favorite restaurant in Jersey City?
Not really. I really like to eat my meals at home. I cook once a week and then I have someone come and cook for me. I do eat Indian food a lot! I like Mithaas in Journal Square a lot. I'm more of a bakery person.
Do you eat sweets all day?
Kind of, because it's my job and I have to keep tasting stuff. I can easily have a quart of ice cream.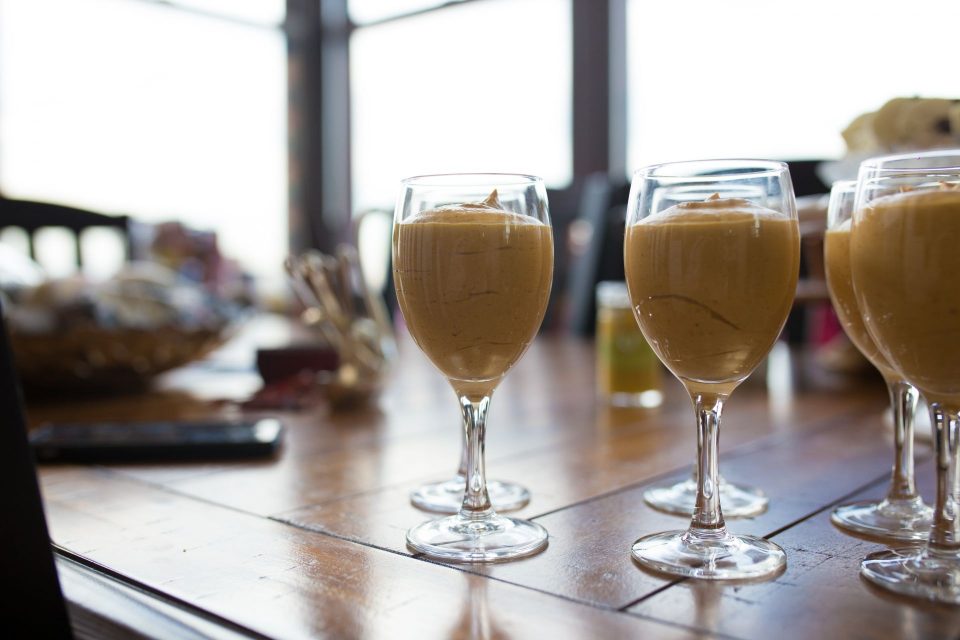 How do you stay in shape?
You think I'm in shape? Thank you! I work out. I try not to eat too much, but I do have to taste the sweets. There's no way out of it.
Do you have a sweet tooth?
Not really. I'm more of a savory person. After working in Paris and really good kitchens, I understood how to appreciate good baked products. I've really become a fan of a good croissant or a good baguette. Choc•O•Pain, for me, is the place that does French goods really well. It's almost comparable to a French bakery.
Yes! They're great. So now we're cutting this cake – what is it?
It's a Candied Christmas Fruit Tea Loaf. It has cranberries, raisins, dates, pistachios, almonds, cinnamon, nutmeg, black pepper, and lots of rum.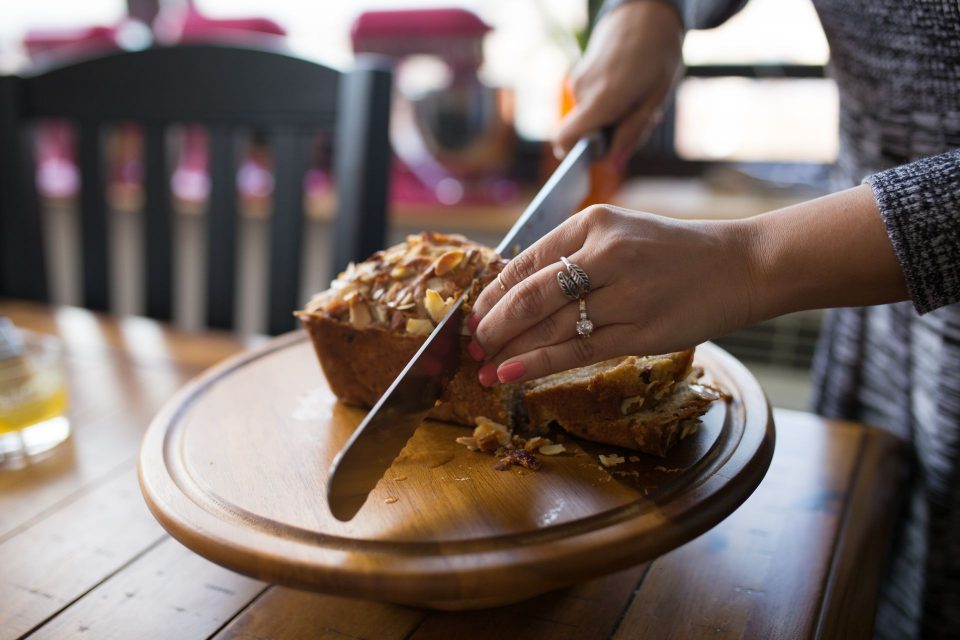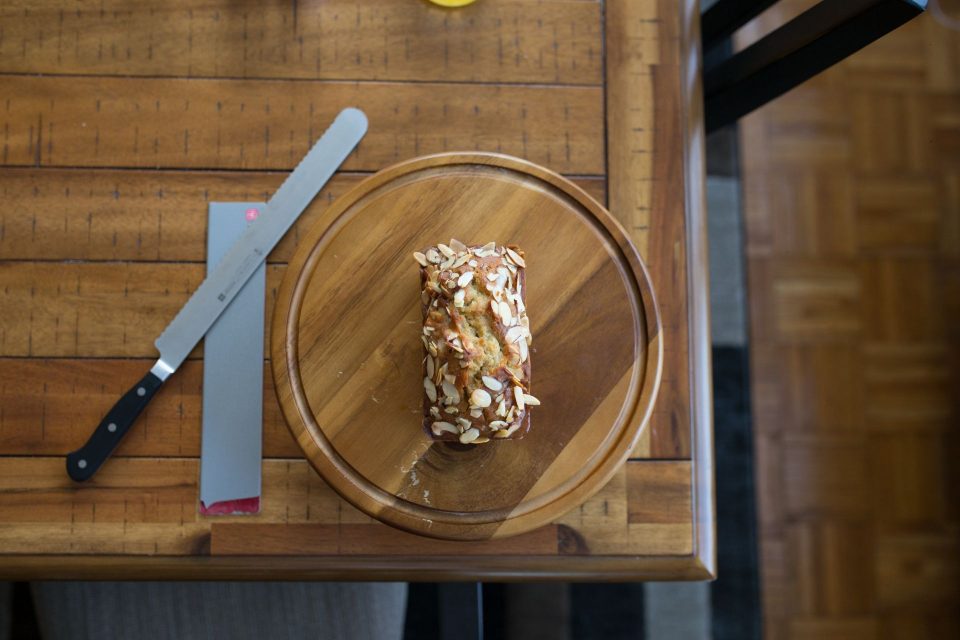 Delicious! Do you also sell your own baked goods locally?
I do! I do beautiful spreads for any events people might have like, a baby shower, bacholerrete,  The only thing is that I require advanced notice of at least three days because I have a day job. One of the things I made for you guys, the Mississippi Mud Pie, is one of my most famous baked goods because not a lot of people do it. I learned it from a lady in Florida. It's a very southern thing and a lot of people like it. It has various forms of chocolatey goodness in it starting from a crunchy oreo base, followed by a rich chocolate flour-less cake layer, topped with some chocolate pudding & finally some good 100% cacao shaved chocolate!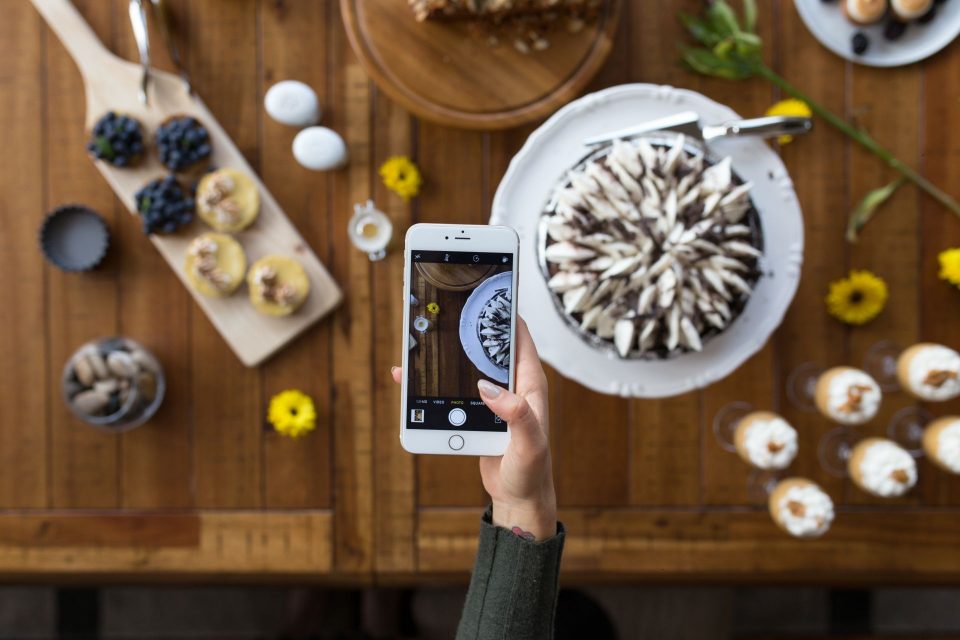 Do you make any Indian-inspired dishes?
I combine my French techniques with my Indian heritage. Now that I'm in a separate country altogether, the United States, I try to make things that are not too strange over here. I try to go Glocal, which is combining local flavors with global aura, to get all the knowledge together and make something. The candied loaf is very British, but has Indian spices in it because India was a British colony for 200 years, so it's kind of a mix of things. I do a Cardamom Crème Brûlée, which is French and Indian. I love making gluten-free cupcakes with swiss meringue frosting like this Chocolate-Blackberry mini Cupcakes with Swiss meringue Icing. It has all the good flavors & is sooo innovative for learning or for any catering event!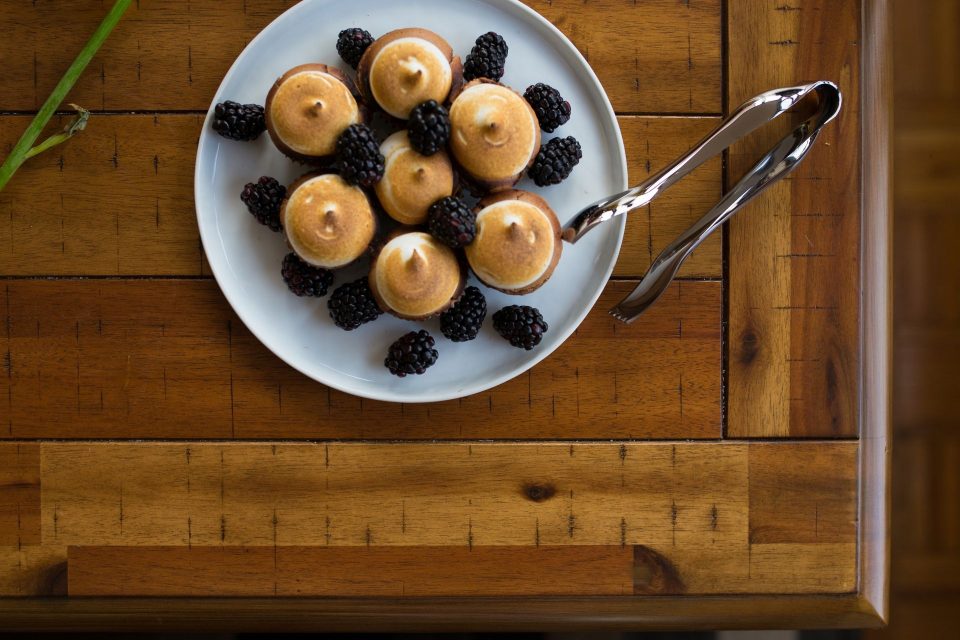 What's your favorite dessert?
Hmm, that's a difficult question! My favorite dessert changes with the season. In the spring, it's all berries. Right now, it's fall, so it's all apples and peanut butter, really warm flavors and lots of spices. And chocolate, of course.
Everything looks so good!
I'm glad you think so! Half of my sales are based on the visual appeal.
Definitely! If it looks good, I'd want it more.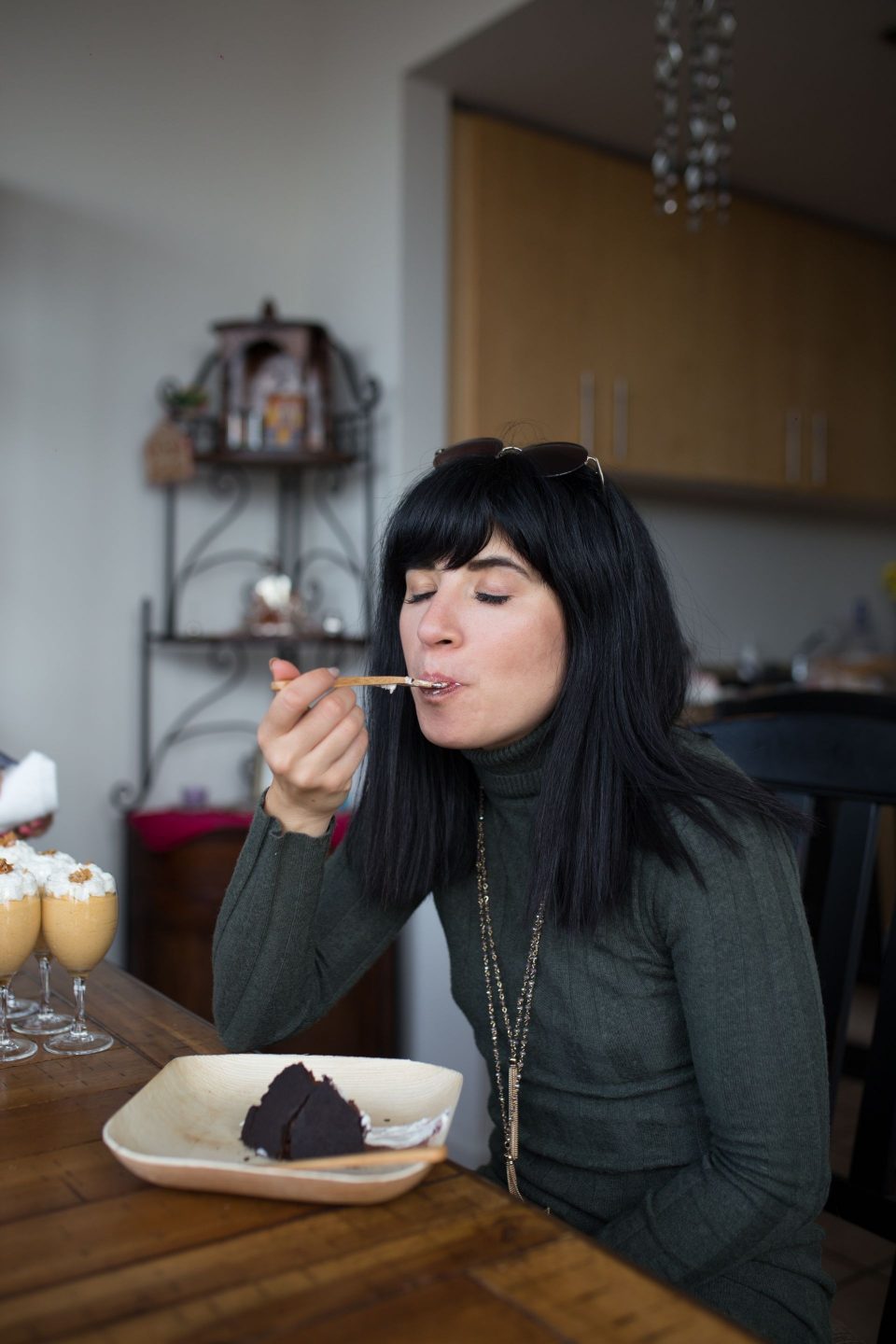 ---
You can find Garima on Instagram or on her site, thymeandsaffron.com. You can also reach her by phone (347-446-5677) or email (gari205@gmail.com).