Being an ally includes addressing the appropriation of Black culture by a society that continues to oppress Black people, and supporting Black culture as a whole – businesses, music, film, all of it. Whether you realize it or not, Black art is an influential part of our culture. Elevate and support their work.
Black directors and writers have been making great films for years, some of which you may have already seen. And if you haven't, start watching. Criterion Collection has taken down their paywall for Black films – many are now free to access. Other films are available on different streaming platforms or available to rent.
This is by no means a comprehensive list. These are just 10 of many; you can find more through a quick search online.
---
Daughters of the Dust (1991) – Dir. Julie Dash
Julie Dash's rapturous vision of black womanhood and vanishing ways of life in the turn-of-the-century South was the first film directed by an African American woman to receive a wide release. In 1902, a multigenerational family in the Gullah community on the Sea Islands off of South Carolina—former West African slaves who carried on many of their ancestors' Yoruba traditions—struggle to maintain their cultural heritage and folklore while contemplating a migration to the mainland, even further from their roots. Awash in gorgeously poetic, sun-dappled images at once dreamlike and precise, DAUGHTERS OF THE DUST forges a radical new visual language rooted in black femininity and the rituals of Gullah culture.
Available to stream on Criterion for free. 
Love & Basketball (2000) – Dir. Gina Prince-Bythewood
Originally released in 2000 but set in the '80s and '90s, Love & Basketball is full of nostalgia. Directed by Gina-Prince Bythewood (Everybody Hates Chris, Cloak & Dagger) the film follows characters Monica (Sanaa Lathan) and Quincy (Omar Epps) as they manoeuvre youth and adulthood, with basketball remaining one of the constants in their lives. They both share the same goal: they dream of playing in the NBA, but despite her outstanding skills, Monica's athleticism is not respected nearly as much as she deserves. As they tackle all the ups and downs that life has to offer, they use love and passion to pick themselves back up, and discover themselves and one another in the process.
Available to rent on YouTube, Amazon Prime, and Apple. 
Boyz n the Hood (1991) – Dir. John Singleton
BOYZ N THE HOOD is the critically acclaimed story of three friends growing up in a South Central Los Angeles neighborhood, and of street life where friendship, pain, danger and love combine to form reality. "The Hood" is a place where drive-by shootings and unemployment are rampant. But it is also a place where harmony coexists with adversity, especially for three young men growing up there: Doughboy (Ice Cube), an unambitious drug dealer; his brother Ricky (Morris Chestnut), a college-bound teenage father; and Ricky's best friend Tre (Cuba Gooding, Jr.), who aspires to a brighter future beyond "The Hood." In a world where a trip to the store can end in death, the friends have diverse reactions to their bleak surroundings. Tre's resolve is strengthened by a strong father (Larry Fishburne)who keeps him on the right track. But the lessons Tre learns are put to the ultimate test when tragedy strikes close to home, and violence seems like the only recourse.
Available to stream on Hulu. 
Juice (1992) – Dir. Ernest Dickerson
Surrounded by trials and temptations in Harlem, four friends whose days are dedicated to troublemaking decide to commit a robbery — but it goes awry.
Available to stream on Netflix. 
Soul Food (1997) – Dir. George Tillman Jr.
When Ahmad Simmons' diabetic grandmother, Josephine "Big Mama" Joseph, falls into a coma during an operation to amputate her leg, it throws the Joseph family into chaos. Ahmad watches as his mother, Maxine , and aunts Teri and Tracy struggle to adjust to the family matriarch's sudden absence, fall into old rivalries, share memories, and work to maintain the long-standing tradition of Sunday family dinners.
Available to stream on Hulu.
Crooklyn (1994) – Dir. Spike Lee
From Spike Lee comes this vibrant semi-autobiographical portrait of a school-teacher, her stubborn jazz-musician husband and their five kids living in '70s Brooklyn.
Available to rent on YouTube, Apple, and Amazon Prime. 
Love Jones (1997) – Theodore Witcher
Two urban African-Americans, Darius (Larenz Tate), an aspiring writer, and Nina (Nia Long), an aspiring photographer, share an instant connection after a chance meeting at a Chicago club. The two bond over music, photography and poetry, and eventually begin a torrid romance. However, when Nina decides to move to New York and mend her relationship with her ex-fiancé, Marvin (Khalil Kain), it leaves Darius heartbroken, and the couple's future in jeopardy.
Available to rent on YouTube and Amazon Prime. 
Set It Off (1996) – Dir. F Gary Gary
Four Black women, all of whom have suffered for lack of money and at the hands of the majority, undertake to rob banks. While initially successful, a policeman who was involved in shooting one of the women's brothers is on their trail. As the women add to the loot, their tastes and interests begin to change and their suspicions of each other increase on the way to a climactic robbery.
Available to rent on YouTube, Apple, and Amazon Prime. 
Poetic Justice (1993) – Dir. John Singleton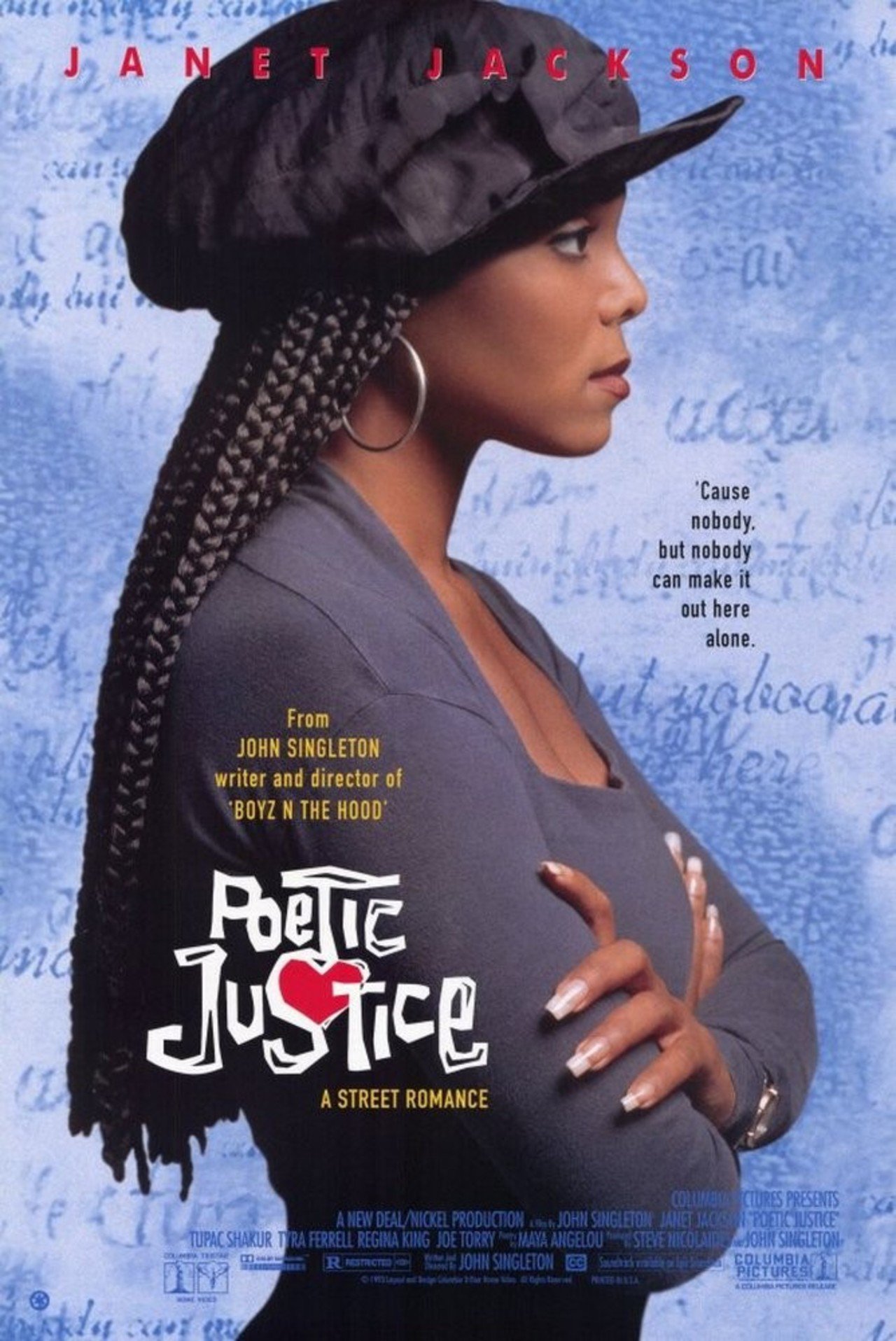 Still grieving after the murder of her boyfriend, hairdresser Justice writes poetry to deal with the pain of her loss. Unable to get to Oakland to attend a convention because of her broken-down car, Justice gets a lift with her friend, Iesha and Iesha's postal worker boyfriend, Chicago. Along for the ride is Chicago's co-worker, Lucky, to whom Justice grows close after some initial problems. But is she ready to open her heart again?
Available to rent on YouTube and Amazon Prime. 
Down in the Delta (1998) – Dir. Maya Angelou
The only film directed by the iconic writer, poet, and activist Maya Angelou is a warm, richly evocative celebration of black southern family and resilience. Alfre Woodard delivers a brilliant performance as a floundering, drug-addicted mother living in Chicago whose own mother sends her to stay with an uncle (Al Freeman Jr.) in the Mississippi Delta, where she gradually reconnects with her heritage and discovers strength in her roots. With her writer's eye for detail and keen sense of character and place, Angelou crafts a bittersweet, deeply moving family portrait that ranks as one of the unsung gems of 1990s independent filmmaking. The marvelous supporting cast includes Esther Rolle (in her final film appearance), Loretta Devine, and Wesley Snipes, who also produced.
Available to stream on Criterion for free.