Happy Pride Month! Celebrate Pride virtually this year with a lineup of events by Hudson Pride, NYC Pride, and other great Pride organizations in the area.
Be sure to follow Hudson Pride and NYC Pride for any updates regarding local events.
---
Criminal Queerness Festival
June 9 – 29
National Queer Theater and Dixon Place are bringing together queer playwrights to shine a light on important stories within the global queer community. Their full schedule includes performances, panel discussions, and roundtables.
Link: https://www.nycpride.org/events/criminal-queerness-festival-2020
Pride Happy Hour
June 11 @ 5 PM to 6 PM
Hudson Pride and In Full Color are hosting a Pride Happy Hour with a cocktail demo and artist talk including showcased pieces.
Link: https://www.instagram.com/p/CA0tgFTDPFB/
Virtual Story Slam
June 11 @ 7 PM
https://www.instagram.com/p/CBOEwrNjOCT/
This week's Story Slam by Art House and No Dominion Theatre is focusing on coming out stories. Listen to LGBTQ+ stories and show support.
Link: https://www.arthouseproductions.org/collections/art-house-online/products/storyslam611
Queer Movie Nights on Thursdays
June 11 @ 8 PM
On Thursdays at 8 PM, Hudson Pride and the JC Free Public Library are hosting their Queer Movie Night. Movies can be accessed on Hoopla with a library card. Be sure to watch the weekly movie before the live discussion at 8PM.
Link: https://www.facebook.com/groups/908544449596953/
Virtual Drag Bingo
June 13 @ 1 PM to 2 PM
Join The Vanguard and Harmonic Sunbeam for Virtual Drag Bingo! A $15 ticket includes 4 games and a portion of proceeds will be donated to Hudson Pride Center.
Link: https://app.upserve.com/s/the-vanguard-harrison
Boston Pride Virtual Festival
June 13 @ 12 PM to 6 PM
Boston Pride has postponed many of its virtual events to shift attention to supporting Black and Brown communities. Their virtual Pride Festival will now include an interactive experience with community organizations and local businesses.
Link: https://www.bostonpride.org/virtual-festival/
Pride Yoga
June 16 + 22 @ 6 PM
Pamela Weatherspoon is hosting a Pride Yoga class on June 16 and on June 22. You can join via Zoom for a relaxing session!
Link: https://www.instagram.com/p/CA-lZl-jpRj/
Black Queer Town Hall
June 19 – 21
NYC Pride and GLAAD are bringing a 3-day virtual event to raise money for Black, queer organizations and LGBTQ+ performers. You can view the Black Queer Town Hall on YouTube and Facebook.
Link: https://www.nycpride.org/events/pride-2020-dragfest
Virtual Book Reading
June 25 @ 11 AM
JC Free Public Library, Hudson Pride, and WORD Bookstore are hosting a book reading with Nadine Haruni followed by a Q&A.
Link: https://www.instagram.com/p/CBEWn7nDpE_/
Human Rights Conference
June 25 @ 9:30 AM to 6PM
The Human Rights Conference gathers activists, educators, artists, policymakers, and others engaged in LGBTQ+ human rights.
Link: https://www.nycpride.org/events/human-rights-conference
Verzuz Battle Style Turn Up
June 26 @ 1 PM – 2 PM
Enjoy a virtual dance and trivia party with Research with a Heart and Hudson Pride! Winners of the trivia party can win a virtual gift card.
Link: https://www.eventbrite.com/e/turn-up-a-virtual-dance-trivia-party-with-research-with-a-heart-tickets-107096516564
The Rally
June 26 @ 5 PM to 8 PM
NYC Pride is hosting a virtual rally with activists, politicians, organizers and more, hosted by Ashlee Marie Preston and Brian Michael Smith.
Link: https://www.nycpride.org/events/The%20Rally
Global Pride
June 27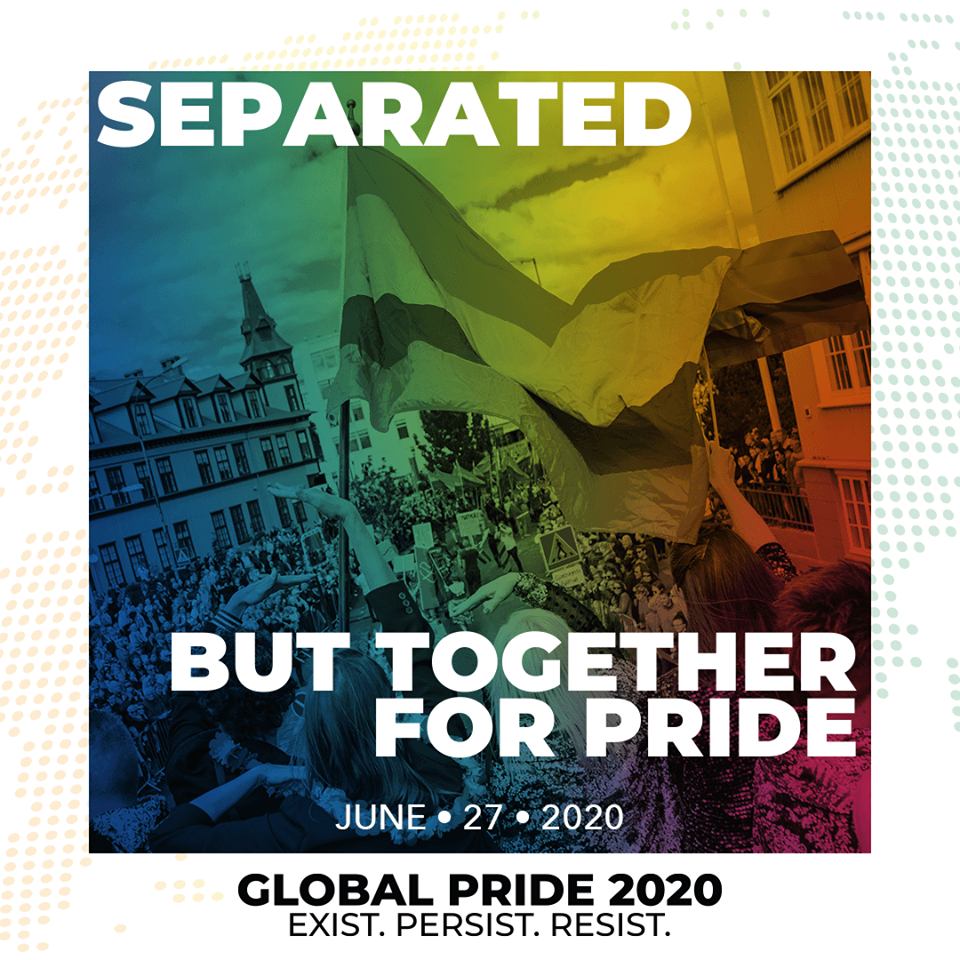 Global Pride is organized by Prides from around the world and will feature everything from speeches to film for 24 hours. It'll be streamed live on their website and on YouTube.
Link: https://www.globalpride2020.org/
Online Celebration and Rally
June 27 @ 1 PM to 9PM; June 28 @ 2 PM to 7 PM
San Francisco Pride will be hosting their online celebration and rally on June 27 and June 28 with live and pre-recorded performances, speeches from thought leaders, performances, and plenty more.
Link: http://www.sfpride.org/celebration/
NYC Pride Special Broadcast Event
June 28 @ 12 PM to 2 PM
This year, the Pride March honoring the 50th anniversary of the first Pride march will be available to broadcast on ABC. The broadcast will feature performances by Billy Porter, Deborah Cox, Janelle Monae, and many more along with special appearances.