'Tis, the season of gift-giving and spreading holiday cheer, and if you're trying to do both, we suggest you visit a holiday market! I have put together a diverse list of the upcoming holiday markets in New Jersey and New York City to make your holiday planning a little easier and exciting. Holiday markets and pop-up shops offer an opportunity to support creative artisans and small businesses. In addition, you'll have a fun day soaking in holiday festivity and shopping for your loved ones. After all, who doesn't love holiday markets?!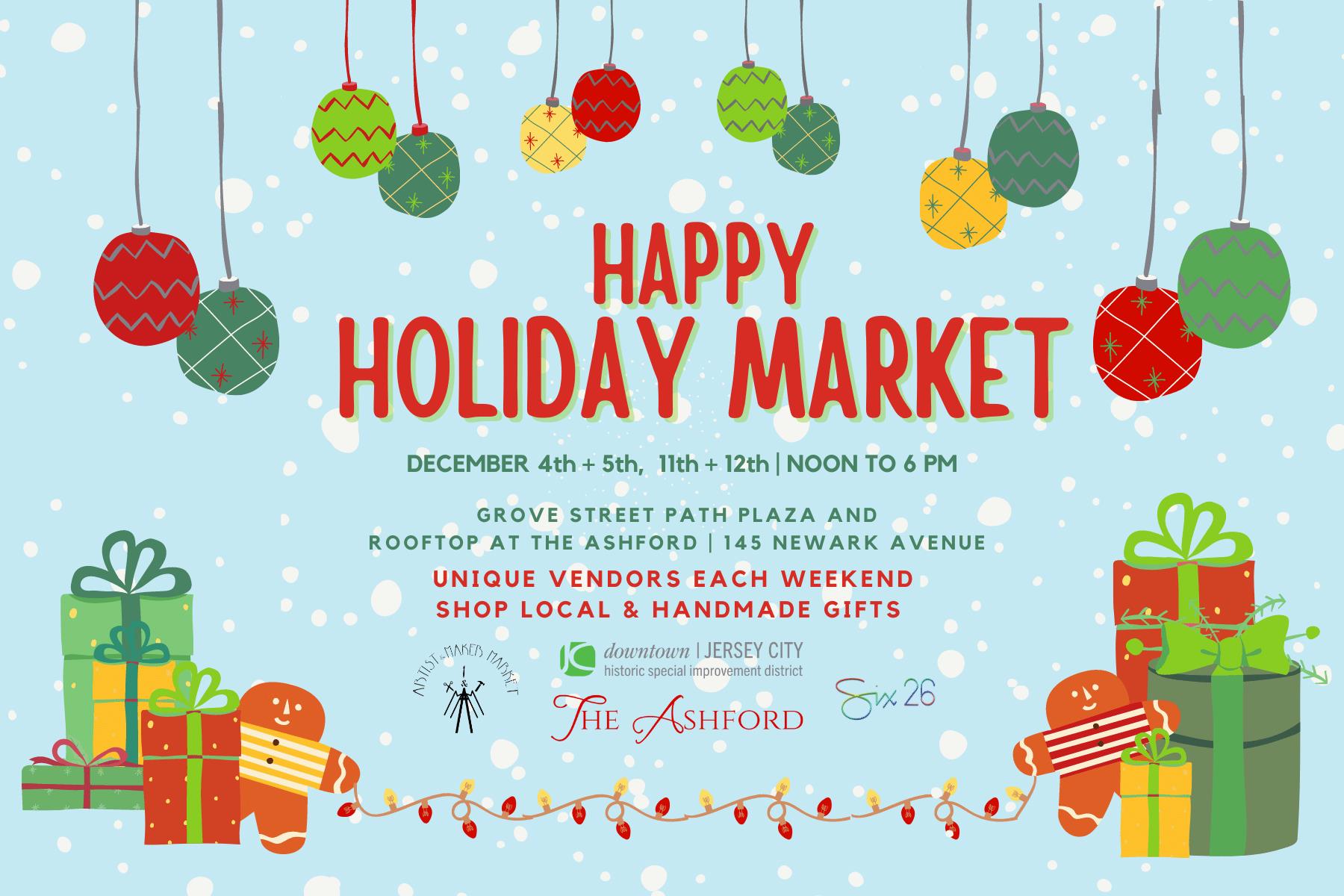 The Happy Holiday Market is back! There will be over 200 talented local artists and vendors. Stop by on 12/4-12/5 and 12/11-12/12 from noon-6PM at the Grove Path Plaza and Ashford rooftop, where you'll have the opportunity to pick up local and handmade gifts for your loved ones. While shopping for unique and creative gifts, there will be tasty food and holiday treats to indulge in along the way.
Holiday Artisan Pop Up – PRIME Gallery 351 Palisade Ave., Jersey City
PRIME Gallery and Main Street Pops are presenting a Holiday Artisan Pop Up in Jersey City Heights. Stop by Wednesday, December 8th, between 5–8 PM to support local female artists and embrace the incredible Jersey City art scene. Ten female artisans will present their work alongside the amazing artists. You can register for the event here if interested!
On Friday, December 17th, from 6-9 PM, enjoy a night and support local businesses, share the holiday spirit, network, and have a great time at the JC Women's Collaborative Holiday Bazaar. There will be free wine and cheese! Enjoy good music and shop small by supporting local femme makers.
The Main Street Pop's Holiday Gift Market will take place on December 5th, 12th, & 19th from 11-4 PM, under the 14th Street Viaduct in Hoboken. You can shop from items such as art, jewelry, fashion, home and lifestyle accessories, pet stuff, and more! The creative space will have your mind exploding with so many gift ideas. To check out the vendors that will be participating, click here.
Miracle on Mercer is back again at the Franklin Social. From the Christmapolitan to the Snowball Old Fashioned, there is a diverse list of fun festive cocktails to try. After a productive day of holiday shopping, you will want to go to this cocktail pop-up! You can check out the entire Christmas drink menu here. This fun cocktail Christmas pop-up will go on until December 31st! The hours are Mondays through Thursdays: 4-12 AM, Saturdays noon until 1 AM and Sundays noon until midnight.
From Friday, December 3rd, 6-9 PM, support local creatives at Smush Gallery. Experience a creative, community art space while shopping for a unique gift for your loved ones!
Don't miss out on Pro Arts JC Holiday Bazaar this weekend. From Friday, December 3rd to Sunday, December 5th, the Holiday Bazaar at Art150 will feature local crafters, artisans, artists selling goodies just in time for the Holiday season. For more information, click here.
On Saturday, December 4th & Sunday, December 5th, from 1-7PM join Jersey's local creatives showcasing their handmade crafts and artisanal items this holiday season. The Urban Popup Holiday Market is in part sponsored by Family First Life. Enjoy hot drinks and baked treats at this indoor shopping space that features a photo booth and raffle prizes! For more information, click here.
Holiday Markets outside of Hudson County
Taking place every Sunday, November 28th – December 19th, from 12–5 PM⁠, enjoy strolling through the aisles at the Asbury Hotel. You will find the best local and regional vendors, small shops selling jewelry, home goods, gifts and more. There will also be holiday entertainment, including holiday photo stations and seasonally inspired food and drink options! If you have children going along on the ride, they can participate in a festive holiday craft workshop. There is something to do for everyone at this Holiday Bazaar!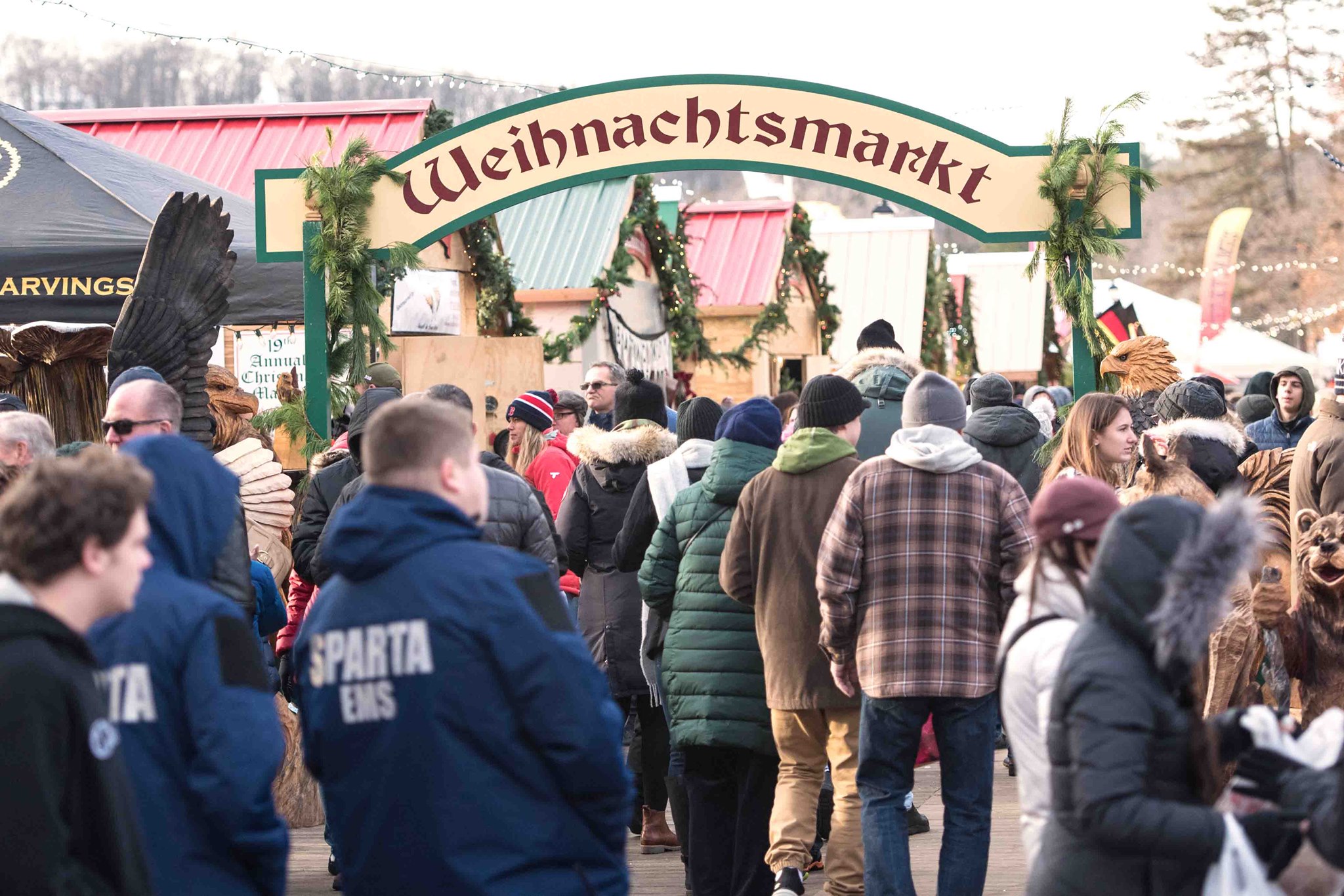 From Friday, December 3rd to Sunday, December 5th, explore the German Christmas Market at the Sussex County Fairgrounds. You will have a joyous holiday experience while getting ahead of your holiday shopping. Vendors will be selling traditional Authentic German products, including handmade wooden products, ornaments, advent calendars. For more information and to see the list of vendors and artisans joining, please click here.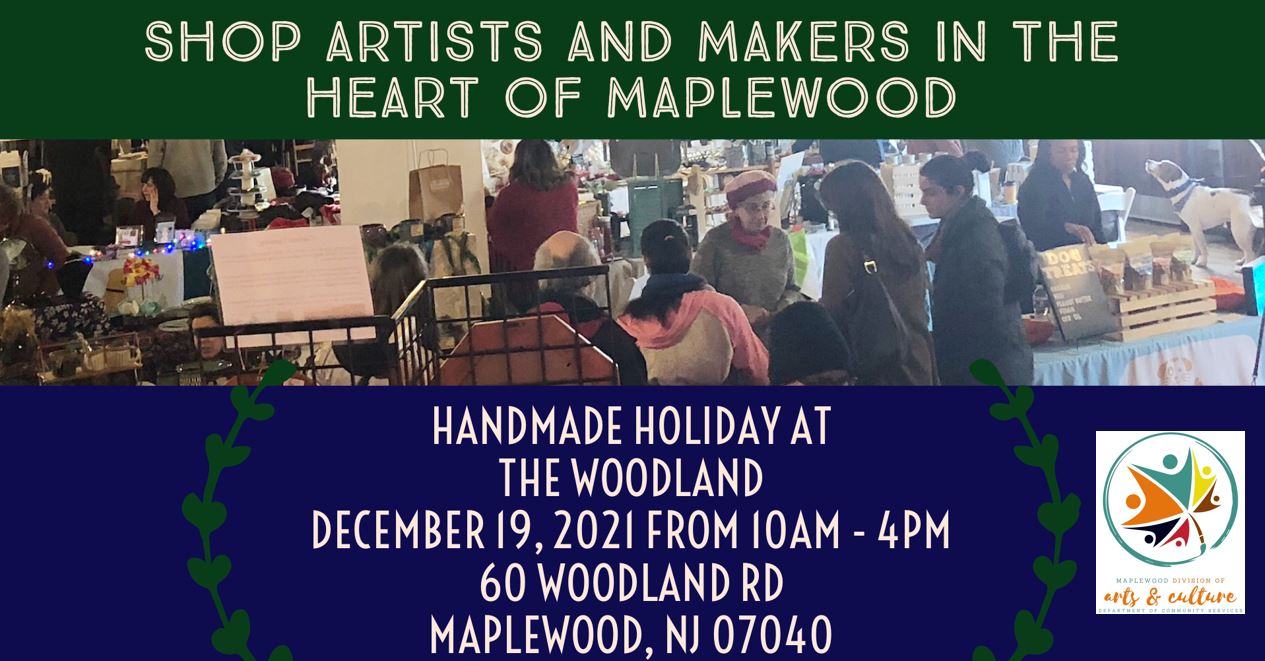 On Sunday, December 19th, from 10-4 PM, there will be a holiday market featuring diverse works of artists at the Woodland. The Woodland has been a hub for Maplewood's vibrant cultural and civic life since 1930. The town of Maplewood is also charming to explore afterward if you're looking for a day trip idea!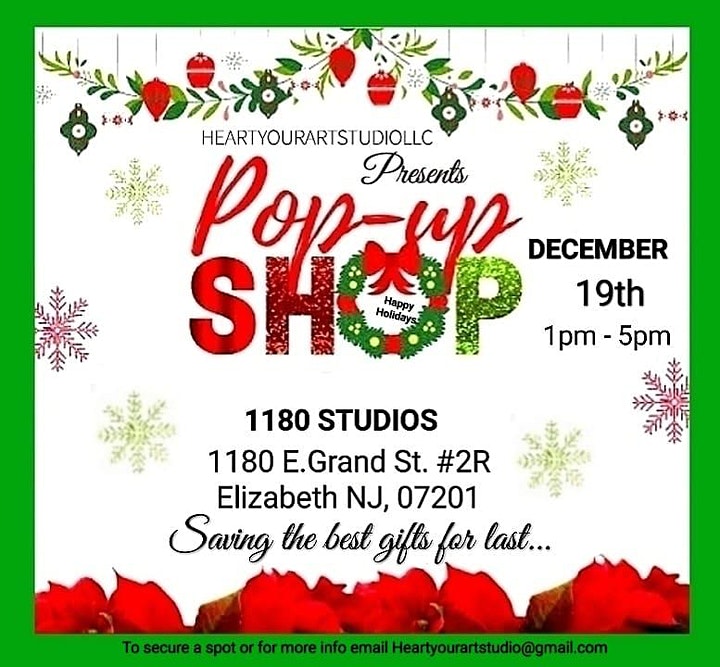 On Sunday, December 19th, from 1-5 PM, there will be live music and unique gifts, artwork, raffles, and fun for the family at the Heart Your Art Studio Holiday Pop-up shop. For more information, please click here. Masks will be required, and there will be proper social distancing measures put into place.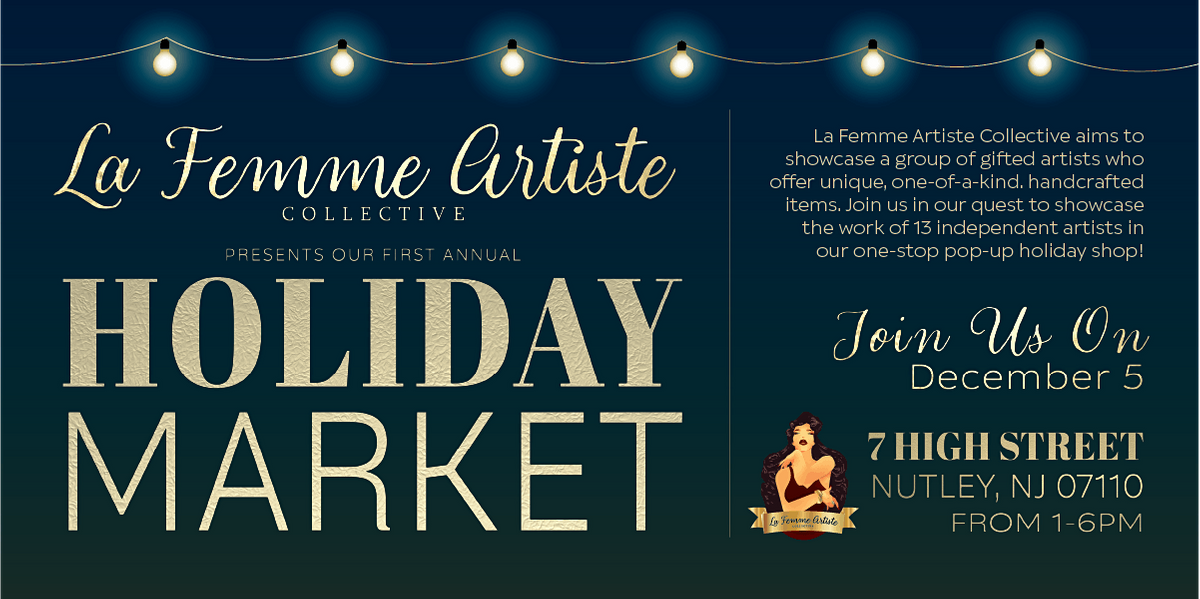 On Sunday, December 5th, from 1-6 PM, experience Le Femme Artiste's first annual holiday market. There will be 13 featured artists offering unique gifts to purchase for all your loved ones. In addition, there will be drinks and food available to buy and an opportunity to take a photo with Santa.
New York City Holiday Markets
Hop on the path and head over to Bryant Park's winter village to experience a European-inspired open-air holiday market. With over 150 small businesses, tons of food options, and ice skating, you'll have an entire day filled with fun. The Winter Village is open every day, 11–8 PM until Sunday, January 2nd, 2022.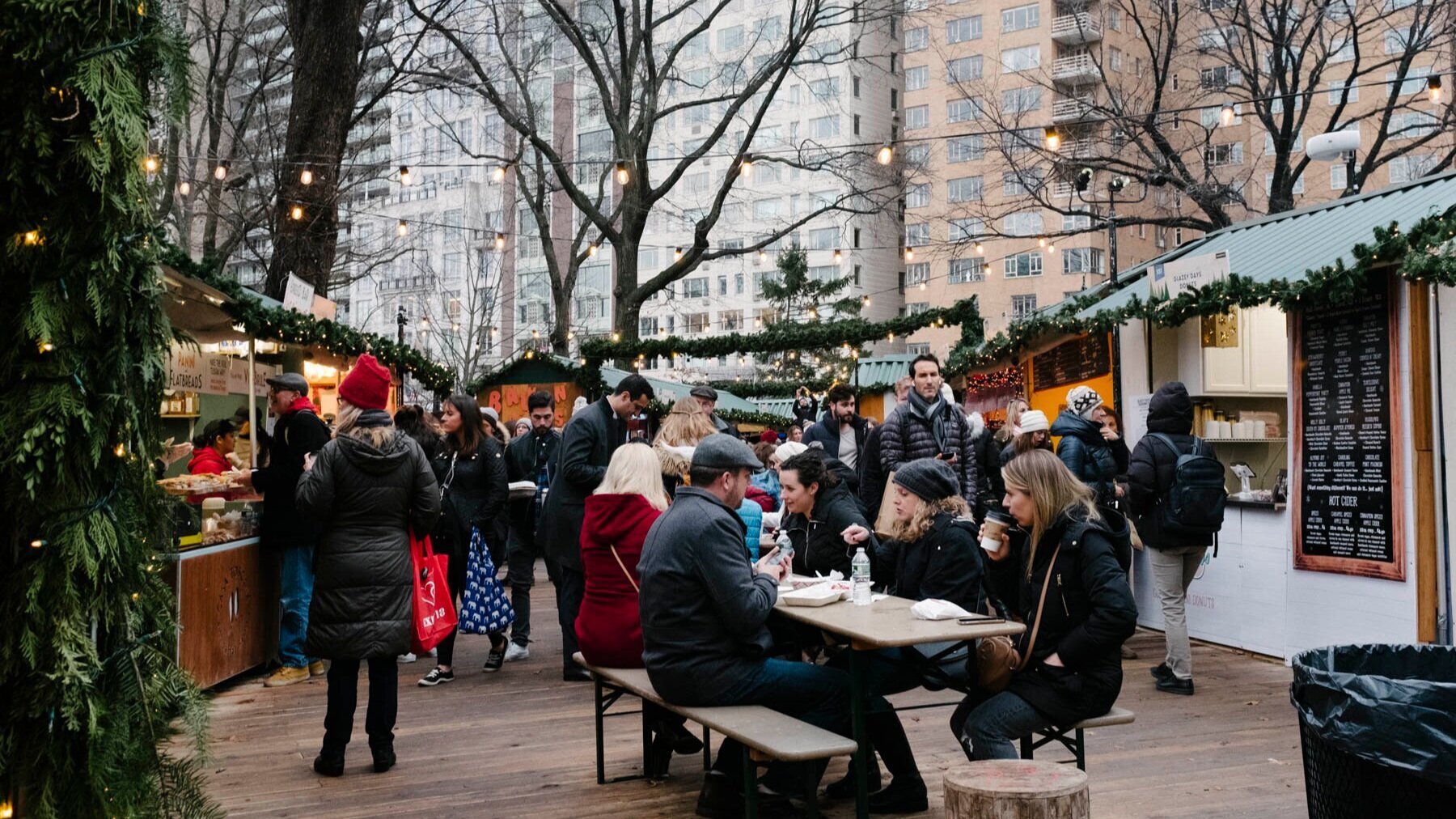 From Monday – Saturday, 11–8 PM until December 24th, experience the Columbus Circle, Holiday Market. It is internationally known as one of the most elegant and beautiful places for holiday shopping. Located at the entrance to Central Park, at 59th street and Central Park West, you can enjoy vendors selling art, home goods, jewelry, and delicious food! For more information, click here.
You can visit the Brooklyn Flea Dumbo Holiday Market every Sunday through December 19th from 10-4 PM. Enjoy shopping, eating, and the wonderful Christmas decorations in the neighborhoods. If you're looking for holiday gifts, you'll have the options of vintage clothing, locally-made fashions, jewelry, stationery, and much more!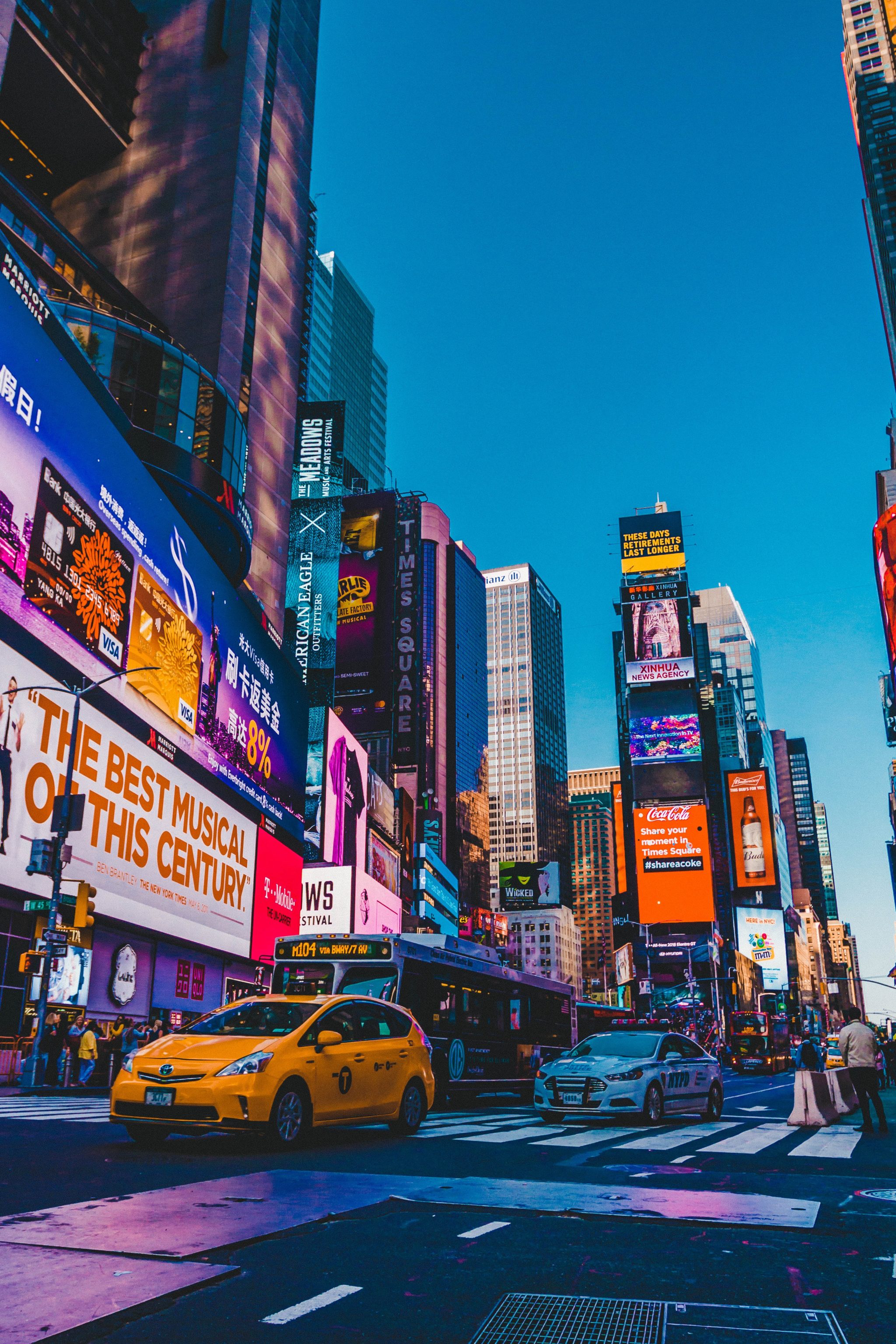 Celebrate the holidays at the heart of New York City by visiting the Times Square holiday market. From December 23rd from 9–11 PM between 47th and 48th street, you can experience various food, clothing, and artisan vendors. For more information, click here.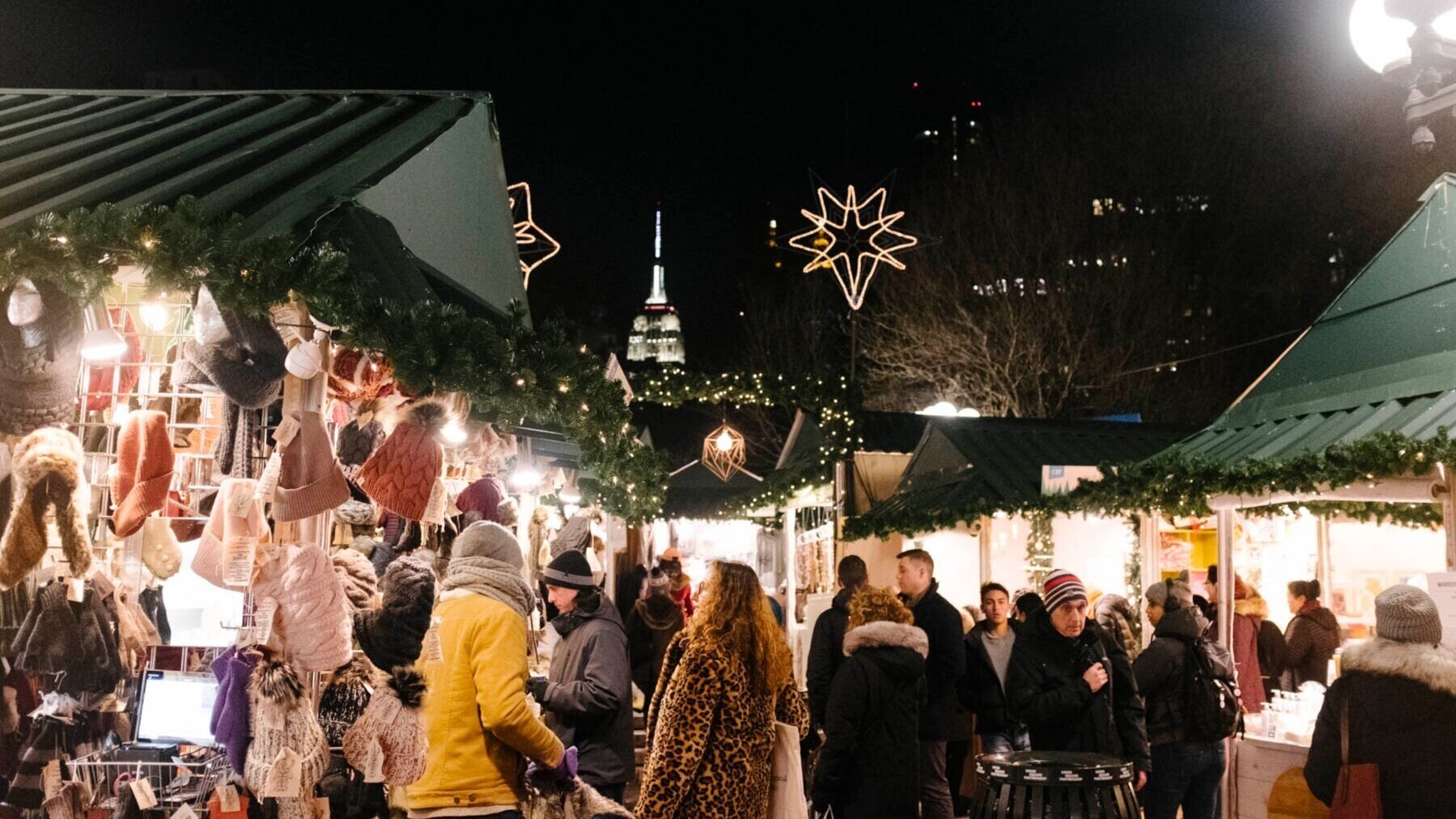 From Monday – Saturday, 11–8 PM until December 24th in Union Square Park, experience over 160 vendors for unique gifts created by local artisans and small businesses. Enjoy the holiday festivities strolling through the beautiful Union Square Park. For more information, click here.