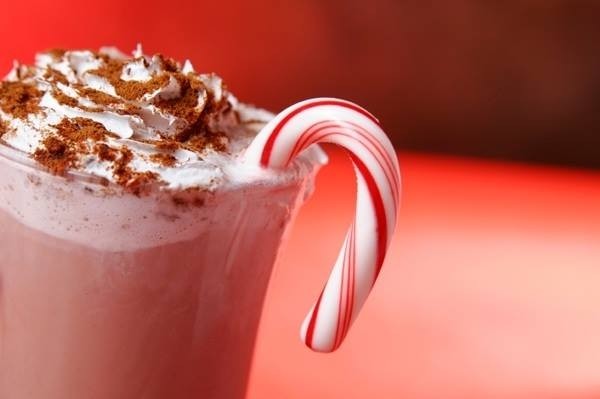 Jingle bells, jingle bells, jumpstart your holiday! Holiday events are seriously some of the best ones; it's also the time when you get the most delicious dishes in the palm of your hand. This weekend will have events ranging from sipping hot cocoa to watching a twist on Tchaikovsky's Classic Holiday Ballet—the Nutcracker—to a beloved ugly sweater party and many more!
Can't find any holiday events you're interested in? Our Event Calendar has nearly 50 events this weekend so if you're looking for something more festive, check there!
Thursday
1. Cocoa and Tarot Girls Night Out Holiday Party
December 17th @ 6:00PM – 9:00PM
Modern Sage, 351 2nd St., Jersey City
$25
Join Modern Sage for a festive night of tarot readings, massage therapy, and organic hot cocoa: ladies only! Bring a friend and make new ones as the holidays are celebrated together in this fun and spirit-refreshing way.
2. Christmas Caroling for the Seniors
December 17th @ 6:45 PM – 8:00 PM
Hamilton Park Health Care Center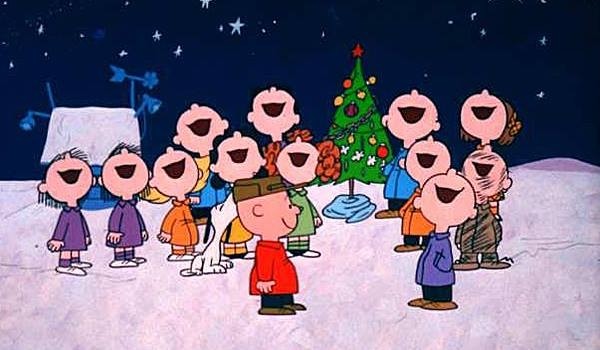 Grab your Santa hat, Rudolph antlers, jingle bells, friends, and family, and join The Hamilton Park Health Care Center for some Christmas Caroling! They will be singing all of your favorite Christmas Carols, and bringing a little joy to the seniors at the Hamilton Park long-term care facility.
Friday
3. Jingle Mingle & Give!
December 18th @ 7:00 PM – 10:00 PM
Crossroad Community Church, 50 Dey St., Jersey City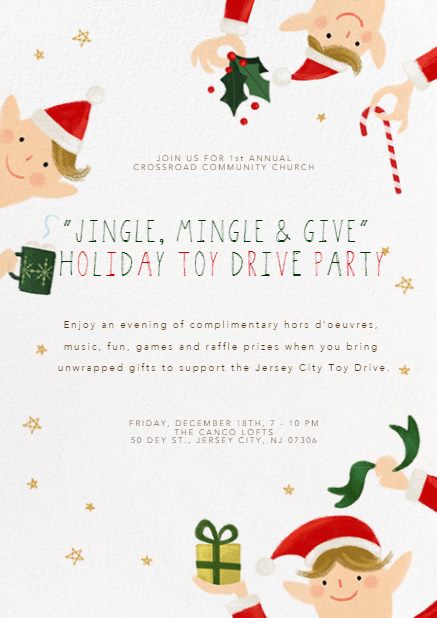 This Friday, join the Crossroad Community Church and enjoy a festive evening of hors d'oeuvres, music, fun, games, and raffle prizes when you bring unwrapped gifts to support the Jersey City Toy Drive!
4. Jersey City Nutcracker 2015
December 18th @ 7:00 PM through December 20 @ 1:00PM
Frank R. Conwell MS4 Auditorium, 107 Bright St., Jersey City
$18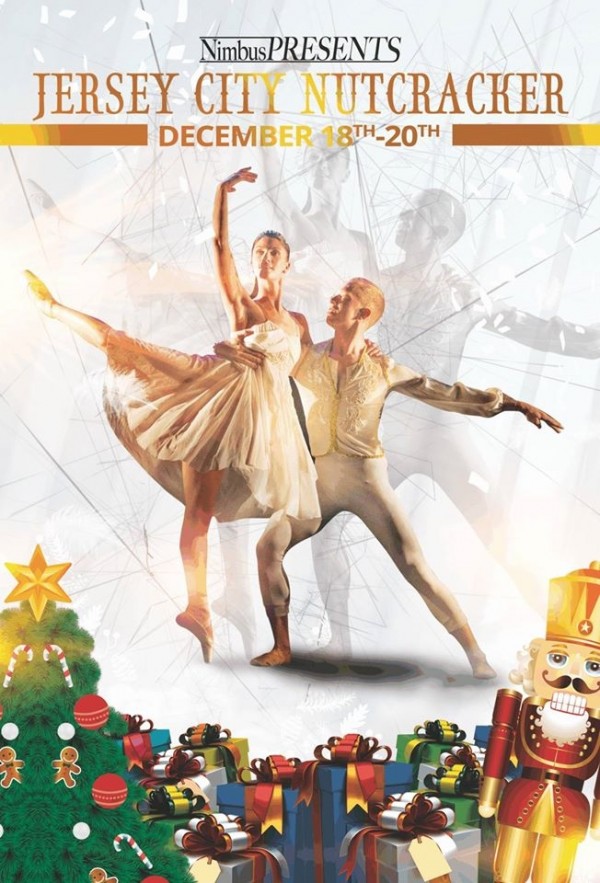 Nimbus Dance Works, Jersey City's acclaimed professional dance company, takes the stage with ten performances of its beloved Jersey City Nutcracker. Jersey City Nutcracker tells the tale of two children's urban holiday adventure filled with fantasy, adversity, and celebration with underlying themes of community and friendship. All the holiday charm that audiences love about Nutcracker, re-envisioned in today's world!
5. Artistic Pride Production
December 18th @ 7:00 PM
Merseles Studios, 339-345 Newark Ave., Jersey City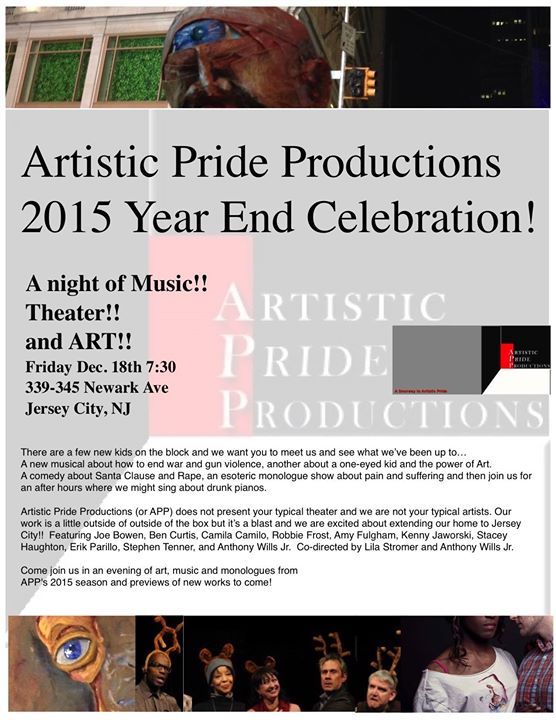 What an awesome year of creating art! Join the artists at Merseles Studios for their 2015 Year End Celebration. View a musical about war and gun violence, another about an Eyeball kid and the power of Art, an esoteric monologue that everyone can identify with about pain and suffering, artwork and more!
6. The Naked Citizen Burlesque show!
December 18th @ 9:00 PM
The Citizen, 332 2nd St., Jersey City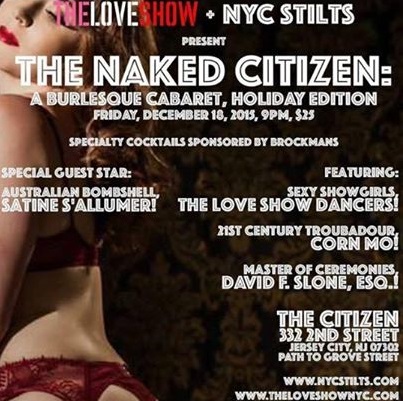 Head on down to the Citizen for a burlesque show! The Naked Citizen featuring sexy showgirls: The Love Show Dancers! With special Guest Star Australian Bombshell Satine S'Allumer and 21st Century Troubadour CORN MO! And with Master of Ceremonies, David F. Slone, ESQ.
7. Jersey City Bollywood / Bhangra Party
December 18th @ 10:00 PM
Transmission, 150 Bay St., Jersey City @ The Club Room
$10 – $15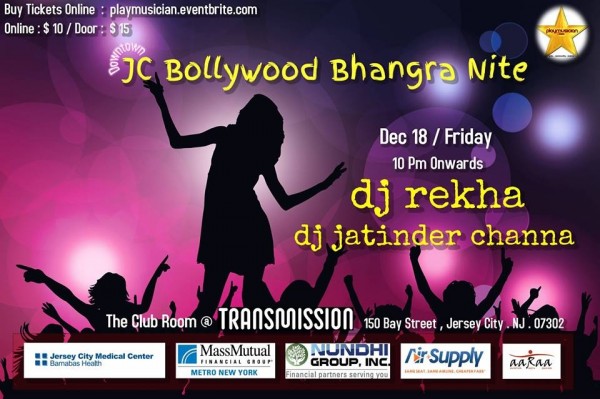 #MAKEITYOURS #JERSEYCITY #BOLLYWOOD #BHANGRA
Head on down to Transmission this weekend for Jersey City Bollywood / Bhangra Party with DJ Rekha and DJ Jatinder Chana. There will be dancing, music, and drink specials!
8. 'Tis The Season To Party For A Reason
December 18th @ 10:00 PM – @ 3:00 AM
J.C. Underground at Grove Square, 116 Newark Ave., Jersey City
$10
On Friday, December 18th J.C Underground will be hosting a fundraiser event to raise awareness for the gofundme.com/keepingjoy campaign. With the holiday season fast approaching, this is an opportunity to both give AND have fun!
Saturday
9. The Jersey City Mayor's Christmas Concert
December 19th @ 6:30 PM
The Landmark Loew's Theatre, 54 Journal Sq., Jersey City

Mayor Steven Fulop and Dante Alighieri Society of Jersey City Inc. cordially invite you to attend The Jersey City Mayor's Christmas Concert, featuring the orchestra of St. Peter By The Sea and conducted by Father Alphonse Stephenson! Enjoy live music and refreshments with your community. Children's gift donations are welcome and appreciated. If you are donating a gift, please indicate on an attached tag the age range for the gift and if the gift is gender neutral or suitable for a boy or girl.
10. A Cookie Korquie Christmas
December 19th @ 8:00 PM – 10:00 PM
Art House Productions, 136 Magnolia Ave., Jersey City
$15 ($20 at the door)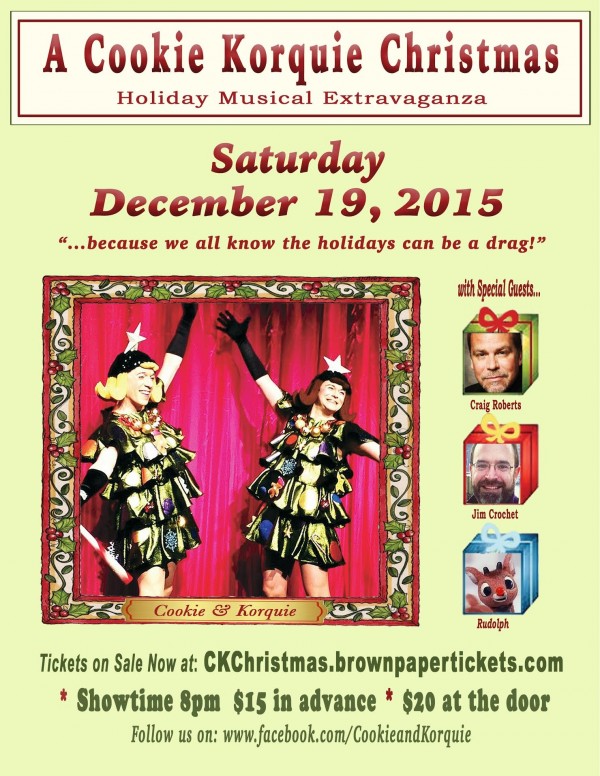 Because we all know the holidays can be a drag! Those charming drag darlings Cookie and Korquie are back! Join Art House for a fun-filled celebration of all things Christmas. You'll laugh the night away watching everything from the "Snow Queen Ballet" and a visit to "The Island of Misfit Toys."
11. 5th Annual Ugly Christmas Sweater Extravey!
December 19th @ 10:00 PM – 3:00 AM
Port-O Lounge, 286 1st St., Jersey City

Christmas isn't Christmas without an ugly sweater party! Bring the ugliest Christmas sweaters you can find and party it up at Port-O Lounge!
Sunday
12. 1st Annual Coat The City
December 20th @ 4:00 PM – 7:00 PM
Porta, 135 Newark Ave., Jersey City @ The Monk Room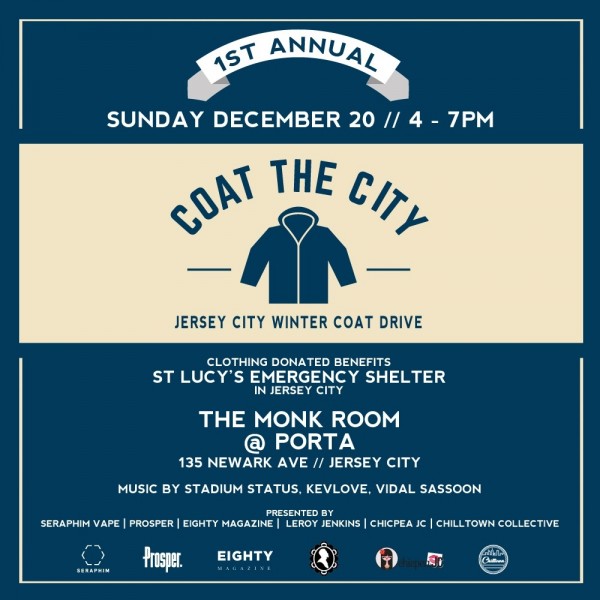 Join in on the Jersey City Winter Coat Drive! Bring any donation of a gently used coat to The Monk Room at Porta on December 20th. The event will run from 4:00 pm – 7:00 pm, all clothing will be donated to St. Lucy's Emergency Shelter in Jersey City.
13. Amahl and the Night Visitors: A Christmas Story
December 20th @ 7:00 PM – 8:30 PM
St. Paul's Lutherna Church, 440 Hoboken Ave., Jersey City.
$35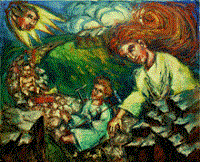 The beloved children's opera, Amahl and the Night Visitors is coming to Jersey City!
12-year old boy soprano Alexi Horne will join professionals from Kyrenia Opera Company, led by conductor Constantine Yiannoudes. This special semi-staged production will also feature community members of singing and dancing shepherds: Cantigas Women's Choir members, joined by students from NJ area schools, including Mustard Seed and My Music Garden. Proceeds will help benefit St. Paul's hunger ministry, The Sharing Place.