Sick of staying in during the week? Go out this weekend and spend time at some local events!
Thursday
MetLife Stadium Wedding Expo
July 8 @ 4PM – 9PM
1 MetLife Stadium Dr, East Rutherford
Planning a wedding soon? Head over to the free wedding expo at MetLife Stadium to meet dozens of wedding professionals and have a chance to win from two honeymoon giveaways. Parking is also free.
Website: https://www.eventbrite.com/e/metlife-stadium-wedding-expo-registration-152680051143
State Fair Meadowlands
through July 11
1 MetLife Stadium Dr, East Rutherford
Stop by the State Fair at the Meadowlands before it's gone! Open until July 11th, get your Fun Pass to enjoy live entertainment, unlimited rides, a petting zoo, and more.
Website: https://njfair.com/
Light Leaks
through July 31
445 Albee Square W, Brooklyn
Stop by City Point Brooklyn for an immersive art experience available through the end of the end, created by Kyle McDonald and Jonas Jongejan. Artists Kiichiro Adachi, Julia Walck, and Nick Oudsema will also be showcasing their pieces as part of the installation. Guests can reserve admission for a 15-minute time slot online.
Website: https://www.ticketfairy.com/event/thousand-deep-presents-light-leaks-2jul2021
Friday
Venezuela Art Fair
July 9 @ 5PM – 9PM
Gia Gelato & Cafe, 281 Newark Ave, Jersey City
The Venezuela Art Fair is going on tour and Gia Gelato in Jersey City is their next stop! Available to view through August 14, admire the sculpture, photography, and other visual art pieces from 14 artists.
Website: http://venezuelaartfair.com/
Rooftop Comedy
July 9 @ 7PM
Wyndham Garden, 1706 Paterson Plank Rd, North Bergen
Have a laugh at the Rooftop Comedy show at the Gaur Club within Wyndham Garden. Performers will include Ceejay Craxx, Julio Diaz, Sharon Simon, and host Q Brooks. Tickets are $25 per person.
Website: https://eventbrite.com/e/rooftop-comedy-the-wyndham-tickets-160803283951
Saturday
Birds of Prey
July 10 @ 11AM – 12PM
Pershing Field Park (Summit Ave entrance), 201 Central Ave, Jersey City
Join the Pershing Field Garden Friends and Flat Rock Brook naturalist for a presentation featuring live birds of prey. There'll be a discussion about these birds and their behaviors, adaptations, and more. Guests can register for free online.
Website: https://www.eventbrite.com/e/birds-of-prey-july-10-registration-161422277377
Find & Revive Turns 3
July 10 @ 1PM – 6PM
The Hive Goods, 77 Cornelison Ave, Jersey City
Celebrate Find & Revive's third anniversary at The Hive Goods! Support small businesses Hudson Houndstooth, Neon Diamonds, Midge Blitz, Tainable, and Heart 2 Ears. Guests can also enjoy food from Torta Truck and Jersey & Co Gelato, and there'll be music with DJ Eh.
Nimbus Arts Festival Presents: Jazz in the City
July 10 @ 7PM
107 Morgan St, Jersey City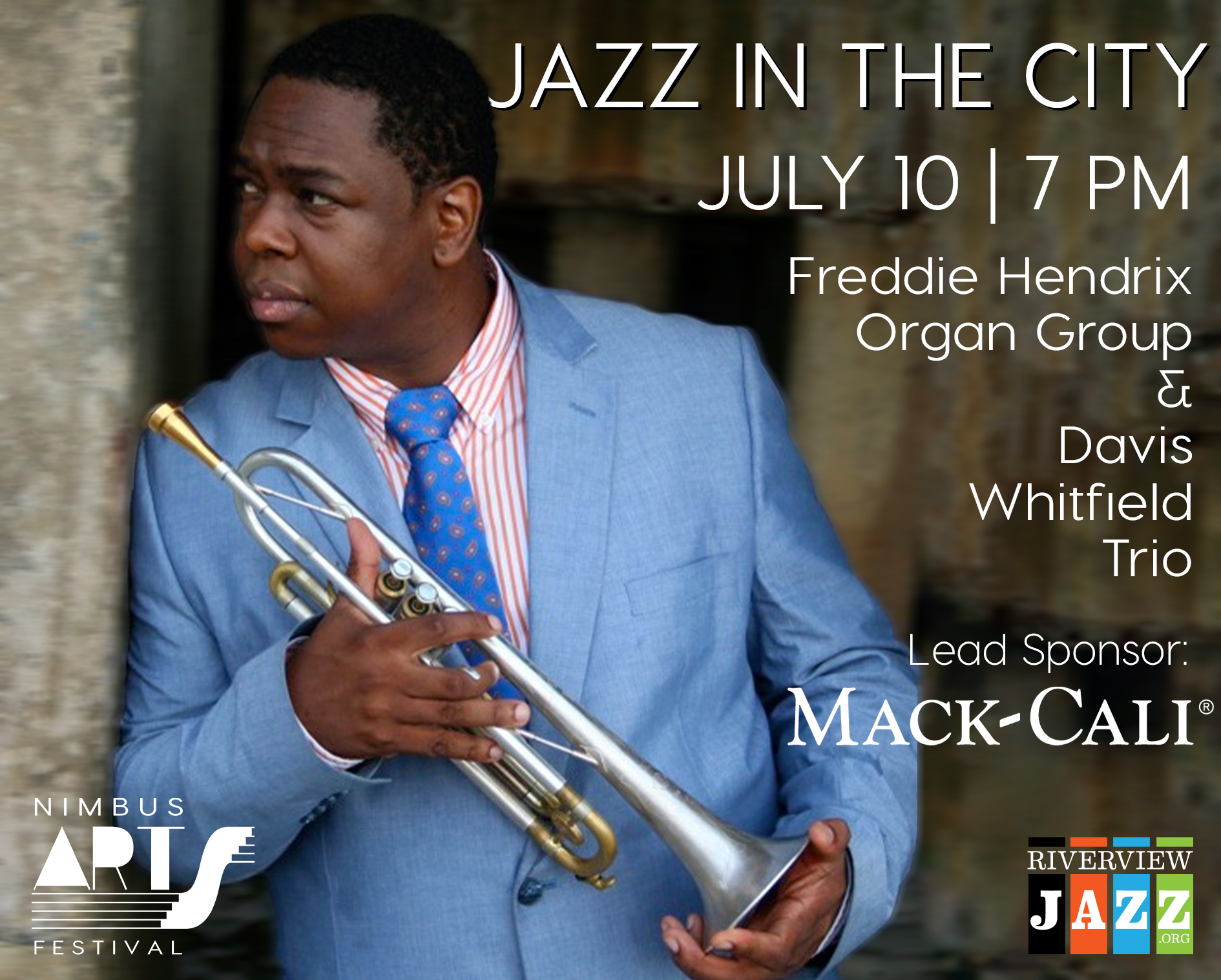 Nimbus Arts Festival and Riverview Jazz are bringing back Jazz in the City! Enjoy a performance by Freddie Hendrix Organ Group and the David Whitfield Trio at Harborside. Tickets are available starting at $5 (not including a chair, which is available for rent for an additional $5). Proceeds benefit the Nimbus Scholarship Fund, making access to the dance and arts available to all Jersey City youth.
Website: http://www.nimbusdance.org/events/jazz-in-the-city-presented-w-riverview-jazz/
Sunday
Summerfest Concert Series
Sundays @ 6PM – 8PM
North Cove Field, Liberty State Park, Jersey City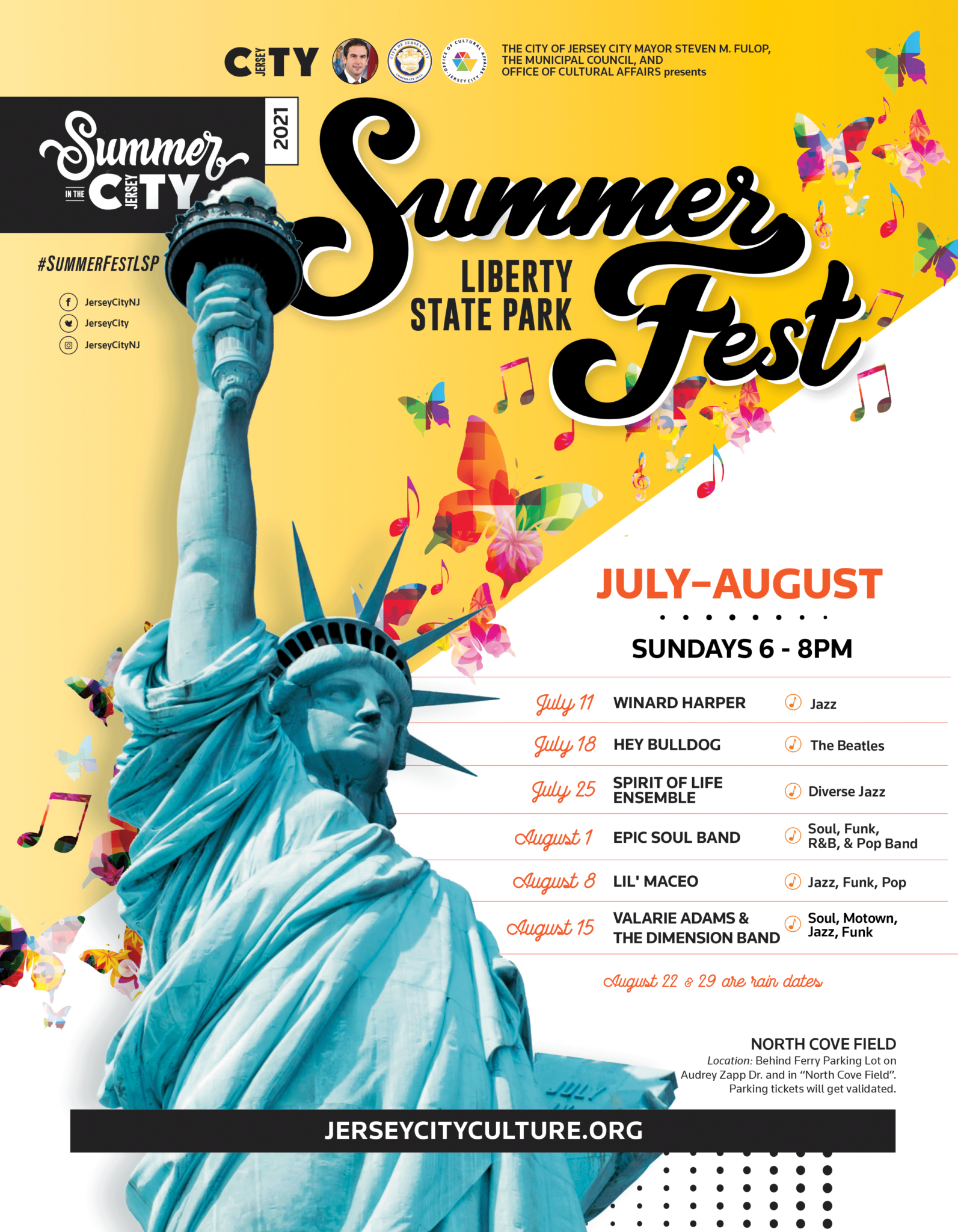 The Jersey City Summerfest Concert Series is back at Liberty State Park this year! Stop by for the first free concert of the series with a performance by Winard Harper. Shows continue through August 15th with rain dates on August 22 and 29.
Website: https://www.jerseycityculture.org/event/jersey-citys-summerfest-returns-for-summer-2021/2021-07-06/
Pop-Up Sip & Shop
July 11 @ 5PM – 8PM
The Loft by Art in Heels, 492 Communipaw Ave, Jersey City
Enjoy a pop-up sip and shop at The Loft Art Lounge, featuring According2Meerah, Private Moments Lingerie, Bleue Phoenix Candles, Self-ism, New Me Within, and many others! Admission is free with registration, or $2 at the door.
Website: https://www.eventbrite.com/e/pop-up-sip-shop-the-loft-art-lounge-tickets-161995608225
Hot Honey Sundays
Sundays @ 2PM – 7PM
Greenpoint Terminal Market, 2 Noble St, Brooklyn
Stop by Greenpoint Terminal on Sundays starting at 2PM for Hot Honey Sundays, a series of BYOB outdoor dance parties. Grab a bite to eat from food vendors in the Terminal and enjoy views of the skyline throughout the day.