Enjoy the week in Jersey City (and surrounding areas) with local events, from performances and movie nights to restaurant deals and Carnival.
Thursday
Jersey City Restaurant Week
through July 25
Through July 25, several restaurants in Jersey City are participating in Jersey City Restaurant Week. Enjoy deals and discounted meals at restaurants like Franklin Social, Hard Grove, Ani Ramen, Freetown Road Project, and more great local businesses.
Website: https://www.facebook.com/events/236097201655499/
Story Time in Church Square Park
July 22 @ 11:30AM
Church Square Park, 401 Willow Ave, Hoboken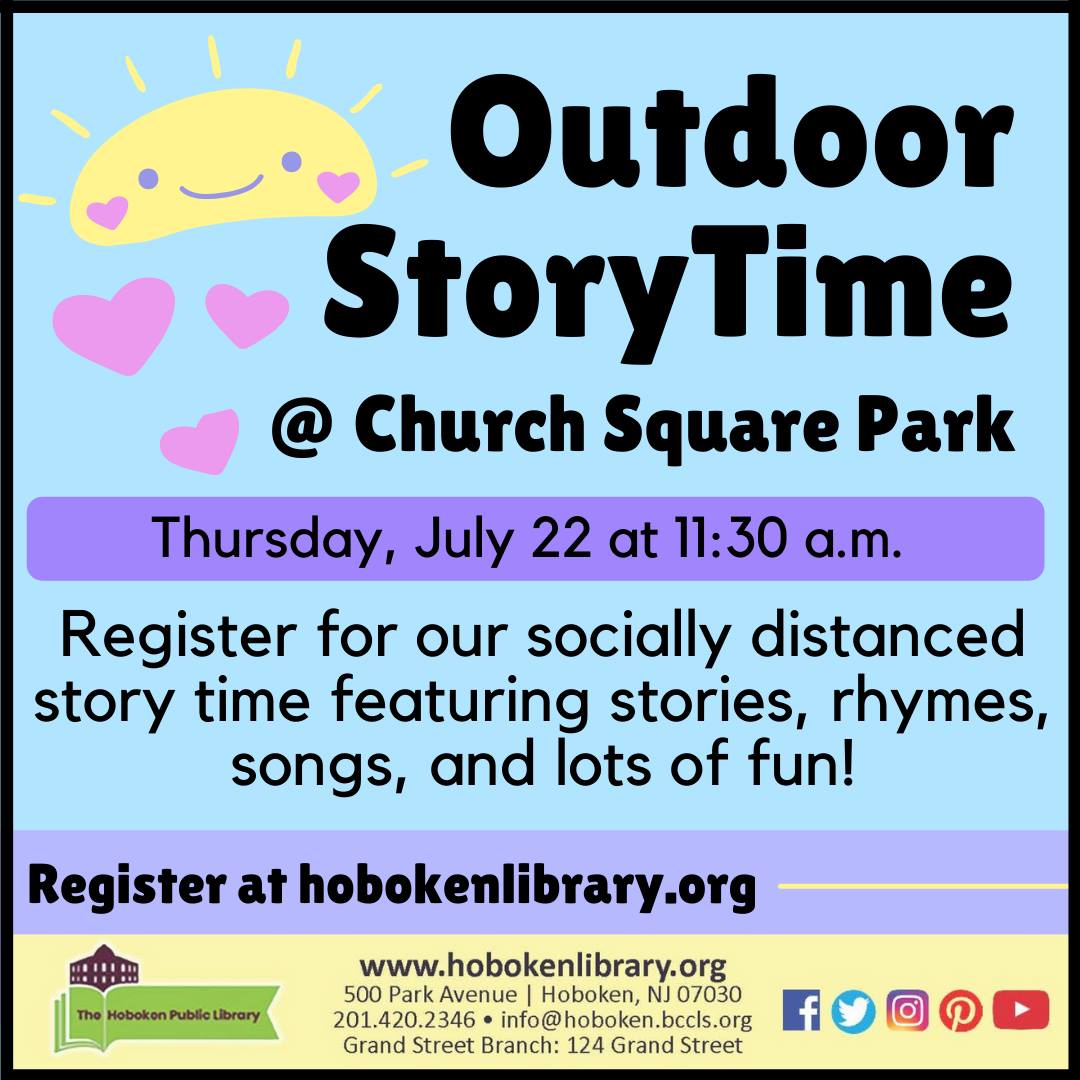 Spend the morning at Church Square Park with a story time for kids aged 0-3, hosted by Hoboken Public Library. Registration is required on the Hoboken Library website.
Website: https://www.facebook.com/events/972280013526993/
Follow Spot
July 22 @ 4PM – 6PM
Nimbus Arts Center, 329 Warren St, Jersey City
Stop by the Nimbus Arts Gallery for their Thomas Carlson & Nohi exhibit, curated by Tina Maneca. The exhibit is available through August 12, and the gallery is open Tuesdays, Wednesdays, and Thursdays from 4PM to 6PM.
Website: https://www.eventbrite.com/e/follow-spot-nimbus-thomas-carlson-nohi-registration-162350519775
Friday
Drive-In Movie Night
July 23 @ 8:15PM
107 Morgan St, Jersey City
Gather the family for the weekly drive-in movie night hosted by The Exchange Place Alliance and Harborside JC. This week's showing is Moana! Food and drinks will be available for purchase on-site. Gates open at 7:15PM, and it's $20 per vehicle (or $10 per attendee without vehicles).
Website: https://www.facebook.com/events/1099537013861167
Saturday
Rooftop Yoga
July 24 @ 10:30AM – 11:30AM
902 Brewing, 101 Pacific Ave, Jersey City
Practice yoga with Meghan Kramery on a cute rooftop and enjoy a flight of beer from 902 Brewing. Tickets to attend are $25 per guest, and it includes the yoga session and the post-yoga drinks.
Carnival Pride Celebration
July 24 @ 7PM – 11PM
Six26, 128 Christopher Columbus Dr, Jersey City
Join the Jersey City LGBTQ+ Pride Festival and Six26 for a celebration of the 26th annual Jersey City Carnival. Enjoy live drumming by Sirelo and friends, and music with DJs Sirena Mercado and Daniel Scala.
Website: https://jerseycitypride.com/event/jc-pride-celebrates-the-26th-annual-jersey-city-caribbean-festival/
Movie Nights at the Queens Botanical Garden
July 24 @ 8:15PM – 11:15PM
43-50 Main St, Flushing
Stop by Queens Botanical Garden for their first-ever Movie Night series. There'll be seasonal, movie-themed refreshments, crafts, a live performance, and access to the gardens along with the movie showings. This week's movie is Raya and the Last Dragon with a live fire performance.
Website: https://queensbotanical.org/movienights/
Dirty Celebrity Pop-Up
July 24 – 25
Mint Market, 339 Grove St, Jersey Cit
Shop for hand-dyed, crocheted, and hand-sewn bags by Dirty Celebrity at their pop-up! They create organic products with the aim to be zero-waste. You can sign up for the event in advance and get 20% off your purchase.
Website: https://www.facebook.com/events/s/pop-up-with-mint-market/3492329027536975/
Sunday
Hot Honey Sundays
Sundays @ 2PM – 7PM
Greenpoint Terminal Market, 2 Noble St, Brooklyn
Stop by Greenpoint Terminal on Sundays starting at 2PM for Hot Honey Sundays, a series of BYOB outdoor dance parties. Grab a bite to eat from food vendors in the Terminal and enjoy views of the skyline throughout the day.
Website: https://greenpointterminalmarket.com/calendar/
Babes who Bartend
July 25 @ 6PM
Monroe's, 36-42 Newark St, Hoboken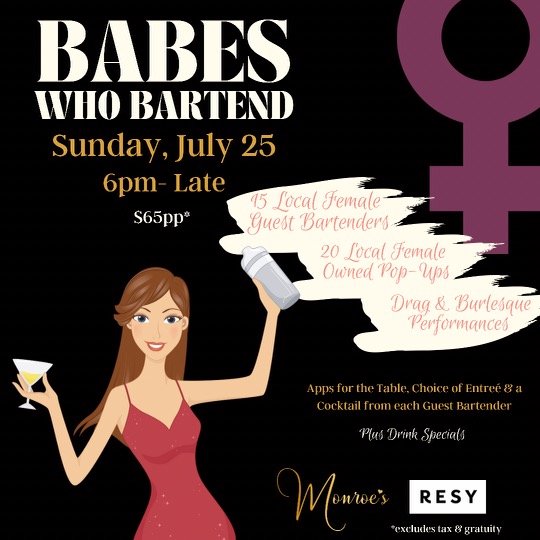 Enjoy drinks and women empowerment when you attend Babes Who Bartend, an event showcasing talented women in the community. There'll be 15 local women bartenders, 20 women-owned businesses, and drag and burlesque performances throughout the night. Reservations should be made for Monroe's Sushi & Cocktail Bar. Tickets are $65 per person and includes starters, a choice of entree, and a taste of the cocktails made by local bartenders.
Website: https://resy.com/cities/hob/venues/monroes-sushi-and-cocktail-bar/events/babes-who-brunch-2021-07-18?date=2021-07-21&seats=2