We love it when events are all over the board because it's always so much easier to pick choose. Feel like catching up on all things Shakespeare? We've got you covered for his 400th anniversary. Looking race and go up against some major Jersey City obstacles? We've got that too. Have a date and no plans—trust us, you're covered! Check out our list of the top ten events for this weekend and help us help you knock it out of the park.
Can't find any events you're interested in? Our Event Calendar has nearly twenty events this weekend so if you're looking for something more festive, check there!
Friday
1. New Visual Collective presents: Royal Rumble
April 22nd @ 6:00 PM – 9:00 PM
Tea NJ, 262 Newark Ave., Jersey City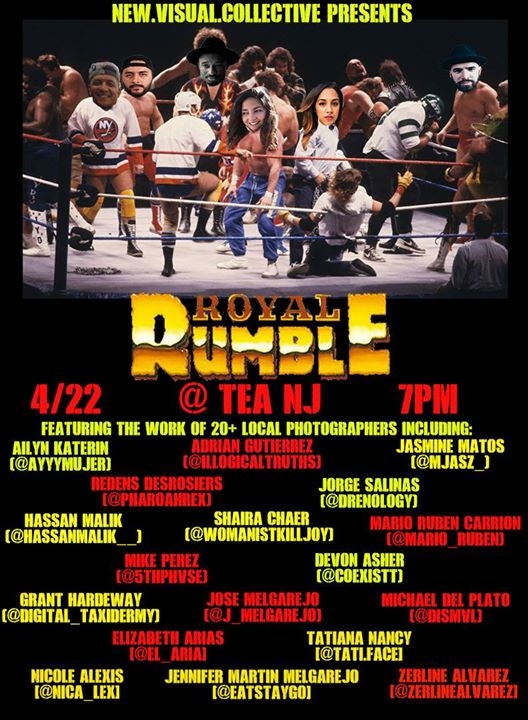 Join New Visual Collective at Tea NJ for a glorious exhibition featuring a single photograph from a group of over twenty photographers.
2. IN (Ward)
April 22nd @ 8:00 PM – 11:00 PM
Jersey City Theater Center, 339 Newark Ave., Jersey City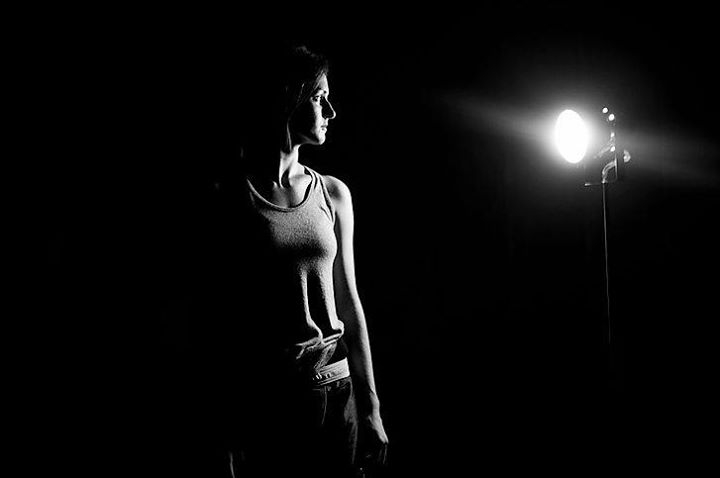 If you've found yourself. If you've lost yourself. IN (Ward) is a multimedia exploration of modern culture, hidden identity, and the loss of self-referral. Join the dancers of DRIGGproductions at JCTC through an exploration of relationships.
Saturday
3. The Great Jersey City Clean-Up
April 23rd @ 8:00 AM – 2:00 PM
City Hall, 280 Grove St., Jersey City
Celebrate Earth Day in style at City Hall for a citywide cleanup from morning till afternoon. With the help of local organizations, neighborhood and block associations and yourselves included, the city will be one step closer to being cleaner than ever. So join in make an impact for Earth Day on trash bag at a time.
4. Jersey City Challenge Obstacle Race
April 23rd @ 9:00 AM
1 Exchange Place., Jersey City
$90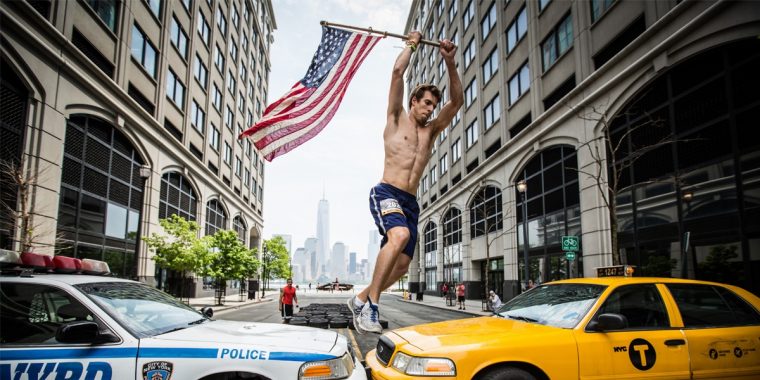 Looking to join in on the Jersey City Challenge Obstacle Race this weekend? Make sure you sign up before ticketing is closed! Not a runner? They are in search of volunteers for this weekend's race so head to their website and sign up! Make the weekend count!
5. Doing Business with Jersey City Workshop
April 23rd @ 10:00 AM – 1:00 PM
City Hall, 280 Grove St., Jersey City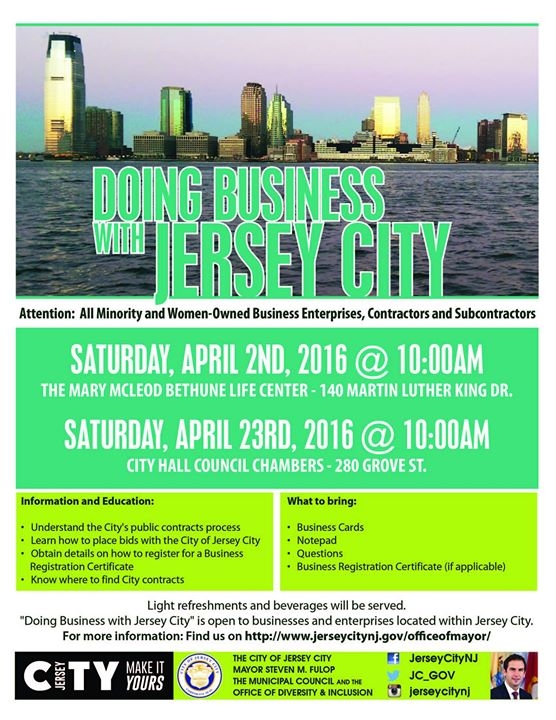 Calling all small businesses! Join the Office of Innovation this weekend for breakfast and a 101 on how to do business in Jersey City. Bring yourself, a notepad, and an open mind!
6. What's Past is Prologue: A celebration of the works of Shakespeare
April 23rd @ 1:00 PM
WORD, 123 Newark Ave., Jersey City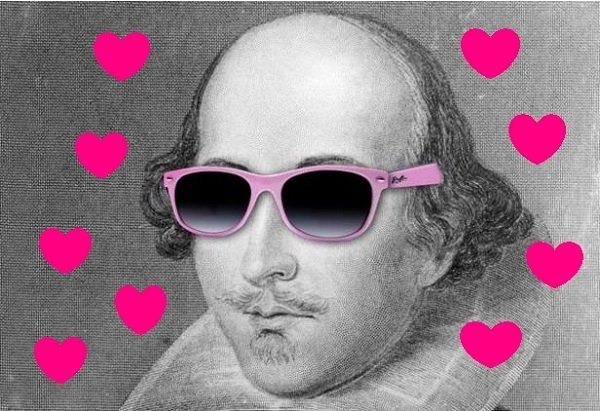 To WORD or not to WORD. We say to WORD for an afternoon of celebration of one of the most inspiring writers to ever walk the earth. This year will mark the 400th anniversary of the death of Shakespeare and a group of Jersey actors will take to WORD and perform a number of pieces from Shakespeare's works. Grab a seat and grab a book. "All the world 's a stage, and all the men and women merely players. They have their exits and their entrances; And one man in his time plays many parts."
7. POSTPONED: Chef's Table
April 23rd @ 7:30 PM
JCity Realty, 109 Christopher Columbus Dr., Jersey City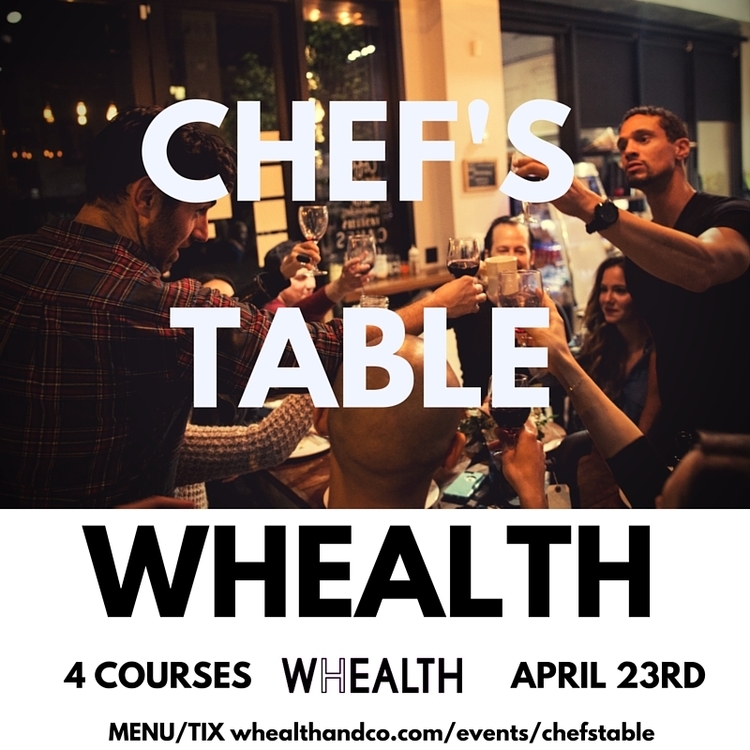 Take to the Chef's Table this Saturday with Whealth & Co for a delicious 3-course meal with small bites as an introduction. This event nurtures warm conversation and will be as a joining of those from the community over a wonderful dining experience.
8. Squirrels from Hell
April 23rd @ 9:00 PM
The Citizen, 332 2nd St., Jersey City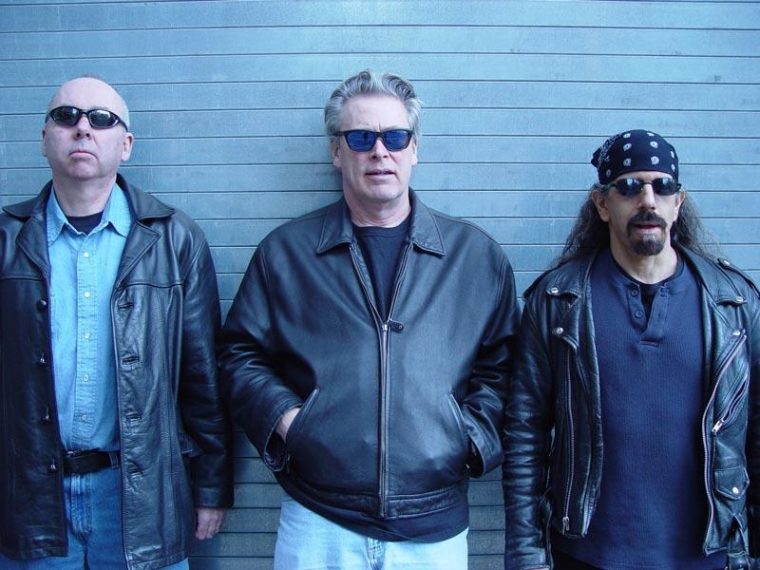 New York couldn't kill Squirrels from Hell and so they're ready to take on New Jersey with a night of great performances and music to keep you grooving through the night!
Sunday
9. The Year of The Buzz
April 24th @ 12:00 PM – 6:00 PM
Audubon Park, Jersey City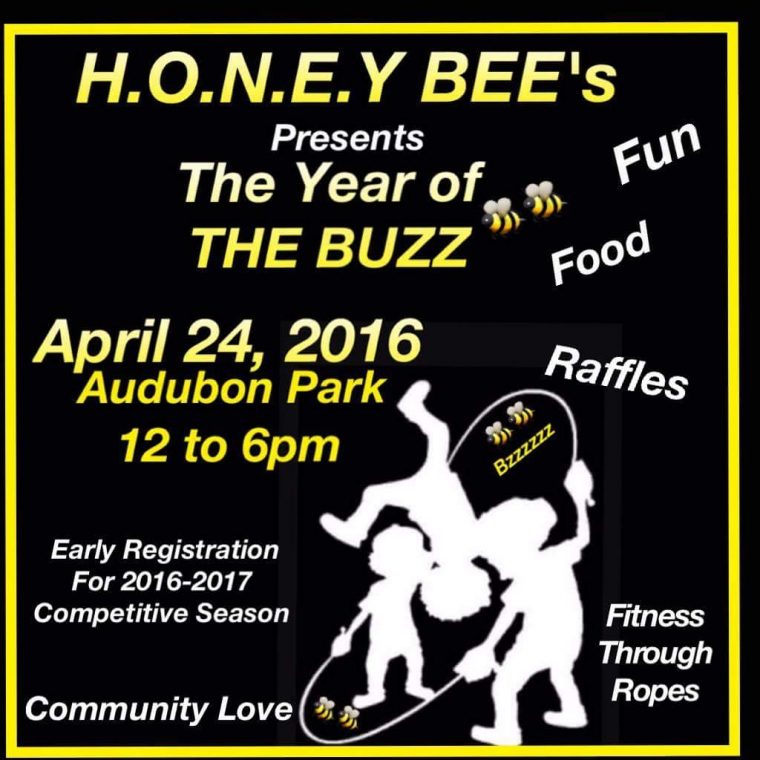 The HONEY Bees will be celebrating their first anniversary! Join them this weekend as they skip in the lines of double-dutch to commemorate this great day.
Monday
10. Screening of Jack of the Red Hearts
April 25th @ 7:00 PM
New Jersey City University, 2039 Kennedy Blvd., Lounge in Hepburn Hall, Rm. 202, Jersey City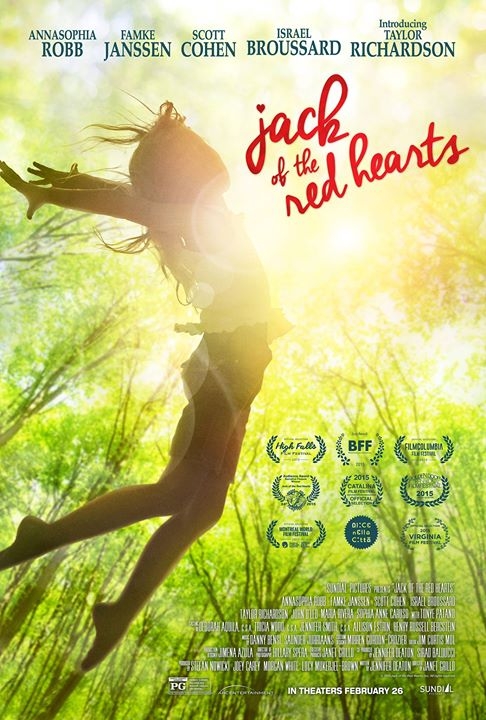 In collaboration with NJCU and the Golden Door Film Festival—there will be a screening of Jack of the Red Hearts in honor of Autism Awareness month. Join them in Hepburn Hall this Monday for this award-winning film.