Whether you want to find ways to kill time between the holidays or don't celebrate the holidays at all, here are some spots to visit this week!
Restaurants
If Christmas isn't your thing or if you're just not in the mood to cook around the holidays, grab lunch/dinner at some local restaurants! Be sure to call or check their websites for holiday hours before visiting.
Ruth's Chris Steak House
499 Washington Blvd
Ruth's Chris will be open on Christmas Eve and Day for dinner. You can make your reservations online. 
Porta
135 Newark Ave
Grab your friends and have a Christmas Eve lunch at Porta! They'll be open through the afternoon.
Liberty House
76 Audrey Zapp
Liberty House will be hosting a family-style four-course Christmas Eve dinner with reservations available from 4PM to 9PM.
New Thanh Hoai
234 10th St
Who doesn't love a good bowl of pho? Enjoy some Vietnamese food during the week to warm you up.
Ani Ramen
218 Newark Ave
Stop by Ani Ramen during the week (except for Christmas Day) to get your ramen fix.
Harry's Daughter
339 Communipaw Ave
Head over to Harry's Daughter for a tasty meal and drinks with friends/family this week!
Mathew's
351 Grove St
Grab dinner at Mathew's during the week or stop by on Christmas Eve for lunch.
Kitchen Step
500 Jersey Ave
Stop by Kitchen Step for lunch on Christmas Eve if you want to kickstart the holiday meals, or stop by during the non-holidays to eat a delicious dinner.
South House
149 Newark Ave
https://www.instagram.com/p/B5xckQwHPpF/
South House is open for dinner on Christmas Eve and accepting reservations online.
Korai Kitchen
576 Summit Ave
Have some time between holidays? Stop by Korai Kitchen for some great Bangladeshi food!
Rumba Cubana
235 Pavonia Ave
https://www.instagram.com/p/B6QqiScn1dy/
If you're looking to enjoy some delicious Cuban food with incredible drinks, Rumba Cubana will be open every day (except Christmas), so you don't have to miss out!
Events
City Hall Menorah Lighting & Hanukah Celebration
December 23 @ 4:00 PM – 6:00 PM
City Hall, 280 Grove St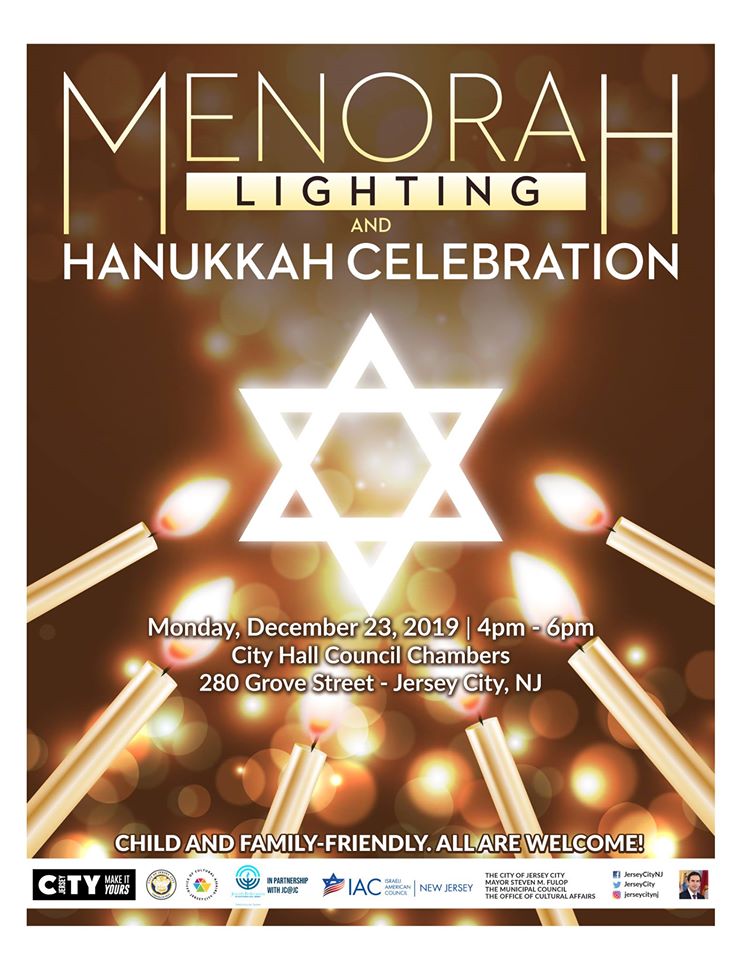 Stop by City Hall for the annual menorah lighting and Hannukah celebration for the community. It's free and open to the public.
Event Details
Festivus
December 23 @ 6:00 PM – 11:00 PM
Luna, 279 Grove St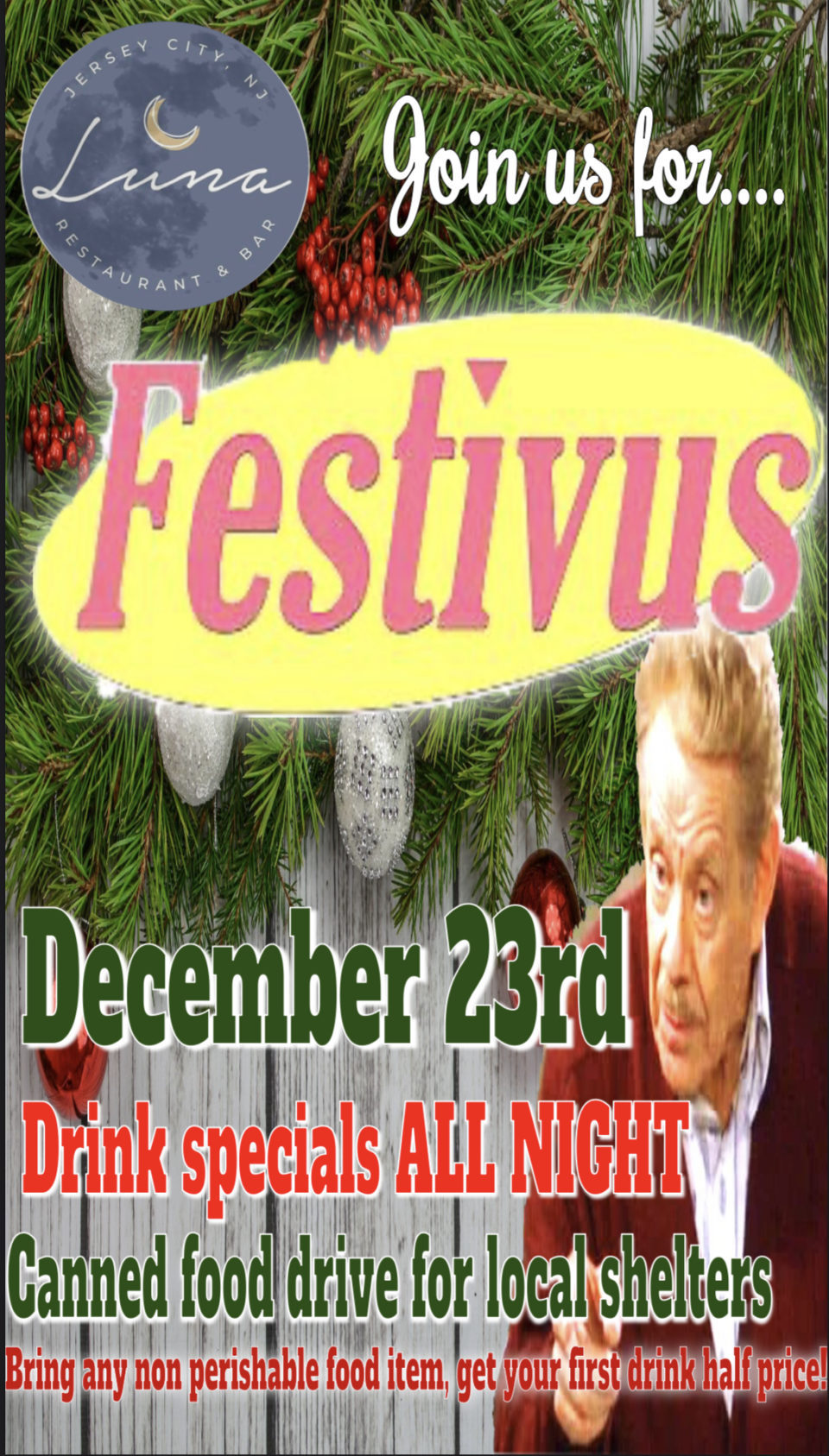 There'll be drink specials and a canned food drive for local shelters. Bring cans of food and your first drink is half-off!
Event Details
Ugly Sweater Holiday Party
December 24 @ 7:00 PM
Light Rail Cafe, 237 Randolph Ave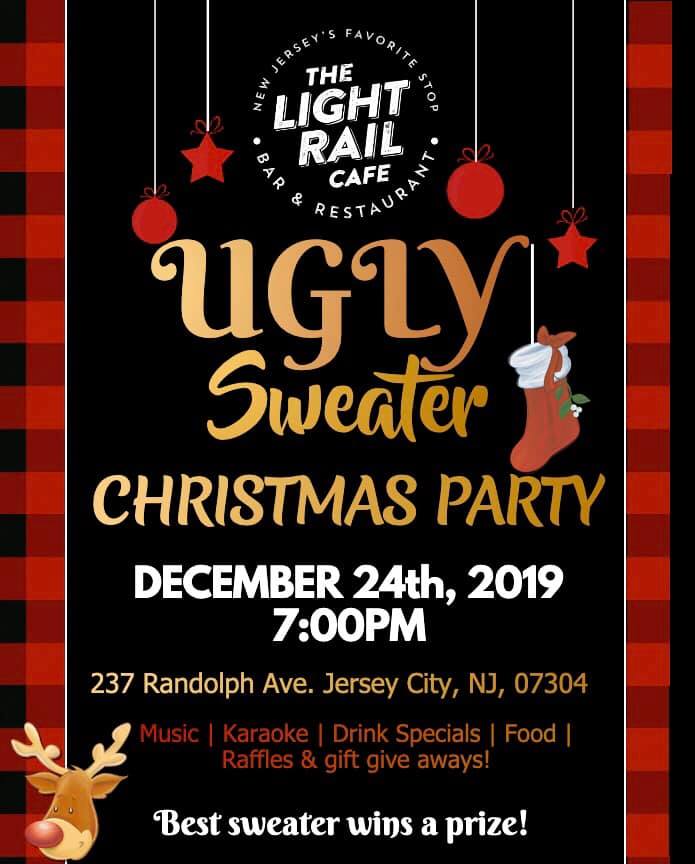 Celebrate Christmas Eve with ugly sweaters, karaoke, drink specials, raffles, and more!
Event Details
CAS Annual Kwanzaa Celebration
December 28 @ 7:30 PM
Miller Branch Library, 489 Bergen Ave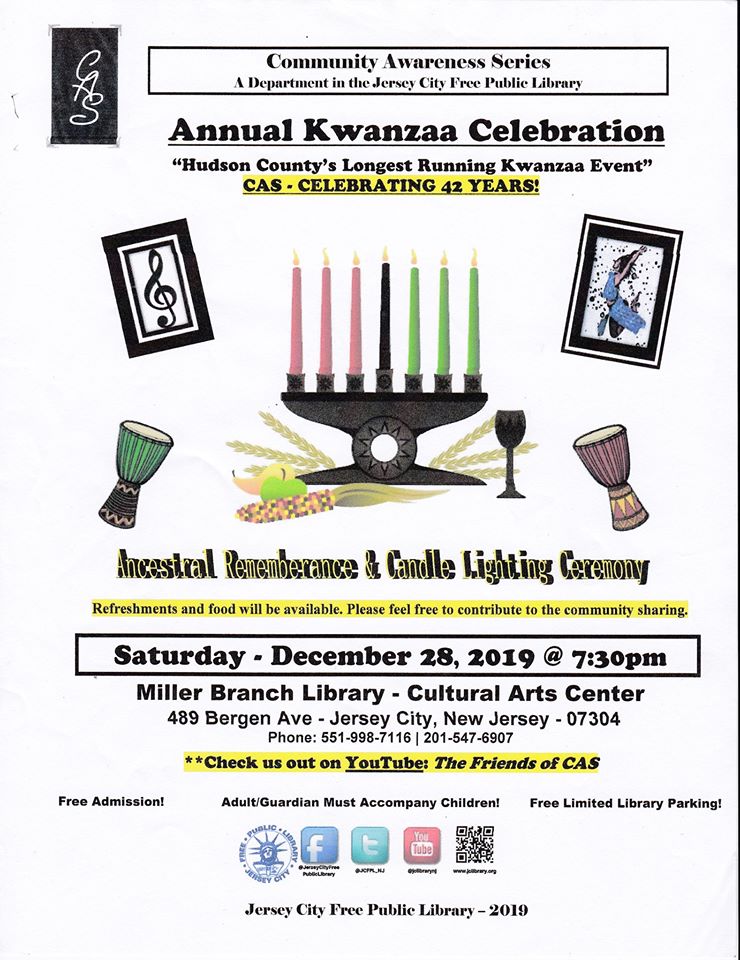 Join the CAS in celebrating 42 years and in celebrating + learning about Kwanzaa. There'll be refreshments and food available.
Event Details
Activities
If you want to do some fun activities with the family on holidays, here are some spots that are open!
Liberty Science Center
222 Jersey City Blvd
Hours: Dec 24, 9AM to 4PM | Dec 25, closed | December 26, 9AM to 7PM
AMC Theatre
30 Mall Dr W
Hours: Open every day, based on showtimes.
Pershing Field Ice Rink
800 Summit Ave
Hours: Dec 24, 12PM to 4PM | Dec 25, closed | Dec 26, 12:45PM to 4PM
Newport Skates
95 River Dr S
Hours: Dec 23-24, 11AM to 9PM | Dec 25, closed | Dec 26, 11AM to 9PM
Puzzle Out
317 Grove St
Hours: 4PM to 12AM on weekdays | Christmas Day hours not listed, call to confirm