What a way to spend a Saturday! My eight-year-old sister Vianka and I made our way over to Hamilton Park's annual BBQ festival. As soon as we got there we smelled the sweet smell of smoky goodness. We made a lap around all the tents to see what our options were, and Vianka immediately took advantage of Bambino Chef's free cupcake decorating. She loved it!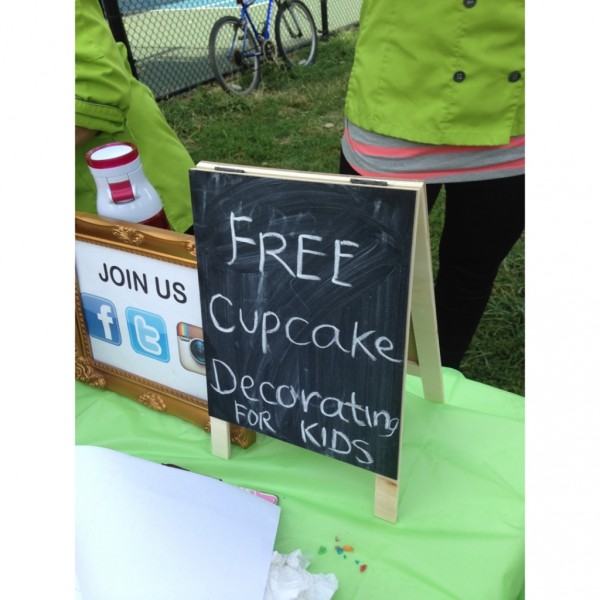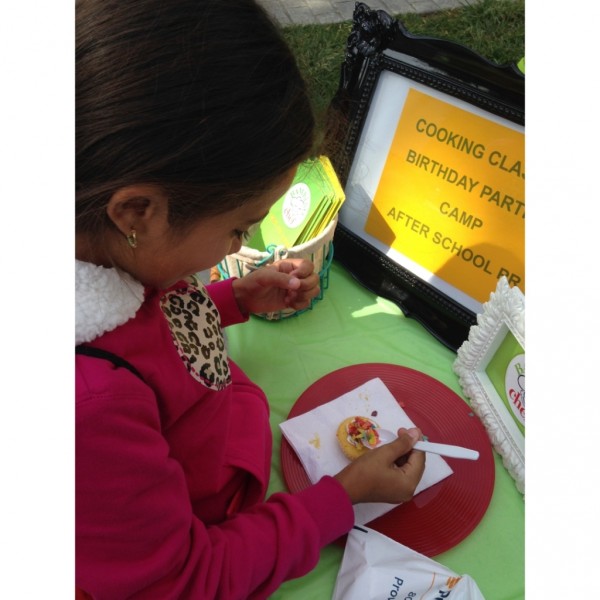 I guess we started a trend of eating dessert first because we found ourselves at Pick a Bon Bon. Vianka had the S'mores while I tried the Maple Bacon. To quench my thirst, I also picked up a Rhubarb and Cucumber Margarita, which was of course absolutely delicious.
We then made our way to the vendors in the park, and I stopped by Just Jenny's Love who sells photography greeting cards. Her signature cards are phrases made from scrabble pieces. Her cards feature beautiful backgrounds such as flowers, sand, or seasonal decorations such as pumpkins for fall, berries for Christmas, or flowers for spring.  I decided to buy a nice quote to frame somewhere in my house, one that said "I Heart Wine.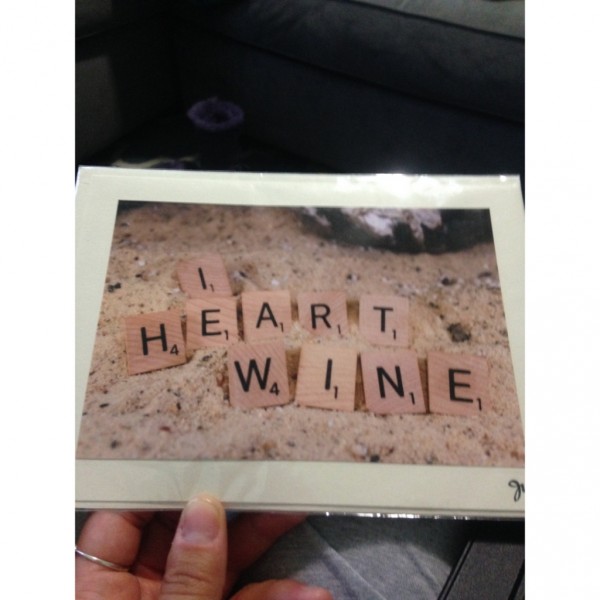 I also made my way to Outer Limits Hot Sauce, which some BBQ vendors were using for their meal selections. I decided to get something different and purchase some Spicy Chocolate. I couldn't resist just one since I'm a big chocolate fan. I purchased a "Chipotle Almond Milk Chocolate" and a "Habanero Orange Dark Chocolate." Both chocolates gave a little kick but were both sweet and spicy.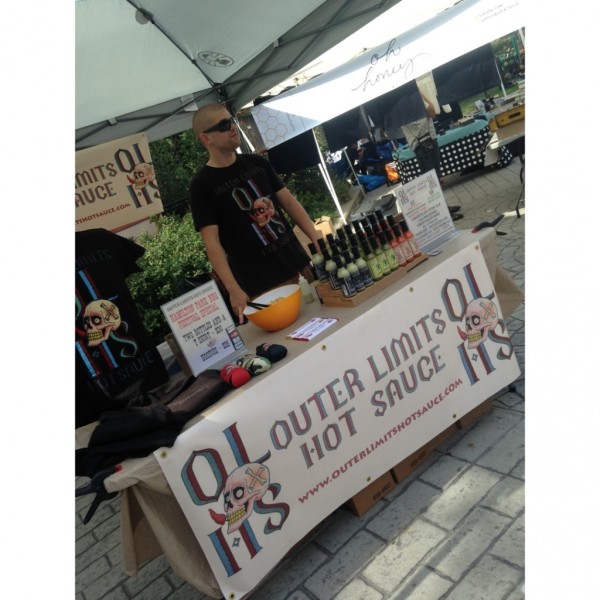 Finally we were ready to eat, and out of all the choices available, we decided on Jimmy's BBQ. I was happy they sold per rib, while others sold full or half ribs, and I wouldn't be able to handle so much food. I ordered a Pulled Pork Sandwich and one Rib, with a side of Coleslaw. I liked that Jimmy's BBQ also sprinkled some of the rub on top of the pork after it was finished. The Coleslaw had a nice acidy flavor which was enhanced with Dijon mustard.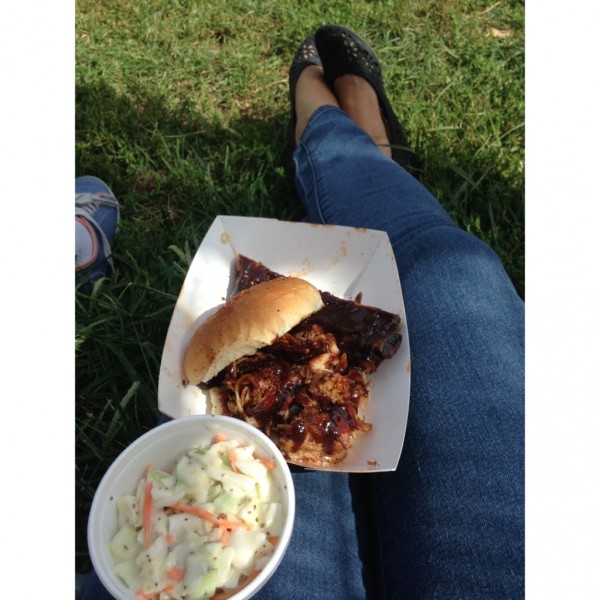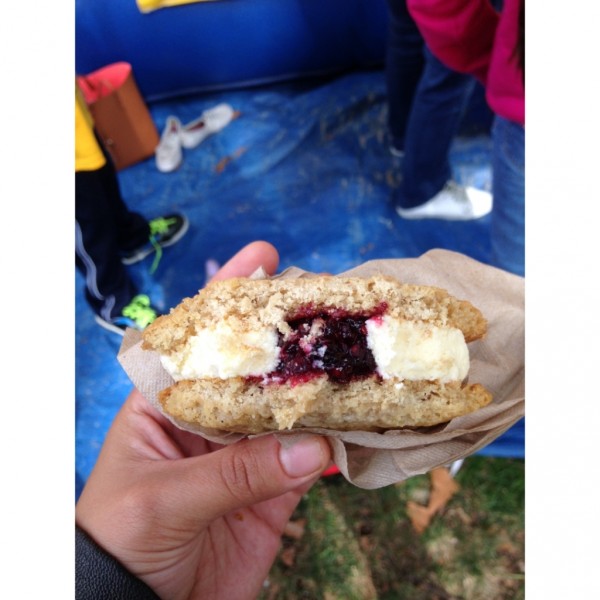 After so much savory foods, I had to try Milk Sugar Love's ice cream sandwich. A brown sugar cookie filled with corn ice cream and blackberry jam really hit the spot. I enjoyed it while Vianka bounced around the bouncy house. I still couldn't get enough, so I made one last stop to JC Wingery and had some Sweet Thai Chili Wings.
The moral of the story is to always come hungry to these events. I couldn't handle so much food, but I tried my very best! I decided to take a break from eating and test my bull riding skills. The operator seemed to go a little too slow, but as soon as I asked him to go faster, I immediately regretted it! The bull spun around and jolted me off, and before I knew it I was down! I had to ask though didn't I?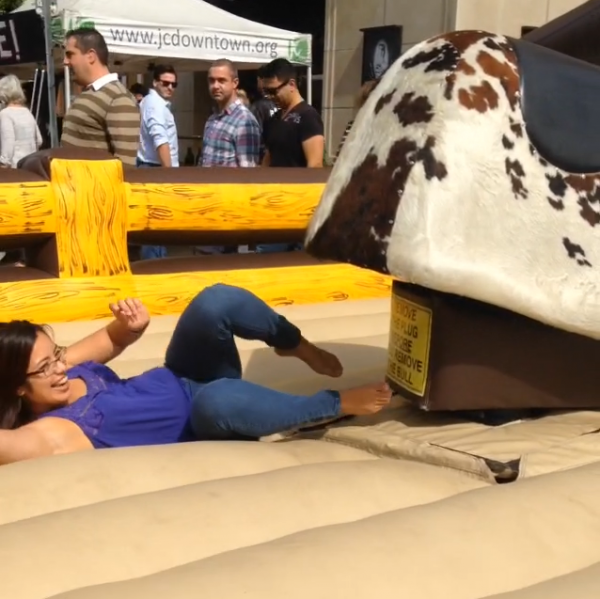 The event was a big success! BBQ food hard to find in Jersey City, so there was no better way to end the summer than with one huge BBQ festival.
Written by Stephanie Del Valle
---
Written by Charles Dewey Albasi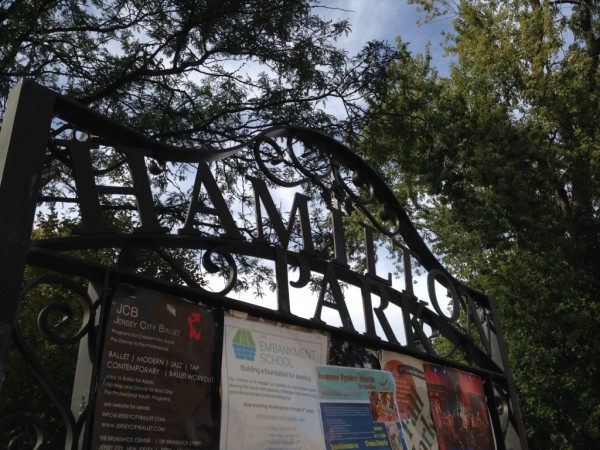 Jersey City has managed to do it again with another successful event! Right on the heels of the All About Downtown Street Fair, the 6th Annual Hamilton Park BBQ Festival commenced yesterday.  This was my first time at the festival as last year I was unable to make it since I was visiting friends on Long Island or I was in rehab, I can't really remember. (Ok, I was never actually in rehab, that was a joke, but I'm fairly confident I'll end up there one day)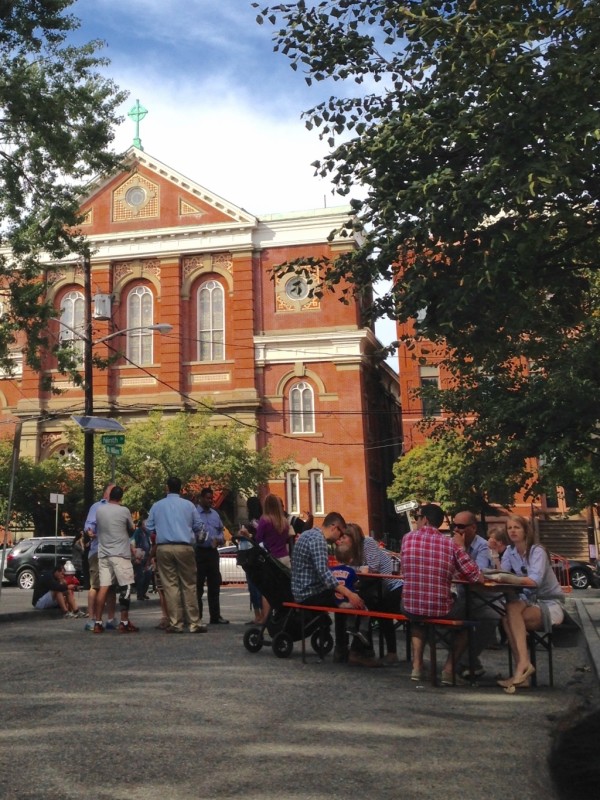 As you may or may not know, during the applicable seasons, there is a Farmer's Market every Wednesday in Hamilton Park.  The Hamilton Park BBQ Festival was the Farmer's Market on crack…then add a dose of heroine…and finally pretend you're in Texas. I've never seen so many people in that park before! BBQ was a major theme at the festival, and no BBQ themed festival is complete without a mechanical bull, but there were plenty of vendors of all varieties.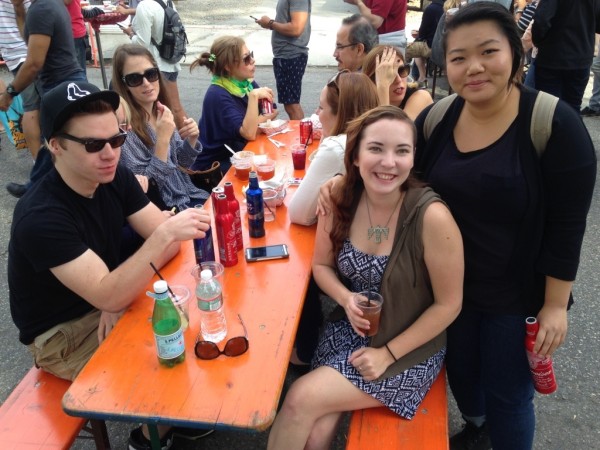 Most of the action took place on McWilliams Place, but the festivities bled out into the actual park where I spotted my favorite JC photographer, Jenny, with her booth, Just Jenny's Love. Her personalized greeting cards are the best! I browsed yummy smelling candles by The Lucky Honey Bee, intoxicating scented soaps by Soaps for Sinners and an array of clothes by Thrift Truck.  Citibike was even there to promote their new undertaking in JC. And then I saw the booze booth provided by GP'S! So naturally, I dropped everything and headed on over there to sip on their white sangria. (Hello, rehab)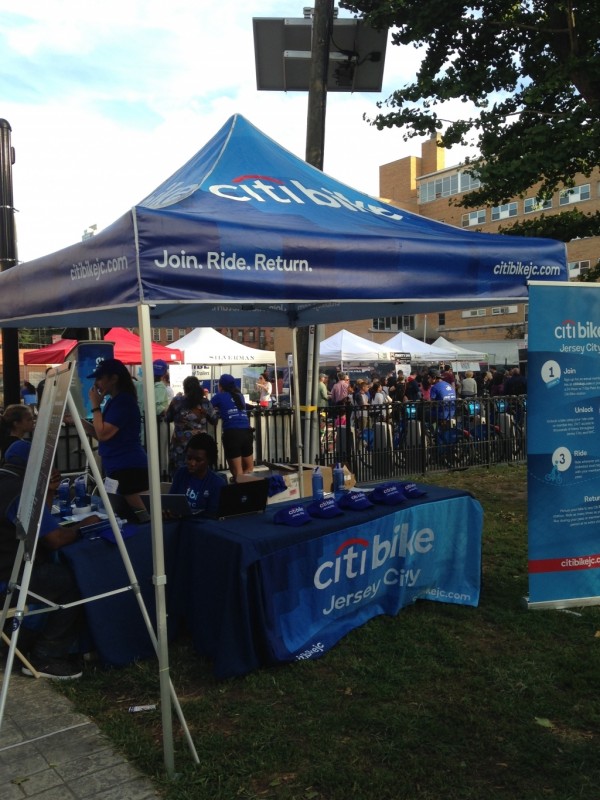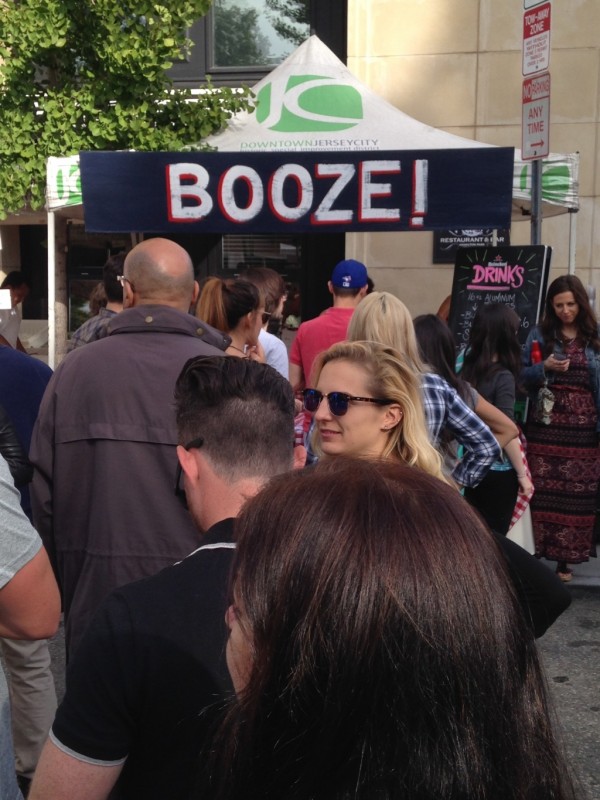 Mobs of people crowded both McWilliams Place and Hamilton Park, including a slew of people sprawled out on the grass of the park picnicking on their BBQ feasts.  But people weren't the only guests in attendance.  Tons of dogs padded by on leashes and even the resident JC pet pig, Gaston Le Pig, came by to participate in the festivities. Everyone was welcome to the festival!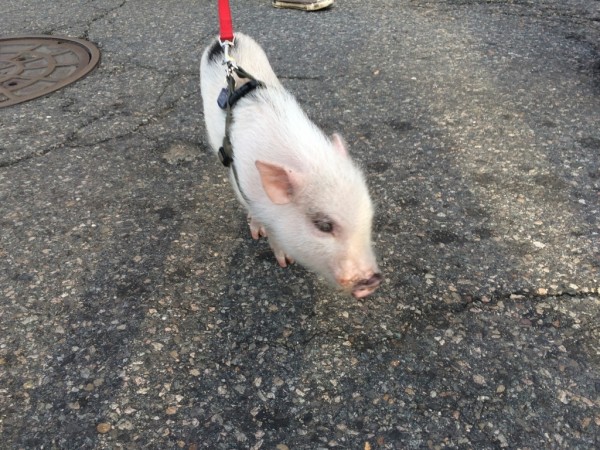 The sounds of several different bands blared out from the stage at the end of the street; the music ranged from country to bluegrass to today's hits like Pharrell's, "Happy." Then Taylor Swift got on stage and sang, "Shake It Off."  And that's when I realized she wasn't actually there, but a DJ was to keep the crowd entertained in between band sets. (I was three sangrias deep at that time)
That's when I decided it was time to finally get some BBQ in my belly.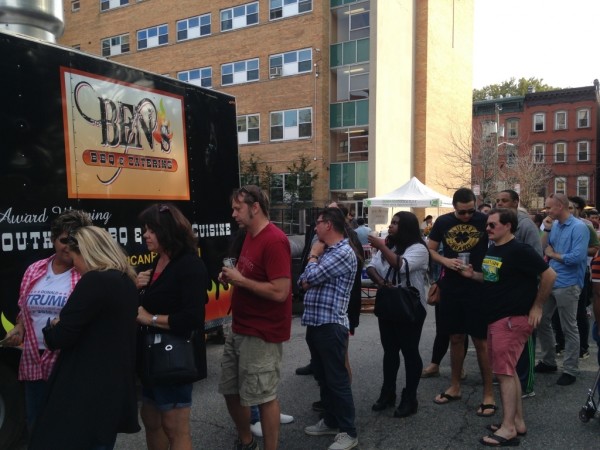 But this decision was extremely difficult to make as the lines snaked endlessly from each BBQ vendor, which only proved they were all amazing.  There was Dinosaur Bar-B-Que, Delaney Barbecue, Jimmy's BBQ and Ben's BBQ to choose from.  It was a tough call, but we ultimately decided on Jimmy's BBQ.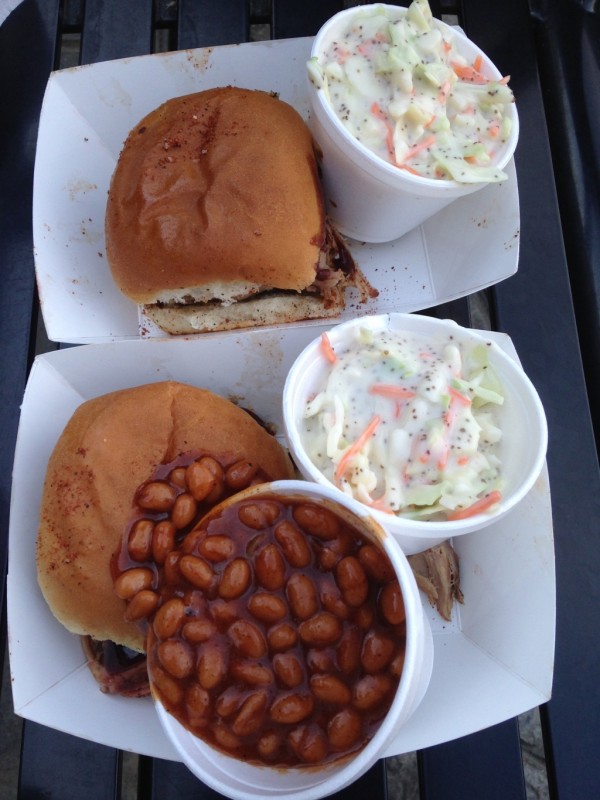 We waited on line for over twenty minutes, but the hickory smoked baked beans, the creamy and tangy coleslaw and the pulled pork sandwich smothered in BBQ sauce (I'm sorry Gaston Le Pig for eating your ancestors) made it well worth the wait.
I definitely should not have worn a white sweater to a BBQ festival, especially since it was after Labor Day. Or is that rule strictly exclusive to shoes? Regardless, I still managed to keep my sweater spotless.  And I couldn't leave without getting one of my favorite fruit infused lemonades from Lizzmonade.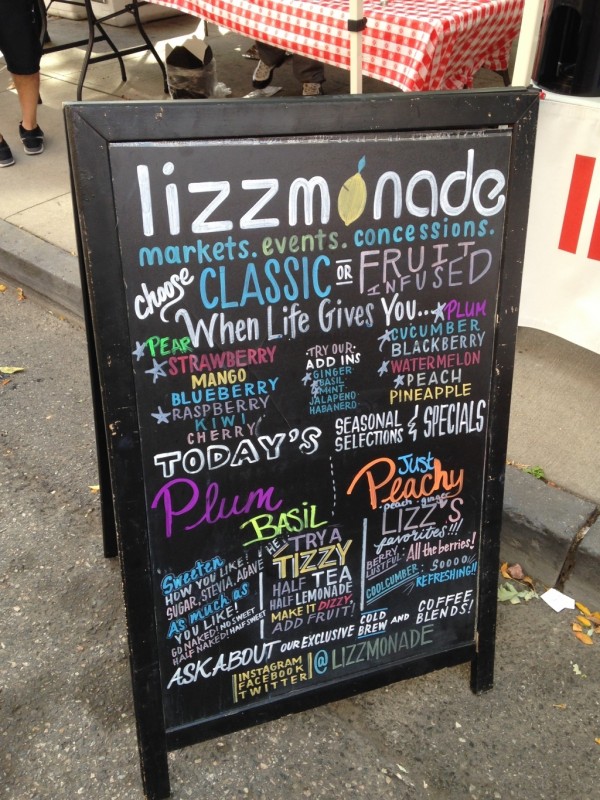 Helpful hint: These lemonades are perfect for spiking with flavored vodkas.  You're welcome. (Hello, rehab relapse)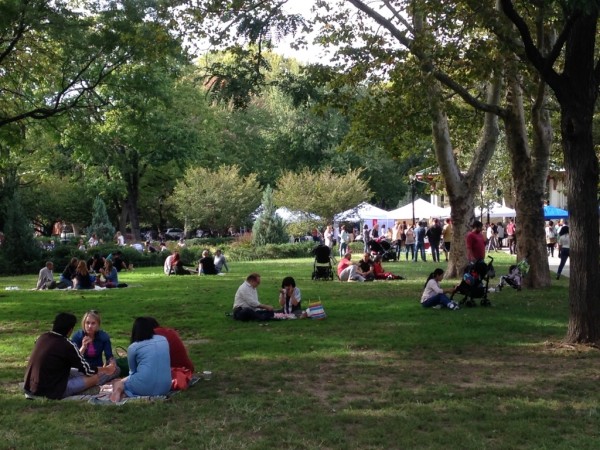 Thank you Jersey City for another fun-filled Saturday! See you all at the BBQ Festival next year!  Unless I'm in rehab, in which case I won't be able to make it.
Charles
---
I am still recovering from the All About Downtown Street Fair so I was really excited when Stephanie and Charles volunteered to cover the Hamilton Park BBQ so I could actually go with the family, enjoy it and relax a little. That being said, I had such a good time, I had to add my own little recap!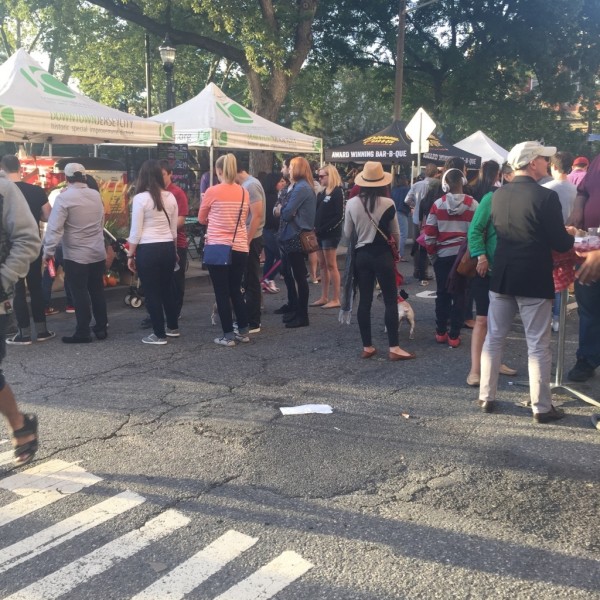 We got there around 4pm and the place was packed!! We got some ribs, a pulled pork sandwich and drinks from Hamilton inn as soon as we got there.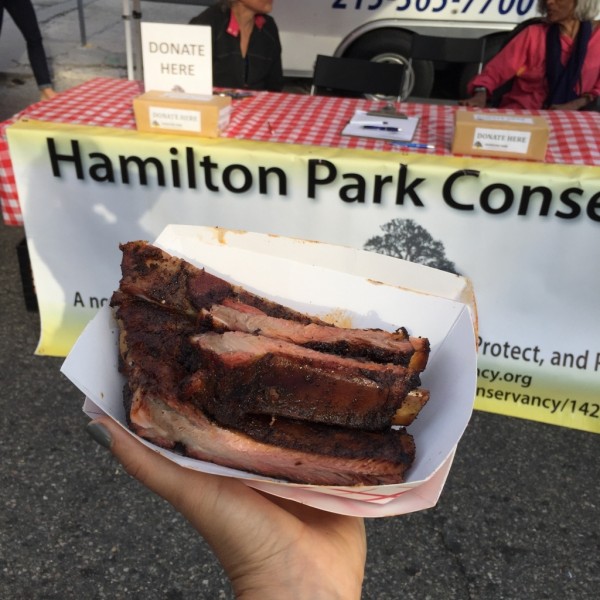 As soon as we finished eating we went to enjoy live music curated by the Mayor of Fun, Dancing Tony.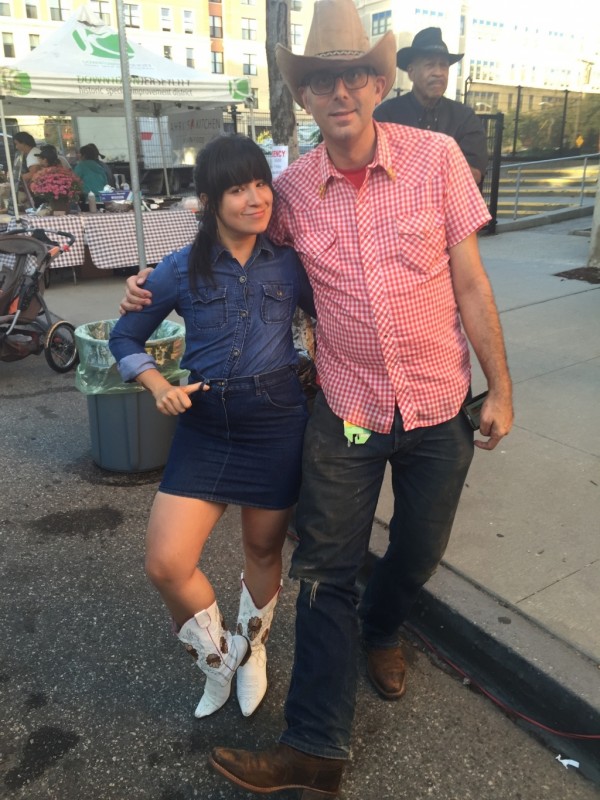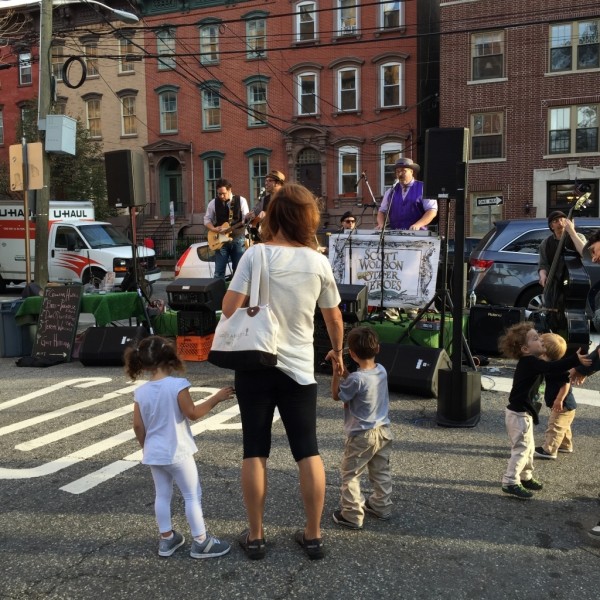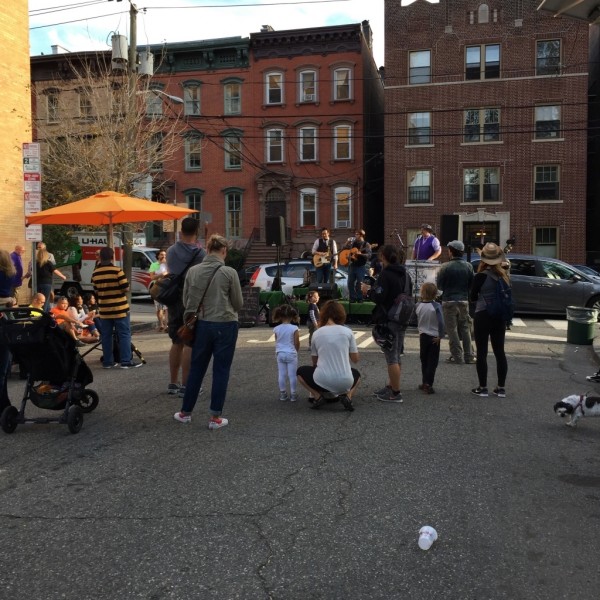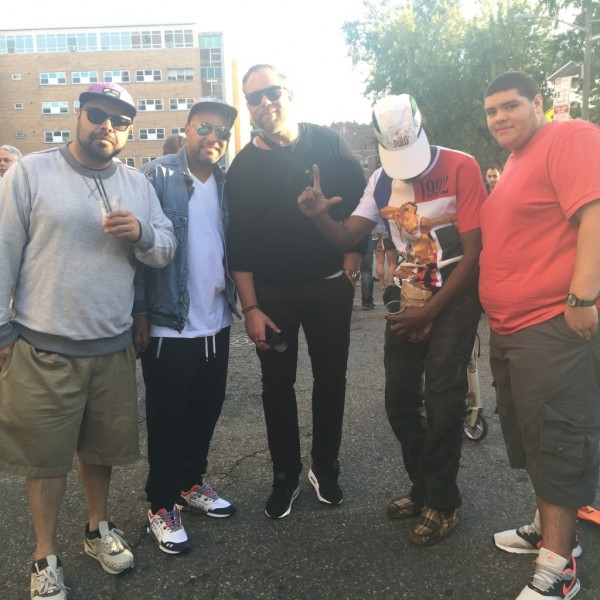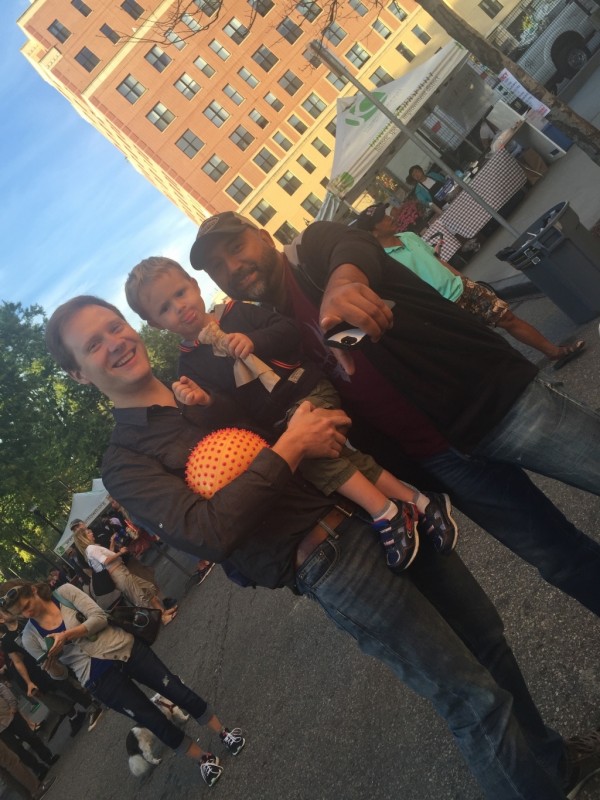 It was a fantastic event, it was so great to see friends and JC people enjoying themselves on a beautiful fall day. Kudos to everyone involved namely the SILVERMAN's Brittani Bunney was the architect for pulling this off! Chicks rule.