This music-filled annual Halloween fundraiser is back!
On October 22 and 23, spend the night jamming out at The Ghost of Uncle Joe's, an annual fundraiser for the Historic Jersey City & Harsimus Cemetery hosted by (The) Rock-it Docket and the Historic cemetery.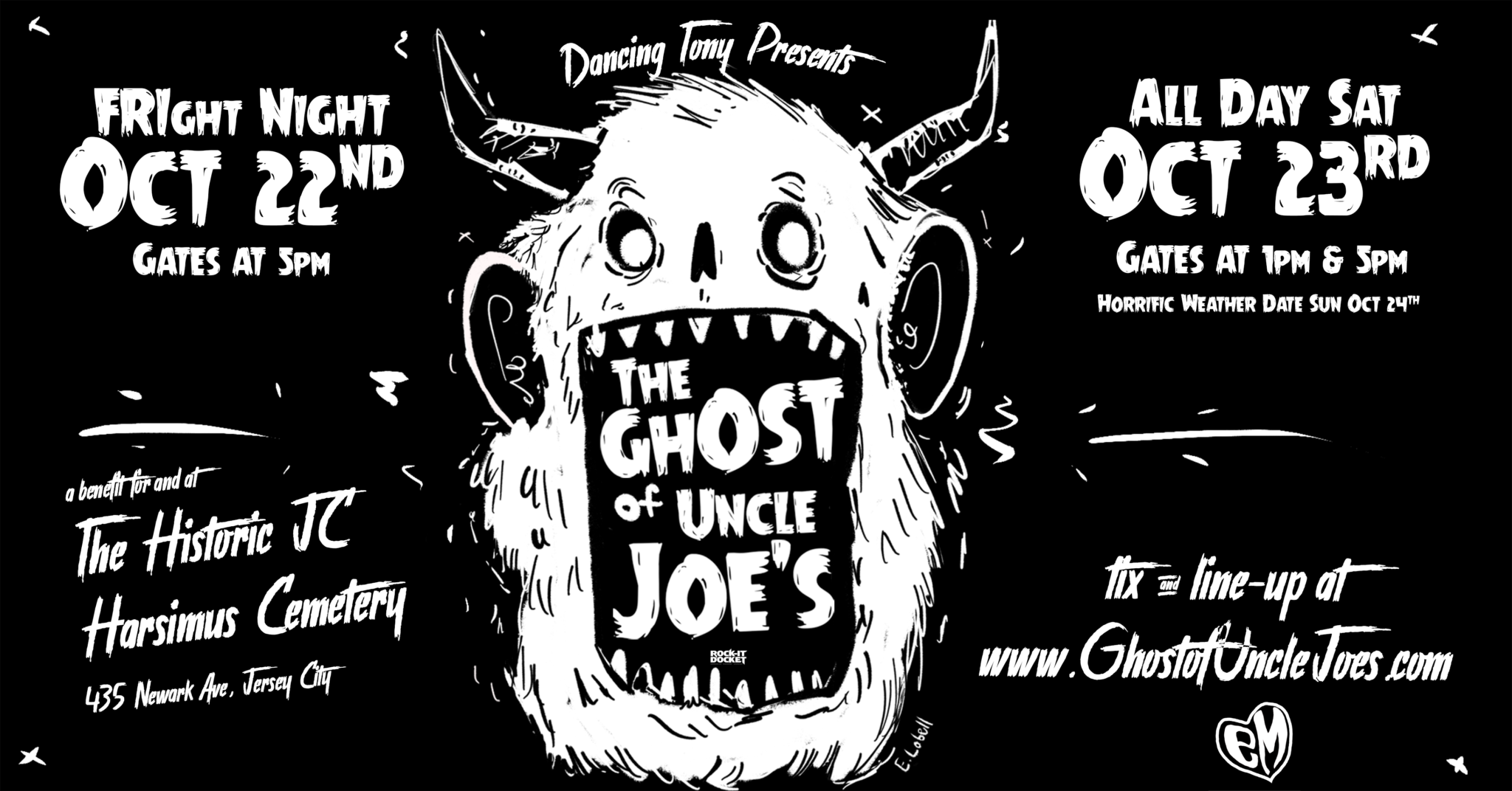 Every year, local musicians dress up and perform songs by famous bands on cemetery grounds as guests pull up in their best costumes to enjoy live music, drinks, bites, and fun activities. This year's live bands are:
Talking Heads
The Strokes
Billy Idol
The Hold Steady
Ramones
Pat Benetar
Fleetwood Mac
Rush
The Clash
Metric
Limp Bizkit
Rage Against the Machine
Rolling Stones: Exile on Main Street
Donna Summer
Bikini Kill
Maroon 5
Tribute to Adam Schlesinger
Ricky Nelson
Sunny Day Real Estate
Bright Eyes
Traffic
Rock Utopia
Lady Gaga
The White Stripes
PJ Harvey
LCD Soundsystem
The Ben Gibbard Treatment
Lou Reed
Nick Cave & the Bad Seeds
The Jam
The Black Keys
David Bowie
Sugar
Elliot Smith
Spongebob Squarepants Underwater
Refreshments include beer from Departed Soles and 902 Brewing and bites from Simply Done Catering, Cal's Hot Dogs, and Angry Archie's.
Don't forget to stop by one of the many after parties in the area! This year's after parties will take place on October 23rd at Porta, Pet Shop + PS Wine Bar, Low Fidelity, and JSQ Lounge. There'll be live music and plenty of drinks to keep the night going.
It's all happening the weekend of October 22 and October 23! Gates open at 5PM on October 22 and at 1PM on October 23. Tickets can be purchased online – $20 for Friday. $20 for Saturday afternoon, $25 for Saturday night, or $50 for the whole weekend.