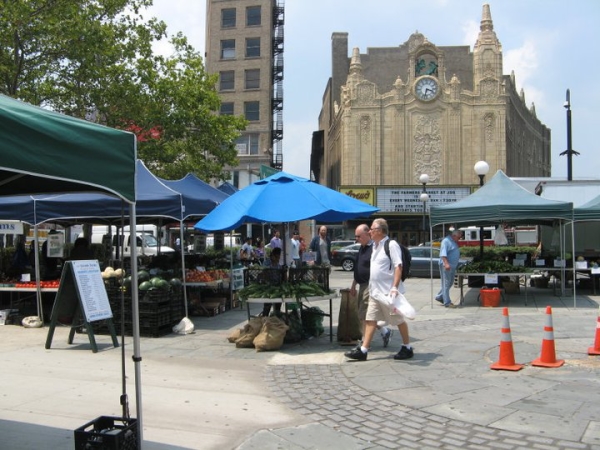 This Saturday kicks off the Journal Square Green Market along with the 10th Annual Egyptian Festival in the Journal Square PATH Pavilion. Ever since my tour with Ahmed Shedeed, the brains behind the Egyptian Festival, I've been counting down the days for this Saturday!
I thought it would be cool to reach out to a few of the vendors who will be joining the JSQ Green Market this year to get the background scoop on this awesome market that will be happening every Wednesday and Saturday!
Taproot Organics
What's your name? Daniel Grunes.
What do you do? Chef du Savon at Taproot Organics.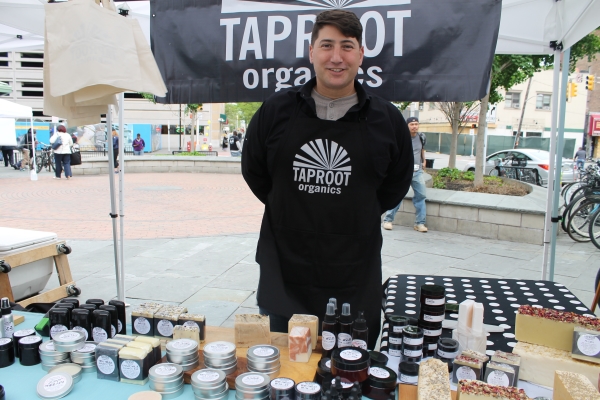 Let's talk about the Journal Square Farmers Market. Love it. Love the idea of anything that brings a little more attention to a great neighborhood that's starting to get a little more attention on the Jersey City scene again.
Do you live in Journal Square? I live and work in Journal Square.
Is this going to be your first time being a vendor at the Journal Square Farmers Market? It is. It is. We were talking about it last year, but we were a little over committed as it was our first year back in New Jersey. And so we wanted to make sure we really have a good grounding before we blew it up.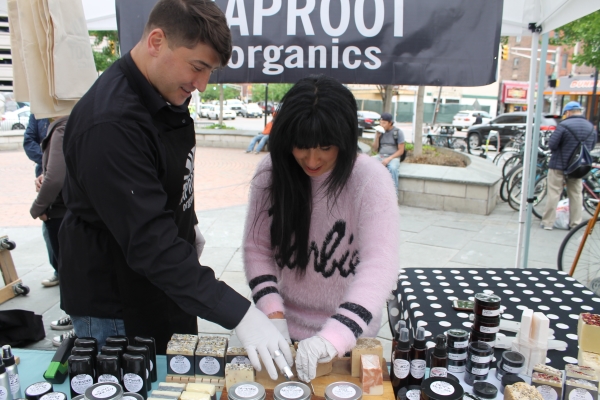 Is there anything else you want people to know about the Journal Square Farmers Market? It's about time that more people started paying a little more attention to it, especially considering that the unsung part of the Journal Square Market is that people from the Heights get off at Journal Square, people from Bergen-Lafayette get off at Journal Square and catch their buses home from work. So it is really a central hub to Jersey City. So it's a great experience, it's a great way to expose my brand and my company and great products and the farmers alongside me to more and more people.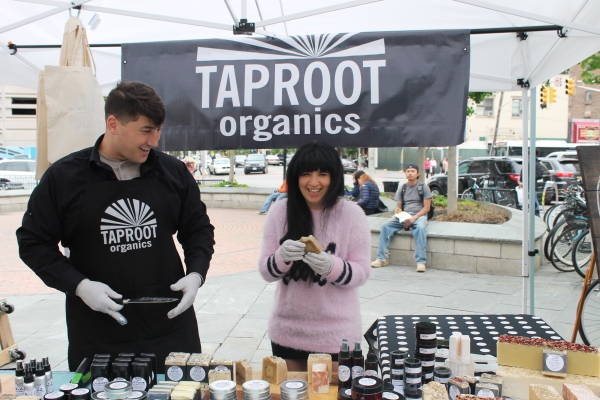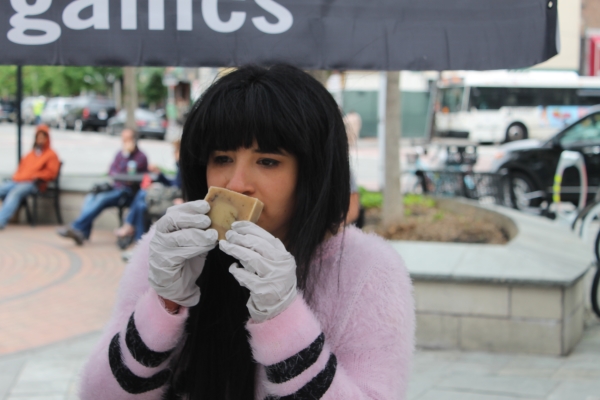 Stony Hills
What's your name? My name's Brant Davis.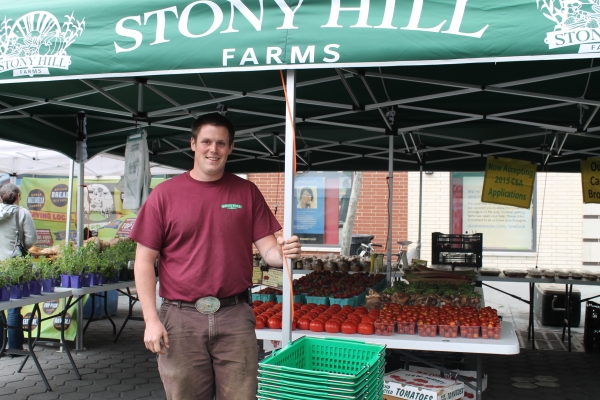 What do you do? I am the Assistant Field Production Manager as well as Farmers Market Manager.
How long has Stoney Hills been around? We've been in business since 1988, we've been doing farmer's markets for fifteen years.
Can you tell me a little bit more about the Journal Square Farmers Market? We're there every Friday from 11-7:30.
Why are the hours longer? Each market's different it's all to their own. It used to be earlier but they cut the hours back.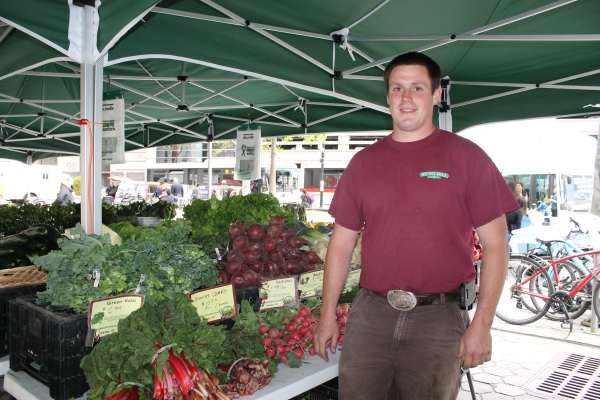 Can you tell me a little bit more about your products? Your fruits and vegetables? We sell Jersey fresh produce. We sell all kinds of fruit from strawberries in the spring to apples in the fall, as well as cherries, plums, peaches, nectarines.
So it's all local and fresh? How fresh is it? It's picked the day before and it comes right to the market, some things are picked the same day, it just depends how ripe they are.
So you only carry obviously what's in season? Exactly.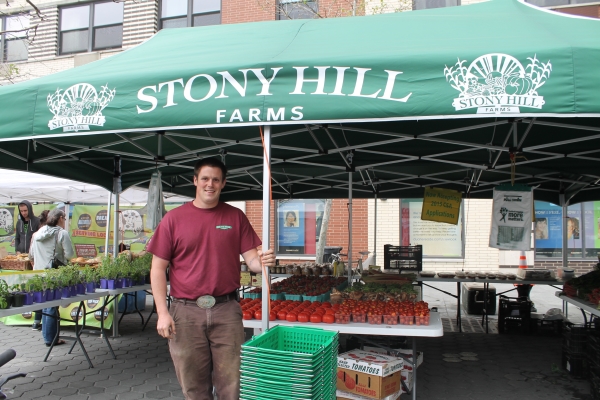 Is there anything you want people to know about you or the farmer's market in Journal Square? Besides fruits and vegetables we also do our own meat, so we have beef, pork, [and] chicken. We're working with another farm in our town and we're going to have ground turkey and turkey burgers. We actually also, just this year, just started carrying seafood from Viking Village in Barnegat Light and then we also have potpies and chicken sausages as well.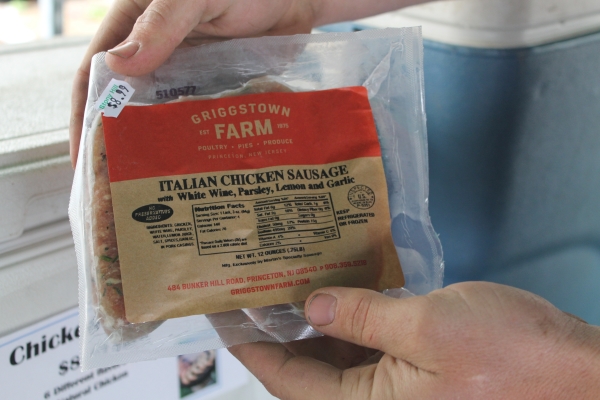 So buying local is better than organic? Why is that? Organic farming—the common consumer thinks that everything is not sprayed, no antibiotics or hormones, or anything like that. The actual facts about it is that they do spray chemicals, they do use antibiotics, they do use hormones, [and] they're just naturally found. There's hundreds of pages of chemicals that you can spray on vegetables that is organic that's certified through the USDA. It's naturally found chemicals but it doesn't mean that they're safer for you. Some of the things that they can spray are copper or nicotine, but have to be sprayed at a higher rate so it's more toxic to the insect. The problems that we find with it is that you're controlling your threshold zone. So when you go out to spray things with copper and nicotine it just kills everything, basically, is just destroying the environment that you're trying to build around it. You're kind of trying to use two things that don't work together.
I was at a convention and we saw that there are hormones and antibiotics that are certified through organic. But we've been raising beef cows, like my grandfather started raising beef cows in the 60s, and we've never used antibiotics or hormones on the. When they get big enough, they're big enough. Any of the produce that's not good to sell for people's consumption, we send it to our cows and our pigs and our chickens, so they're eating old produce or stuff that's not good as well as corn and hay and grain, so they're just eating and living a happy life.
So interesting!! Thank you!
---
KABR Group, Kushner Companies and Panepinto Properties have provided underwriting grants to support the 2015 Green Market
If you would like to become a vendor please email Don Smartt: don@donsmartt.com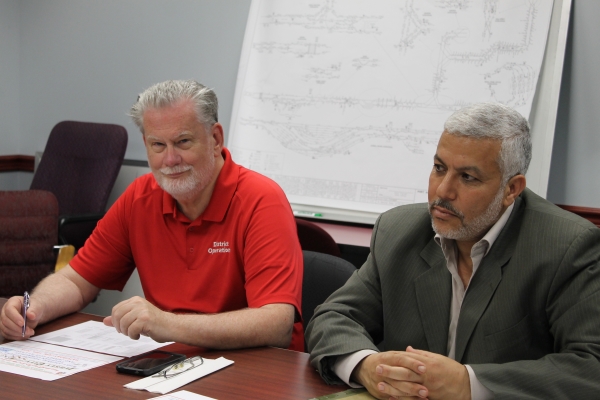 Don, what should people expect this year at the Green Market? "They should expect to have Jersey fresh vegetables and local artisanal products and enjoy themselves!"