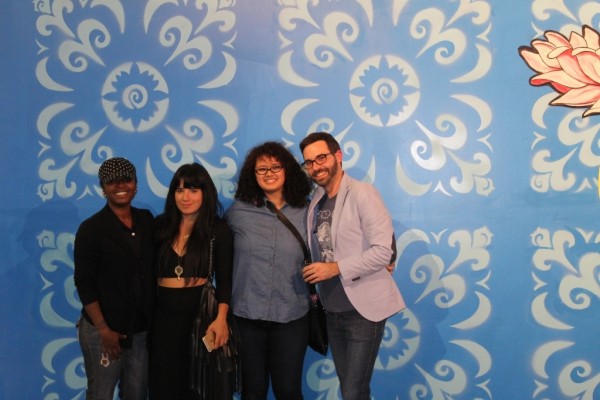 Thursday afternoon I got a bunch of messages from friends and acquaintances wishing me "good luck," to which I responded "for what?". Everyone had assumed that I would be attempting to cover 200 + Art events happening this weekend. To their dismay, my response was "I am sitting this one out." To be honest, I've been a little burnt out lately and decided it would be best to take it easy this time. That being said, I couldn't miss the kick-off party! Also, I am lucky to have a great team of energetic contributors that were able to cover some events for all of us. I am so excited to read their recaps… and next year it's on.
Check out our contributor recaps by Crystal, Shanelle, Erin, and Yuvraj!
Lackawanna JCAST Kick-Off Party
I got a sneak peek at the Lackawanna Warehouse a few days ago at a press event. Amazed with the space, I knew it would be a kick-ass party. When Friday night rolled around, hurricane Joaquin was putting a damper on all our plans but I knew the party would still be awesome and packed with people. I was right. LGBT contributor Charles, picked me up and off we went to Lackawanna.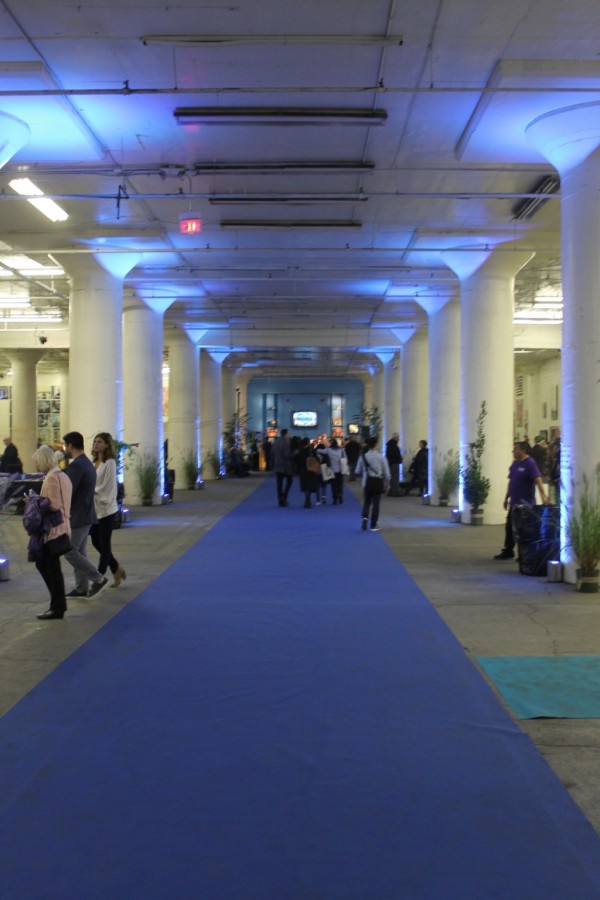 There were tons of people, so much so it was hard for us to find parking at first. We walked in and started our art

Dylan Egon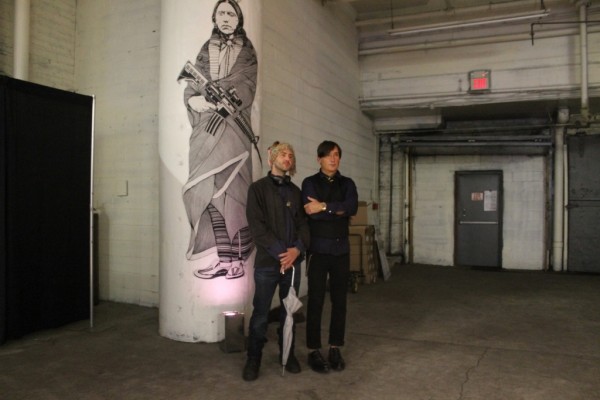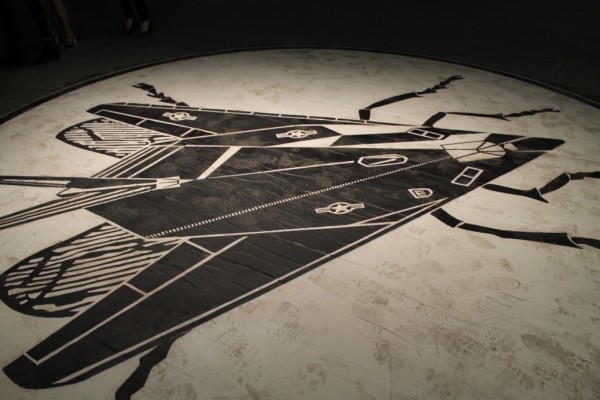 Jersey City International Television and Film Festival was there showing trailers for the upcoming festival weekend starting October 16th. Stay tuned for more details!!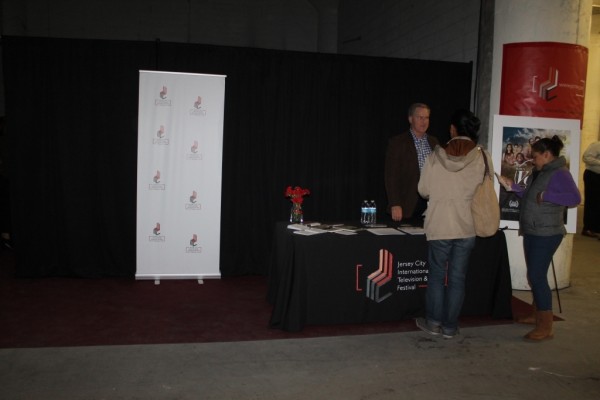 Swati Rastogi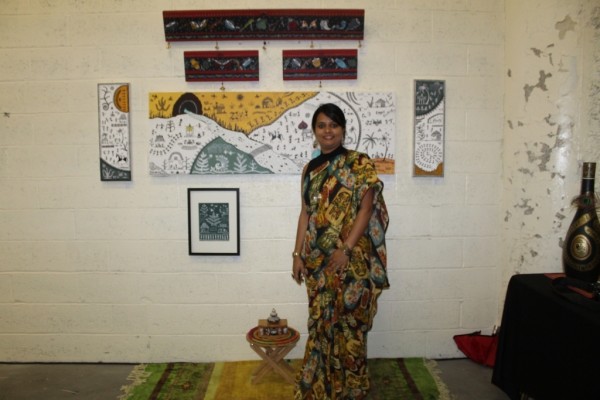 Ray Arcadio
Jerome China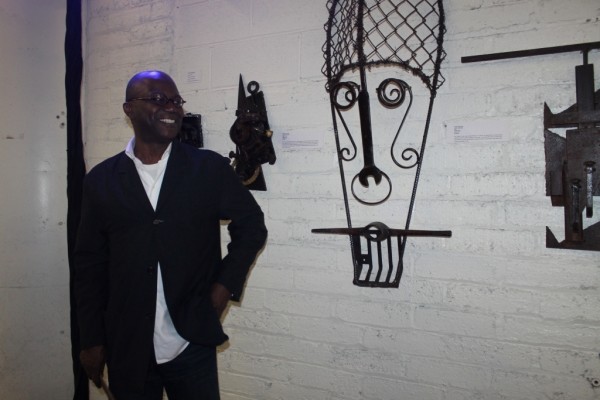 Alicia Ruth (this was one of my favorite pieces of the night!)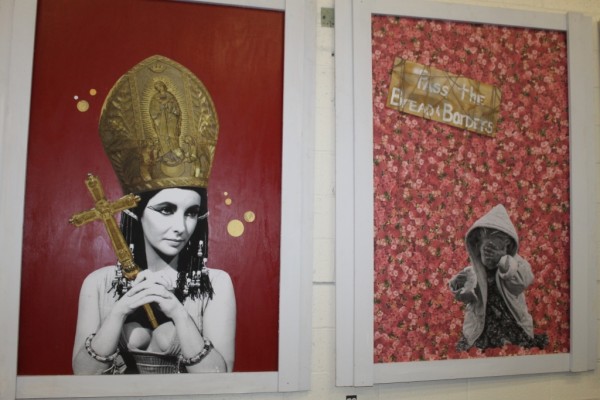 The "Piece de resistance" was artist/firefighter John T. Ruddy's mural. We basically had to wait in line to take pictures of it! It's absolutely gorgeous!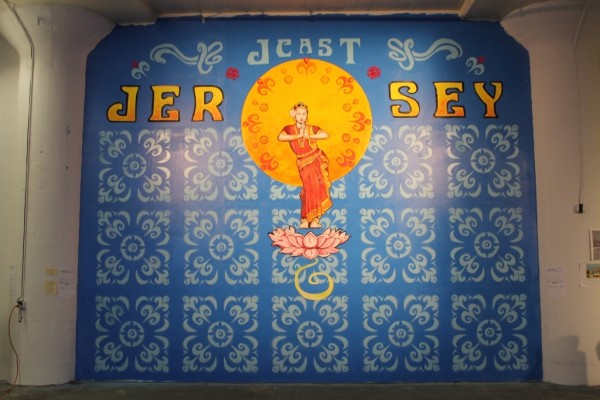 The best part was getting my picture taken with him. He is such a cool dude… Yes, I have a thing for firefighters but you all knew that already! #duh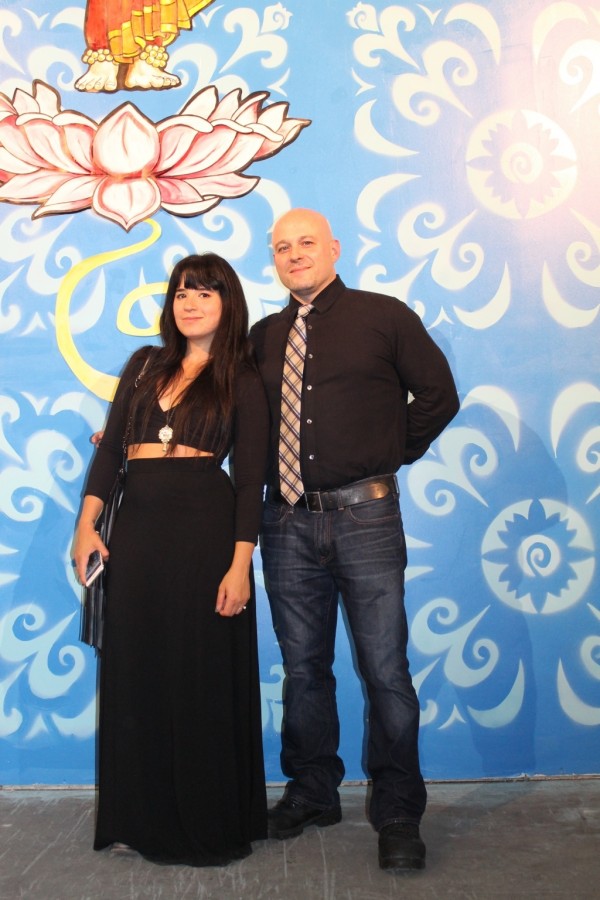 Check out the gallery for all the amazing pictures of the kick off party!
On Saturday, we decided to go to the Liberty Science Center to check out the new Dora, "The Explorer" exhibit for mini-chicpea. Art is not really her thing yet.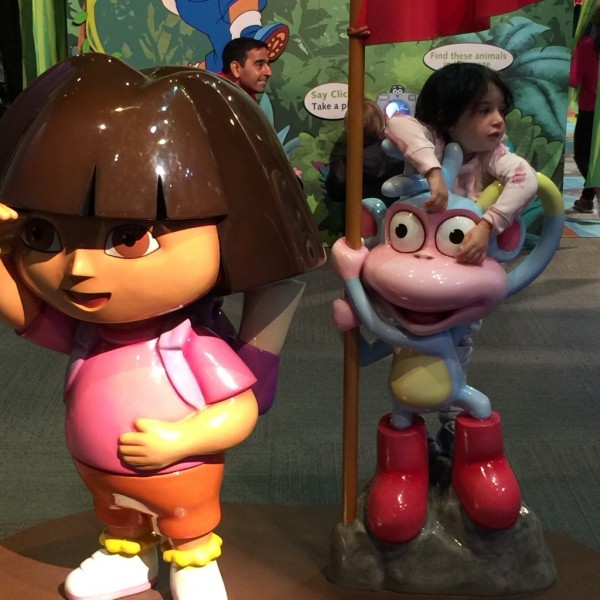 After nap time, we decided to at least go to Beth Achenbach's Thaw Photography Exhibit at LITM since I haven't had the chance to check it out yet.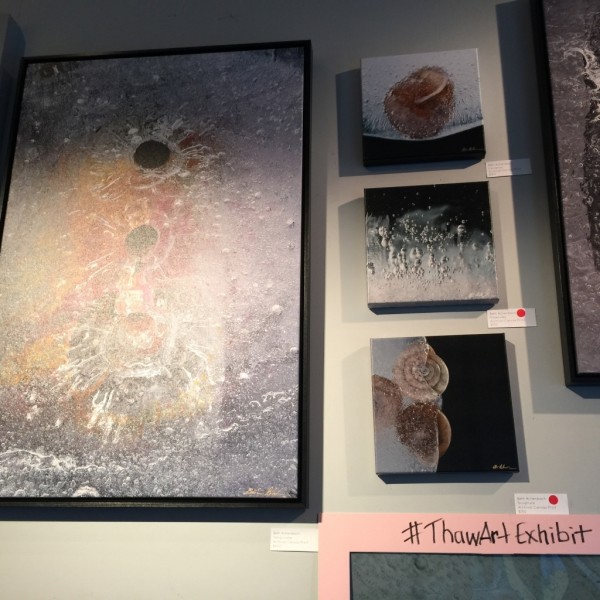 I loved all her pieces, but my favorite one was the rubber ducky! Which will be in our home hopefully soon! yay!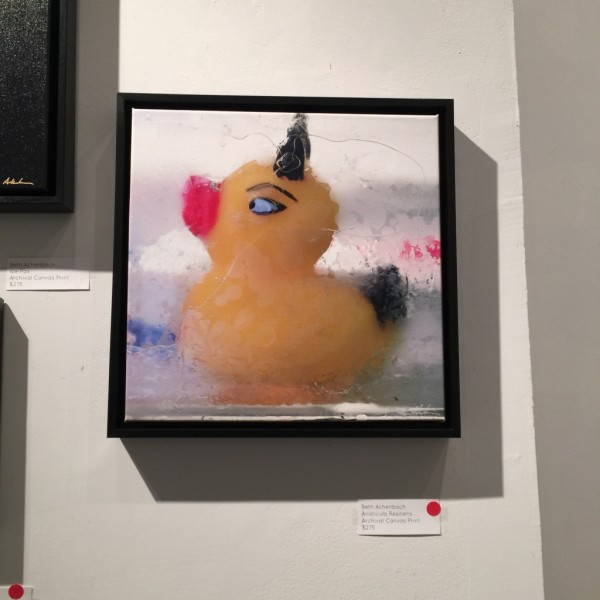 After hanging with Beth, we went next door to Raval to check out Kayt Hester's and Robert Piersanti's exhibit. I love them!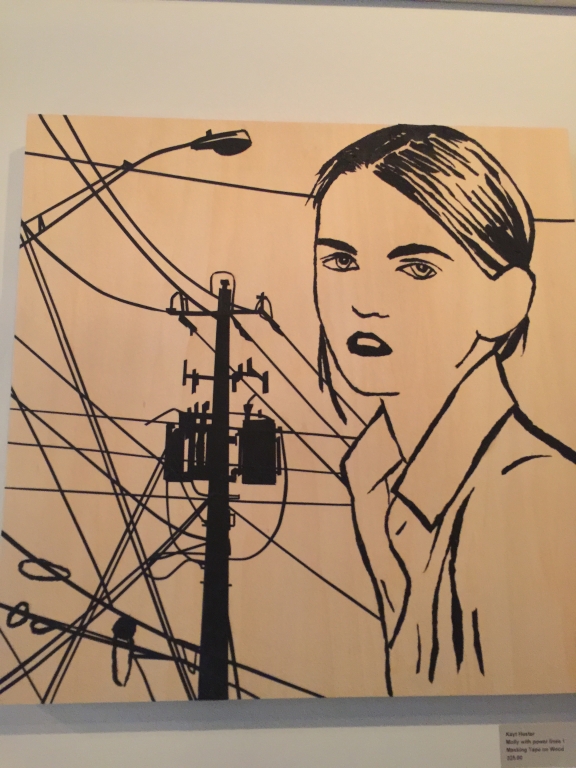 Last stop on our art tour was "ChicpeaJC sights at Base."  Well, I had to check out my own work right?! When I walked into Base and saw all my photographs hanging it was a very proud moment. I am really excited about having the opportunity to showcase my favorite Jersey City pictures! We will have a party October 14th! Check the ChicpeaJC Facebook page for details.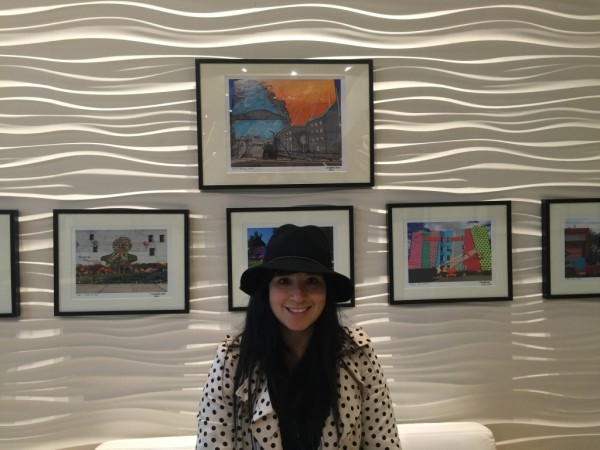 ---
Recap by Shanelle
Jersey City Office of Cultural Affairs had their 25th Annual Art and Studio Tour; this year's art tour kickoff for the 220 stops and viewing of 800 artists was held Downtown at the historic Lackawanna Center. The rain, the wind, or the cold weather couldn't keep the crowd from coming out to view the exhibitions.
As I stepped into the Lackawanna Center for the first time I was startled at the hidden beauty of the building. The first floor of the 1.3 million square foot building was dedicated to displaying the creative pieces of many different artists. The space was full of different varieties of pieces from paintings to metalwork, and even Junk Art.
One exhibition loaded with aliens, super heroes, and creepy looking pastel colored teddy bears caught my interest. I got a chance to talk to one of the brains behind the exhibit, Roland Ramos, a group show curator and musician, said the inspiration behind this year's exhibit was to show everyone that "Everything matters….Everything is important, what's important to us is bringing focus to what's important." Ramos who has been a curator for three years worked alongside participating artists to put together the "More Human than Human" exhibit.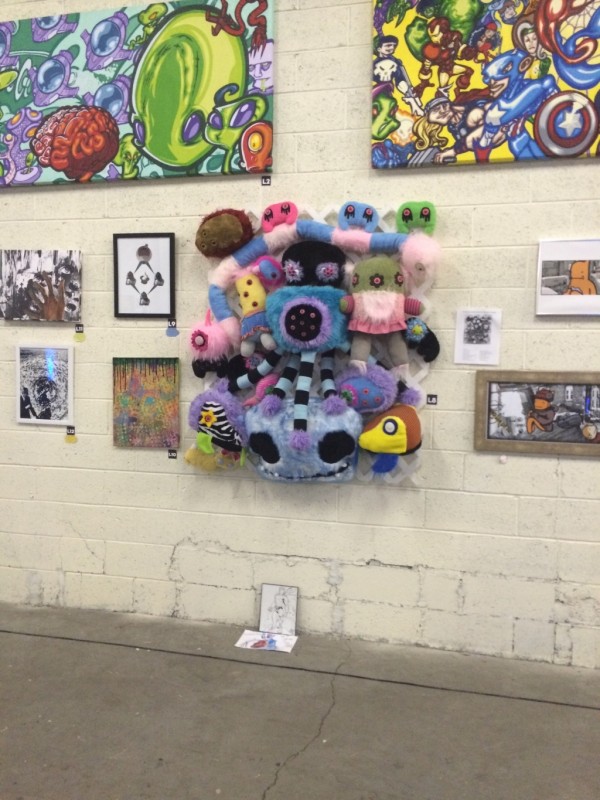 Metal Sculptor, R. Jerome China displayed symbolic pieces with history attached. The steel shovel was made into a mask and called "Spade" to play on the derogatory word used to identify African-Americans and other people of color. China began sculpting after taking 12 scrap melting classes, he has since turned his hobby into 3 ½ years of creating beautiful pieces. One of my many favorite pieces at the show was his Urban Tribal Mask; China's pieces had a profound similarity to ancient African art. The artist said he never studied African American art; the resemblance in his work is a mere reflection of the connection with his African ancestors.
Friday's kickoff show was the perfect way to start the weekend. I spent a cold rainy Friday night looking at creations of visionaries with drinks, laughs, and stories with cool people. The night bet any typical fun Friday night at home with movies and ice cream. I anticipate having twice as much fun at next year's JC Art and Studio Tour as I did this Friday.
---
Hispanic Heritage Exhibition at The Mary McLeod Bethune Life Center
As part of Jersey City Art and Studio Tour the Mary McLeod Bethune Life Center hosted an art exhibit in honor of Hispanic Heritage Month. The center is dedicated to hosting events honoring culture and bringing cultural awareness into the community. Every two months the center changes the theme to the gallery, giving all nationalities a chance to display their talents.
A video played a group of high school kids painting graffiti on the walls of Jersey City as part of one of the many different exhibitions in the center. The group named "Naturemorphosis," shown on the video consist of a group of high school students and community leaders that came together to bring art into the community by painting a local community park.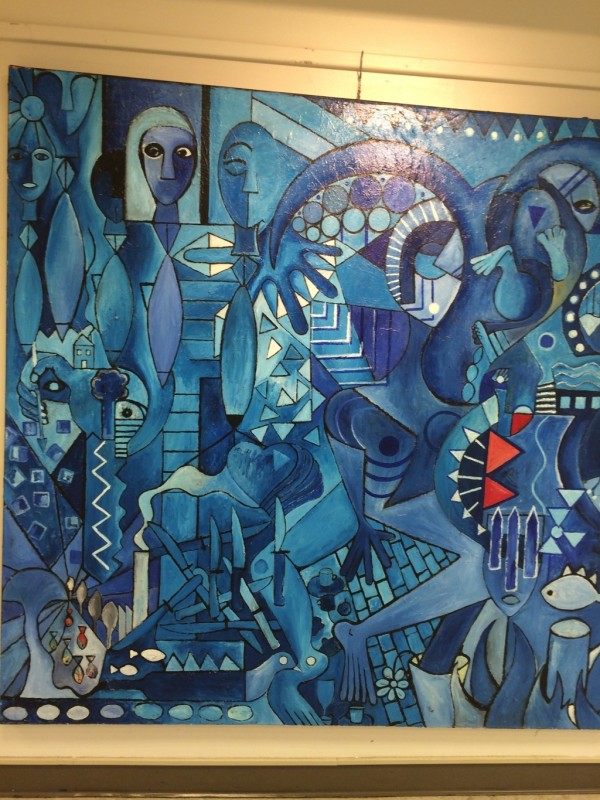 Joyce Ziwlaznicki, the curator of Art Exhibitions at the Mary McLeod Bethune Center said it normally takes about two months to put an art show together. Artists displayed at the center are usually found by word of mouth, through online research, or found at other art exhibitions. Ziwlanznicki said in reference to this month's show, "I wanted to show not just Latin cultural but Hispanic Culture." Being an artist herself, Ziwlanznicki proved her art expertise in art when she selected the artist displayed in the center this month.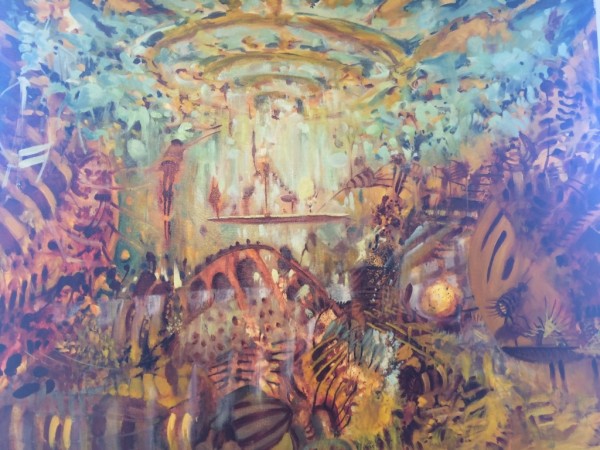 Artist Fabricio Suarez, who says his work is influenced by the writings in "Open Veins of Latin America," had his thoughtful paintings throughout the Melissa Holloway Gallery. With one glance at his work, you can sense the depth behind his paintings.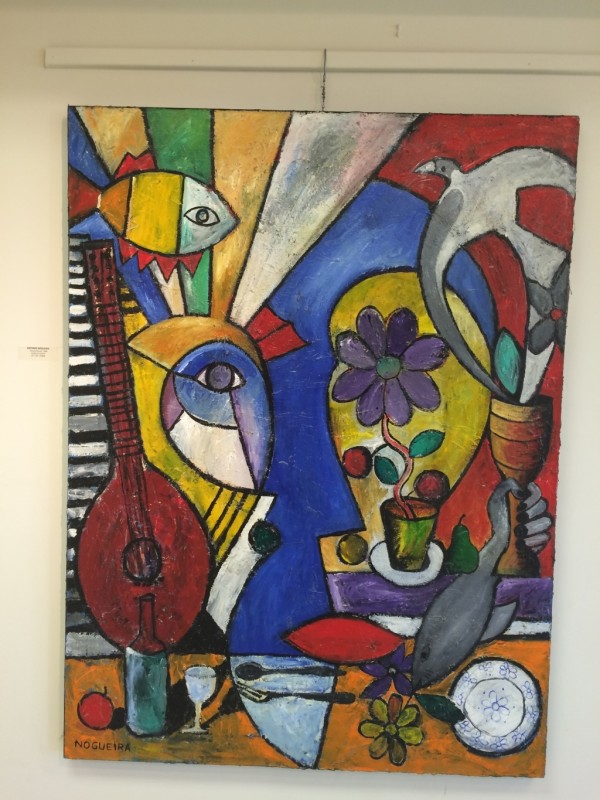 Another fantastic artist displayed at the center was Antonio Nogueira, a wheelchair-bound artist that uses art to face his own challenges in life. Nogueira had several beautiful acrylic paintings displayed in the center, all of his paintings had vibrant colors and the drawing resembles Picasso pieces.
In effort to create more activities and programs, the center is looking for local artists to join in and help develop the use of the center. With all the wonderful programs already taking place at the center, I cannot wait to see what the artistic future will hold.
---
Recap written by Crystal Davis
The 25th Annual Jersey City Art and Studio Tour was spectacular this year. Nearly two years ago was the first time I got to experience it and I couldn't get enough of it. Having gotten a late start on Saturday, I decided to spend the weekend at 150 Bay getting my full of artwork and smaller exhibitions.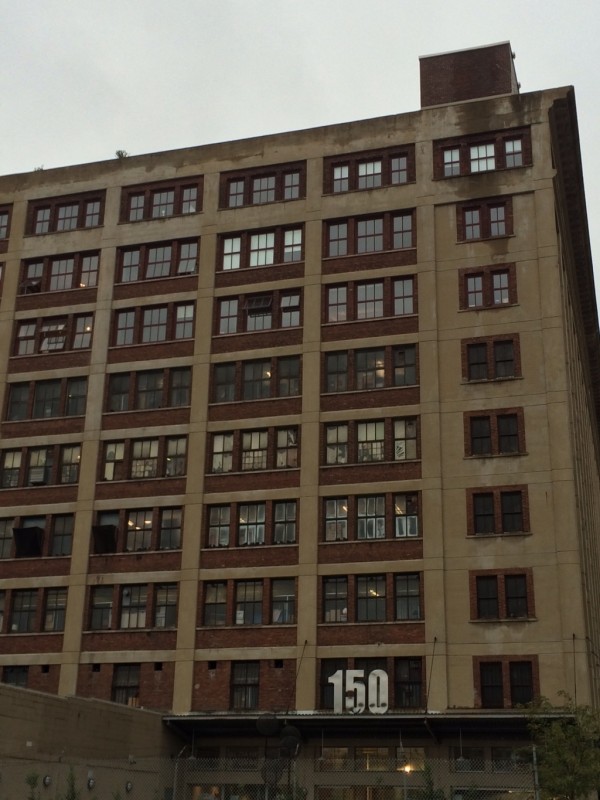 I always find the when you explore the artwork of different artists you are placed in another world, a quiet place where you are allowed to come to your own conclusion. With many of the work out for display in the studios art 150 Bay St. the time couldn't and place couldn't have been any better. Around 5:00pm the skies we're already dark and cloudy—leaving most of the studios with spotlights on their artwork to really show off the immense amount of time and passion put into each and every piece. Some we're strung to high ceilings and displayed in such a way that they could only speak for themselves. Some studios carried a cluttered array of work that defined the messy situation of the art itself, yet it made them stand out in such a way that you couldn't stop staring.
Studios from the 7th, 8th, and 9th floors were open to the public as guests rotated from room to room on a track. Footsteps huffing across the floor as they wandering into the next world that was presented to them. Throughout my tour I met a number of wonderful artists who truly knew how to grasp an idea and run with it.
Lloyd Stevens' studio displayed work that glided in bluish hues from canvas to canvas. Intricately placed side by side, they all told a story that was shrouded in mysterious cloaks and layers.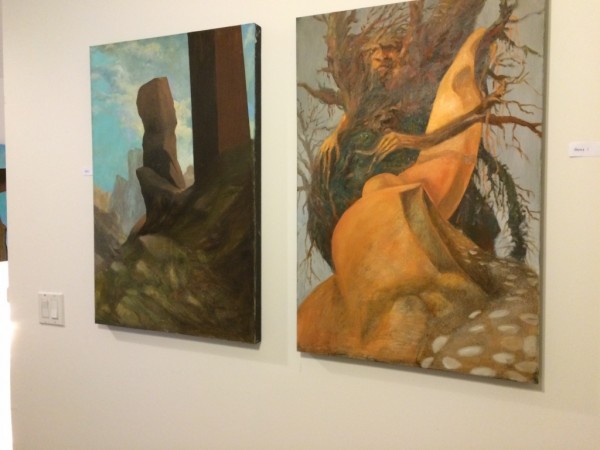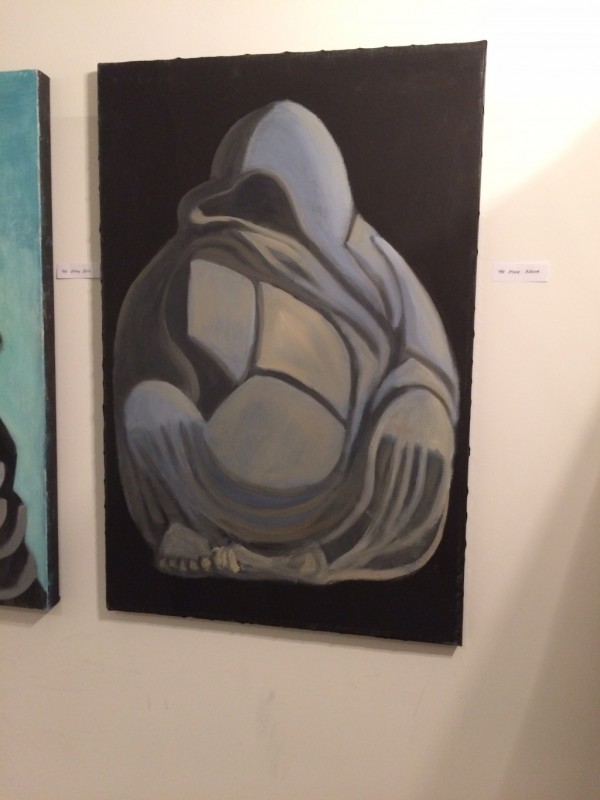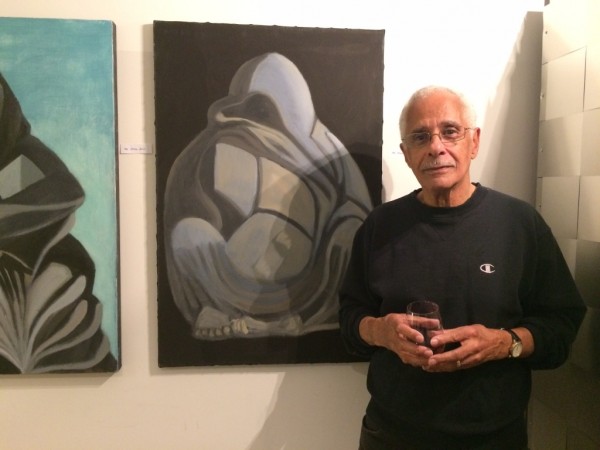 Stevens' explained to me that there was no particular reason for excluding the faces from his paintings. He believed that by not painting faces it left "More mystery to the paintings. I have a smiling wooden Buddha at home and I decided to paint him without a face so people imagine one."
Each studio struck a new chord for me, although I was seemingly late to the party the artwork still called out to me and those who were left around me. It felt as if I were gliding through a canal of lost souls painted on canvas, sculpted, photographed, and crafted into a river of fervor, grief, pride, passion, and apathy. So much artwork and quite literally, so little time.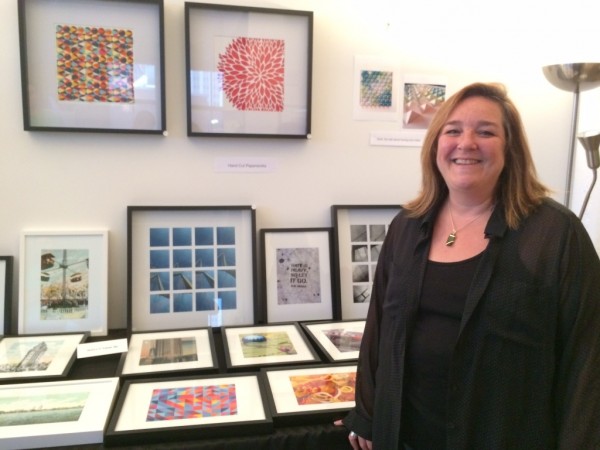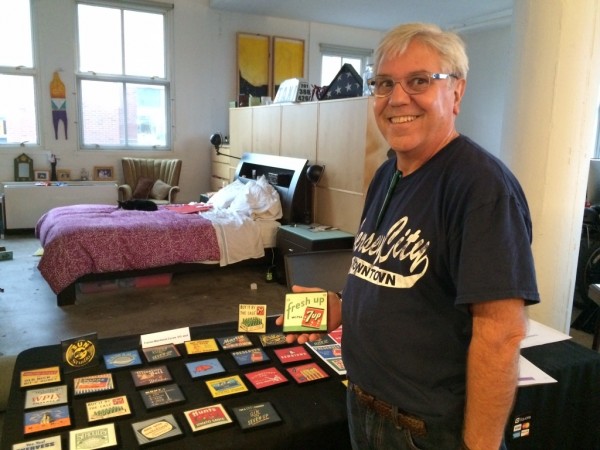 In continuing my tour I met with Frank DeMarco and Lauren Schwartz, a pair of amazing photographers and the owners of Outside The Box Interactive. When Lauren travels she explained that she catalogued bridges on her trips. Frank had a wonderful display of vintage matchbox covers that he either scanned or photographed and experimented with putting them on squares and textured objects.
Connect with Frank and Lauren: Outside The Box Interactive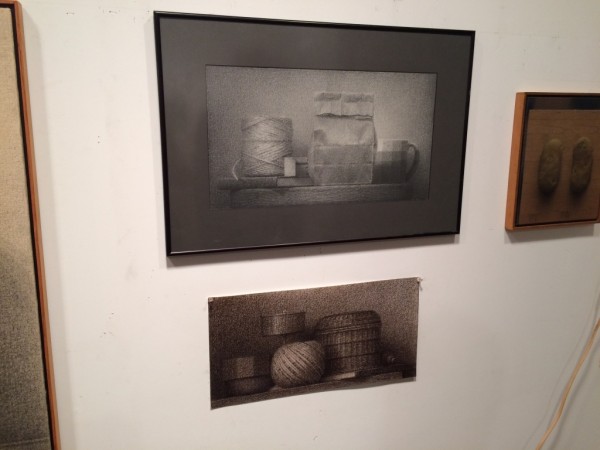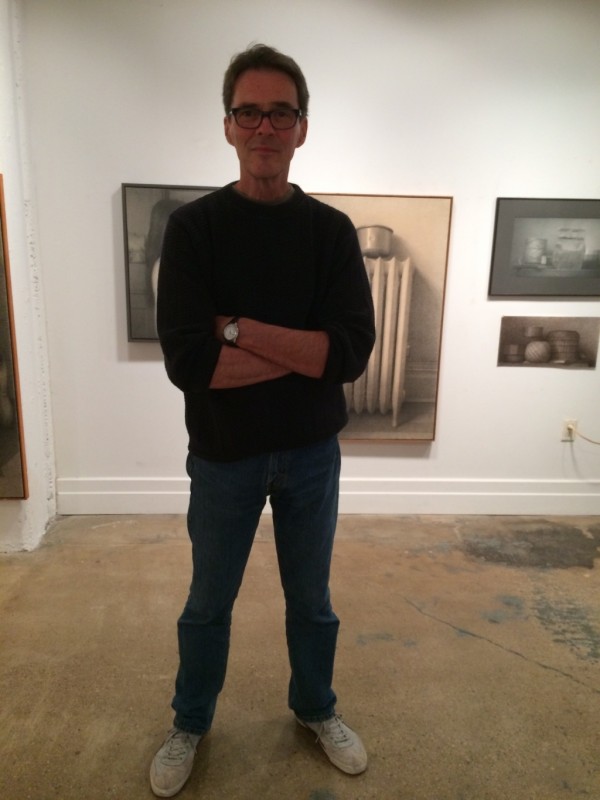 I have never envied the graphite more than when I spotted the work of Robert Kogge. Each piece was painstakingly chaptered with graphite on canvas to reach all the cracks and crevasses and highlights of potatoes, pots and pans, radiators and so much more. He explained that he wasn't always a graphite artist, but once he started he found that, "Graphite could give him more details than he could ever get with oil paint."
Connect with Robert Kogge: rvkogge@comcast.net | artslant.com | artists.de/rvkogge.hmtl
Before Saturday night came to its conclusion I decided to venture to the 9th floor and see what I could find. A greyish and quiet hallway with no one walking around slightly saddened me because I thought I had missed the events on that floor. To my avail were the bright lights and color-coded walls that lured me into this wonderful studio.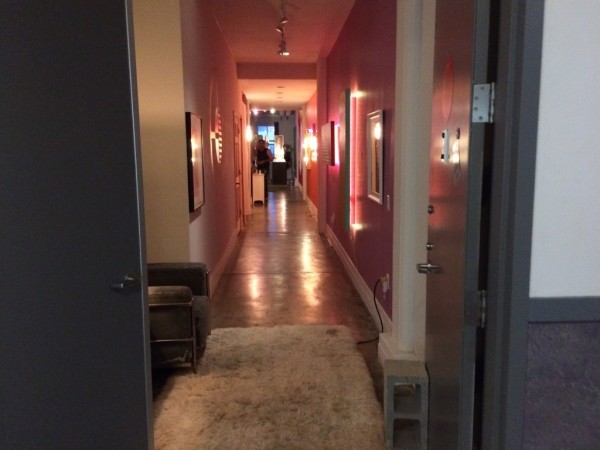 Artist Sarah Snodgrass, founder and architectural lighting designer of element10Design gave me a tour around her studio and showed me the original copy of the geometric DNA-like painting on her living room wall. We talked for some time and took a few photos together and she explained to me that she doesn't want to "Stop just yet." She wants to see where her work can take her and is looking forward to eventually getting her work placed in galleries. Towards the end of my time in her studio, Sarah invited me back to see a musical performance on Sunday which was thoroughly just as enjoyable and scribbling on intricately designed wall.
Connect with Sarah Snodgrass: Sarah@e10design.com | #e10design | e10design
Check out this awesome musical performance filmed by Mario Mantilla— Click Here.
Saturday ending with a cone from Bucket and Bay (B&B) and an unsuspected interview with Bucket and Bay's very own Juan Roque. Roque is a freelance photographer and student from NJCU studying Media Arts and Photography. With beautiful portraits hanging from the ceilings of the B&B, I had Roque explain the concepts behind his photos.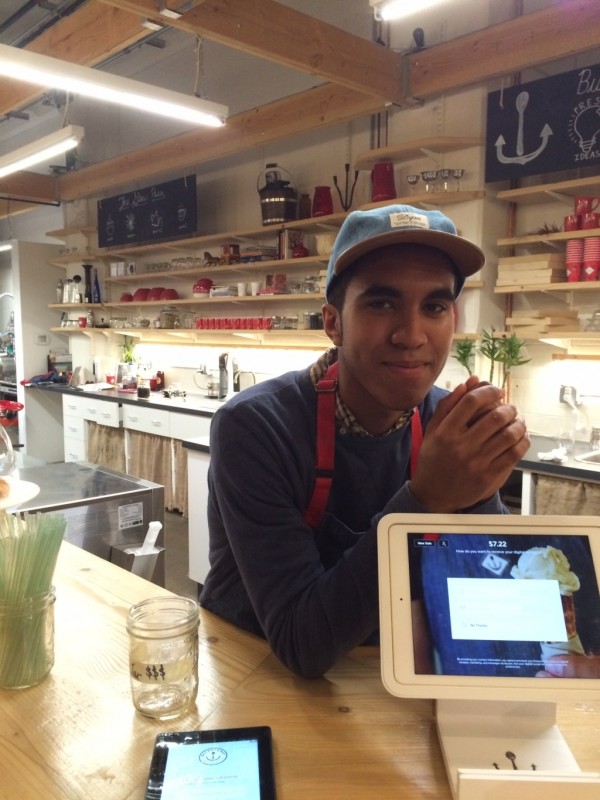 "I like taking portraits of people because I like capturing an essence of them in the photos. For example, the pose that this person is putting on it's very confident and it paints her as a very confident person. I also like playing with lines and patterns in the photos and colors as well. This photo is actually in Chinatown and Chinatown is really nice at night.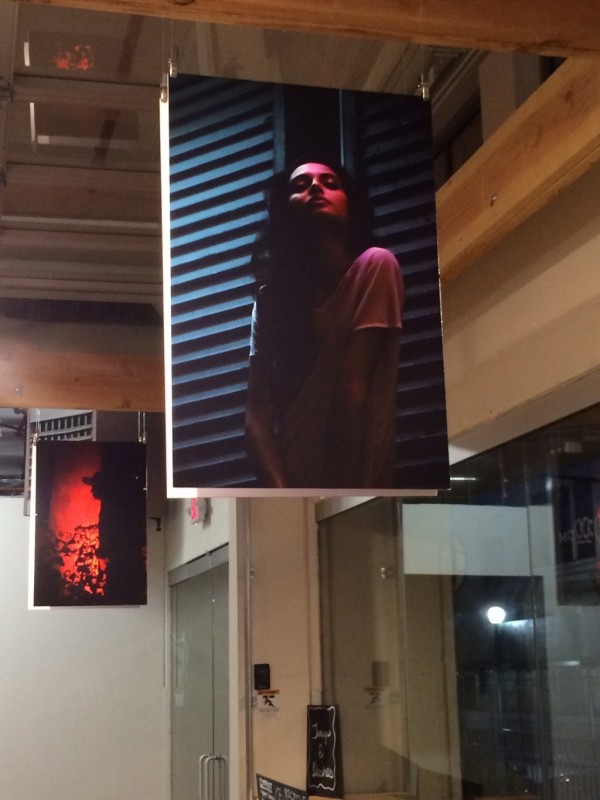 Connect with Juan Roque: http://www.similarvisuals.com/  | Follow him on Instagram
During my very first JCAST tour, I fell madly in love with the simplistic print work of Muriel Favaro, an amazing designer that inks a lot of dots. Dot after dot cascades her studio, dots on canvas, dots on newsprint, and dots on fabric clutches. So many dots. Favaro has the design industry for a long time and she has been the senior designer at places such as Kate Spade and LeSportSac. Who would ever say no to polka dots in a rainbow of colors?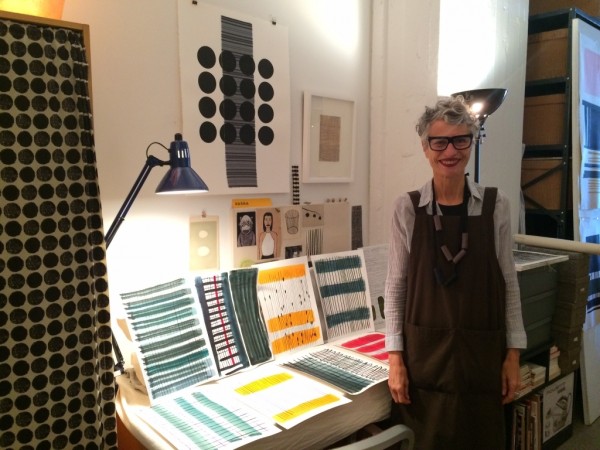 Connect with Muriel Favaro: murielfavaro@earthlink.net
Before concluding my JCAST tour at 150 Bay I met with Stacy Lund Levy. Levy is a medical illustrator who spends her spare time classically sketching the human body and crafts custom whimsical dolls and ornamental creatures. During my time at her studio Levy explained that the work she had on display is not what she always does.
"Being a medical illustrator requires me to be precise because I know the doctors need to see drawings that are exactly three millimeters in size. These drawings are different, I can be proportional and they're very tranquil to me," she said.
Connect with Stacy Lund Levy: stacy@lundartstudios.com | www.LundArtStudios.com
Next year can't get here quick enough. More art! More creativity! More fun!
---
Written by Yuvraj
Friday's deluge and the possibility of an apocalyptic storm were both no match for the 25th annual Jersey City Art & Studio Tour (JCAST). During JCAST, artists invited the public to experience their studios and appreciate the vast collection of art in Jersey City. Throughout the city's seven major neighborhoods, nearly 200 spaces opened up their doors to the public. I started with West Side.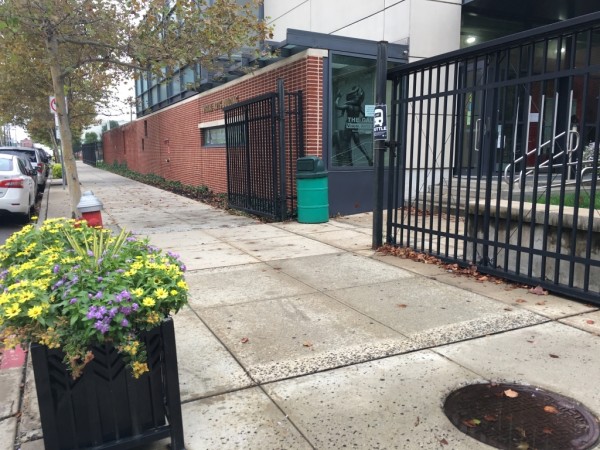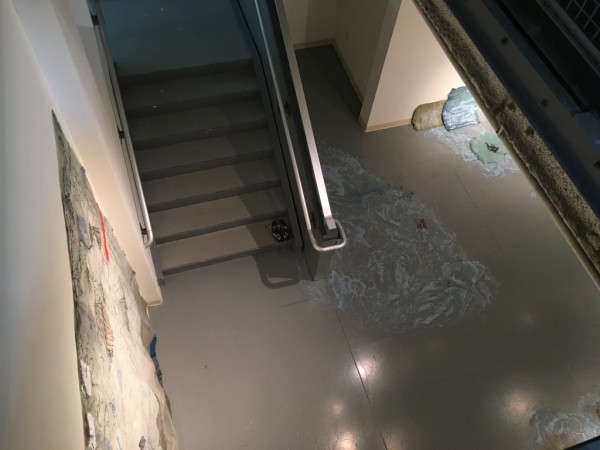 My first stop was at "Barely Imagined Beings II" at NJCU's Lemmerman Gallery in Hepburn Hall. This exhibit (the room itself is also gorgeous) features local artists and includes a variety of animals that aim to defy existing relationships between non-humans and humans. "Barely Imagined Beings II" is on display until October 14 and I highly recommend visiting the university's galleries.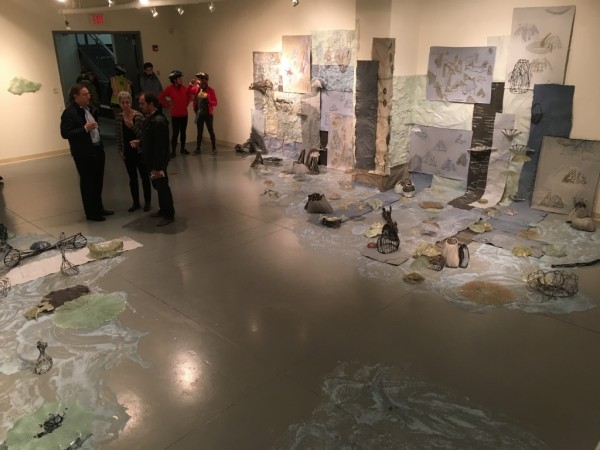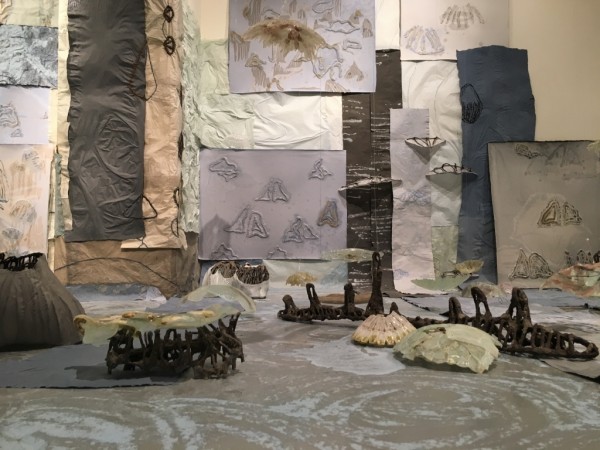 My second stop was at Nancy Cohen's "Hackensack Dreaming", which was perhaps one of the most immersive exhibits that I experienced throughout the weekend. A significant portion of the gallery floor was purposely painted blue to not only complement the sections enhanced with sculptures, but to also fully immerse the visitors in the Hackensack River marshes. The sculptures were inspired by the objects she saw floating in Mill Creek Marsh on a sunny winter day. Nancy wanted materials that could transform and thus chose glass to represent frozen objects and handmade paper in reference to the cedar forests that once dominated the Meadowlands. "Hackensack Dreaming" brought its visitors to the depths of their imaginations and encouraged them to become temporarily lost in a natural world reconstructed by the human hand.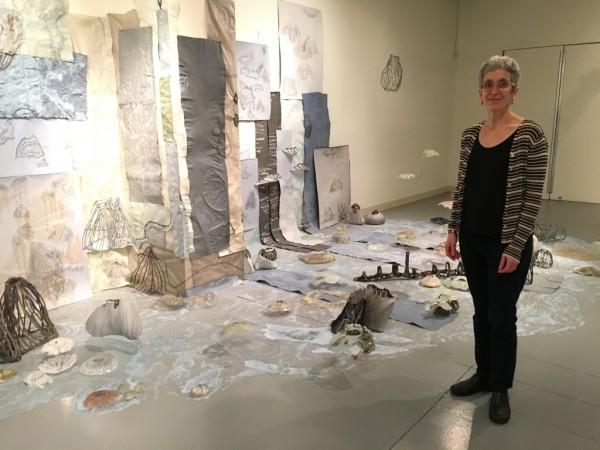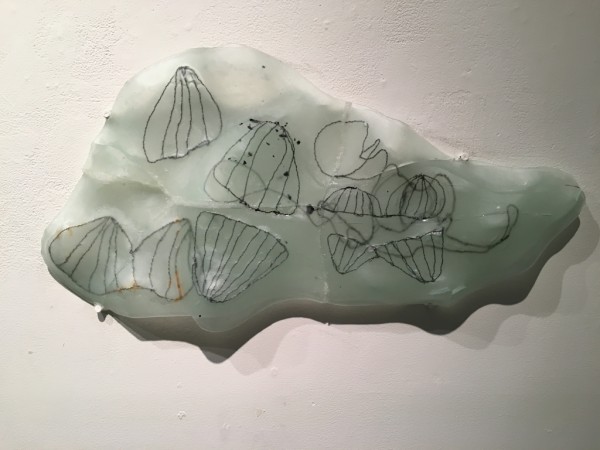 I later visited Mana, where I had the opportunity to talk to artists Samuel Evensen  and Thomas Carlson. I was instantly drawn to Thomas' "Solar Flare and the Tower of Babel", which featured a roller coaster on fire during an epic magnetic storm. At first, I was drawn by its similarities to the infamous Seaside post-Sandy roller coaster, but as I spent more time looking at the work (and as Thomas confirmed), I realized that it was far different. Samuel's work seemed a bit more abstract, and I was instantly drawn to "Run, Break, Shift." The visit to Mana was a perfect way to end my JCAST Saturday!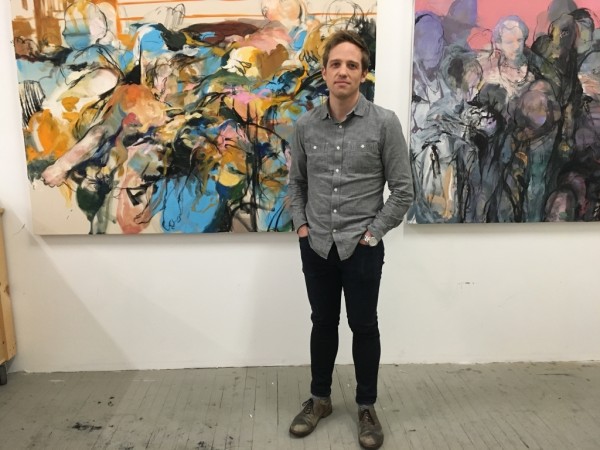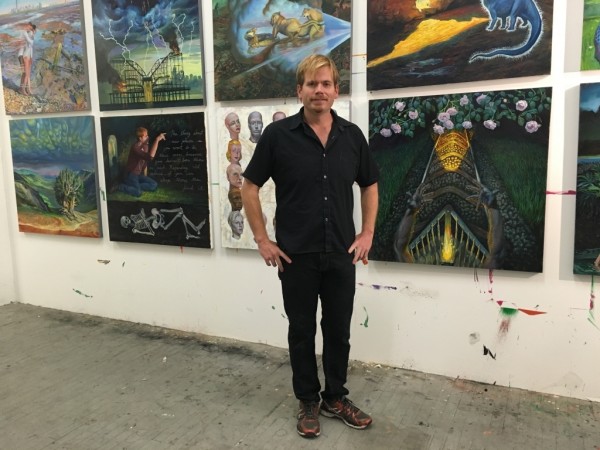 To conclude my JCAST experience, I had to stop at this year's new Lackawanna Center and the community exhibition. The flagship gallery was a massive space filled with music, murals, film screenings, and historic photographs of our city. Dylan Egon's "Im/Moral Compass" stood out to me, in particular. Dylan also gave out a variety of stickers from parts of his installation – super cool! Perhaps one of the coolest murals in the space was the large JCAST Jersey mural, which featured a traditional Indian dancer. The 25th annual JCAST was a blast and I can't wait for next year. Couldn't make it to JCAST? Check out some of my photos and go next year! Cheers.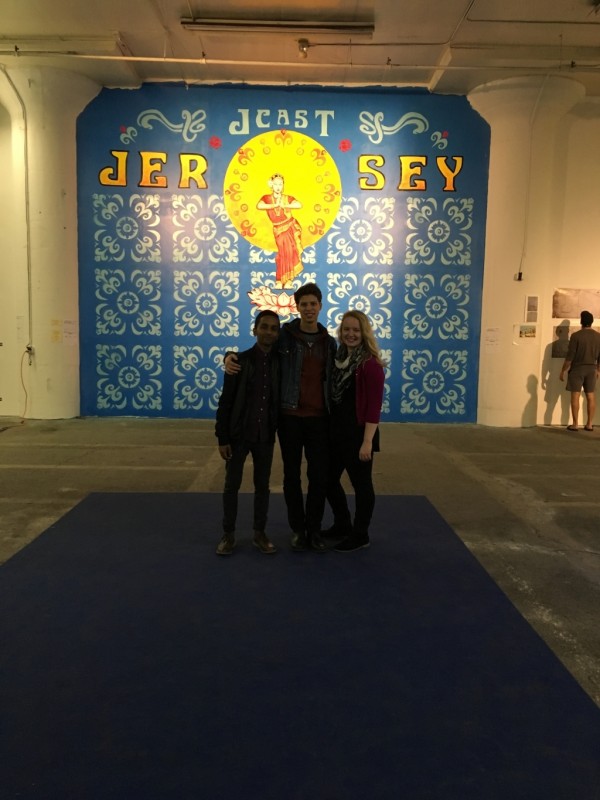 NOTES:
"Hackensack Dreaming" and "Barely Imagined Beings II" will be on display until October 21 and October 14, respectively. "Hackensack Dreaming" can be found at 100 Culver Avenue at NJCU's Visual Arts Gallery. On October 17, there will be a roundtable discussion: "The Geology/Ecology and Art of the Meadowlands" from 5pm to 6:30pm in the auditorium next to the gallery. The gallery hours are from Monday-Friday, 11 a.m. to 5 p.m.
---
Recap by Erin Rafferty
If you attended the 25th Annual Jersey City Art & Studio Tour this weekend, you know how physically and utterly impossible it would have been to visit all of the 220 stops along the tour. Even so, I laced up my rain boots, fished out my umbrella and hit the streets of JC on both Saturday and Sunday to experience JCAST for my first time ever.
The first stop on my self-guided tour was Honey and Moon Photography's compilation, 'A Day In the Life: Jersey City,' right in front of City Hall. It was so cool to see a piece of work that was only made possible by the Jersey City community—the photographs included were submitted by locals, and were all taken on September 12, 2015.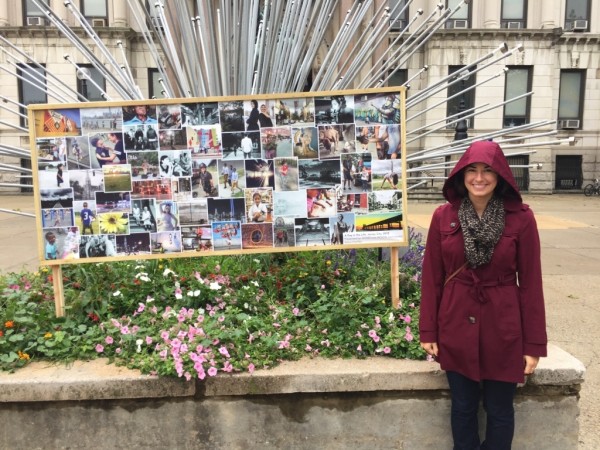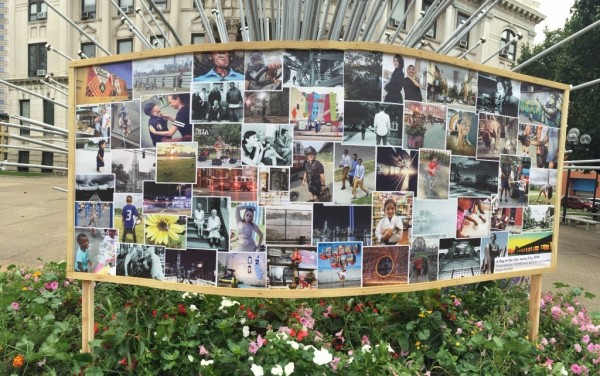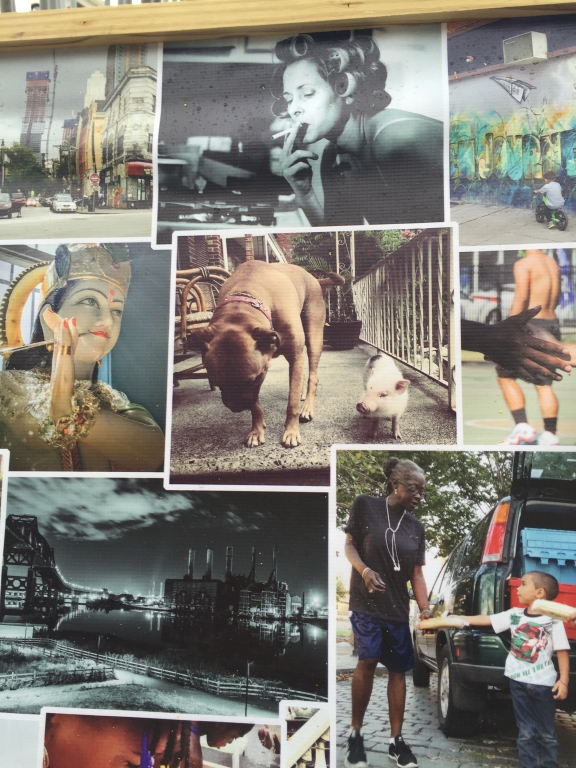 Next up was 'SilkWire: JewelryArt 4 Your Well Being,' located in the Of Hand, Spirit & Earth business space at 115 Mercer Street. As a (very amateur) jewelry maker myself, I was really excited to check this one out. Owner and designer Jacquie Bird was incredibly welcoming, and gave me a brief tour of the completely unique and striking pieces that were on display. Every piece is handcrafted, taking from several hours to several days depending on the complexity of the design.  Of Hand, Spirit, & Earth has an Etsy shop (www.etsy.com/shop/SilkWireJewelry), but they also do appointments for purchases and for custom pieces right in their studio! Appointments can be scheduled via email at ofhandspiritandearth@gmail.com.
(Connect: www.silkwirejewelry.com | www.facebook.com/OfHandSpiritandEarthStudio | Instagram: @silkwirejewelry]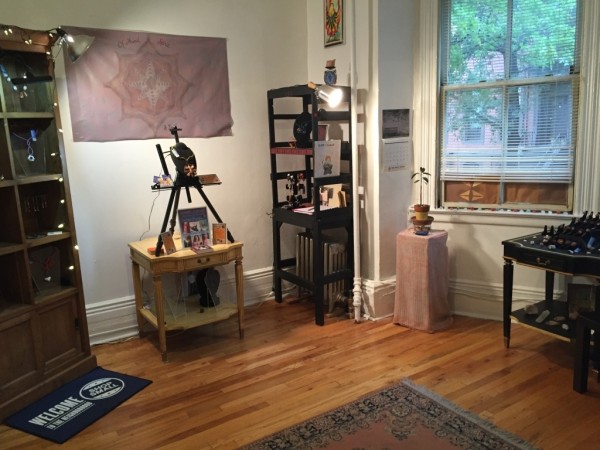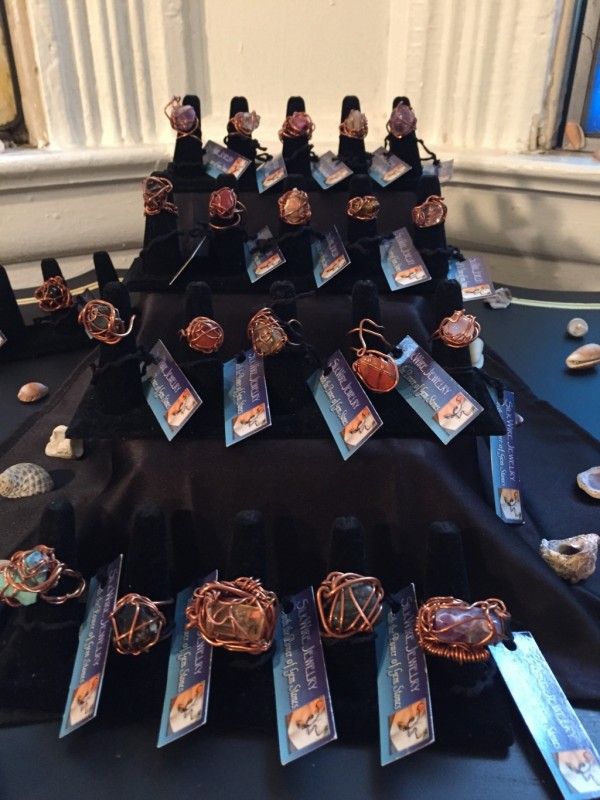 Once I managed to tear myself away from the jewelry, I headed around the corner to Jersey Wine & Spirits to check out the 'Art & Wine' exhibit. Did you know that there is a permanent gallery space in the back of the store? I grabbed some wine and cheese and spent some time chatting with Linda Reagan and Ling Chen, two of the artists whose work was on display. Reagan's "David and Violin" and Chen's "Cow Skull, Pomegranate and Torch" were two of my favorite pieces—they embodied unexpected combinations that really resonated with me. The artists are visionaries in their own right, but described themselves as students of legendary painter, sculptor, photographer, illustrator, book maker (and so on) Grigory Gurevich, whose work also lined the walls. When they told me that Gurevich had his own stop on the JCAST tour just around the corner, I knew that had to be my next visit!
Gurevich's work was displayed right within his home, and he made me feel right at home. I walked in a stranger, but I swear I left feeling like I'd just spent time with an old friend. Gurevich, originally from Saint Petersburg, Russia and a resident of Jersey City since the 1970s, has had experience traveling and painting the world that most of us can only dream of. The first thing he showed me was one of his "manifolding" books, which I could not begin to describe in words. You need to see it in person if you ever get the chance. His display of the book was performance art in itself, and I watched for a good five minutes with my mouth hanging open. (I later found out he has a patent for the manifolding book—and rightfully so.) Other works included books, masks, sculptures, illustrations, watercolors, etchings, and even a signed limited-edition poster created specifically for JCAST 2015.
(Connect: grigorygurevich@gmail.com | www.webspawner.com/users/grigur)
I headed back to Jersey Avenue next, this time to Beekman Lane to see Nathalie Kalbach's 'J.C. Street Views.' Nathalie was on site to answer any questions about her work, as well as for some great conversation over a glass of wine! Her Jersey City-based paintings and art prints that were on display are so thoroughly rooted in the JC community, and the mix of fun colors that she uses to bring the streets that we know to life are really inspiring.
(Connect: nathalie.kalbach@gmail.com | www.nathaliestudio.com | Instagram: @natkalbach)
Saturday's last stop took me to Newport, where I checked out Peter Delman's exhibit 'if wishes were trees.' I loved the outdoorsy feel of his work, and found myself dreading the year's first snowfall just a little less. The pieces will be on display through December at 135 Greene Street, so there is plenty of time to check them out!
On Sunday, feeling refreshed and rejuvenated (mostly thanks to the sun finally coming out!), I headed out to Journal Square for round two of the tour. I headed first to the top floor of the Hudson County Community College Library, where the curated collection 'Through the Collector's Eye' was ready and waiting to be enjoyed. The pieces, donated to HCCC by collectors and partners Benjamin J. Dineen III and Dennis C. Hull, represent their life's work curating art from New Jersey-based artists. With rubber-tire sculptures and handmade skull-print bowls, the collection is truly extraordinary.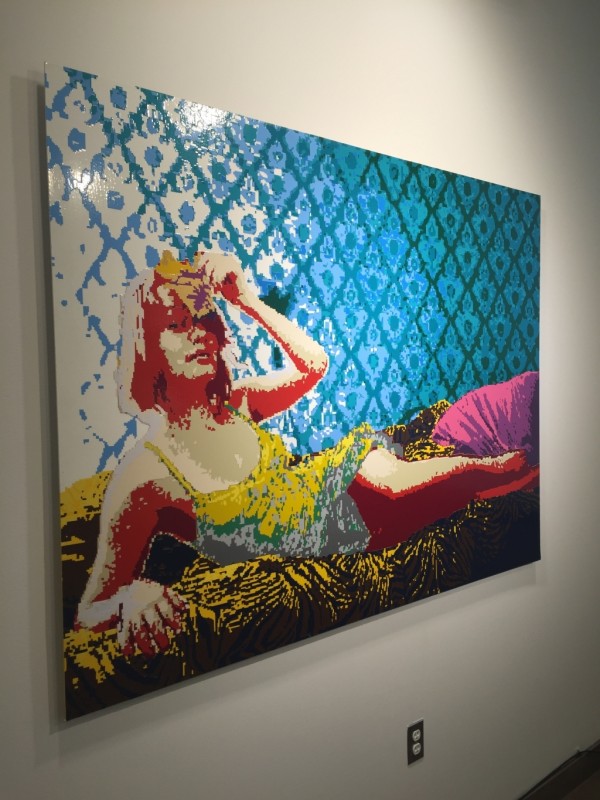 Down the block in the Hewn Arts Center was 'Girl Power,' an exhibit showcasing the talents of local female artists. I spent way too much time in here—the Hudson Flea was open for business, too! There were too many great works to mention, but one of my favorite installations was Maureen McCourt's POM POM! Ladder Sculpture. McCourt took something that every girl plays with as a child and turned it into a show-stopping, conversation-starting piece. Such an inspiration.
Last but certainly not least, I headed over to Art House on Magnolia Avenue for 'YOUR MOVE: Dance Photography,' an exhibition that somehow managed to beautifully capture in still life something that is usually firmly rooted in viewing in motion. The photographs encapsulated the raw power, flexibility, and grace that dancers call to the surface each time that they perform. In addition to the photographs, a video installation was on display, and a live dancer danced among the viewers for a one-of-a-kind experience.
What a weekend! I'm completely wiped, but it was worth it ten times over. I hope that you all had as much fun as I did!
---
Recap by Stephanie
The best way to see the Jersey City Art and Studio Tour was by bike. Bike JC is a non-profit organization that aims to make Jersey City more bike friendly. Bike JC offered residents a free bike tour to showcase some of Jersey City's finest murals and stop by some of the art exhibitions taking place this weekend. Some of the stops in the bike tour included: The Art House, Saint Paul's Evangelical Lutheran Church, The Hope Center, Hutton Tattoos, the list is endless! The bike tour was a great way to see what each neighborhood in Jersey City has to offer and to enjoy some amazing murals along the way. The stops allowed visitors to savor some delicious finger food, have a sip of wine, and absorb all the colors and creativity of these artists. As the saying goes, a picture says a thousand words, and these pictures say it all!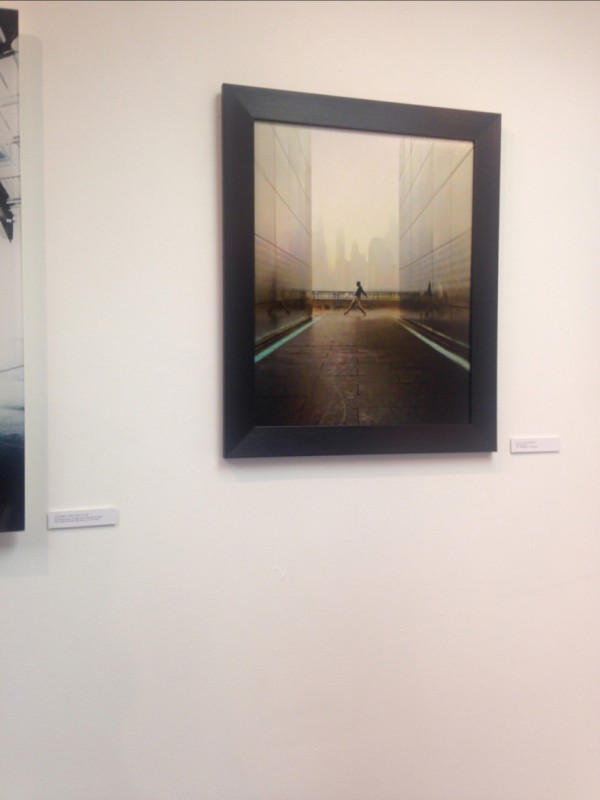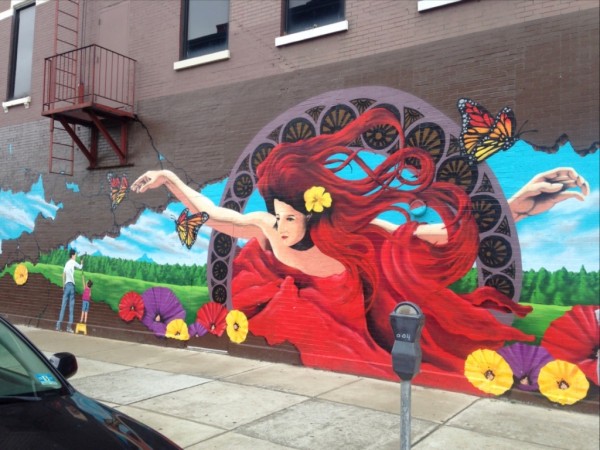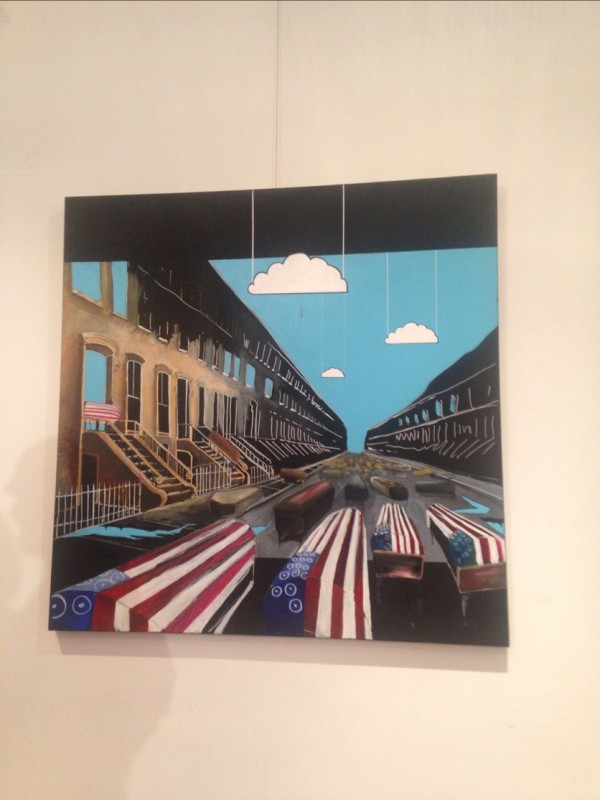 GALLERY!