If you're a huge dog lover and have a soft spot for Pit Bulls, you do not want to miss out on Pitness in the Park. It is an incredible event fighting to stop the many prejudices against Pit Bulls.
We often hear myths on how dangerous these dogs are and continue to see breed restrictions against them. However, we are lucky to have many passionate Pit Bull advocates who are helping to change the narrative around who they indeed are lovers, not fighters. Today, we highlight the founders of Pitness in the Park and what inspired them to start this unique fundraiser.
The Inspiration Behind Pitness in the Park
Pitness in the Park was founded in 2016 by Vanessa Checchio Lima and Lauren Hainsworth. Vanessa is a rescue Pit Bull mama to Nola and Frankie, a fitness professional, intuitive healer, and animal Reiki practitioner. Lauren is a rescue mama to her girl Kleo, a big advocate for Pit Bulls, and co-owner of The City Dog Pet Care based out of Downtown Jersey City.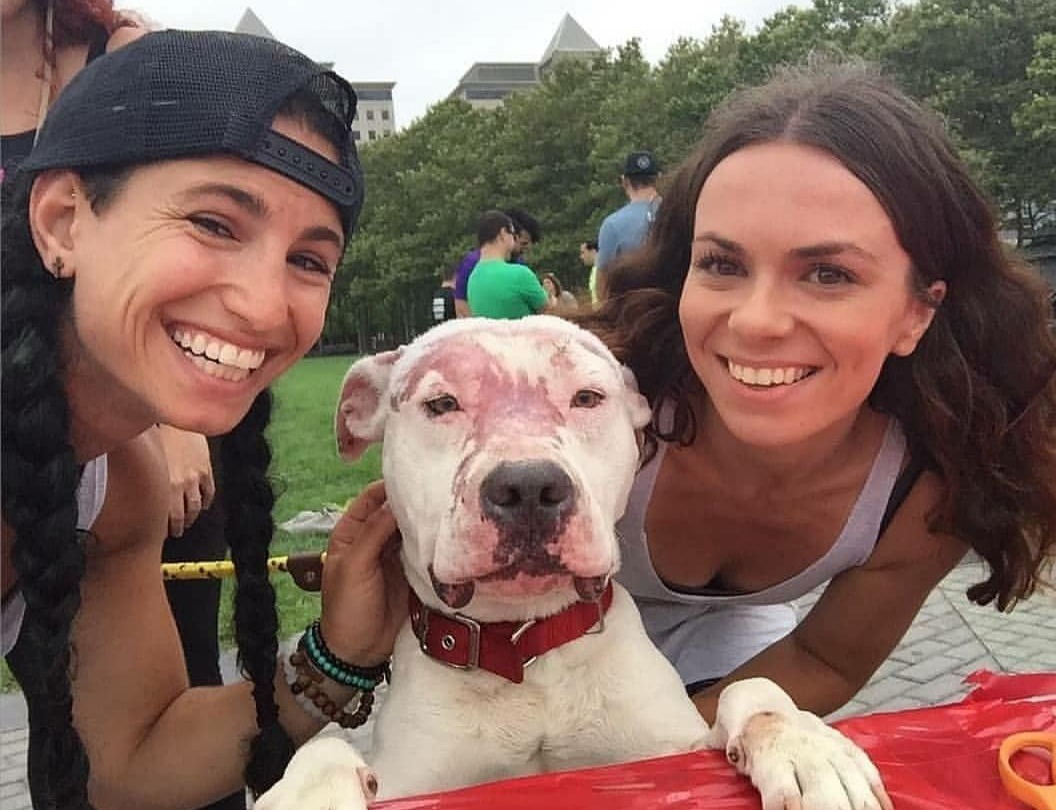 Their love for Pit Bulls and passion to help change the negative stereotypes surrounding these dogs brought them together. When Vanessa adopted her first Pittie named Nola, she had no idea how bad the stigma was against Pit Bulls. "I'd walk down the street, and people would cross to the other side simply because she was a Pit Bull and 'looked scary.' We would have trouble renting places on a weekend getaway because of breed legislation rules and the number of misconceptions surrounding them. None of it was cool with me. So instead of getting angry, I thought, 'Okay, this has to change. How can I do my part in bridging the education gap about these dogs and help save a few lives?'" shared Vanessa.
Similarly, Lauren also had an unfair experience with her first Pit Bull rescue. "My first experience with a Pitbull was rescuing Abby when she was super malnourished and emaciated. So many people told me to be careful with her. They would say things like she may turn on me or become aggressive, simply because she was a Pit Bull. Abby ended up being the opposite of what I was told and didn't have an aggressive bone in her body. My entire view on Pit bulls changed after this. I wanted to show people the true loving side of Pit bulls," shared Lauren.
Through their experiences, they realized that if they could close the gap in education about Pit Bulls as a collective, they could make a difference and save many lives. So, they decided to unite forces together with local bully breed advocates, businesses and rescues to create this fantastic community of Pit Bull lovers and supporters known as Pitness in the Park.
The Future of Pitness in the Park
Since the start of Pitness in the Park, many local businesses and Pit Bull advocates have helped raise thousands of dollars, benefiting rescues such as Jersey Pits and New York Bully Crew. "It wouldn't be nearly as successful without the community of people who share and support Pitness in the Park year after year," shared Vanessa. They hope to turn Pitness in the Park into a Nonprofit Organization to expand their reach and advocacy. Their goals include donating to more rescues and shelters, offer education, and be on the front line of helping pups in dire need.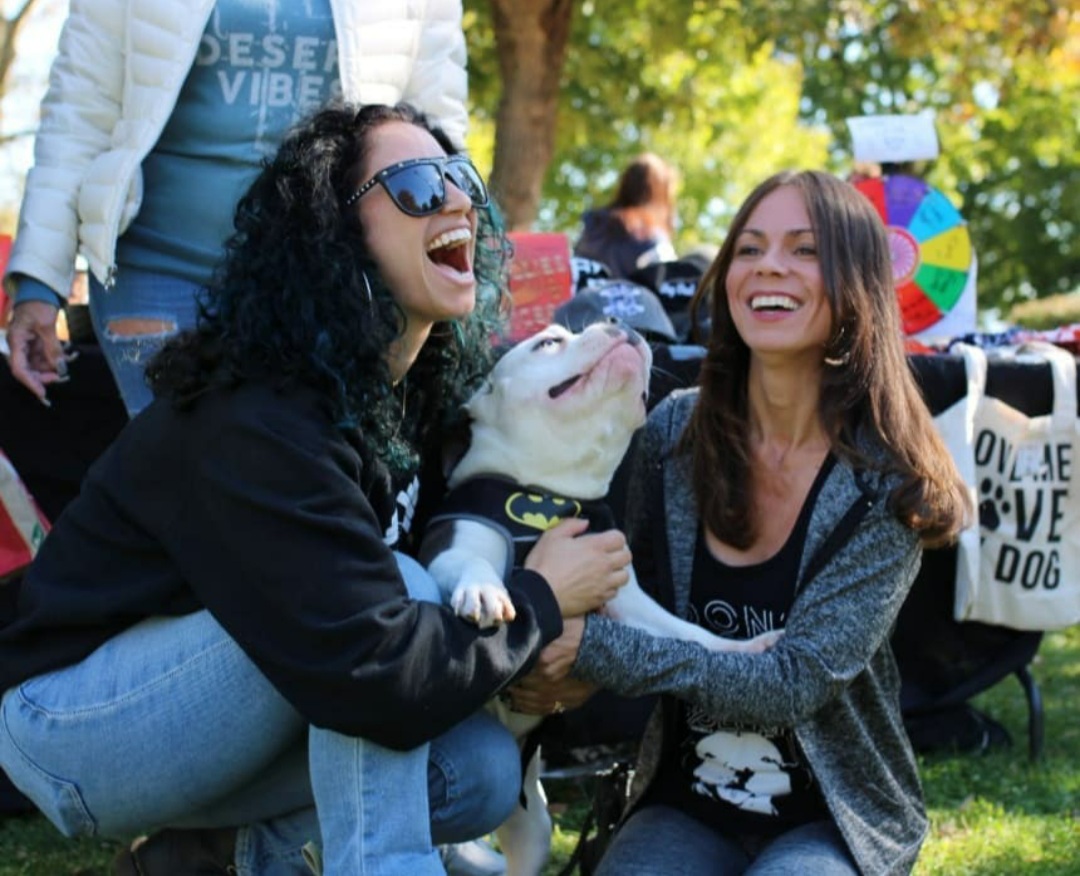 Are you interested in helping with Pitness in the Park?
Vanessa and Lauren are looking for volunteers to help assist on the day of the event. They would love your help setting up, assisting with checking vendors and guests in, helping with the flow of the event and breaking down. Please email pitnessinthepark@gmail.com with the subject "VOLUNTEER" if you are interested.
Beneficiary Organization – Jersey Pits Rescue
All tickets and donations go directly to benefit Jersey Pits Rescue – you can purchase them here. They are a foster-based animal rescue group located in New Jersey. Their mission is to provide necessary care to stray, abandoned and surrendered dogs to find them loving permanent homes. The rescue is always looking for adopters, fosters, volunteers, and donors. Please visit their website for more information. The two featured dogs are Kane and Wrinkles, who are currently looking for their forever homes.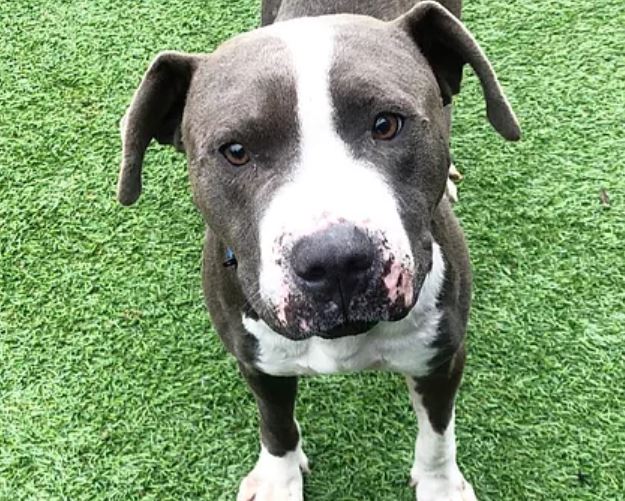 Save the Date!
Mark your calendars for October 16th at Hamilton Park in Jersey City from 11 AM to 2 PM. Consider sharing this event with your fellow dog lovers and help come together to advocate and change the misconceptions people have on these dogs. All dog lovers are welcome to attend. You do not need to own a Pit Bull and all breeds of dogs are welcome to join.
To see more pictures for past events and find out more information, visit @pitnessinthepark on Facebook and Instagram.