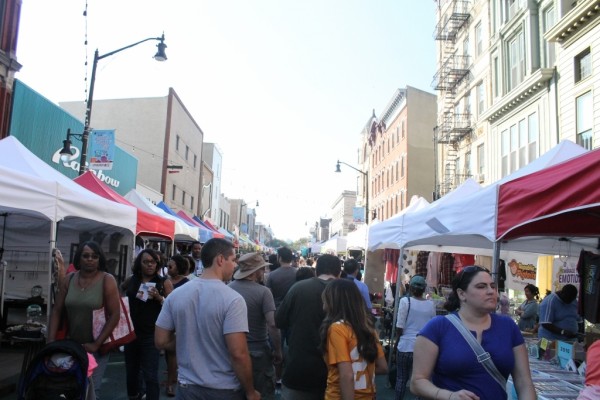 I can barely keep my eyes open as I write this. At this moment I am uploading over 1,000 images that we took yesterday at the 5th Annual All About Downtown Street Fair. What an incredible day!! Thousands of people came out to eat, shop local, enjoy live music and hang out with their neighbors.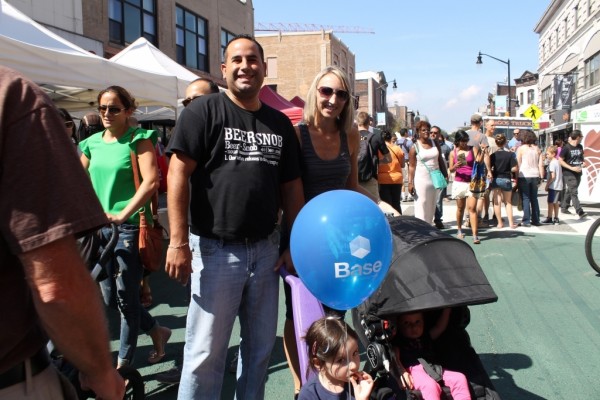 This year, the CHICpeaJC team got a booth where we sold exclusive t-shirts designed by Mr. Mustart, we had a step and repeat were people can get their photo taken, and we also teamed up with local production company NVRland Productions. NVRLand Productions printed all our materials and hooked us up with a a charging station so people could recharge their phones in our booth. It was ingenious!! Mackenzie from NVRLand also shot video of the fair which will be coming out sometime next week so stay tuned!!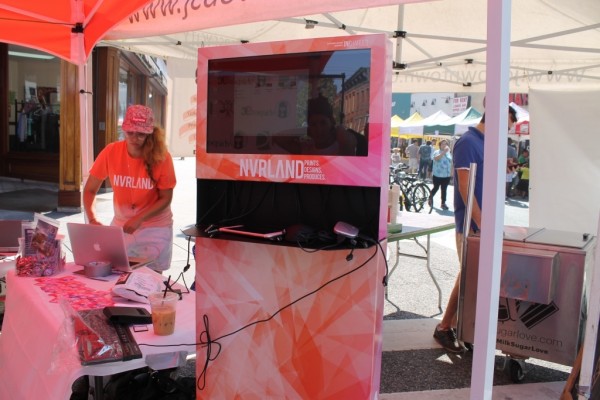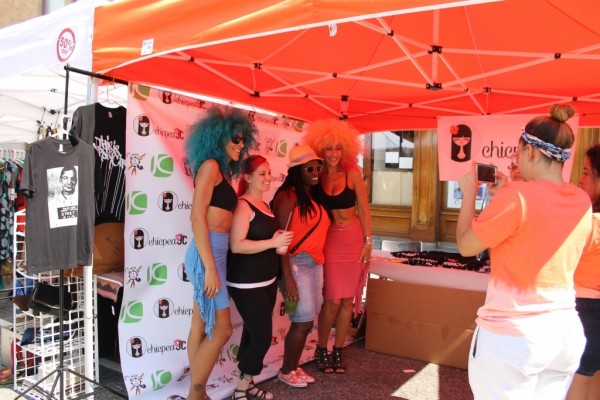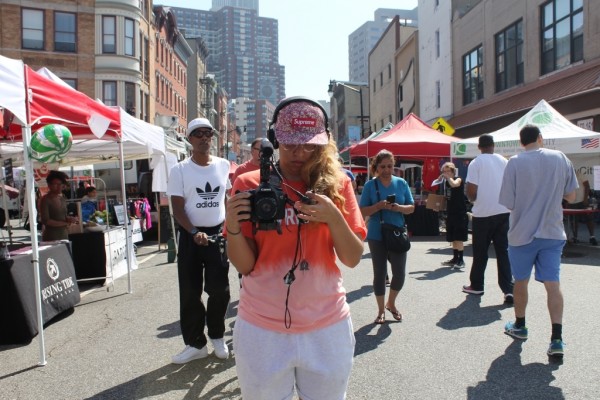 This event was challenging! I am not going to lie. Vending, covering for a for a blog post (this one) and shooting a video required a lot of energy!!
We got there around 9am to start setting up, a special shout out to the ChicpeaJC crew for really putting everything together. They are a kick ass team.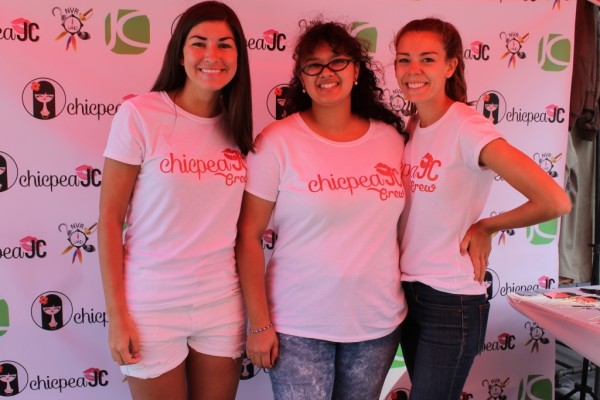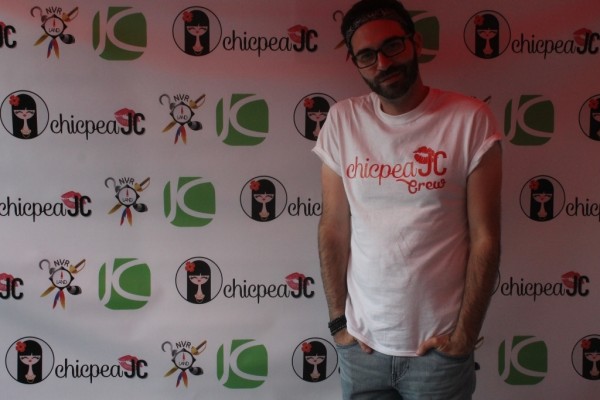 Our booth was across from Talde/Carrino's were my bff Kyra works now (she covered the street fair for me last year) so I kidnapped her to go to my first stop which was Modcup of course!!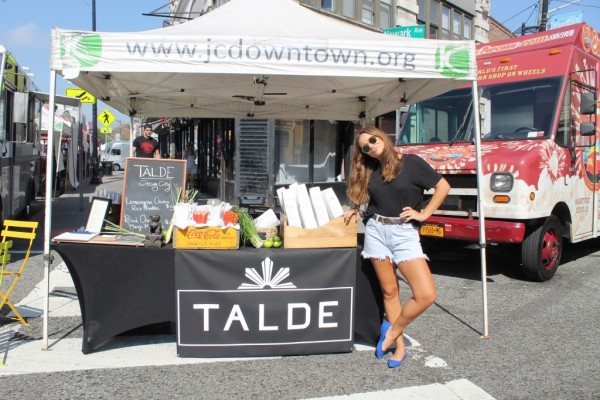 We both got an ice latte from OG coffee slinger Travas and we were ready to get the party started.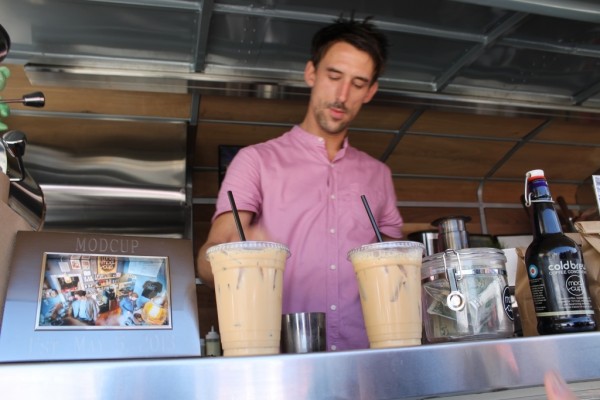 The Fair
The fair was a huge success! Thousands of people came from all over Jersey City and Hudson County. Some people who've been here all their lives and others that just moved here and heard about the fair. It was so fun and at the same time overwhelming. I am really happy the CHICpeaJC crew was there to cover it as well!!
Rachel Sieg is the Executive Director of the HDSID who is behind the street fair, she is also a good friend of mine and I was so incredibly proud of her! She rocks.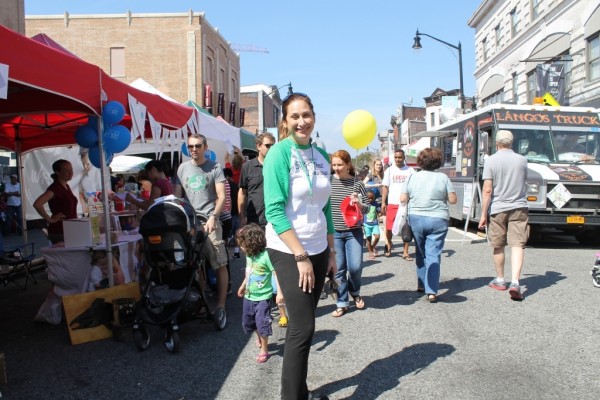 Vendors!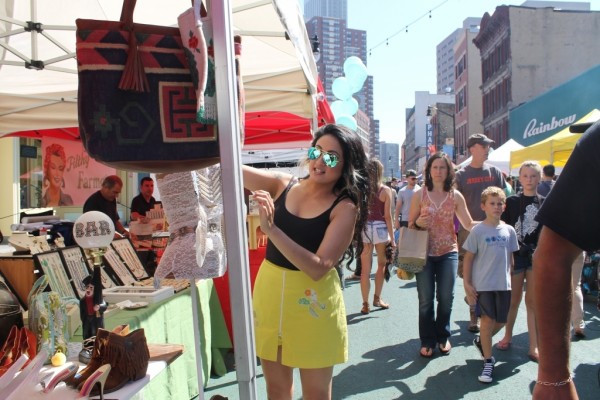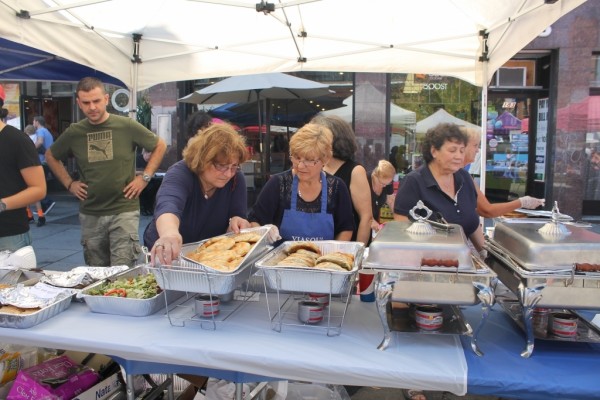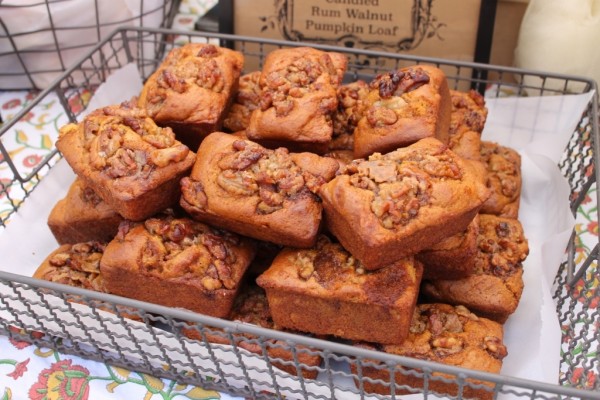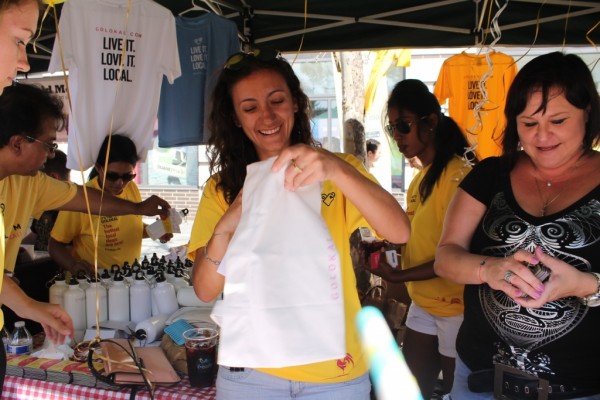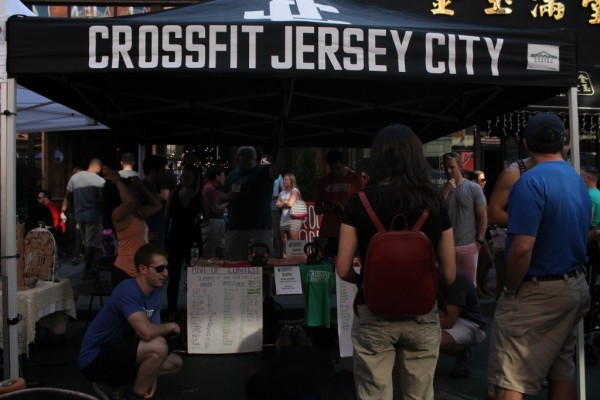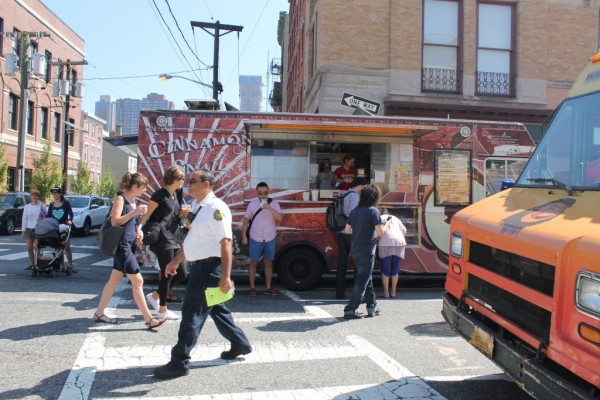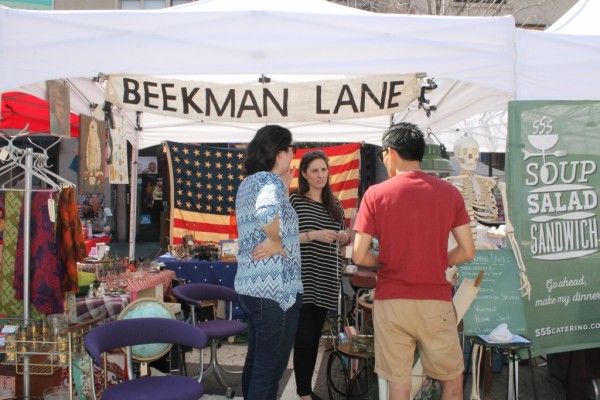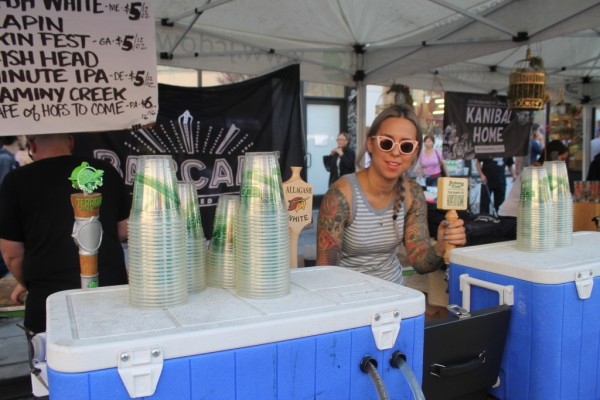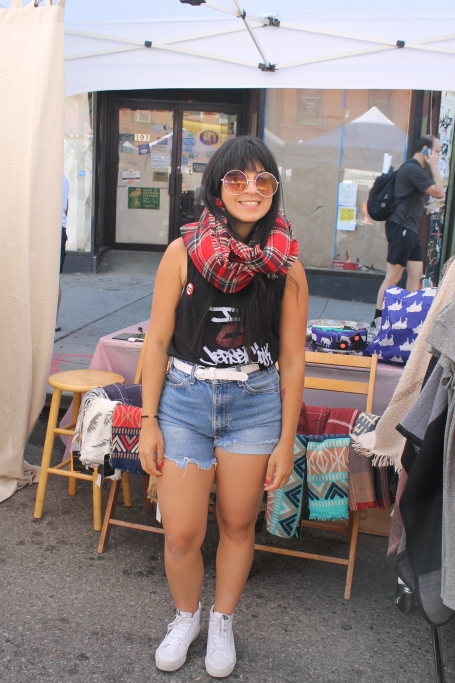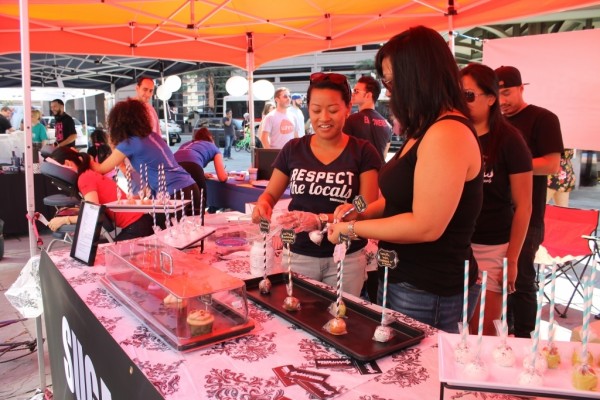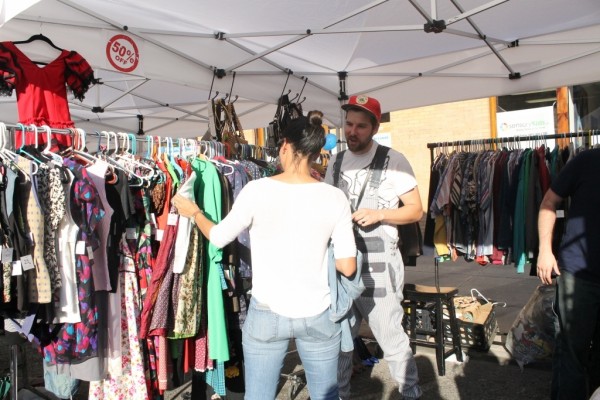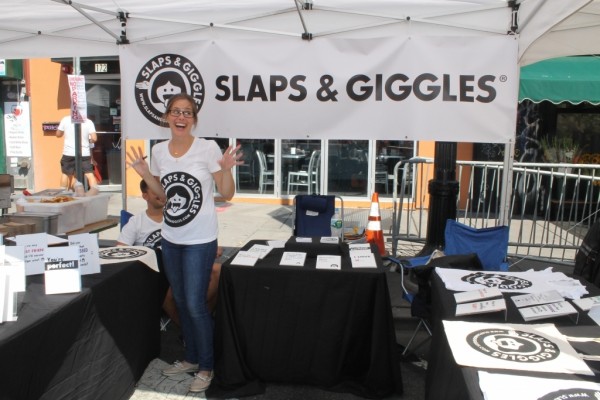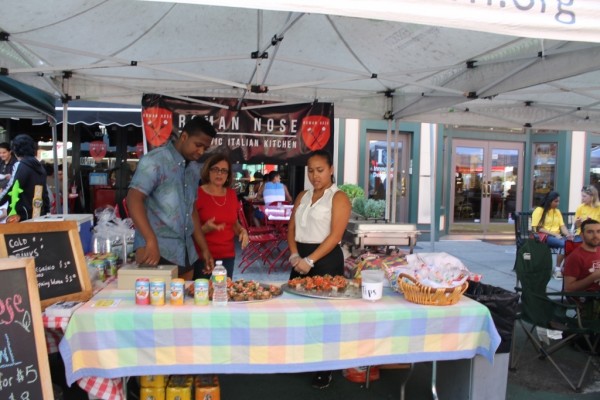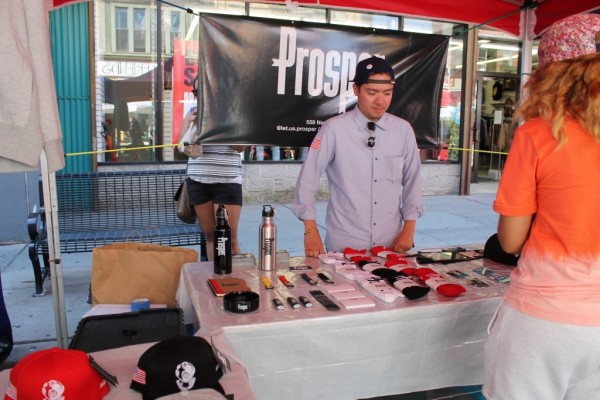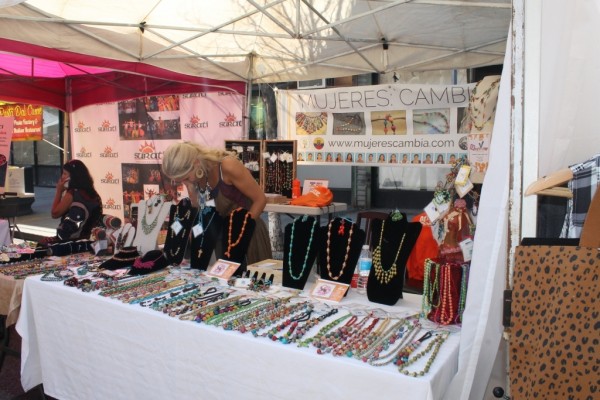 I went by the Monty's booth to get some sangria and David invited me inside the soon to be sports bar to get a sneak peek! This place is going to be awesome!!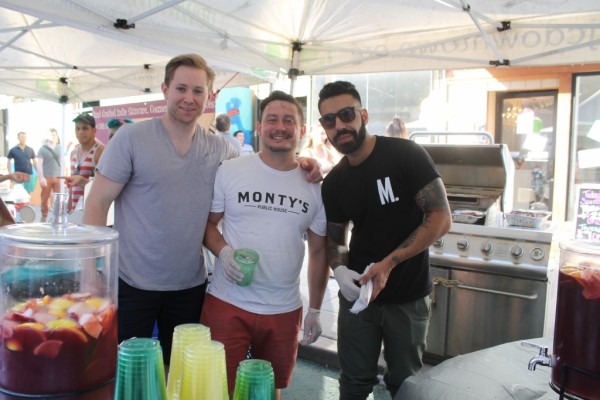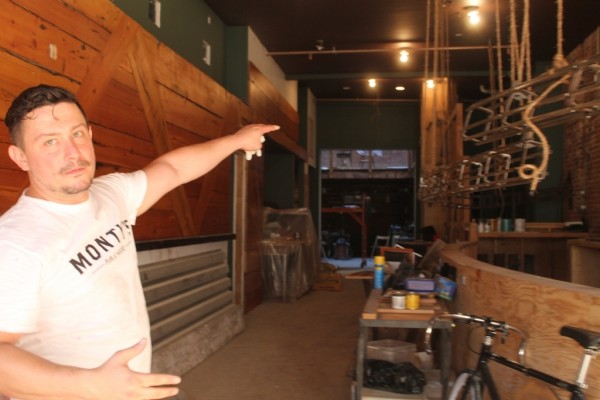 Entertainment
Every corner you went to there was something going on! It was insane!! Break dancers, live music, drumming, DJ's…. it was non stop. I really wished there was a way to clone myself so I could experience everything!! It was so cool.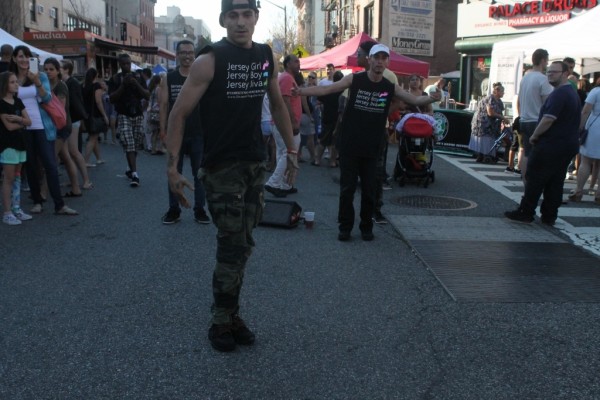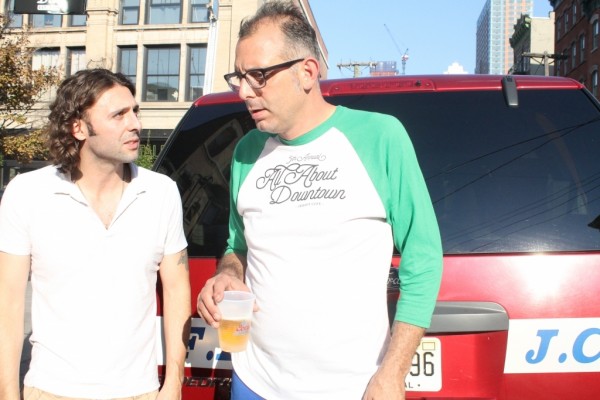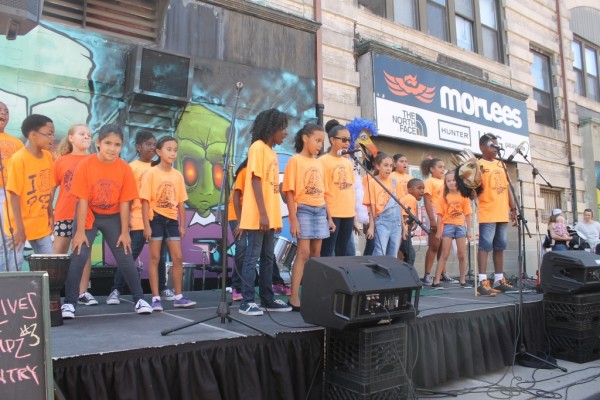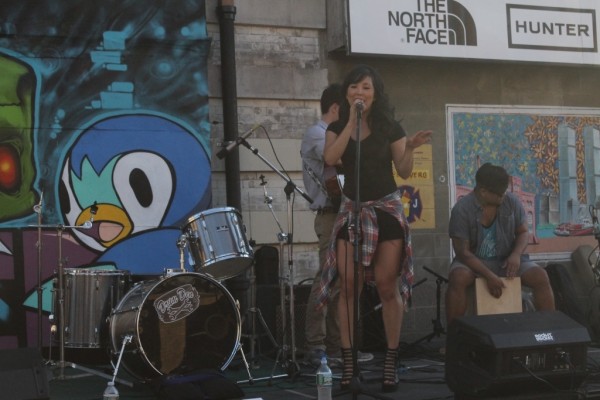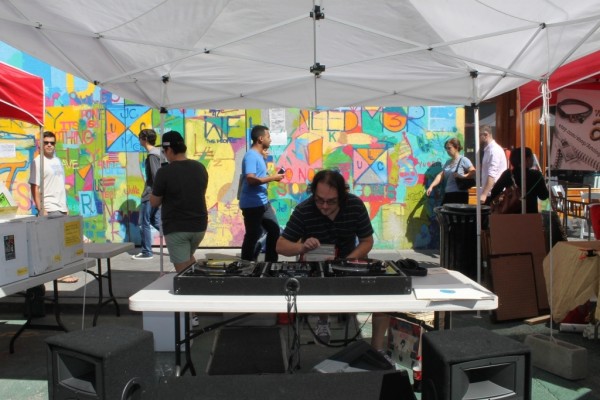 Our Booth
The party booth as I liked to say!! We had music blaring, people coming by to get their photos taken, people buying shirts…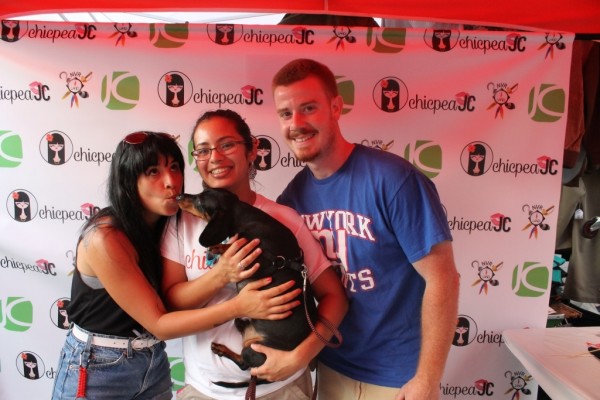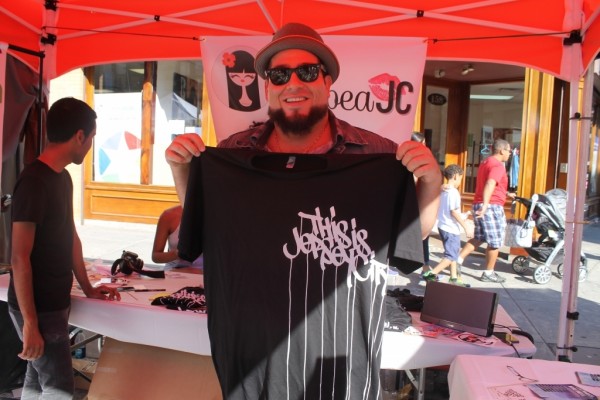 The Big Hair girls even came by to say hello!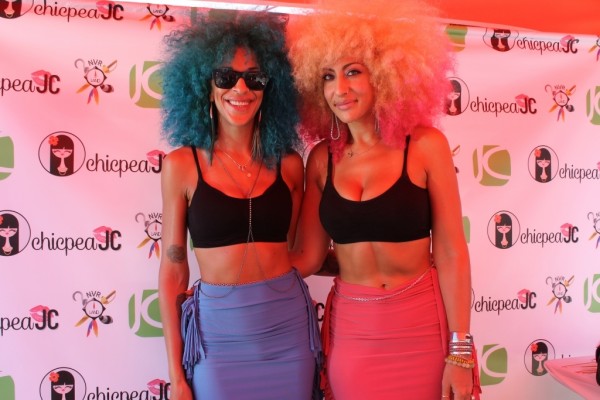 Some of my friends visited too!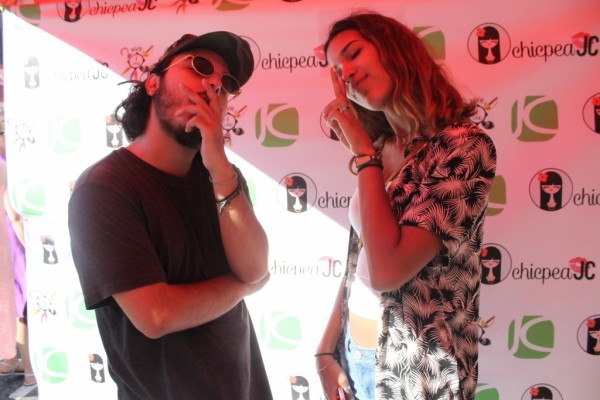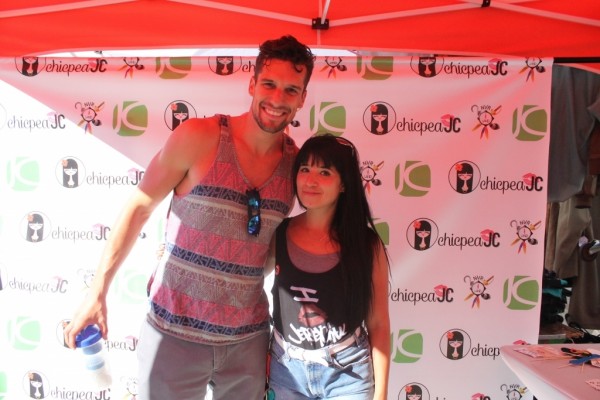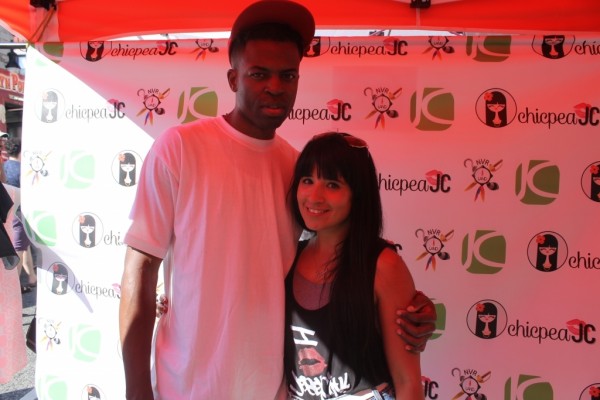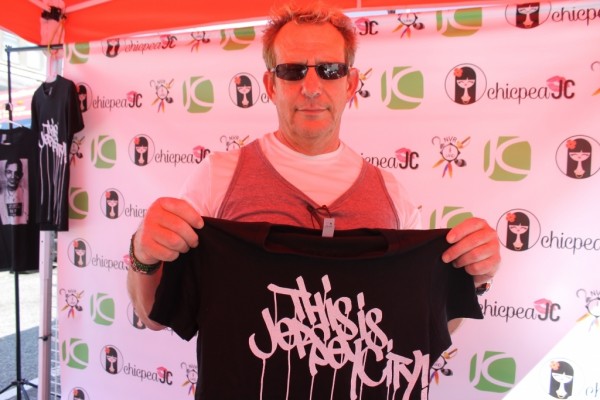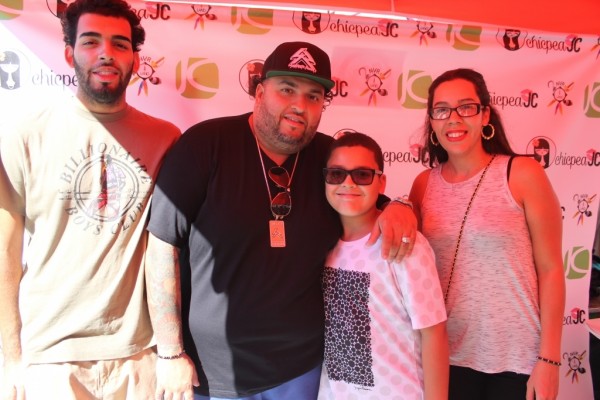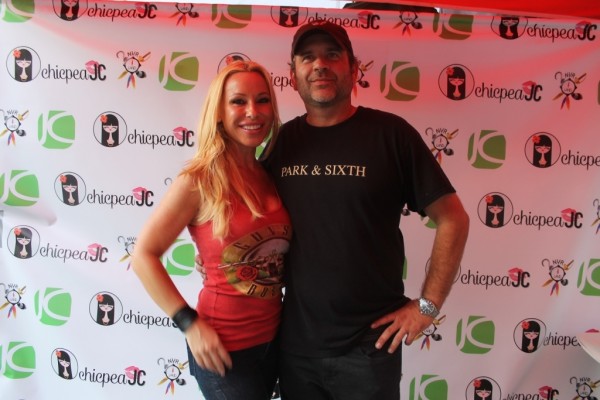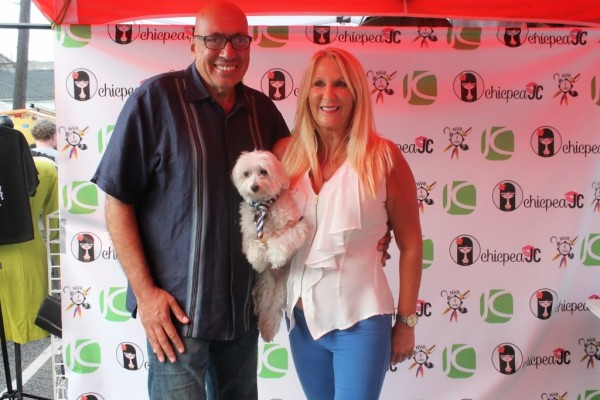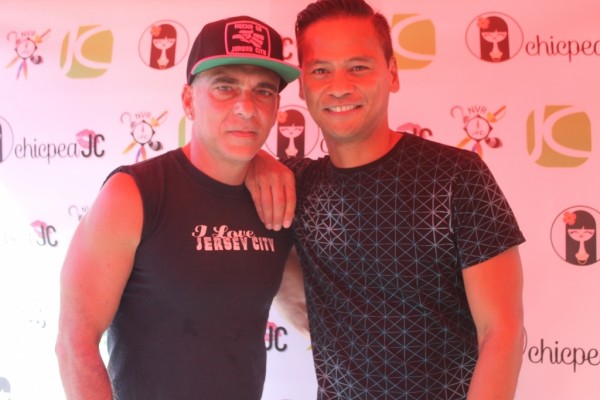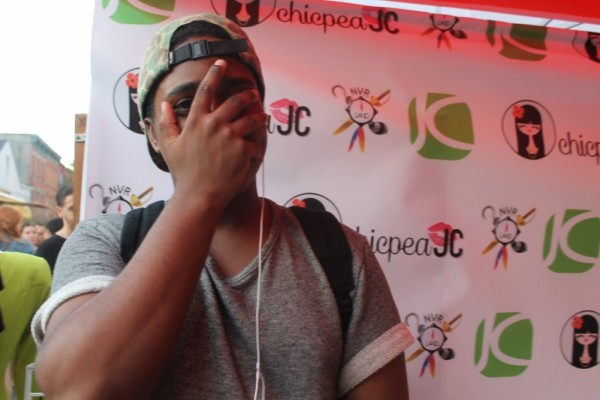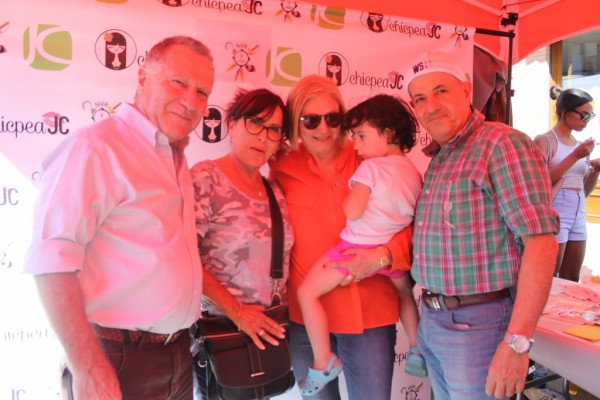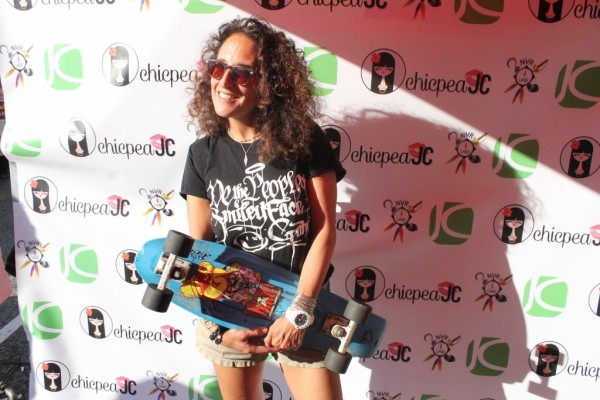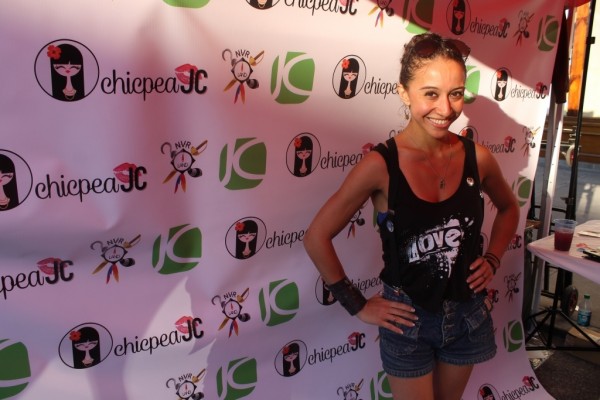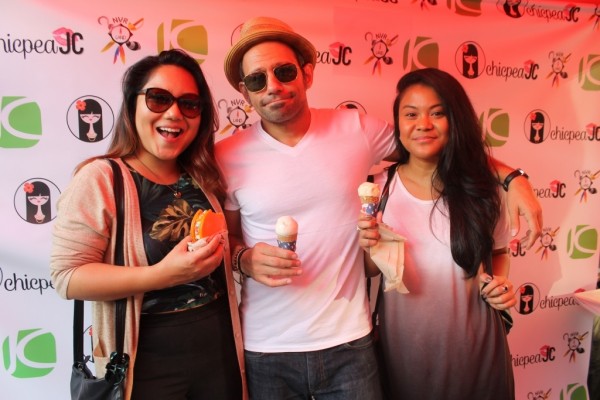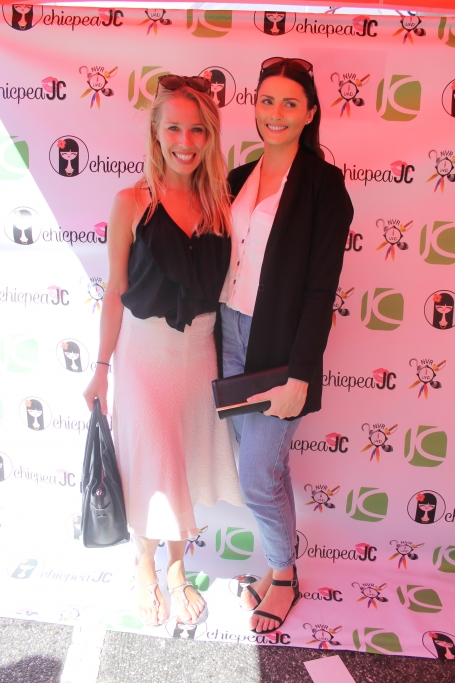 Stylish Peeps
It wouldn't be an event without a stylish peeps section!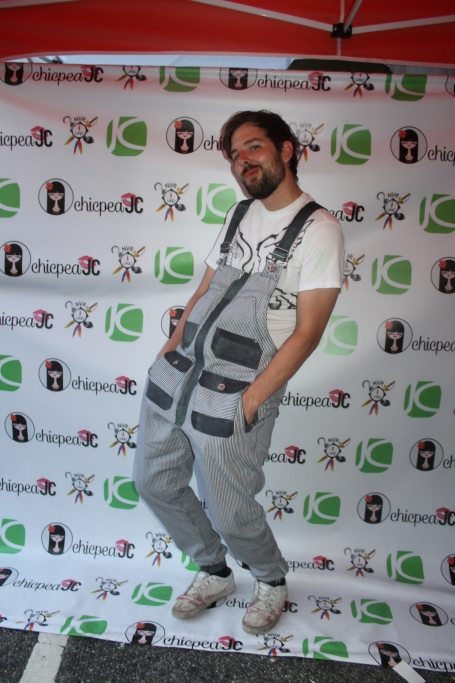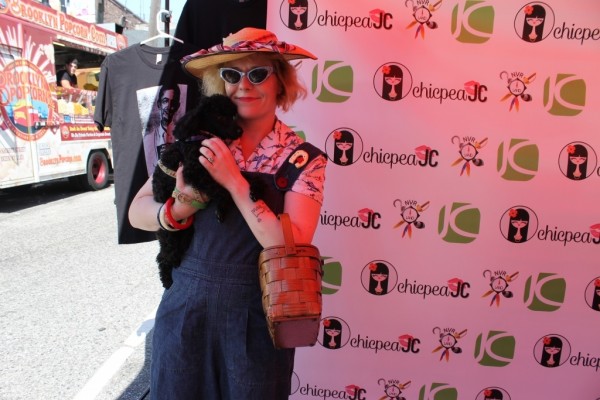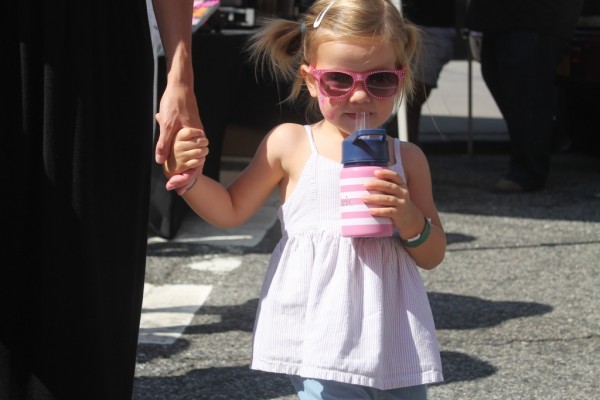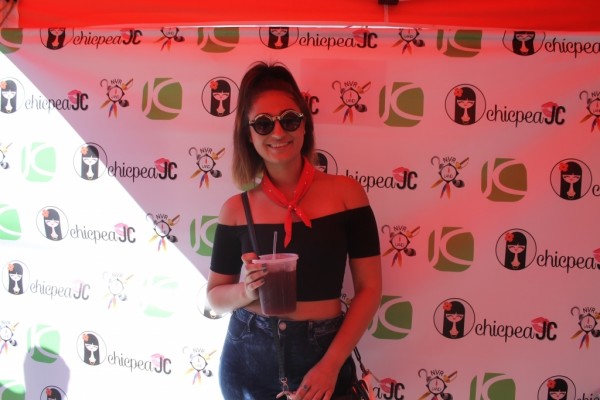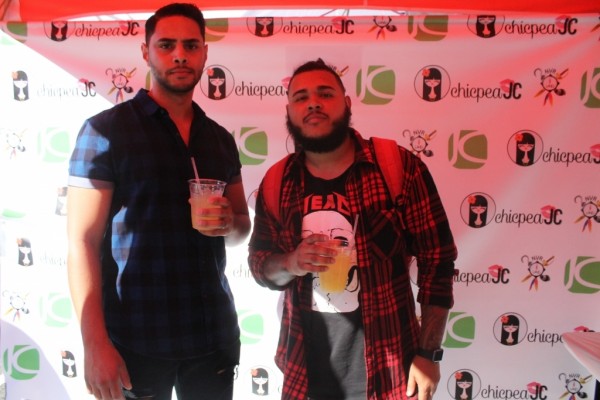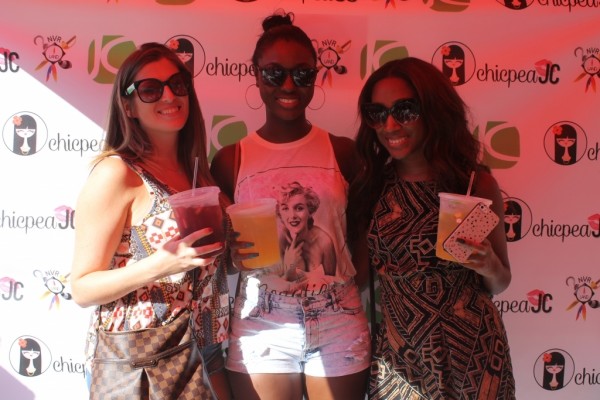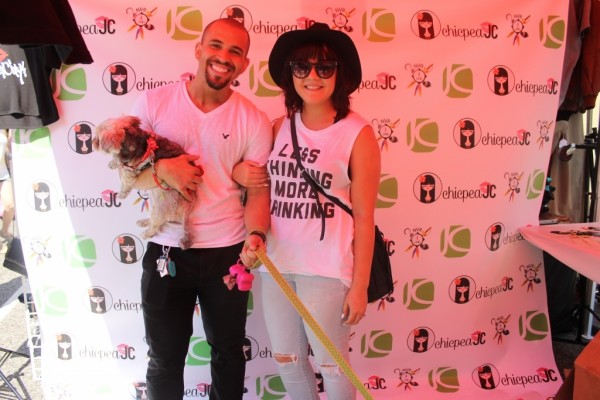 The Street Fair was the best event of the year!! Hats off to the HDSID and to everyone who made it possible. A thank you to the CHICpeaJC contributors, to NVRland Productions and to everyone who came to visit us. It was a perfect day.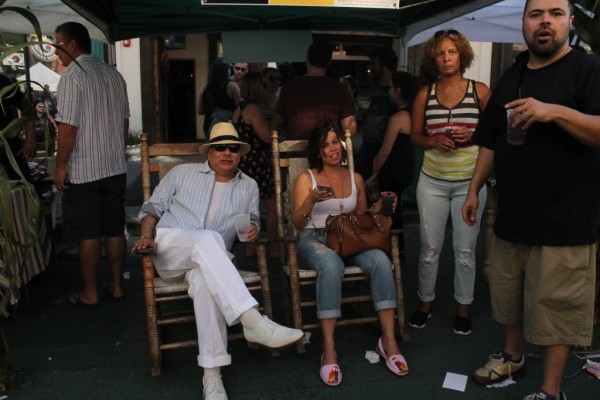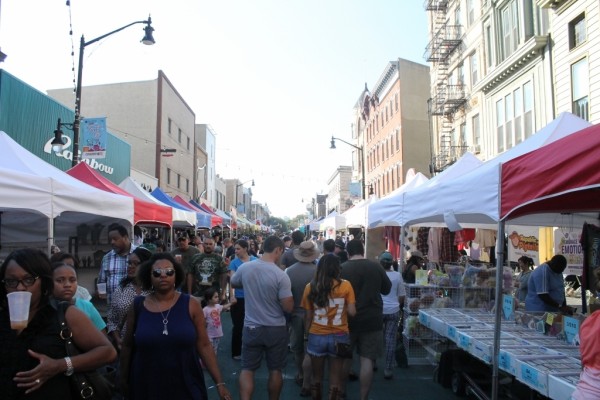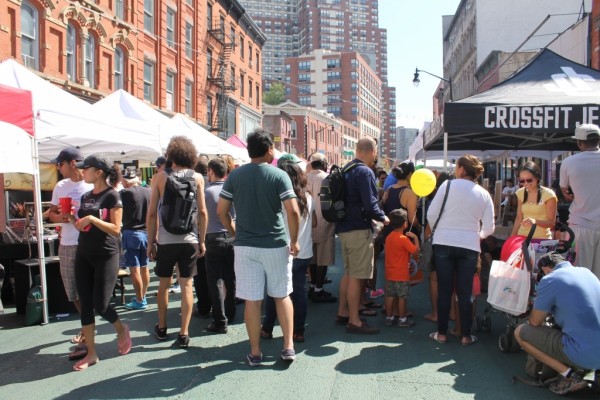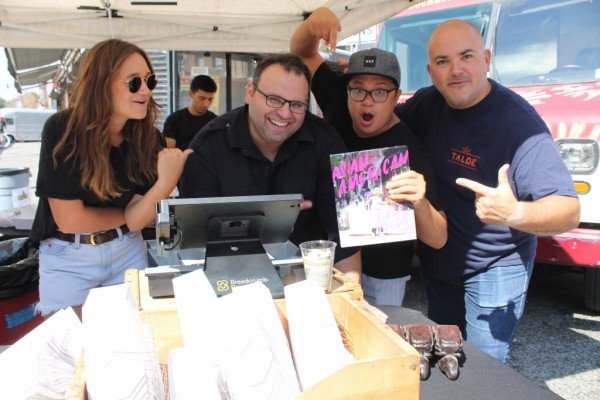 -CHICpea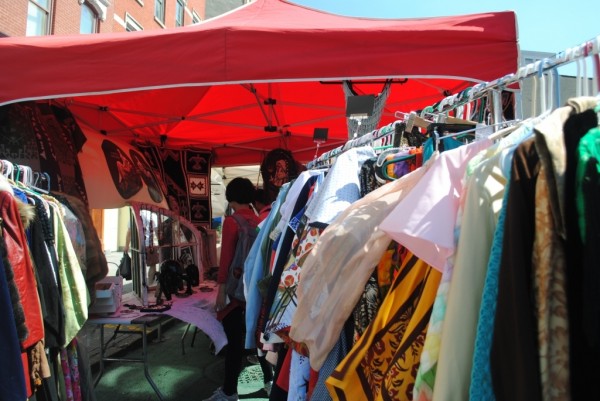 The crowd was out for the 5th annual All About Downtown Street Fair this Saturday in Jersey City today! It was palpable how many people are so excited to be a part of the JC scene; artists, foodies, crafters, vintage fanatics, t-shirt makers, the JC police force, tattoo artists, adoptable kittens from the North Shore Animal League, festival goers, even Brooklyn Brewery was caught up in the JC excitement!
On the food front, Jersey City Wingery was deep frying wings with sauce so spicy it'd make your nostrils tingle as you walked by. It's gotta be a good chicken wing to make standing in front of boiling oil on a hot day worth your while and this one is it. On a lighter note, Bread and Spoon was stocked with cookies, quiches, tarts and tea; the perfect snack for a lady who doesn't lunch (and instead wants to stuff her face with as many food vendor selections as possible).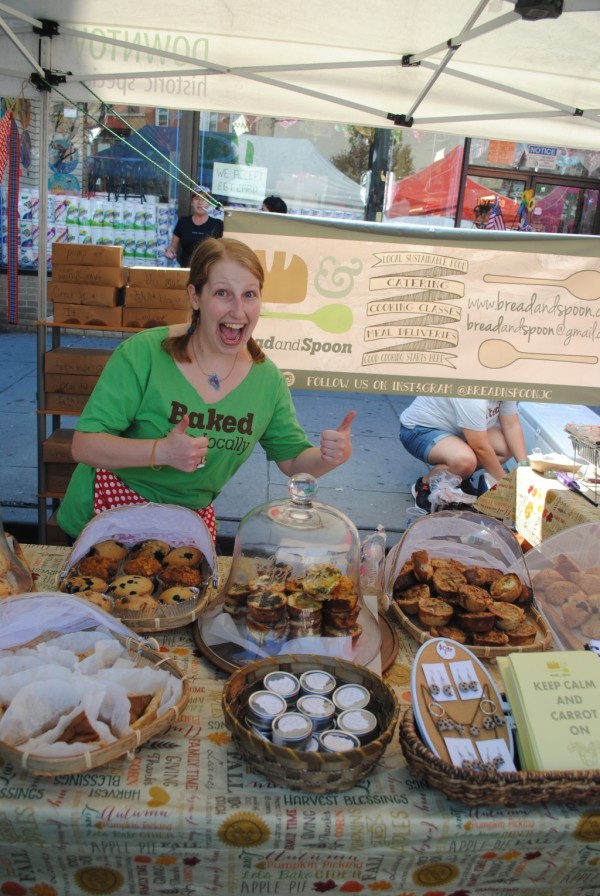 Roman Nose must be hoarding all the good tomatoes in New Jersey because their simple, authentic meatball subs and bruschetta which were so fresh you'd think you time traveled to summer in Italy. Stella's Empanadas had a whole slew of flavors to choose from; I went with the beef which was excellent and they didn't skimp on the sautéed onions, which made the flavor stand out.
If you were looking for something to drink, Talde started refreshing Blood Orange Mango Margaritas as soon as they were open for business and South House had a deep bowl of fresh fruit to add to each glass of sangria they served.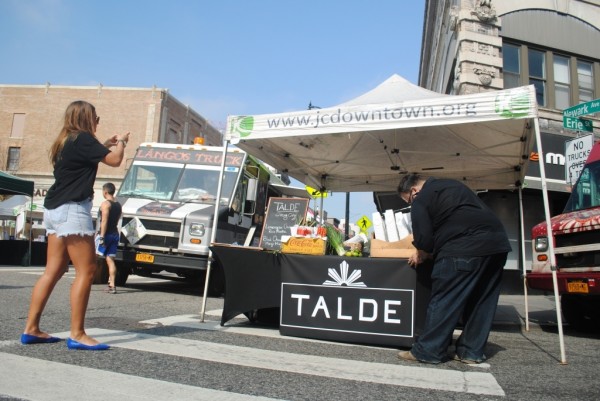 There was no shortage of JC local goods for sale either; any of the dogs on the Kannibal Home 'Dogs of Jersey City' tote look familiar to you?  It illustrated after actual dogs in the neighborhood! And if you're not quite ready for fall, White Birch Candle Co. will get you there. They were selling candles with scents like Toasted Marshmallow, Crackling Fire, Cinnamon Buns and Old Fashioned Christmas so you can coast into October.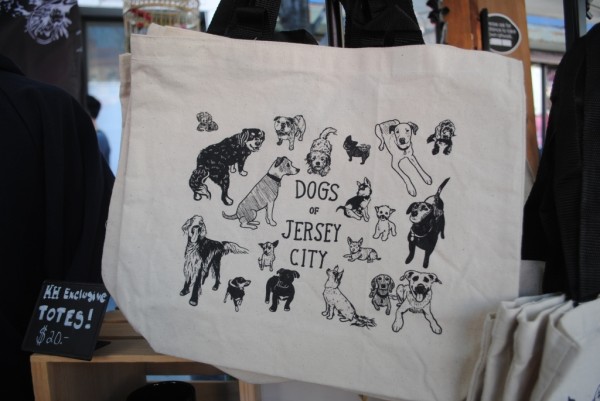 -Lauren
This year's All About Downtown street fair in Jersey City was my first, and man have I been missing out!
The fair started at 11, but people began flooding the streets of downtown JC much earlier, getting sneak peeks of the food, drinks, music, and other goods to come (Ferris wheel, anyone?).
By far my favorite part of the day was all of the adorable JC pets taking in the sights and smells. Benny stopped by for a bit, getting his picture taken in the CHICpea tent along with some other adorable canines, and local celebs the Big Hair Girls also stopped by for some pup pics. Did you know they are dog walkers in addition to being total rock stars?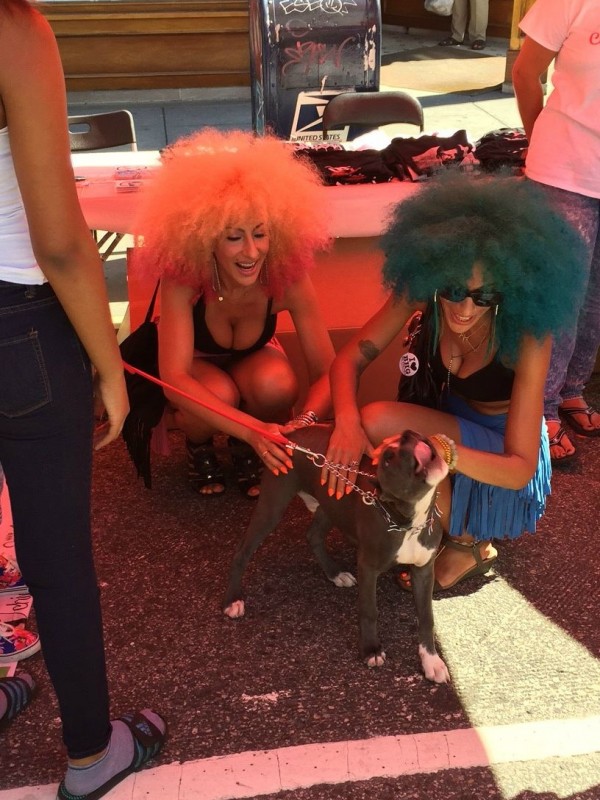 The adoptable dogs at K9dergarten were strutting their stuff all day, and North Shore Animal League from Long Island came by with a trailer full of insanely cute kittens and full-grown cats looking for new homes. Just when I thought I'd seen everything, I stumbled across Gaston the pig! (He even has his own Instagram ­ @gastonlepig.)
The shopping this weekend was no joke ­ if you thought of it, you could find it. I scored a sweet Jersey City/Underdog mashup tee from Weightless Designs.
Last but not least, the eats and drinks at the event were on point. I finally checked out South House and had their to­die­for Smoked Pecan Cinnamon Sangria (yes, that exists) while CHICpea co­boss lady, Crystal, checked out Bucket & Bay's handcrafted gelato along with a furry friend. Two Boots Pizza also brought their A­game, along with their mascot and one of Benny's BFFs, Donut.
I had such a great time exploring with fellow CHICpea contributors, dancing at the CHICpea booth, and most of all meeting so many of the awesome people in Jersey City. Until next year!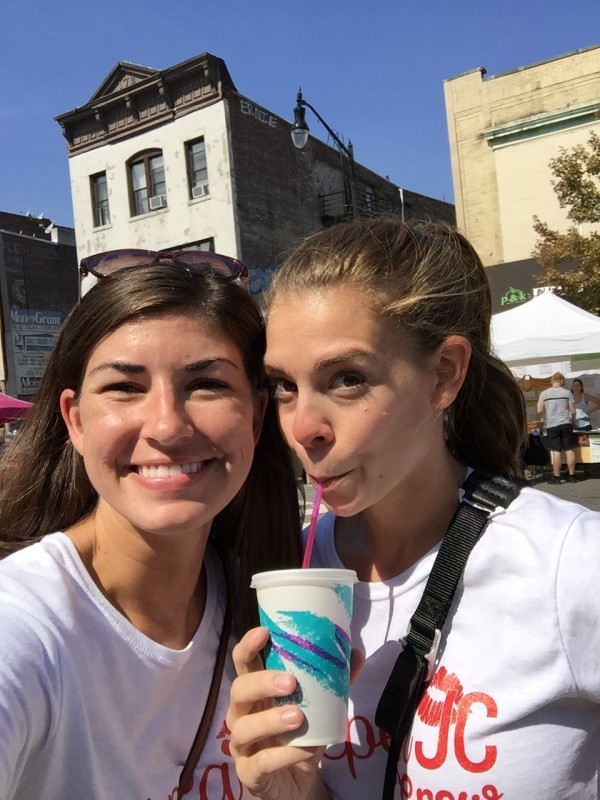 -Erin
The All about Downtown Street Fair was quite the success this year. The sheer volume of people, children, dogs, vendors, and activities was nothing short of amazing. I spent at least five hours there and never found myself bored without anything to do.
At the entrance of the fair I found Y3k, a new fitness program here in Jersey City. I had a chance to speak with the guys there.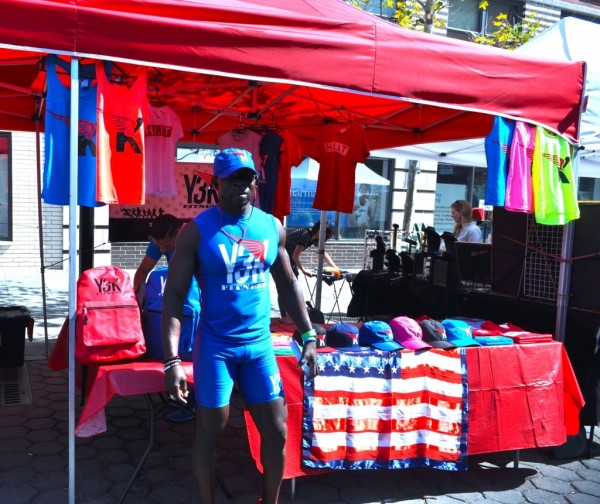 Josie: What makes Y3k Different than any of the other fitness program in Jersey City?
Y3k: What makes it different is that it's a mobile personal training program where we go to desired locations. What we do is take our clients to their desired locations whether it's the gym or the park and there we train them. We also do nutritional programs and a variety of other things.
Josie: Is it mostly body weight or do you incorporate resistance bands?
Y3k: Its weights, running, cardio, bodyweights – we don't use machines whatsoever; it's a lot of bodyweight.
After chatting with the guys at Y3K, I continued strolling down Newark Avenue where I was stopped by the guys at WORD Bookstore to go check out the live reading of Fancy Anansi. It was particularly a treat because the author, Sudha Ramaswami, was doing the live reading and autographing the books in store.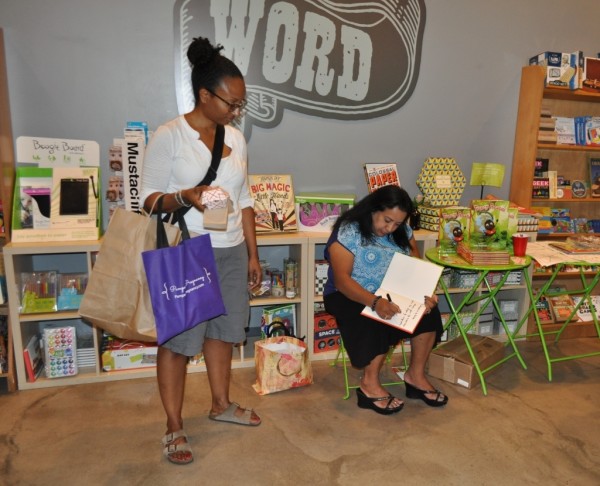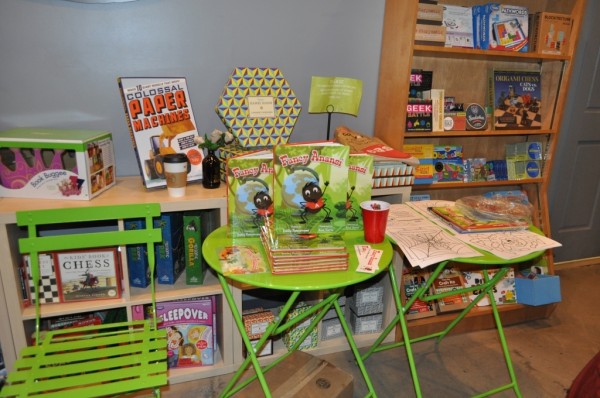 After the reading I had a chance to speak with Kerry from WORD Bookstore about some of the initiatives WORD hosts through the year.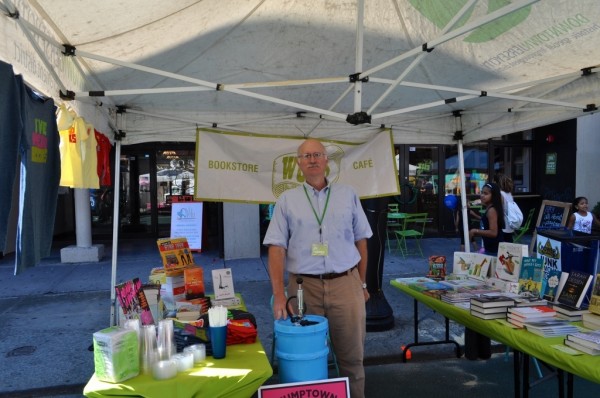 WORD: Every Saturday at 11, Lydia, our kid specialist usually reads two books to the kids and plays a game. We also have one on Wednesday at 1:30 which is for younger kids, for kids who aren't in school yet, and we call it "Baby Time"… it ends up being a real fun experience, especially for Lydia, who gets to read to them.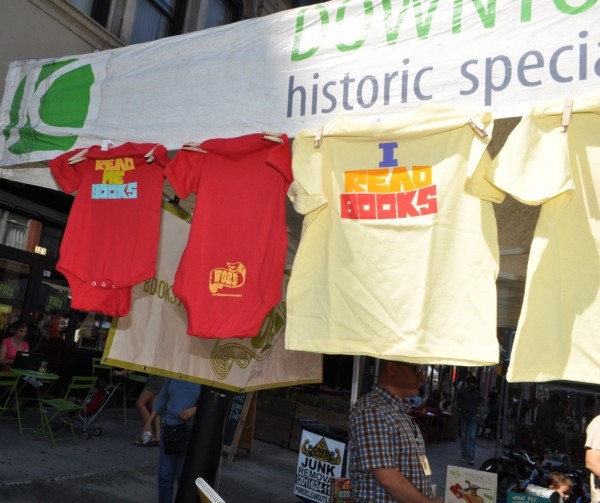 Josie: I'd imagine.  Do you guys have any other fun events coming up?
WORD: Yes, we have quite a few coming up. We try to get in a lot of events with authors and we have two big ones coming up – Elizabeth Gilbert is going to be here.
Josie: Oh wow, I have to come for that one! When's that?!
WORD: Elizabeth Gilbert is a ticketed event; she will be here on October 29th at 7:30.
Josie: And where do we buy tickets?
WORD: Go onto the WORD website – and you can easily buy a ticket there. Essentially what you are doing is buying a copy of her book and the book is the ticket to the event. And she'll sign it and she will be there to answer questions and tell you a little about her book. And a big event for this month is, at the end of the month, Sophia Amoruso of NastyGal is going to be here.
Josie: Wow.
WORD: The paperback of her book Girl Boss is going to be launching so she will be signing books, and giving a presentation and she is going to be having a little gift from NastyGal as well.
Josie: Ok, what date is that?!
WORD: That's going to be of the 28th of this month, September. That is also a ticketed event so go on the website, buy a paperback copy of her book and it will be here as your ticket to the event, all signed.
Josie: Awesome, so many great events coming up, I'm looking forward to it!
If you're interested in any of the events, check out the WORD website here.
I continued down Newark Avenue where I continued to be amazed by all of the vendors. One really stood out to me – Soap for Sinners!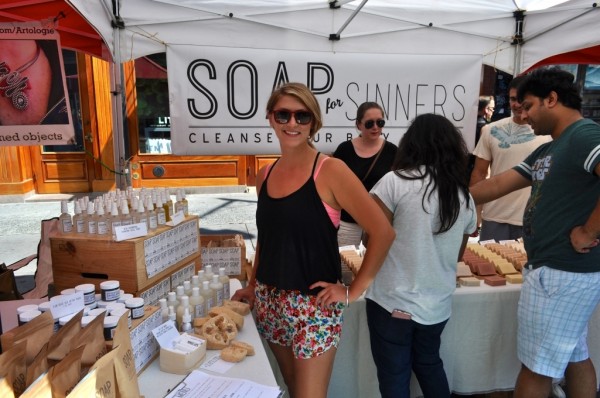 Intrigued by the name and the byline I had to stop by and hear more. I had the opportunity to speak with Jessica from Soap for Sinners and it was amazing to say the least. This girl really knows her stuff – and as a natural skin care lover – I was in heaven!
Josie: I love the name and the message beneath it.
SFS: I think we are all sinners and showering is like a cleansing, rejuvenating experience, so it's kind of like washing away modern grime  — we all need to cleanse from social media overdose or bad relationships.  It's about acceptance and loving who you are. We're all sinners, who make the rules.
Josie: Are these all handmade products made in Jersey City?
SFS: Yes, I make all of them.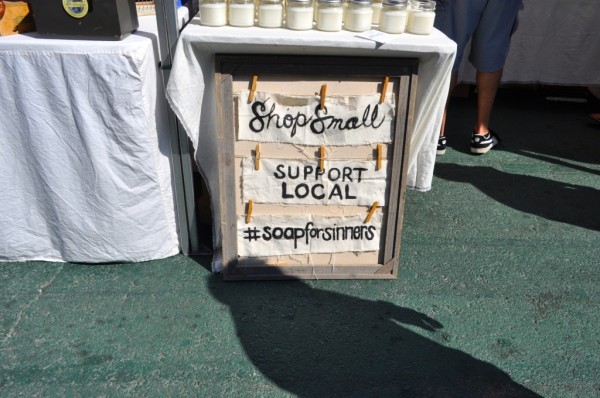 Josie: So what's your favorite product out of all of them?
SFS: I like them all. I created them all. They all have different purposes – and it just depends on the season. Like in the summer, I really like the charcoal face bar – it's great for drawing out toxins, it helps with oily skin, and controls oil levels. In the winter it's too dry so I need something a little more moisturizing – for me – unless you are someone who has really oily skin. Right now I really love our face serums. Face oils are like the hottest thing instead of lotion. I have a rose serum; I'll put it on the back of your hand if you want to try it. It rubs in really well. Just rub it in.
Josie: It's so light (*dies and goes to skincare heaven*).
SFS: It's really light for an oil. Walk around with it and it's going to absorb really well.
Josie: Mmm, it smells delicious.
SFS: It's a Rose Essential oil.
Josie: Very nice.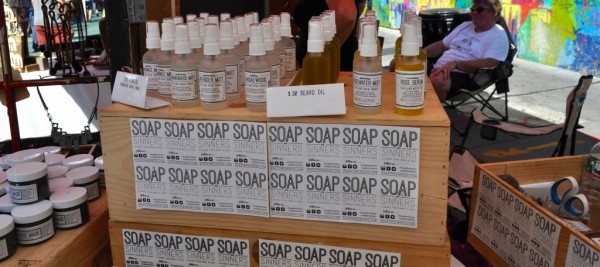 *Jessica was nice enough to give me the run down some of her delicious soap bars — and sent me home with some samples. You can find these soaps, oils, and other delicious skin care products here.
I continued through the fair and decided to give my little one a little break from the adult section of the fair. He had a blast in the children section with the rides and bounce house!
The fair was an awesome event for all ages.
-Josie
The 5th Annual All About Downtown Street Fair was once again a huge success. With gorgeous weather, a beer garden, live music local food vendors, bounce houses, and dance performances, the fair was sure to be a hit for everyone. With so much going on, it was difficult to decide on what to do first!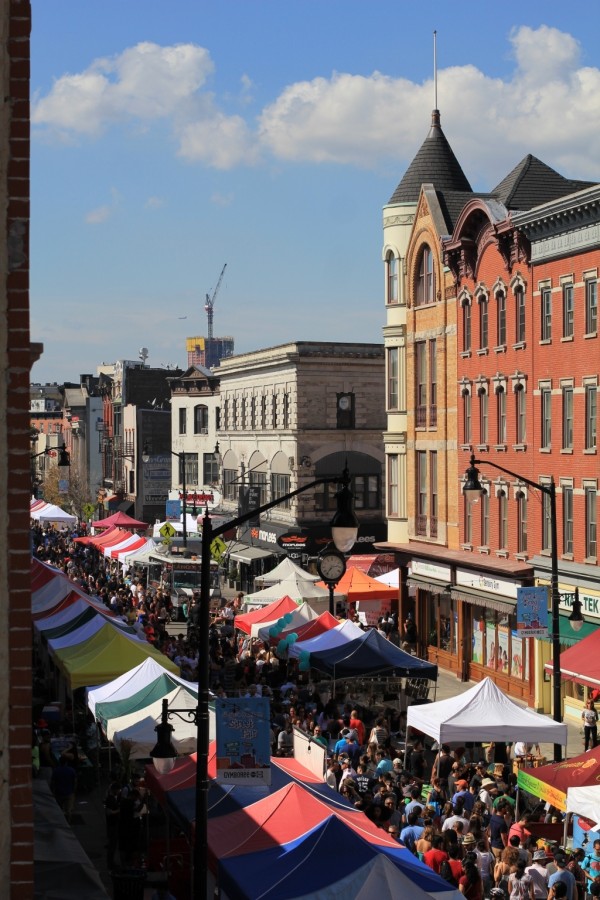 I started off by speaking to the inviting staff at Art House, who told me about all of the wonderful theater and music performances taking place throughout the city.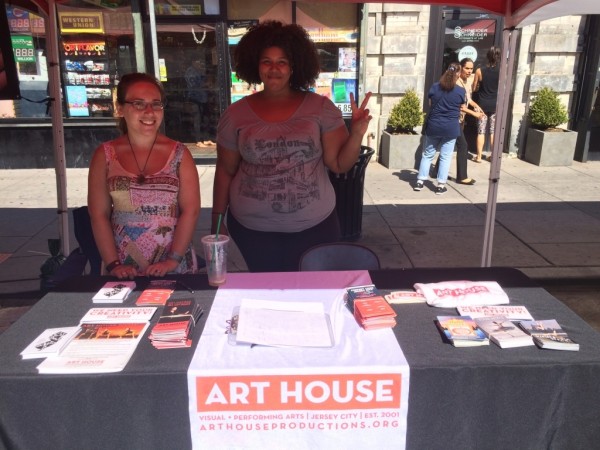 I later walked over to the folks at Bike JC, where we talked about our ideas for revolutionizing our city's bicycle network. They even gave out free bicycle swag and stickers! Before my friend, Ashley, and I decided to grab food, we stopped at Timid Monsters. Timid Monsters are adorable little clay monsters that are suitable for people of all ages. I highly recommend getting one!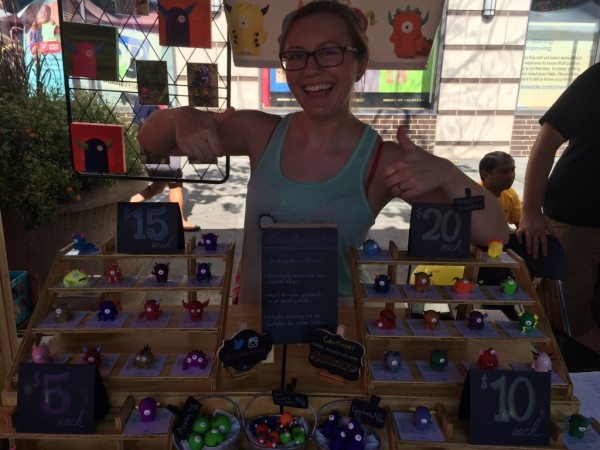 By the time we got to the end of the fair, we were pretty hungry. Luckily, the folks at Just Beclaws had a tent set up with $7 crab fries. With a generous serving of crab, combined with fries that would be amazing on their own, these crab fries are the real deal.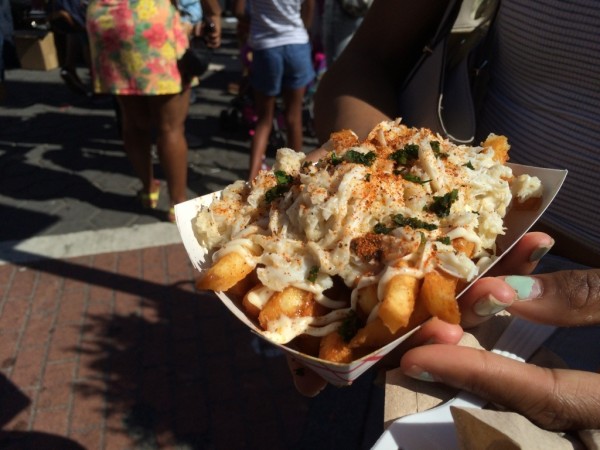 Seafood not your thing? No biggie. Grandma Downtown had a booth set up with some of their fresh rolls and even dog treats for our four-legged friends.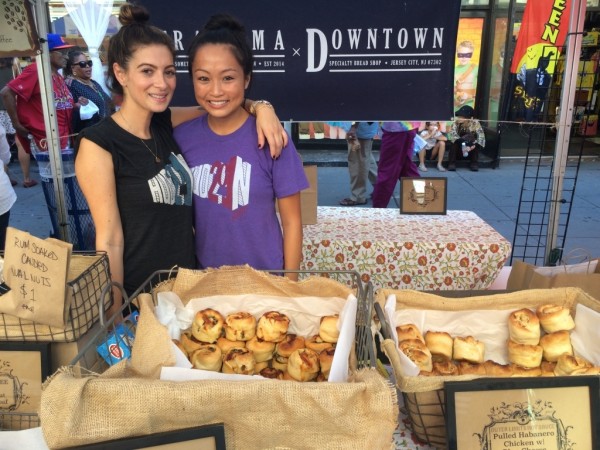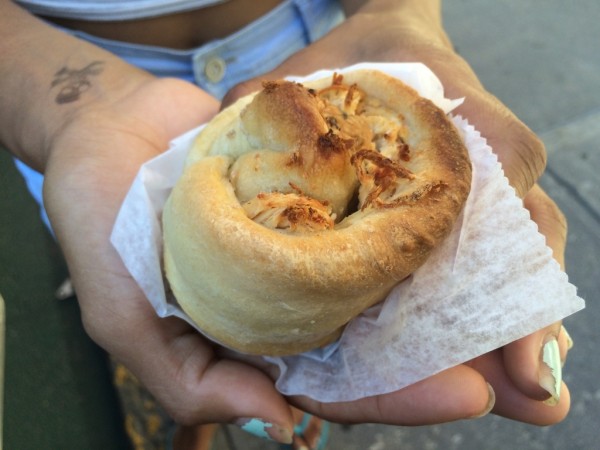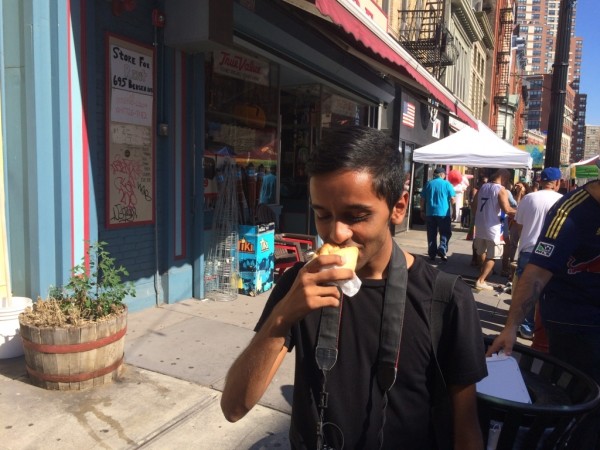 Millburn's Squirrel & The Bee also had their delicious collection of gluten free treats. To complement our snacks and satisfy our boozy needs, we tried South House's $5 Pecan Infused Cinnamon Sangria. I was a bit hesitant to try it at first, but after finishing it, my only regret was not buying a second one (or third, or sixth?).
Before leaving the fair, I stopped by the dance performances near Jersey Avenue, which featured a variety of cultures from all around the world. These performances were a wonderful complement to the bands and DJs from the Beer Garden and PATH plaza, respectively.
With each subsequent year, the festival seems to get bigger and better. Rather, it's about all of the businesses from Jersey City and the surrounding area.
All About Downtown started off as a small event focused on promoting downtown business, but it has grown into a massive street festival that attracts thousands of people from all across the region. At the fair, it's not all about downtown, but rather it's all about businesses from the entire area.  I could only imagine what next year will be like.
Until next year!
-Yuvraj
Droves of people descended upon Downtown Jersey City yesterday for the All About Downtown Street Fair.  The turnout was huge!  You could barely make it through the crowded streets lined by vendors, restaurants, food trucks, beer garden, live bands, break dancing and even a bouncy house for the kiddies.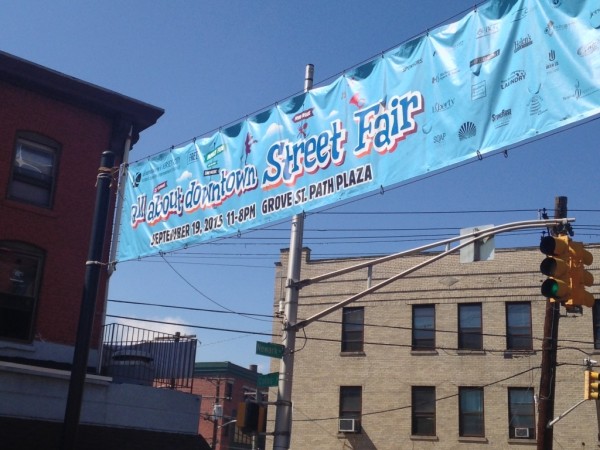 It wasn't I-need-a-Xanax crowded, but rather more like this-is-wonderful-for-Jersey-City crowded.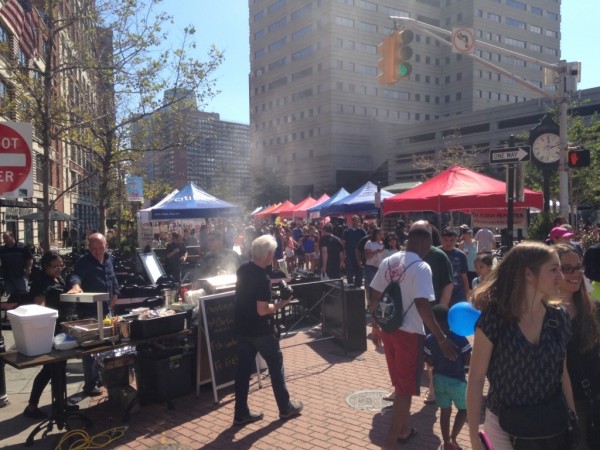 I am fairly confident there were more people at this fair than there were at the Britney Spears Femme Fatale tour concert I went to years ago. And that was thousands of people! (And before you think I'm über gay for attending a Britney concert, let me point out that I did not purchase the tickets, I won them on the radio. And now you're thinking, well he must've still had to have called the radio station to win the tickets.  Radio stations don't randomly call people doling out free tickets.  And you're right. However, I was forced to call at gunpoint by a maniacal Britney fan. Ok, that may be a lie. I like Britney, ok! Can we drop it now?!)
Anyway, the whole point of this rant is just to prove how Jersey City can beat out a bubblegum pop princess any day!  That's how awesome Jersey City is!  I had the privilege of helping out at CHICpea's booth.  If you weren't able to make it Downtown yesterday, this was the first year CHICpea was a vendor!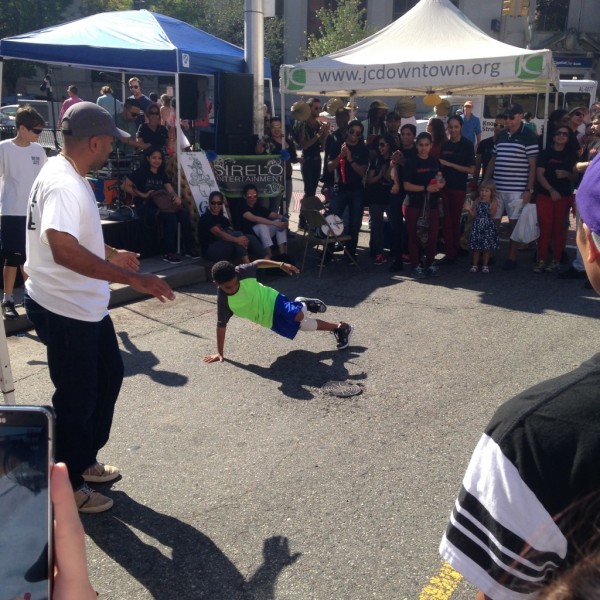 We were selling fabulous Jersey City T-shirts, we had a charging station where you could charge those pesky low battery lives, we had loud music bumping, and the crème de la crème: a Step and Repeat where you could have fun photos taken with your friends or even with CHICpea herself! Even local celebs, the Big Hair Girls, stopped by to takes some pics!
The weather was perfect, but standing out in the sun could drain you.  Luckily, our booth was situated right across from Talde where I was able to refresh with their delicious, yet dangerously intoxicating, Blood Orange Mango Margaritas.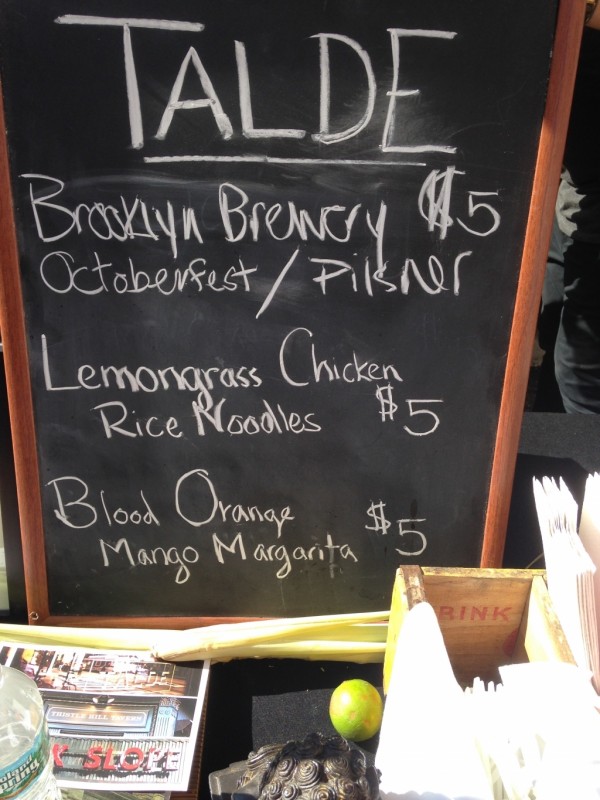 To recharge, I stopped by Stella's Empanadas to grab some of their beef and cheese emps. (Sidebar: I love empanadas and these were the best I've ever had!)  And I just couldn't resist giving The Hamilton Inn's Watermelon Agua Fresca a whirl. And I did not regret it!  But I also couldn't really walk straight after that either.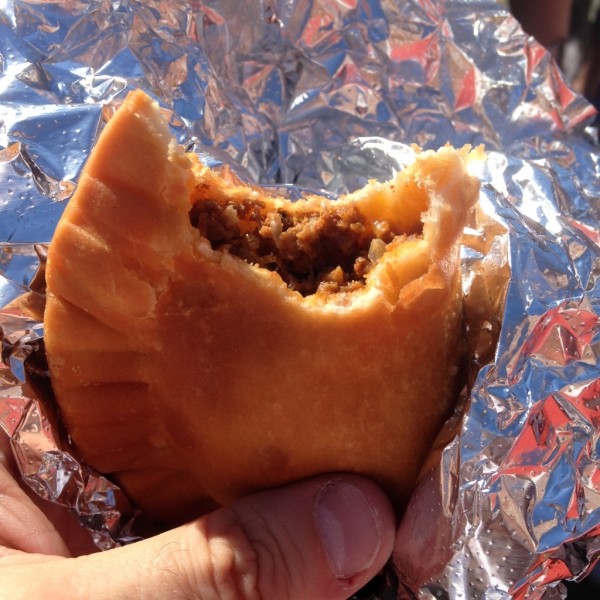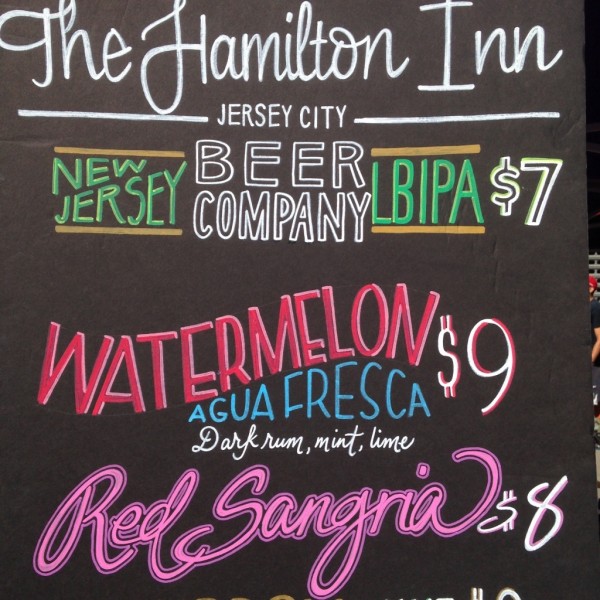 All in all, it was as a super fun day and I am glad I was able to be a part of it.  It was worth every inch on sunburned flesh I have today.  (But that was my own fault for not protecting my skin.  Wear sunscreen, people!)
-Charles
There's one thing about Jersey City that I've always loved—the ability of bringing everyone together. The All About Downtown Fair was amazing. We paired with great weather, great people, the CHICpeaJC booth. We also had a fantabulous charging station, supplied by our partners from NVRland Productions, Gabby and Mackenzie. The whole day was a blast!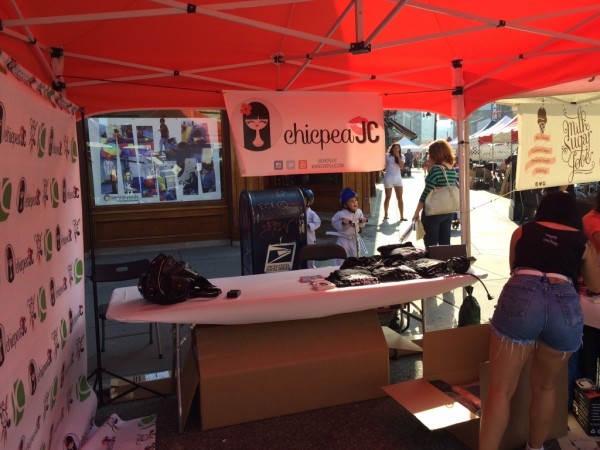 The CHICpea booth was smack-dab in the middle of BBQ wafting in from the west and the scent of sweet, sweet ice cream from Milk Sugar Love floating in next door. The All About Downtown fair wasn't just an exciting day for all the city-folk, but it was an extremely gratifying day for all the Jersey City vendors! With a huge shout out to Rachel Sieg and the HDSID crew for helping put together the awesome 5th Annual All About Downtown Street Fair, we would like to say thank you!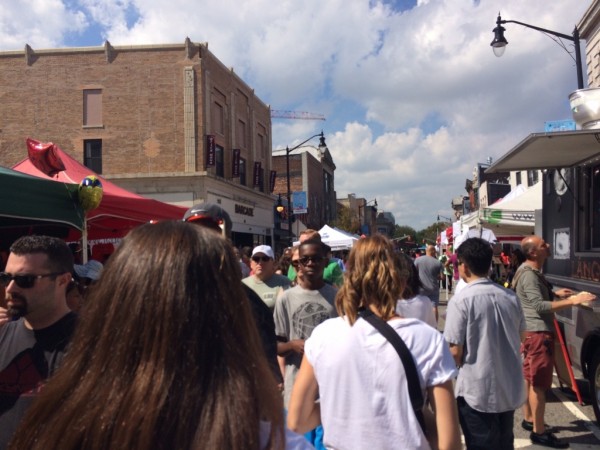 There was so much to eat and look at and buy with such little time! There were so many things to look at from jewelry to Blood Orange Mango Margaritas to a free toothbrush!
One thing I have to say—there's nothing like feeling a part of the town you grew up in. The older I get, the more youthful I feel with joy spreading throughout an entire city of great people.
I can't wait until next year!
-Crystal
Coming from someone who's developed a lot of food allergies within the last couple of years, I thought I could pretty much kiss goodbye any chance of enjoyment going to local food events and festivals.  But I'm here to tell you that you can still enjoy-and dare I say, joyfully stuff your face- at social food events like the All About Downtown Street Fair that was held yesterday.  Here's a brief little rundown of restaurants that had trucks and booths yesterday at the fair that are allergy friendly:
Caption:  Tony Boloney's, located in Hoboken, has an option of gluten-free pizza dough for any of it's crazily concocted pizzas.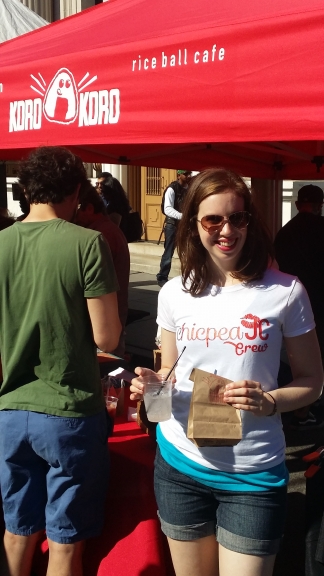 Koro Koro Rice Ball Cafe, located in Downtown Jersey City, offers an entirely gluten-free menu which is such a relief for someone like me to be able to walk in and order anything I want.  Not only are the rice balls delish, but they're also fun to unwrap. Think origami food.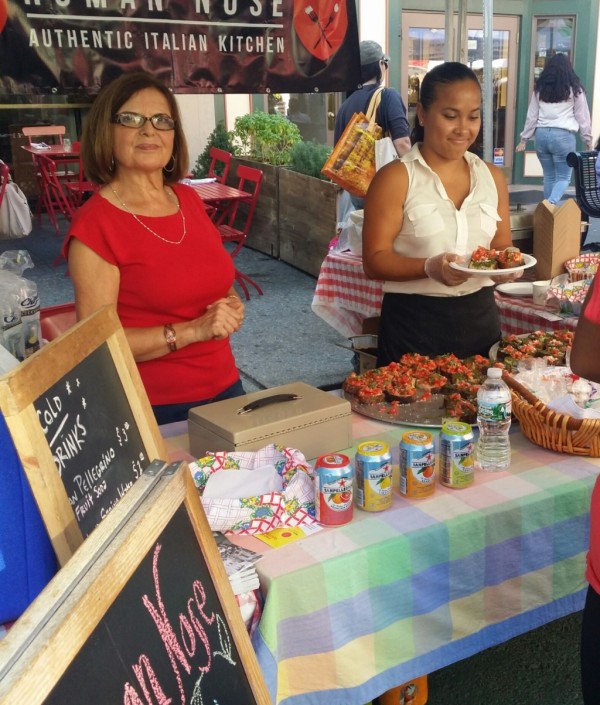 There's also Roman Nose.  This delicious downtown Italian restaurant offers a gluten-free pasta option.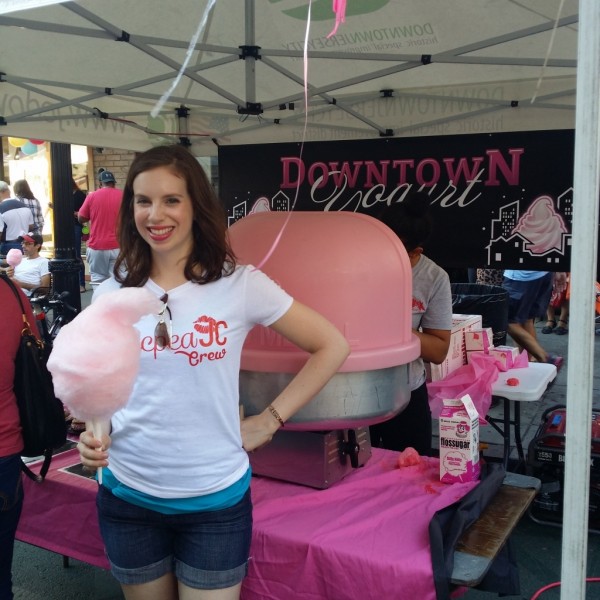 Get this.  Downtown Yogurt offers flavors like pineapple and peach that are dairy-free and gluten-free.  (I bypassed the fro-yo for cotton candy yesterday and felt like a little kid again).
Last on the list is Milk Sugar Love.  This creamery, located in Newport, pretty much makes my world complete.  They offer a gluten-free oatmeal cookie ice cream sandwich with coconut non-dairy ice cream.   They also offer their hand-crafted ice cream by the pint, and flavors like mint chocolate chip are dairy-free as well.
P.S.-  There were also lots of fitness-related booths at the street fair yesterday.  One of my fellow Chicpea contributors Stephanie totally killed it at Jersey City Crossfit's push-up contest.
Couldn't make it to the fair? Here is a gallery with photos from the festival!