Have you taken a walk through Newport recently? You may have seen the new sculpture right along the Hudson!
Earlier this month, a sculpture created by internationally renowned artist Jaume Plensa was permanently installed in the Newport neighborhood of Jersey City.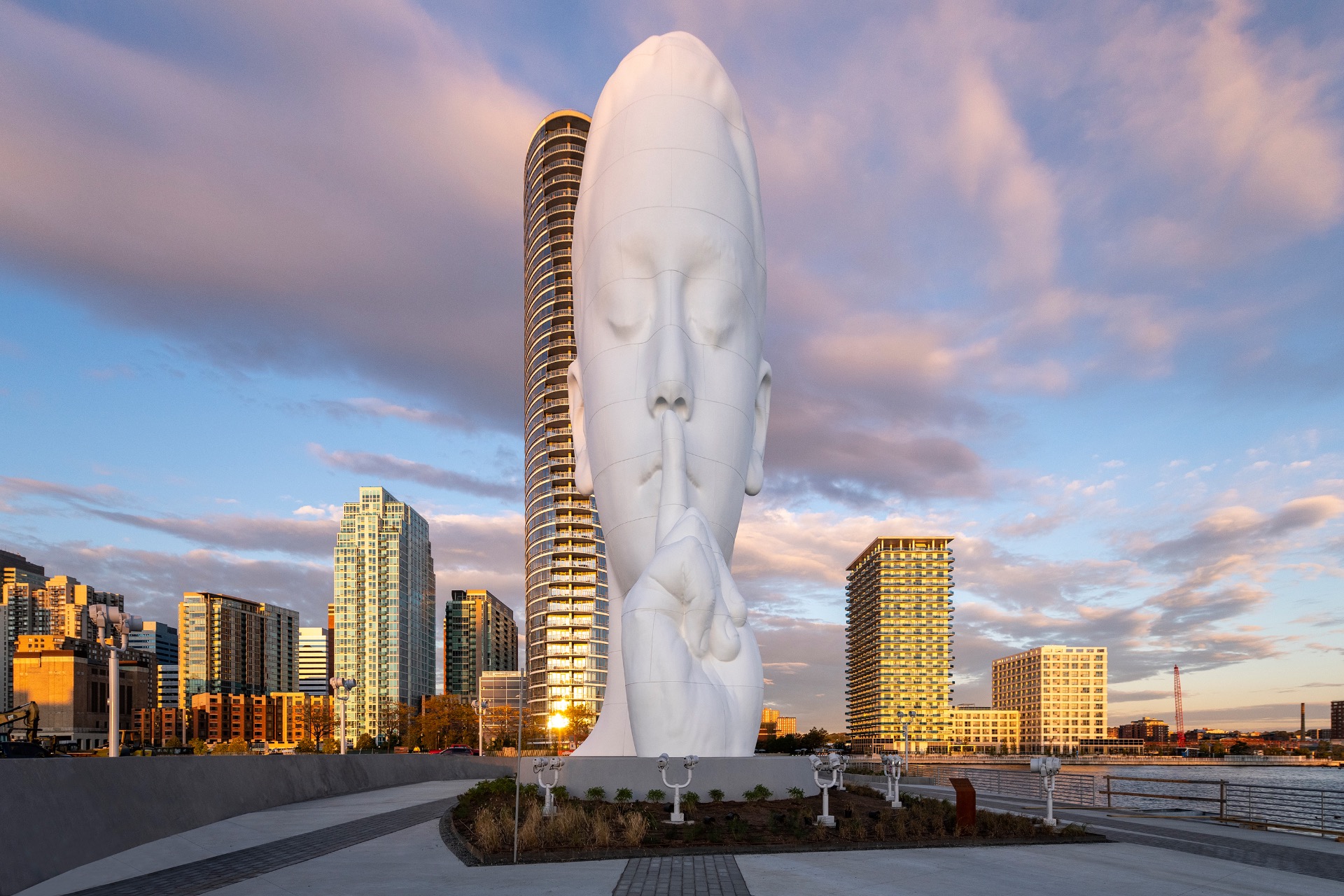 We asked our readers what they thought of the sculpture, and it seems as though many residents were confused about the piece – the shushing motion, the placement, and the design. Many wondered why a Hudson County artist wasn't chosen, a valid point to mention in a city filled with talented artists. It's difficult to find the meaning behind the sculpture at first glance, but once you learn what it stands for, it all starts to come together.
Commissioned by LeFrak Organization and Simon Property Group, Water's Soul is 80 feet tall and depicts the "serene face of a young subject holding a finger to her lips in a state of silent contemplation."
The artist's dedication of Water's Soul beautifully explains the meaning behind the sculpture as it relates to the spiritual symbolism of water.
Our bodies are 60% water. 70% of the Earth's surface is covered with water.

Water is the basis of all life. Water's Soul is asking us for a bit of silence, it is asking to listen to its profound voice that speaks to us about the origin of the world and its memory.

The Lenape, the native Americans who lived in this land before us, were a deeply religious people and they believed that all things had souls. I believe in the spirit of water too, and its great capacity of connection and transformation.

Water is the great "public space," space that does not belong to anyone and at the same time belongs to all of us.

Water's Soul is Newport's figurehead moving through the water into the future.
Water's Soul is one of many human face sculptures created by Jaume Plensa. His other sculptures can be found in Los Angeles, New York, Ann Arbor, London, Seoul, Rio de Janeiro, and more major cities around the world.
You can visit Water's Soul along the Newport waterfront at 15 14th St, Jersey City (by the Ellipse apartments). Find more information about Barcelona-born artist Jaume Plensa on his website.