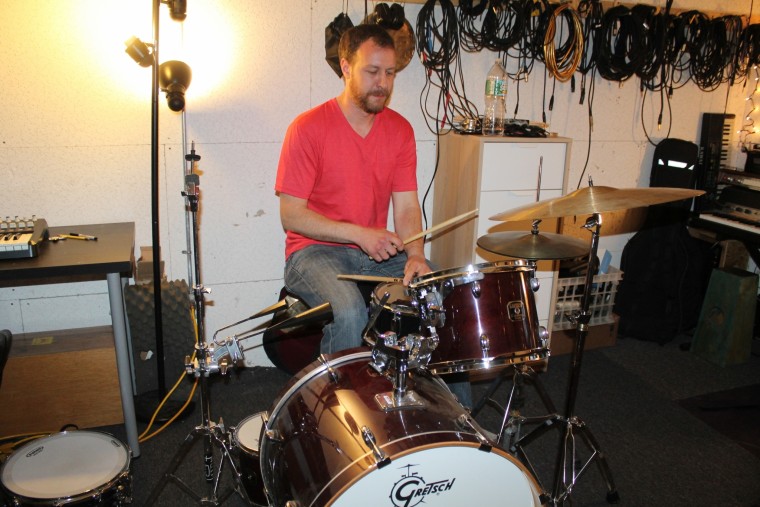 I first saw Pat Van Dyke at the Riverview Jazz Festival last summer and he rocked the house (or the park). I kid you not, I sent myself an e-mail with the header "Interview PVD." Well, I never came around to it and when I recently interviewed DJ Prestige aka Flea Market Funk, he dropped Pat's name and a light bulb when off. A week later I got an email from Pat informing me about his upcoming gig happening at Fox and Crow, April 15th to which I said, "Let's talk." Pat Van Dyke is a talent like no other, a musical genius and I was so excited to visit his studio in the Bergen-Lafayette area and get to know him a little more. This father of three lives and breathes music and is one of the lucky ones that gets to do it full time.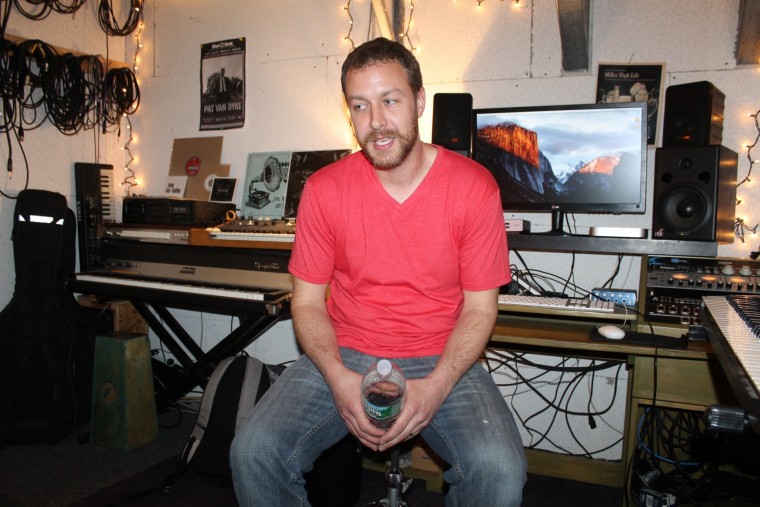 What's your name? My name is Pat Van Dyke.
What do you do? Music 24/7.  Composition, production, performance, licensing.  Anything and everything.
What's your genre? Soul-Jazz & Hip-Hop.  I play as a sideman doing anything and everything, but as a solo artist, my focus is mainly instrumental music along the lines of the 60s and 70s CTI Records type of stuff… Bob James, Grover Washington, Herbie Hancock and the like.
How did you get into it? I've been playing music my whole life. I played in punk rock bands back in the day and eventually got into hip-hop in middle school. In terms of learning and furthering my craft, it seemed like a logical transition to start playing jazz. I went to college as a jazz major at William Paterson, here in New Jersey and even before I graduated, I got into producing for hip-hop and R&B artists, which eventually transitioned into composing and producing.  In 2005, I put my first record out, and in the past three or four years, I've had four or five different releases with labels here in the states as well as labels overseas.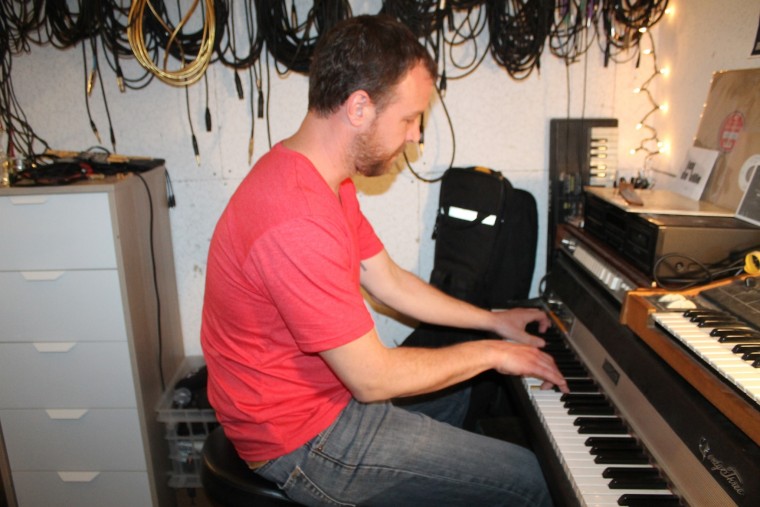 And this is your full-time gig? Music is my full-time gig. I write, teach, perform. and produce.  A lot of my music has been used on VICE, NBC, ABC, NFL on Fox…. a lot of stuff. I'm trying to explore that more as a revenue stream as I have more mouths to feed these days.
What is your creative process? 90% of the time, my ideas start on voice record on my phone. I'll build ideas around chord changes or melodies that I hear in my head.  I think in terms of colors and palette.  I'll have an idea as to what the chord changes are, and it builds from there. Anything and everything is fair game when you're utilizing the studio as an instrument. So the creative process varies on whether I'm working on jazz or hip hop oriented stuff, but it almost always starts with very simple ideas and builds around the song.
How do you make sure you don't recreate something you've already listened to? I'm going to be influenced by all this incredible music that already exists.  There's no way around that.
What do you listen to? I'm really into the most recent Emily King record.  She writes incredible songs and the production is top-notch.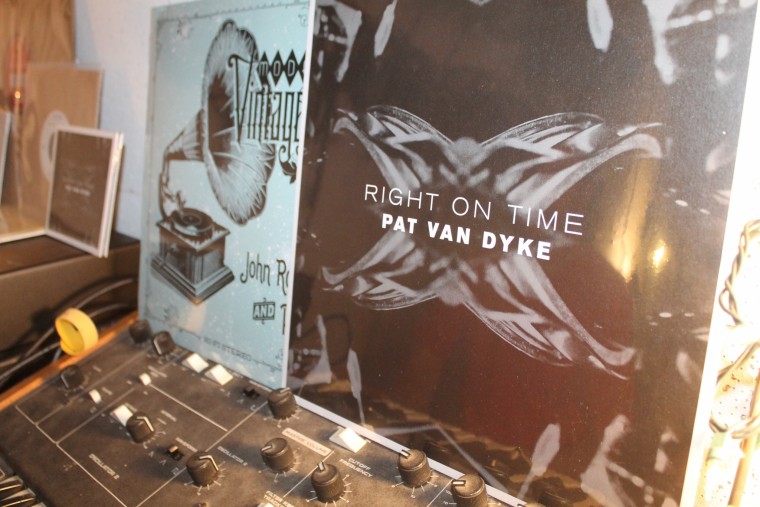 What are your musical influences? Everything from A Tribe Called Quest to Led Zeppelin to Johnny Cash. There's a really dope multi-instrumentalist who goes by the name of Lord Echo from New Zealand. I discovered his music through my association with Jakarta Records in Germany; the label that released my most recent full-length LP: 'Right On Time."
Do you feel like vinyl culture is making a comeback? Oh for sure! Earlier, I referenced six-month turnarounds at most pressing plants. My first full-length LP on Cotter Records… it was two or three months from the day we sent it in until the day we had the final copies in our hands. While I hate waiting for test pressings, I love the fact that people are embracing LPs and 45s.  I've always been a fan of tangible items…something that you can hold in your hands, read the liner notes, and see who played what.
Is Pat Van Dyke your real name? Pat Van Dyke is my real name. Some of the stuff that I've produced in the hip hop world came out under the name PVD. When I put Technicolor Hi-Fi out in 2013 I felt like it was finally time to use my real name. Look out for new music, that's my goal now—being as prolific as possible…..putting out as much music as I can. Right now, I'm sitting on 3-4 records people haven't heard because I'm waiting to get the test pressings back.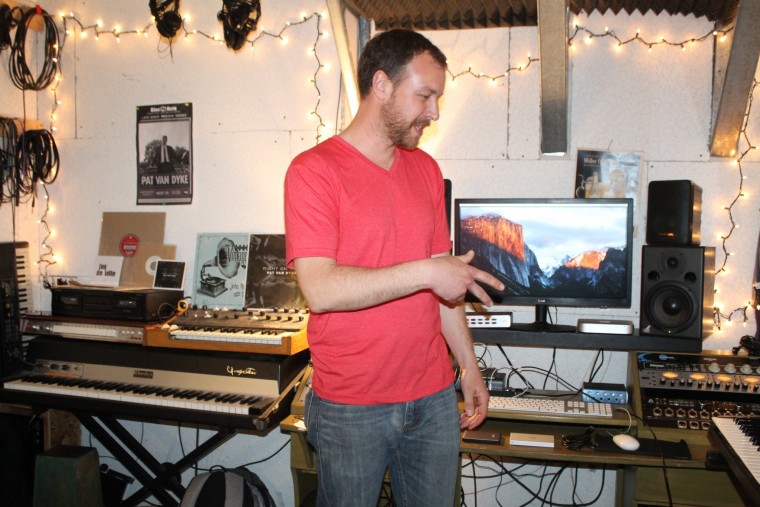 The way we consume media now is so quick. Yes.
It's also the experience. For sure. It's so easy to hear it and move on to the next thing because it's so rapid-fire. People from all over the world are hearing my music because of that immediacy of being able to share it so quickly, so it's definitely got its ups and downs, but I like to think about things in terms of a record as a whole. The thing that strikes me the most about an "album is the sequencing.  It's not 10-12 randomly assorted songs.  There are transitions that people thought long and hard over.  When you hear a record that flows straight through from top to bottom, it catches you.  I was working out in my basement the other day and put on People's Instinctive Travels & The Paths of Rhythm from ATCQ in iTunes.  It happened to be on shuffle and it just felt all wrong.  ya know?
What's your favorite Jersey City hang out spot? Hands down…without a doubt, Fox and Crow. I lived in The Heights for a bunch of years after living downtown since 2004, so I've automatically got love for a place trying to do it right on Palisades Ave.  My main complaint with Jersey City as an arts community is that there are no legitimate venues.  Fox and Crow treat the musicians well and curate the music in a way that's thoughtful and deliberate.  Plus, they've got great beers on tap and killing burgers.
Pat Van Dyke plays 6 classic breakbeats".  Can you name all 6?   Hit up the comment section below
Do you have anything you want to plug? The show at the Parlour in the heights on April 15th.  I'm starting to do an every Wednesday residency at the LeadBelly on the Lower East Side. I'll be there on Wednesday nights. I've got a few different records coming out, one with Jersey City Vinyl Cultural Collective Open Creates. They're putting out a limited edition 7" vinyl of two reinterpreted classic songs—Bob James "Nautilus" and a Bee Gees Tune, "Love you Inside Out." There's another 7" vinyl release on a boutique label out of Philly called "Let The Horns Blow" also coming out this year.  Most of my records have been keyboard / synth heavy as of late, so I wanted to switch it up and do something more rugged…..horns, guitars, and less keyboard.
LINKS 
Website:  www.PVDMusic.com
Fox & Crow Show FB Event:  https://www.facebook.com/events/845303378949578/
Pat Van Dyke on FB: https://www.facebook.com/Pat-Van-Dyke-PVDMusic-79700599327/