When Dennis from Damaged Wear and I decided to get together and work on a shirt line we thought it would be cool to have a design contest and involve local talented designers. The requirements were for the design to be retro Jersey City and to incorporate the Kiss icon I use in my logo and we received some incredible designs….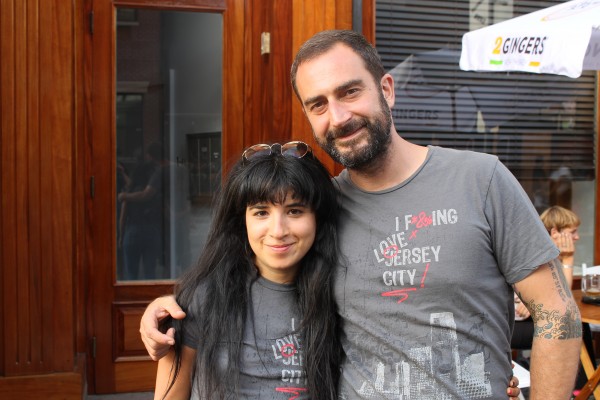 A few days before the due date, I reached out to artist Pat Massett, who I started following a while ago on Instagram and was a huge fan of his work. Namely because he paints mostly vintage Jersey City landscapes and because he was born and raised here. I sent him a note urging him to submit a design, which he did…. on the last day. The moment I saw his work I was blown away, but it wasn't just up to me since we had three other judges. The votes were very close but Pat's design was eventually chosen.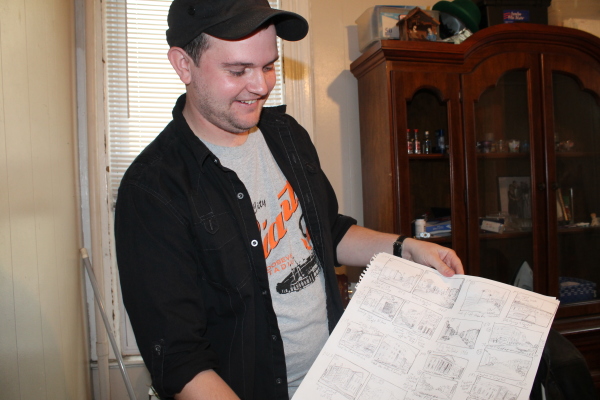 I went to visit Pat at his home in the heights to get his background story and check out his art. I learned so much about Jersey City in the span of one hour I felt my head would explode! Pat and I became friends and I appointed him to be my official ChicpeaJC historian! We collaborated on two posts covering the Arch in Pershing Field and the Pershing Field itself! We have so much more to cover and I am so excited he is helping me on this journey of discovering the history of Jersey City.
You were born and raised in Jersey City right? Yeah, I was born in Christ Hospital.
How long has your family been in Jersey City? My father's side, since the 1880's and my mom's side the 1940's, right after WWII.
In Jersey City? Wow. Yeah, on Prospect Street they bought a house…Which is where my parents originally met!  They lived 2 houses down from each other & got together & were married in 1977…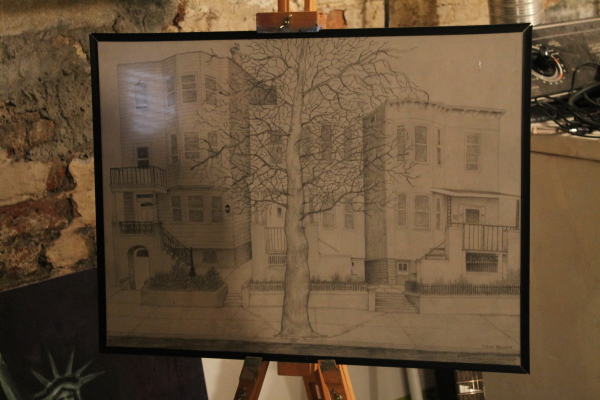 How was it growing up here? and how has it changed? This neighborhood hasn't changed that much, its gotten better and worse…it goes through phases, but the heights has always been great.
What is your job? I work with the Light Rail. I've been doing that for 11 years. I got that job in 2003…. and I do art on the side.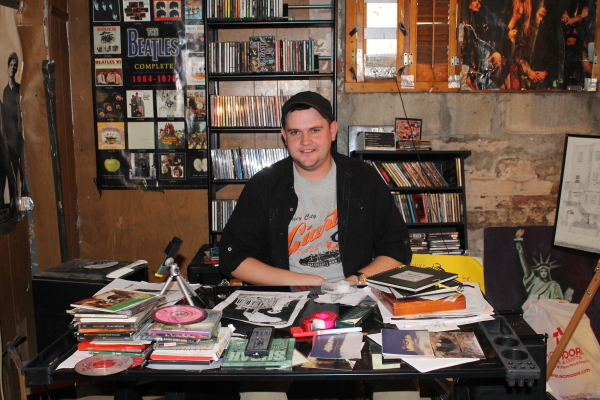 When did you start art? Pretty much my whole life, since I was 5 years old.
Your artwork is mostly Jersey City? I just like whatever I see, whatever I come across on my way to work…From the train I will see scenes. I love Jersey City, I find it so interesting.
What do you love about Jersey City? A lot of different things. The people, my friends and family. It's tough to describe. It's my home. I always think it's kind of gritty, the urban landscape, and I always think that if it's from Jersey City it's cool. If it's not Jersey City then it goes down a notch… haha.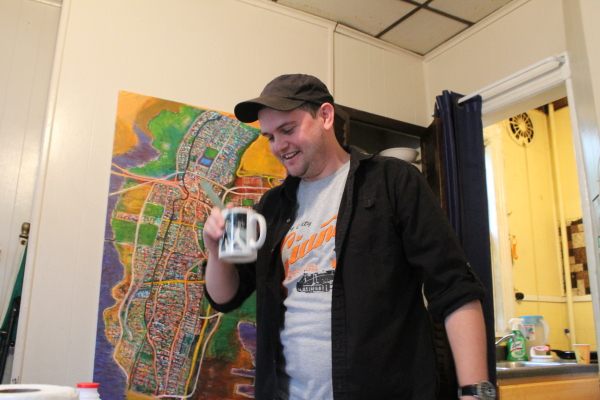 You are probably Jersey City's biggest fan… born and raised here, and you paint its landscapes… My cousin and aunt were really into find out our ancestry… and there was a rumor that we were the second oldest family in Jersey City… but that was actually an in law… but still the 1880's is still pretty far back!
What did your family do? Did they work in Jersey City? My grandfather on my dad's side was born in 1892 in Jersey City. He was a brick layer, that's what is says in the census… he was a hard labor guy, irish… They lived downtown in the Horse Shoe section by Hamilton Park. He was in WWI, his name is actually on the place of St Michael's Church.
So Impressed!! What's your creative process? I see something, maybe take a picture… will sketch it out and then paint it… I was going to school for it here and there… I will take drawings and pictures and work off of that.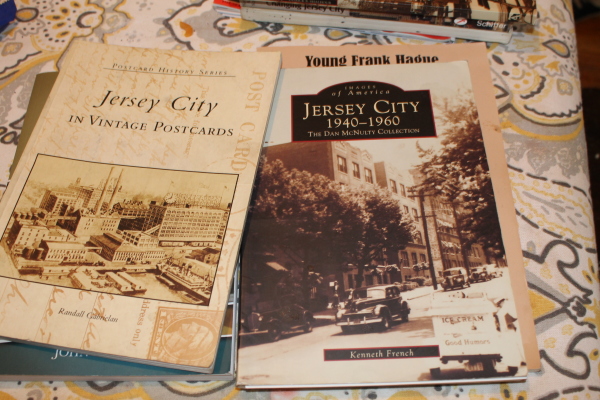 Well your stuff is so good. Thank you!
What inspired the design for the Damaged Wear/ChicpeaJC shirt contest? Well it was vintage Jersey City…. I actually had the idea before… My brother and I have been doing this poetry magazine…. It's poetry and also short stories. My brother is the editor and I will do most of the covers… We are on the 7th volume and we distribute these anywhere. We sometimes have open mic and will give them out then…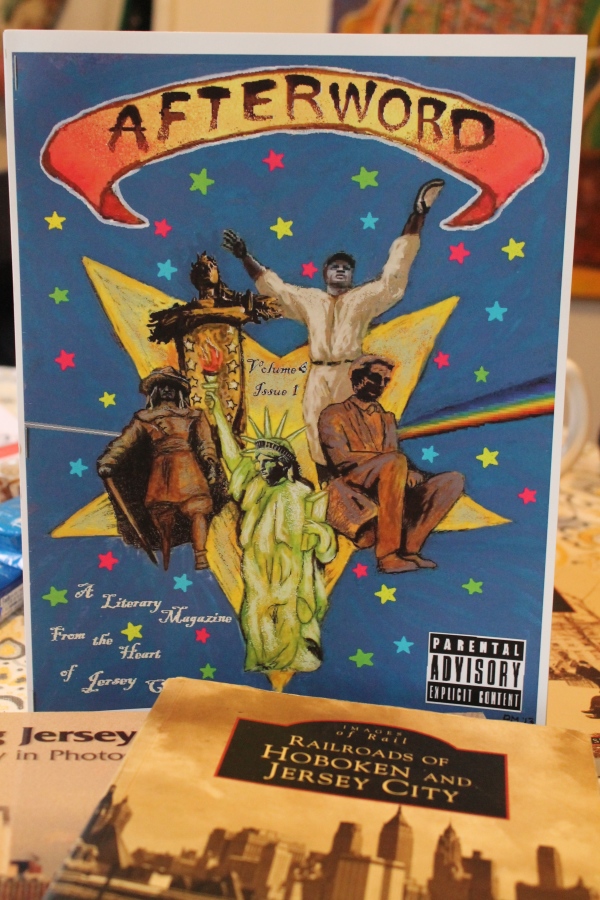 Yeah so back to the design…. I pass by the Powerhouse almost everyday on the train. I was mad when they took the smoke stacks down because I felt that it gave Jersey City character.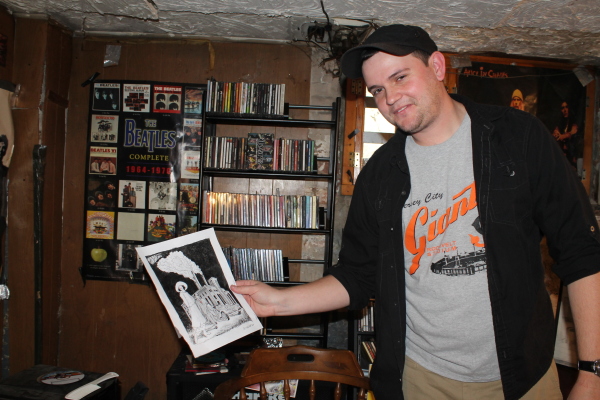 Doesn't it also cause pollution though? Hahaha, no of course! That's why I sort of thought you might not like it. Haha. But the Powerhouse is a definitive landmark of Jersey City….Then I just thought of the girl, and she adds a lot of character to the design.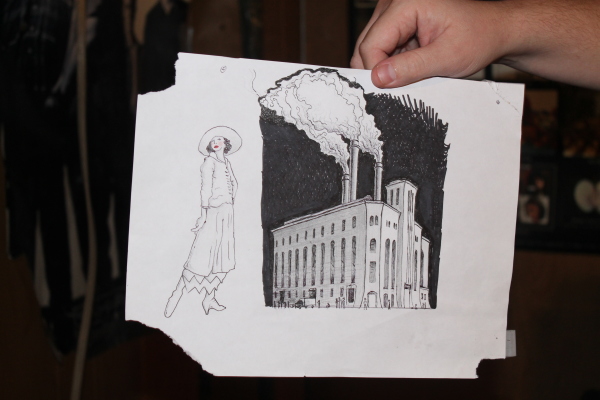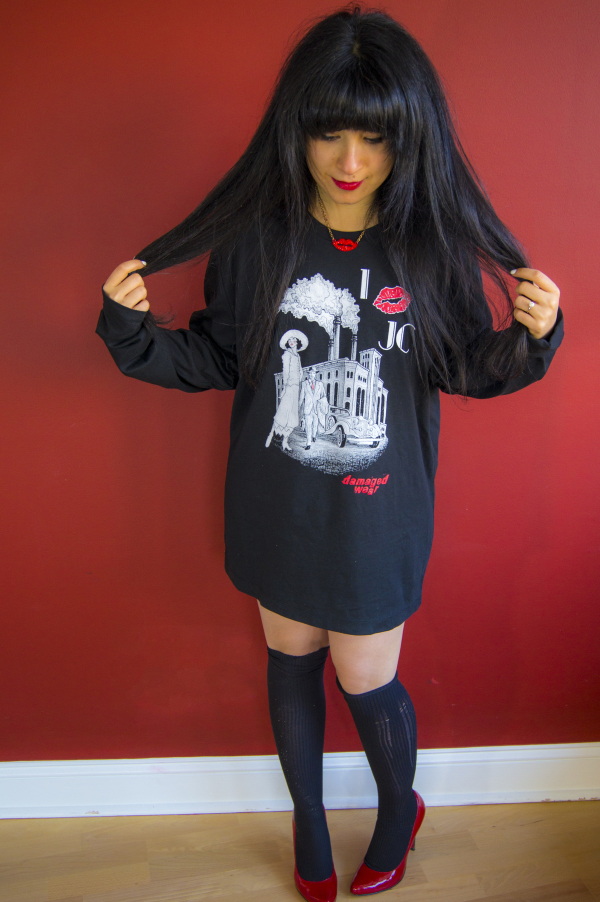 Can you tell us some history on the Powerhouse? It basically powered the path from what I understand. A really cool tid bit is Teddy Roosevelt actually sent by telegram for them to throw the switch on to start the path train. It started at the Powerhouse.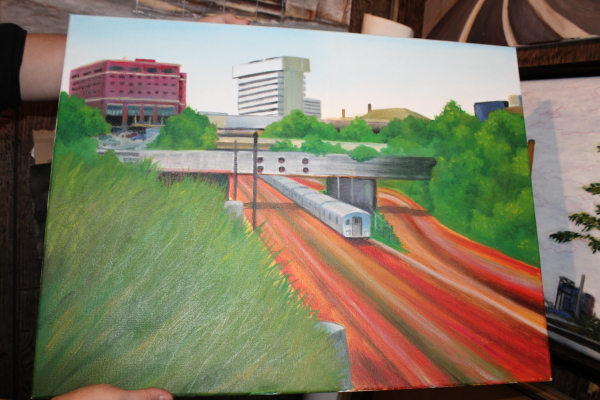 That is really cool. Any other fun facts? Going back to Roosevelt. The Medical Center, which is the Beacon now, there is a corner-stone which is on Baldwin Ave and in 1936 there was a ceremony and FDR was there for that! So that's pretty cool too. That was a WPA project to get out of the depression…. If you do a google image search for WPA project, the medical center will show up.
The fact that people live in that building creeps me out. Yeah it's a little creepy.
Can you give me a tour? Sure!
So, I went through all these books and anything that was related to the heights I sketched out. I wanted to make a Heights book. I plan on fixing these up more… these are sketches with tid bits of info.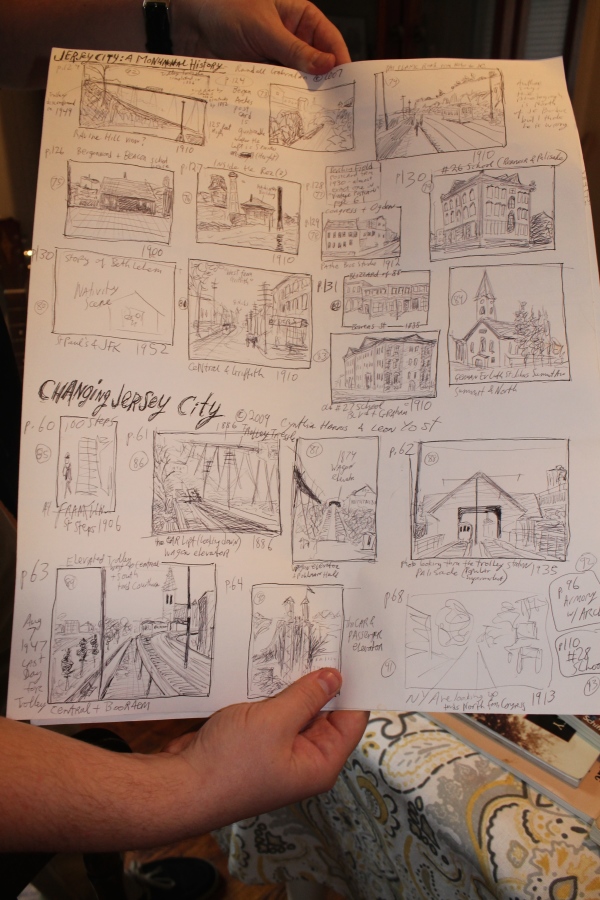 This is the George Washington house on Palisade…. GW stayed there during the revolutionary war. That's our big thing in the heights… I think it's the oldest house in Jersey City. It's called the Van Vorst House.
This is Caven Point. This was an old homeless shelter.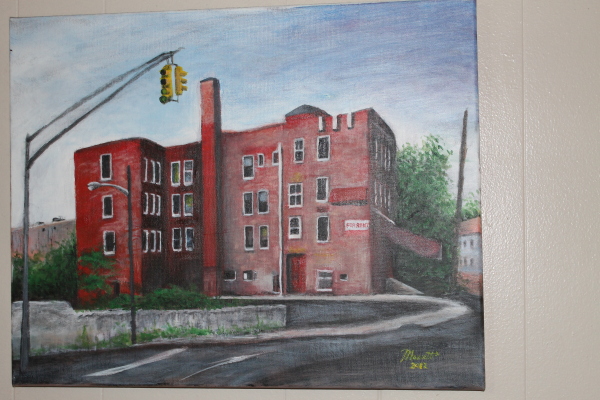 This is mosquito park.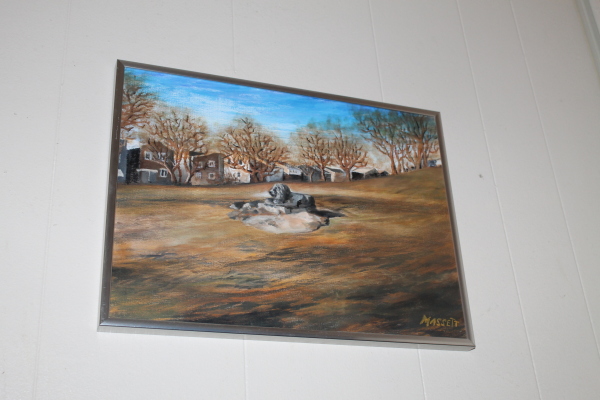 This sign I dug out recently. It's a big problem in the Height, parking!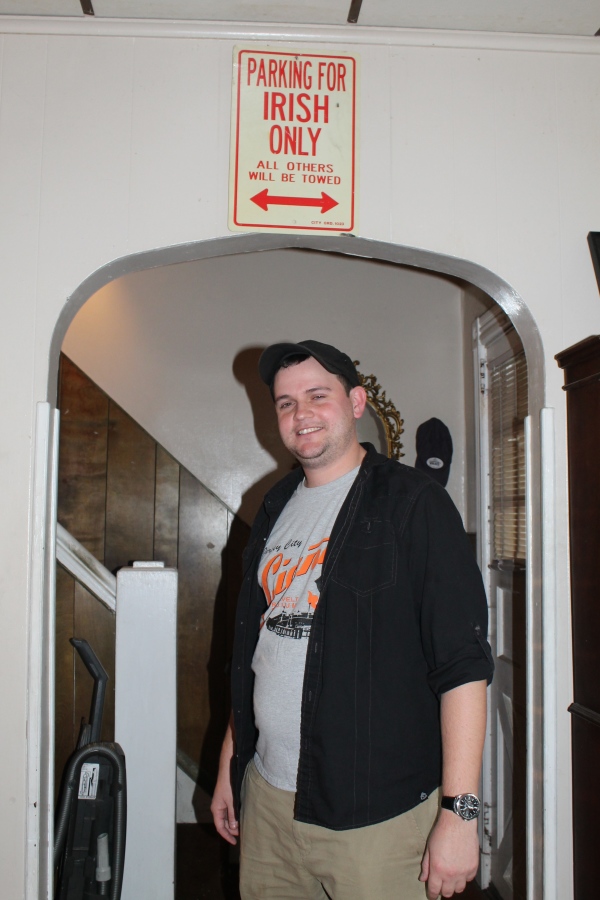 I hope I don't get a ticket!! Haha.
This is one of my more famous ones, the bleach factory. I took out the letters that said Clorox. It's on Pacific Ave, a block before Caven Point.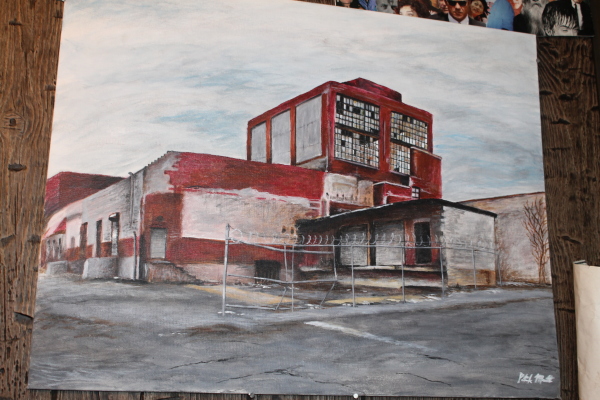 So you don't just draw Jersey City sights? I paint anything I am really interested in so… music, movies.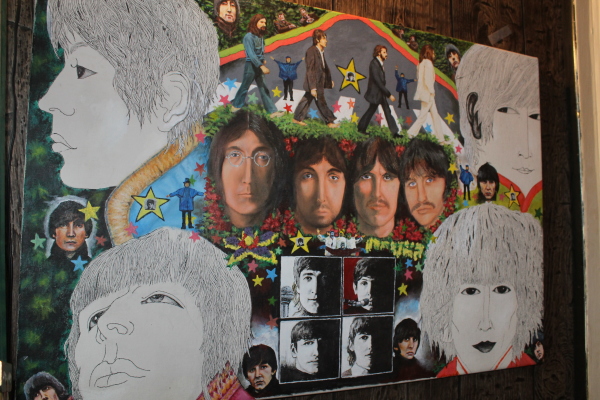 What's your favorite Jersey City hangout spot? I would say Healy's. I grew up with the family… I actually have a painting down there
That one…. I went to Academic, which is on 7th and Coles and we would walk on Coles up to the Heights every day. I was always passing by this factory. I found out later that my dad actually worked his first job around there.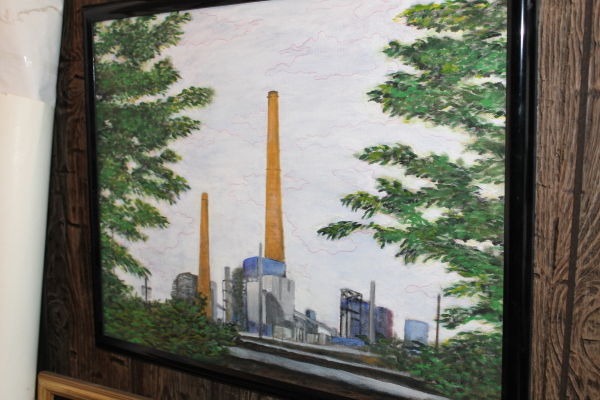 This painting isn't done, but this was actually on Boardwalk Empire. This was called "The Battle of the Century"… it was one of the biggest sporting events… I heard it was the first radio simulcast of a sporting event ever! It was down on Montgomery street. It was cool to think that we had one of the biggest fights…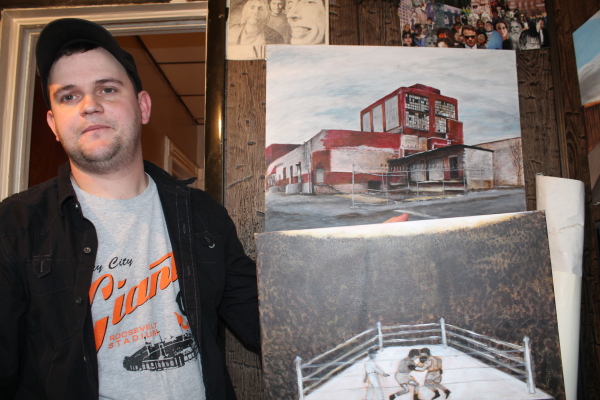 What is your favorite part about working for the Light Rail? The sights, the passengers… the people I work with. When its an off-peak time, I really enjoy it. People wave at me….
That's nice!….You know so much about Jersey City! I am always trying to find more. I love history, I love Jersey City and I love art. I am so happy to be able to combine all of them together.
---
Shirts can be purchased online at www.damagedwear.com/chicpea
Portions of the proceeds will be benefitting the JC Youth Foundation
They will also be available at the Jersey City Market on December 6th and 7th. They are limited edition!