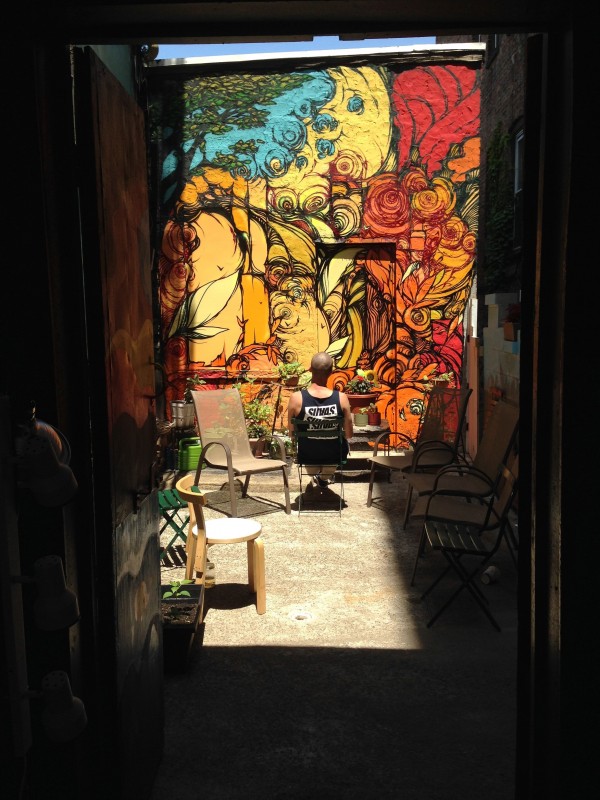 I knew my quest to meet the people behind Jersey City's beautiful street art was just beginning after interviewing inspiring street artists such as Sean Lugo, Dylon Egon and Mr Abillity…. I've known about Mr. Mustart for quite some time, his work cannot go unnoticed, and his murals are all over Jersey City. Mr. Mustart's work is extremely colorful and vivid, it's the type of art that draws you in; I remember once on my way home after a glass of wine (I am a cheap date) I stopped in front of one of his walls and stood there for quite some time and couldn't keep my eyes off it.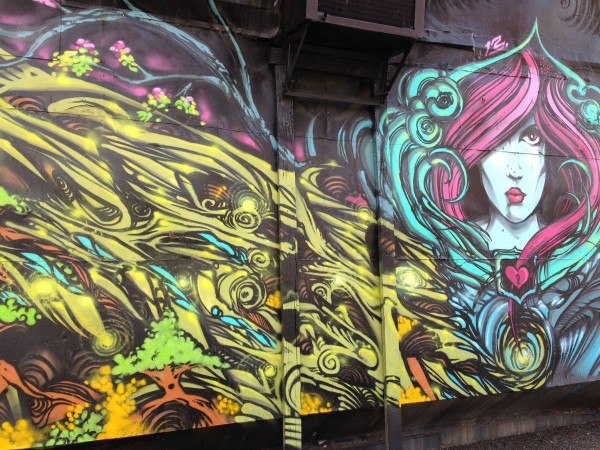 We met for lunch at Union Republic and he took me on a tour around Jersey City to visit some of his walls. The saying "never judge a book by its cover" is so true with Mr. Mustart. He is a very well spoken and polite individual with cool tattoos and great street style. While we were walking around he was such a gentleman walking my girlie bike around for me so I can take pictures, or holding my hand to make sure I didn't fall. Mr. Mustart is extremely talented, passionate and an asset to the Jersey City community. He makes our streets beautiful!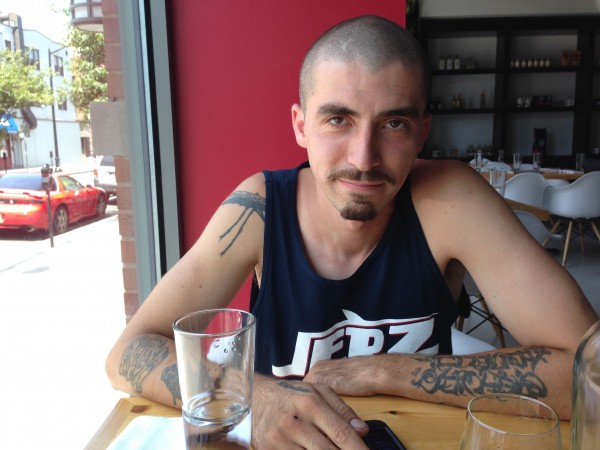 Why is your name Mr. Mustart? It's simple, I must art everyday… to survive, to feel good and to be alive. A couple of years ago I was telling myself I want to paint everyday. When I moved to this country, I was working with my dad and doing  all these odd jobs.
Where are you from originally? Russia. I just went to Russia a week ago, I haven't been there in 14 years and I painted so much!!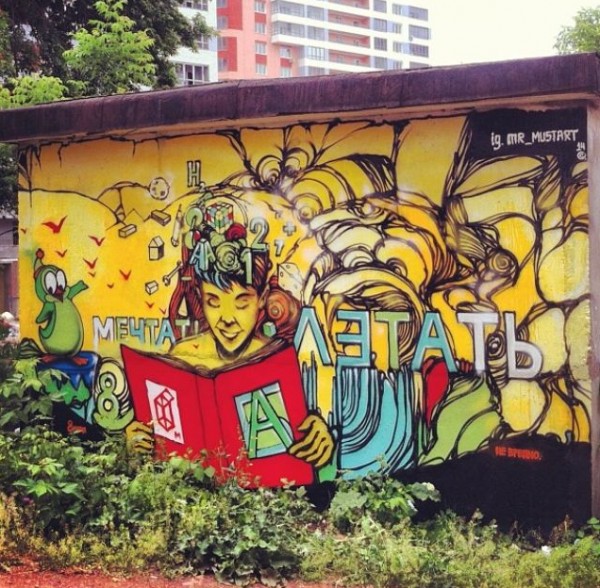 How long ago did you move here? I moved here in 1999, Moved to Newark, went to high school in Newark then went to college in Jersey City. That is why I have a lot of friends in Jersey City.
When did you start painting? I was painting my whole entire life. Since I was a little kid… My first art experience was my dad would build everything in the house; furniture etc… He would decorate our bunk beds; he did drawings of a beach ball, rubix cube…Just like random kid shit. I remember being inspired to draw different shapes, which might have been the first things that I drew, besides the doodles I did.
Which is my logo now, it's an open box. I don't put it everywhere… I stopped doing it when I started putting up quotes. People posted something about "outside of the box" telling me to stop trying to live outside of the box. Get rid of the box… and I am like "Aww man, I like the box! ". My box is transparent, you can see through it!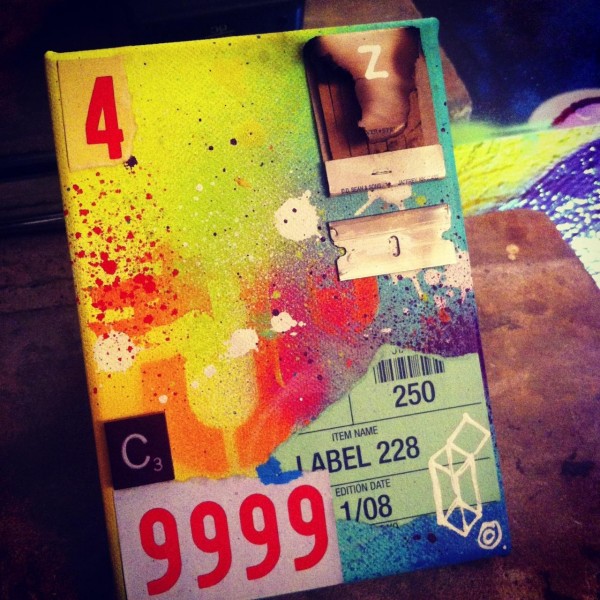 Can you tell me more about the art you do? I've been painting pretty much everything. I don't have limitations or any particular thing… I just always experiment and look for new fun things to do. I started with collage… When I was in college I was developing this collage, mixed media style and then painting the walls a lot and doing larger scale walls.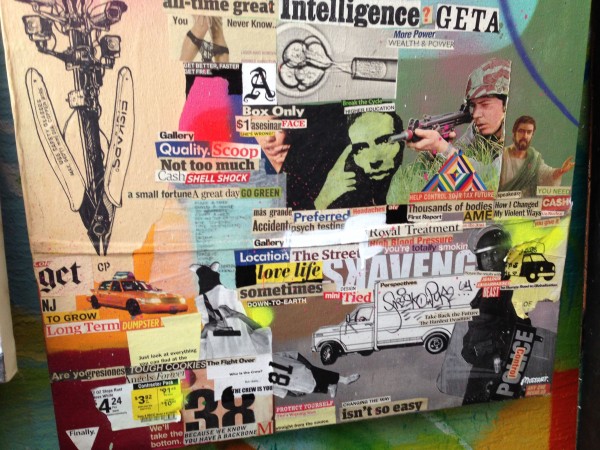 Doing wall work and having to work outside, and it being a little more free flowing…It forced me into developing this style that is a little more abstract and jazzy…It came from key notions, the definition of art.
Key notions? Like the actual definition of two-dimensional art, is harmony created through lines, shapes and colors. Doing collage work and having a lot of subject matter in it… a lot of it is very subjective or very direct in terms of meaning and interpretation. Like people would read a word and it would let them know what the piece is about and dealing with different artists and talking to people about art, some people tell me "you need to get rid of text in your work because you are giving out a lot of information…let people try to figure it out".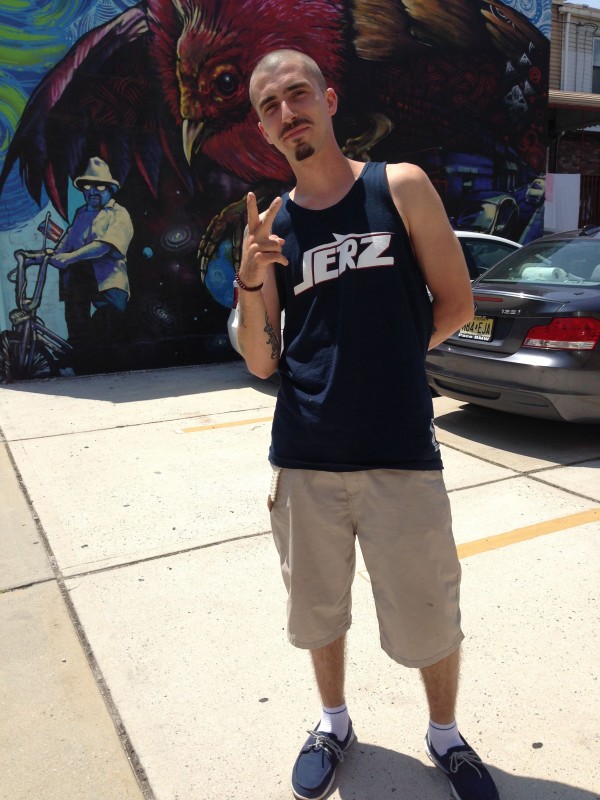 So I've been kind of playing with that, how people react to art. Sometimes as an artist you get caught up, "What kind of stuff should I create? stuff people want to buy? Want to have next to their couch in their living room? Cause it matches their rug?" or do I paint what I believe is the true meaning of my expression… so just being caught up in that made me distance myself in text and subject matter and just concentrate more on shapes, colors and something that anybody can look at and have a reaction to.
If I wanted to really define my work I would say it's a non subjective, jazzy freestyle freeform of art.
You work is very colorful, vivid… Tell me more! Haha.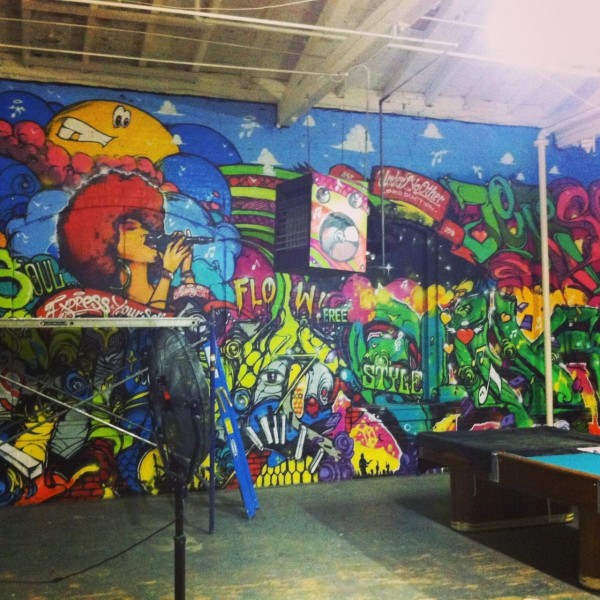 Do you just do murals? It ranges, the reason I am "Mustart" is pretty much  I will do any forms of art. From kids rooms, to portraits to graphic design. I just finished doing an album cover…there is a lot of people who also have my tattoo designs. Anything that needs to be drawn…I've been getting away from subject matter and concentrating on aesthetics, beauty, and harmony.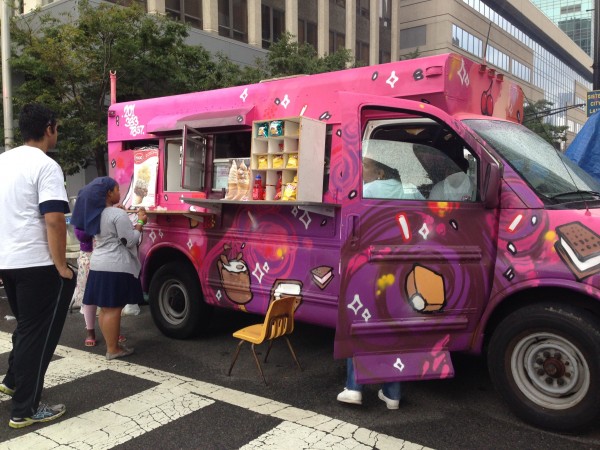 What is your favorite thing to paint? I like creating layers, the murals…  not necessarily having a particular direction, but just start going crazy and start having some sort of reaction to some sort of blank canvas or wall. I will start by getting rid of the blank. I will fill in all the areas of the wall, and get it covered in color and then I will start thinking about where can I take this. I don't think there is such a thing as favorite thing to paint, but I do enjoy painting portraits once in a while. I don't get to do them that often because it's a very indulgent process. I have to really put myself into the artist shoes….its nostalgic.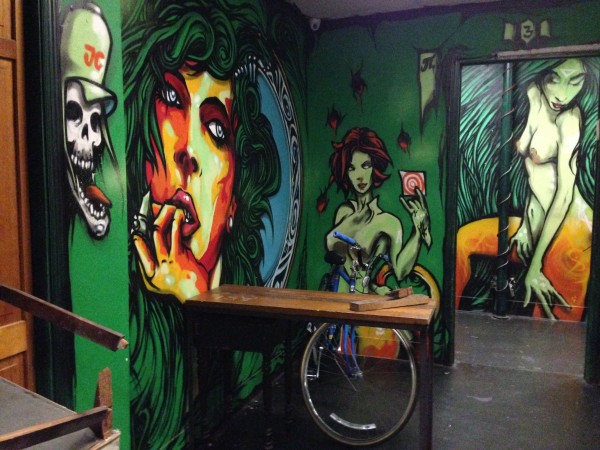 Did you study art in school? My parents when they saw that I was interested in drawing they always got me sketch pads and coloring books when I was little and they put me to drawing classes outside of school since I can remember. They always pushed me as far they can, by just getting me the stuff that I needed to do it, so I am really thankful they put me into different programs. As far as I remember, I started drawing landscapes, oceanscapes, underwater scenes. Just stuff kids would paint! things that are nice to look at. Then as I got older, and started dealing with social issues, personal problems…when you grow up you start realizing certain issues about the world… and I realized through art I can say how I feel about certain things; my political stance…. tell people about my sexuality, everything that I am or how I feel through art. It became more provocative, loud, kind of in your face and now its going through another phase. I want to just be at peace.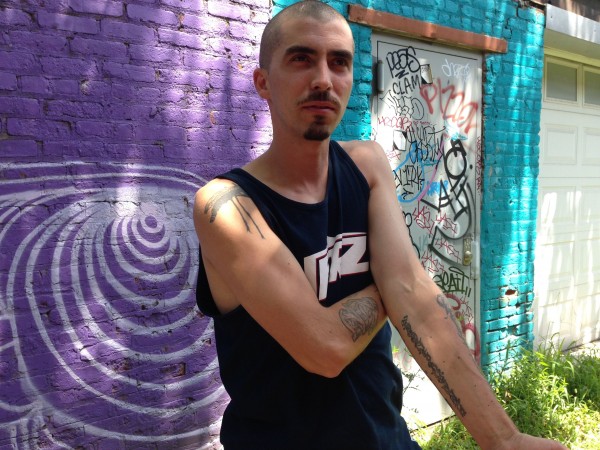 Can you tell me about your work in and around Jersey City? Jersey City has seen plenty of my work. Probably has a lot of stuff that people haven't really seen. I've been painting murals in Jersey City, beautifying people's businesses. I've watched Jersey City change; Newark ave was the street that I was on when I first drove through Jersey City. I noticed it changed so much and its nice to see all the art and how the community grows into appreciating the art. It went from people calling cops when we were painting a legal wall and now people changed their perspective about it… people like street art.  I want to get more walls!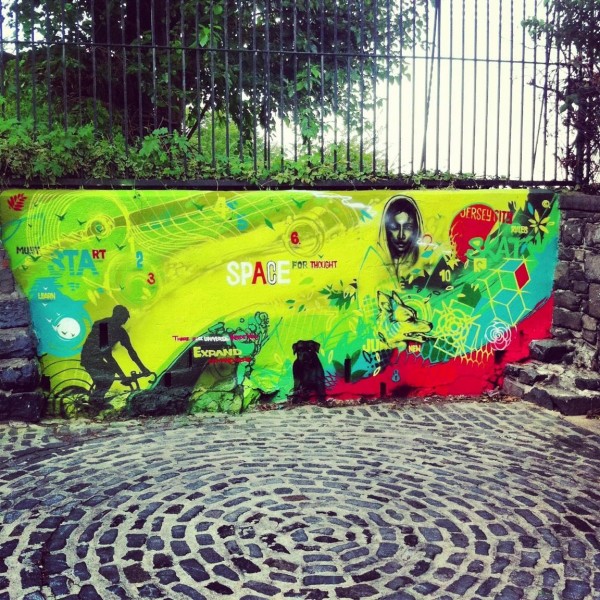 Do you have a favorite Jersey City hangout spot? I like hanging outside.
No bars? Food? Vodka, Beer…Don't matter where you dine. You can quote me on that.
If someone wants a wall painted how do people find you? Usually word of mouth,  instagram… I love instagram for that. I get in touch with people who see the work and want it. I go from there…
Give me a tour of your stuff in this area…Sure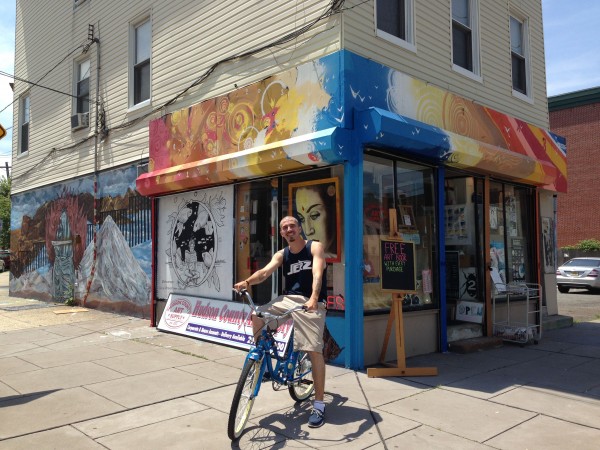 The Jersey City art school tried to beautify this back alley… they hit me up and telling me they have a wall for me and I paint. Usually I take a can, and I use it till I run out. I will take one color and walk around the wall and just do patches then I take the next color and then I will interact with the patches I already did or might be separate from it and as a result there is all these different patches of color and walks of life. If you look at this metaphorically on what this is about its kind of about the diversity in Jersey City or Newark or in this Tri-state area… it's a big melting pot. People's priorities are changing… we used to use gold as currency and soon its going to be clean water and air. I see how this piece could be seen as a conflict because all these colors are all over the place, in this fight, in this swirl. It reflects on life, and how life is for me but not in a direct, verbal matter.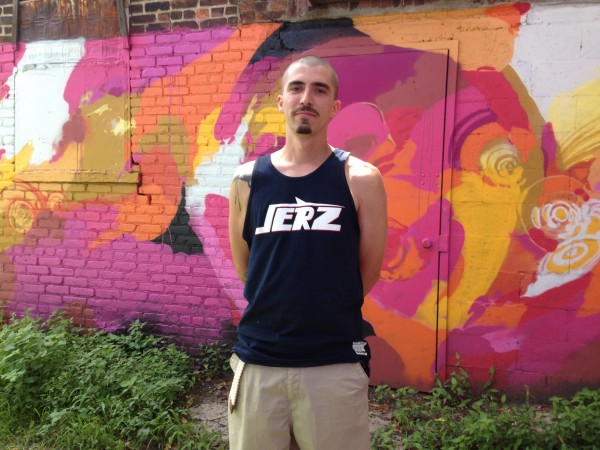 When I am at my art show and someone walks up to me and asks me what is that painting about? It is usually the first time I come up with the verbal meaning of that painting myself and then I am just like "Holy shit that sounded crazy" but when I do the work its a subconscious thing, it's not a conscious thought….like let me depict the diversity of Jersey City…. its kind of happening… It's a natural interaction with the space you are in and how you go about it. If you are in a new environment, how do you interact to people in that environment or the urban landscape.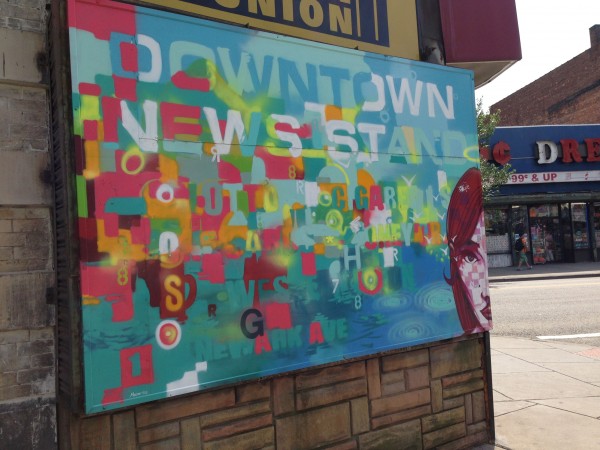 So when you get a wall do you pre plan? If I could I would, cook breakfast and sit down at a drawing table with a pencil and a blank piece of paper and put down a message I want to convey… but what I discovered you have to let go of a lot of stuff before you get deep with your art. You have to let go of all your layers… and leaving the essence of colors and shapes. This is pretty much a depiction of life on a microscopic level through art… With paint. I just came up with that haha
What's this one? This wall was sponsored by Elementree. We worked on this together.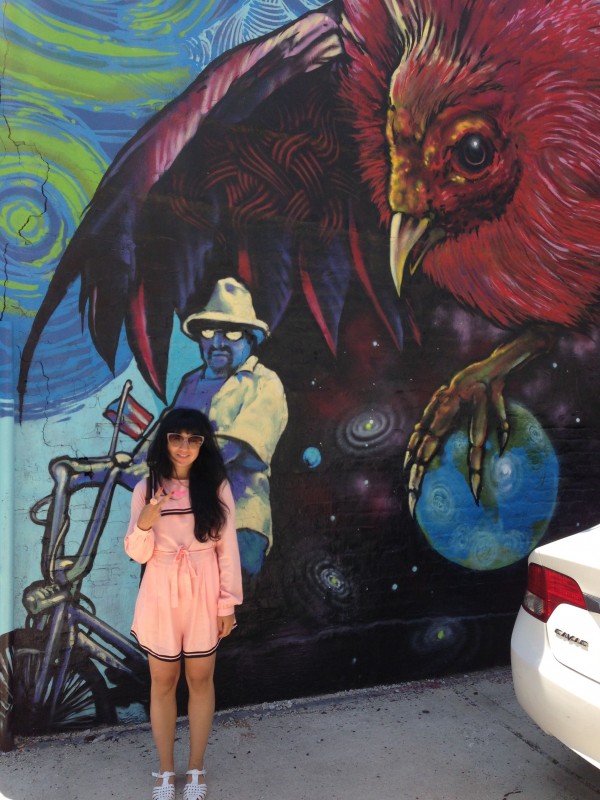 What's the story behind this wall? we wanted to do something for the community. This wall is part of the Puerto Rico Social Club. This guy, is the guy who runs the spot his name is Lou so we painted it. He loved it!
Can you show me your work at Grassroots? Sure. I painted the backyard/secret garden area and the inside of the garage.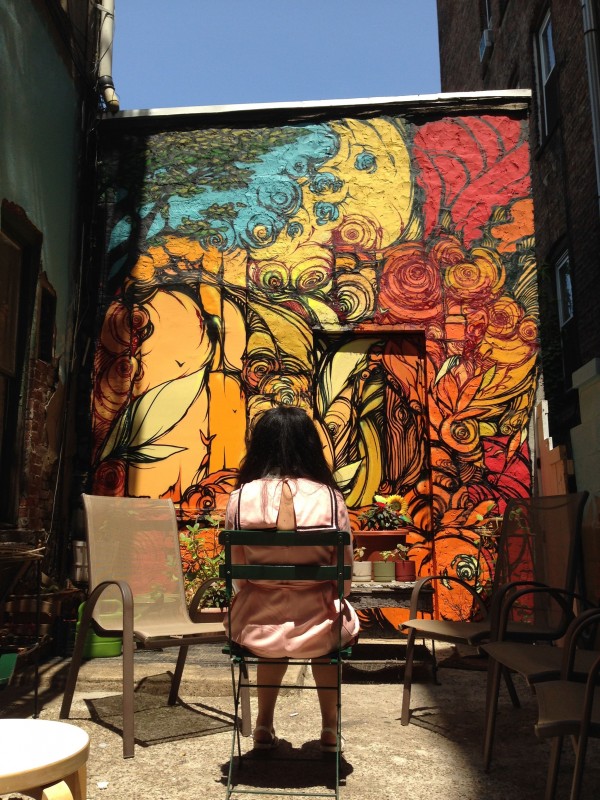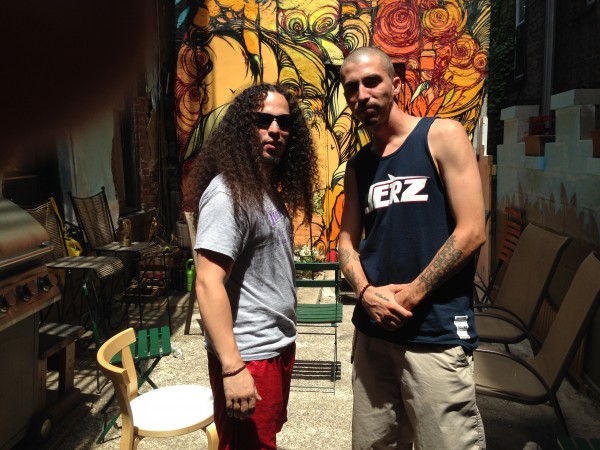 Where do you see yourself in a couple of years? 5 years ago I wanted to paint everyday…. and now I am painting everyday. Literally, everyday for the past year. Every day it's different, that is why I love it so much… everyday I wake up somewhere else. It's always something new… I will be painting a wall somewhere where its busy and people pass by and grab my card and something comes out of that.
Any last words? On behalf on all the blank walls in Jersey City, I think they all should be donated to artists that want to paint them.